The thing about 7-seaters is this; regardless whether you're single or married with a volleyball-team number of kids, you will always find a need for a large vehicle during festive 'balik kampung' season. Aunties and uncles may be impressed with that cousin that drove home a luxury 2-door coupe but when it's time to bring the family horde out for dinner, those pakcik and makcik would be singing praises on how spacious and comfortable your vehicle is. Sports cars are nice to see but in the case of moving people, there's no better way to impress your relatives by showing how capable your seven seater is.
At family gatherings, size is king and unless you plan on getting a ticket for ferrying people on the flat bed of a 4×4, a large MPV or SUV is ideal in that kind of setting. There are plenty of choices to pick today and I've also featured a three vehicle shootout comparing the Hyundai Santa Fe vs the Nissan X-trail and the KIA Sorento. The Santa Fe won in that shootout due to its kits and its excellent, time-tested 2.2litre CRDi turbocharged diesel engine.
I've tested the Sorento before, starting with the second generation back in 2012, then the facelifted second generation in the 3-vehicle shootout in 2015. Naza Kia Malaysia launched the third generation in May 2016 and for the first time ever, two engine variants are offered; the forementioned 2.2l CRDi in the Santa Fe and the regular 2.4litre Theta II MPI petrol engine as found in the second generation.
What's interesting is Naza Kia Malaysia has positioned the Sorento CRDi as the lowest spec variant (thereby offering it with the most affordable price tag) unlike Hyundai which offers the diesel variant as their most expensive variant. This puts it RM45k cheaper to get the same engine in the KIA compared to Hyundai and it's understandable that a few bells and whistles are removed when you have a low spec variant.
Does it still offer value for money? Here's my time with it;-
Design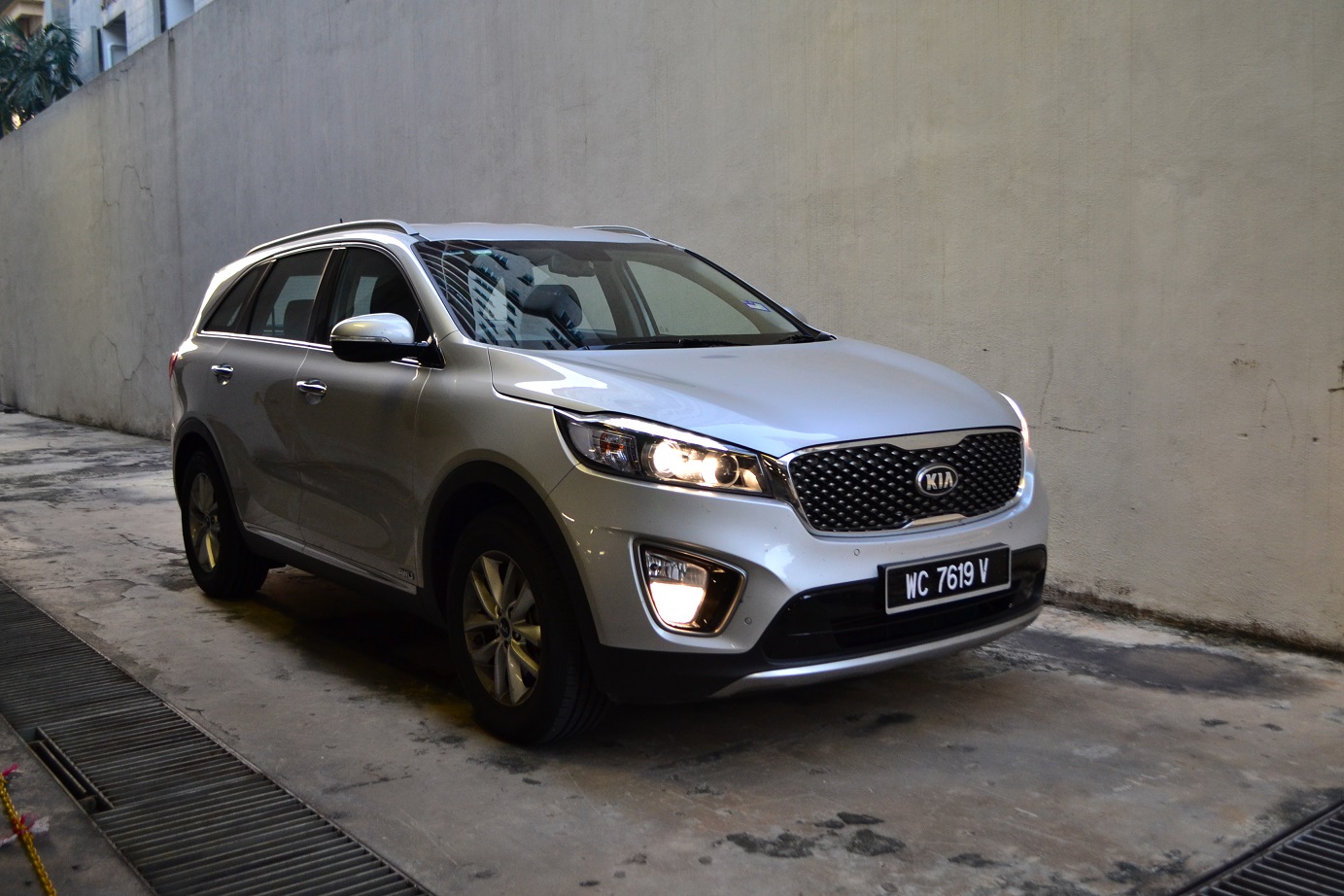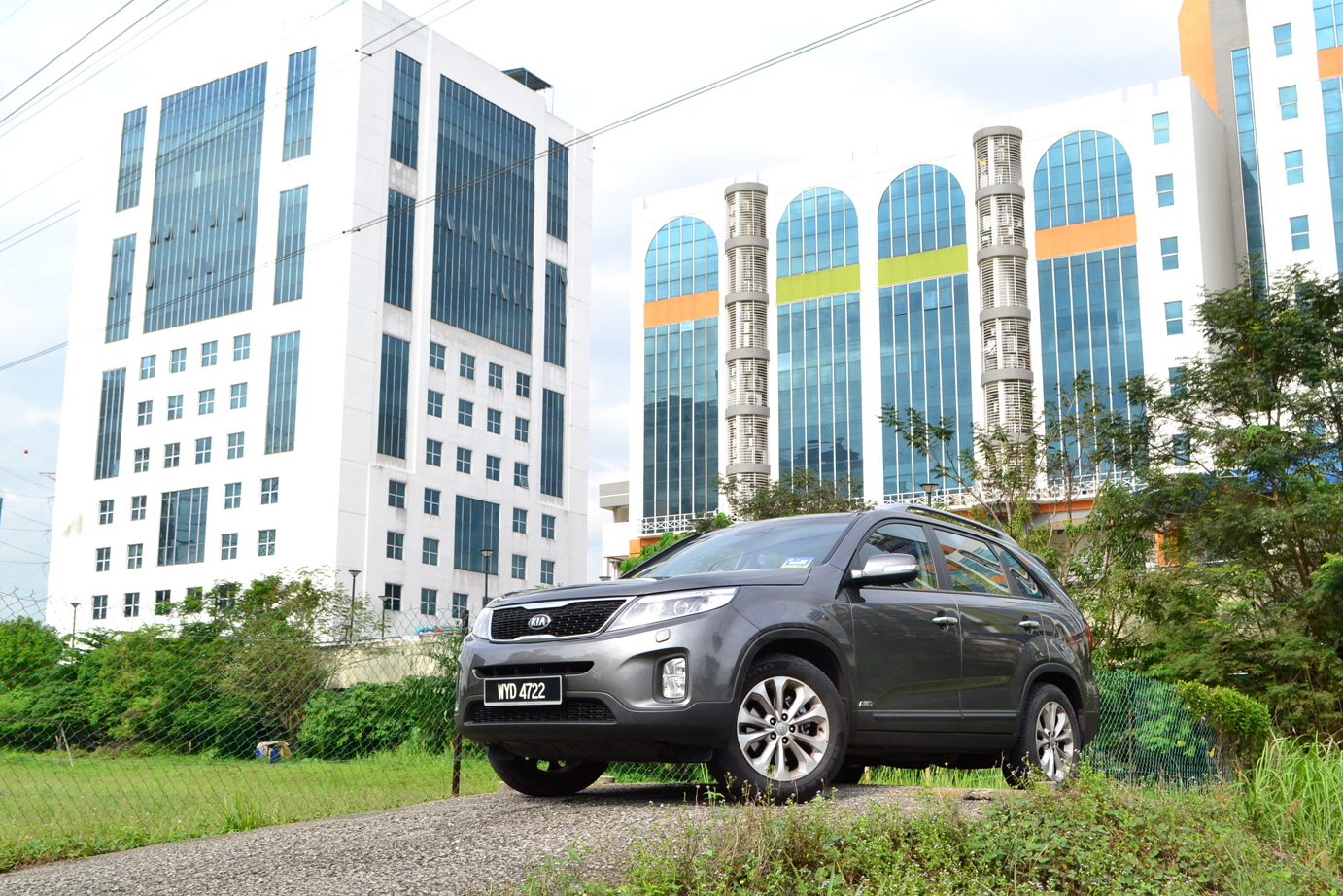 Without looking at the badge, you might not be able to tell it's a Sorento. Compared to the second generation (picture above), the third gen Sorento has a sleeker and more dynamic bodyline profile. The face of the All-New Sorento incorporates projector headlamps with LED daytime running lights as well as a more pronounced 'tiger-nose' grille, replete with a distinctive three-dimensional cubic mesh pattern.
Seen from the front, the 2nd gen appears as a man squaring his chest to appear more intimidating whereas the 3rd gen is one who confidently puts his head forward and dares you to give it a shot, which is why I feel the design of the 3rd gen has a more commanding road presence compared to its predecessor.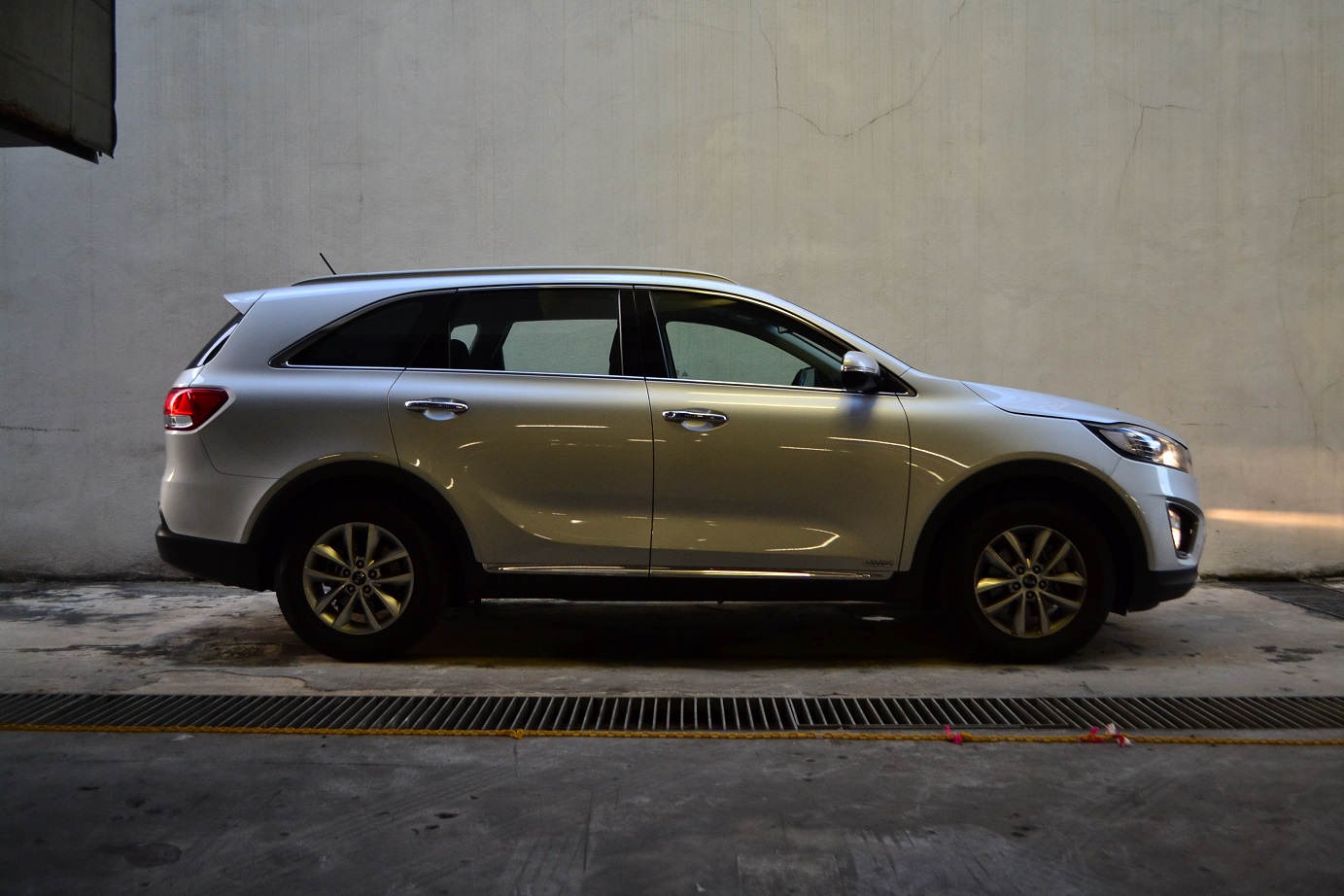 Honestly, I thought the new Sorento looked more MPV than SUV with the front bulked up, especially when viewed from the side. Unsurprising since it has grown significantly; from 4,685mm to 4,780mm in length, 1,885mm to 1,890mm in width and is lowered from 1,700mm to 1,685mm in height. The most significant difference is its wheelbase; up by 80mm to 2,780mm.
The 2.2LS comes with 17″ alloy wheels wrapped in 235/65 rubber.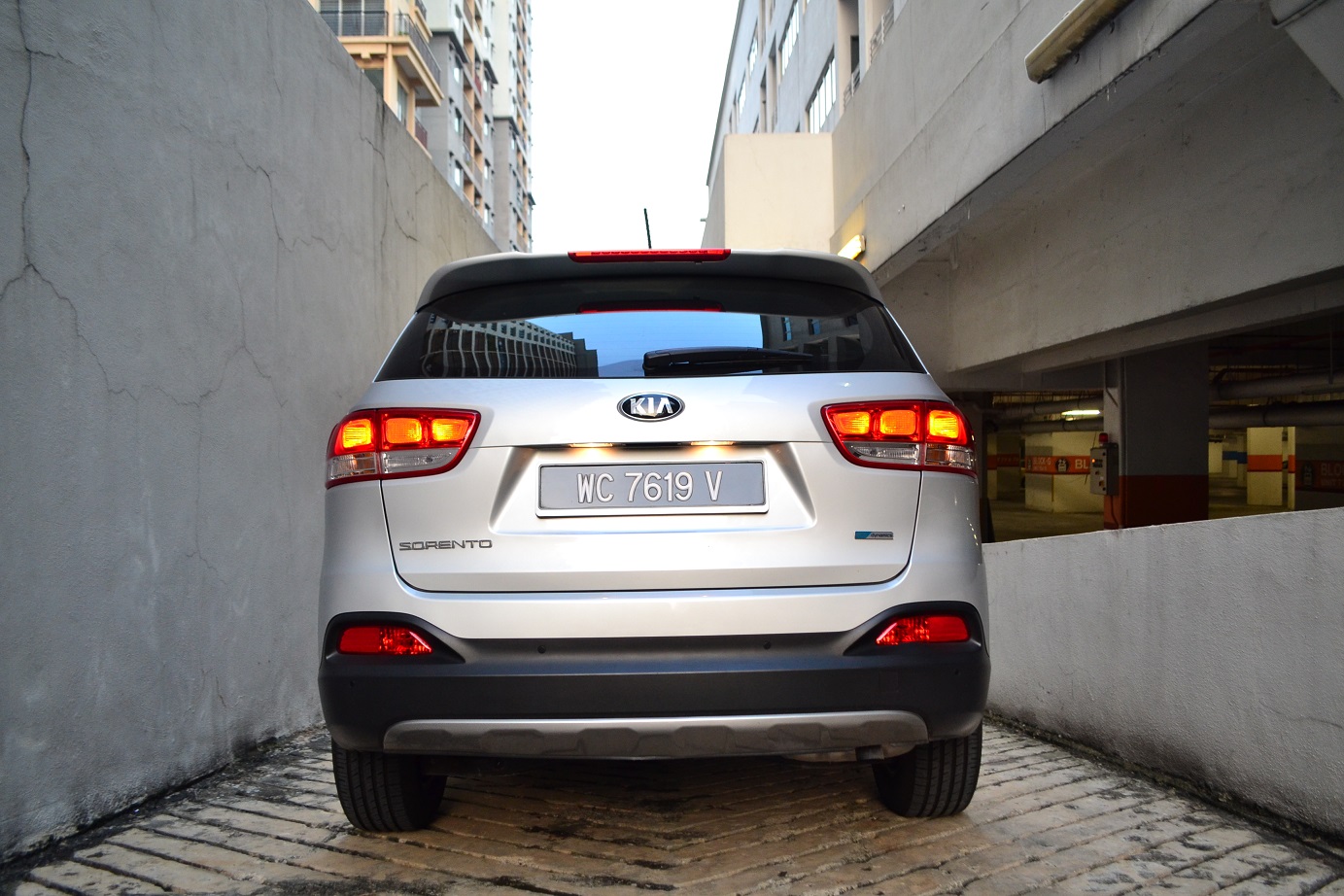 The back has a cleaner, elegant look with the rear bulb combination lamp balanced well between the number plate and lower rear diffuser.
Performance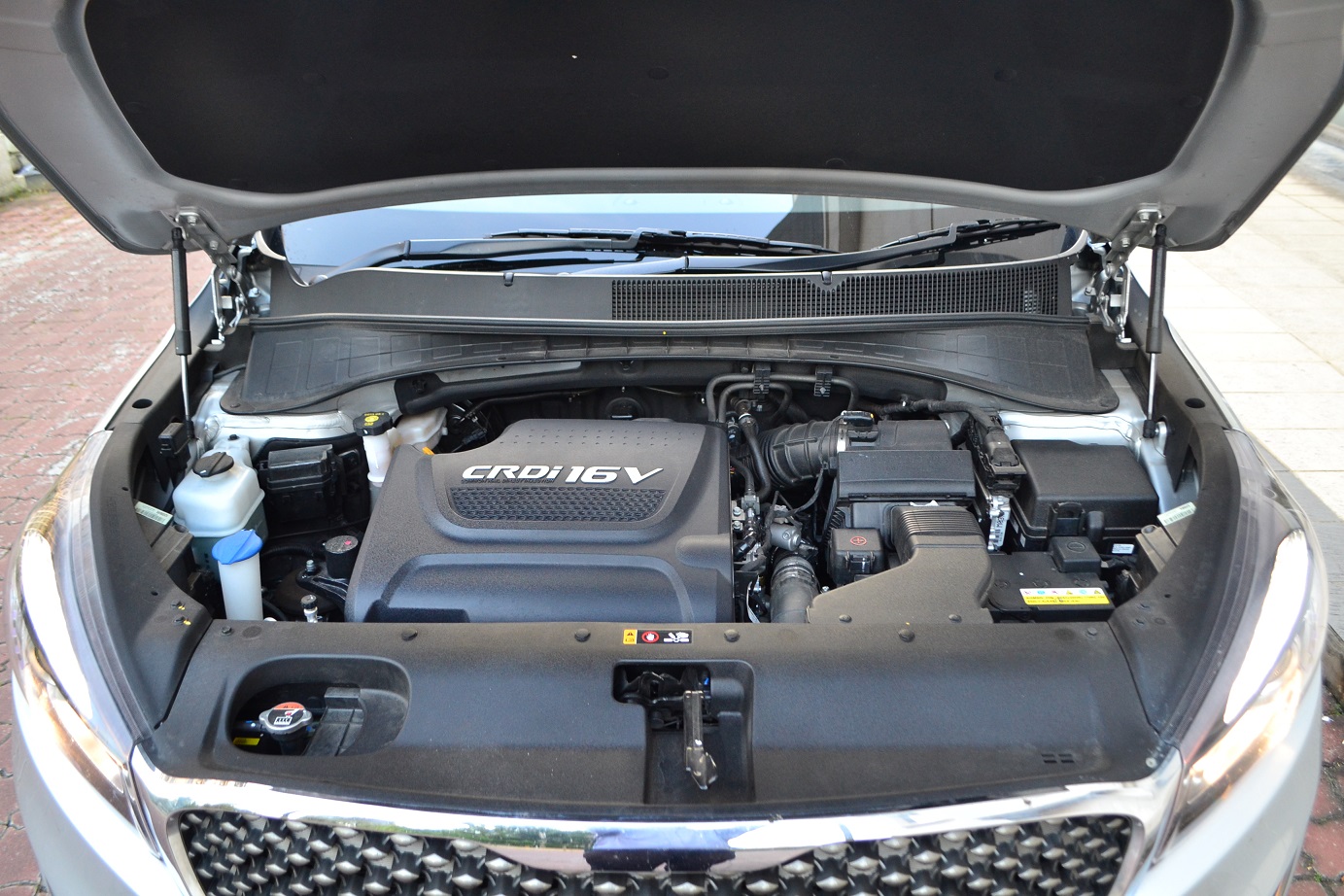 I've mentioned before that I was impressed with the Santa Fe's 2.2litre CRDi. The Hyundai's power plant serves 197PS @ 3,800rpm and a maximum 436Nm @ 1,800rpm and has been proven to be a durable engine with hardly any complaints from owners. That goodwill would extend to the Sorento's diesel variant since they share the same engine.
Same engine but tuned differently. The Sorento's R2.2 CRDi VGT Turbo has 200PS and a maximum torque of 441Nm from as low as 1,750rpm and both shares similar linear power delivery characteristics. Stomping your foot down don't quite work as well on a diesel engine if you to accelerate quickly. Go half throttle, while not revving beyond 3,000rpm and you'll be rewarded with waves of power – all the way to its top speed. There's no info on the brochure on its max speed but during my time with it, it could easily reach 180km/h without you even realizing it.
Ride and Handling
I couldn't feel the speed because the noise insulation is excellent in the Sorento. Far better than any other of its class. And at 180km/h, the vehicle does not feel floaty; it felt solid like a continental vehicle.
The front Macpherson Struts suspension and the rear Multi-Link performed as advertised, delivering superior ride and handling stability. It was raining on our way back from Penang and with the AWD coupling system switched on, the Sorento never once experienced a loss of traction while at corners, it grips well.
Steering feel is light at low speeds and progressively gets heavier the faster you go. Even though this is a huge vehicle, it's relatively easy to navigate around the city and parking isn't as intimidating as it seems. The LS is equipped with Idle Stop and Go which shuts off the engine when idling. Being diesel powered, you might imagine there'd be some degree of clatter whenever the engine turns off and comes back to life but in the Sorento, the disturbance is marginal.
All variants of the new Sorento comes with Drive Mode Select which allows the driver to select Eco, Normal or Sport Mode drive. Each of these modes changes the engine, gear and steering settings. I've tried this system in other petrol powered vehicles and I can say that in the diesel powered Sorento, this function has a huge impact in the way the vehicle drives, especially between Eco and Sport mode. Chooose Sport, lock the drive train in All-Wheel-Drive mode and you have 2-tonne behemoth charging down the highway. You should see how fast cars move out of the way. It's amazing.
Cabin Convenience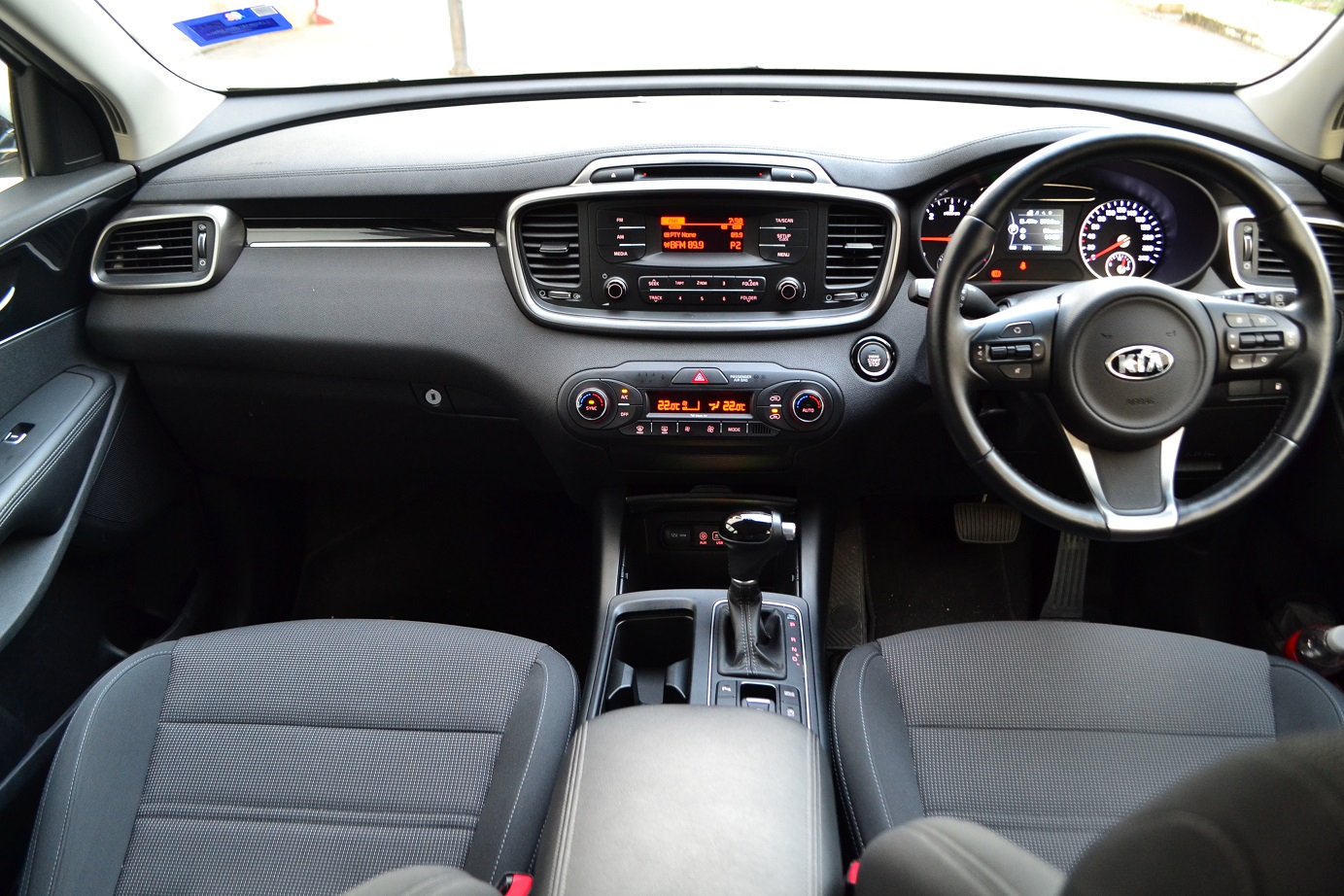 It may be the lowest spec but nothing inside suggests the vehicle is 'cheap'. The cabin follows a 'modern and wide' theme, providing the interior with a stable, horizontal layout and appearance. Fit and finish is good and you'll find things like soft-touch materials on the dashboard. Even without a sunroof, your passengers would feel it's spacious and airy.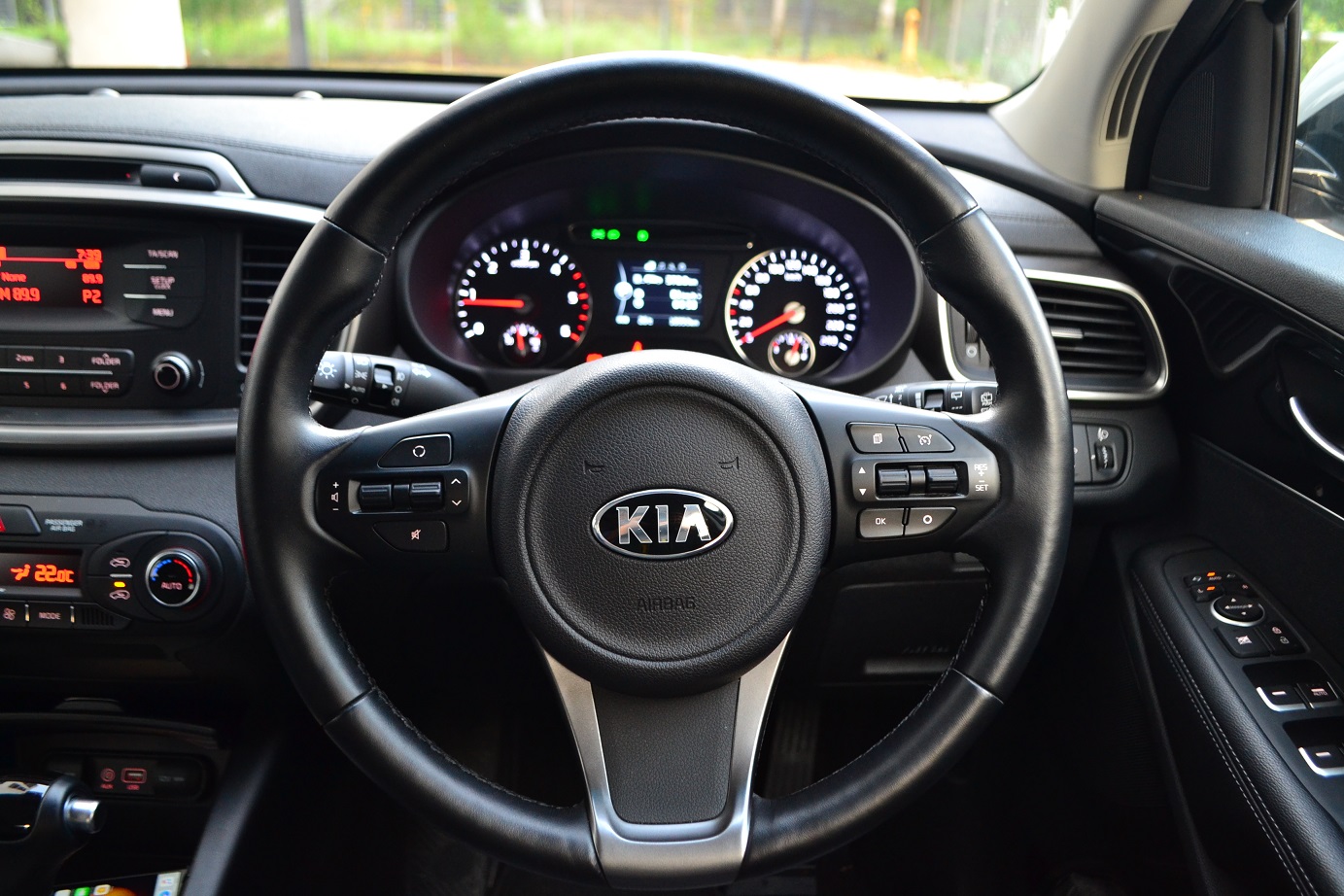 The leather wrapped steering has tilt and telescopic function and the audio and multi function display controls are easy to get used to.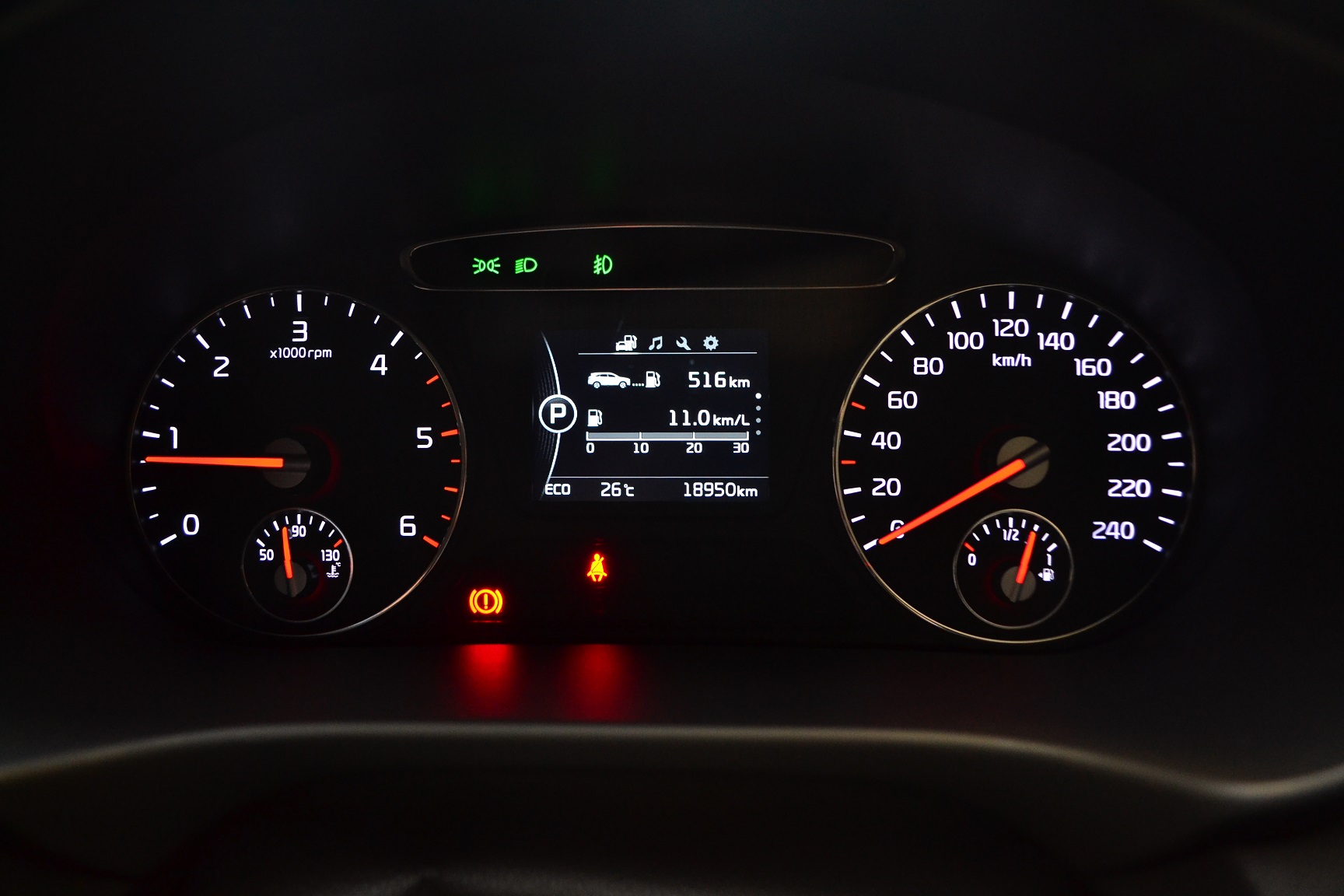 There's nothing fancy about the Sorento meter but the readouts are big and clear to read.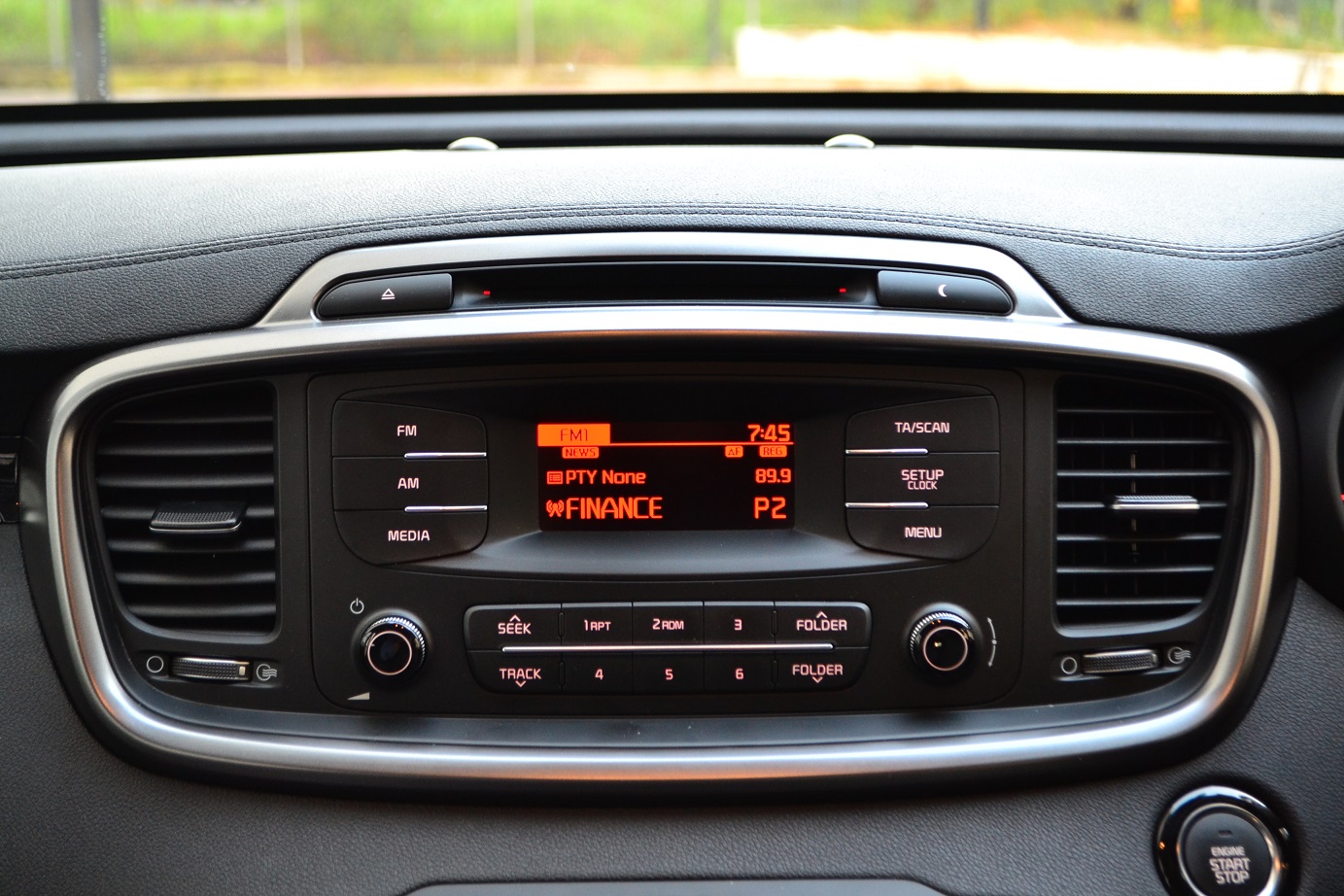 I feel the only let down in the 2.2LS Sorento is the headunit. The 2.4HS gets a 7″ TFT Color Multimedia Infotainment System but the LS makes do with a 3.5″ Mono LCD headunit. It's as basic as it gets but does it's job as advertised. This, and the 6-speaker system is probably the only areas I would mod if I ever own one. A vehicle as cavernous as the Sorento has huge potential to be turned into a mobile concert hall and we spend a considerable amount of time in our vehicles, having a spine-tingling sound system makes everyday commuting a pleasure.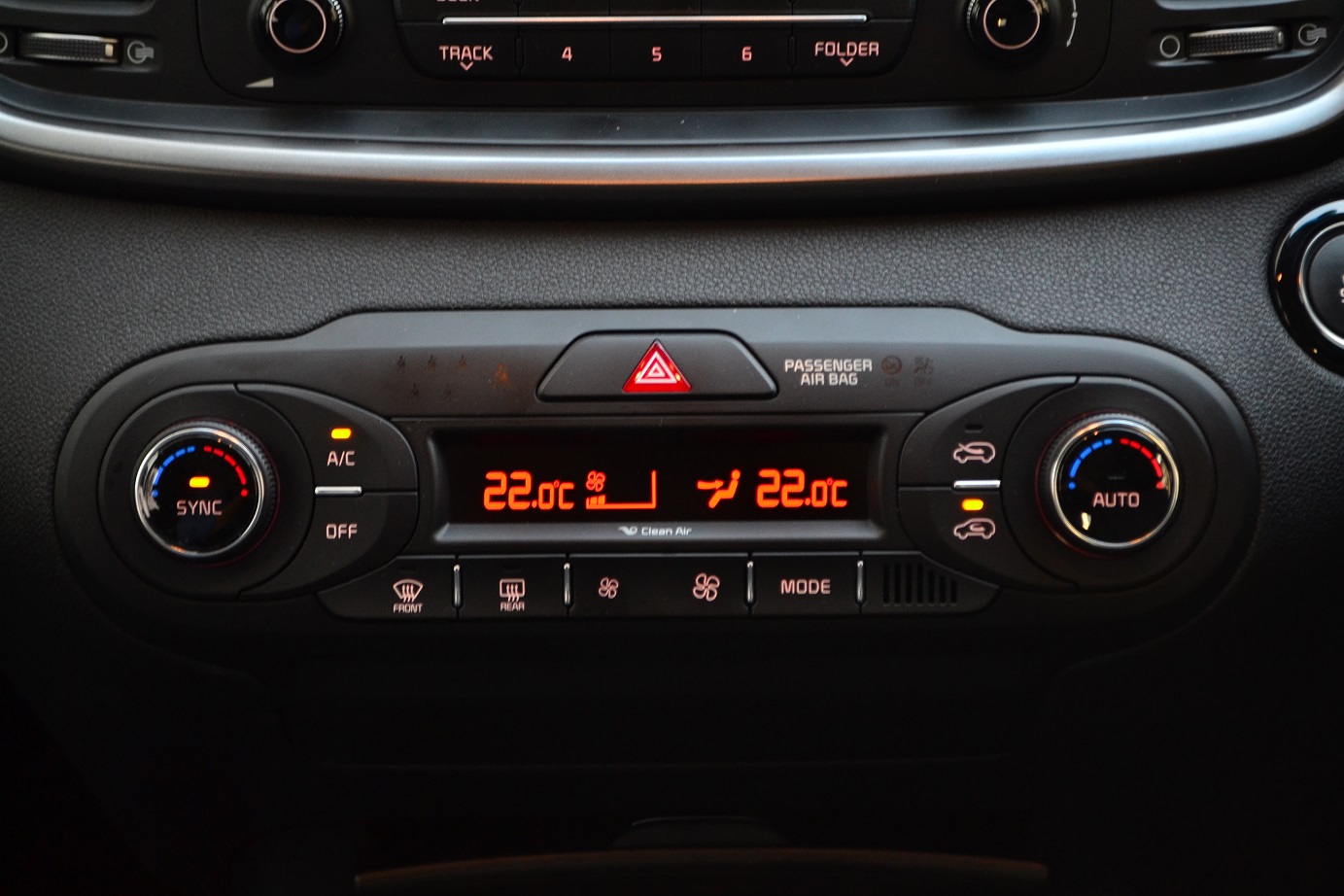 The air conditioning system is an automatic, dual zone complete with built-in ionizer and it's the same for all variants. The throughput is effective – as you can see, I set mine at 22 deg Celsius and rarely do I need to go lower.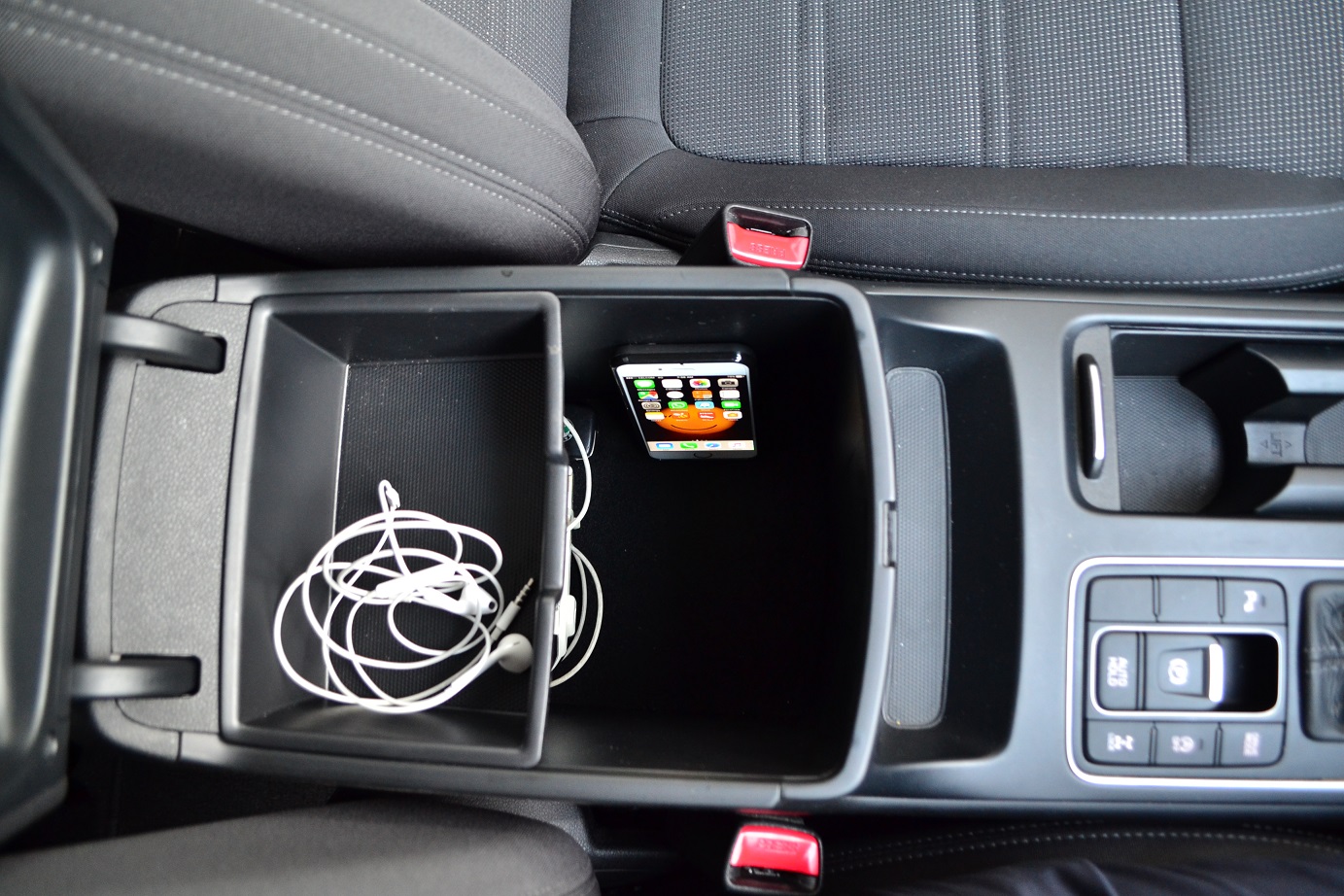 You'll also find a voluminous center storage compartment with a tray to create two tiers, making it easy to separate commonly used items like access cards and keys from the occasional candy and CDs. If that's not enough, the lockable glove compartment provides additional capacity for your items.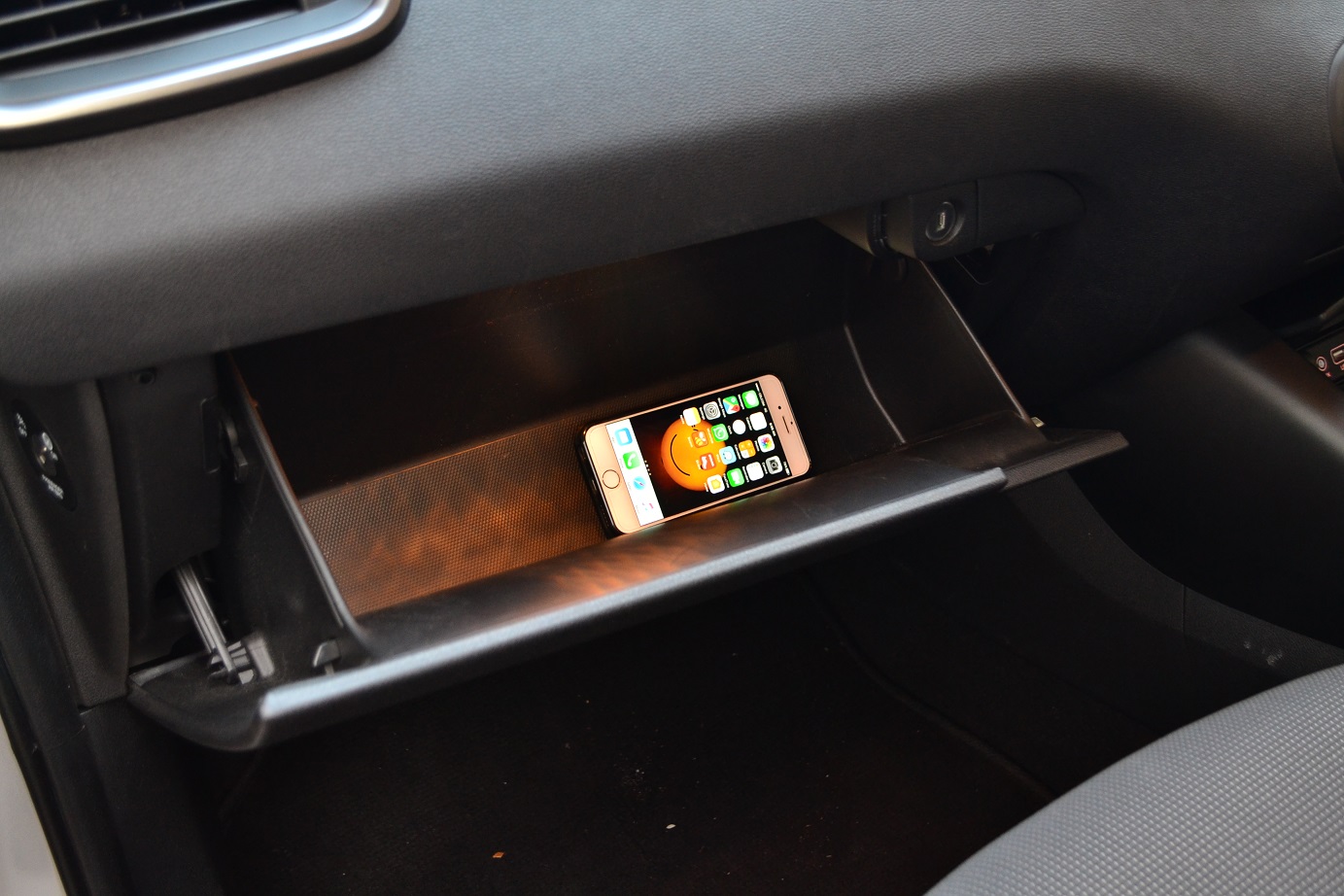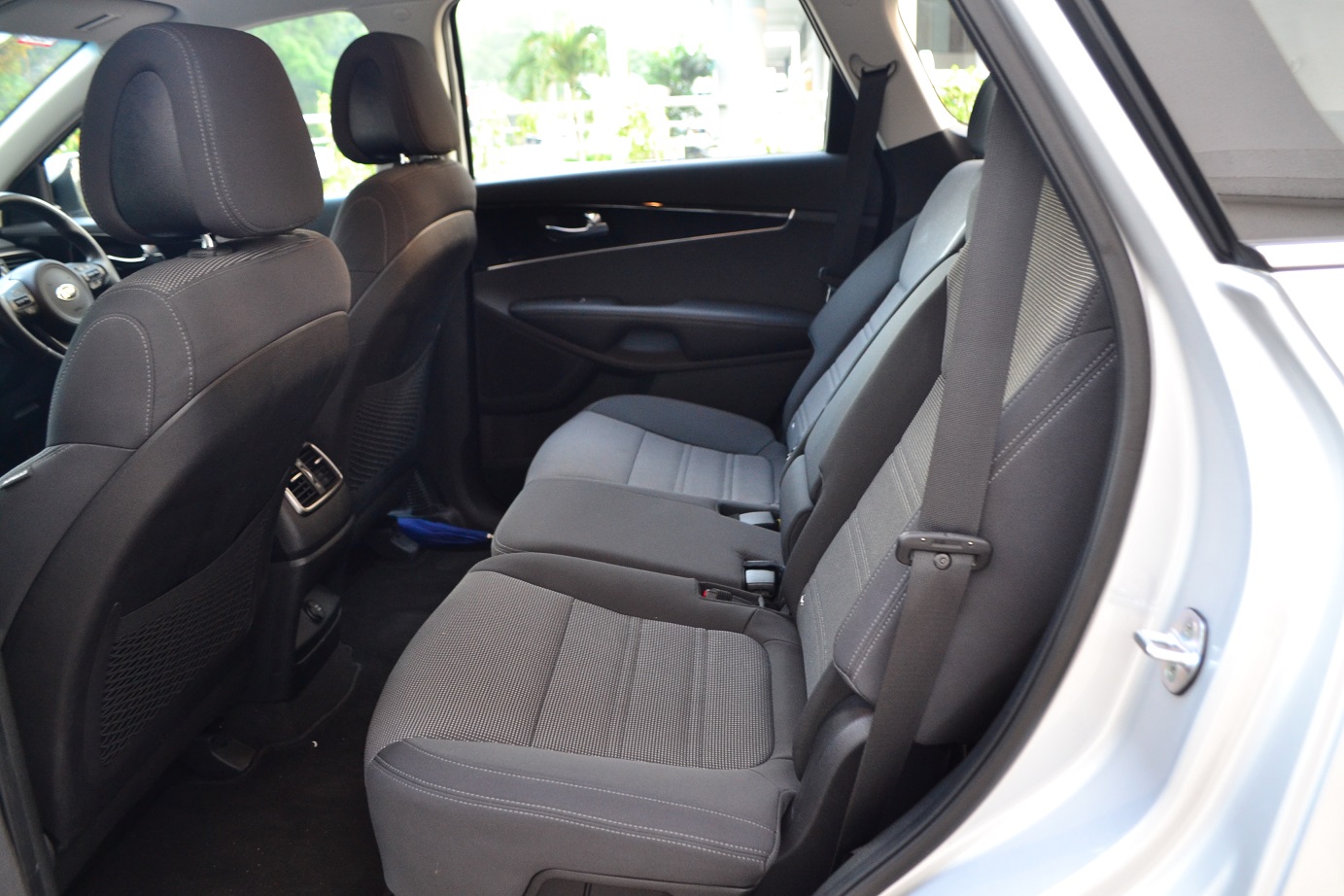 The second row can be slid forward/back and the backrest can be reclined for greater rear passenger comfort. You'll find rear air conditioning vents as well as a 12V power port behind the center console.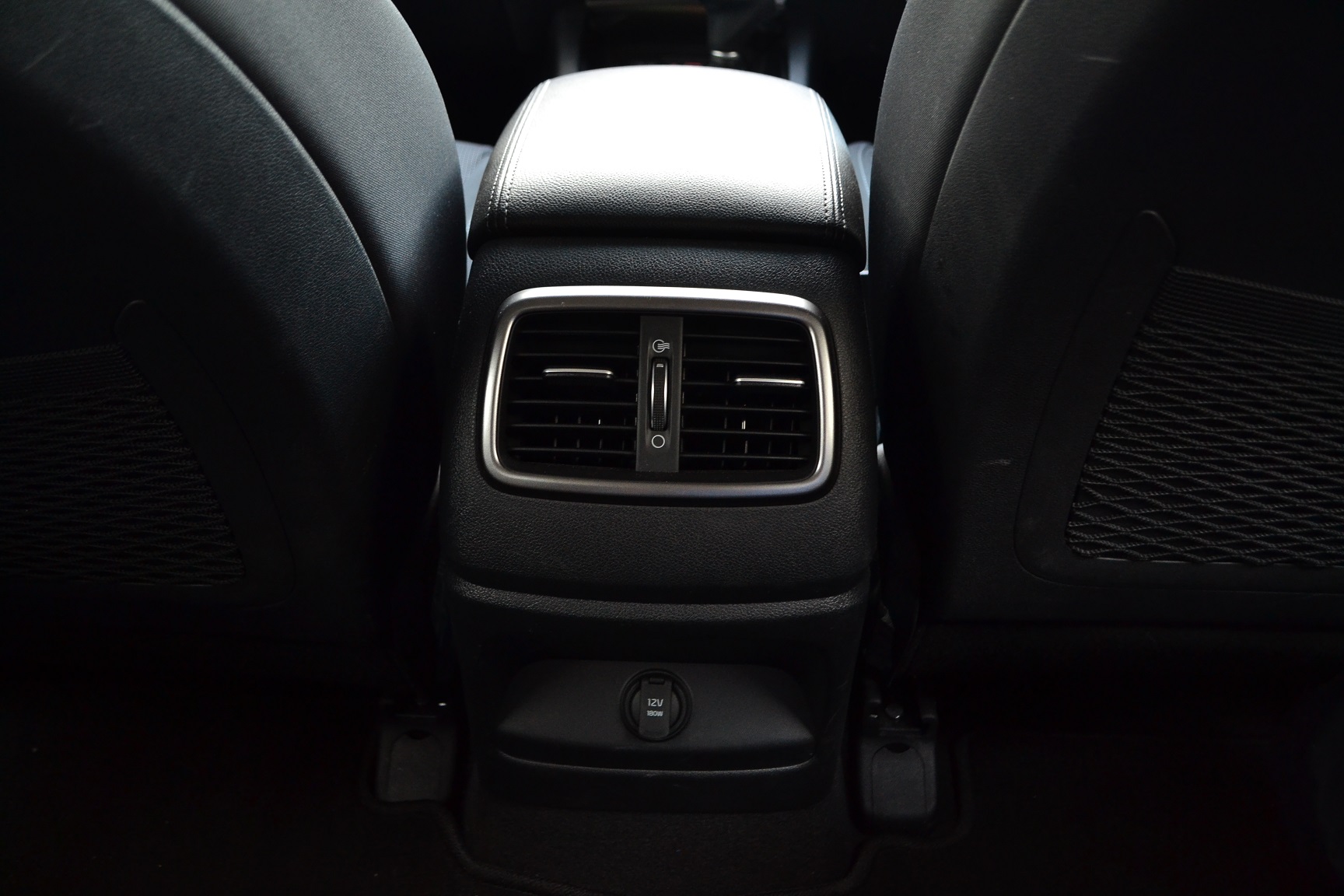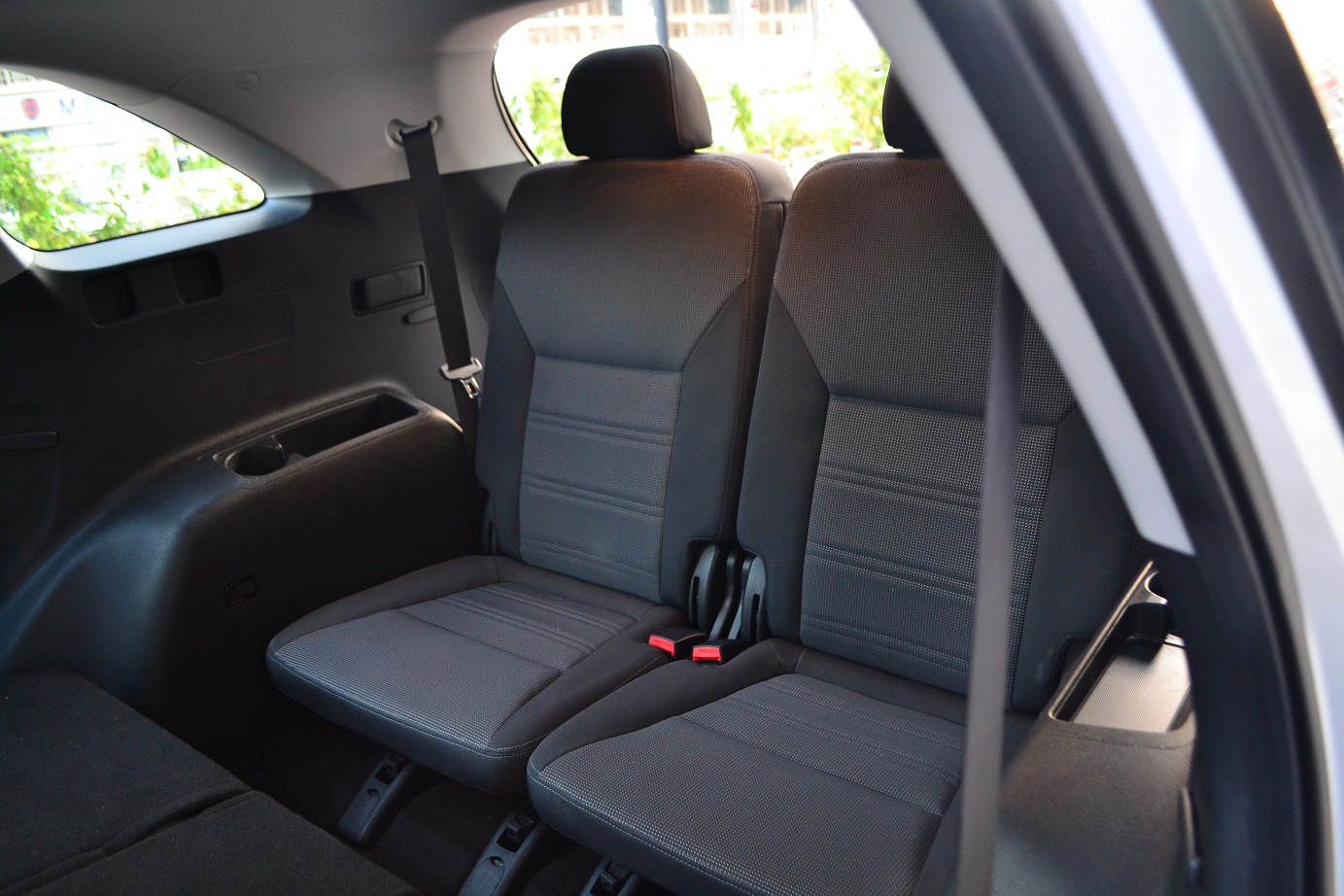 The third row is better suited for children as the legroom is limited. Also omitted in the 2.2LS is the 3rd row air conditioning vents which can be found in the petrol and diesel high spec variants.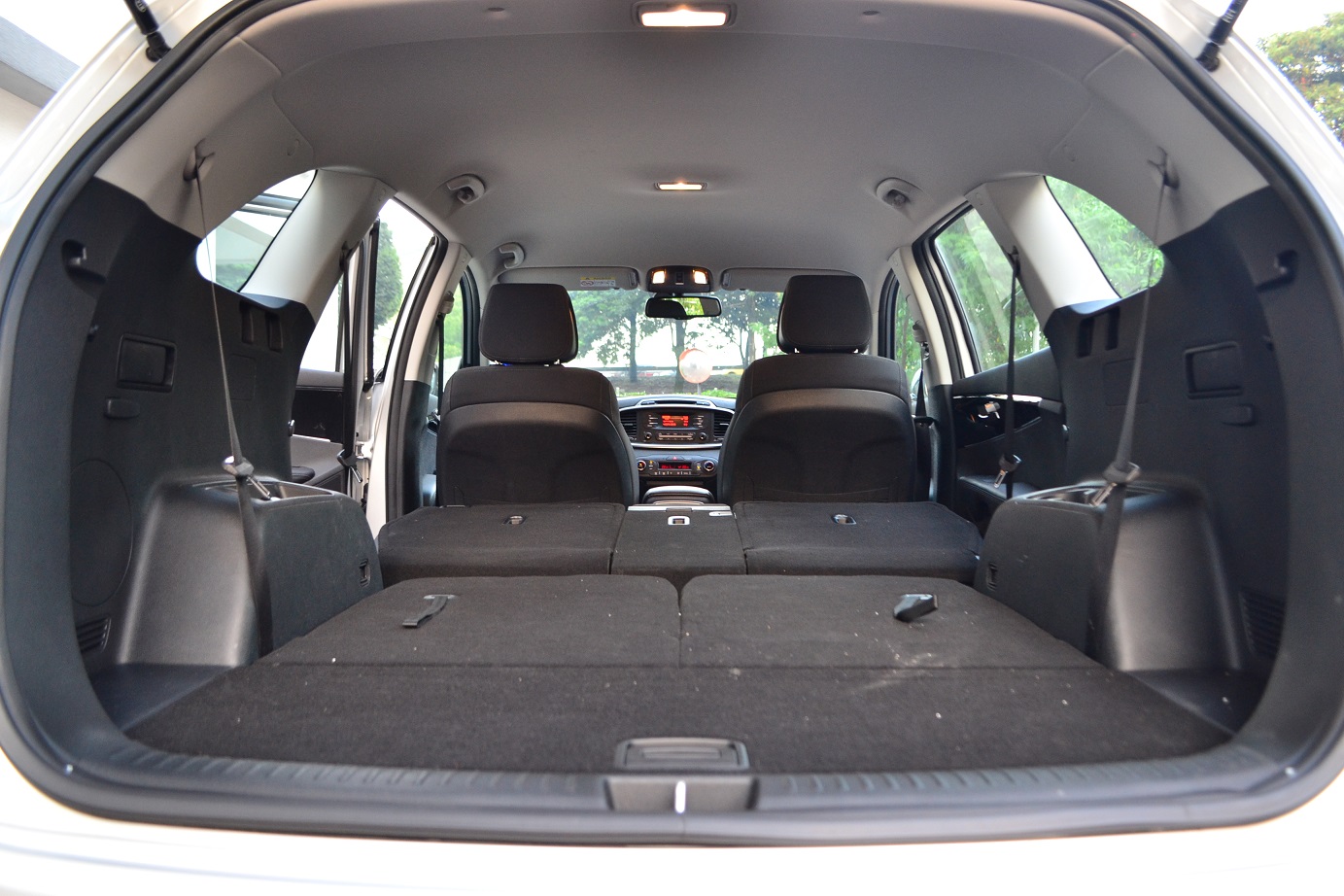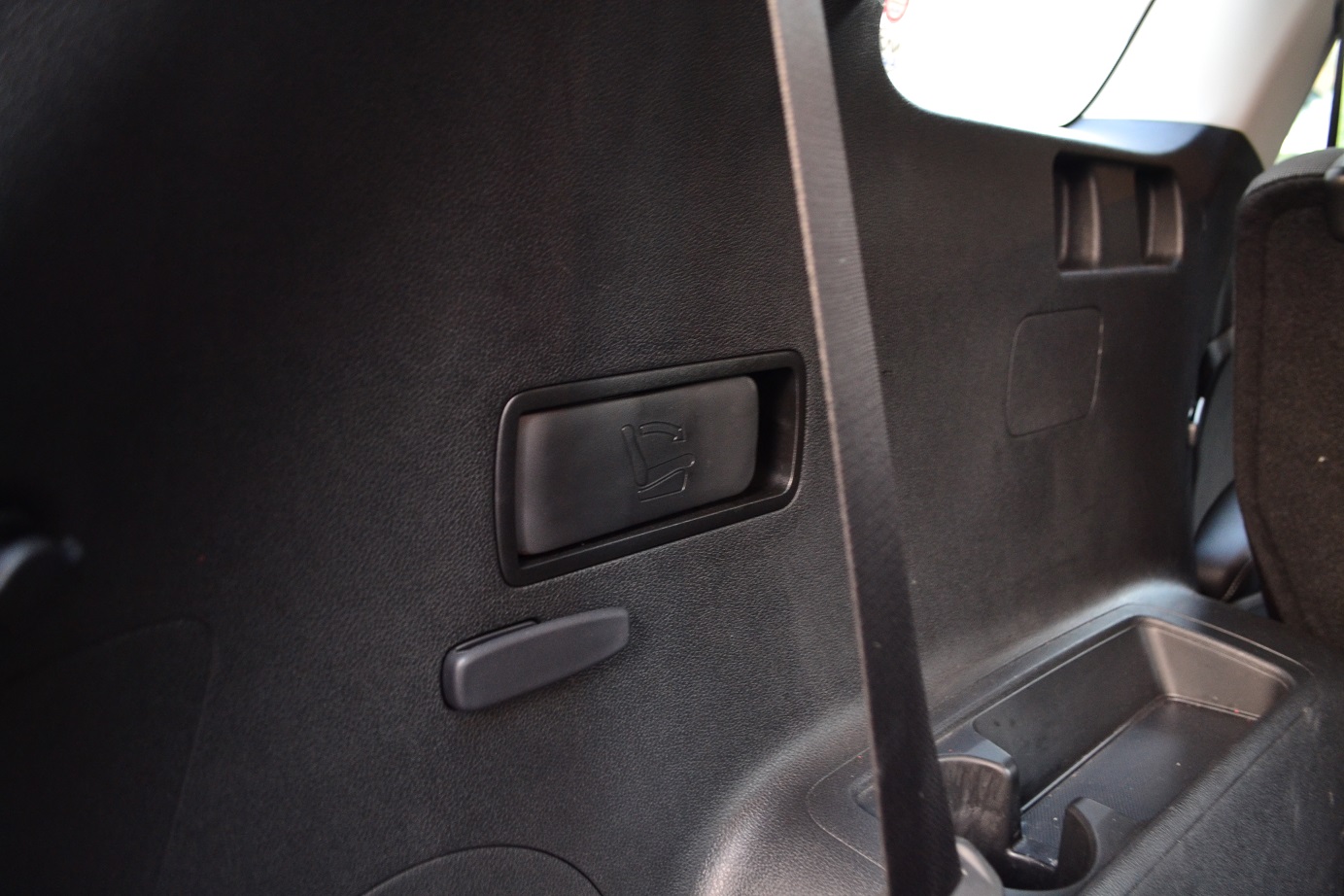 Storage space is fantastic, of course. With the 3rd row up, you get a measly 320litres of space. 3rd row down and you'll find a respectable 1,077litres of space while folding the 2nd row with a remote lever at the boot gives you a colossal 2,066litres of space. Enough to swallow everything from Bombadier private jets to Van Gogh art masterpieces if there was a need to – move things around comfortably.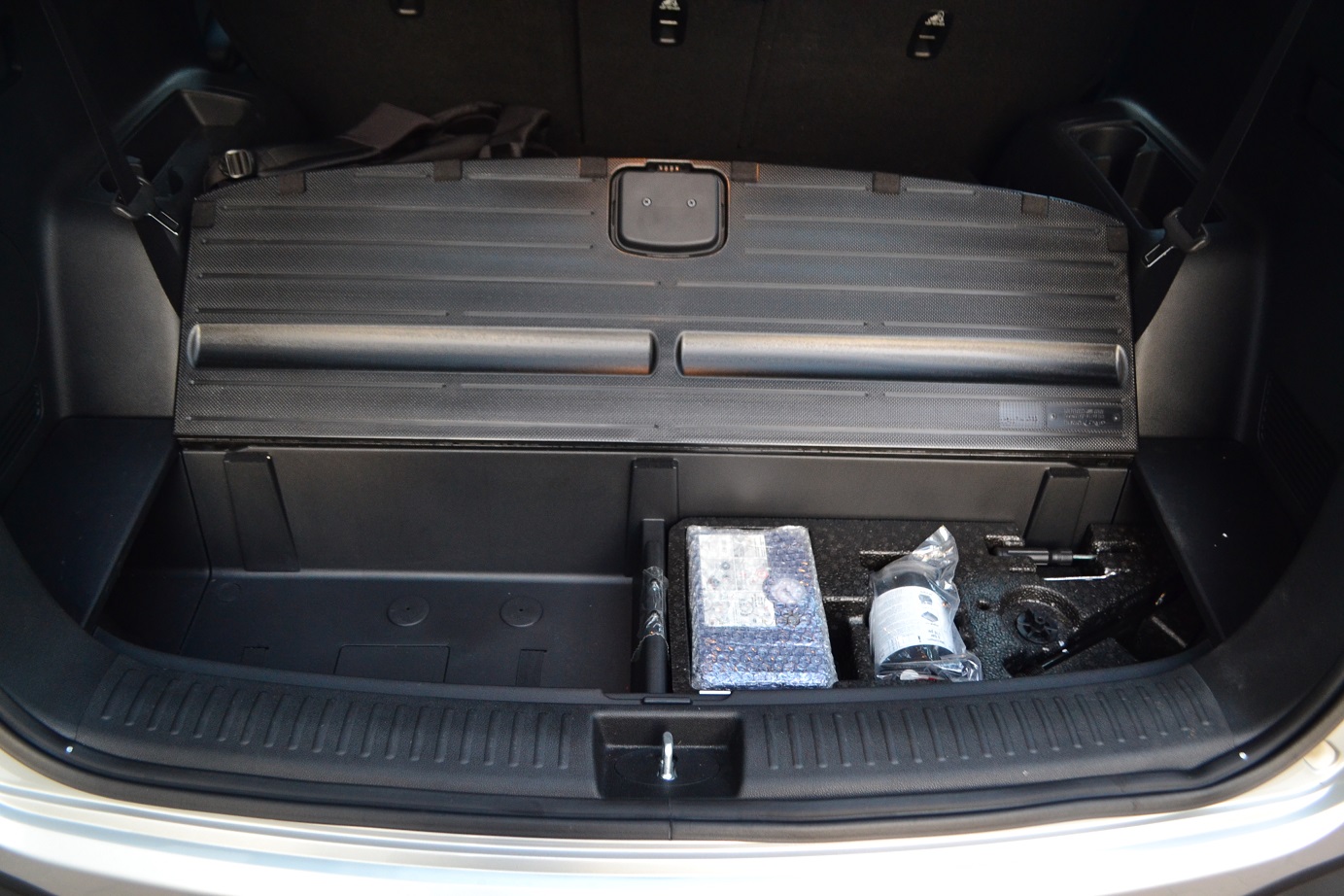 While the petrol variants get full sized spare tires, the LS here is fitted with a tire repair kit.
UPDATE: Since earlier this year, LS variants comes with spare tires and tonneau (boot lid) cover. The repair kit has been removed.
Safety
Even though the 2.2 LS is the lowest variant, it shares the same comprehensive safety features
Frontal airbags
Side airbags
Curtain airbags (total 6 airbags)
Front & rear parking sensors
ISOFIX
Tire Pressure Monitoring System
ESC
VSM
ABS
HAC
ESS
3-point ELR type front seatbelt with height adjuster
3-point ELR type 2nd row seatbelt
3-point ELR type 3rd row seatbelt
Immobilizer
Speed sensing lock
Impact sensing unlock
Specifications
Despite being the variant with the lowest price tag, the 2.2 LS isn't that badly equipped
Exterior
Automatic halogen headlamp with manual levelling and escort function
LED Daytime Running Lights
Front fog lamps
Cornering light
LED high mounted stop lamp
Bulb type rear combination lamp
Tinted window glasses
Conventional wiper blade
Chrome coated outer door handle
Electric adjustable, electric folding door wing mirror with integrated LED side turn signals
Roof pole antenna
Silver paint roof rack
Front and rear mud guard
Interior
3.5″ TFT mono LCD supervision cluster instrument panel with trip computer
Standard driving pedal
Electronic chromic rear view mirror
Sunvisor with illumination
Glovebox with illumination
3.8″ Mono Display Entertainment System with radio/CD/MP3/USB/AUX connectivity
6-speaker system
Dual zone full automatic air conditioner with cluster ioniser
Fabric upholstery
2 x front cupholder
Center arm rest with storage box
Rear air vent
2nd row arm rest
2 x 2nd row cup holder
2nd row headrest adjuster
3rd row walk-in function (sliding)
Back reclining 2nd row with 40:20:40 split folding
Fixed and fold3rd row headrest adjuster
2 x 3rd row cup holder
2 x 3rd row storage tray
50:50 split folding
Motor driven power steering, tilt and telescopic, leather wrapped with audio controls
Auto cruise
Idle Stop and Go
Rain sensor
Drive Mode Select: Eco, Normal and Sport Mode
Electronic parking brake system with auto hold function
Front and rear powered window with driver auto up/down
2nd row seat remote folding lever
Illumination cargo area with net hook
Keyless entry Smart Key System with Push Start button
Ownership and Maintenance
The all-New Sorento 2.2 CRDi is yours for RM155,888 OTR including insurance and GST and comes with a 5-year unlimited mileage warranty. It comes in 3 colors; Snow White Pearl (SWP), Aurora Black Pearl (ABP) or Silky Silver (4SS) as tested here.
Is it worth it?
From a sales perspective, the new Sorento hits all the right notes. It's got power, it's got style, it's got space and most important of all, it's got a price tag that's cheaper than some smaller 5-seater SUVs in the market. Being a diesel powered vehicle, not only do you get massive torque, you'd also benefit from excellent fuel economy.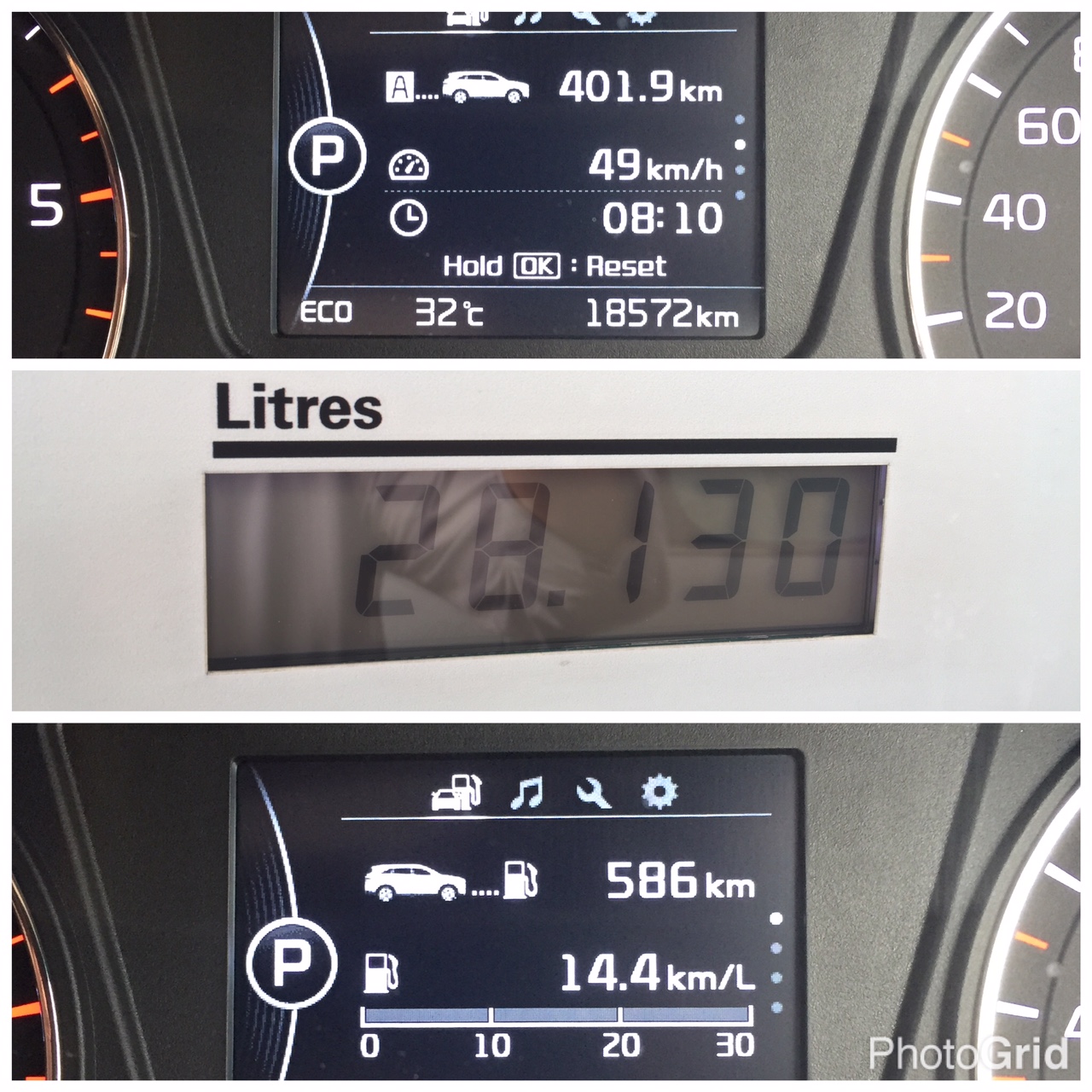 My trip from KL to Penang saw 28.13litres of a mixture of Diesel Euro 2M and Euro 5 consumed for a distance of 401.9km. That's impressive considering it's carrying a full load and still had a theoretical range of 586km. On my way back, AWD mode was on and the speed was – well, a lot higher than the speed limits. Even under such driving conditions, the total theoretical range is over 800km. Remember; this isn't a sedan so think about that when you consider it's shape and weight.
From an after sales perspective, Naza Kia Malaysia has been steadily making progress in providing better ownership experience, ranking fourth place in the J.D. Power 2016 Malaysia Customer Service Index (CSI) Study which measures overall service satisfaction among owners who took their vehicle to an authorised service centre by examining dealership performance in five factors which are service quality, service initiation, vehicle pick-up, service advisor and service facility.
From a resale value perspective, KIAs (and Korean cars in general) isn't known to be particularly great but Naza Kia is probably the only non-luxury brand that guarantees its future trade in value. The Kia Value 5 is a program that allows customers to trade-in their vehicles and get a new Kia car with a guaranteed value. I think this is a fantastic initiative to give peace of mind to owners and imbue confidence in the brand. However at press time, this program is active from November 1, 2016 until December 31, 2016 so I'm not sure if they've extended this. I feel they should if they're serious in establishing the brand long term.
That being said, I feel the biggest competitor to the Sorento isn't the Hyundai Santa Fe. It isn't the Nissan X-trail.
It's the legion of recon Toyota Alphards and Vellfires that has come down in pricing. A quick check on some online automotive classifieds sees 2010/11/12 units being offered at the RM150k price range and you'll find certain individuals with that kind of budget to go for the Toyota large MPVs. Nothing wrong with that, if you can live with a pre-owned vehicle with a history that you may not completely know but hey, it's a Toyota! They don't breakdown.
Sure, but what's to say the Sorento wouldn't outlast a Japanese vehicle nowadays? Bear in mind that the 2.2l CRDi has been introduced in our shores since 2010 by the second generation Hyundai Santa Fe and it has proven to be a durable and consistent workhorse. I don't see any reason why it shouldn't work as well and as long in the new Sorento.
Some might argue that it's a shame that the diesel variant comes with so little gadgets. I'd say that's part of its appeal; less electronics means less things to fail in the future. And less things to fail means it's wallet friendly and can last till your kids are all grown up.
Or at least impress that your relatives when you're back in hometown la.