Baby Boomers, Gen X, Gen Y, Millennials – they're all cohorts of people born within a certain demographic period. We call them generations and they are defined as a difference of opinions between one generation and another regarding beliefs, politics, or values. Among the various generations, the Millennials seem to be in the spotlight for the wrong reasons. Feeling entitled, narcissistic and self interested are common labels used to describe them. Contrary to popular belief, a millennial (also known as Gen Y) isn't one that's born post-year 2000. While the starting date of a generation is arguable, most agree that the period from 1984 to 2000 is a good reference.
Therefore, the oldest Millennial would be 33-years old this year which is an age where he/she has greater buying power. The economic authority has shifted away from Baby Boomers and currently resides with the Xs and Ys.
And here's where the problem lies with most companies. Positions of influence in companies are usually held by senior people; likely a Gen X or even a Boomer. They may not understand Millennials very well. They did not grow up in an environment where information is so readily available and from this wide selection of information, Millennials comprehend and appreciate one key point if they need to purchase anything; Choice. Earlier generation managers are baffled by this new generation that can't seem to be satisfied. Always demanding. Always questioning.
But here's the thing; most businesses has not changed to suit the new generation.There is a certain fixed, traditional "this is how we've always done it" kind of approach. Some might even feel that by adding an online shopping cart, they've just made their business 'updated' to suit the new generation of consumers. That's the problem.
No one designs a product by understanding the basic needs of the new generation. The interpretation of what-people-wants comes from an earlier generations whose preferences may deviate from the generation they intend to sell to. Some try too hard, creating something that's so counter-intuitive, it fails to connect to the customers.
This is why I feel the Hyundai IONIQ is a bit special and is perfect for Millennials. Allow me to elaborate;-
Design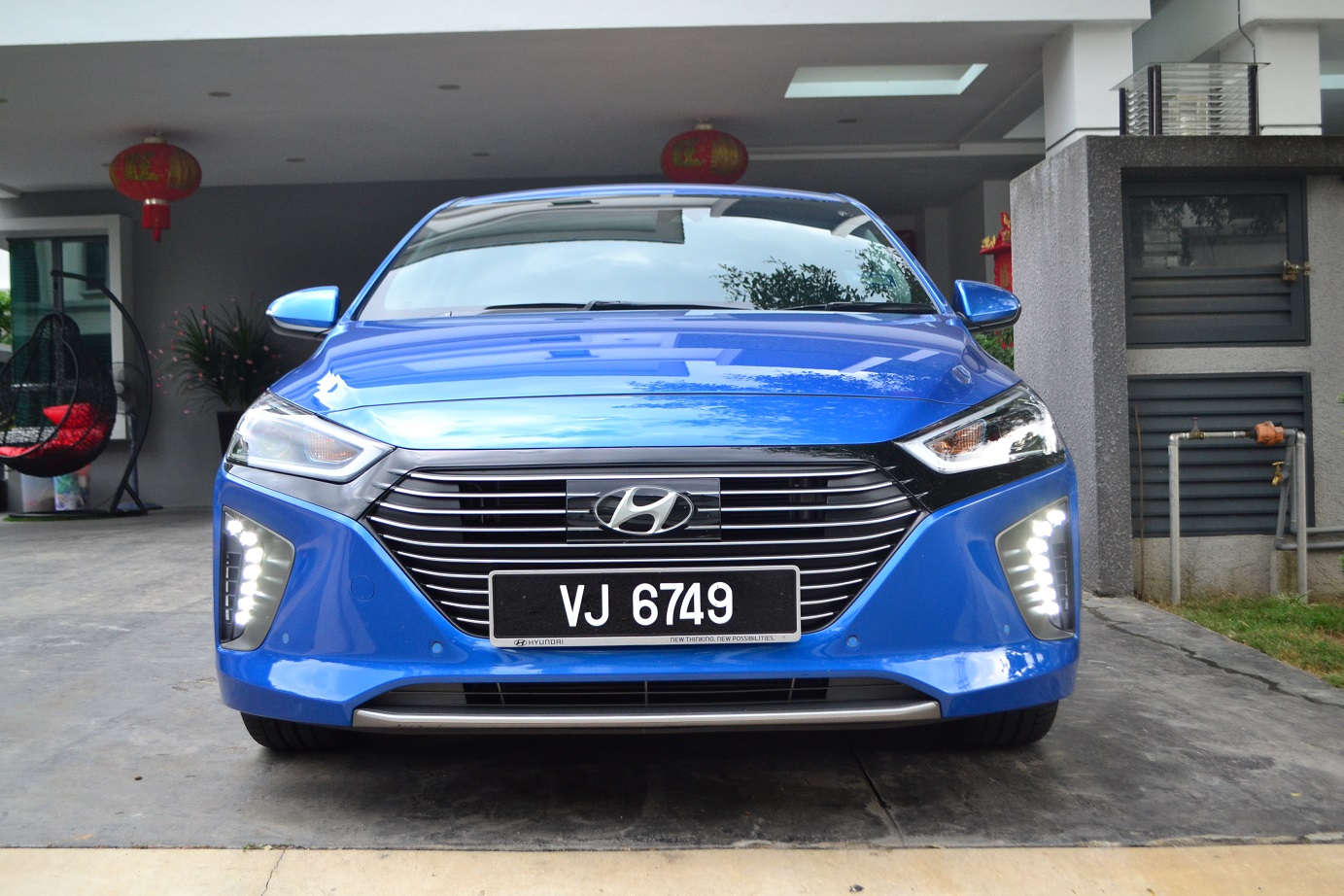 The IONIQ is one sleek vehicle with an aerodynamic silhouette that's designed to offer minimal wind resistance. Much like the Tucson, you'll find Hyundai Motor's signature hexagonal grille, nestled neatly between the bi-xenon headlights and a vertical C-shaped LED daytime running lights. The base of the bumper has contrasting colors that makes it look like it has front skid plates. The unit you see here is the higher spec HEV PLUS (the other variant offered by Hyundai Malaysia is the HEV that is cheaper but omits a few kits)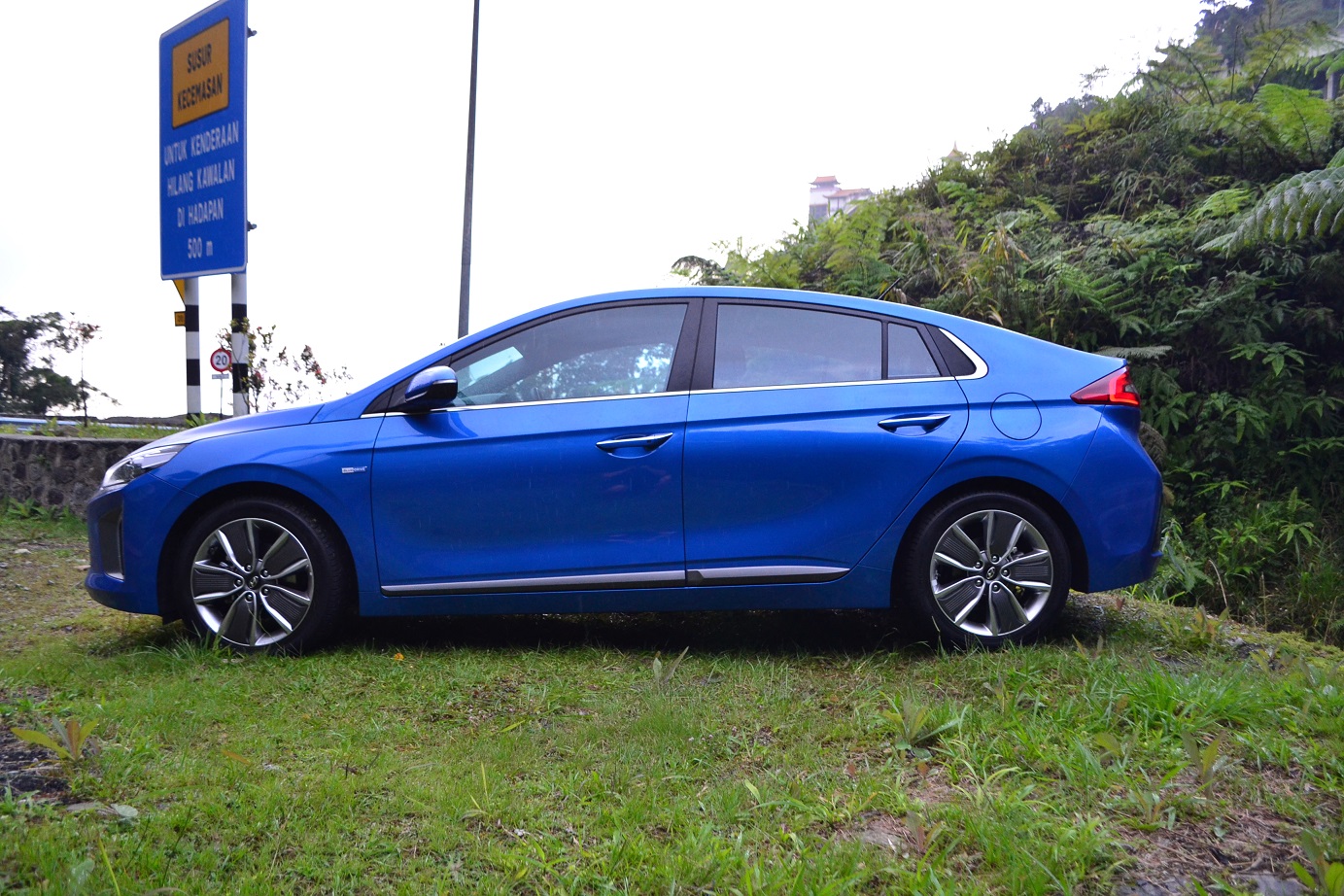 The IONIQ is essentially a C-segment measuring 4,470mm in length, 1,820mm in width, 1,450mm in height and a wheelbase length of 2,700mm which is identical with a Honda Civic.
Seen from the side, its coupe-like silhouette is accentuated by side sill moldings and carefully wrought contours makes it one of the sexiest vehicle you can buy without spending more than what you'd typically pay for a Japanese C-segment sedan. Matched with specially-designed two-tone 17-inch wheels, the overall effect is most pleasing to the eye.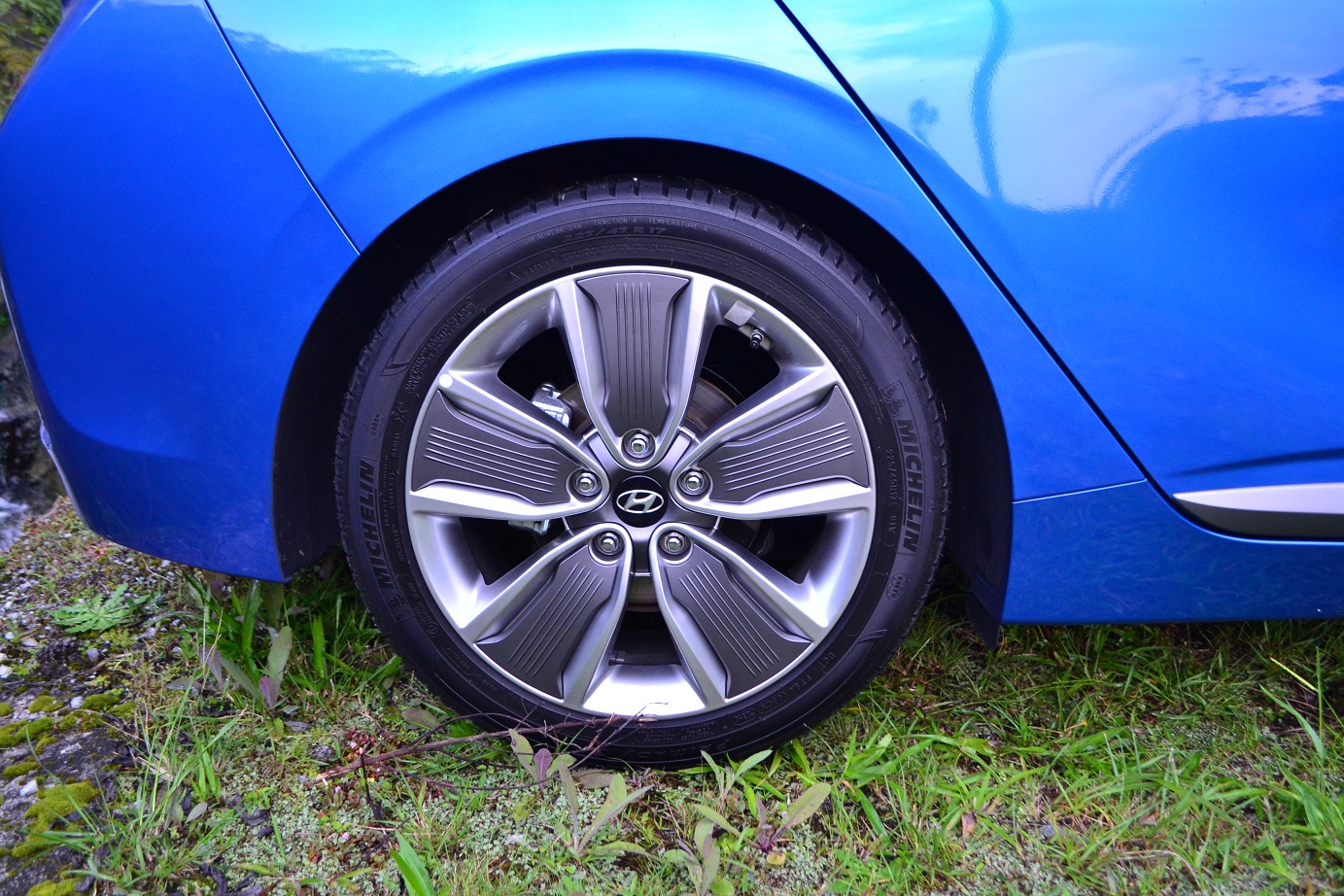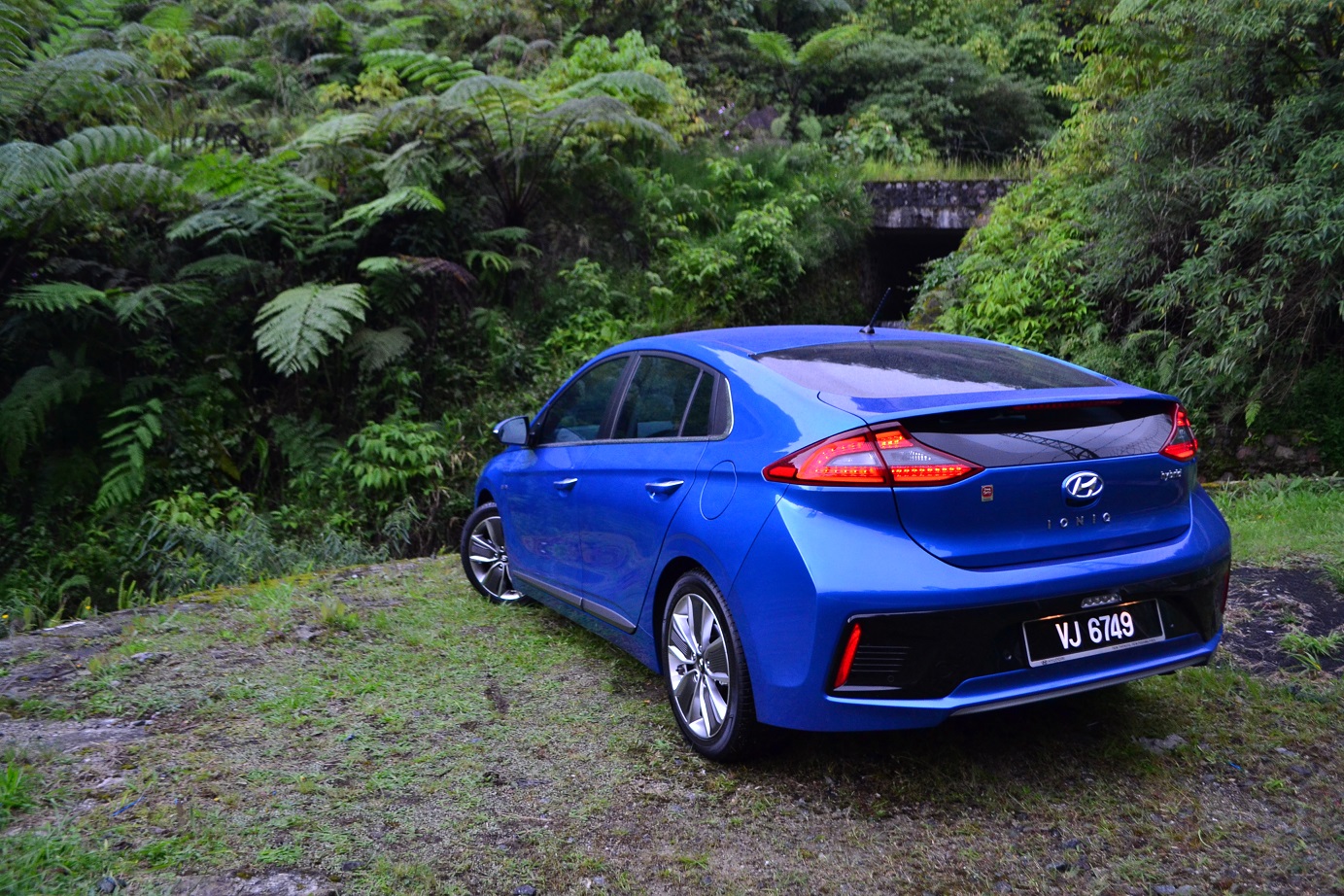 Everything on the IONIQ, including the rear spoiler and diffuser, floor undercover and a closed wheel is design to contribute to the car's high aerodynamic efficiency. The rear looks well balanced and to be frank, I can't find anything to pick here.
Performance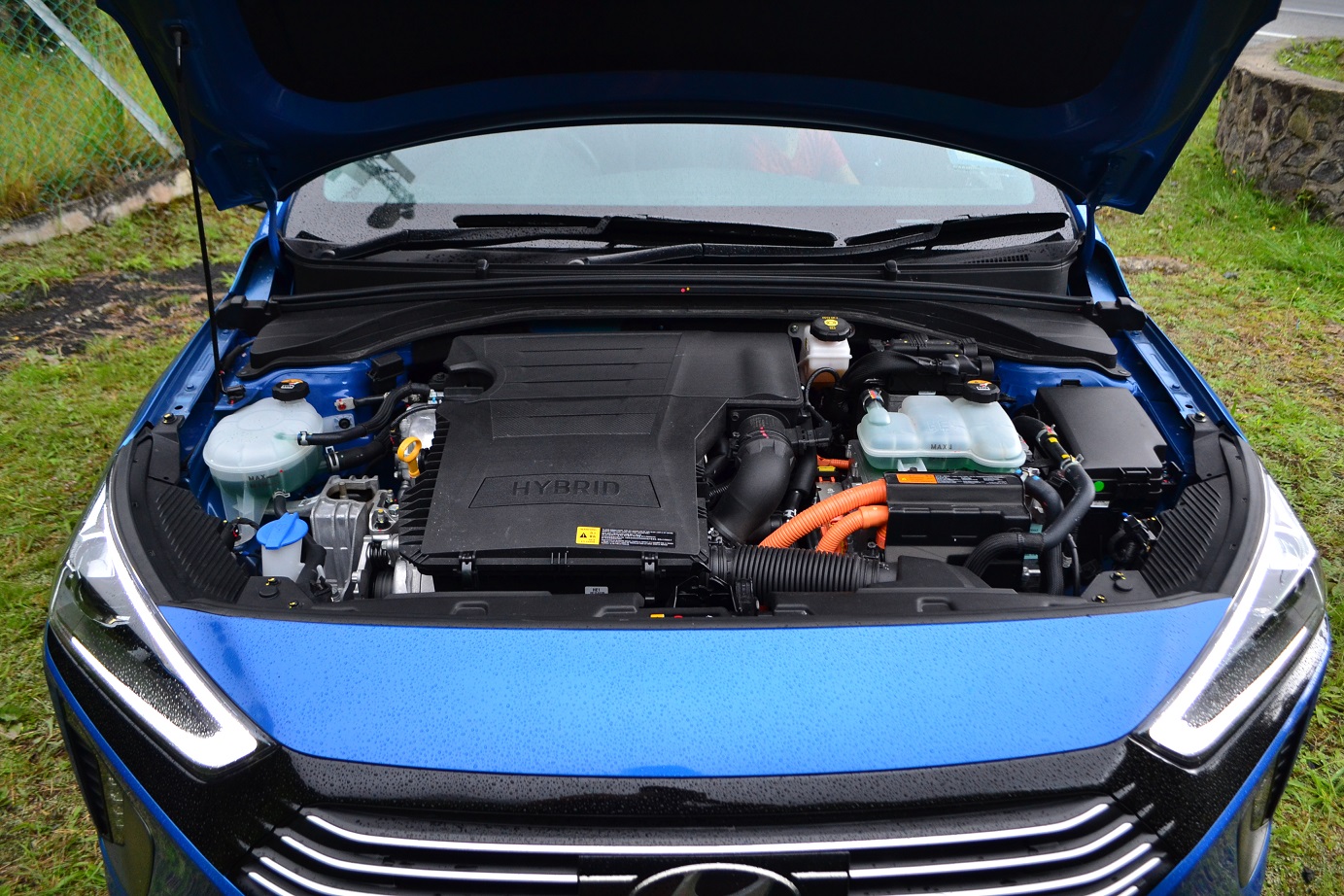 The IONIQ is offered in three variants; pure electric vehicle, plug-in hybrid and petrol-hybrid. We get only the petrol-hybrid and it's equipped with a newly developed, dedicated Kappa 1.6 Atkinson GDI four-cylinder engine that delivers 105PS @ 5,700rpm and a maximum torque of 147Nm @ 4,000rpm.
Combined 32kW (43.5PS) electric motor, the total output is 103.6kW (141PS) @ 5700rpm and max 265Nm of torque in first gear and 235Nm in second to sixth.
Being a hybrid, the IONIQ alternates between pure electric mode, engine mode and engine plus electric mode in such a seamless fashion, you won't feel a thing. No official 0-100km/h data in the catalog but some sites report a figure of 11.1seconds century sprint. Not great on paper but in my run up the touge roads of Genting Highlands, the IONIQ doesn't feel underpowered at all. It's not sold as a sports car but it's more than capable of overtaking its fair share of vehicles, much to the surprise of other motorists who's unfamiliar with a hybrid getting the better of them.
Note; you CANNOT manually engage pure EV mode. Although it is possible to propel the car with electric power alone, the vehicle's ECU logic will determine how best to use it's resources and engage automatically.
If the battery is full and you're still coasting, the wheels would channel power to the engine where you get free power for air conditioning, audio and lighting.
Ride and Handling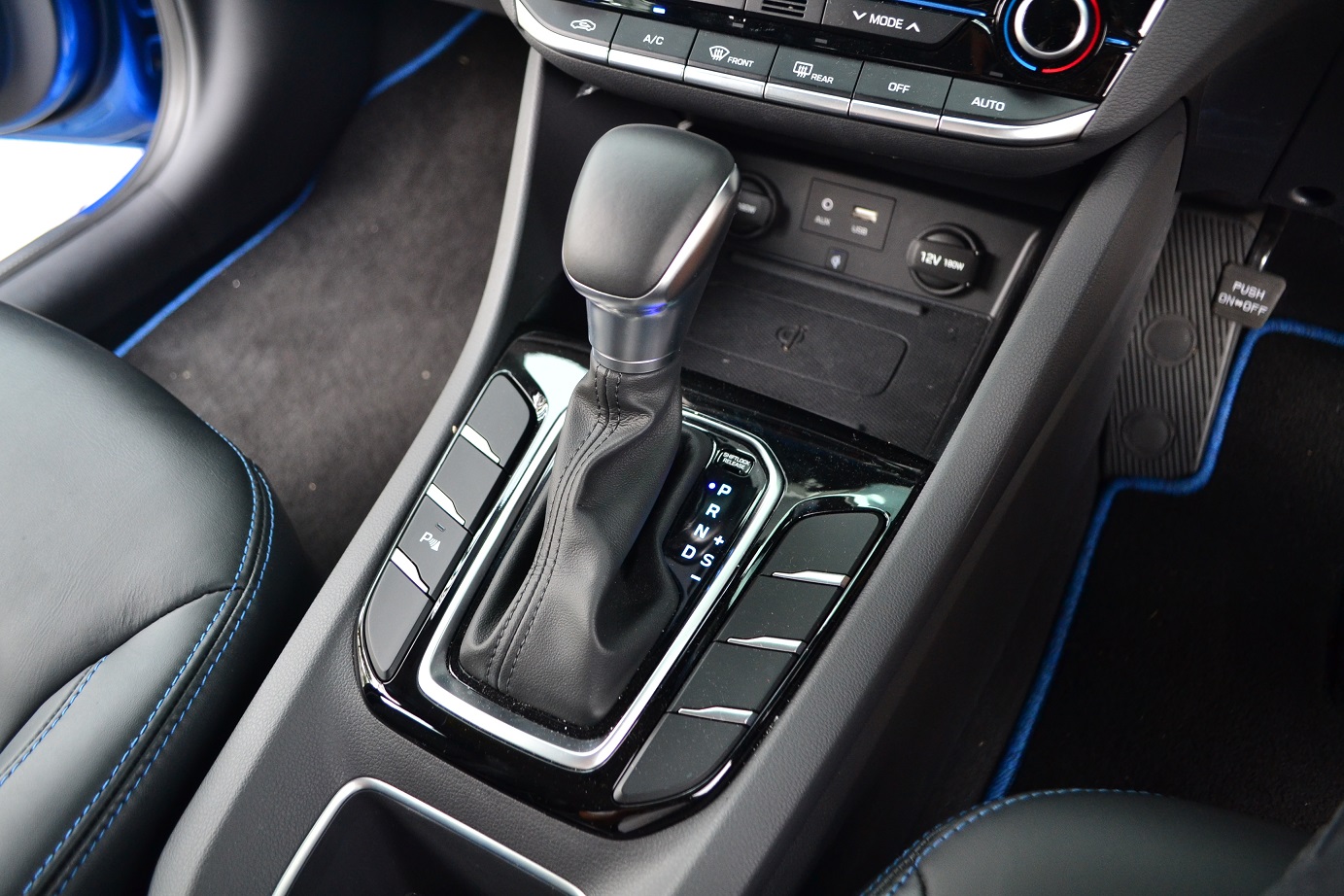 The engine's performance is paired with good handling characteristic and the IONIQ's suspension is a fine union. Sporting rear multi-link suspension, the vehicle is agile and weight transfer during cornering, braking and acceleration is great. Not many may agree but I've used various Hyundais for a couple of years and I've always felt they handle relatively well. It's biggest Achille's heel is the steering; it's too light and gives as much feedback as a woman that's upset with you. (Anything wrong? NO, I'M FINE!)
But the IONIQ's steering has no qualms being open and transparent on what the wheels are doing. At no point during my haste up Genting did I feel nervous or unsure of when traction would fail me. Spend a few minutes with the car and you'd appreciate how well it responds to your input. It's not race car sharp but for a 'normal car' (a hybrid to boot), it's very easy to get used to. Part of it, I believe is due to the use of aluminium in the hood and tailgate which reduces the weight by 27 lbs. compared with conventional steel. Weight shaving also extends to less obvious areas like the cargo-screen cover. All of this contributes to creating a car that's lithe and nimble.
The IONIQ Hybrid features a six-speed dual-clutch transmission (6DCT), which it claims to be the best-in-class transfer efficiency through the use of low-friction bearings and low-viscosity transmission oil. Like most DCTs, 'creeping' (that's when you're parking/stuck in slow moving traffic and want to move just a few inches) can be tricky some times as it's not always so easy to predict when the power will come as you step on the gas pedal. That said, it's fairly responsive and doesn't judder as much as other DCTs found in other brands.
Two drive modes are available to the driver; SPORT or ECO modes. The SPORT function holds lower gears longer and combines power from the engine and electric motor to reward the driver with maximised performance. In ECO mode, the 6DCT optimises the gear selection for fuel economy, shifting up earlier to higher gears to achieve better fuel economy. Driving the IONIQ like I stole it, I drained the battery reserves but it didn't go below 1 bar. The engine was working twice as hard to drive the wheels and charge the batteries at the same time. During this time, there will be very short gaps when maximum power is not available and as soon as you revert to lower speeds, the batteries can be charged quickly.
NVH is among the best in its segment due to proper insulation in the dashboard that minimises engine noise. Damping in the floor panels as well as enhanced A and B pillar fillings, thicker window glass and noise cancelling film on the windshield further improve the quiet and comfortable ride. So good that it feels like it's a vehicle twice its price tag.
Cabin Convenience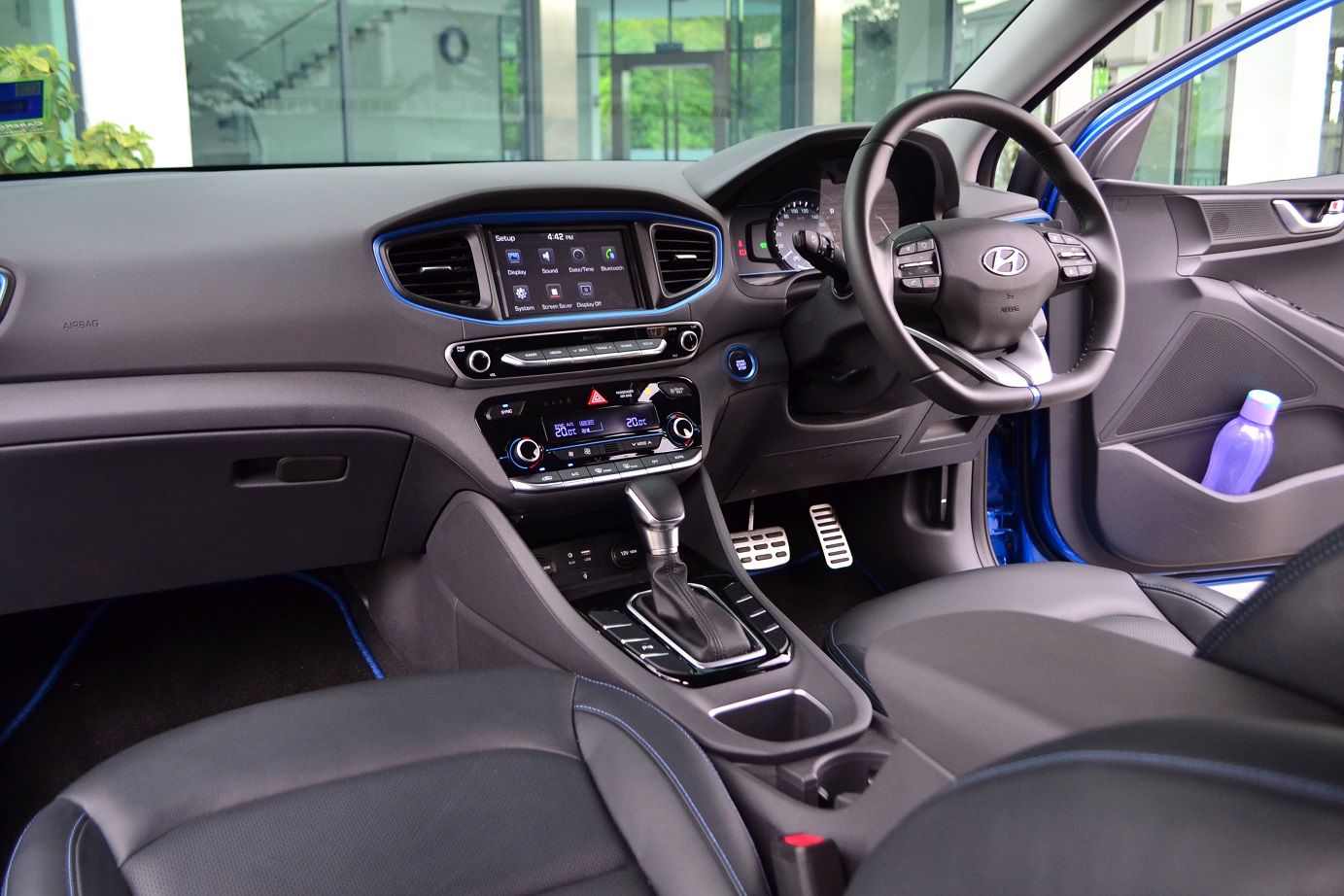 The interior of the IONIQ is elegant and well put together. Unlike some other hybrid that tries hard to 'wow' the passengers, the cabin is laid out in a manner that you'd expect in any car; each display, button and dial position is logical and structured. It's so easy to acclimatize to it that the only thing I needed more time to get used to is the use of the foot brake instead of a handbrake and that's because my regular car doesn't have a foot brake.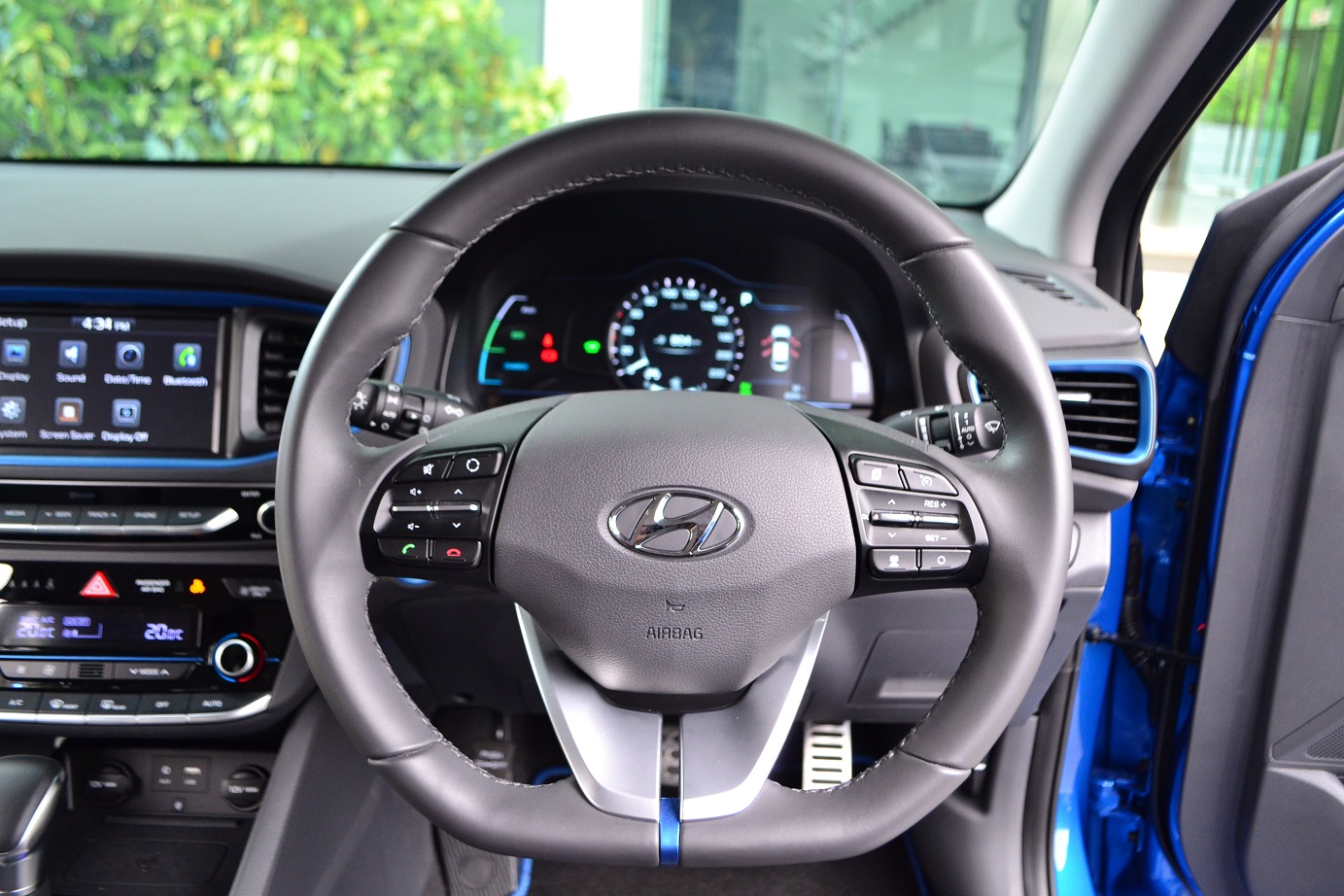 You get a leather wrapped, flat bottomed steering wheel with audio and multi-info display control buttons. It's nice to grip and being power assisted, it's get heavier the faster you go.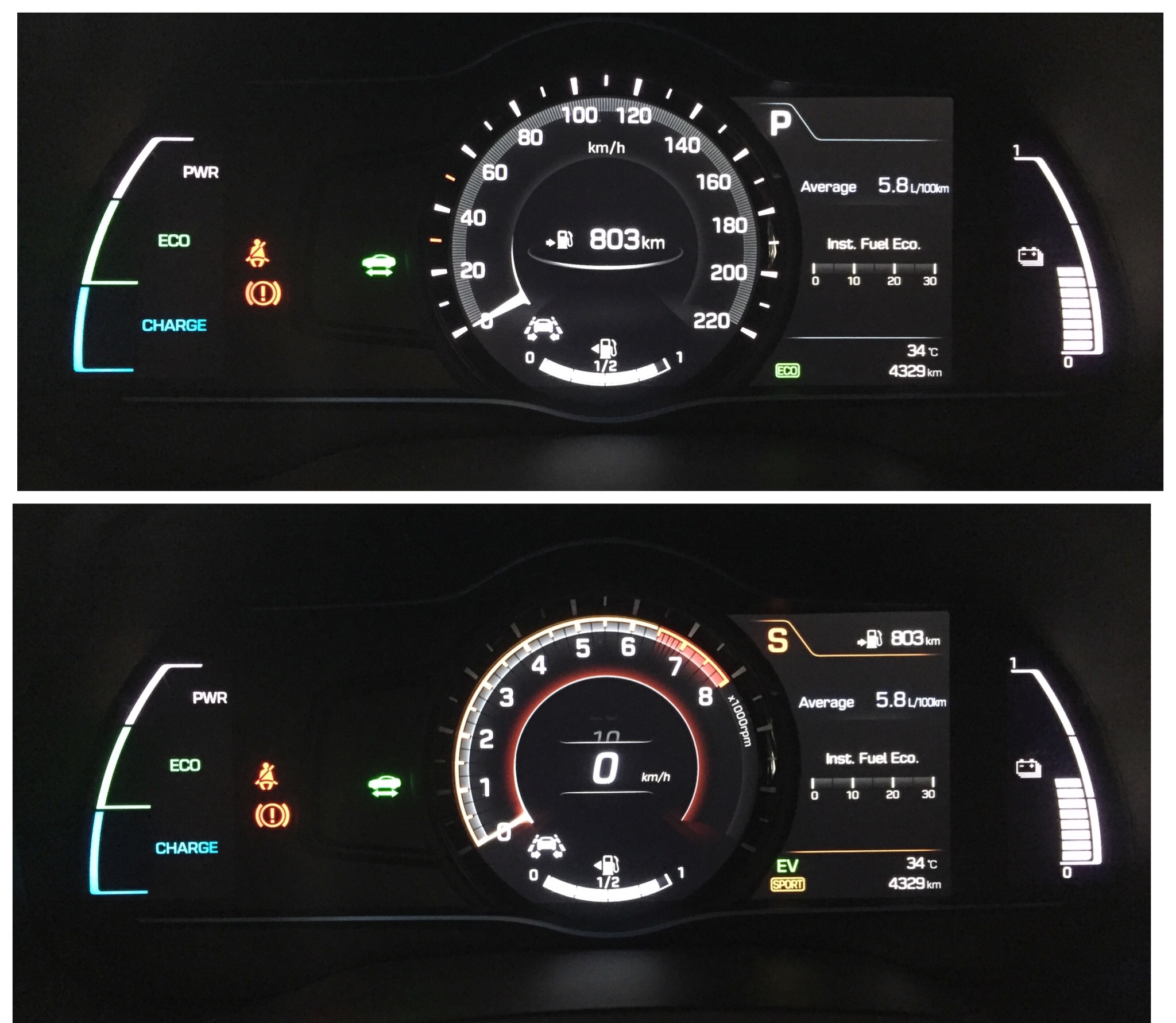 At first glance, the meter may not be impressive but it's capable of "transforming" itself between drive modes. In D mode, the speedometer stands out prominently in the center but the rev counter is missing. On the left is the indicator meter for Power, Eco or Charge stage depending on how you drive and that's real time whereas on the right is the multi-info display (MFD) and the battery indicator.
Switching to S mode (pushing the gear level to the right while in D) changes the display and the illusive rev counter, in sporty red hue replaces the speedo. The of the dial is the speed indicator.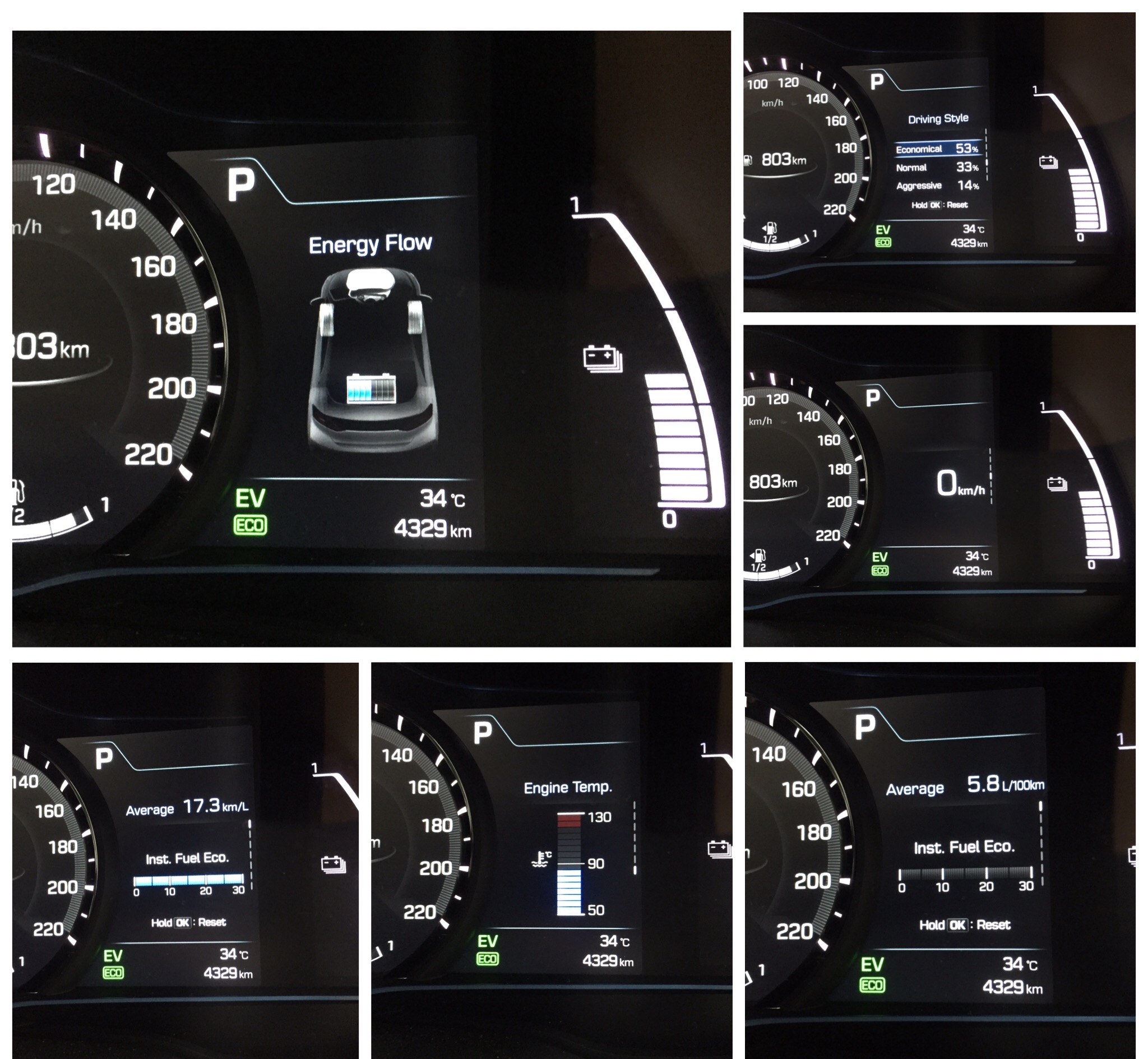 The MFD gives you a myriad amount of information, ranging from energy flow, driving style, digital speed readout, fuel economy meter, engine temperature and trip A/B (sorry, the last picture above is a repeat of the fuel economy meter).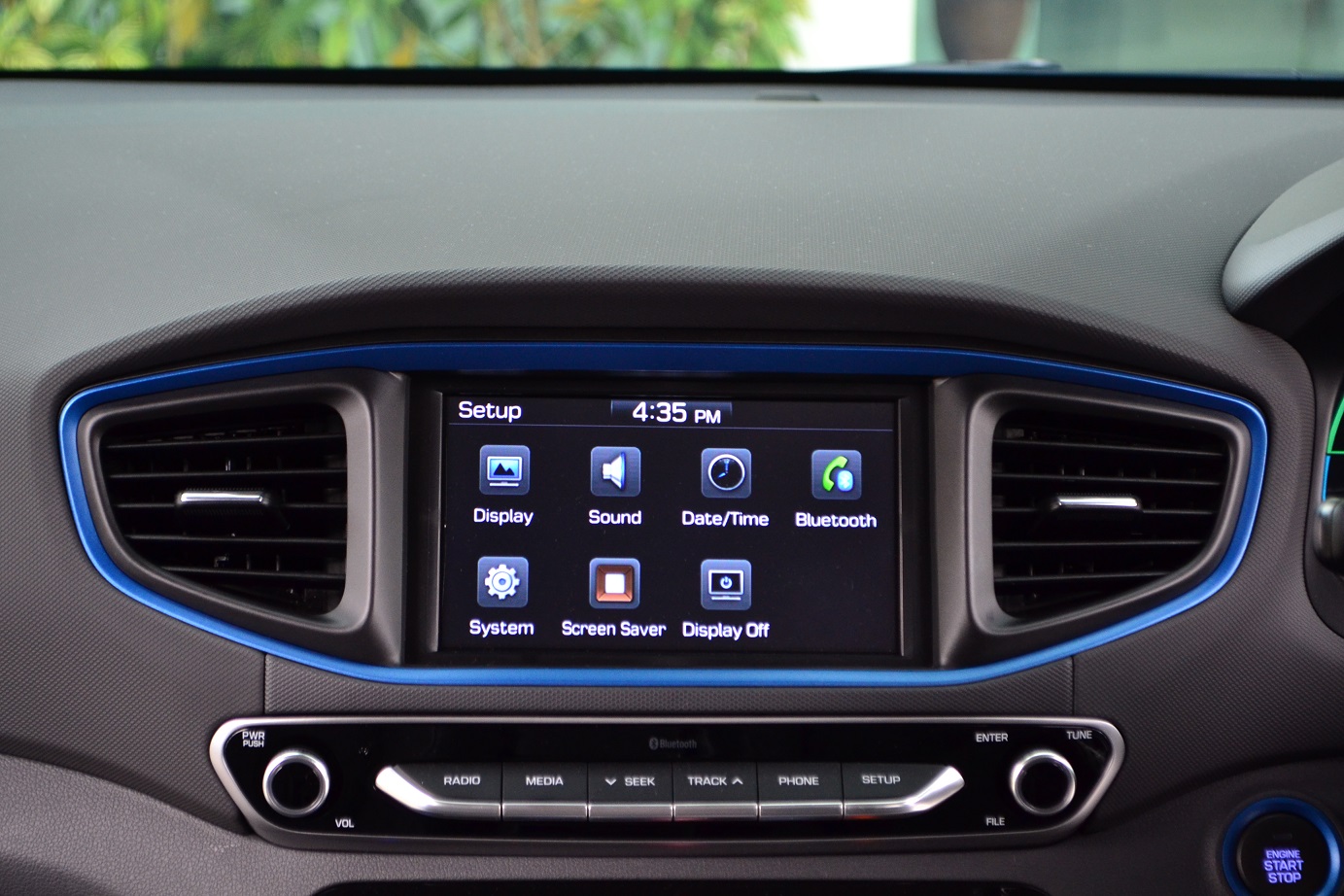 If you buy the HEV PlUS, you'll find a 7″ LCD Audio system display (HEV gets 5″) and I have to make a special note about this; the audio system found in the IONIQ is awesome. Bass reproduction is fantastic and when I stream the audio of a movie (either via Bluetooth or direct cable to the USB), it's like sitting in a cinema. It might not have the pin point accuracy of an expensive audiophile set up but sound staging (the feeling of space when you play a wide sounding recording like a concerto) is brilliant. I've not had a better time blasting the speakers in any other car.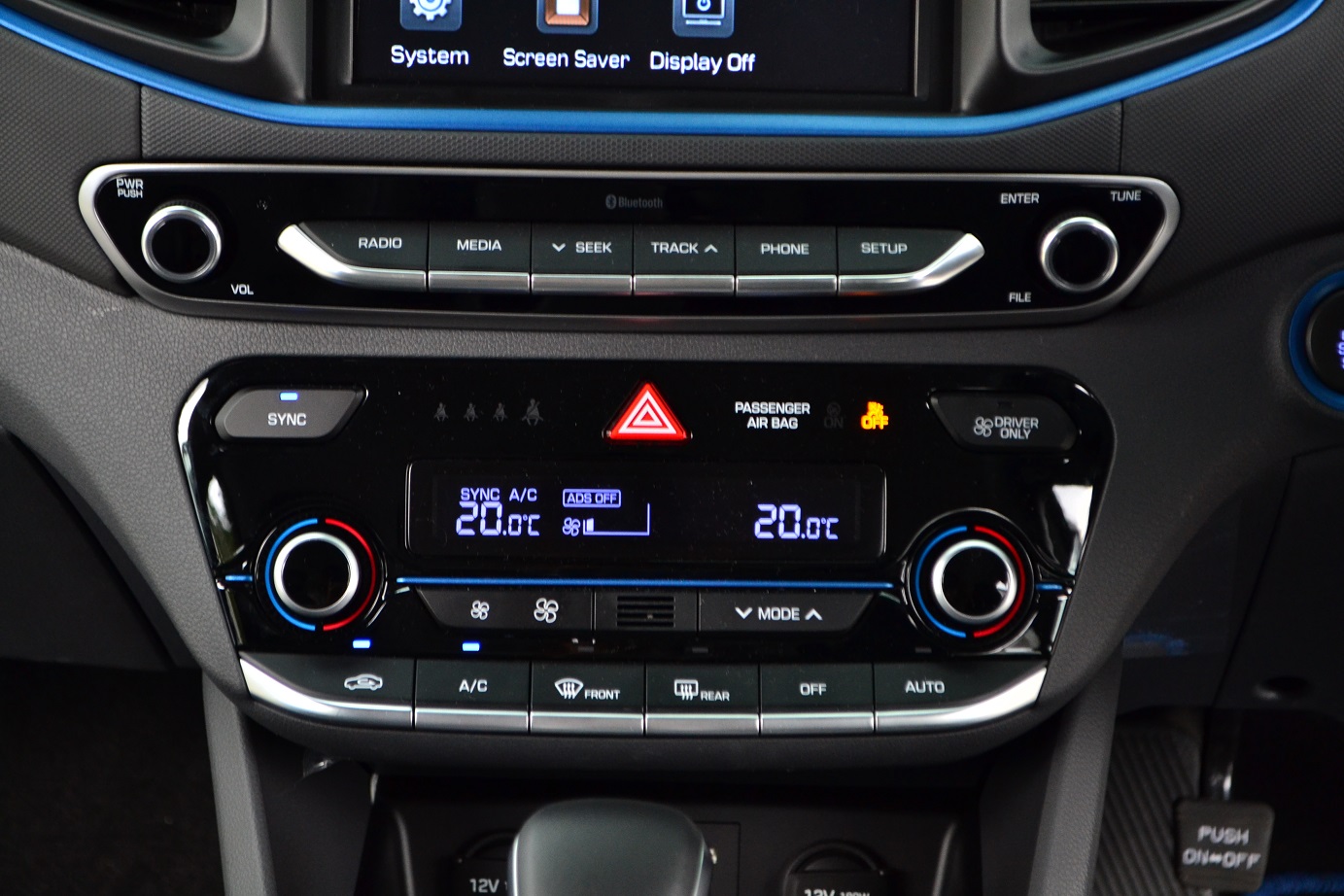 The IONIQ's climate control is a dual zone type and what's unique about it is that it  can be set to 'driver only' mode to reduce the load of the air-conditioning and heating to work more efficiently. I wonder why no one else have thought of this since most of the time, we only commute ourselves to work so having the air conditioning system working to push cool air to all vents doesn't really make much sense. The throughput is good and most of the time, I just keep the Driver Only mode on and gain a few extra kilometers of mileage.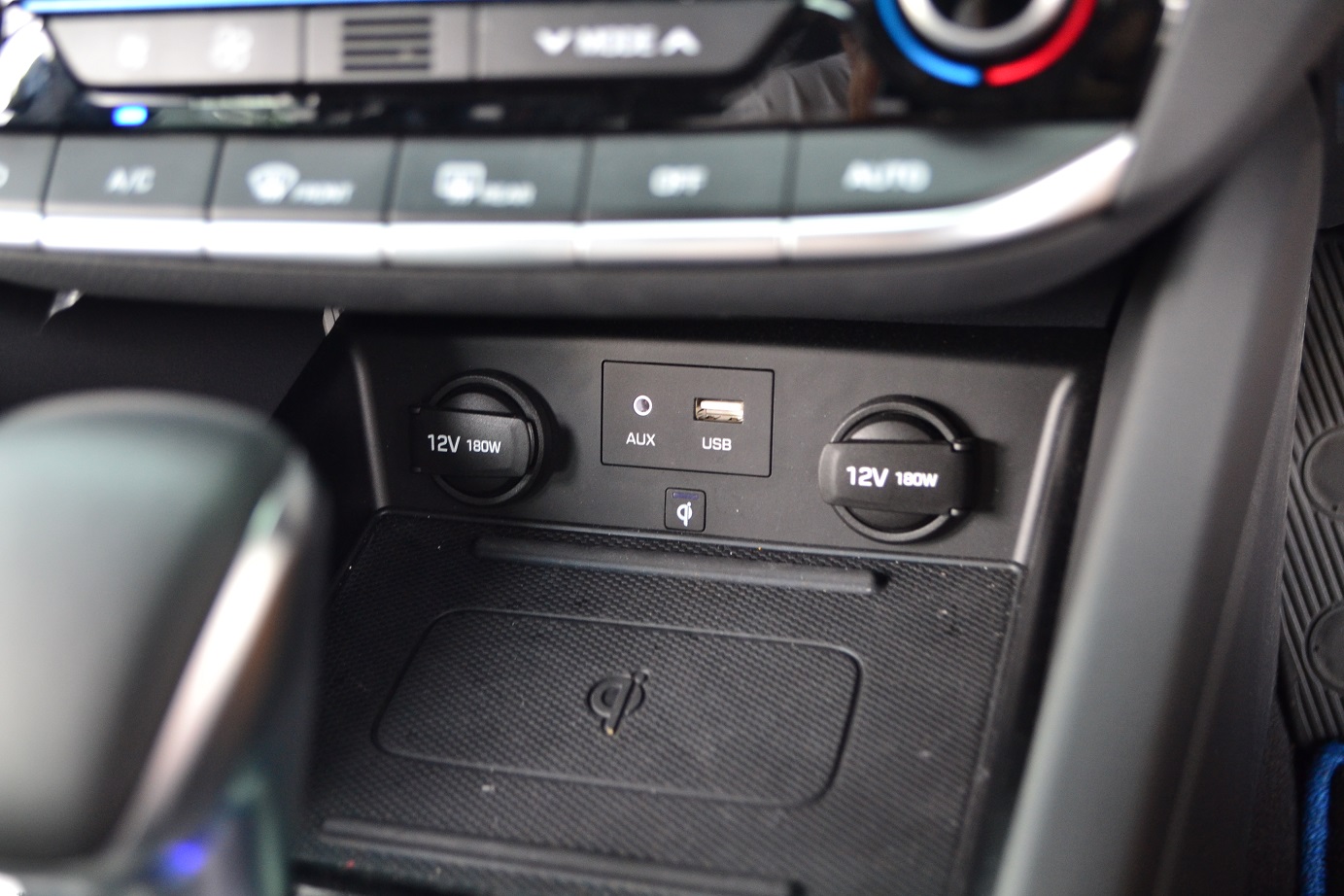 Below the air conditioning controls are the 12V sockets, AUX and USB ports.What's not found in any other vehicle of this price range is the wireless charging system that allows you to juice up your smartphone without plugging it into the socket. I had one Samsung phone and it works like a charm. That's a Millennial feature for you.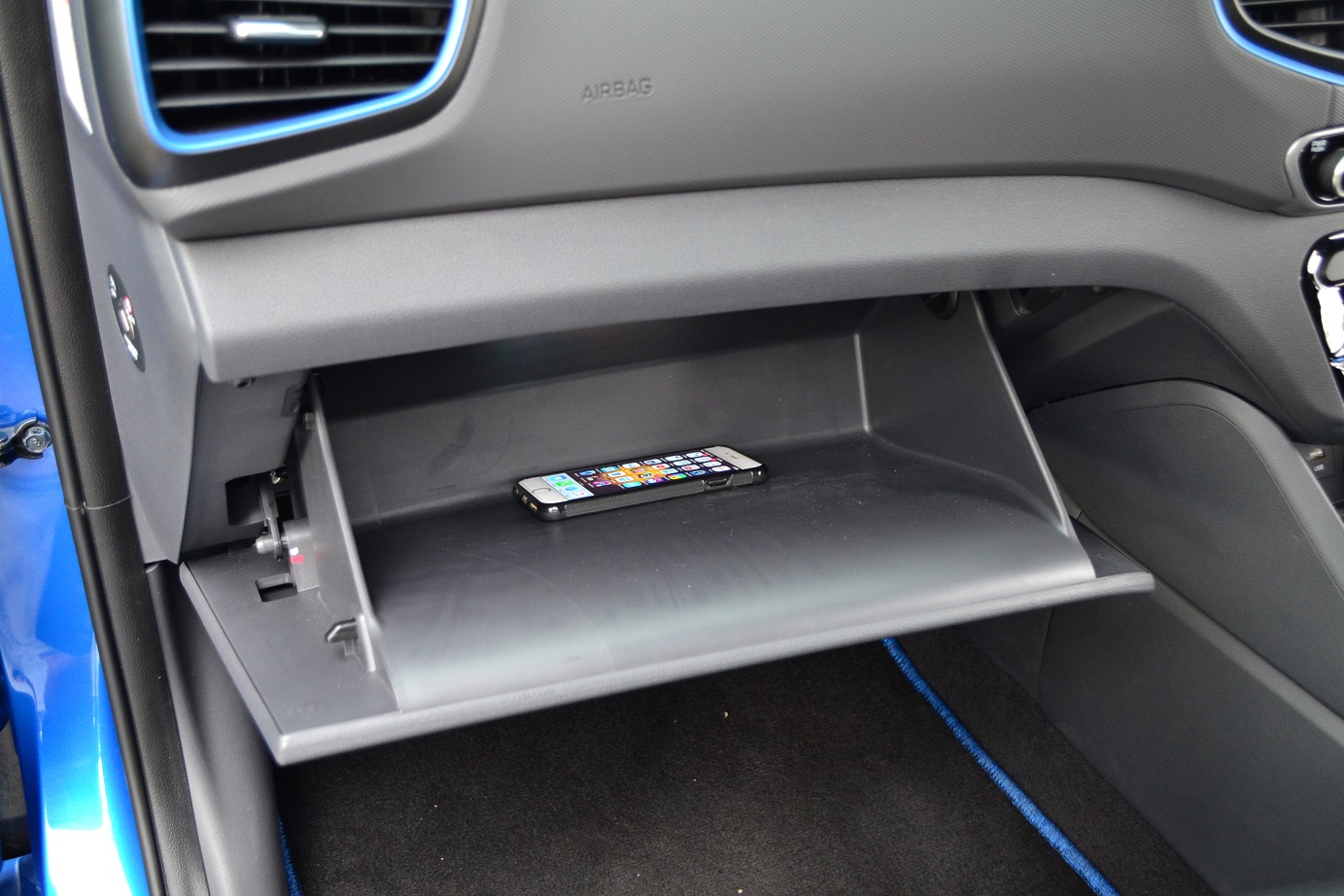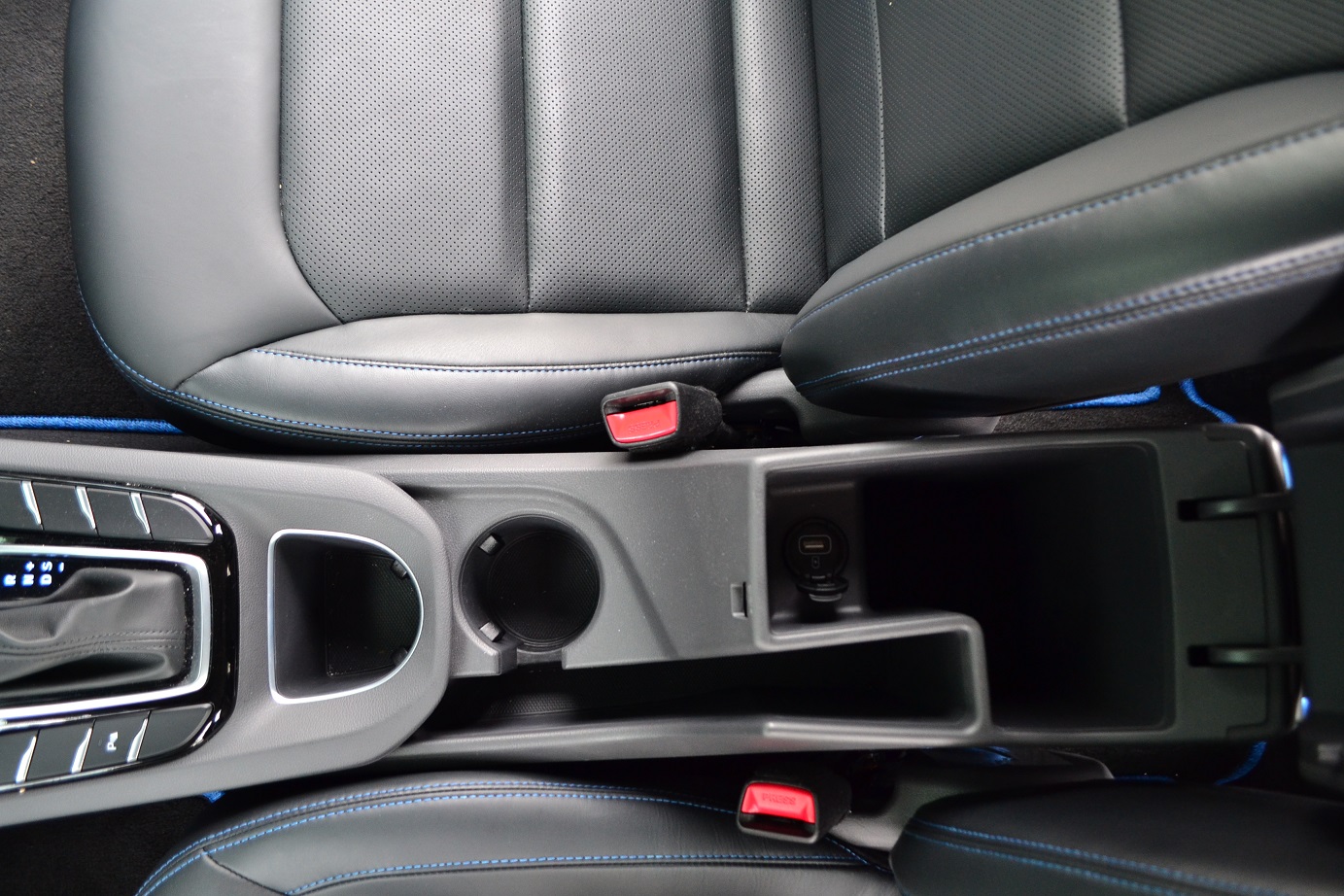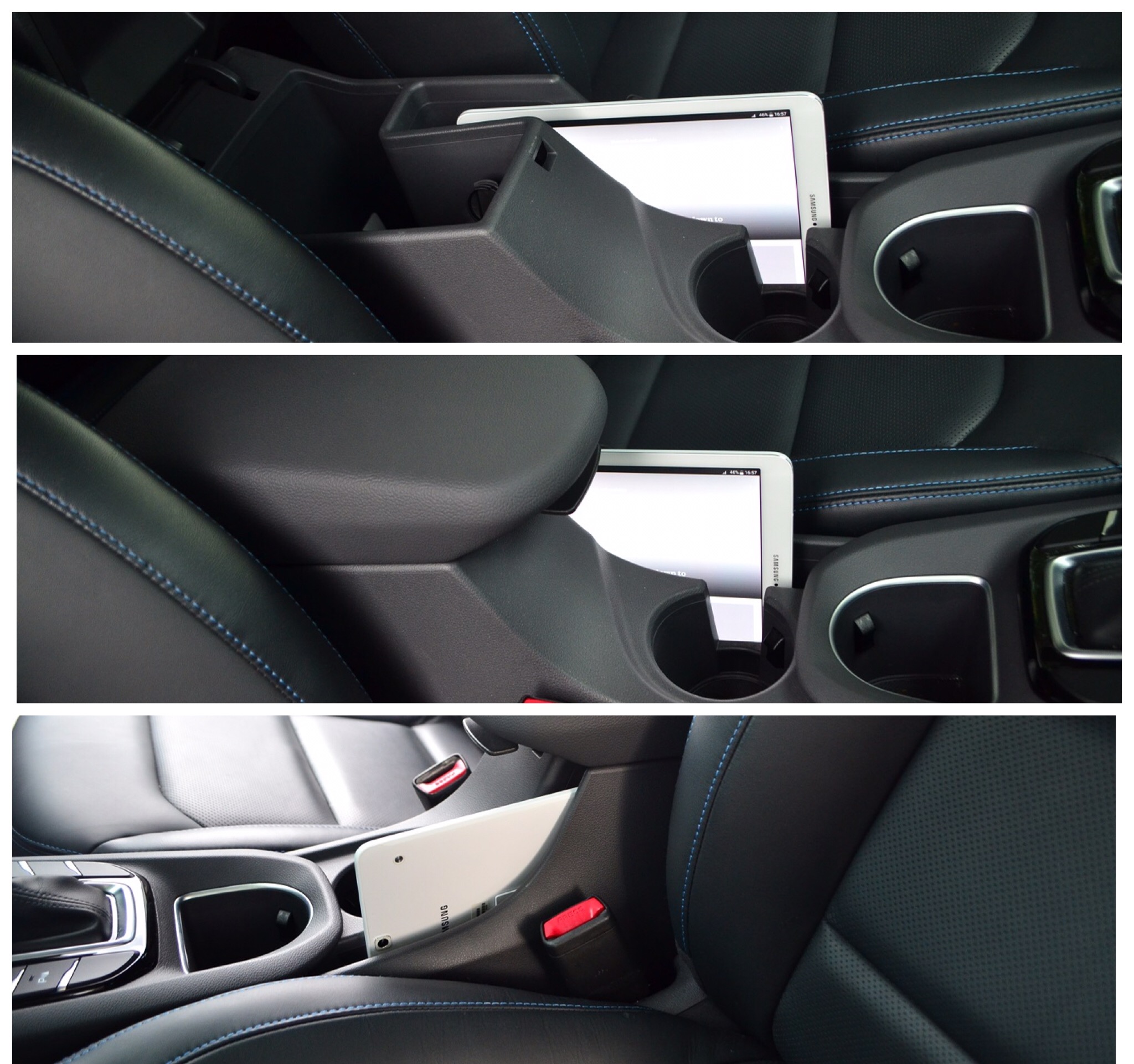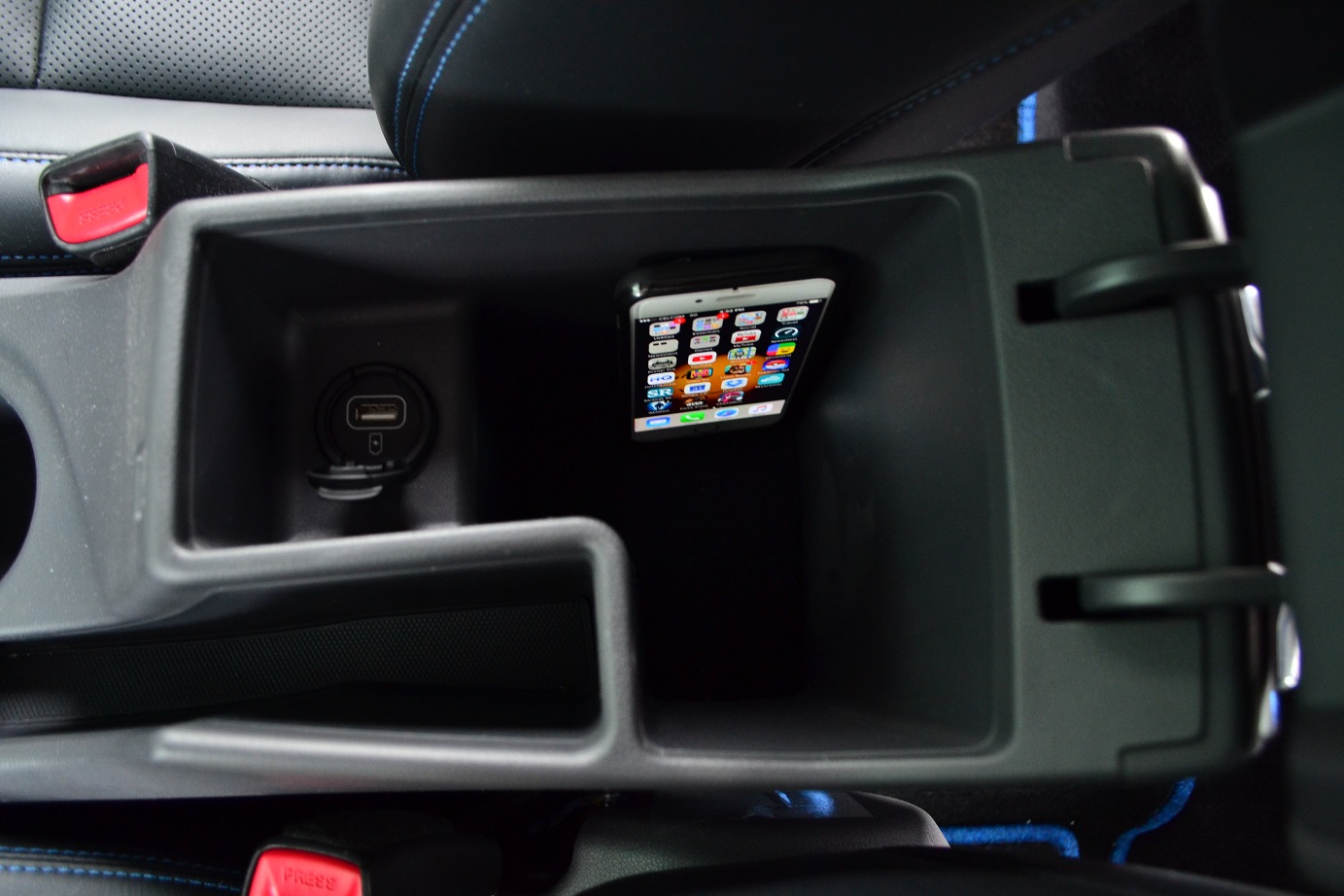 Space for odd bits and pieces can be found at various places. You get two center cup holders, a center armrest console and the glove compartment is of reasonable size. What's particularly interesting (the only vehicle I've ever tested so far that has this feature) is the slot specifically for tablets. I placed a 9.7″ Samsung S2 into the slot and you can see how the center arm rest closes without affecting its placement.
Within the center console compartment is another USB portto charge your portable devices.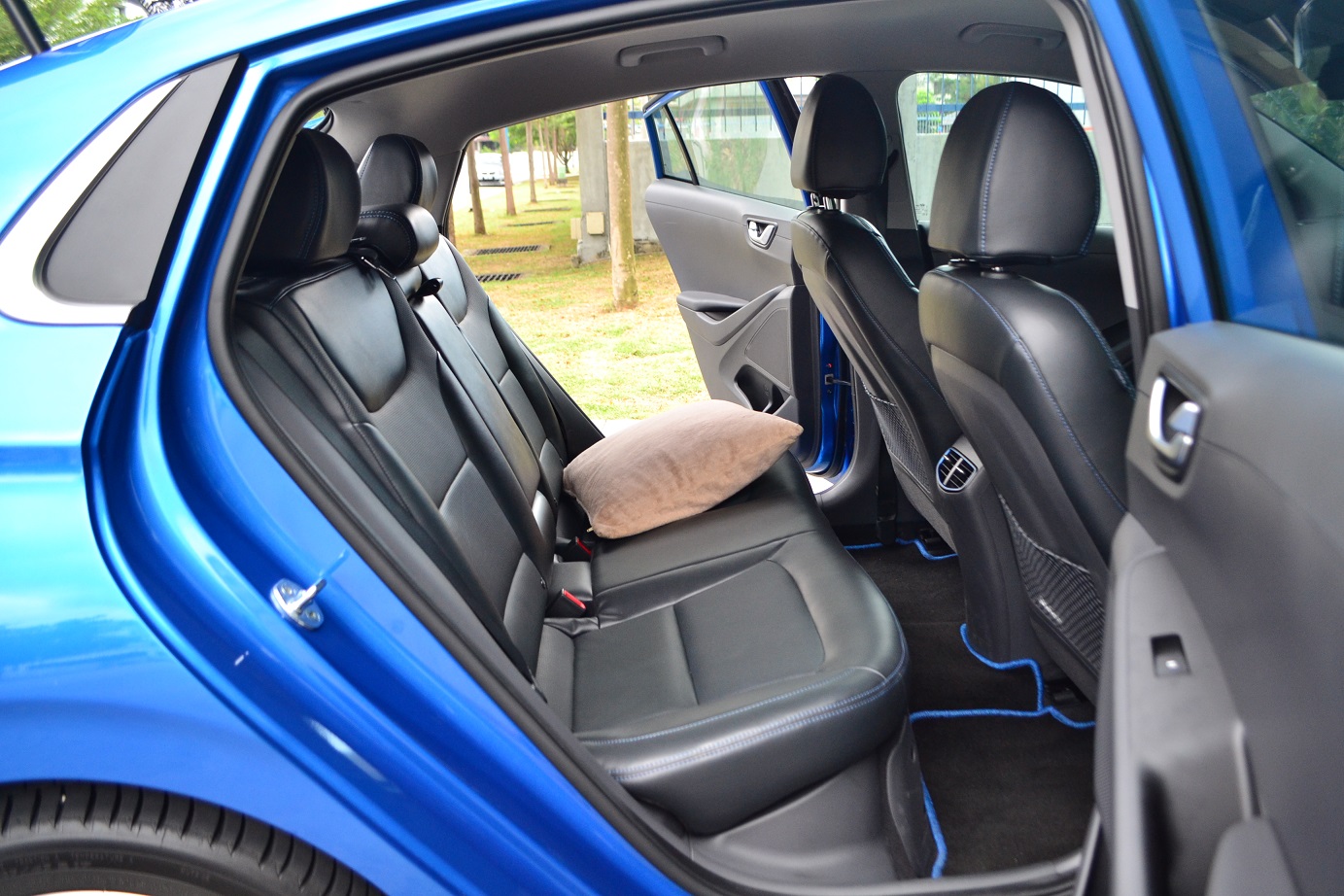 At the back, legroom is relatively good and the backrest is reclined at a comfortable angle. However, due to the shape of the rear roof, it's best that you be mindful of the door opening least you bump your head. Once inside, my 178cm frame had no issue with the headroom.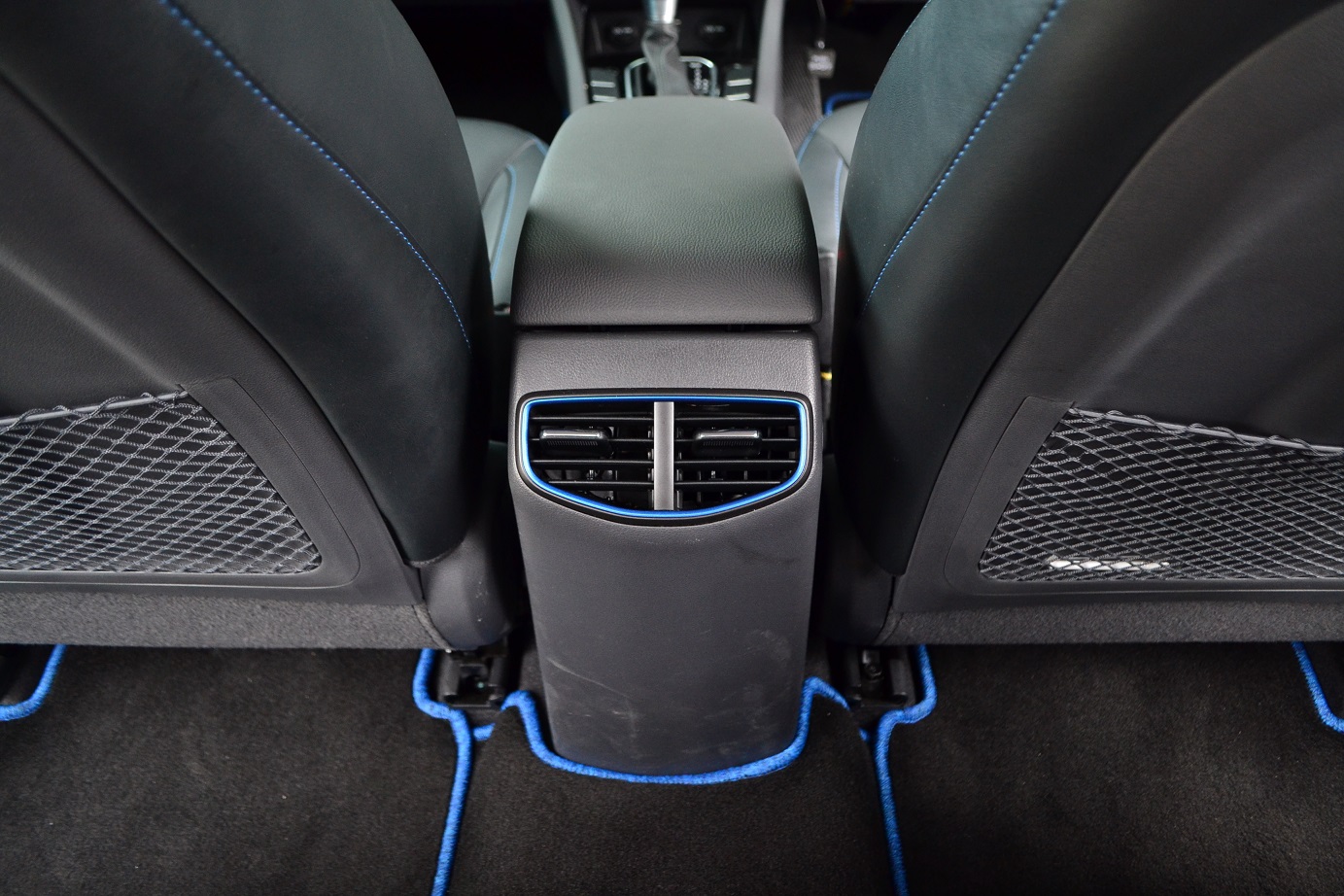 You'll find rear air conditionig vents for the comfort of your rear passengers.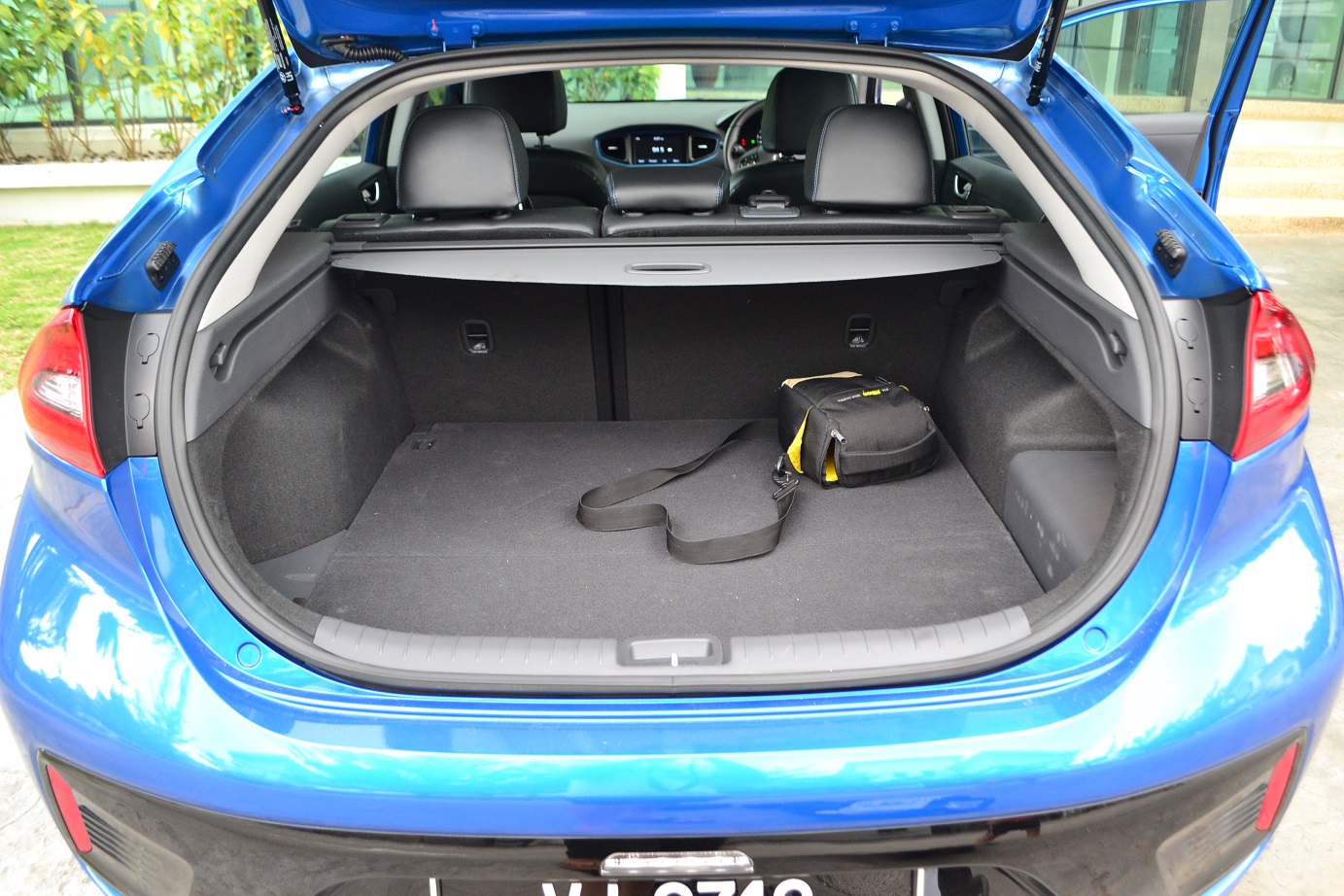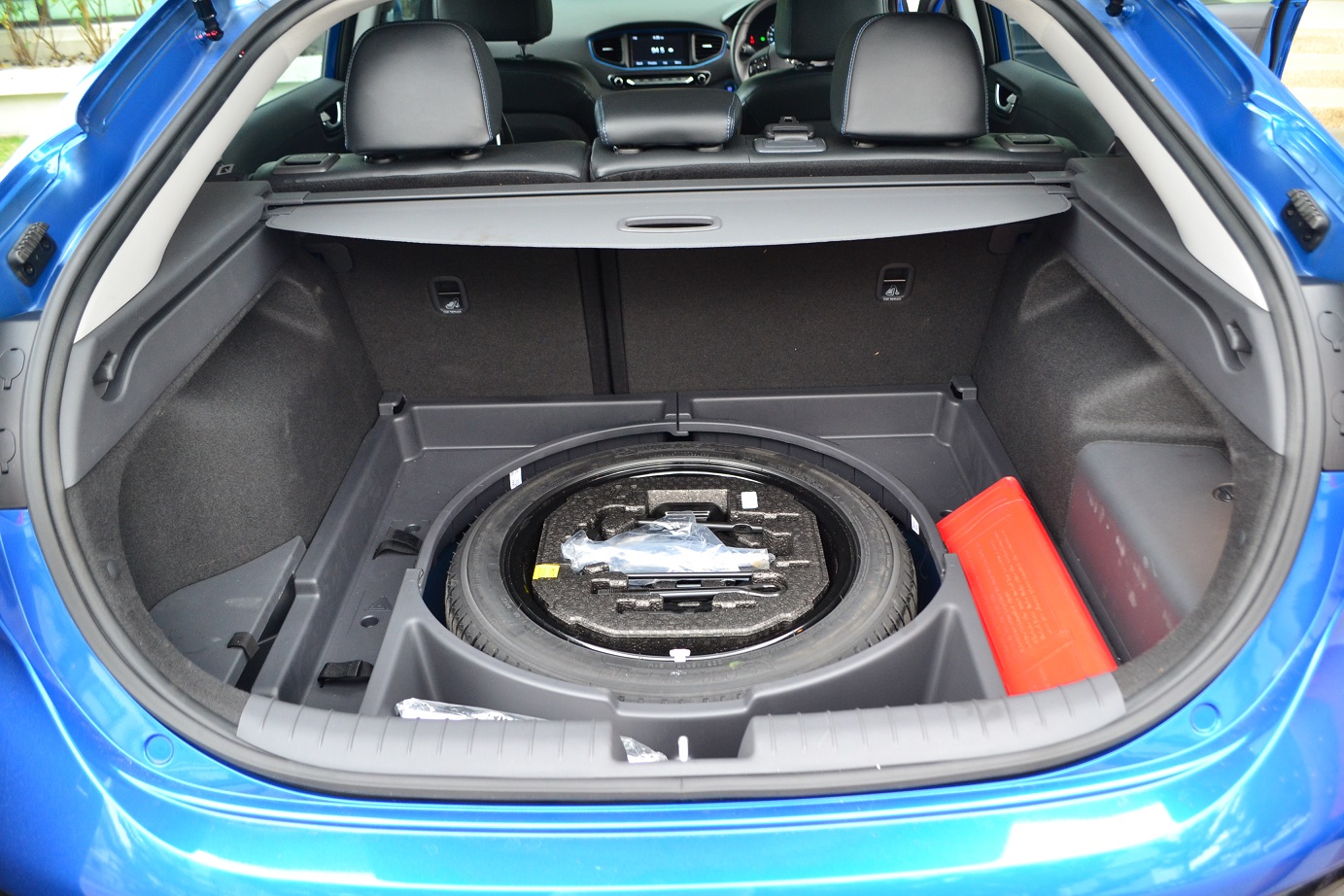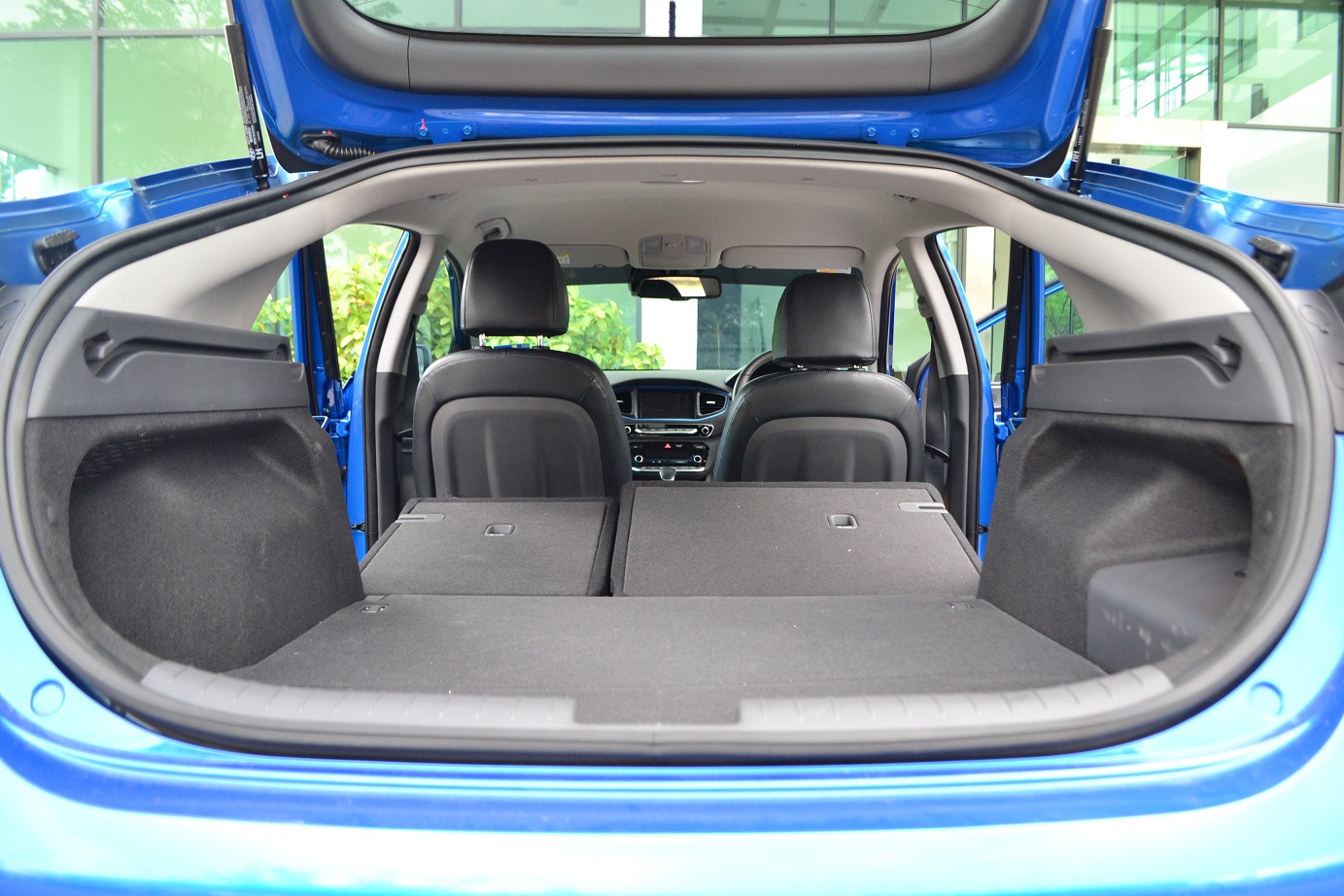 The boot is somewhat shallow due to a full sized tire that took a couple of inches off the boot floor. There's a cover to protect the contents of your cargo and when you fold the 60:40 rear seats, 750litres of space is made available to you.
Safety
Regardless of variant, Safety features such as the Vehicle Stability Management (VSM), Front and Rear Parking System, seven-airbag system and the Tyre Pressure Monitoring System (TPMS) are standard.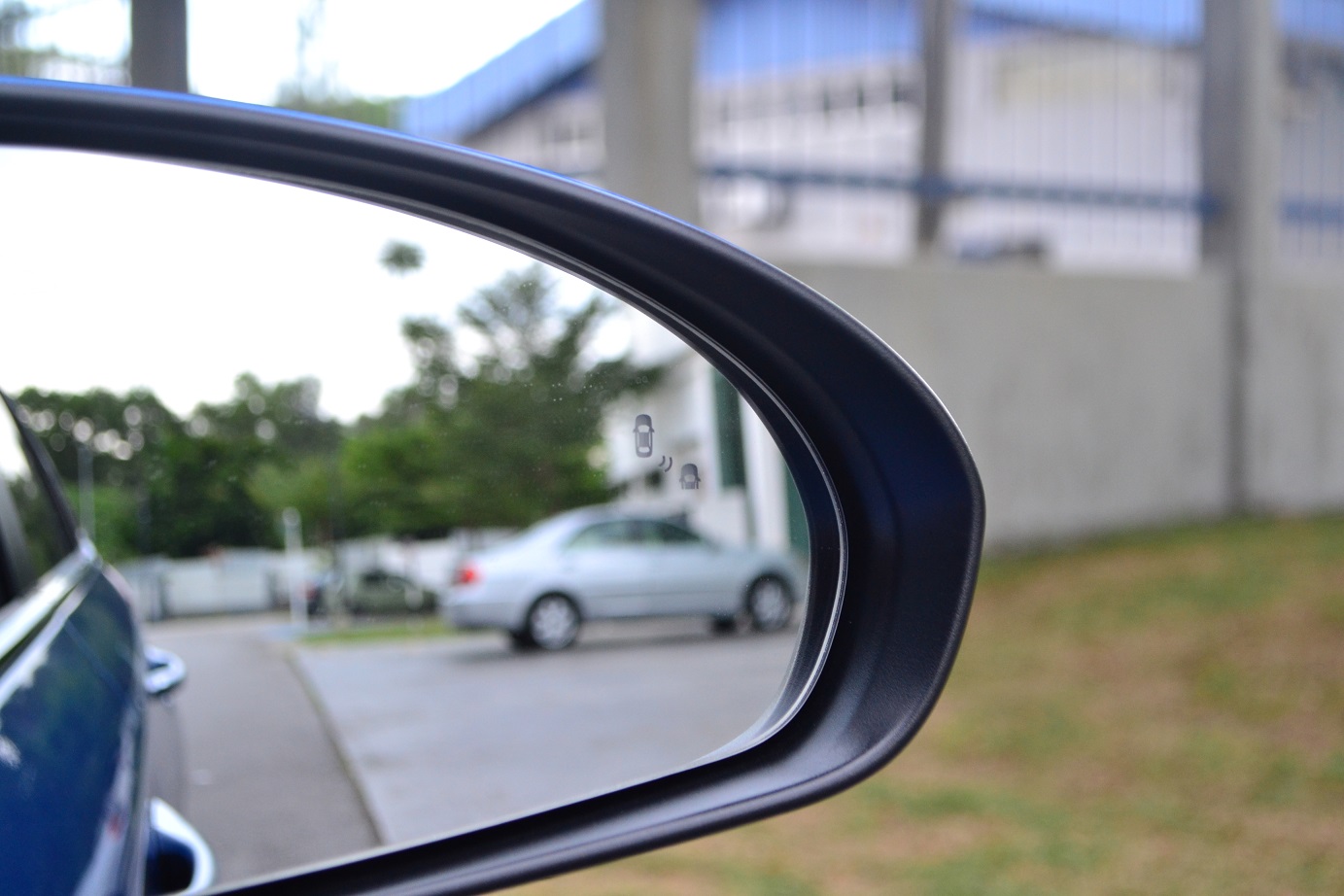 The Blind Spot Detection (BSD) works directly alongside Lane Change Assist and Rear Cross Traffic Alert to warn the driver of any surrounding vehicles, passengers or other objects that may lead to a collision if unnoticed while the car is in motion. I usually turn the BSD off because most of the time, we're surrounded by other vehicles and the moment I turn the indicator on to switch lanes, the audio beep alerting of neighboring vehicle is loud enough to give you a heart attack.
Lane Keeping Assist System – Almost auto pilot but not quite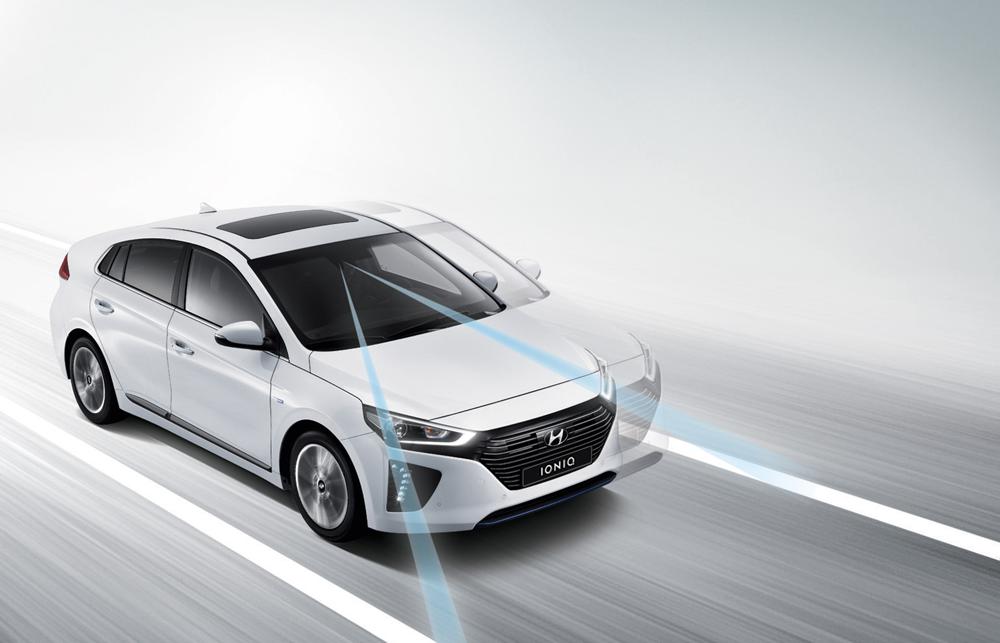 A Lane Departure Warning System (LDWS) and Lane Keeping Assist System (LKAS) are useful when driving as it alerts the driver if unsafe movements are made while the car is driving over 60km/h by sensing the car's position. The LDWS sounds an alarm before the car moves over white, grey, yellow lines as well as Bott's dots on the road, while the LKAS warns the driver acoustically and visually before inducing corrective steering to guide the driver back to a safe position. The corrective steering inducement is strong enough that it could steer itself if the lines on the roads are clear.
Here's a video of me explaining and demonstrating how the system works: LKAS VIDEO
Now, the only other vehicle I can think of with LKAS is the Mercedes-Benz S-class so bear this in mind that you're getting a feature in a feature that costs about 1/8th of the next car that has it.
Like the Mercedes-Benz, the Hyundai's LKAS deactivates after a few seconds if it doesn't detect any pressure on the steering wheel. Now, there might be ways to 'hack' this (I saw one guy taping a Coke can on the steering and successfully fooled the system into thinking there's a hand on it) but you do NOT want to do this. Why?
LKAS does not navigate through sharp turns. Considering the system can only be activated above 60km/h, not all roads can be safely navigated under such speeds. I observed that if the steering had to turn more than 5 degrees each direction, it would auto disengage and ask the driver to take over. If you're moving at 100km/h, at the apex of a sharp corner and the system cuts off, the chance of you running off the road is high.
LKAS requires clear lane demarcation and our roads aren't exactly the best in the world. Potholes are aplenty and so are filled potholes without lines. The moment the system fail to detect the lines, it will immediately disengage. You may be moving straight in a small corner and bang the vehicle travelling next to you.
That said, I find the LKAS to be an amazing piece of tech. Less effort can be used to turn the steering wheel and if there was a temporary lapse of focus on the roads, it's a safety net.
The IONIQ HEV Plus is also fitted with Autonomous Emergency Braking (AEB), an advanced active safety feature that alerts drivers to emergency situations, braking autonomously if required. Using front radar and camera sensors, AEB operates in three stages. Initially warning the driver visually and acoustically, it controls the brake according to the collision danger stage, and applies maximum braking force right before the moment of collision. When a vehicle or pedestrian is sensed in front of the car, the system is activated, operating at speeds of 10 km/h or above and minimises damage when a collision is unavoidable. During my time with it, it triggered once when I was approaching a U-turn and the car felt I was going too fast and contact is imminent.
I tried recreating the scenario back at the office using styrofoam as obstacles but the system didn't quite work as well so it's best not to rely on this overtly.
Using front radar sensors, the Smart Cruise Control allows a constant speed and distance to be maintained from the vehicle ahead without depressing the accelerator or brake pedals; it is automatically cancelled when speed drops to 10 km/h or below. A Tyre Pressure Monitoring System ensures tires are always suitably inflated.
Here's the full list of active and passive safety features found in the IONIQ:
Driver and front passenger airbag
Side airbags
Curtain airbags
Driver knee airbag (total 7 airbags)
ABS
BAS
HAC
ESC
VSM
Blind Spot Detection (BSD)
Lane Keeping Assist System (LKAS)
Autonomous Emergency Braking System (AEB)
Rear Cross Traffic Alert
Rear view camera
Front and rear parking assist system
Tire Pressure Monitoring System (TPMS)
Specifications
The HEV PLUS as tested here comes with the following specifications:-
Exterior
Chrome radiator grille
HID Bi-xenon headlamp
LED Positioning lamp
LED Daytime Running Lights
LED Rear Combination Lamp
Chrome door handle
Electric folding side mirror
Interior
Leather seats
8-way adjustable plus 2-way lumber support power driver's seat
Driver's auto up & down power window with safety window
7″ High definition TFT-LCD Digital Cluster
Electro-Chromic Mirror (ECM)
Standard console air vents
60:40 split folding rear seats
7″ LCD Audio System (MP3/Radio/Bluetooth, AUX and USB)
Smart Key with Start Stop Button
Keyless entry
Wireless charging system for smart phones
Smart Cruise Control System (SCC) with Auto Cruise Control System
Dual Zone Climate Control with Single Zone Operation Mode
Standard Rain Sensor
Auto light control
Ownership and Maintenance
The HEV-PLUS, as tested is yours for RM117,428.55 on-the-road inclusive of insurance and road tax. Seven exterior colour choices available are Phantom Black, Polar White, Platinum Silver, Aurora Silver, Iron Grey, Marina Blue and Phoenix Orange and comes with Care Plus Programme which consists of the following five elements:-
i) Five-year or 300,000km (whichever comes first) warranty of vehicle
ii) Eight years unlimited mileage warranty for the battery and a battery price below RM10,000 for the following 8 years should the battery needs replacement
iii)  Three years or 60,000km (whichever comes first) of free service that includes parts, labour and engine oil
iv) Three years Guaranteed Auto Protection (GAP) Insurance – Should the car be declared as total loss within the three years of ownership due to any untoward incident, customers will be reimbursed fully (100% of the value of the car)
v) Interest rate as low as 2.28% based on the reducing balance calculation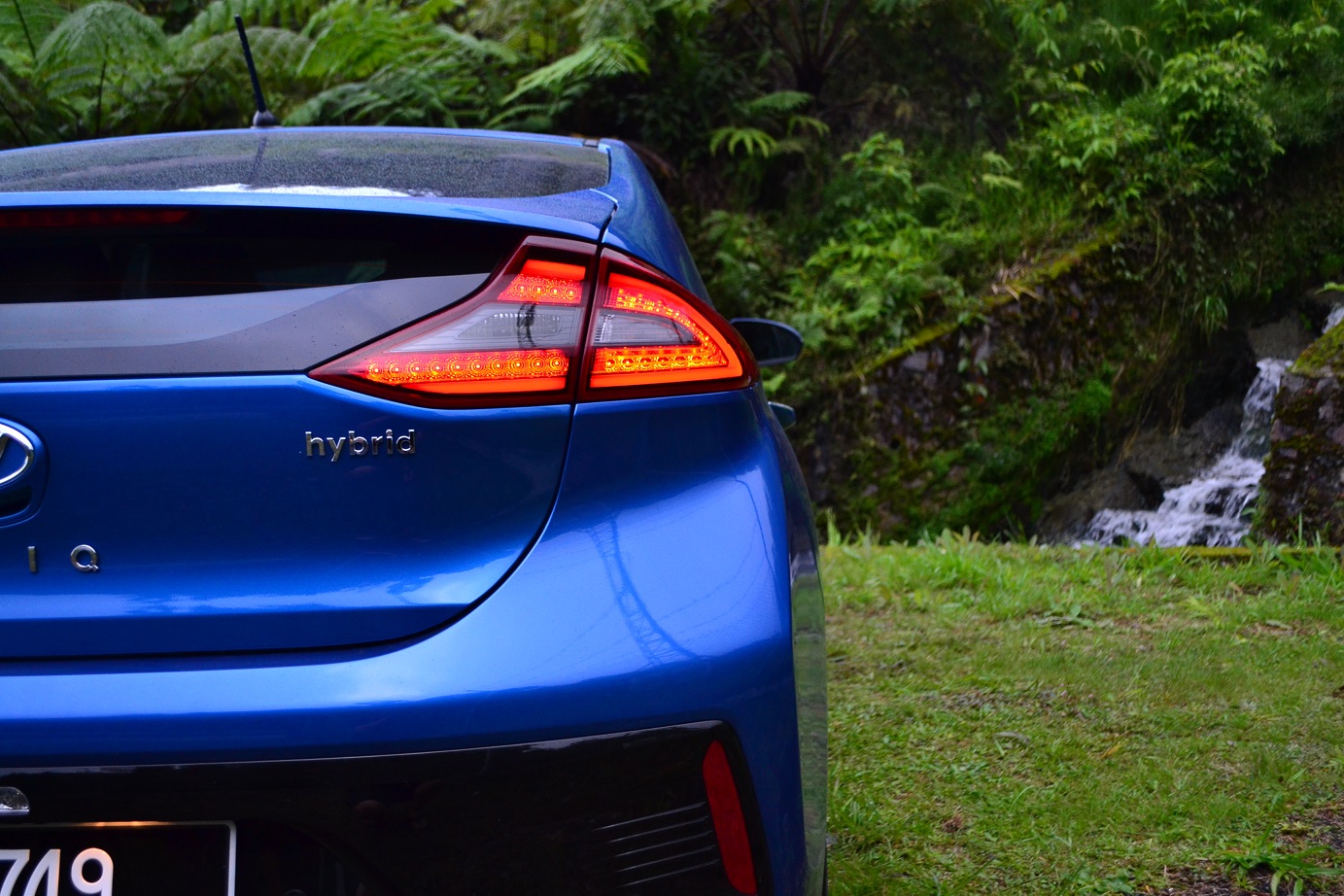 So is it worth it?
I posted a picture in kensomuse Facebook page saying this is the car for Millennials. To be more specific, this is the car designed for the next generation of buyers – who are predominantly Millennials, Gen-X and some Gen-Z.
How so?
Smartphones and tablets are an integral part of the new generation's life. The IONIQ has special cubicles for these devices, wireless charging (along with 2 x 12V, 2 x USB ports) to ensure they never run out of juice, LKAS and Smart Cruise Control to autonomously steer, reduce speed and accelerate if you happen to be temporarily distracted by an important phone call.
Safety kit count that's unmatched within the segment.
It could travel further with less fuel. One full tank of 43litres had a range of 1,100km in my hands
Newer generations are more concerned for the environment. The IONIQ is a hybrid that relies less on fossil fuel
Futuristic yet at the same time relate-able. Unlike others that try too hard and thereby alienating themselves from certain customer groups (Gen X or older), the IONIQ's interior layout, information display and controls and drive-ability are all designed to be intuitive. Anyone who drives would have no problem adapting to the IONIQ in a short time.
Dual driving nature; power when you feel naughty, efficiency when you want to play nice
Probably most important of all, this is the first time so many features previously seen only in luxury vehicles is offered at such an affordable price (relatively speaking, of course).
The IONIQ ticks all the right boxes if you're looking for a vehicle of this size. No other vehicle in the market comes close to matching it in terms of value for money – that is to say, the amount of things you get for the asking price. Naysayers will counsel caution since no one knows how durable these new gadgets and how much to replace them but with the Care Plus Programme, you've got assurances up to eight years. I do wish for a bigger boot since Millennials do get old eventually but I think for my retirement, a wheel chair should be able to fit in fine.
Hmm, Gen-X should give this car a go too.