Let's start by addressing the elephant in the room – the Volkswagen branding has seen better days. Since 2013, there has been VW owners complaining about various issues with their VW ownership experience. Among them are poor after sales service, vehicle reliability issues, problematic insurance-based warranty claims and those who follow me knows I have my fair share of issues with my Golf 1.4TSI.
Many laments that every time the car is sent into the workshop, the lack of follow-up and follow-through is vexing. More so when the promised courtesy car for repairs more than 48 hours did not materialize. These inconveniences, shared from various owners has affected the credibility of the brand and almost every sales initiative undertaken by VW invites plenty of negative comments.
It's a shame because its car are pretty good to drive. Take the all-new Passat B8.; it looks miles better than the B7, comes with a new platform, the technical issues plaguing earlier owners are all but eliminated and most important of all, it's price is very reasonable for the tech you get.
And yet, we don't see many on the roads.
Which is why when I took this 1.8 TSI Comfortline for a trip to Penang and back, it drew eyes like a nun in a bikini. Uncle, don't worry. It's ok to stare.
Design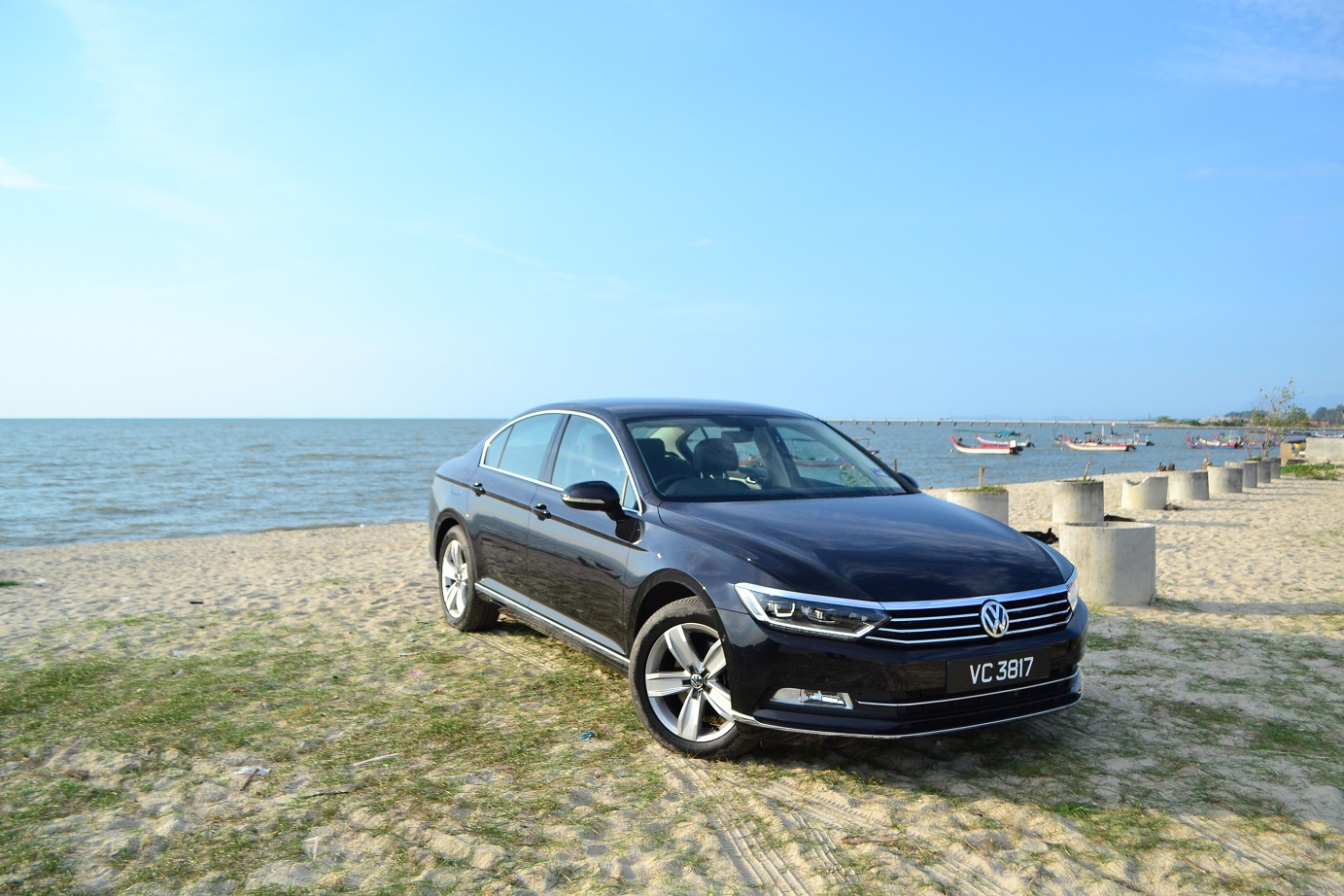 Gone is the boxy exterior of the B7. In its place is a sleek bullet that makes it look more like a (VW) CC instead of a regular sedan. The LED DRL is no longer dots but a thin line encircling a 'U' shape in the center, cheekily peeking at you. Coupled with the angular headlamps, it makes the entire front look wider and aggressive.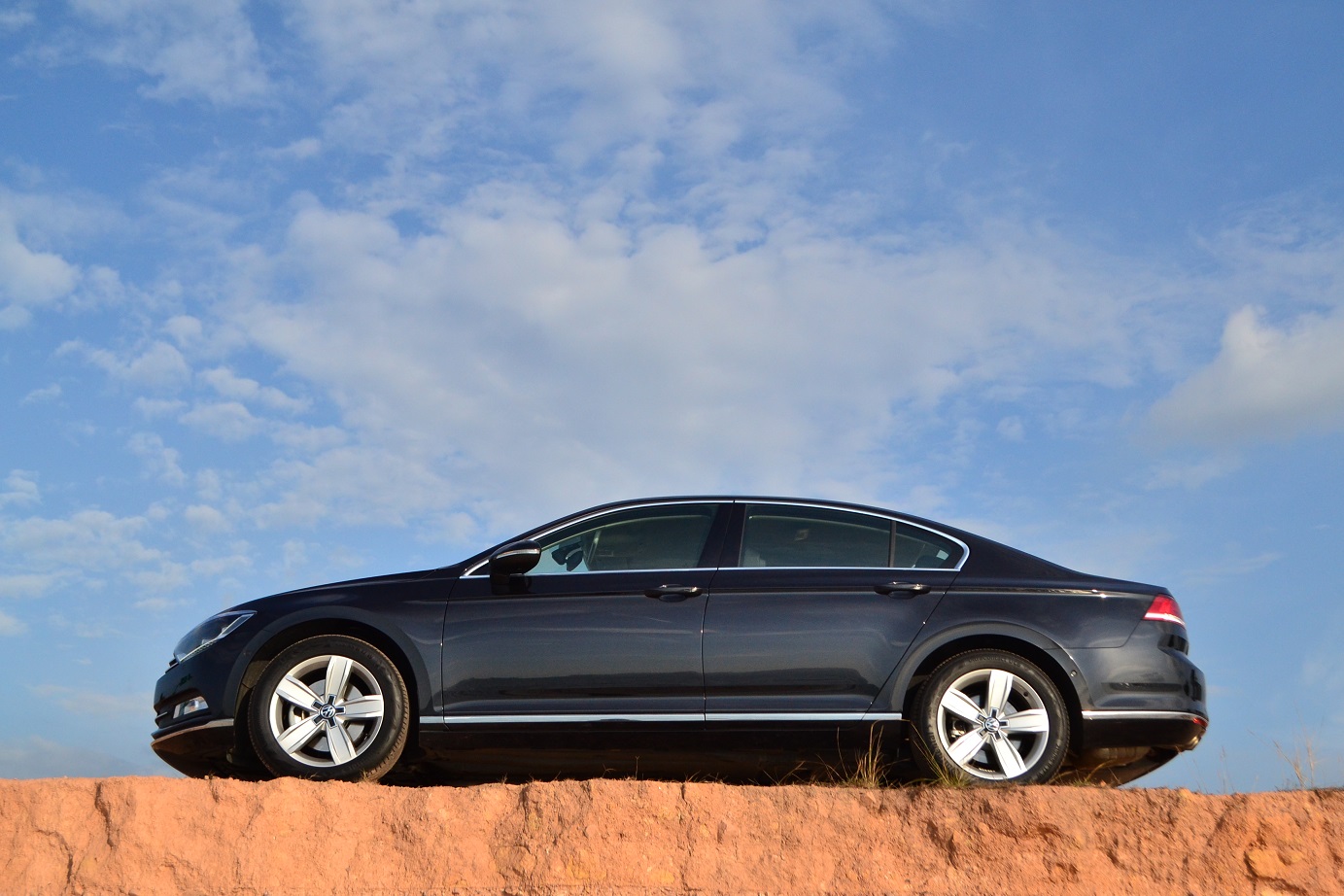 Measuring 4,767 mm in length, 1,832mm in width, 1,456mm in height, it's marginally shorter in length, slightly slimmer in width and has a roofline that's 14mm lower compared to its predecessor. Despite the fact that it has almost the same length, it's wheelbase is 79 mm longer at 2,791 mm. What this means is that the engineers at VW has pushed the front and rear wheels further apart and reduced the front and rear overhangs.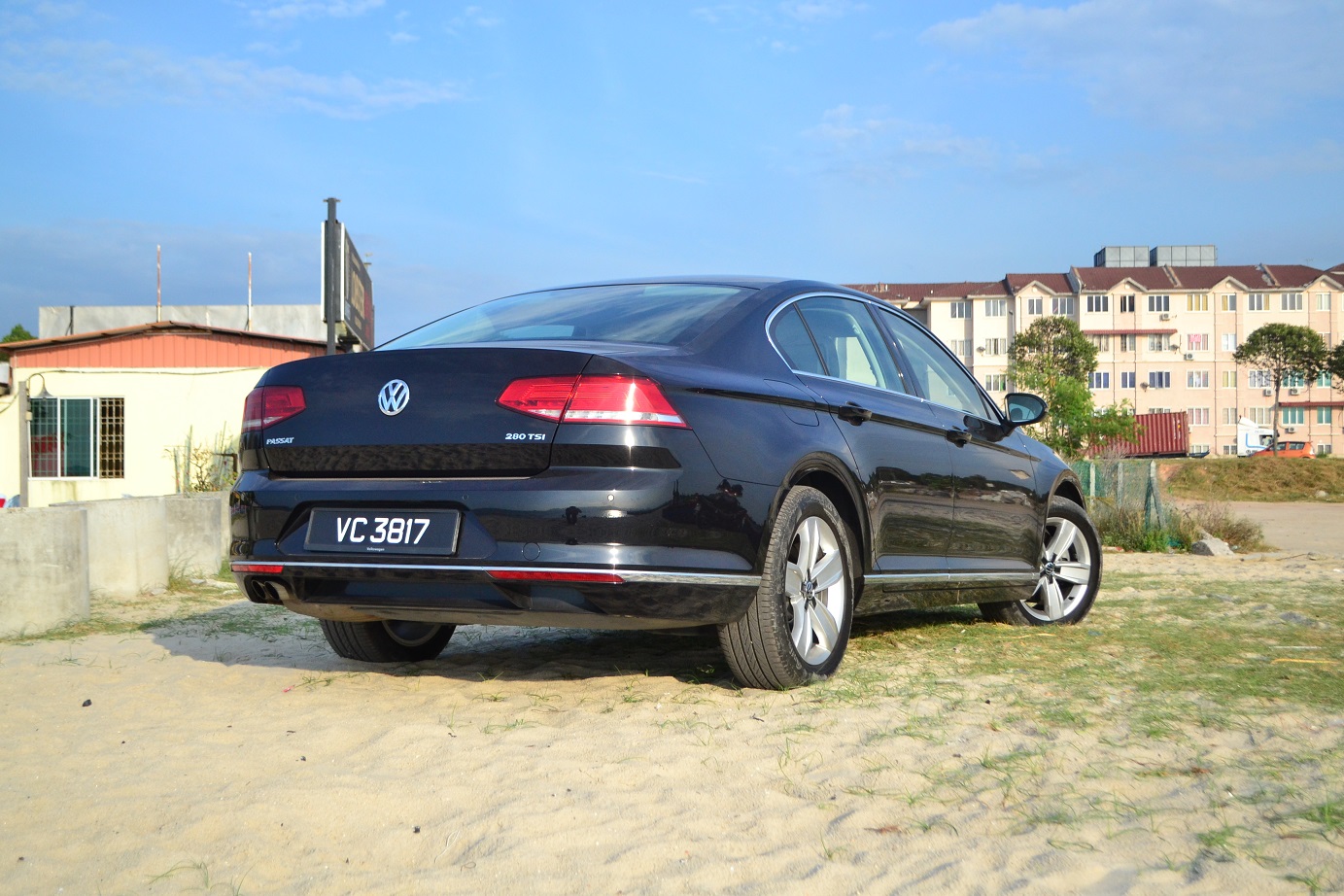 The back is a huge departure from the previous generation's design; the tail lamps, like the front are cut in an angular fashion, slinted so the rear appears wider (instead of the B7's which appears taller). There are sensors mounted at the bottom of the rear bumper that allows for hands free kick-the-imaginary-ball release.
The '280' TSI badge, in case you didn't already know is Volkswagen's new way of labeling their vehicles to signify how much torque that particular model has. Why torque instead of HP? Because torque is more important when accelerating and good acceleration usually means better driving experience. Going by torque also makes sense because when you consider that the Polo 1.6l NA engine has the same 106PS horsepower as the 1.2 TSI but in terms of driveability, the TSI is way better since it has C-segment range torque of 175Nm vs the 1.6's 153Nm that requires a higher amount of rev before you can access it.
Performance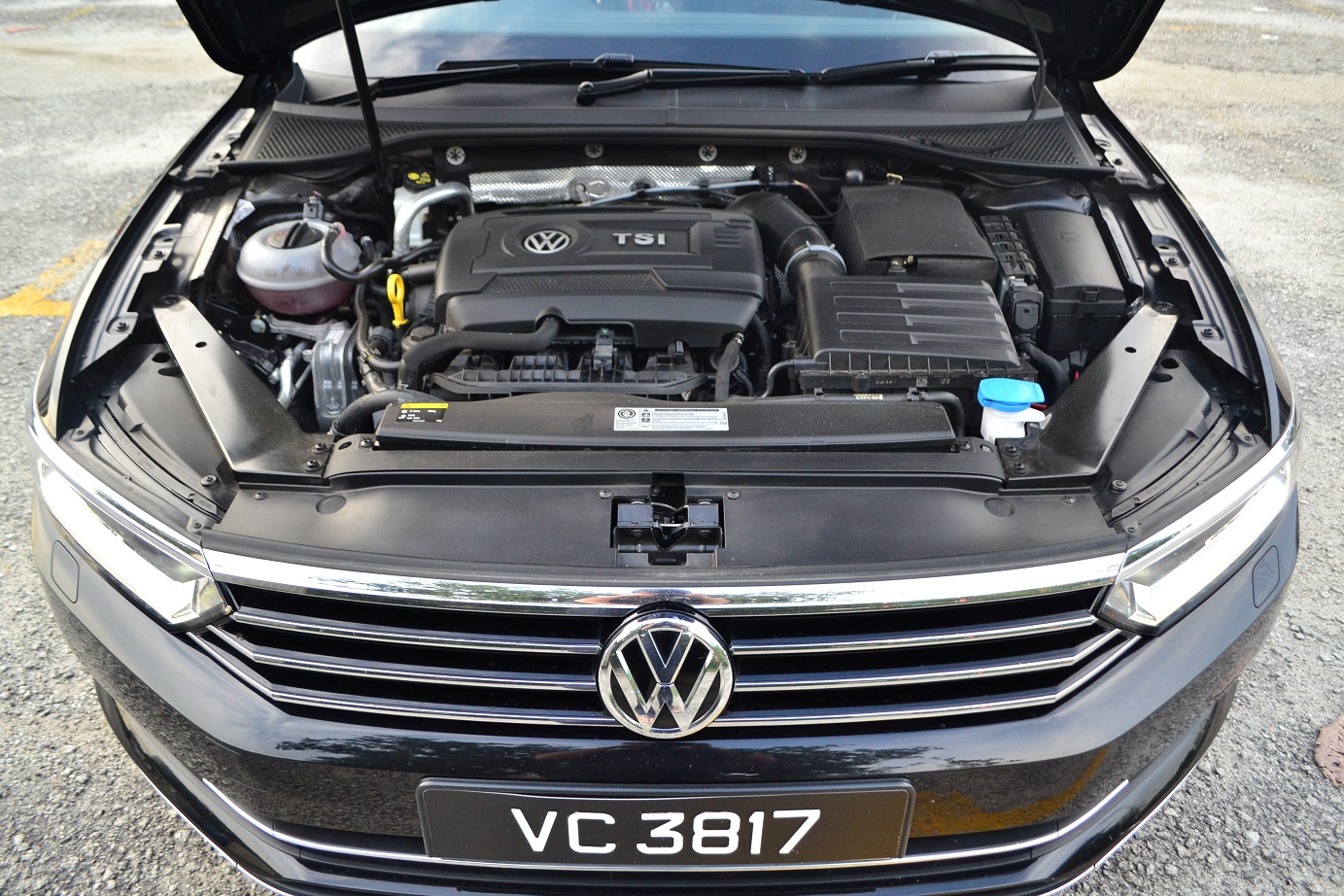 Speaking of performance, the 1.8l TSI engine produces 180 PS @ 5,100 – 6,200 rpm and a maximum torque of 250 Nm from 1,250 – 5,000 rpm. Compared with my twin-charge 1.4l TSI, power delivery on this 1.8 mil is a gradual pull. Powerful but not urgent and no sudden surge of power that might glue you to your seats.
Nevertheless, this is a sub-10 seconds car, capable of achieving 0-100km/h in 7.9 seconds though most of the time while this was in my possession, I was more keen on scoring the best fuel consumption score under normal driving conditions (that is 110km.h constant speed on highways, air conditioning on, loaded with adults) so the driving experience felt just fine. Not particularly powerful when stomping on the pedals and since this is a single charged turbo, there is a slight second delay before you leap into light speed.
Ride and Handling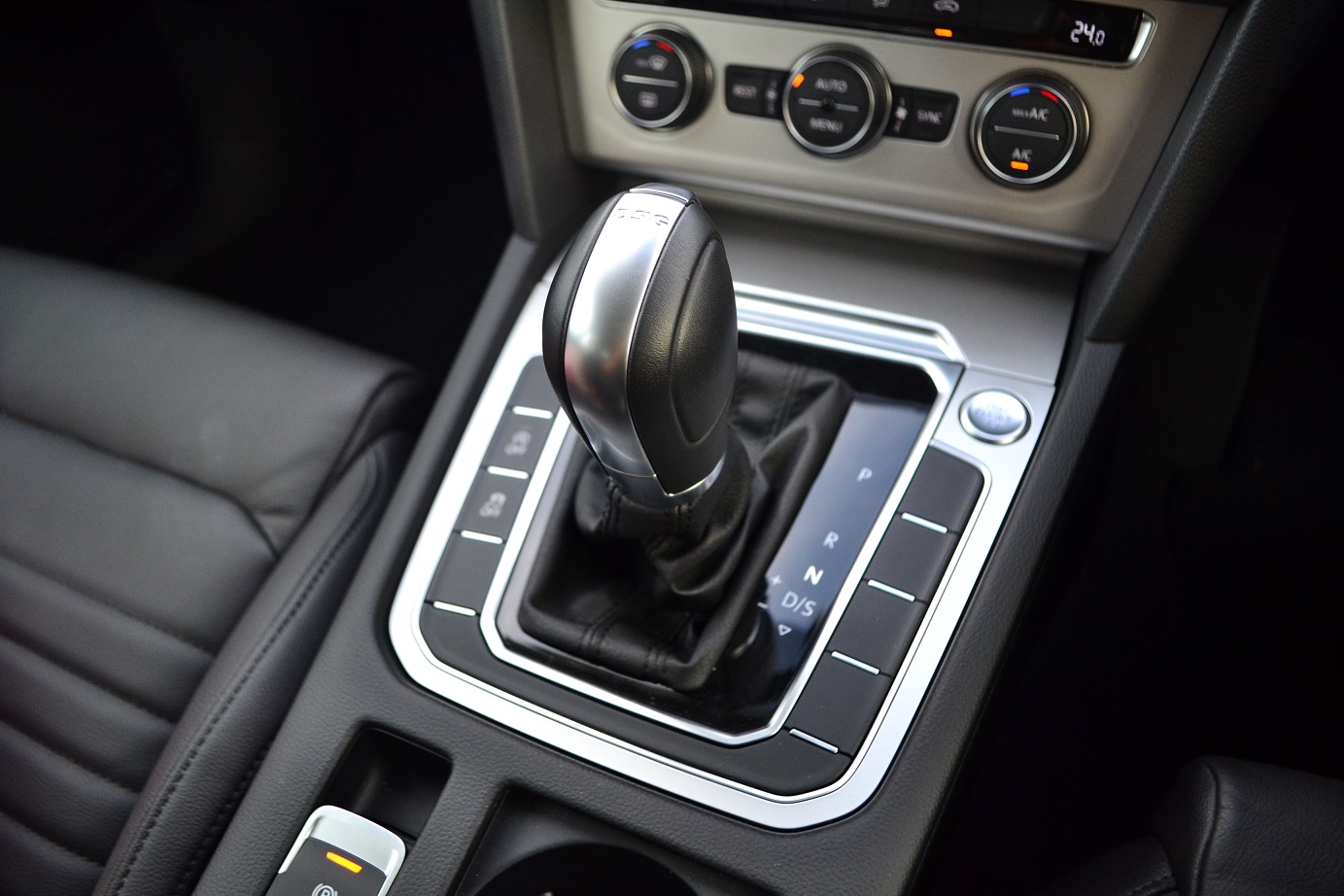 While travelling at high speeds, the Passat demonstrates its ample competence as a comfortable highway cruiser. The suspension does a fairly good job at isolating the occupants from all but the worse potholes. The only area where comfort could be further enhanced is the leather seats; they're a tad too hard and could do with additional cushion.
While the softer suspension is appreciated, the ride can get a bit jittery at corners. Breaking at the apex of a wide corner while moving at higher speeds unsettles the car and this is a strange sensation coming from a Volkswagen because they're never known to behave like this. The steering accuracy is somewhat diminished and I'm not sure if this is a characteristic of the car or the media before me screwed up the suspension. Either way, there is a greater degree of free play when turning the wheel at speeds below 90km/h. Above that, the steering weighs up and becomes sharper.
The way the 1.8TSI tackles corners (the 2.0 TSI comes with Dynamic Chassis Control which changes the suspension setting so this could be unique only to the 1.8) could be attributed to the MQB platform that the Passat is based on. This new platform shaves off 90kg of weight compared to its predecessor and that's good because power-to-weight ratio improves and saves fuel in the long run. However, I have to wonder if the suspension is tuned to compensate for the lighter weight. Still, the weight-saving on the MQB far outweighs (pun intended) the cornering composure because that only manifests at certain high speed conditions. Not everyone drives a D-segment like it's a stolen hot hatch.
Noise intrusion at speeds is fairly good but when going above 140km/h, expect wind and road noise creeping in.
Cabin Convenience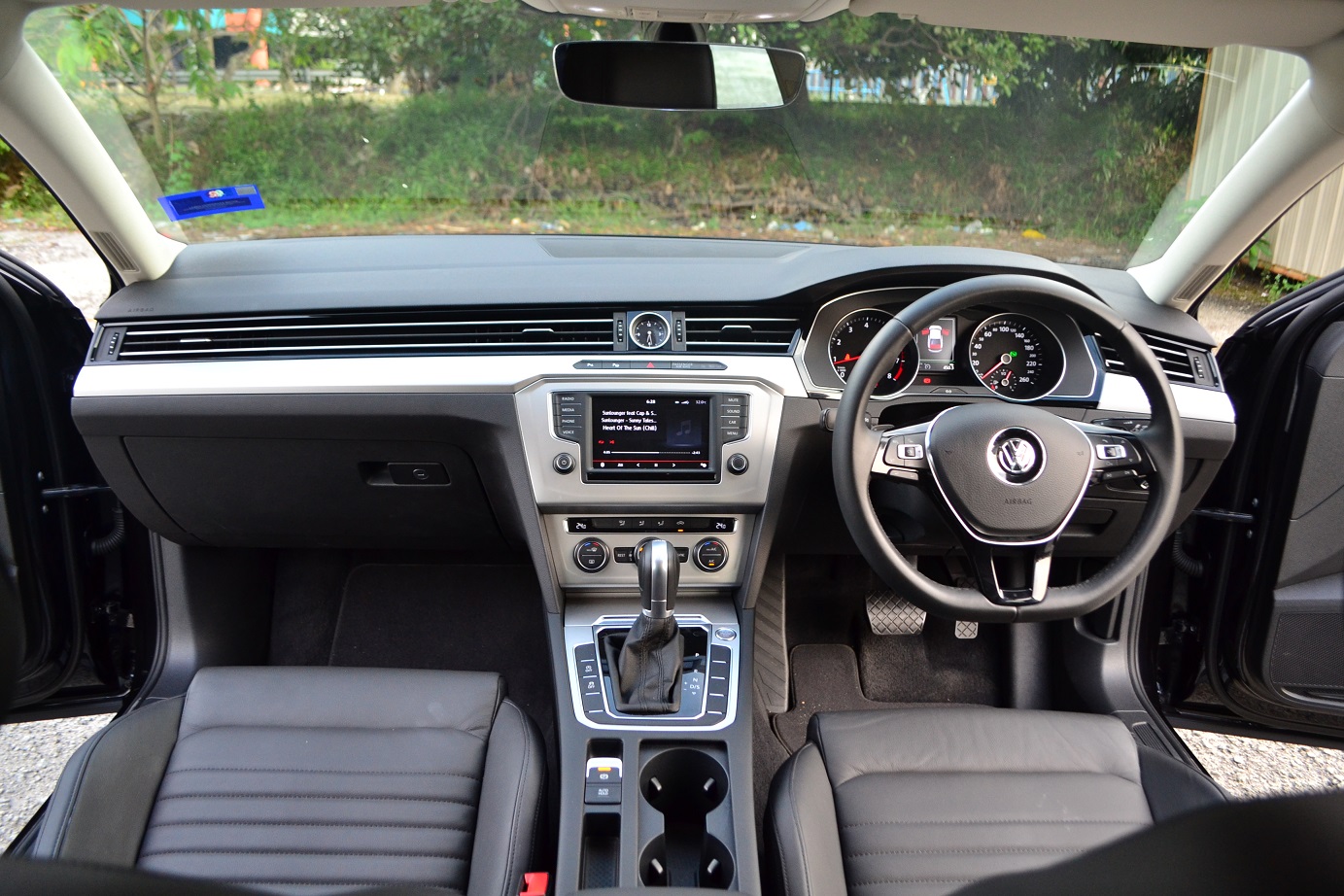 The interior looks a lot better than the B7 it replaces. No longer squarish and boring, the B8's interior oozes greater level of sophistication and in typical German practicality with all control switches within easy reach of the driver. Fit and finish is excellent, a testimony of how well put together the local production is.
One thing I didn't like about this dashboard – on a sunny afternoon, the solar glare can be quite an eyesore as it gets reflected from the silver panels. There's no way to avoid this unless you don't drive in the afternoon, putting up sun shades or install dark front window tints. I'm surprised no one else noticed this.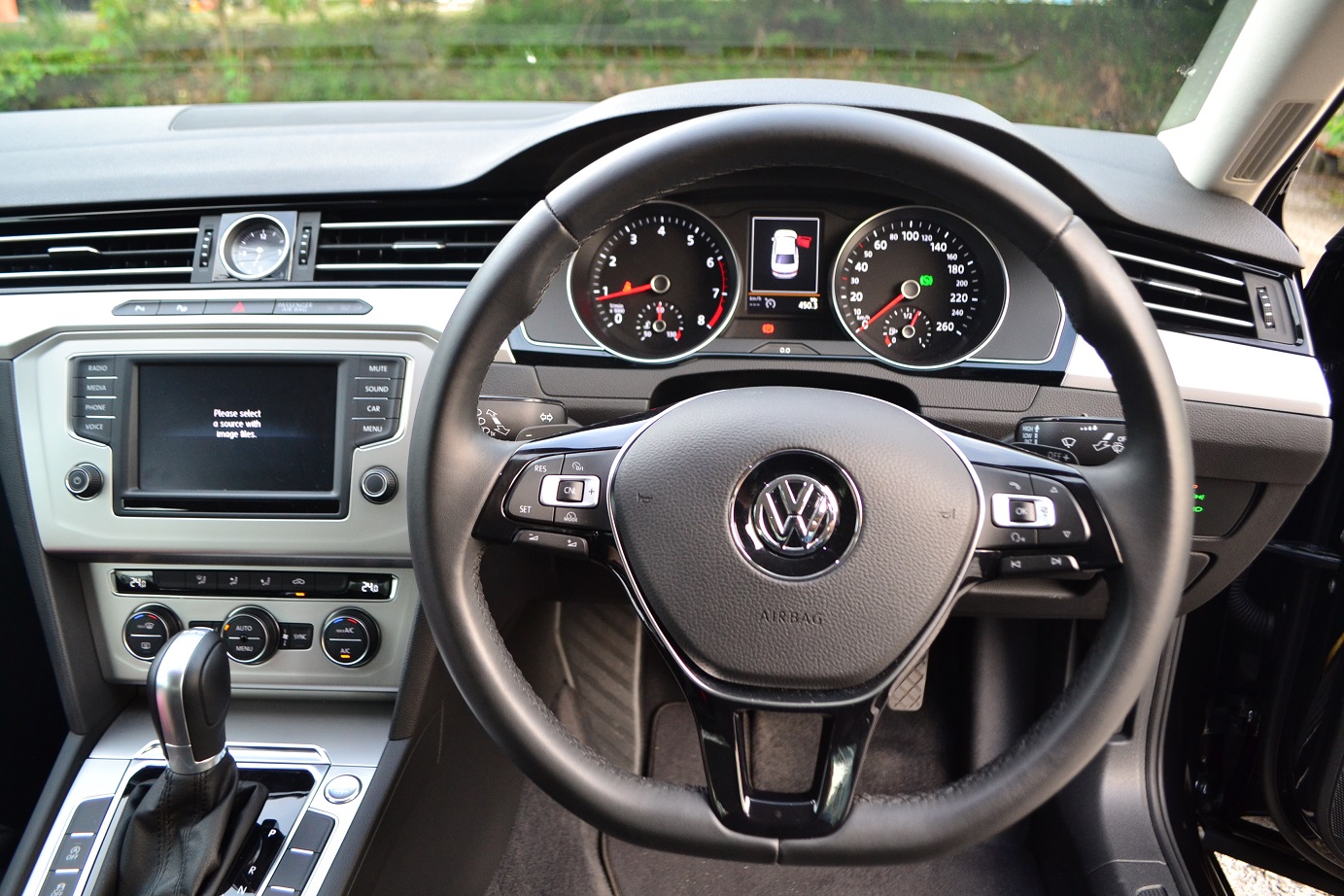 Flat bottom three-spoke steering with piano black finishing and audio/MFD controls is what you get. There are paddle shifters behind and all the switches and buttons have a nice solid feel when depressed.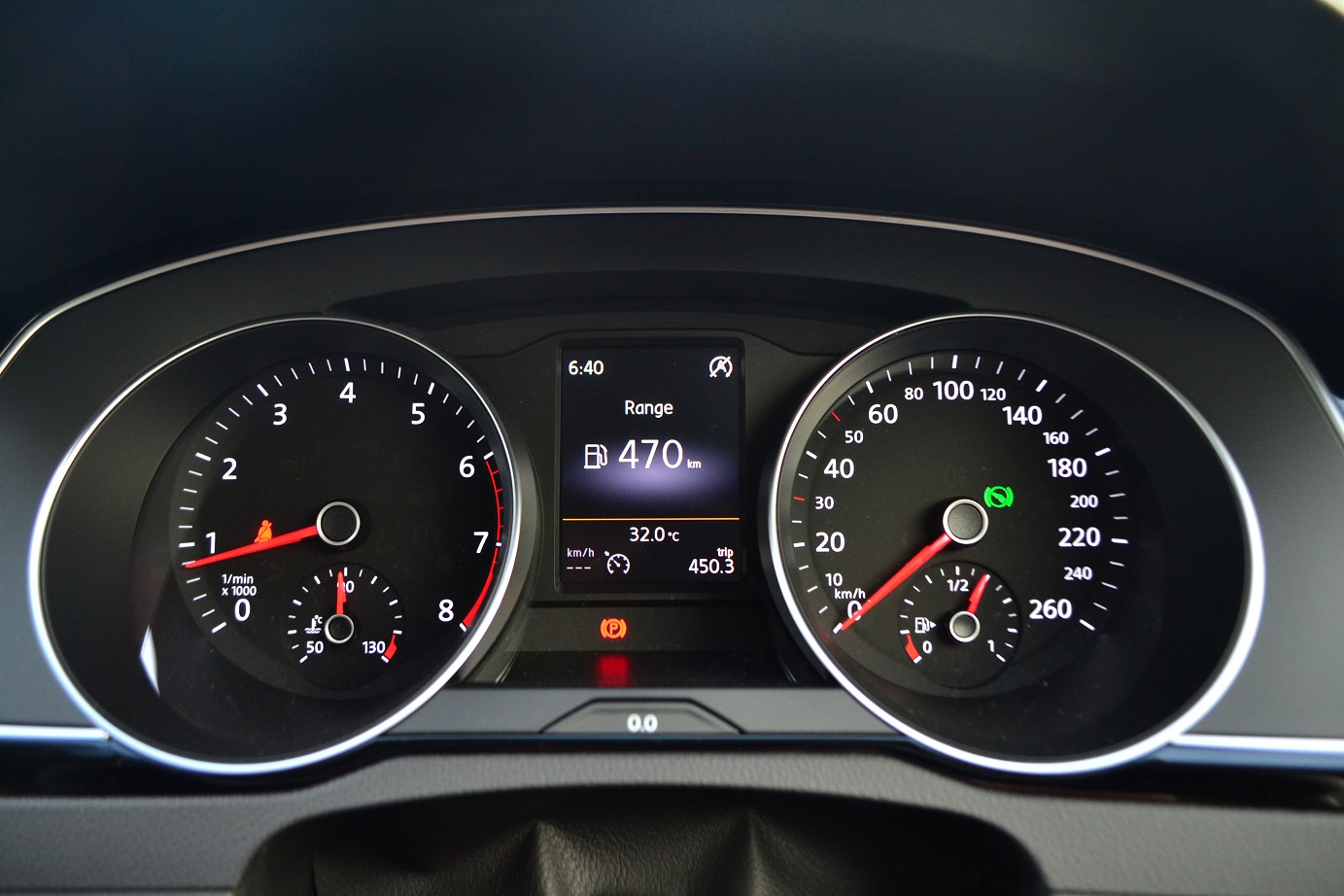 You get colored MFD display between the dials and the read out is clear and easy to understand.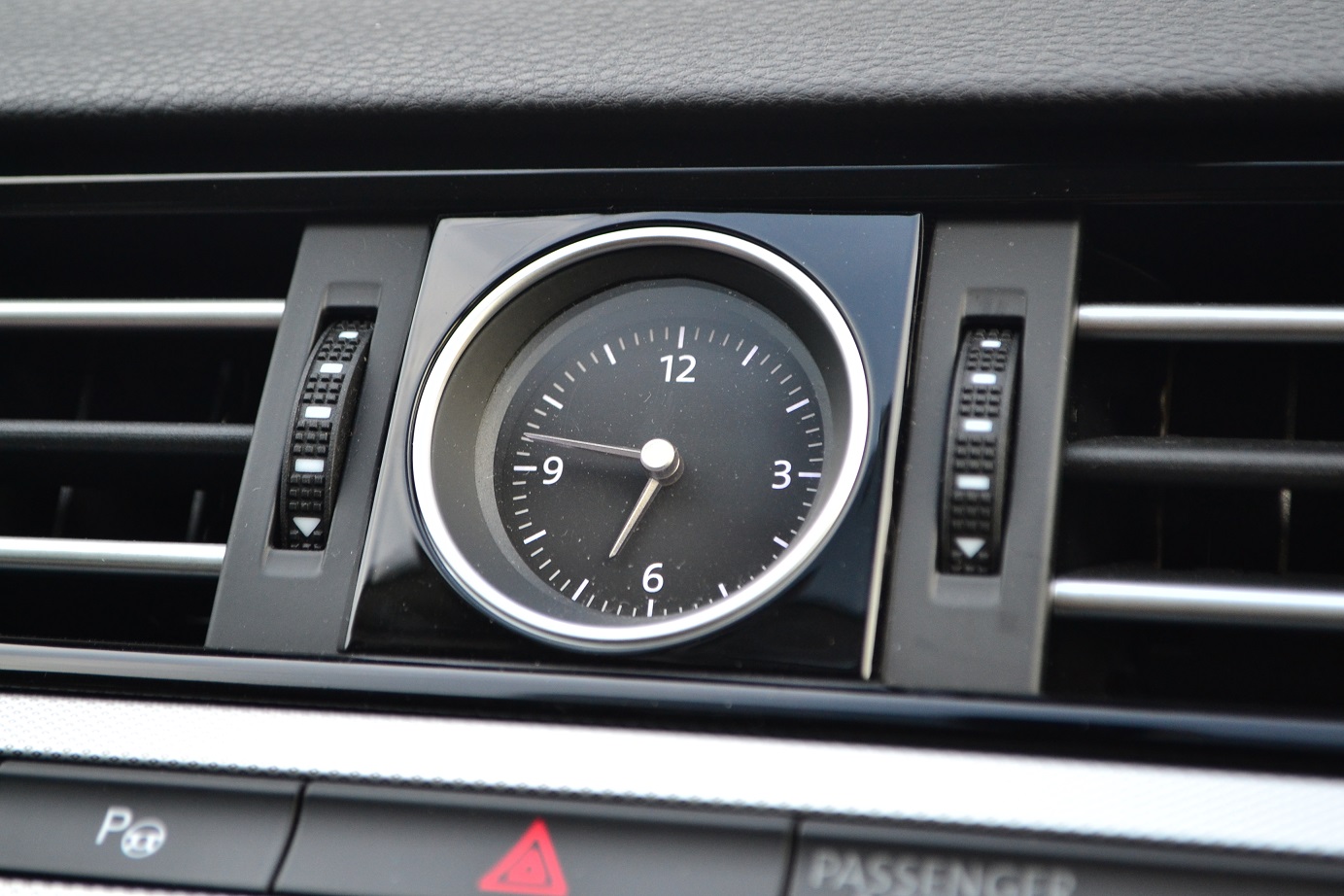 In the center, I love the contrast of the analog clock that adds a dash of class and contrast to an otherwise high tech interior.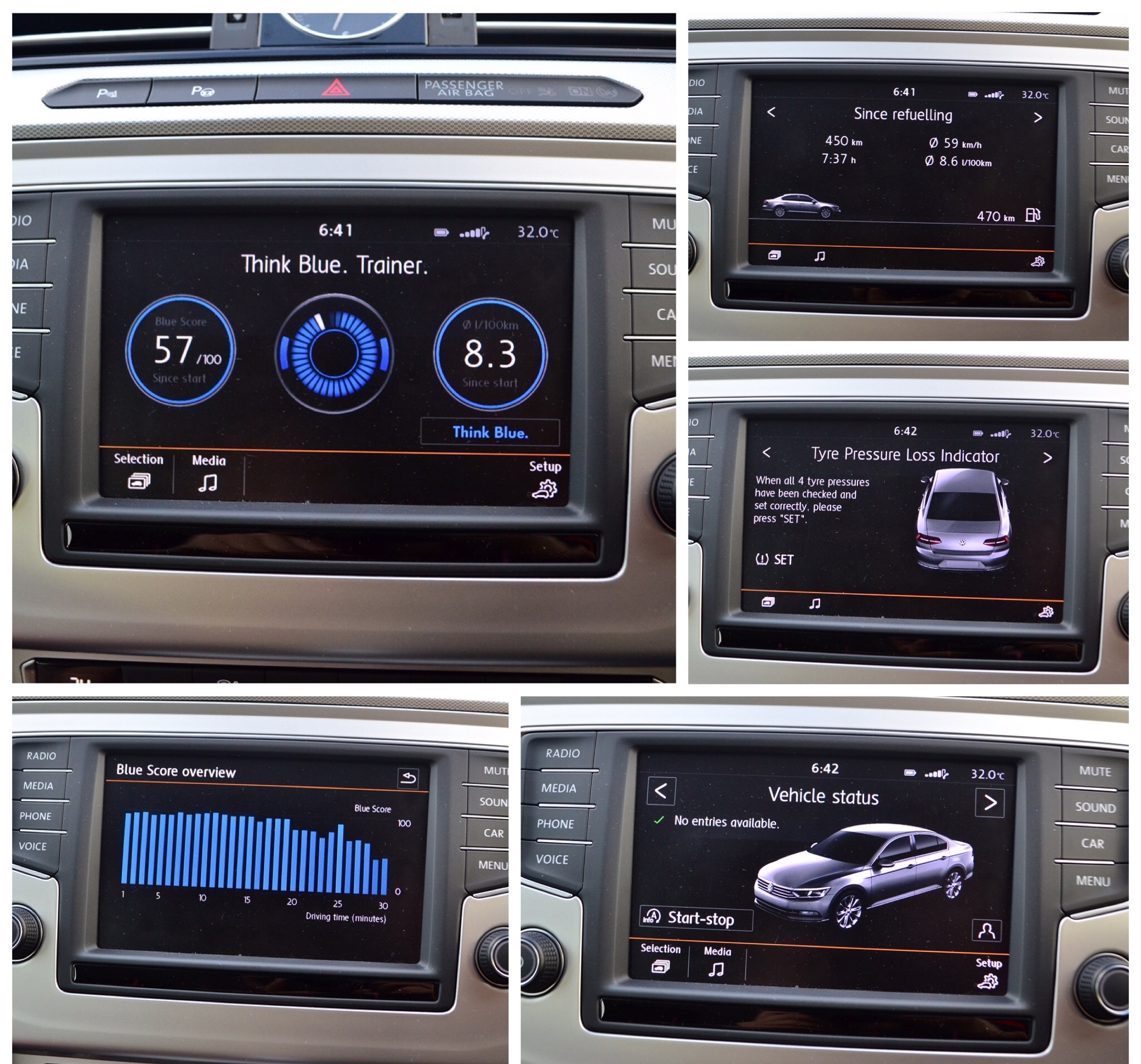 The Comfortline variant comes with a Composition Media 6.5″ touchscreen display radio with USB, SD-card slot x 1, AUX-IN, Bluetooth. On it you'll be able to access various functions of the car including my favorite, the Think Blue Trainer which keeps track of how frugal your driving is. The center circular dial has blue bars that make up the circle. You get shorter bars when driving hard or as is the case above, I've been a very good boy and maintaining full bar at almost all times. The bars can be further expounded with the Blue Score overview.
Aside from that, other vehicle telemetry can accessed and viewed and you can even use this to control the rear 3rd zone air conditioning system.
The small but nice thing about this touchscreen is how the virtual buttons reveal themselves when the screen detects fingers. Fingers away the buttons slide off screen (much like how your Windows taskbar hides if not set to be permanent on your desktop), offering you a much larger viewing space.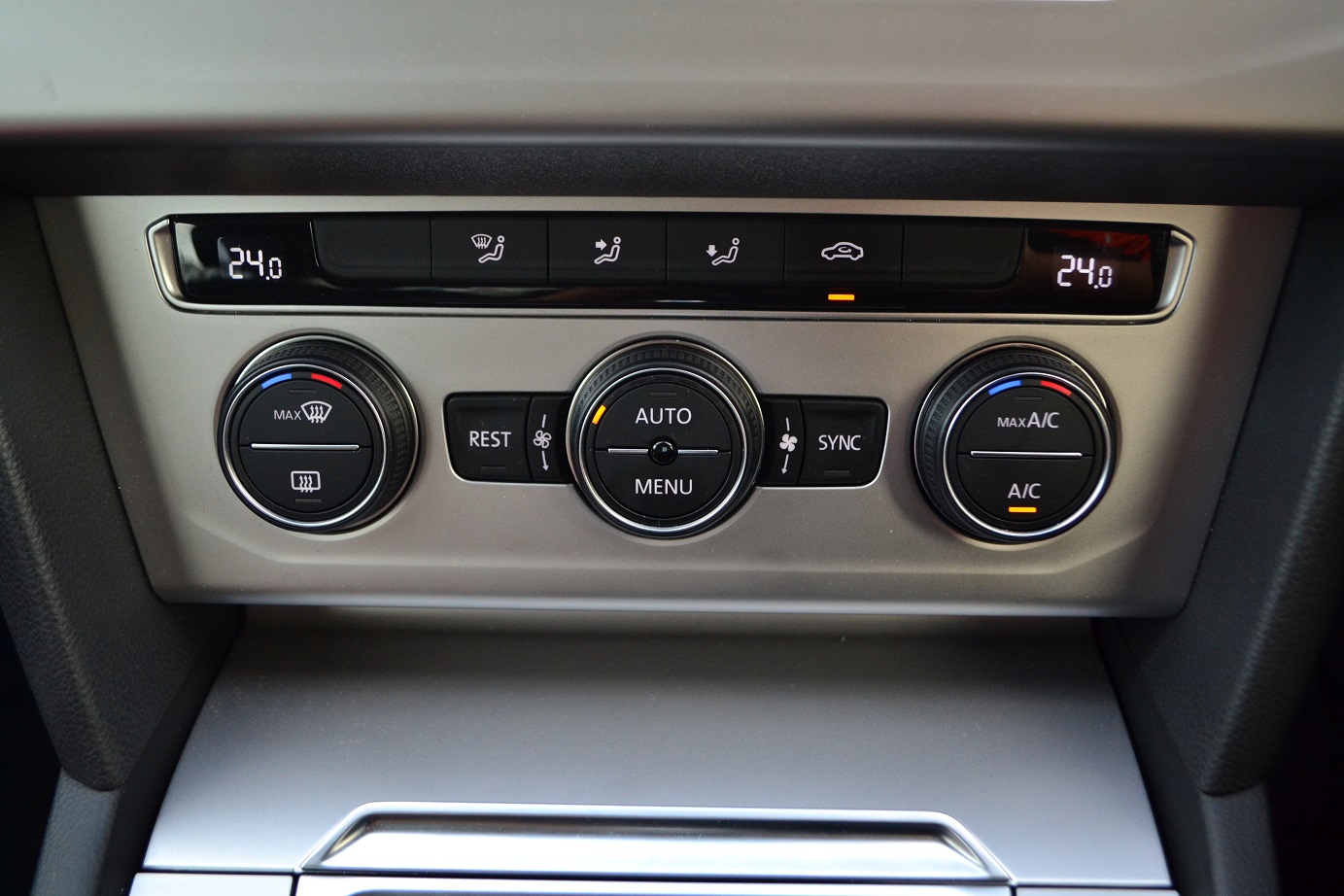 As mentioned earlier, the Passat is equipped with a 3-zone climate control system. Two in the front and one for the rear and throughput is good for our weather. I keep mine at 24deg C at all times.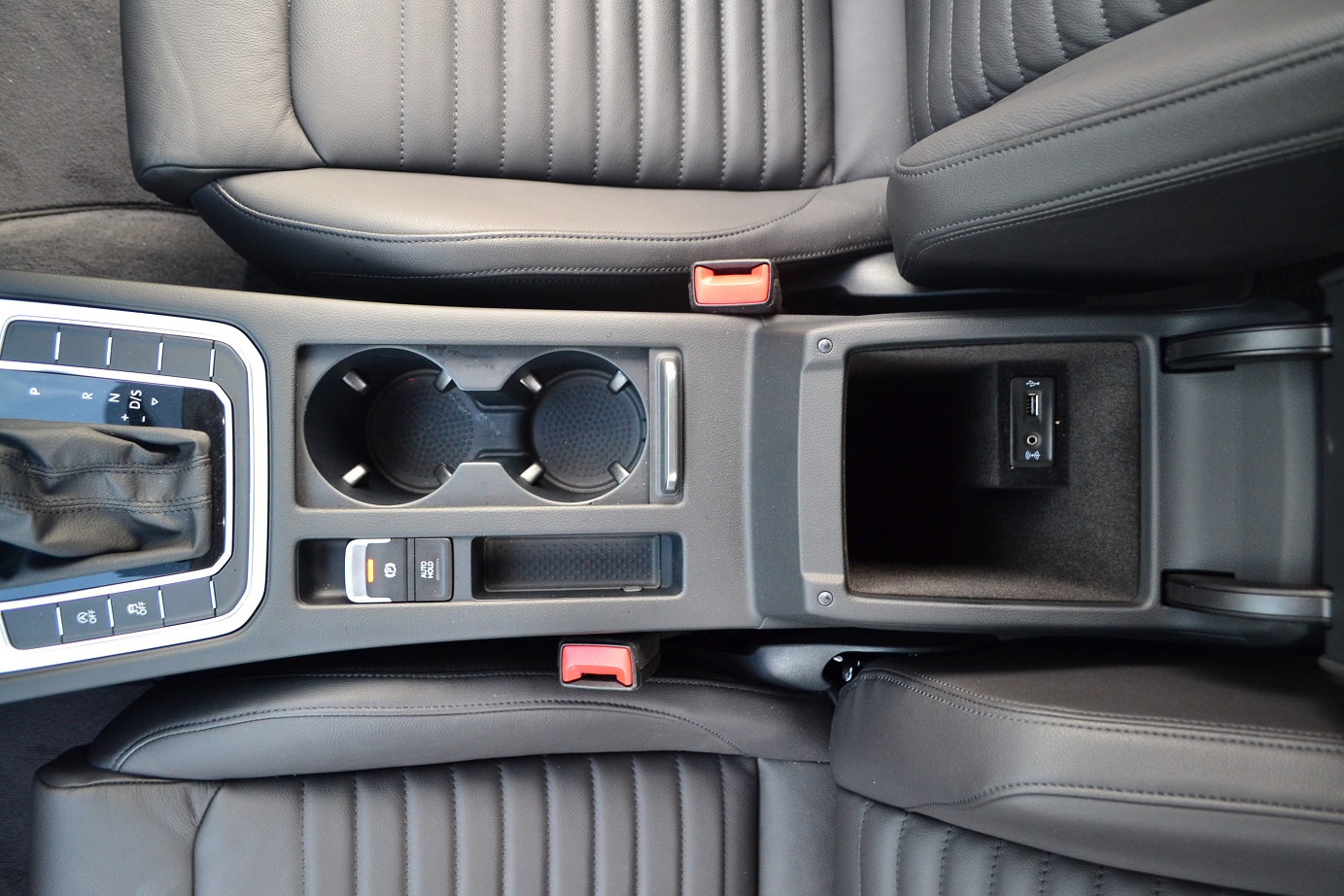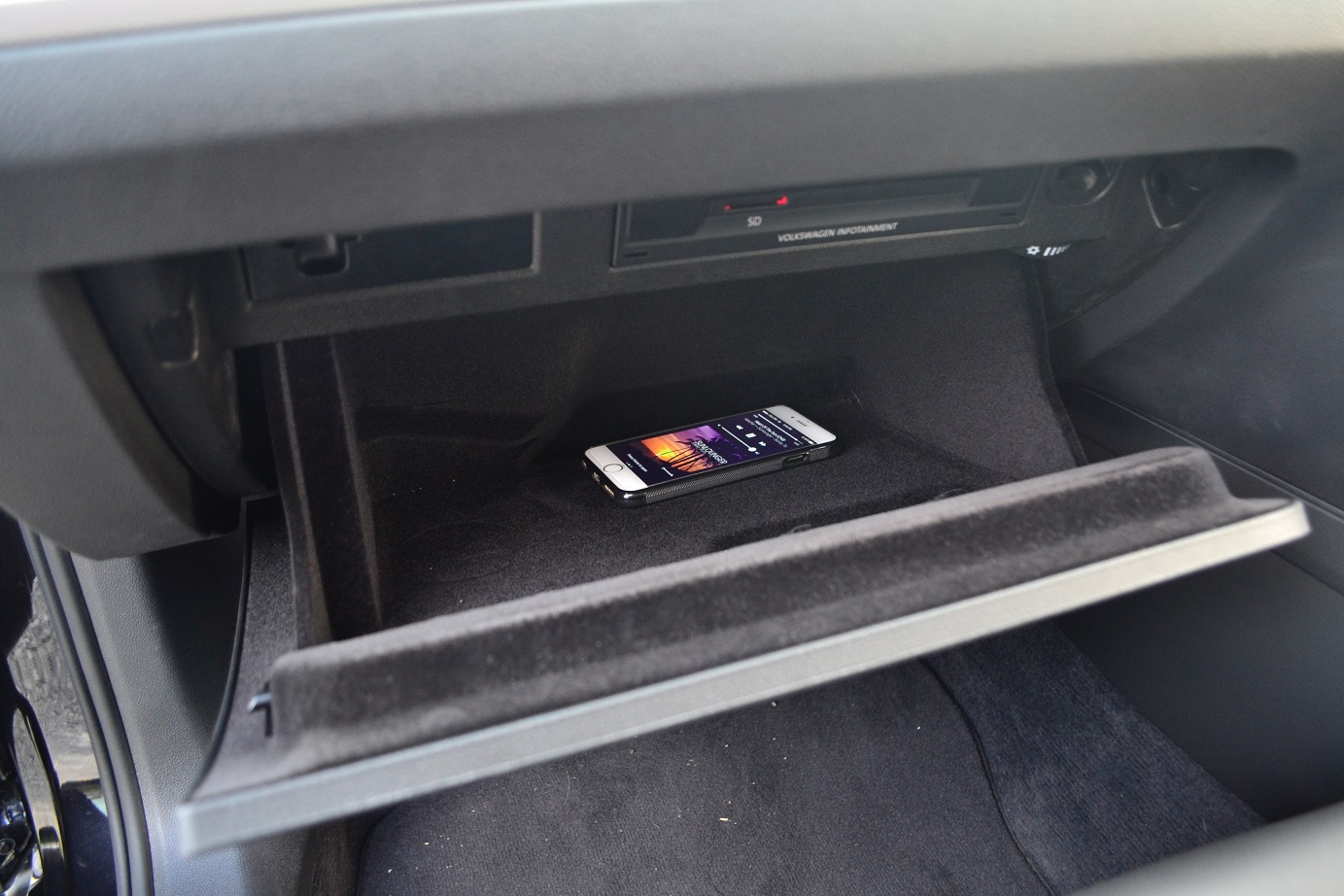 Let's talk about space; two cup holders between the front passenger and driver, a small cubicle next to the cup holder for loose change and a center armrest compartment that isn't particularly big thanks to the AUX-in and a USB port located within. The glove compartment on the other hand is carpeted with velvet and offers a bit more space for your small items. It could have been bigger if not for the CD and SD card slot found here.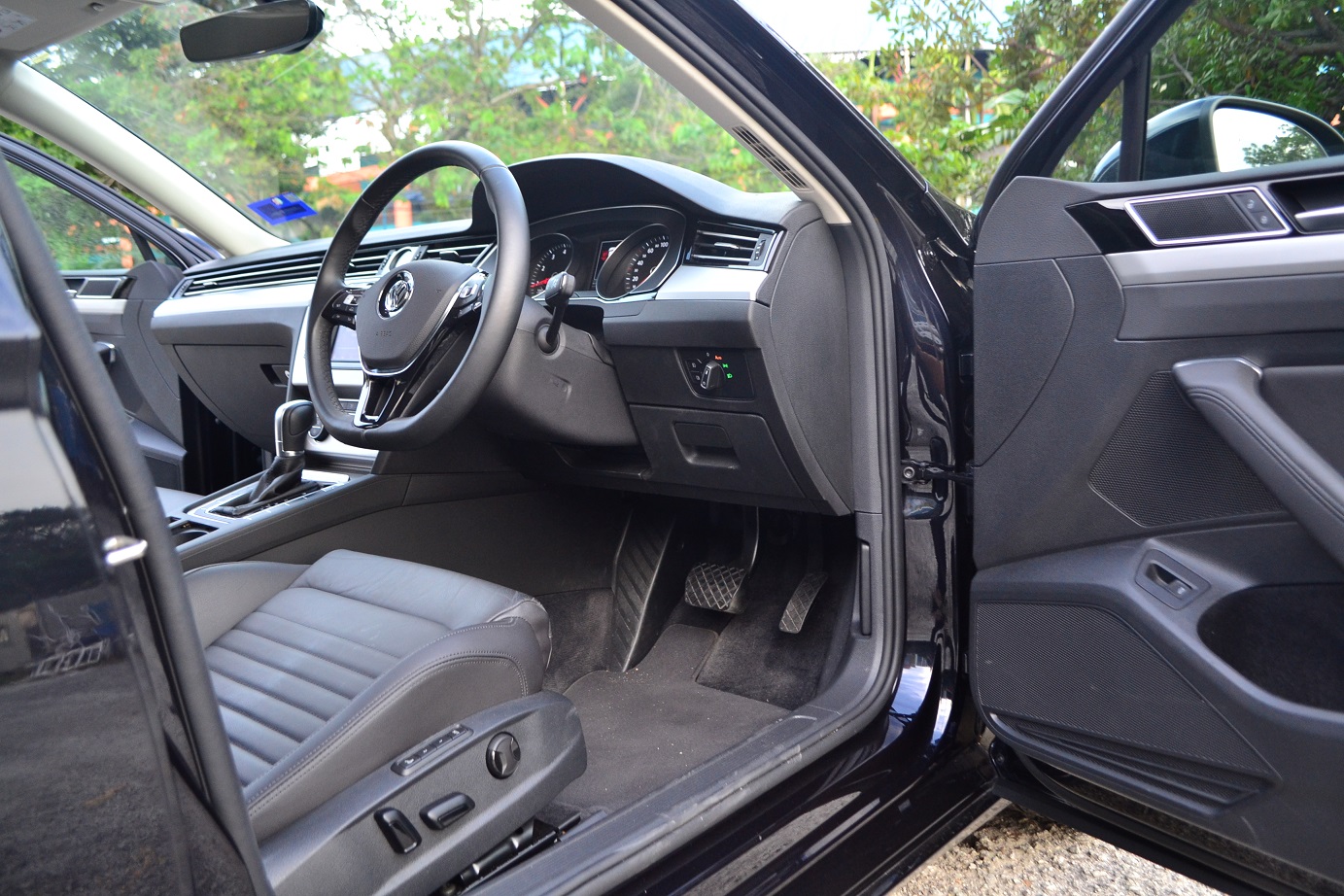 For the driver, you get 12-way adjustment with powered lumbar support and driver side memory with massage function and for long distance driving, I appreciate the massage function very much. As I've said, I would have preferred more cushion on the seats so the massage helps a great deal in keeping my spine in good shape. To elaborate more on the massage function, I've tried a number of vehicles with driver massage. The Passat's extrusion isn't as much as some but that's ok; it's fits the spinal arch perfectly and comfort is assured.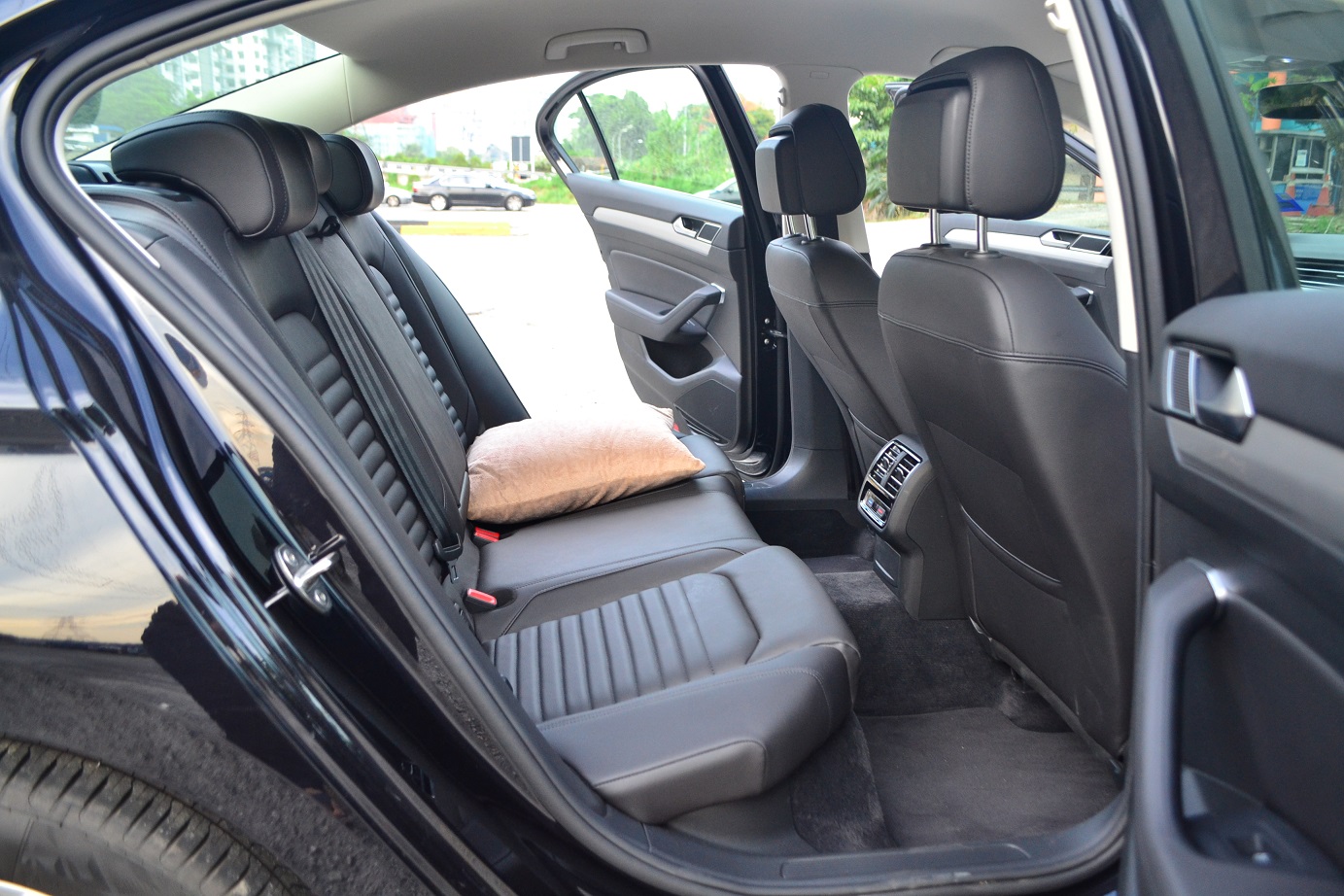 Rear seat offers good headroom and legroom but the tall drive train hump in the center makes moving between left and right a bit more uncomfortable. Certainly the person sitting in the center won't be as relaxed as those at the side. Remember that the new Passat has similar silhouette as the CC and this means it has a lower sitting position.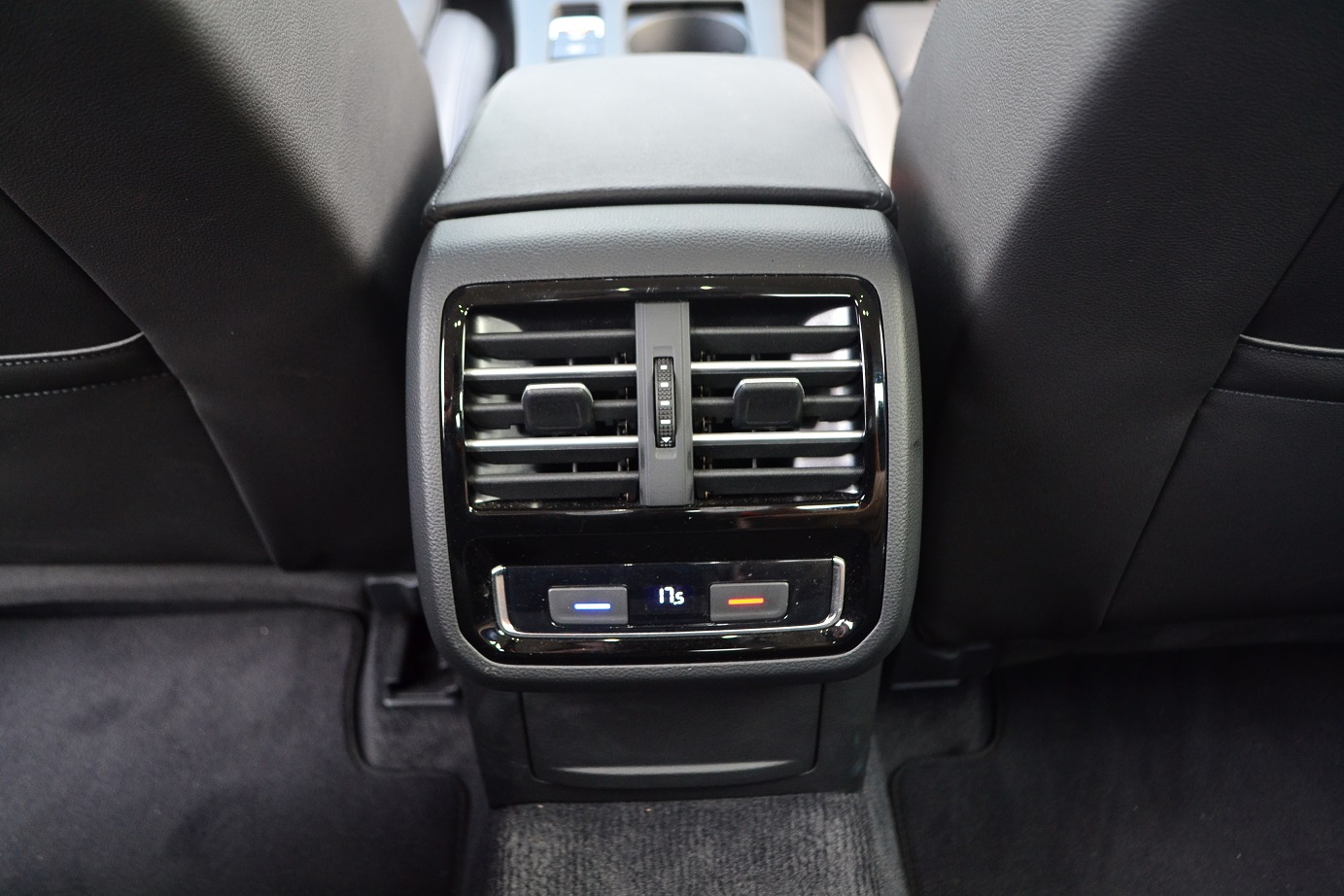 Not often you find air conditioning controls for the rear.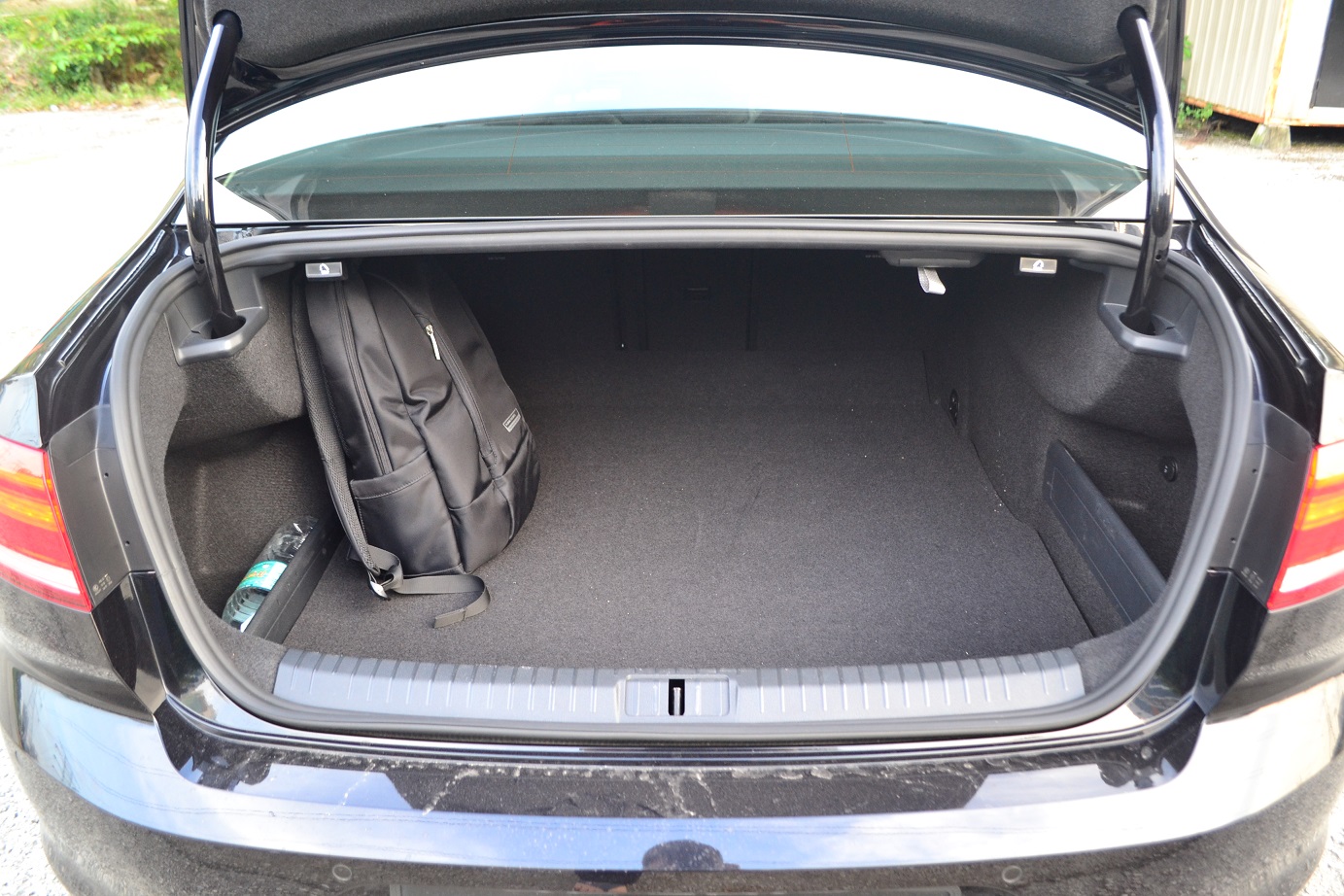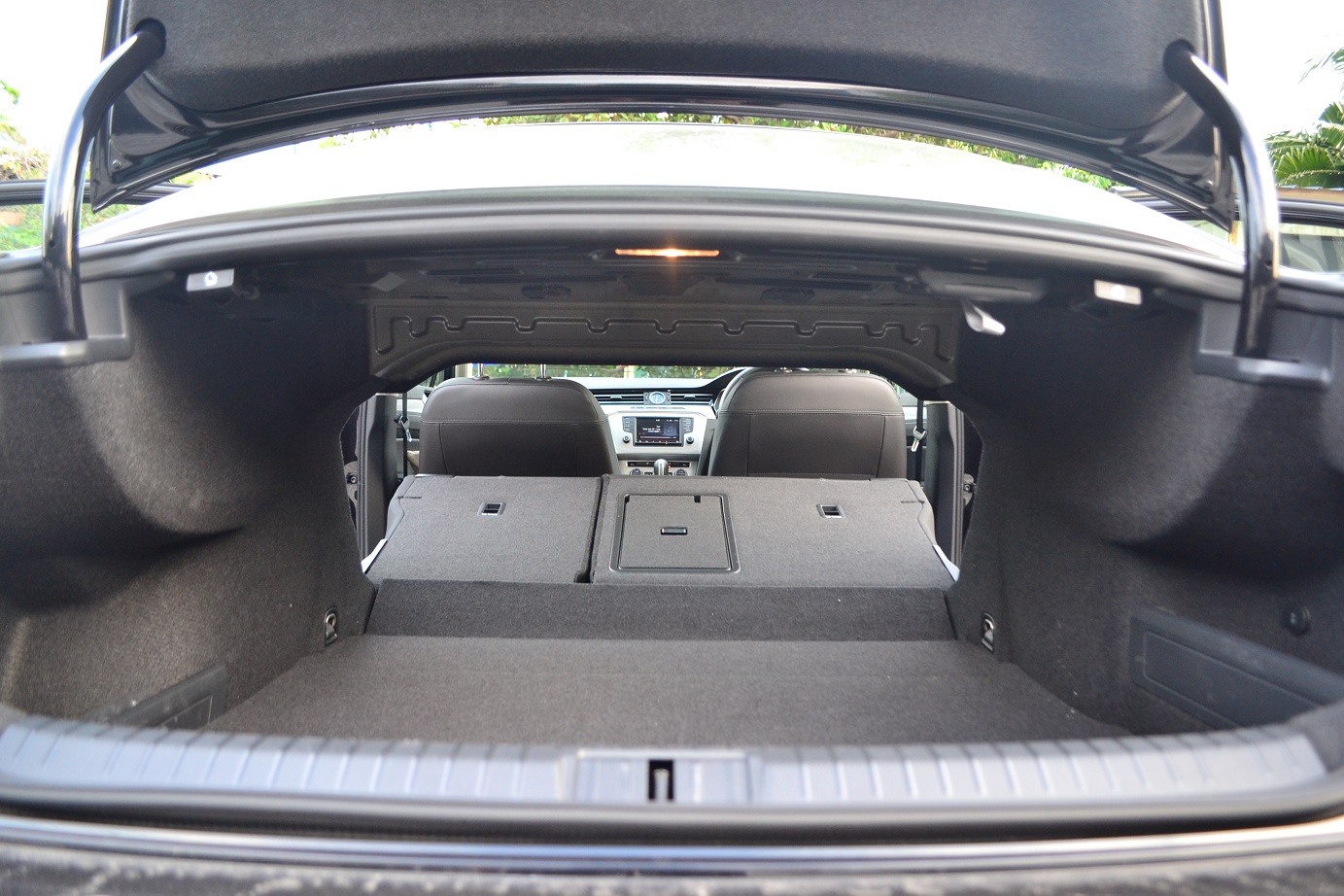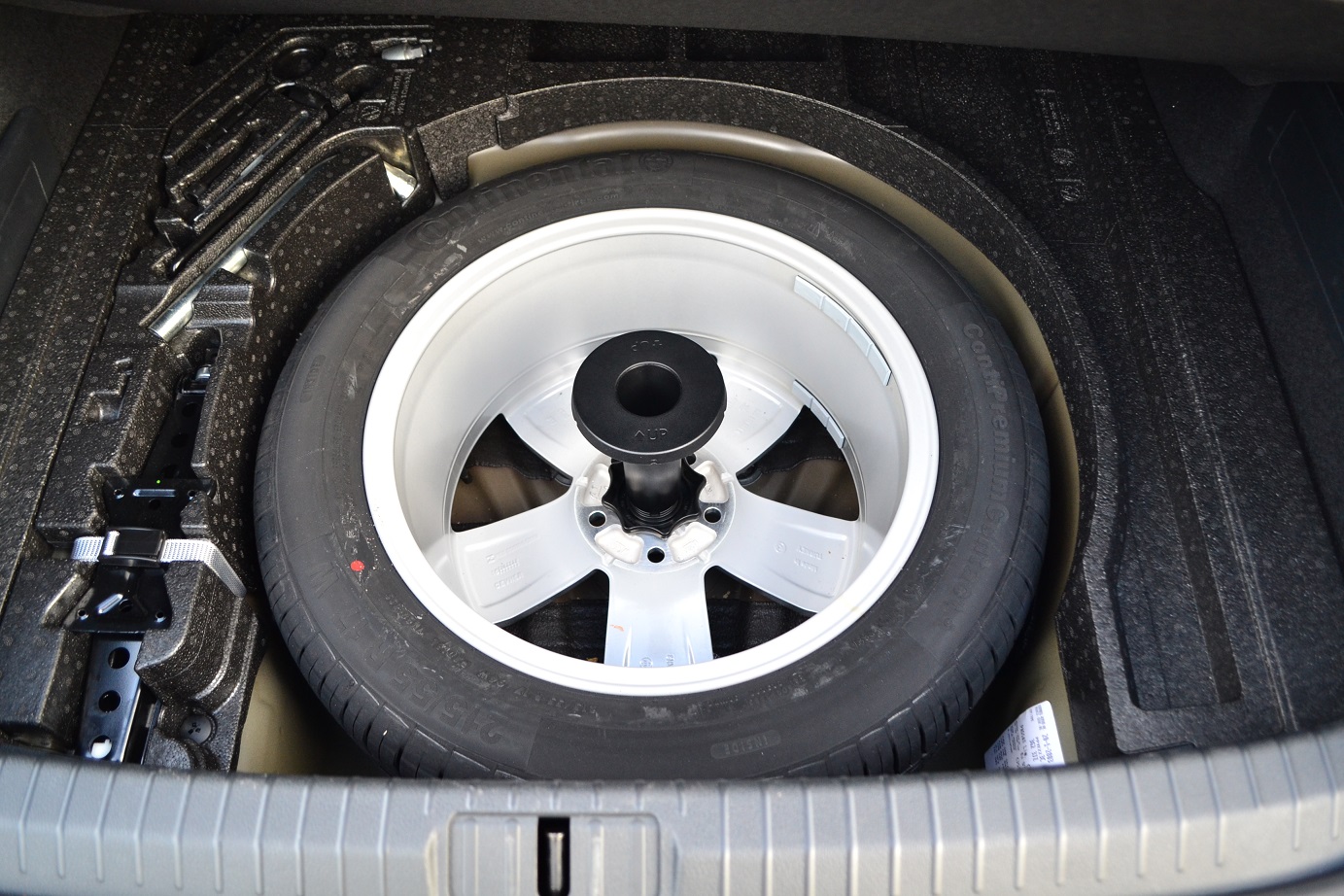 Boot space is one of the best in the segment with 586litres available with the rear seats up. Folded down (via quick release levers found in the boot), you can increase the cargo capacity further. Under the boot floor is a full size spare wheel.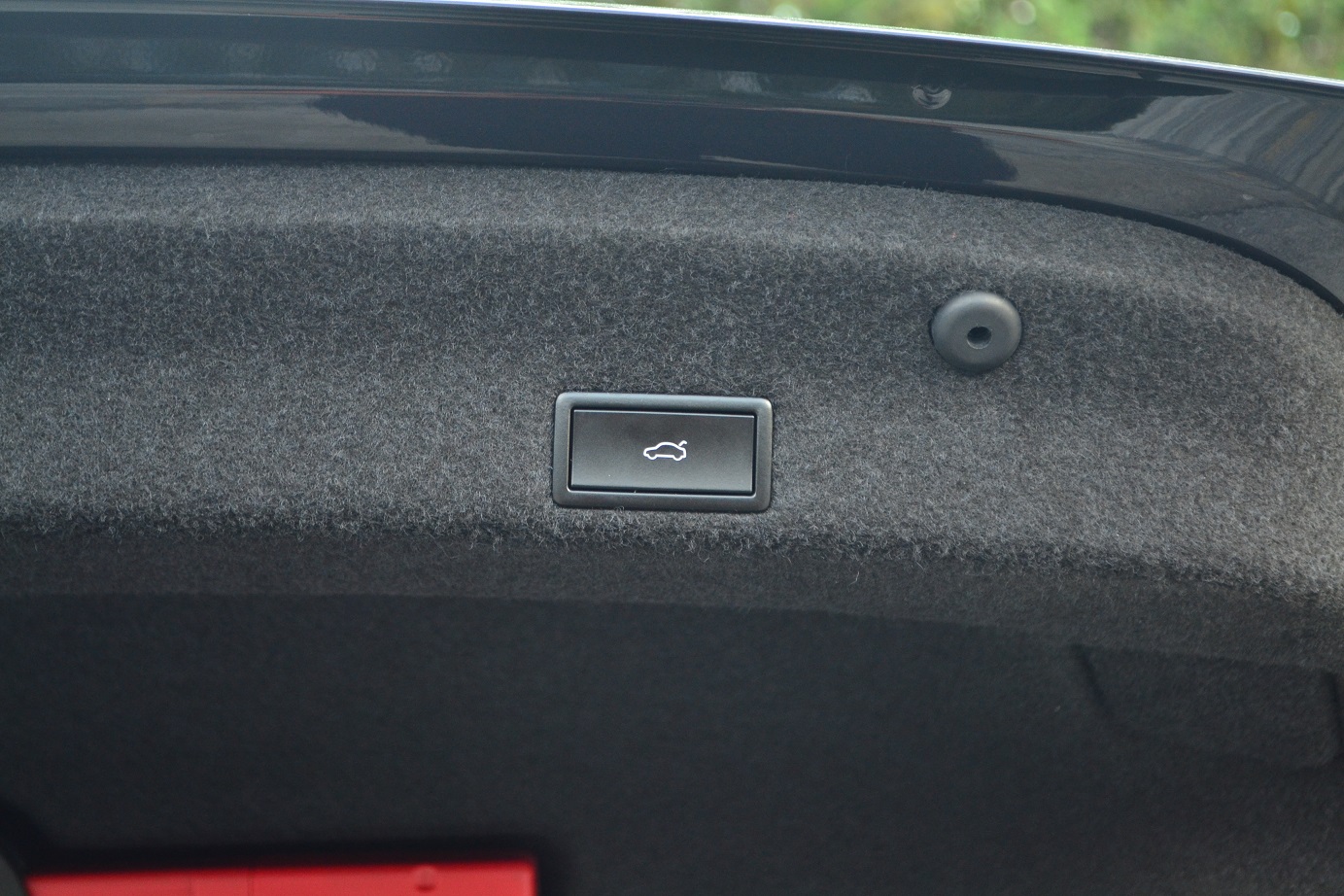 As mentioned earlier, the Passat Comfortline (and 2.0 Highline) has hands-free boot release. The boot is powered, making it convenient for those of us who have our hands full and need to access the trunk.
Safety
Volkswagen make one of the safest cars on the roads and it comes with more than a few conveniences. The Park Assist is one of the better autonomous parking system that helps steer the vehicle into a parking slot, both parallel as well as reverse parking. All you need to do is to press the activation button, signal left or right and the system will measure available space. Once space is found, the center MFD will indicate how far forward you have to move before reversing. At this point, you let go of the steering and modulate the acceletion via brakes and gear only.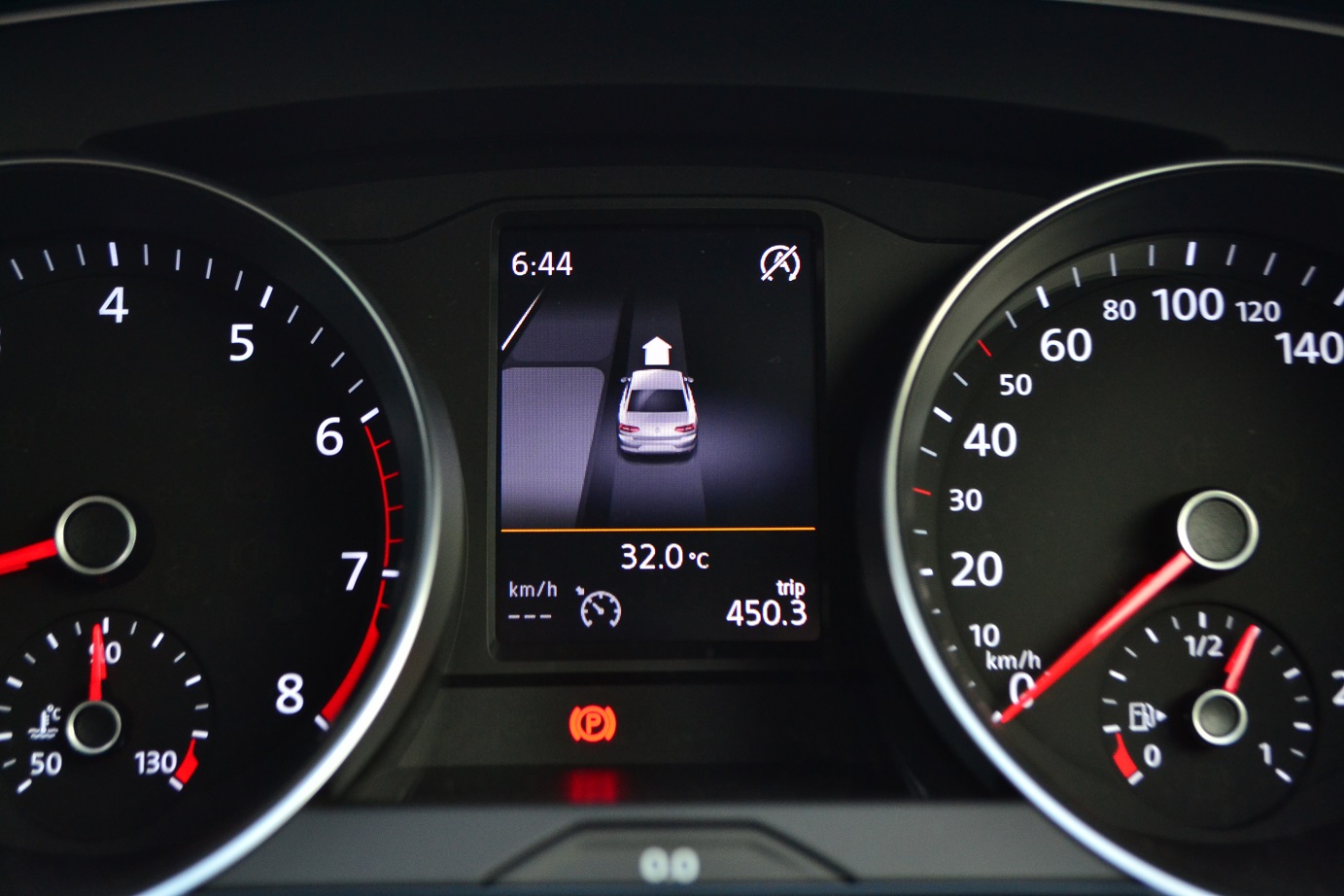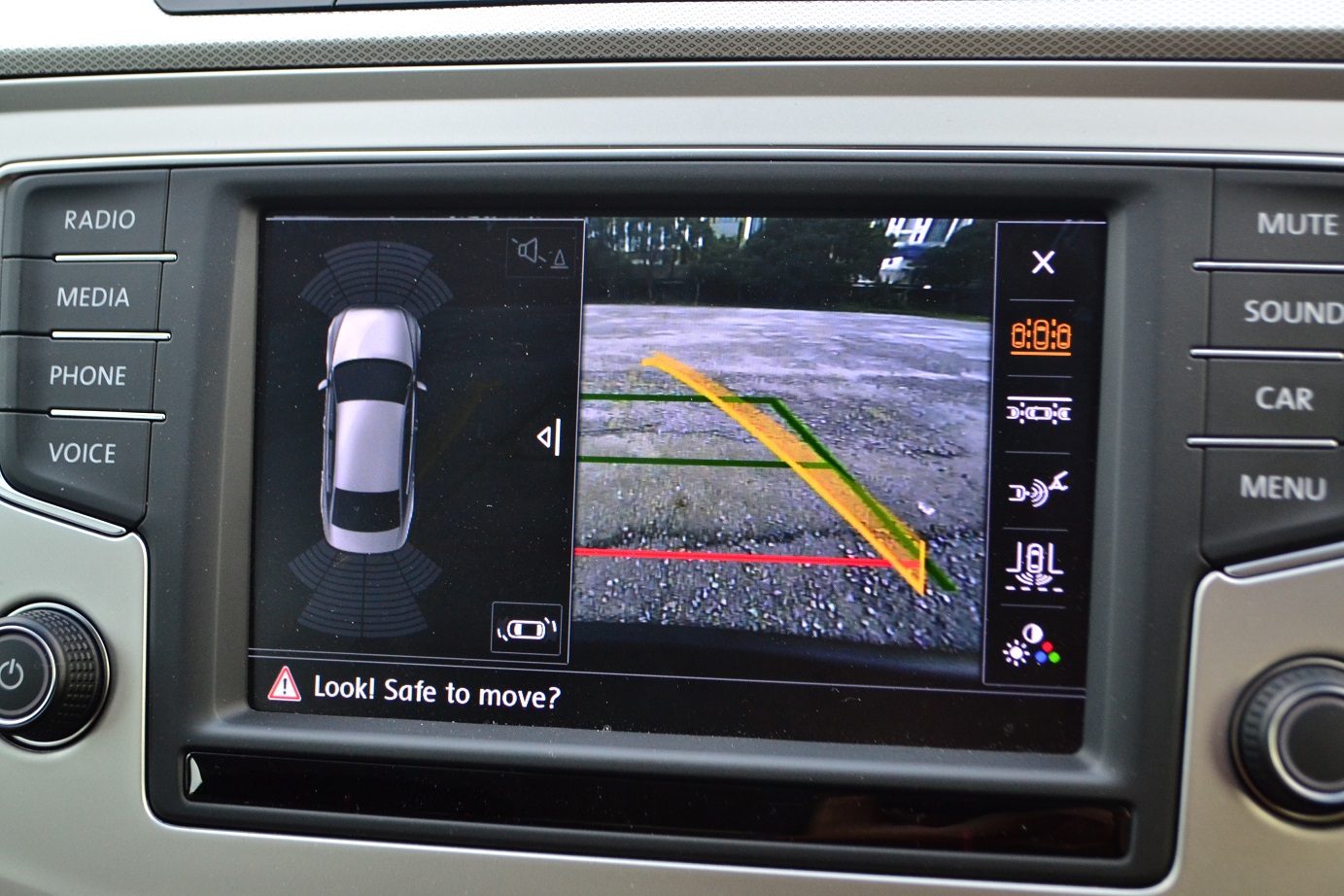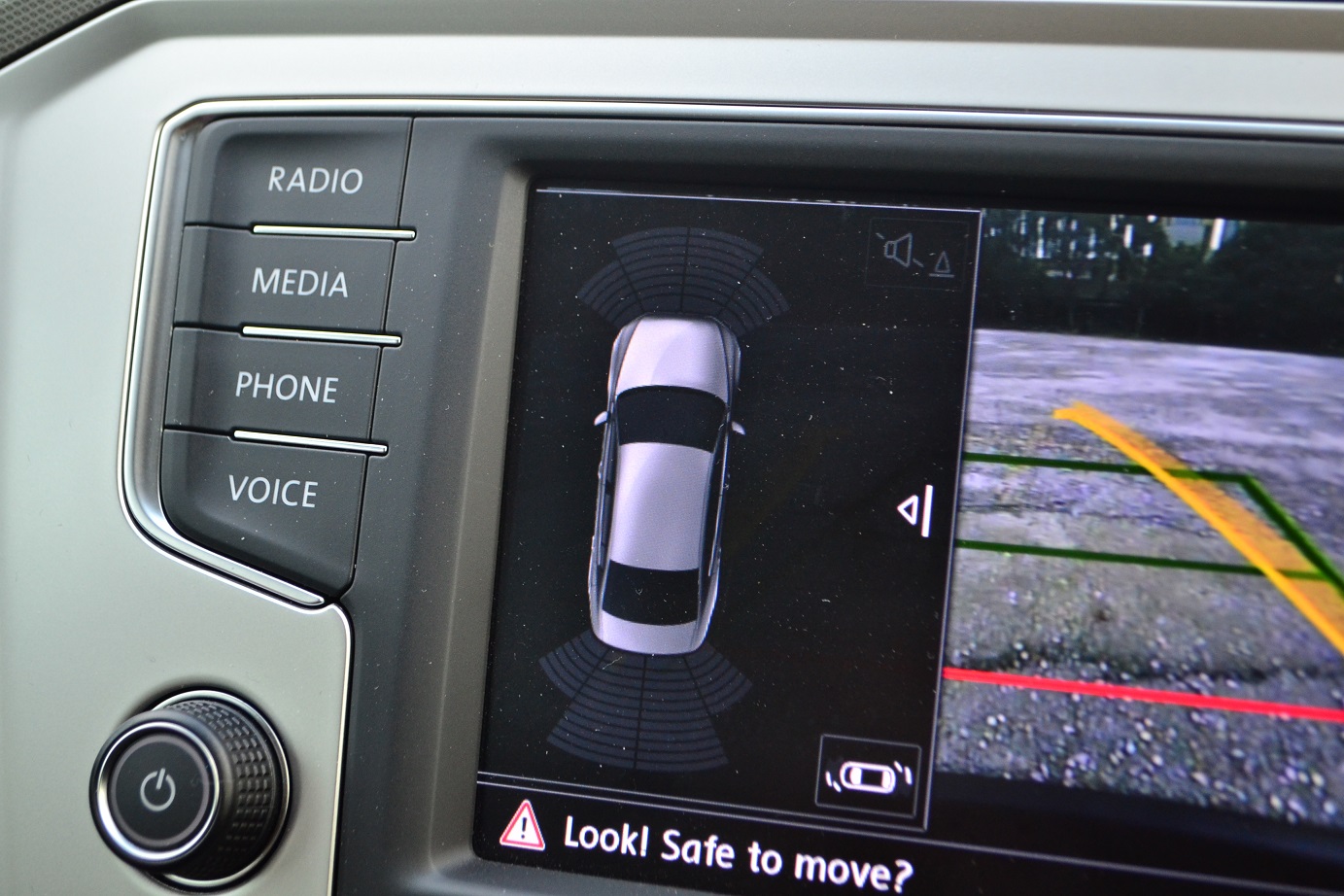 Park Assist would not be possible if not for side sensors mounted at the front and rear wheel arch. These sensors are sensitive enough to even pick up high road kerbs.
The reverse camera has various modes and comes with dynamic indicator lines that shifts are you engage reverse gear.
The list of active and passive safety features is as follows;-
Dual front airbags with front passenger airbag deactivation
Dual front side airbags
Curtain airbags for front and rear passengers (total 6 airbags)
3-point front seat belts with height adjustment and belt tensioners
3-point rear seat belts
ABS
BA
ASR
Anti-theft alarm system with immobiliser, interior monitoring and towing protection
Automatic Post-Collision Braking System
Brake pad wear indicator
ISOFIX
Driver Alert System (Rest Assist)
ESC
Engine Drag Torque Control (EDTC)
Hill-hold control
Intelligent Crash Response System (ICRS)
Safety-optimised front head restraints
Speed sensitive electromechanical power steering
Warning signal and warning light for front seat belts not fastened
Park Assist
Rearview camera
Specifications
Being the more expensive Comfortline variant, the test unit here comes with the following specifications;-
Exterior
Automatic headlight activation with 'Leaving Home' function
Automatic wipers
Chrome grille
Adaptive LED headlights with LED Daytime Running Lights
Electrically adjustable, foldable and heated exterior mirrors with environment lighting and curb view
Exterior mirrors with integrated turn signals
Front and rear fog lights
Heat insulated windshield side and rear windows
LED rear license plate lights
LED tail lights
Park Distance Control (Front & Rear)
Twin exhaust tailpipes
'Istanbul' alloy wheels 7J x 17″, tyres 215/55 R17
Interior
'Silver Diamond' decorative inserts for dashboard and door trip panel
'Climatronic' air conditioning system with 3-zone temperature control
12V socket in centre console, front and rear in luggage compartment
586 litres of trunk space
Adjustment front driver's centre armrest with storage
Analogue clock
Central locking system with SAFELOCK
Centre console silver trim
Auto-dimming rear view mirror
Driver and passenger illuminated vanity mirror
Electric parking brake with auto hold function
Front seat backrest storage pocket
Instrument cluster with electronic speedometer, odometer and trip odometer, tachometer
Leather steering wheel, handbrake and gear knob
LED interior reading lights (Front & Rear)
Lockable, illuminated and cooled glovebox
Multi-function display 'Premium'
Multi-function steering wheel for MFD, radio and telephone
Overhead compartment storage with lid
Push start button
Radio remote control and 2 remote control with keys
Rear air condition vents
Split-folding rear backrest with centre armrest with load-through provision
Tilt and telescopic steering wheel
'KESSY' Keyless locking and starting system
'Vienna' combination leather seat upholstery
Cruise control
Composition Media 6.5″ touchscreen display radio with USB, SD-card slot x 1, AUX-IN, Bluetooth
8-speaker system
Driver Personalisation
Driver Profile Selection
Front seat with electric 12-way adjustment with powered lumbar support and driver side memory with massage function
Headlight washer system
Paddle shifters
Ownership and Maintenance
The Passat 1.8TSI Comfortline can be yours for RM179,990 excluding road tax, insurance and other miscellaneous fees. It is available in 7 colors; Pure White, Deep Black, Reflex Silver, Indium Grey, Crimson Red, Black Oak Brown and Harvard Blue and comes with a 5-year unlimited mileage warranty.
Now comes the million ringgit question; should you buy one?
Strictly from experience, if you're concerned about the 7-speed mechatronic failure or clutch failure, I don't think there is cause for concern. Even piston ring cracks is relatively unknown since VW changed the twin-charge to single charge engines. The number of complaints, if any are now much smaller and most report that repairs appear to eliminate the problem longer term. This is a far cry from my time when components fail a lot more frequent and this is believe is due to the continuous improvement done on the components.
If you're concerned about resale value, please do not buy a continental brand. Stick with Japanese or Perodua.
If fuel consumption is important to you, here are my figures;-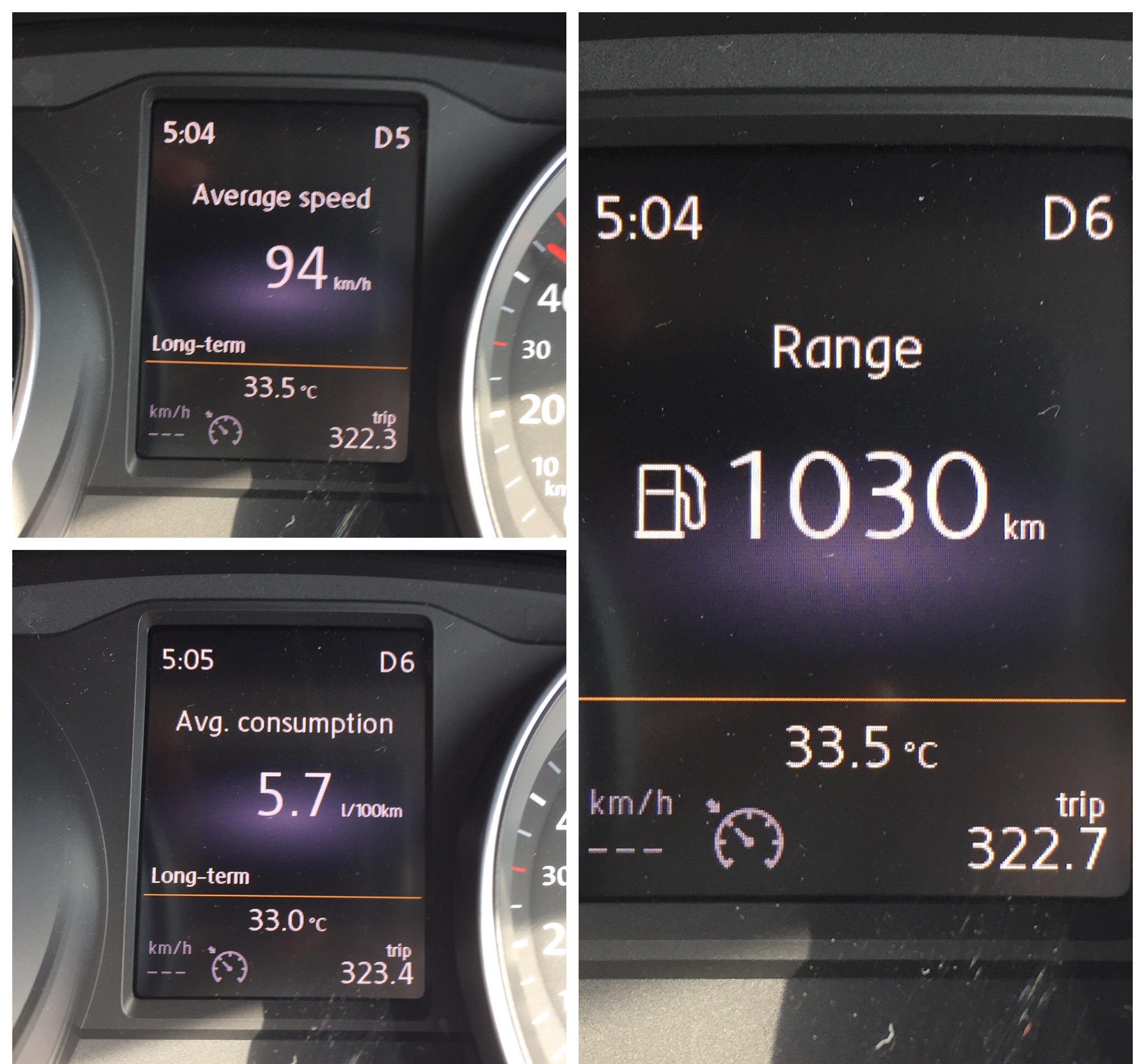 Range indicator says I still have over 1,000km to go after travelling 322.7km on the highways to Penang. I posted the average speed of 94km/h above to dispel any doubts that I may be driving at 80km/h all the way. The vehicle had 3 adults and air conditioning was switched on with 3 stops along the way. Average consumption of 5.7l/100km is recorded which is not bad.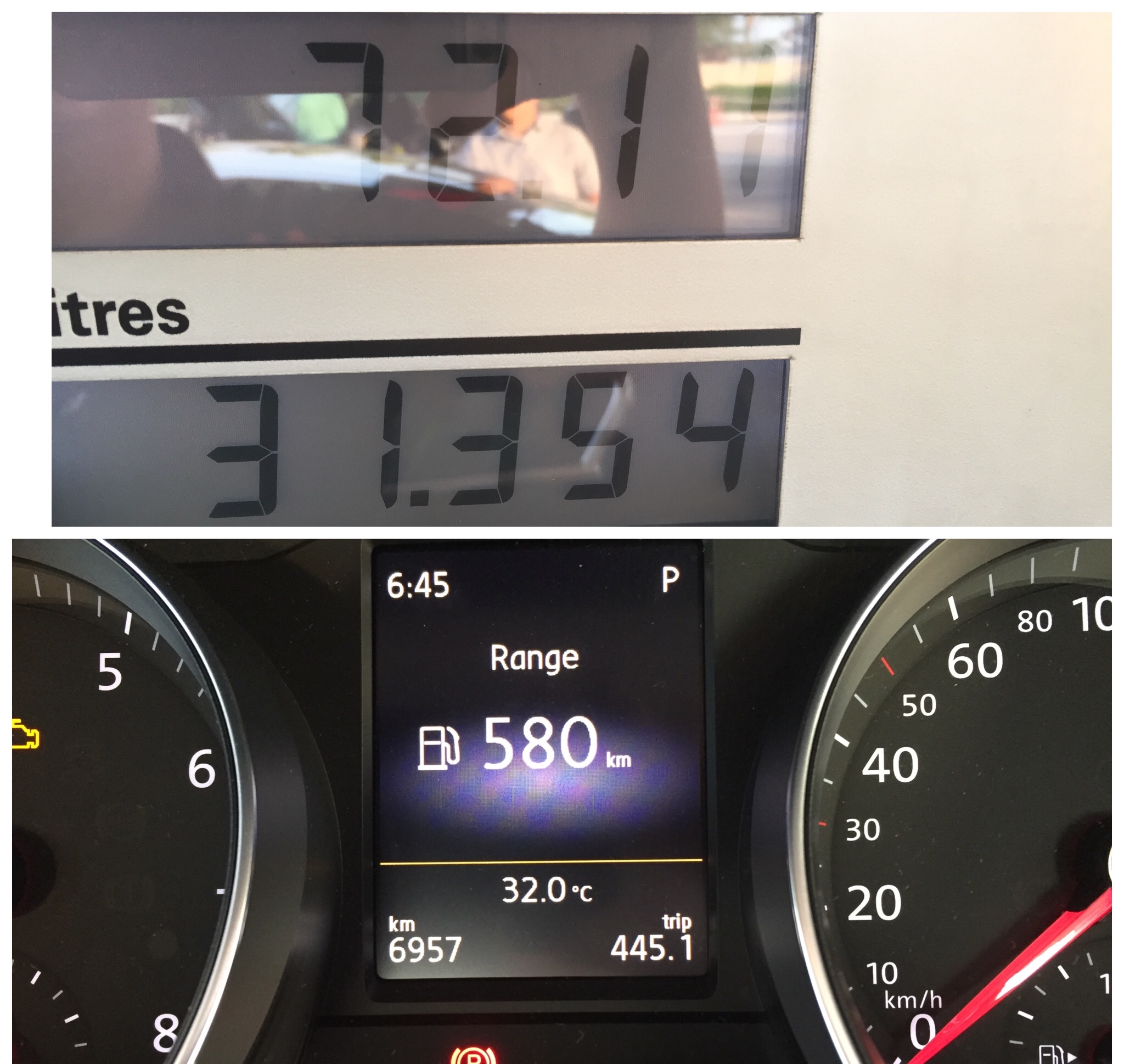 However, when you mix over 100km of city driving, stuck in traffic with multiple stops, the fuel economy drops to about 7l/100km. Still impressive for a D-segment vehicle.
If you ask me about the service centres, I'll be completely honest – I have no idea. Ever since my Golf's warranty expired, I never bothered to return to service centres since;-
they're known to charge higher than 3rd party. Understandable since they are authorized and have overheads to pay
the Goodwill program came too late. By then I had done my service outside, thereby voiding the terms of Goodwill*
*Note: Goodwill is when Volkswagen may, at their absolute discretion (so don't DEMAND that it's warranty. It's not) decide to replace a component for free if the vehicle is serviced as per schedule at authorized service centres. Consumables such as engine oil that may need to be replaced are charged accordingly.
So I cannot say if their SC is better now. I do know that from my interaction with some of the upper management in VPCM during the Tiguan launch, they appear to have the right people in key positions to make a change. Whether these changes materialize, only time will tell.
But look on the bright side, with the upgraded components, the chances of premature failure would be lower, thereby preventing the need for owners to enjoy the – hospitality of service centres. In this sense, I would say yes – it's a good vehicle. Loaded with practical features, good performance and if you want bragging rights, if you ever park it next to a BMW and Mercedes-Benz, I guarantee your car will turn more heads than the other two.