Every business have a specific target market to cater to. Whether it's a Rolex exclusive time piece merchant or a RM17 Quik-cut barber shop, they each target a particular niche. If done right, you'd not only be able to survive, you might thrive and open many branches. Among many of these businesses, selling to the upper income group is particularly rewarding.
I don't mean buying cheap and peddling them off with abnormally high profits without investing in brand value. You cannot decide to charge 5-star prices with a 3-star establishment.  Higher income bracket consumers may have the spending power to pay more but they also expect more for the products and services they purchase.
You can increase prices of your kopi tarik made from premium coffee beans that passes through the anus of a civet to Starbucks Grande-sized Frappucino but you'd just be overpricing yourself out of the market. Value is a far more important component and this is, by far the most challenging aspect to create, sustain and grow over time. Shopping malls, holiday resorts even petrol stations try various initiatives to increase their appeal.
Which brings me to the topic at hand.
I've had the BMW 330e for a couple of days now and I came to certain conclusions concerning charging stations.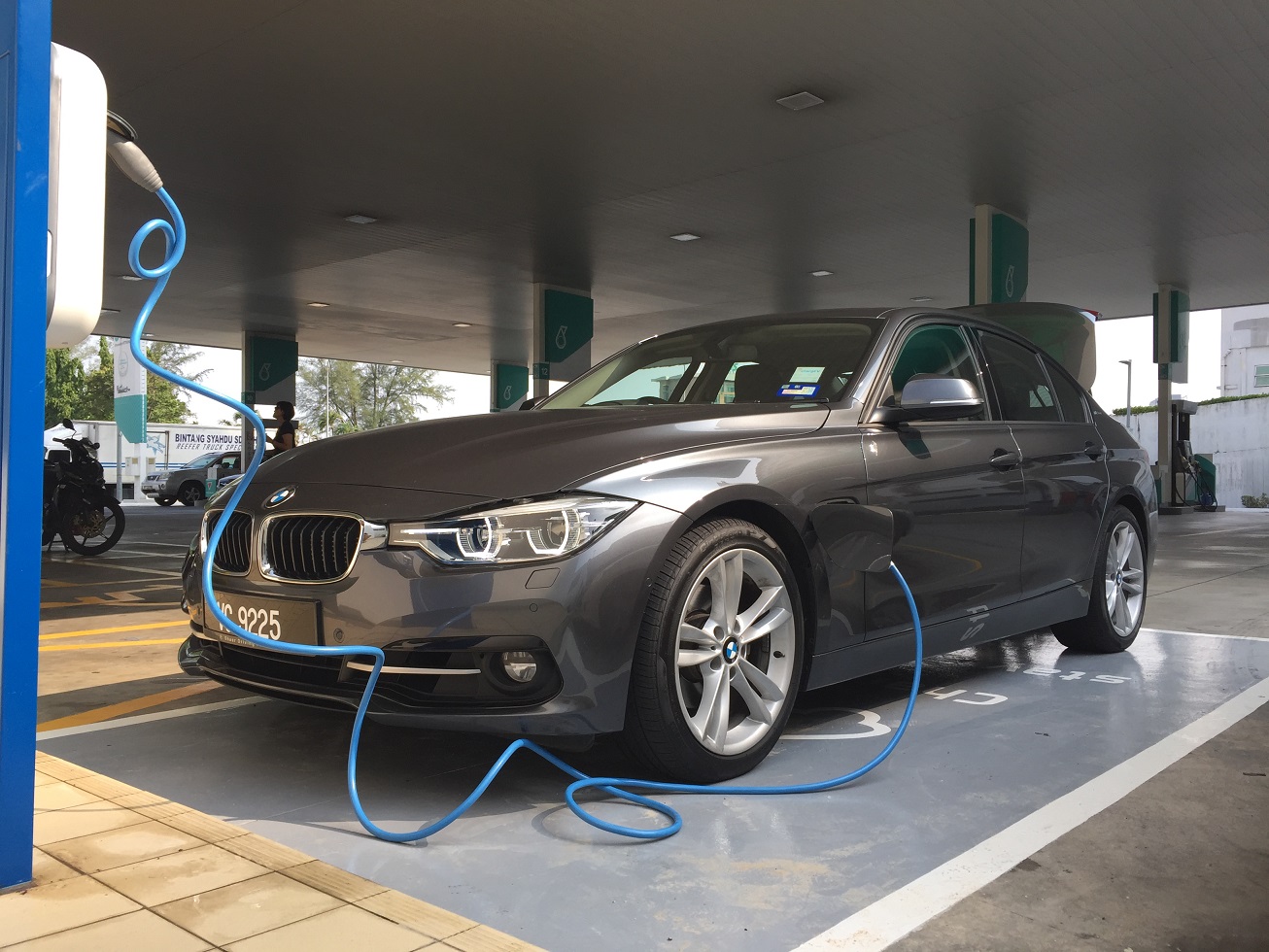 See this? This picture was taken in a Petronas station in the Klang Valley.
Now, unless there are;-
no other petrol stations around and
my car is choking because the fuel is so low
no other toilets and I need to pee really badly
no where else I can top up my Touch&Go card
I won't stop at a Petronas station. It's nothing personal, just preference. I mean, I've got my Petron loyalty card (with over 30,000 points on it), there are numerous Petron stations nearby and though a Petronas station isn't far from where I live/work, I'm just used to going to the red-&-blue station.
That's the key word; "Used to"
In other words, it's habitual for me to patronize that brand.
ALL consumers are creatures of habit. Unless you're driven by cost and cost alone, we generally have a certain bias towards certain brands, whether it's one that's low cost or one of convenience. Don't believe me? Ask yourself this question; when was the last time you visited a different RnR along the North South Highway? I bet that if you didn't pull over because of an urgent call to answer mother nature or mother nature blinding you with torrential rain, chances are, you'd have 3 maybe 4 rest stops you would frequent over all others.
Heck, I even go back to the same urinary bowl if given a choice.
That's how it is. Habits. Whether it's rest areas, food or even a dentist, we all have our own preferences and unless there is a strong reason to change (ie the place is closed or someone offering better value), we won't change.
Petrol stations
Now, let's come back to fuel stations. Once, everyone had their own fans and no matter what, these fans continue to visit their favorite stations.
Then came BHP rolling out Euro 5 Diesel to over 100 stations. Pick-up truck owners who buy the Ford Ranger, Mitsubishi Triton, Isuzu D-Max, Toyota Hilux, Nissan Navara, Mazda BT-50, Chevrolet Colorado for their personal urban use now has access to clean diesel that is not only better for the environment, allows for better fuel economy and minimizes power loss due to cleaner, more complete combustion.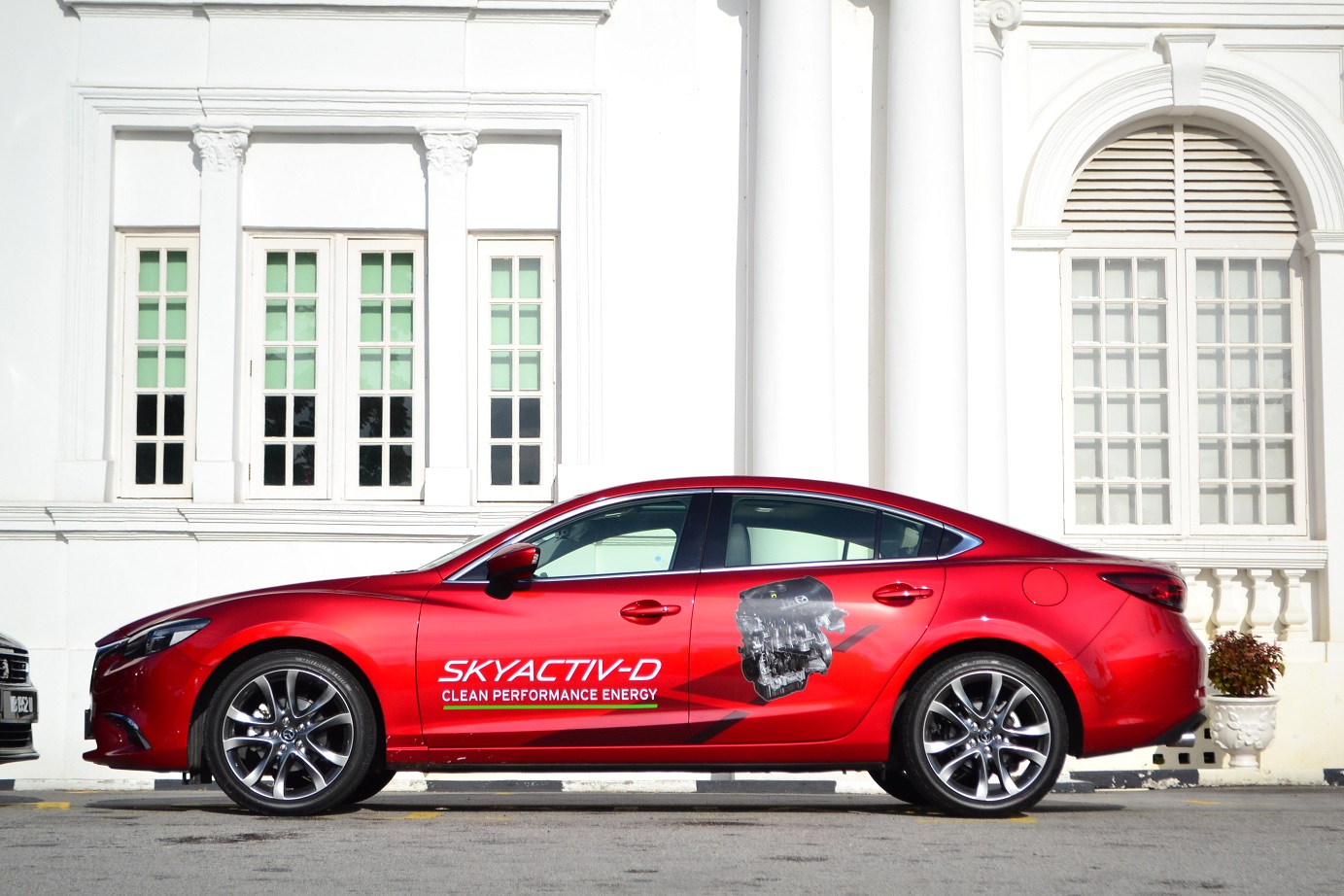 Some vehicles like Mazda SKYACTIV-D variants have no choice but to use BHP since the manufacturer have clearly specified that only Euro 5 Diesel be used least you void warranty.
Now think about it; if I had a diesel vehicle and I pay slightly more per litre in exchange for more power, better mileage and longer parts lifespan, why wouldn't I? If I was a Petron user, I see better value in switching over to BHP. Petron now offers Euro 5 Diesel but had I switched earlier, I might have switched all vehicles in my household to BHP, regardless if it's diesel or petrol. It would have been too late for Petron to retain me as a loyal customer because you didn't offer what I want.
Funny enough, for a city as developed as Penang, the sole Euro 5 Diesel seller in Penang island is the BHP station in Jelutong. The rest, none! Perhaps station owners didn't want to carry out the renovation works to allow the fuel to be offered.
Now, think about ChargEV stations, established by Malaysian Green Technology Corporation (GreenTech Malaysia)  found ONLY in Petronas stations (you can find chargers in various locations in Malaysia but GreenTech has entered a partnership program with Petronas Dagangan so it's only them you'll find charging stations). What kind of customers would this bring them?
Charging Station Users

Let's consider what kind of vehicles that can take advantage of it;-
BMW 330e Plug-in Hybrid Electric Vehicle (PHEV)
BMW X5 xDrive40e M Sport PHEV
BMW 740Le xDrive PHEV
BMW i8 PHEV
Mercedes-Benz C-350e PHEV
Mercedes-Benz E-350e PHEV (soon to be launched)
Volvo XC90 PHEV
Nissan LEAF
Renault Zoe
Renault Twizy
Tesla Model S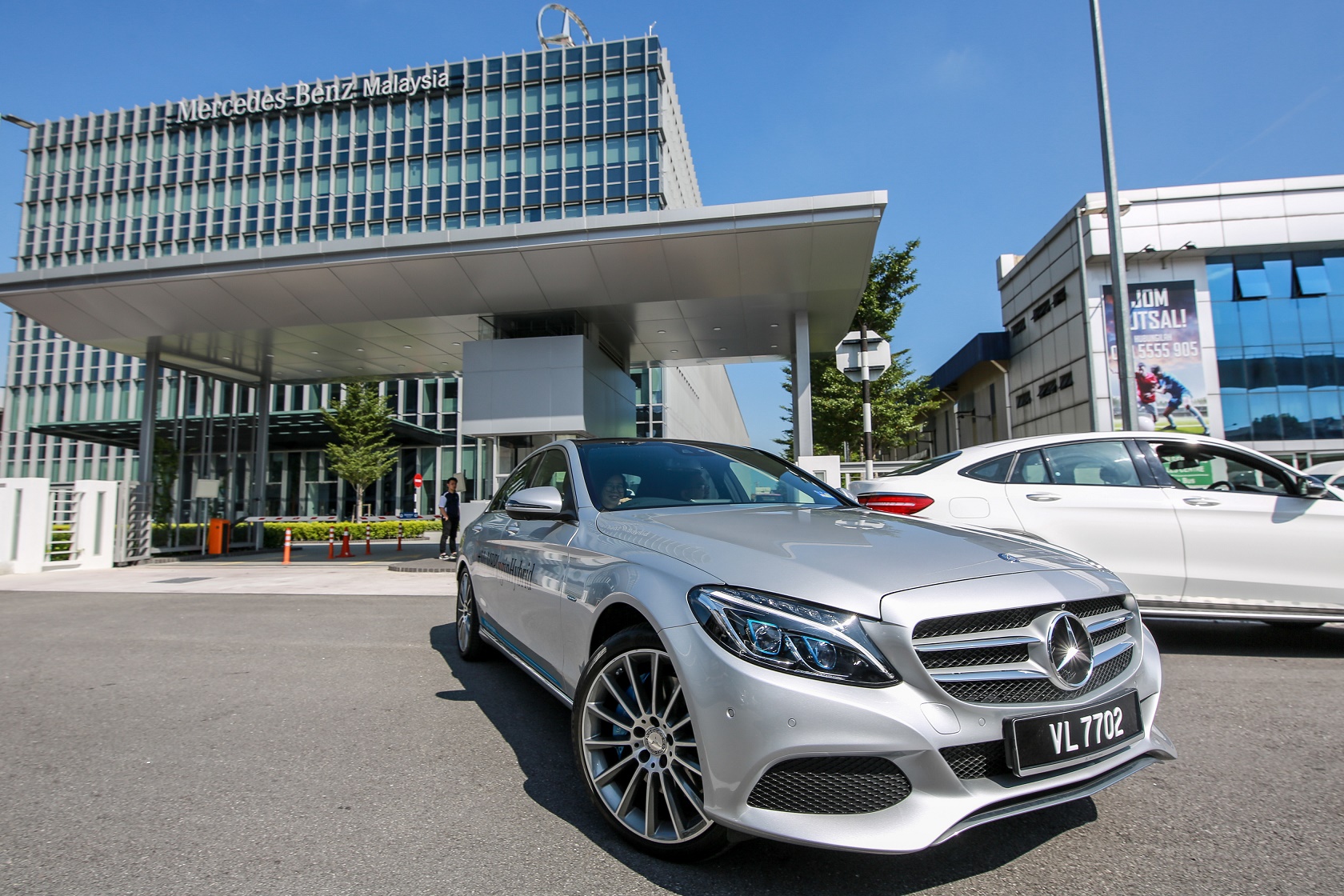 What kind of owners would have these vehicles in their garage? They're probably;-
Middle to higher income group with comfortable disposable income each month
Executive to Director level in companies
More than one vehicle in their household
Sounds like some of the best customers you'd want to attract to your establishment if your kind of service and products is of certain quality and standard.
Shopping Galleries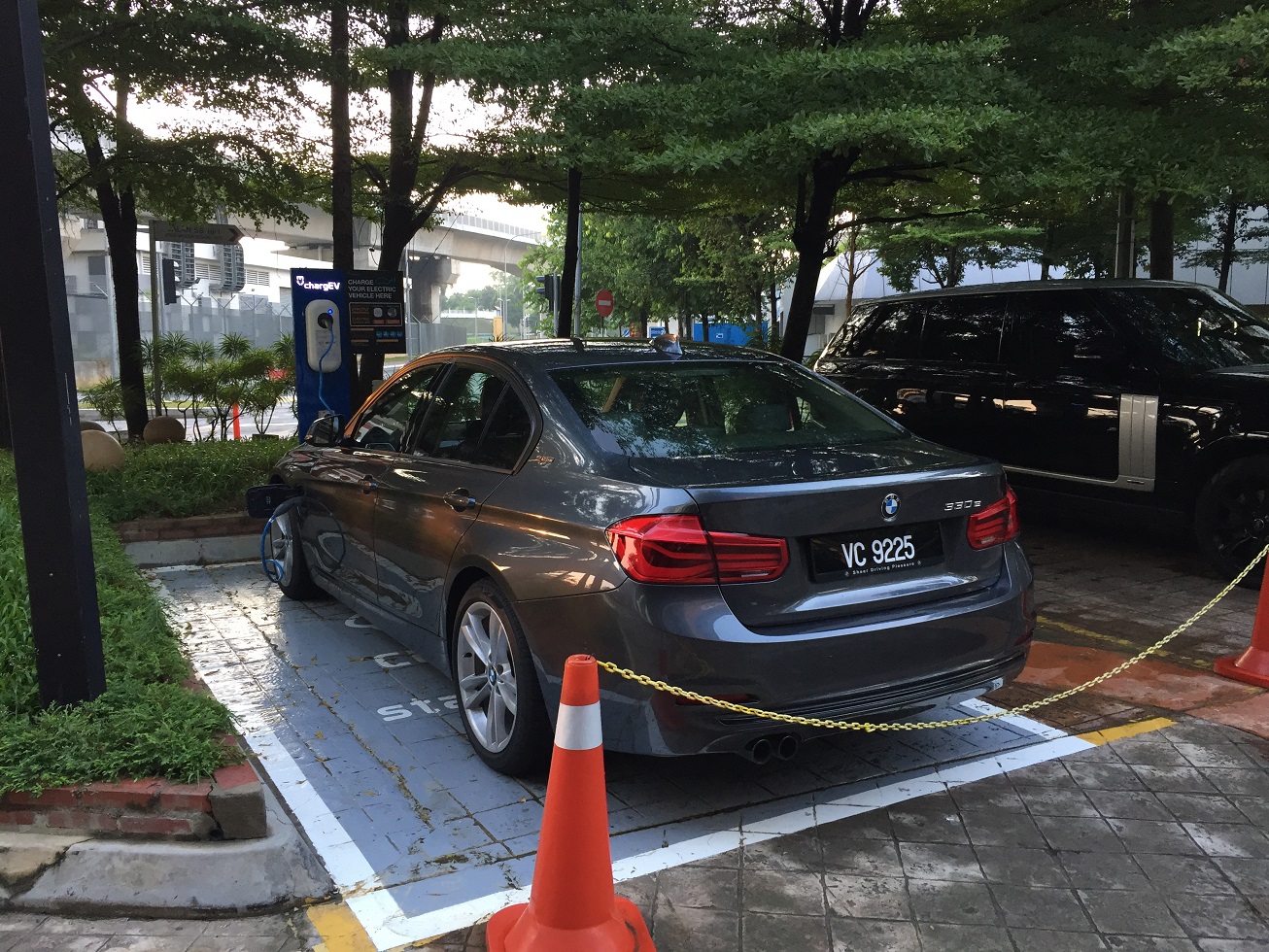 Shopping malls and galleries stand to benefit by offering charging stations in their premise. Seen here is the station at Empire Shopping Gallery, the ONLY shopping gallery with two charging stations in Subang Jaya. This neighborhood, though old is well established and has a good mixture of income groups. Among all the shopping malls, Empire's target appears to be the higher income group therefore having charging stations here makes perfect sense.
(Editor's note: Subang Jaya is a township in the district of Petaling Jaya that consists of  SS12 to SS19, PJS7, PJS 9, PJS 11, or Bandar Sunway and UEP Subang Jaya (USJ). It has been highlighted by the chargEV Facebook admin that in USJ, there are 3 charging stations found in One City Mall. I had referred to Subang Jaya as the area comprising all 'SS' only but I see it could be misconstrued. The error is regretted)
Now, many people think that if you're rich, you don't need to worry about fuel.
That's besides the point.
Remember that consumers look for value above price? Higher income groups in particular have a keen nose in finding value, both in practical economy as well as exclusivity. The point isn't about the amount of fuel being saved commuting from home to the station;
it's about being rightfully allowed to park at that spot that's permanently reserved for vehicles like yours.
being efficient by gaining free mileage while going about your errands
fringe benefits such as in the case of the picture above, that spot is out of the paid parking area. Technically, it's a legal free parking for your use
How much fuel would I save had it been a normal combustion engine driving to and from the mall? Probably negligible. How cool is being able to do it without a single drop of fuel, without needing to fight with other non-EV/PHEV vehicles for parking space? Priceless.
That's value for you.
That's how you can attract a different group of customers to your premise.
The push for more charging infrastructure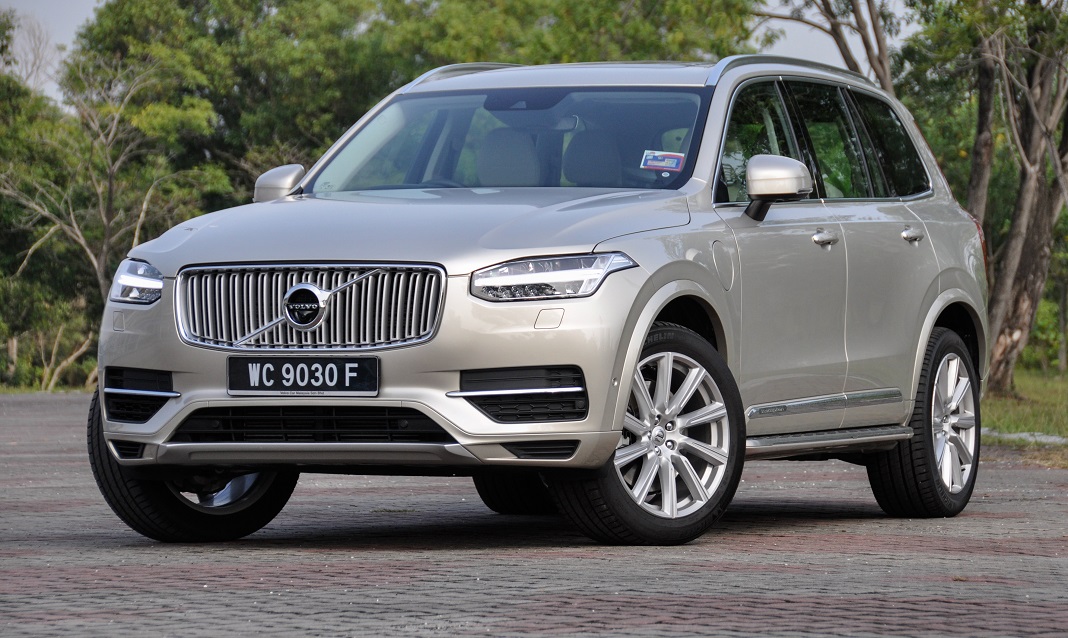 Picture courtesy of countersteer.my
Of course, the number of EV/PHEV is limited at this point of time (as of March 2015, there were already 90 registered EVs in Malaysia) but with more manufacturers introducing newer models, you can be sure that there would be greater demand for charging stations. For instance, one of the greatest limitation to owning an EV/PHEV is for those staying in condominiums and apartments. Unless your car park slot has a dedicated plug point, it's challenging to leave home with a full charge.
Therefore, we might see future high end developers offering charging stations as one of the perks of staying/working there.
But it's a chicken-or-egg issue. Without infrastructure, those who value fossil-fuel free commute using EV/PHEV won't be able maximize it's use.
Imagine if today, Proton decides to announce a B or C-segment EV/PHEV costing RM60k or less. I bet there's be hordes of warriors adept at wielding keyboards as weapons declaring war against the car maker for proposing a 'ridiculous' car with limited range and insufficient charging infrastructure. Such a vehicle, being as affordable as it is, would be the break that charging infrastructure needs to justify additional stations to be built.
So which comes first?
Way Forward
I've always admired how Tesla positioned the expensive Model S as its first public offering. With higher margins, it provided the company sufficient ammo to sustain itself before being able to roll out the (relatively) more affordable Model 3. Model S takes advantage of the willingness of higher income groups to buy into technology that, in a way, funds future programs to produce products of lesser cost.
That, I feel is what the industry here should do.
And judging from what premium brands like BMW, Mercedes-Benz and Volvo is doing, it's on it's way there. True enough, 'affordable' less-than-RM200k vehicles such as the LEAF, Zoe, Twizy and i-MiEV aren't selling at all and some has been removed from the official distributor's list. This proves using lesser priced EV/PHEVs to push the envelop of infrastructure makes little to no sense.
If this is viable, then GreenTech should cooperate not only with BMW, but with Mercedes-Benz and Volvo to collect statistics (ie where is the highest concentration of PHEV buyers located) and plan their infrastructure better. I don't know what criteria GreenTech uses to decide which site gets a station but they've planned to have 300 ChargEV stations up and running this year. When I look at their locations, they have a good spread across the country – but are the stations being utilized sufficiently? Are they being used at all?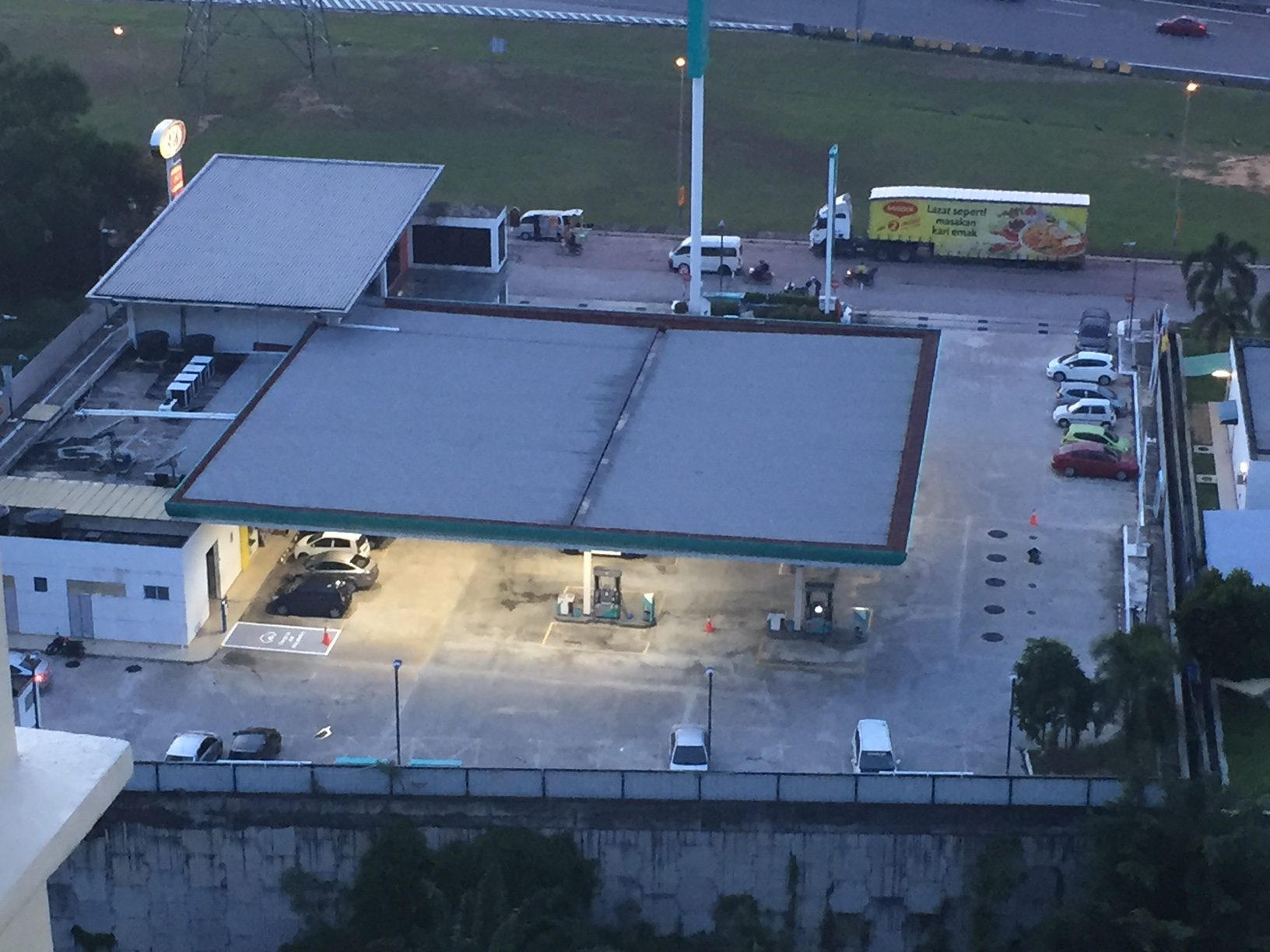 This is the Batu 3 Petronas station along Federal Highway Klang-bound. It is within visual range from where I live. I have not seen that ChargEV lot being occupied, EVER. Why would it be? This station is along a highway, right before a toll. It is located in-between PJ and Klang, a commute that takes probably 15 minutes if traffic permits. Unless the PHEV owner decides to eat at the A&W outlet there (in which if you want A&W, a Petronas station along PJ-Klang highway is probably one of the last places you'd think of), it makes little sense to wait 30mins just to get 1-2 bar of electric juice.
Use the map and look at Georgetown, Penang. The UNESCO certified city has TWO chargers located at ECOWORLD Gallery along Macalister and Auto Bavaria at Anson Road, both far from the tourist areas. Imagine a tourist from out of town, parking at the city center, walks around to enjoy the city's rich culture & returns to his car a couple of hours later, with his vehicle fully charged and moves off with barely any fumes. How satisfying is that?
GreenTech needs to consider under what circumstances would an EV/PHEV be occupied for a few hours. A place with multiple eateries/cafes for hour long meetings? A movie screening? A trip to the zoo or bird park? Even LRT stations could be possible locations. Municipal offices are probably one of the last few places I'd want to spend hours at. Neither is a courthouse, for that matter. The locations must reflect the lifestyle of the higher income owners. Putting them at places where the general public might appreciate (at this moment) is like putting the cart in front of the horse.
I think by sharing information, much more can be achieved. All stakeholders should take the time to understand the consumer and predict their behavior before deciding any location. GreenTech needs to push for greater collaboration because ultimately, this would benefit everyone. That includes not only the manufacturers who's vehicles have better value with more public charging sites, but the government who can use this as a means to position Malaysia as one of the pioneer in EV adoption.
UPDATE
Note: ChargEV has replied, via Facebook that some of the 'facts and figures' quoted in this article are wrong and has implied irresponsibility on our part for writing and publishing this opinion piece.
Hence, the exchange via Facebook is posted unedited below to reflect chargEV's position in relation to this article. Please note any discrepancy found within the article above, "as interpreted and understood by chargEV", is henceforth mentioned here.