As some of you know, I've recently sold my trusty 2006/2008 Skoda Octavia Mk II in favor of a bigger vehicle. The Czech-made sedan has been a joy to own and drive  but it was time to move on to something bigger. Call it fate but within the span of a few weeks someone rang me up, made an offer and I accepted. Then came the process of ownership transfer and surprisingly there wasn't much information about this online. Hopefully this article helps give you an idea what you should do when you need to do a transfer.
Many may opt to trade-in their vehicle when purchasing their next conveyance and that process is simple; you simply bring your car to the dealership, have a second hand car dealer assess your car before he/she determines the amount your car is worth. The good thing about trade-ins is;-
no need to deal with paperwork
no need to worry about buyer backing out or unable to get loan
it's easier to coordinate with the delivery of new car and surrendering old car to ensure minimal inconvenience
sometimes, you get better deals with over-trade promotions (which is another form of cash discount if you ask me)
However, 10-out-of-10 you will get poorer valuation vs if you were, say to sell it on your own. Case to point, my Skoda was ridiculously valued at only RM3,000 when I inquired about how much it's worth if I were to trade it in for a Volkswagen Passat. Ironic that I can't even buy an iPhone with that kind of trade in value. I don't blame second hand dealers for doing this because they don't know how long your car is going to be with them before it's being sold; The longer it stays in the stockyard, the less market value it has. Not to mention they need to make a profit at the end of the day to survive – something that's not easy to do when new car sellers are throwing discounts in the face of  the current sluggish economy and low buying sentiments.
So if you happen to attempt to sell a 'cold' brand vehicle, it's better you look for your own buyer. There are plenty of online classifieds that doesn't cost you a cent to advertise and before you know it, you'd be having people sending you messages indicating their interest
Most of the time, the first three PMs would be some random dude from overseas asking you to ship your car to them while they pay you extra and cover all shipping charges. Do NOT entertain these unless you intend to troll them (remember to share your conversation here, ya?).
But suppose you get lucky and didn't have to wait long before a serious buyer shows up and wants to deal, here's a step by step guide on what you need to do to transfer ownership
Step 1: Ask for a deposit
A deposit is normally required to secure the sale and to ensure that the buyer isn't just wasting your time. The amount of deposit is entirely up to you but if the buyer wants me to remove my advertisement online, I'd ask him to show me his commitment by asking for some cash.
The buyer is also made to understand that should his/her loan be rejected, the deposit would be forfeited. It's not fair removing your advertisement only to have the buyer failing to secure a loan a couple of weeks later and delaying your sale. If it was year end, the second hand value of your vehicle may take a dive once it's another year older. Worse if at the time of sale, there were other serious bidders and you turned them away in favor of this person.
Step 2: Are you still servicing your hire purchase loan for the car?
If no, great! The vehicle is fully owned by you and you're free to do as you please with it.
If yes, the bank can claim rights to the car and you'll need to settle the loan first before you can transfer. Here are things you should know about settling loans;-
You do not need to go to the home branch of your car loan to make full payment. Any branch of the bank can verify the current remaining sum and they can accept settlement payment on your behalf.
Once all payments are made, allow

7 working days

for the bank to update JPJ to transfer full ownership to you and issue e-batal (ownership claim) on your vehicle registration card. Without this, even if you show evidence of full settlement to JPJ, the system does not allow name change without the consent of the bank. So it's best to ask the bank how soon can they issue e-batal.
You may also rush the bank to update the system if you say it's very urgent.  Rushing may reduce the time to 3 working days but that entirely depends on the officer.
Get the name of the officer handling your request so that you can call to check the status of the e-batal. There is no other way except wasting time going to JPJ to see if the car can be released to another person.
There is no need for the bank to issue any letter stating they release the ownership claim.
There is no need to bring your Vehicle Ownership Car (VOC) to the bank. In fact, VOC is only used for the next phase of the transfer which is …
Step 3: Puspakom inspection
Any transfer of ownership requires passing a vehicle inspection by Puspakom, the sole vehicle inspection company appointed by the Malaysian government to undertake all mandatory inspections for commercial and public vehicles, as well as private vehicles for hire-purchase financing, ownership transfer and insurance purposes.
There are 55 inspection centres servicing additional 28 inspection sites around the country.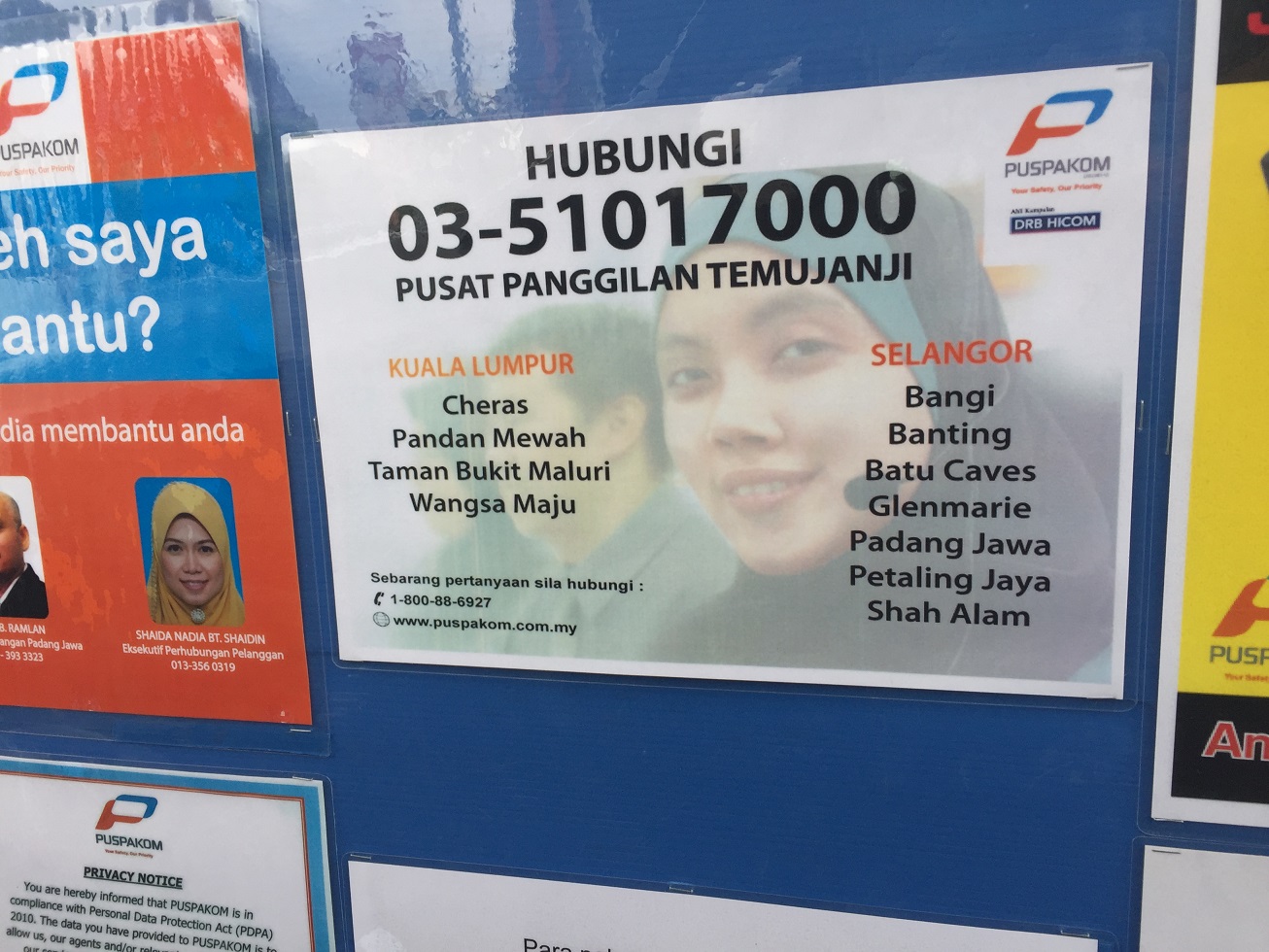 It is advisable to make an appointment with the Puspakom center of your choice before going as it can get pretty congested at some sites. The teller on the line should give you a reference number once you've decided on the date and time. Note it down.
On the selected date, bring your ORIGINAL VOC/Vehicle Registration Card to the inspection centre/site.
Note: If original VOC, you need to go to JPJ to get a copy printed. Owner of vehicle must be present and there's a fee to be paid for reprinting
Puspakom would ask you whether the buyer is taking a loan or paying cash so you better be aware of this before hand.
If buyer paying you cash, they will issue only B5 form, the ownership transfer certificate.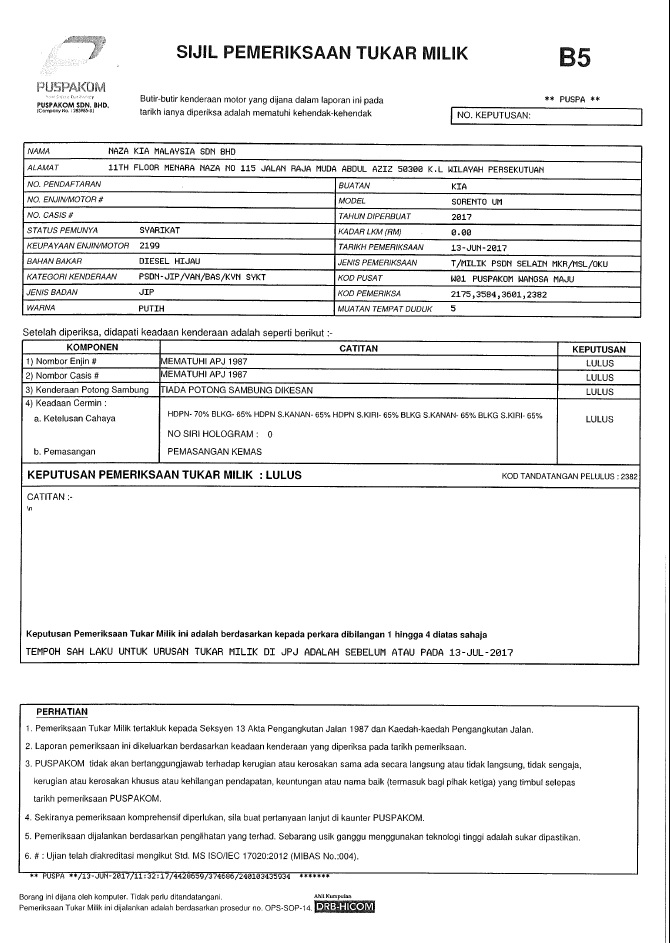 If a bank loan is involved, Puspakom need to issue (in addition to the B5) the B7 form which is the Hire Purchase Inspection Report. The bank would need this before dispersing any payment.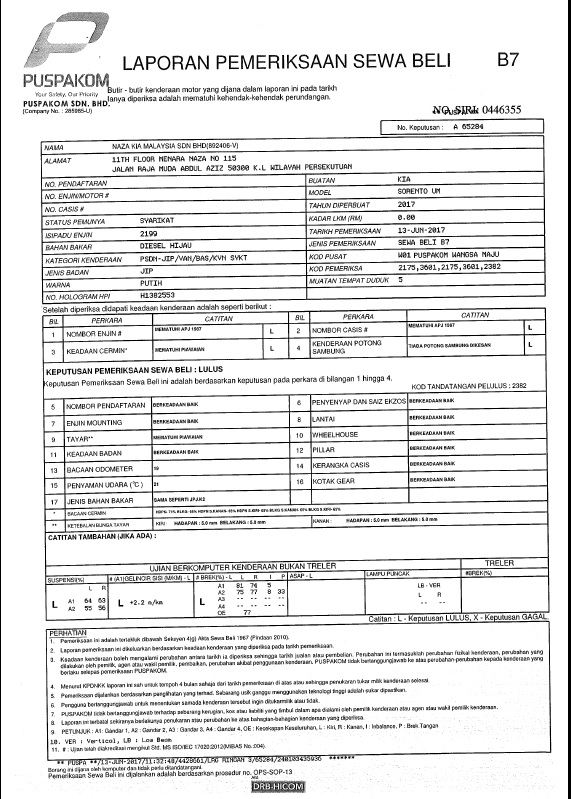 Both certificates are issued at the same time, in the same visit so no repeats are necessary. The fee for transfer of ownership inspection is RM30 while hire purchase inspection (B7 certificate) is RM60.
Step 4 : Cancel your insurance policy
Depending on when the transfer takes place, it is likely your vehicle is covered under your insurance policy. You should cancel it before going to JPJ and get an endorsement letter from the insurance company stating the amount of NCD you still have.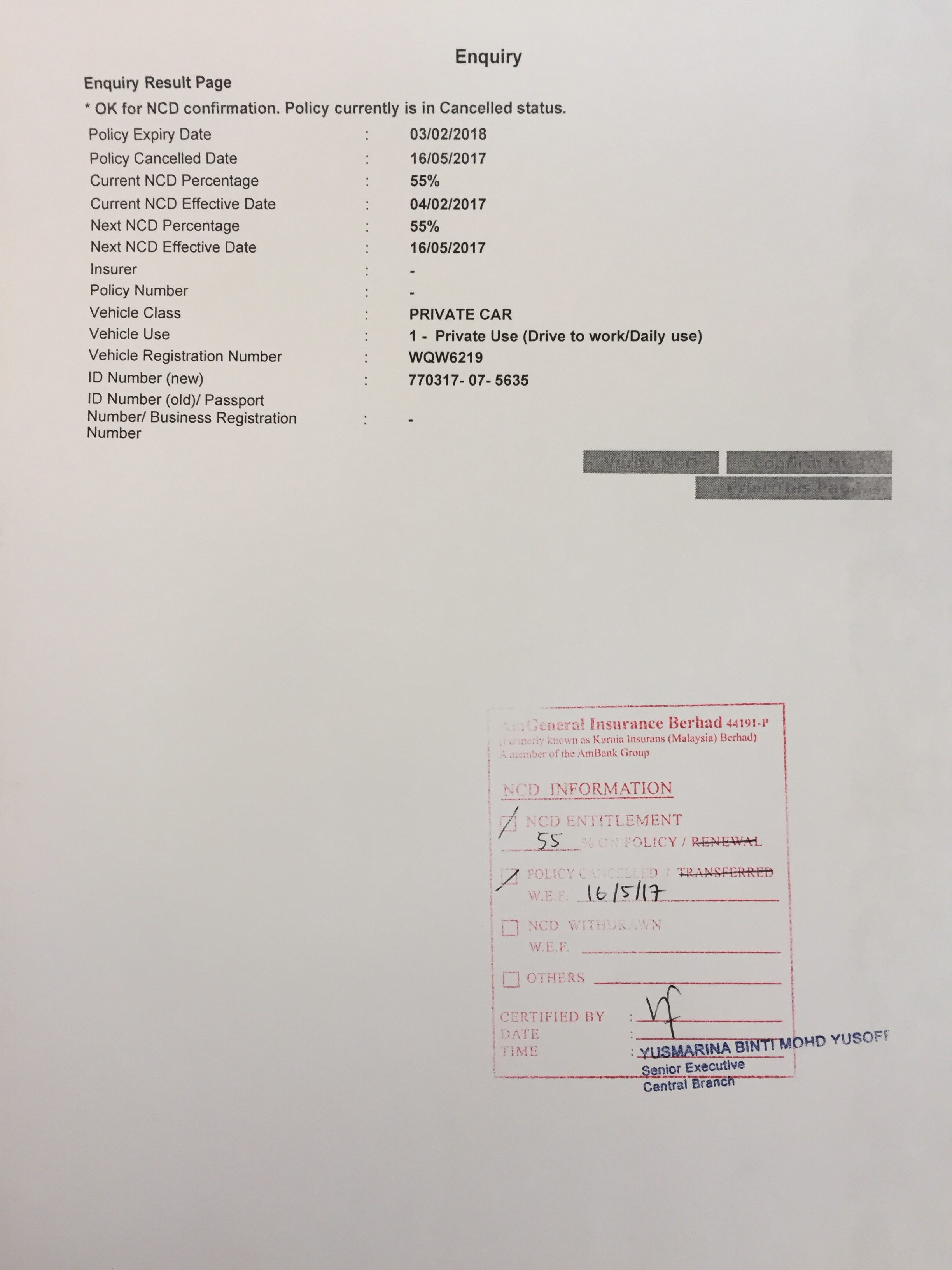 Please make sure the cancellation date is the same date as the transfer date. You do not want to take the risk of getting into an accident in between cancellation and transfer, not to mention driving a car without insurance is illegal in Malaysia.
Without this endorsement, you will not enjoy the same Non-Claim Discount as you did before. When you buy your next vehicle and need to purchase insurance for it, this document needs to be submitted together.
Step 4 : Visit JPJ
Assuming all of the above is done, you can now go to JPJ with the buyer to do the transfer.
Here's a flowchart of the process in JPJ;-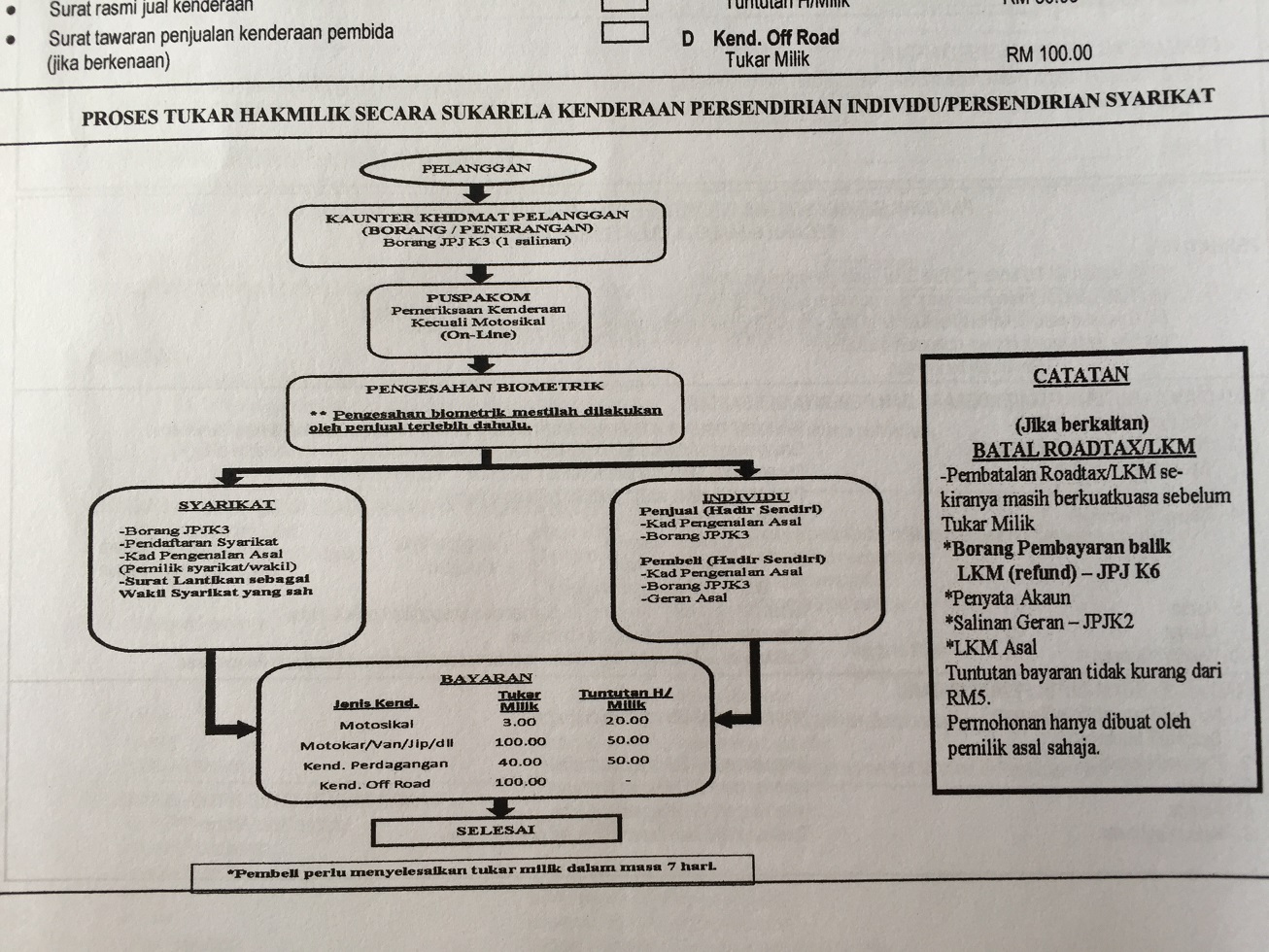 Here, the process is simple.
You go to the information counter and tell them you want to 'tukar hak milk' (change of ownership)
You'll be given this simple form;-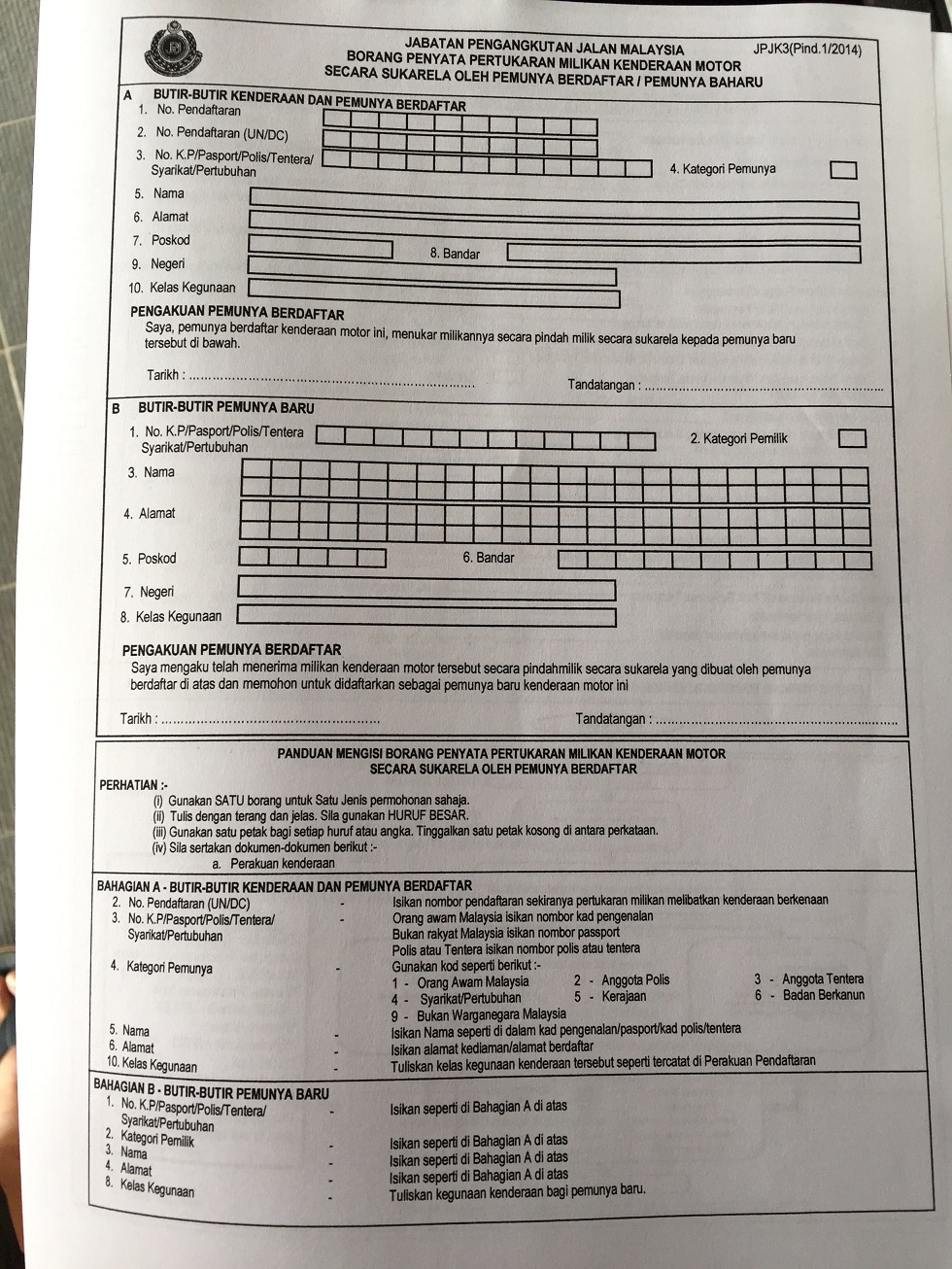 Fill it up as best as you could.
The new owner would need to purchase his/her own car insurance policy (you've cancelled yours, remember?). You'll find lots of insurance agents at JPJ offices so that's easy. However if the buyer have his/her own preference agent, make sure he/she gets the policy done first before coming here.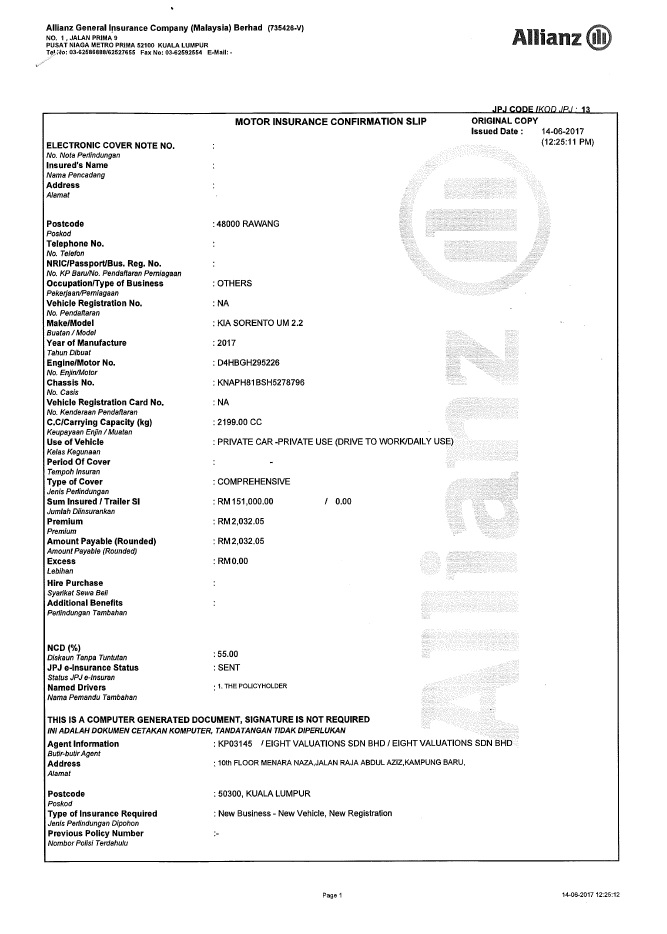 Above is an example of the insurance cover note. Once insurance is purchased, only then can JPJ proceed to issue road tax. The new buyer cannot use your existing policy to apply for new road tax.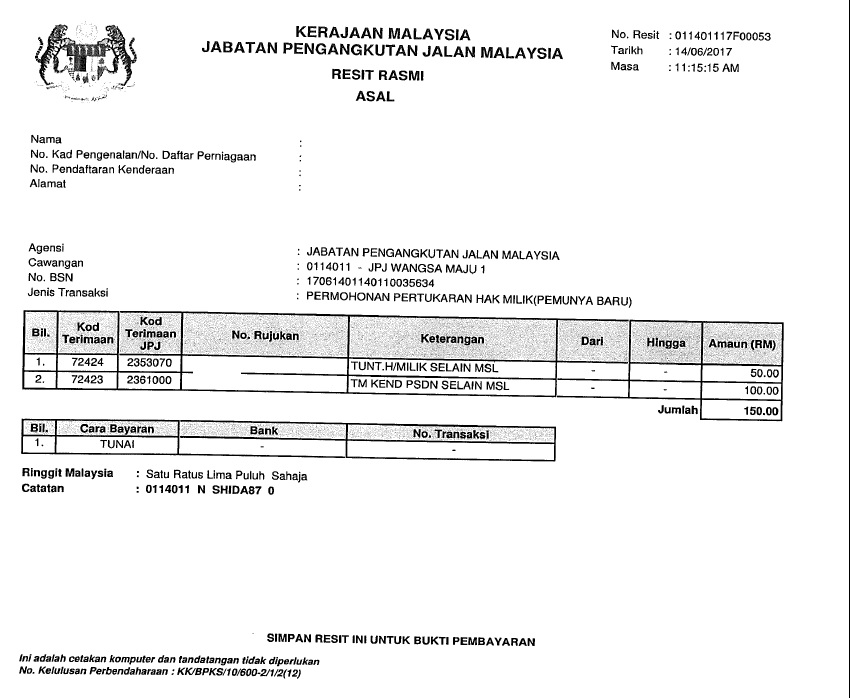 Be prepared to pay some processing fee. If it's just transfer of ownership, it's RM100. If it involves Hire Purchase loan, another RM50 is chargeable (see above). Whether it's you, the seller or the buyer pays the processing fee is up to the two of you to sort out.
Then there is the issue of purchasing a new road tax. Above is the road tax of my Sorento and the fee for this should be borne by the new buyer since it's his/her road tax, no longer yours.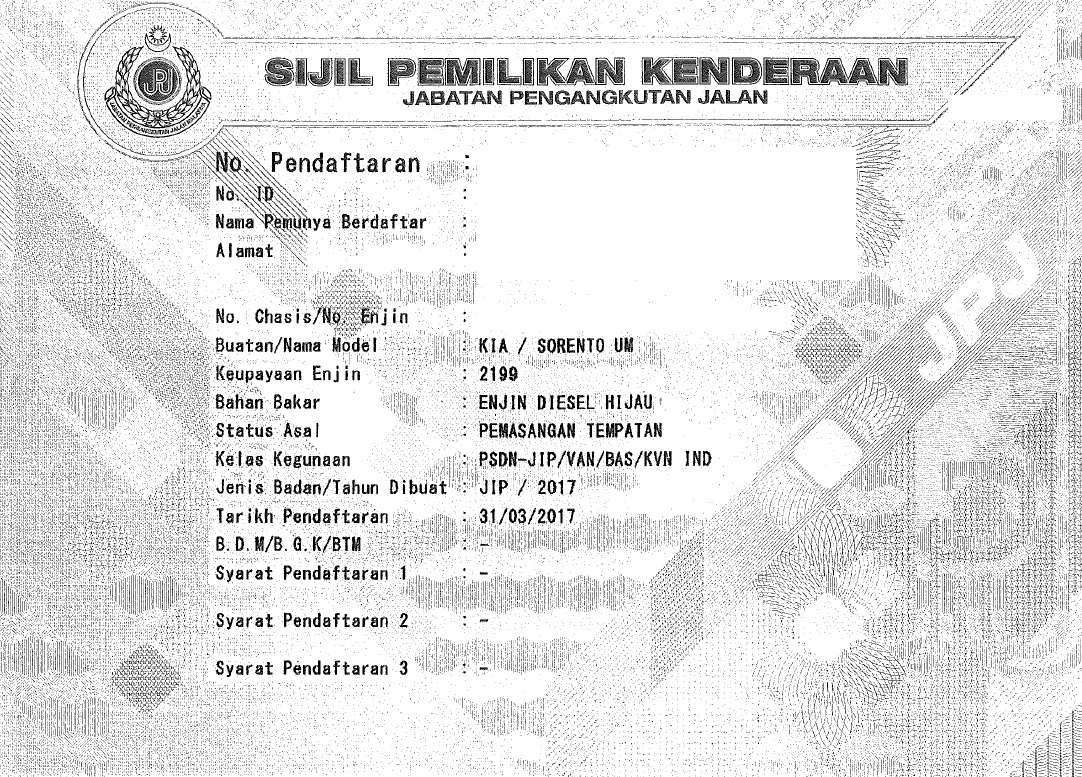 And that's it! The new road tax is issued and the new buyer can then drive off in your ex-vehicle.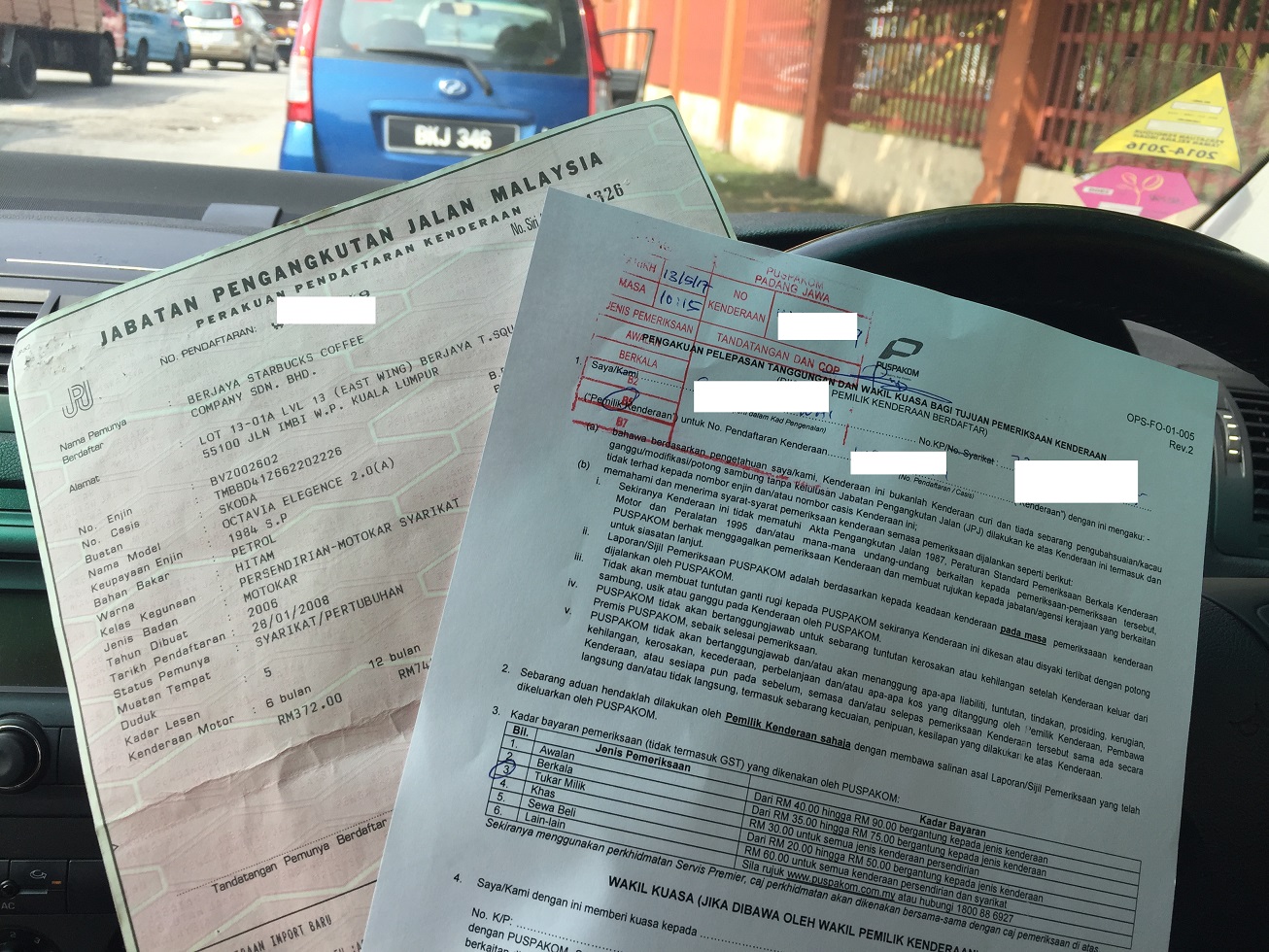 All in all, the most time consuming part of the whole process was the Puspakom inspection. Getting that form you see above just so you can proceed with the check is tedious and you're stuck in your car queuing for your turn.
You can also opt to have a Puspakom mobile inspection team to come to your doorstep in their special van and the inspection should be completed within 30 mins. This Premier Mobile Inspection (PMI) service have a service charge of RM100 but do note that this service does not cover B7 certification.
A few extra pointers before ending this;-
Do not surrender your vehicle before the ownership transfer is complete as any issues ie robbery, traffic offences and accidents will be recorded under your name.
I've said this before, I'll say again; Do not be scammed by scammers who offer too good a price
Offer to meet potential buyers in a safe, public area. These are strangers whom you do not know so best not to take safety for granted.
Many buyers would want to take the spare key as well so take good care of your spare.
Remove your tints before going for Puspakom inspection. Bring it to your trusted workshop if you don't know how.
Make sure all payments are cleared and the bank letter of undertaking (if buyer takes a loan) is genuine by calling the bank to check before handing over the keys.
Oh, and not forgetting one very important point (as highlighted by reader Francis Mok. Thanks!); please ensure there are no outstanding traffic summonses associated to your car. You can check online at a few sites such as MYEG.