Living in a country where the cost of a vehicle is one of the highest in the world but with the average monthly salary of around USD650, we're all accustomed to spending a significant amount of our income on a bank loan to own/use a car. To those who earn less, a motorcycle is probably the best option to get from point A to point B. It's effective in tackling traffic congestion, fuel efficient but most important of all, it's relatively cheap to own.
Unfortunately for most white-collar jobs these days may require own transport that allows you to arrive presentable at your destination for meetings. That rules out two-wheelers and we make our first sensible choice of getting a (inexpensive) car. Of course there's always Grab and Uber but it won't impress prospective clients if they, like you are forced to wait for the ride as you bring them out for lunch.
In time, those who invested in hard work, perseverance and sufficient hitting-the-wall moments coupled with a little bit of luck may be able to enjoy some measure of success. In the course of building a successful career, maximizing what ever limited resources and coming up black on the P&L sheet, the impatient youth grows to appreciate patience, practicality and persistence. In time, the change in maturity brought about by his/her profession (and marital status) shifts his behavior and values.
The two-door sports car you've always wanted? Better get a 4-door luxury sedan to ferry the family. Low riding performance vehicle? A premium marque SUV has a better chance to survive the occasional flash floods. After a while, your garage may be filled with sedans and high riding vehicles, each with their unique characteristics that offers a different driving experience.
But something is missing. In all the years of putting sensibility first, sacrifices were made – often at the expense of one's own self when putting others ahead.
This is where the Mercedes Benz SLC 200 comes in. To reconnect you to a time when life was simpler and emphasize on the one thing that matters most in this world – yourself.
Design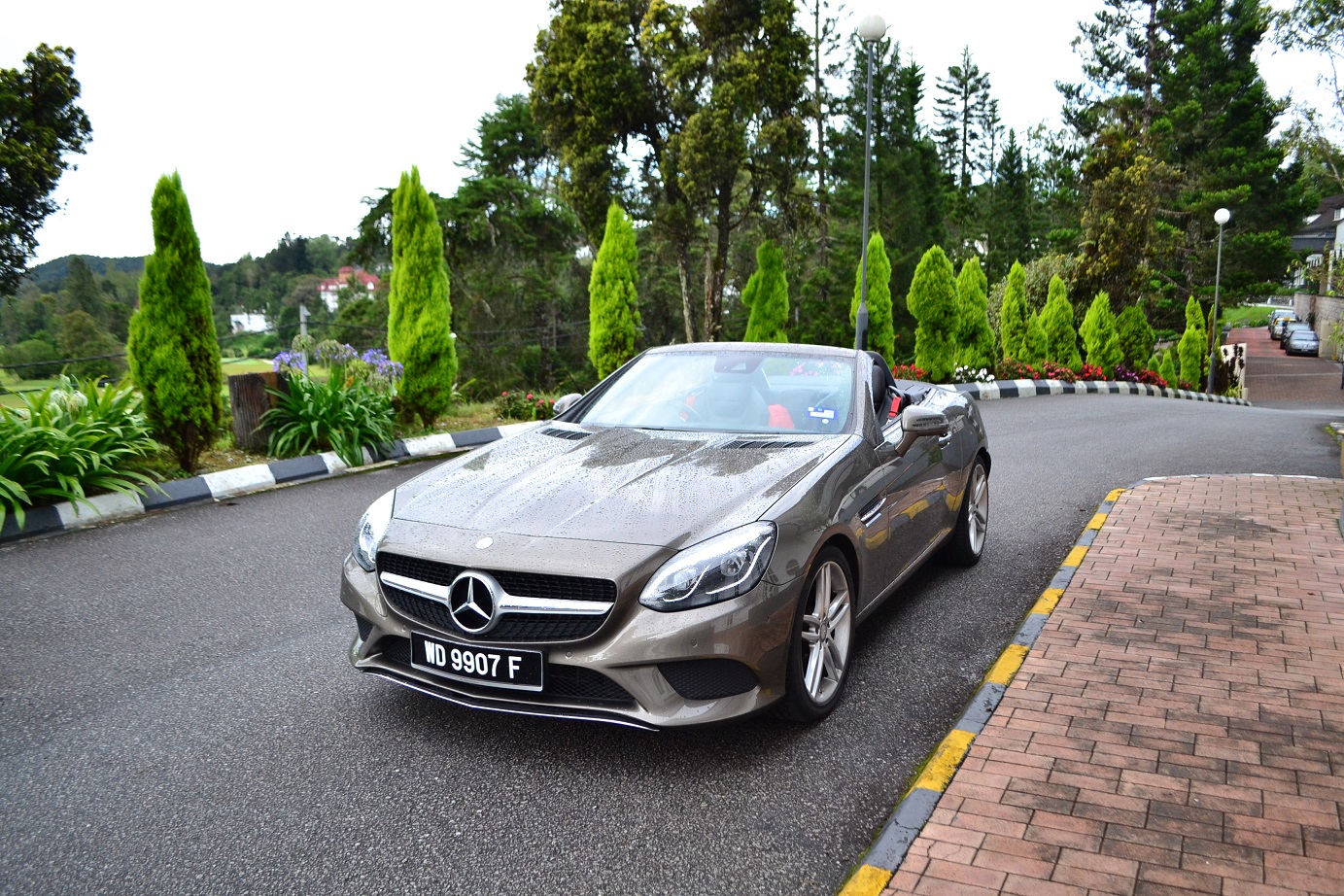 The 90s were arguably the best period when auto makers did well and dozens of iconic cars such as the Toyota Supra and Mazda RX-7 FD were introduced. However, if it was a hard top convertible that you're looking for, then there is one that stood out above the rest; The Mercedes Benz SLK. No other vehicle commanded the level of recognition and freedom as the SLK.
The Sportlich, Leicht und Kurz (where the SLK is derived from and translates to Sporty, Light, and Short in English) roadster now known as SLC, is the updated lineup that replaces the SLK roadster and you won't mistaken it for any other model.
The SLK may be a handsome car but it had a squarish look that while distinct, appeared at odds with the elegance its older sibling is known for; the Mercedes Benz SL. Thankfully, the SLC doesn't suffer the odd cut-off proportions of the SLK.  The front proportions are arguably the best looking part, with a large winged tri-star diamond radiator grille sitting between large swept back headlights that's mirrored by large air intakes at the bottom of the front bumper. I wouldn't go as far as calling it cute, neither is it masculine; it's a nice balance between them.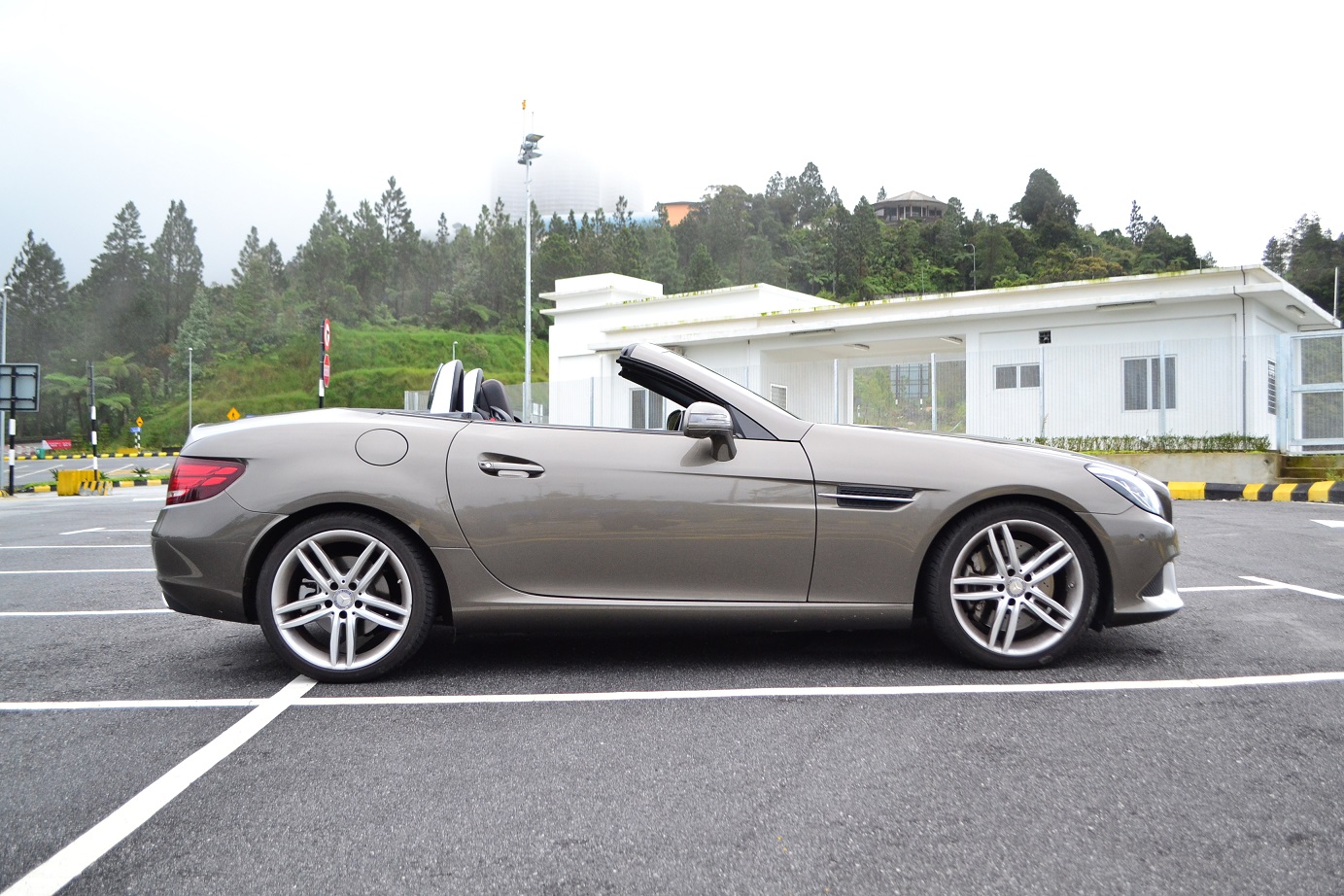 Seen from the side, you can see how compact its footprint it, making this one of the easiest to drive around town with. It has a tightly stretched soft top with a glass window that transitions harmoniously into the distinctively styled rear end, making this vehicle look as fabulous as it is with it's top up or down.
The SLC's vario-roof combines open-top driving pleasure with uncompromised comfort in poor weather. Operating the electrohydraulic roof is now even more straightforward. If while the roof is opening or closing the vehicle has to move off due to the traffic conditions, the process which was started when at a standstill can be continued up to a speed of approx. 40 km/h.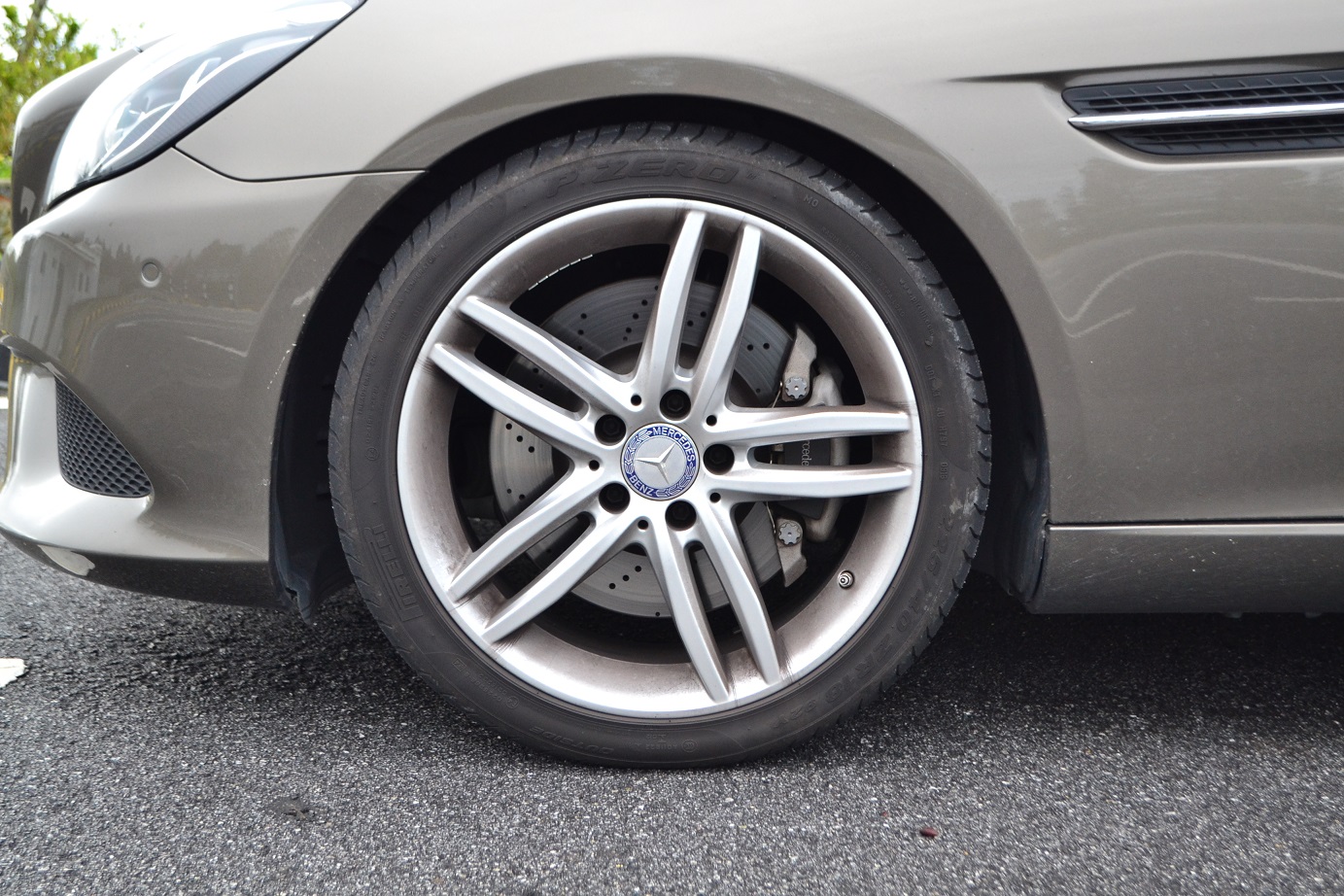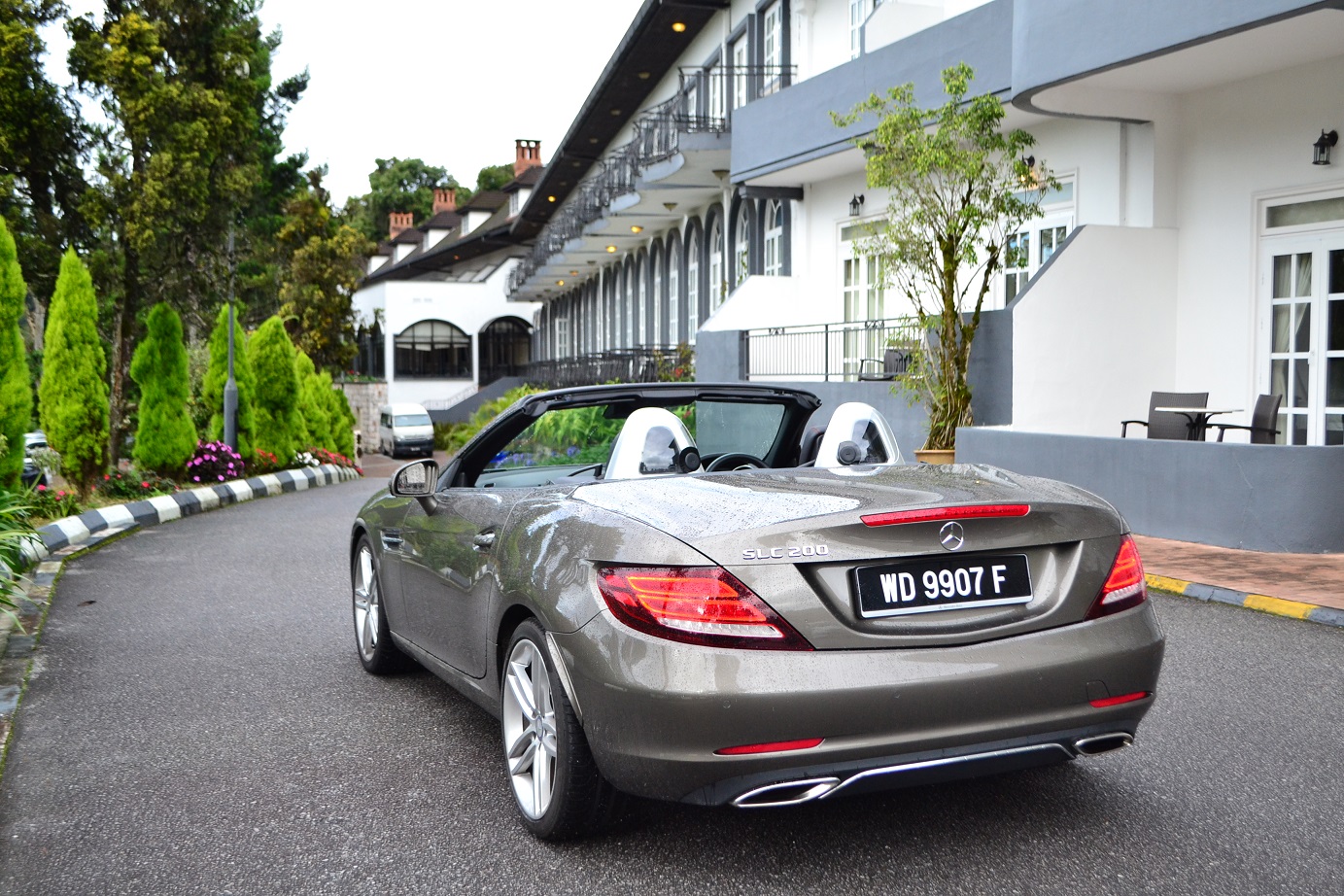 I love how the rear resembles a butterfly with its flat LED tail lamps being opposed by the integrated chrome tail pipes. Where the earlier generation SLK had lamps that appeared chopped off in the middle, the SLC's rear lamp size and curves matches the compactness of its design.
Performance, Ride and Handling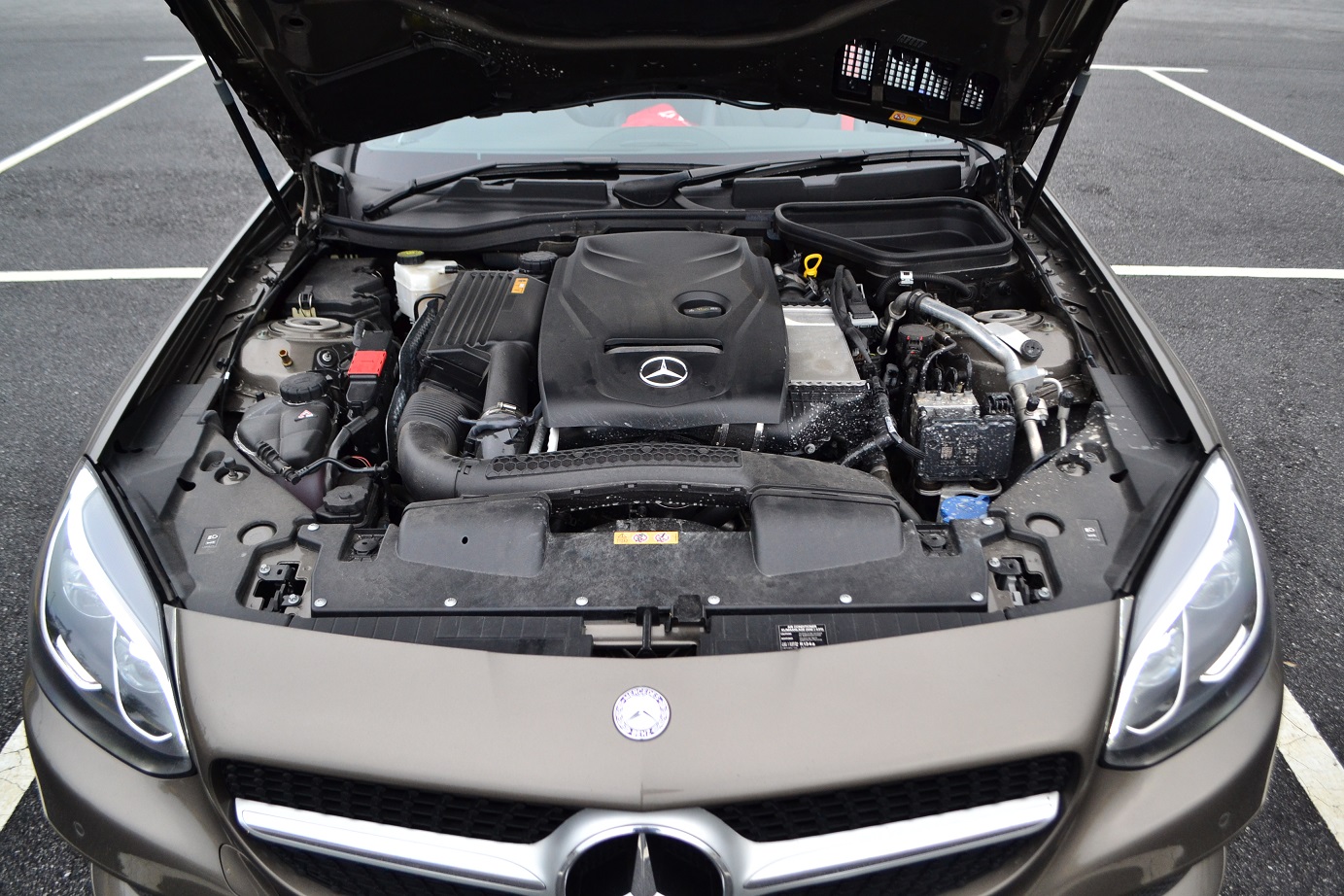 Powering the SLC 200 is a 1,991cc in-line 4-cylinder turbocharged engine that's capable of producing 184 hp @ 5,500rpm and a maximum torque of 300Nm from 1,200 – 4,000rpm. 0-100km/h is dispatched in 6.9 seconds and it has a top speed of 237km/h. There is a slight half second hesitancy when the pedal is floored but once the gears are properly aligned and engaged, it is an exhilarating blast of speed as you barrel down any road in front of you, be it straight or curved. It's almost – sublime – watching the world speed past by you in such a fashion. Surreal as trees, rocks and the occasional motorcylist whisk past so fast, it's all a blur.
And when you choose to take it slow and take the time to enjoy the scenery a bit, the engine will enter into coast mode where the gear is disengaged and you would sail on the roads without consuming any fuel.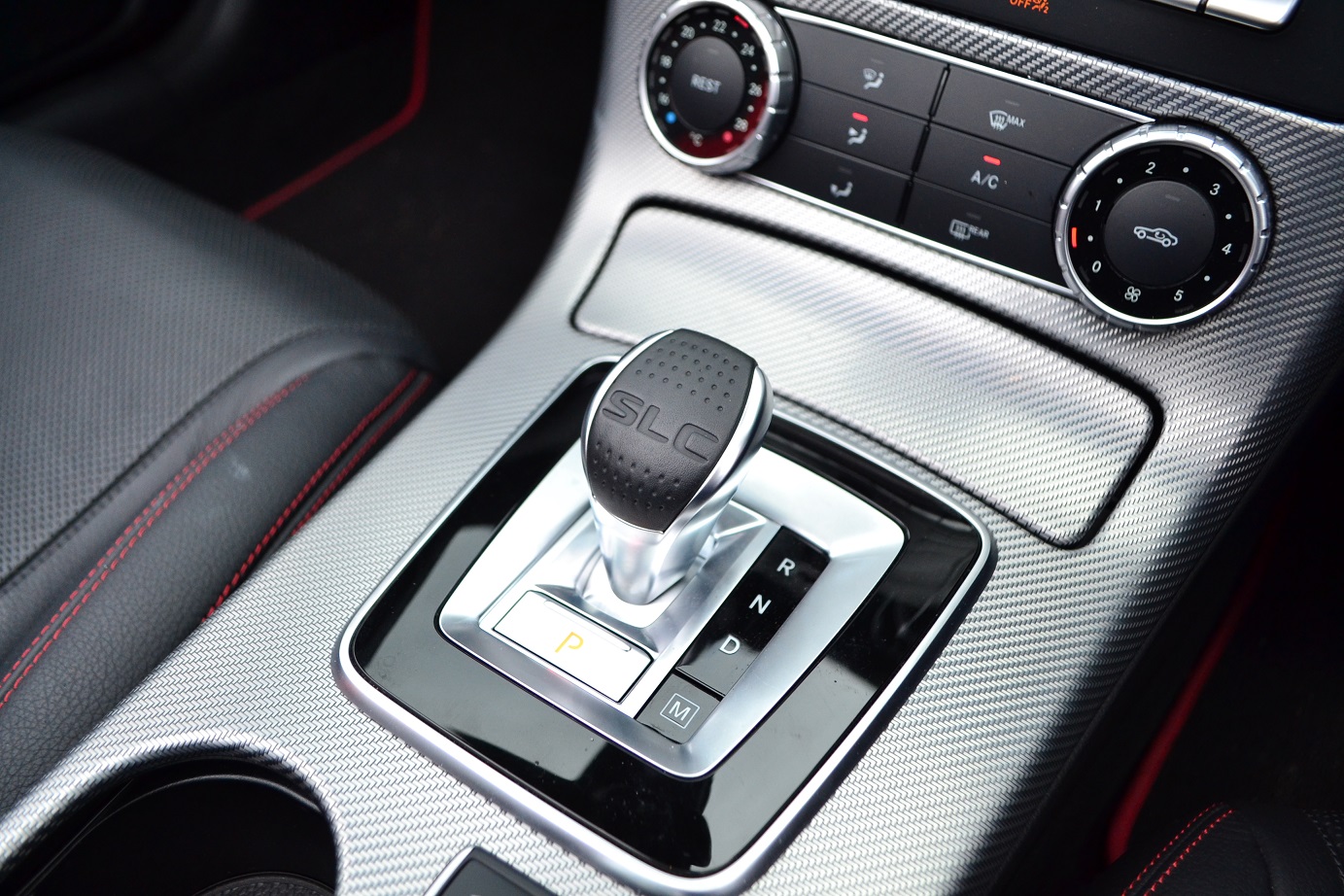 Paired to the engine is a 9-speed automatic gearbox with manual select and on the go, it does an amazing job at shifting cogs – almost as good as dual clutches minus the nattering slow speed jerks commonly associated with DCTs, sans that slight delay in delivering power.
Being a roadster, you can expect the ride to be a bit on the harsh side but that's a small price to pay for the excellent body roll control it offers. Sitting on such a small platform and so low to the floor, it handles remarkably well, in a remarkably fun fashion. No, not the Mazda MX5 kind of fun but it's more than enough to handle all the mountainous roads both Highlands offer. There's little understeer unless you're chucking it really fast around corners and steering response is good.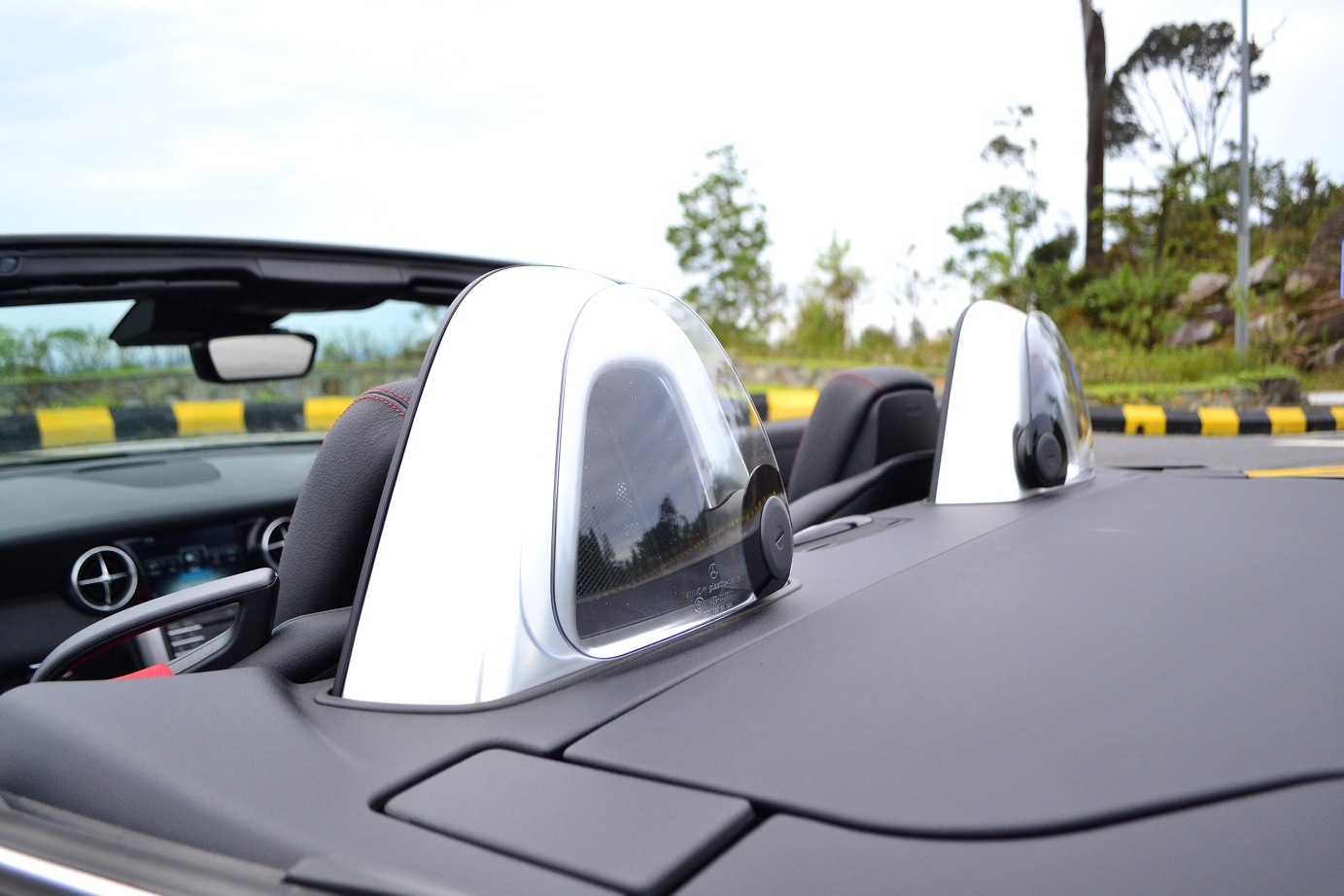 If nature was made to be enjoyed by man then the SLC is God sent. You will enjoy all sorts of noise; The sound of birds, frogs, the sound of rushing water from the occasional waterfall, the squeal of tires as you push the car a little around the bend and other noises permeates through the cabin as though you're in a surround sound cinema.
These are the very reasons why you bought a roadster. Driving without a helmet to muffle your surroundings and be able to take in everything your surroundings have to offer. The unblocked 360 view and aroma all thrown in. Such is life on a roadster and yet you won't have any trouble carrying a conversation without needing to shout even if you're driving fast thanks to wind deflectors mounted behind the headrests.
If the day feels a bit balmy, you can always opt to have the roof back on and the insulation isn't much different from a regular sedan, albeit one with a sporty preppy engine.
Cabin Convenience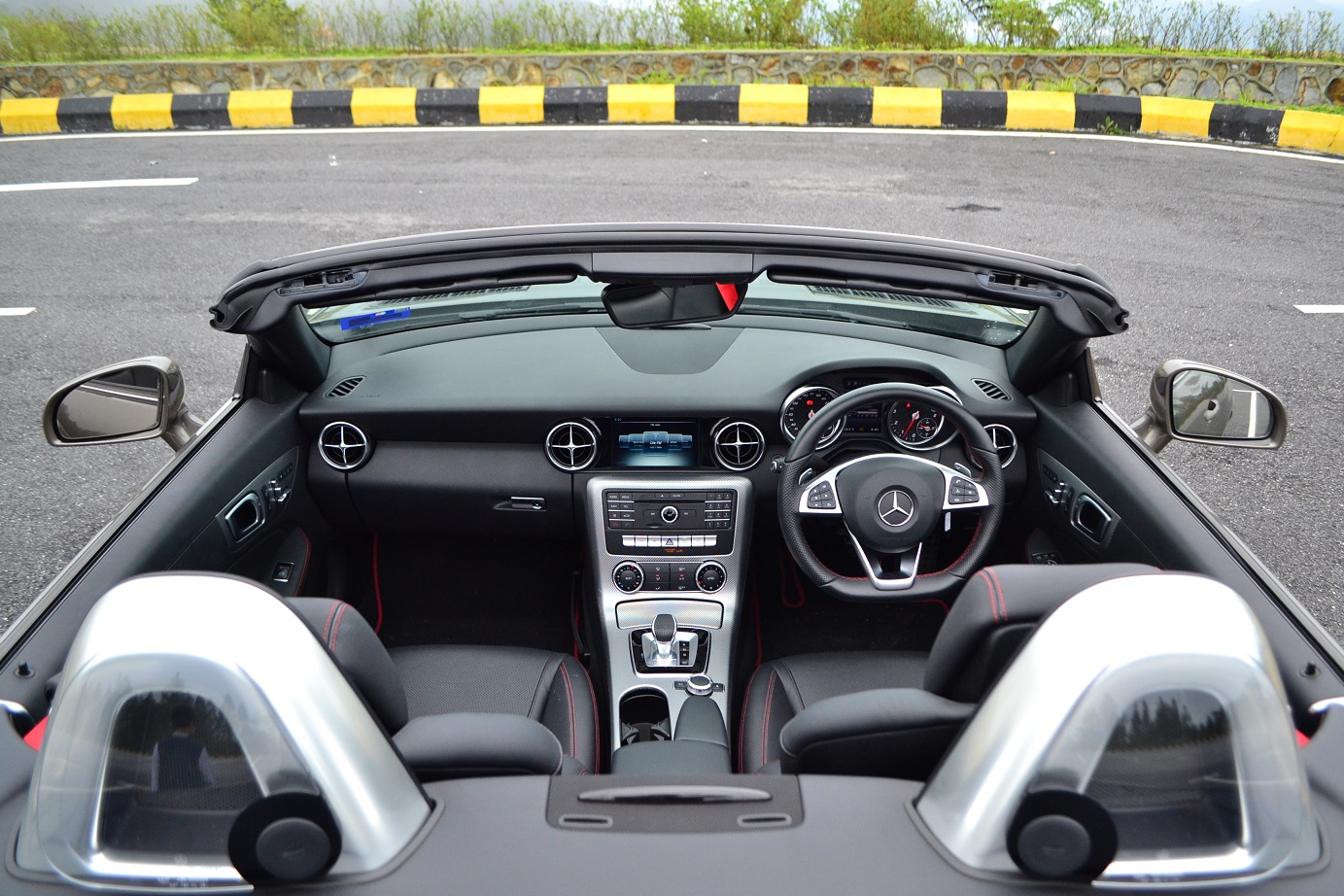 It's snug and cosy for two inside (or outside. Can't really tell with the hardtop down) and to say fit and finish is excellent for a luxury brand like Mercedes-Benz is rather redundant since it comes with the territory. It's not often I get to drive a roadster and the absence of rear seats felt a little odd at first. Once you hit the roads with your loved one, you'd appreciate how cozy this vehicle feels for the both of you.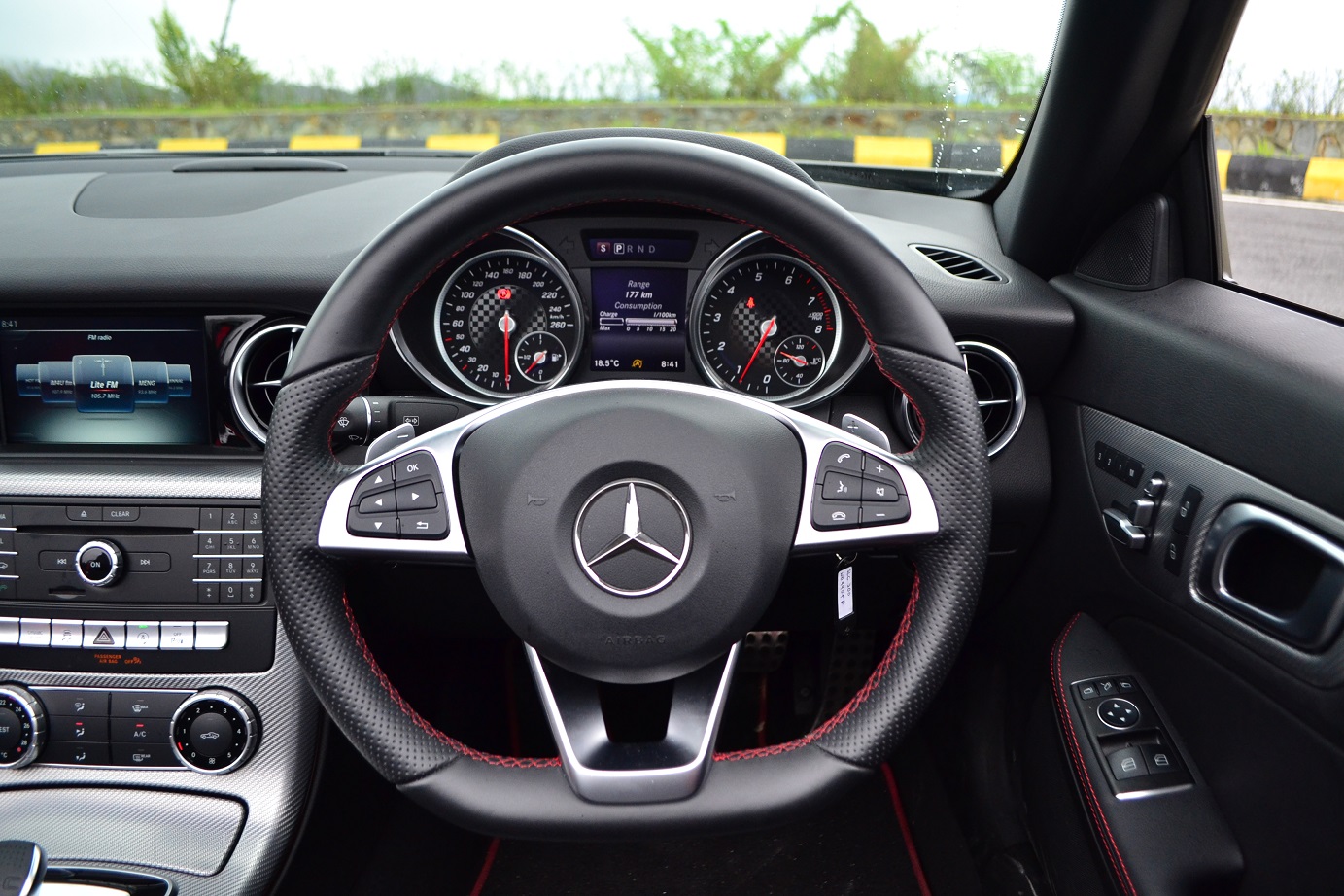 The leather wrapped red stitching flat bottom steering wheel offers excellent grip and the steering mounted paddle shifters are very easy to reach with your fingers.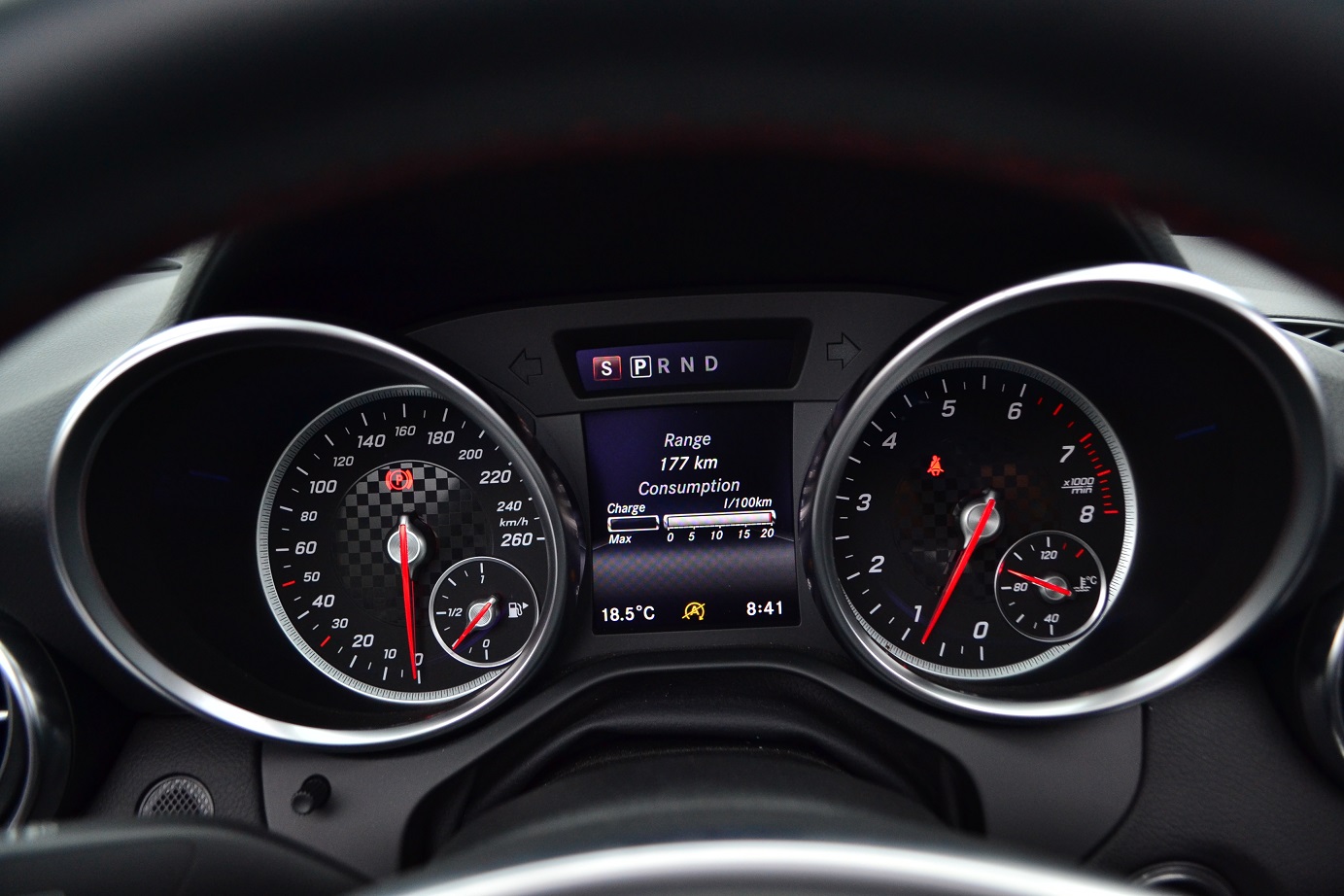 Loved how the carbon fibre look speedometers. All information is very easy to read regardless of lighting conditions.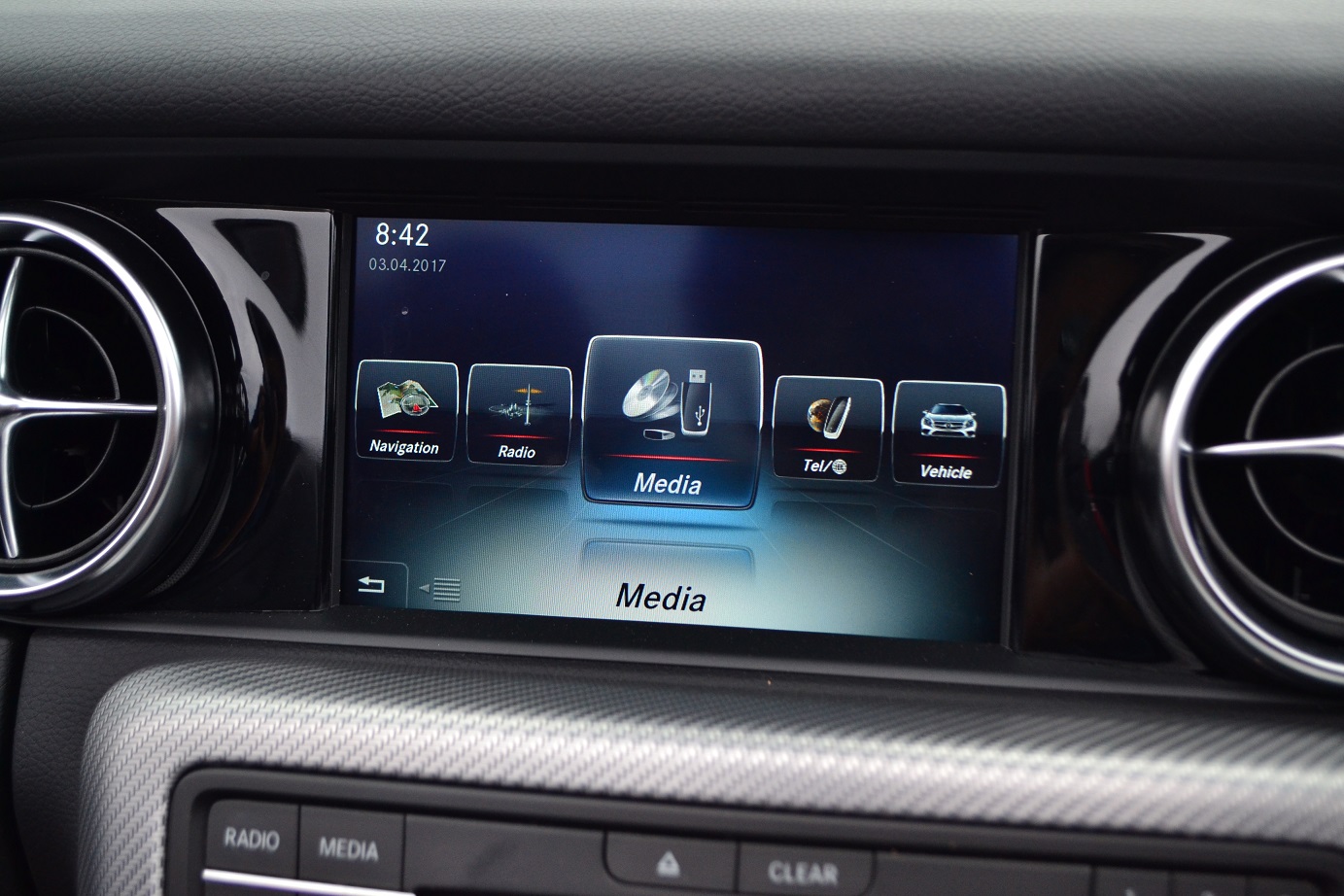 For audio entertainment, you get a 7″ high-definition colour Media Display of the Audio 20 CD system. This multimedia system has internet capability, radio, dual tuner and CD player also allows mobile devices to be networked via Bluetooth® and for iPhone users, you'd be able to use Apple CarPlay with this system, hence two ways to stream music.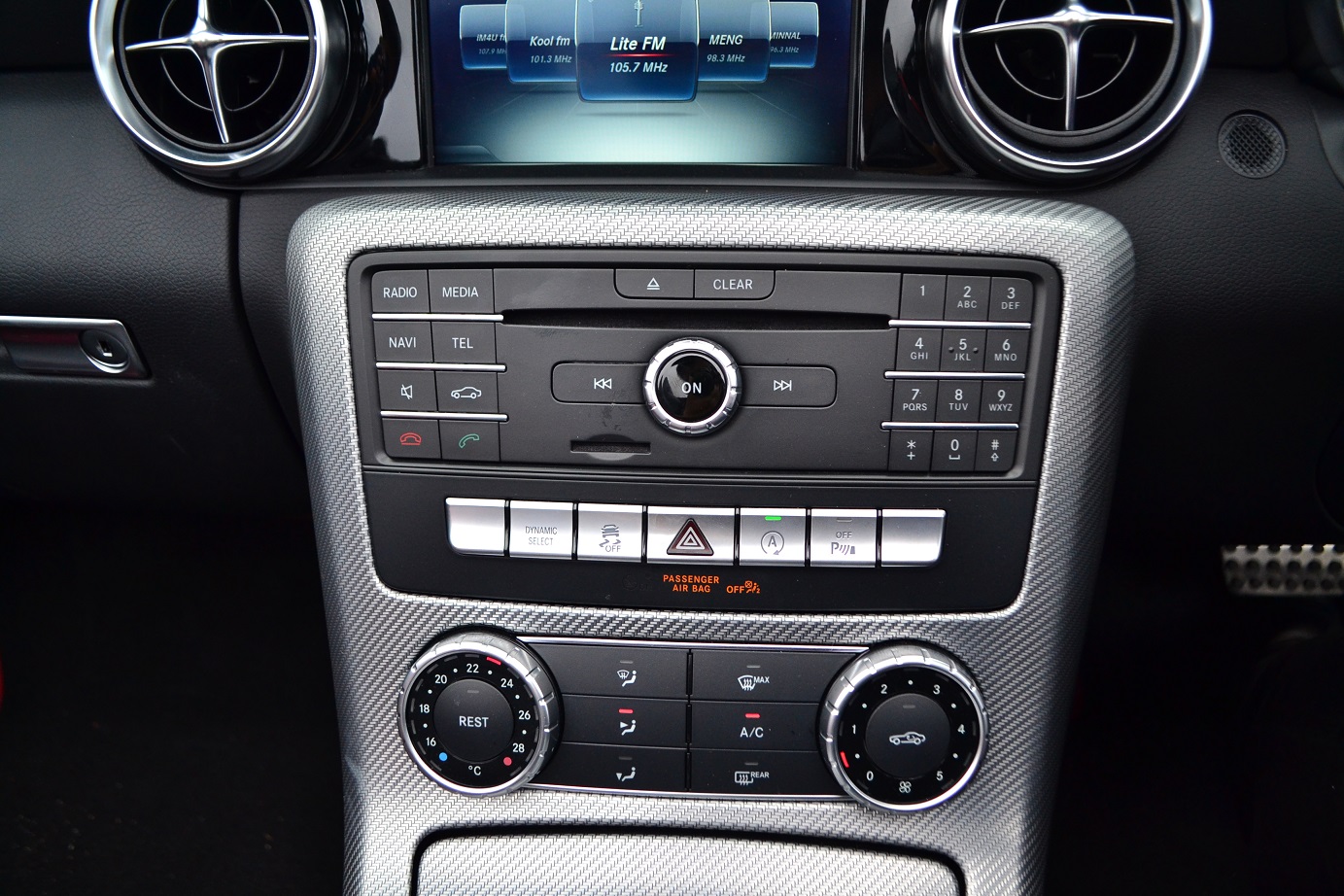 For climate control, you get a single zone air conditioning system – not that you need it much if the top is going to be down all the time.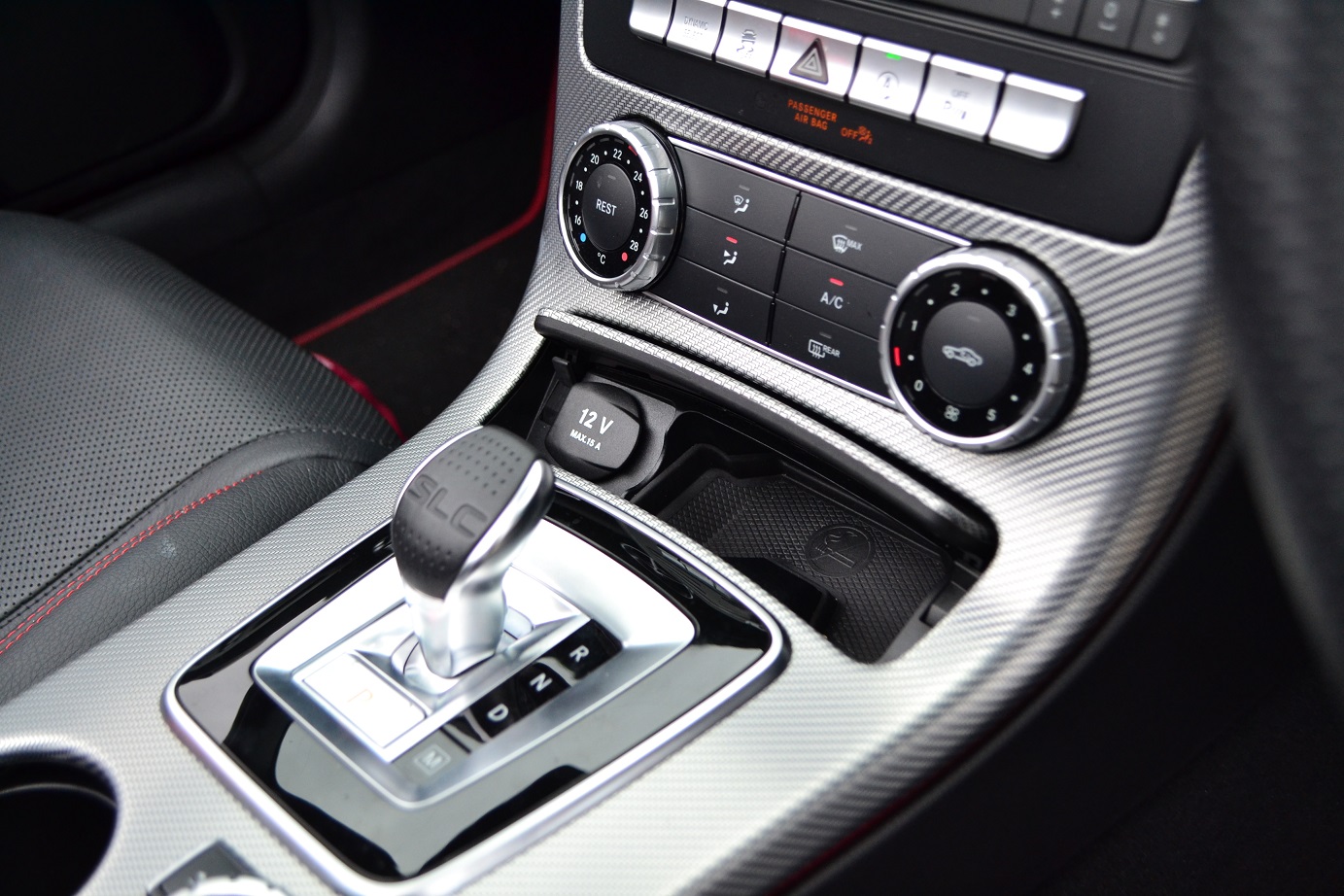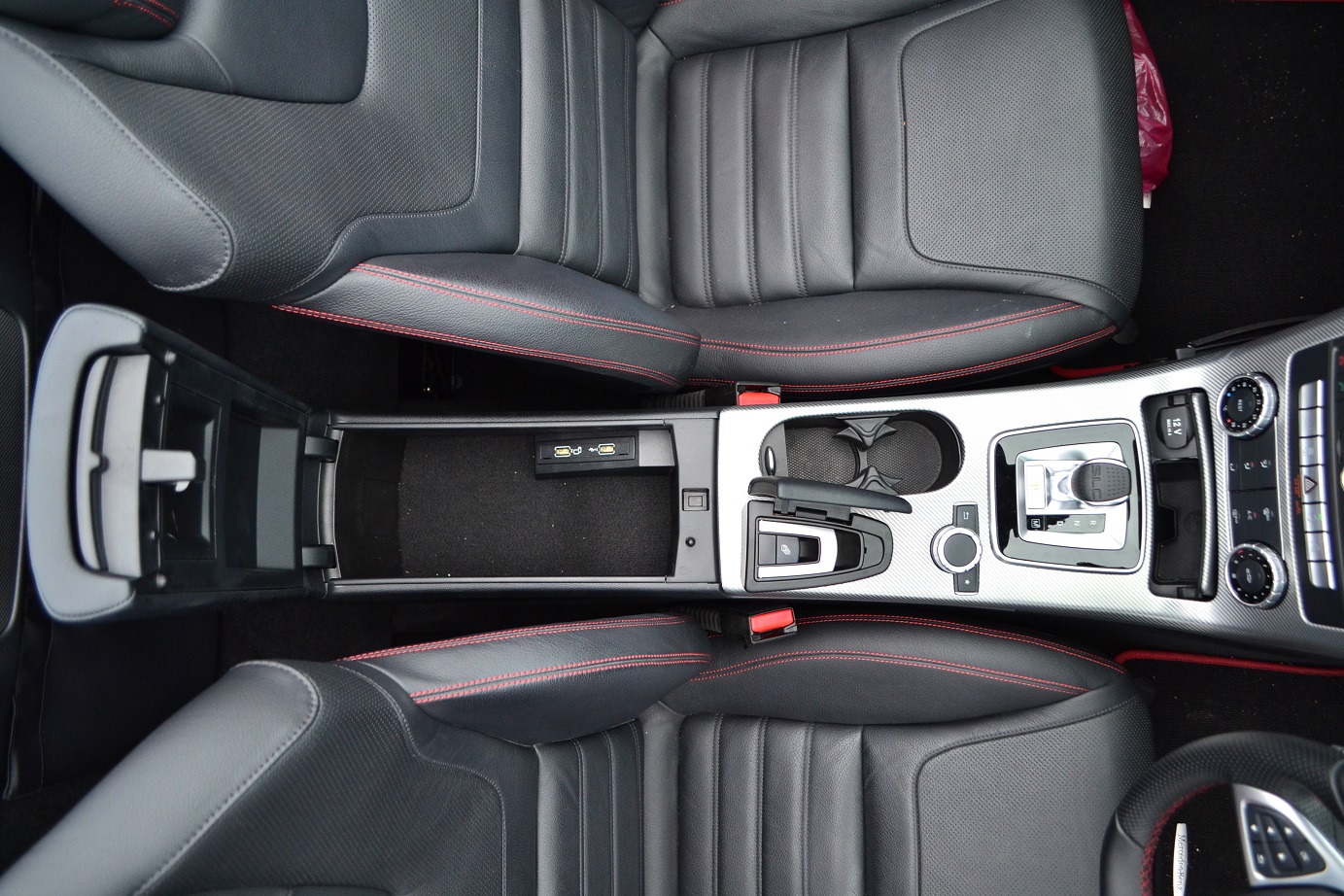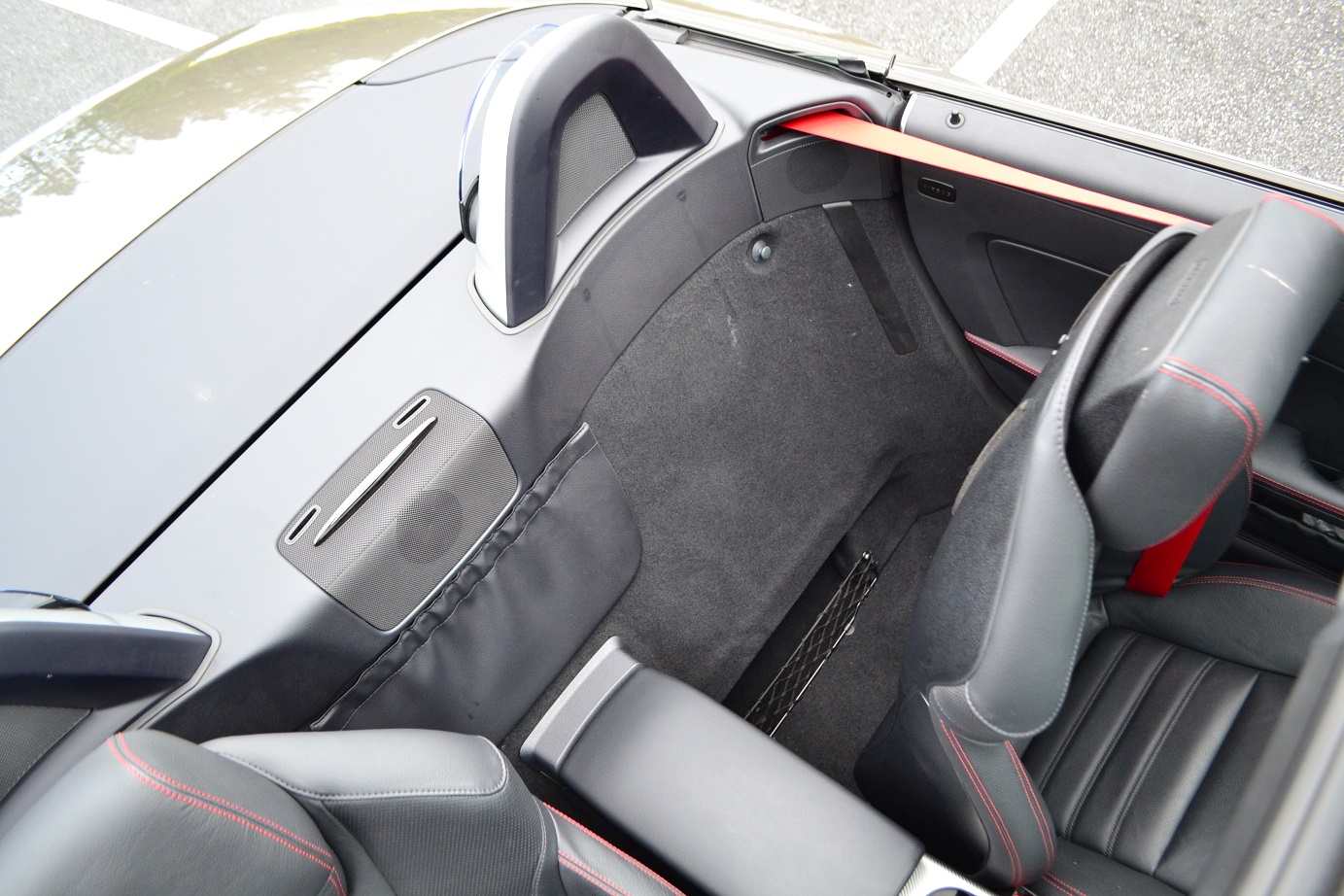 I've never had any problems stowing away my portable items. The center armrest console provides sufficient space to keep all your small items and you'd find two USB ports there.
However, if you have larger items such as a laptop bag that you don't want to open the boot to stow, there's actually space behind the passenger seat and when the seat is reclined, it's not visible to outsiders.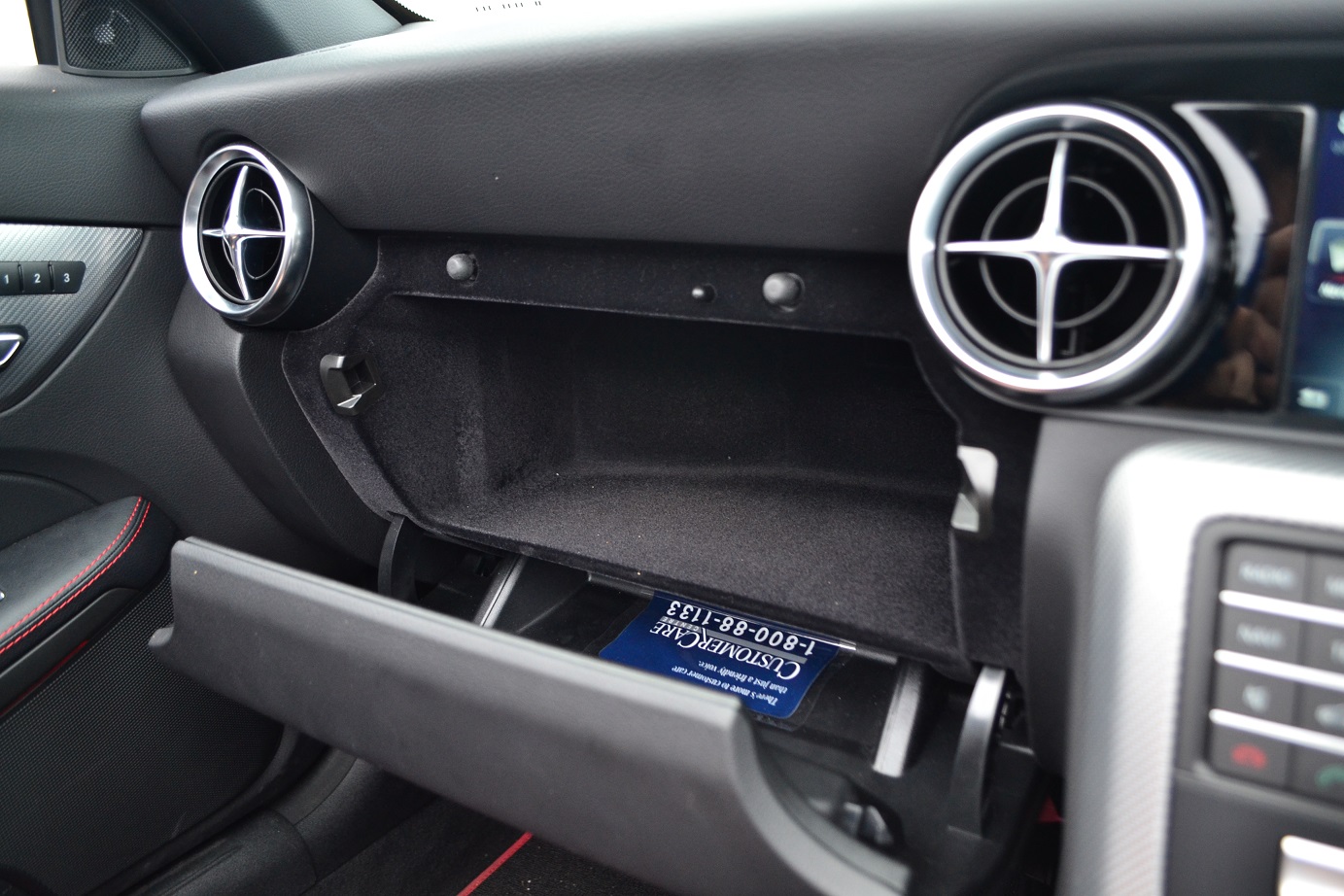 For such a compact vehicle, it has lots of usable glove compartment space.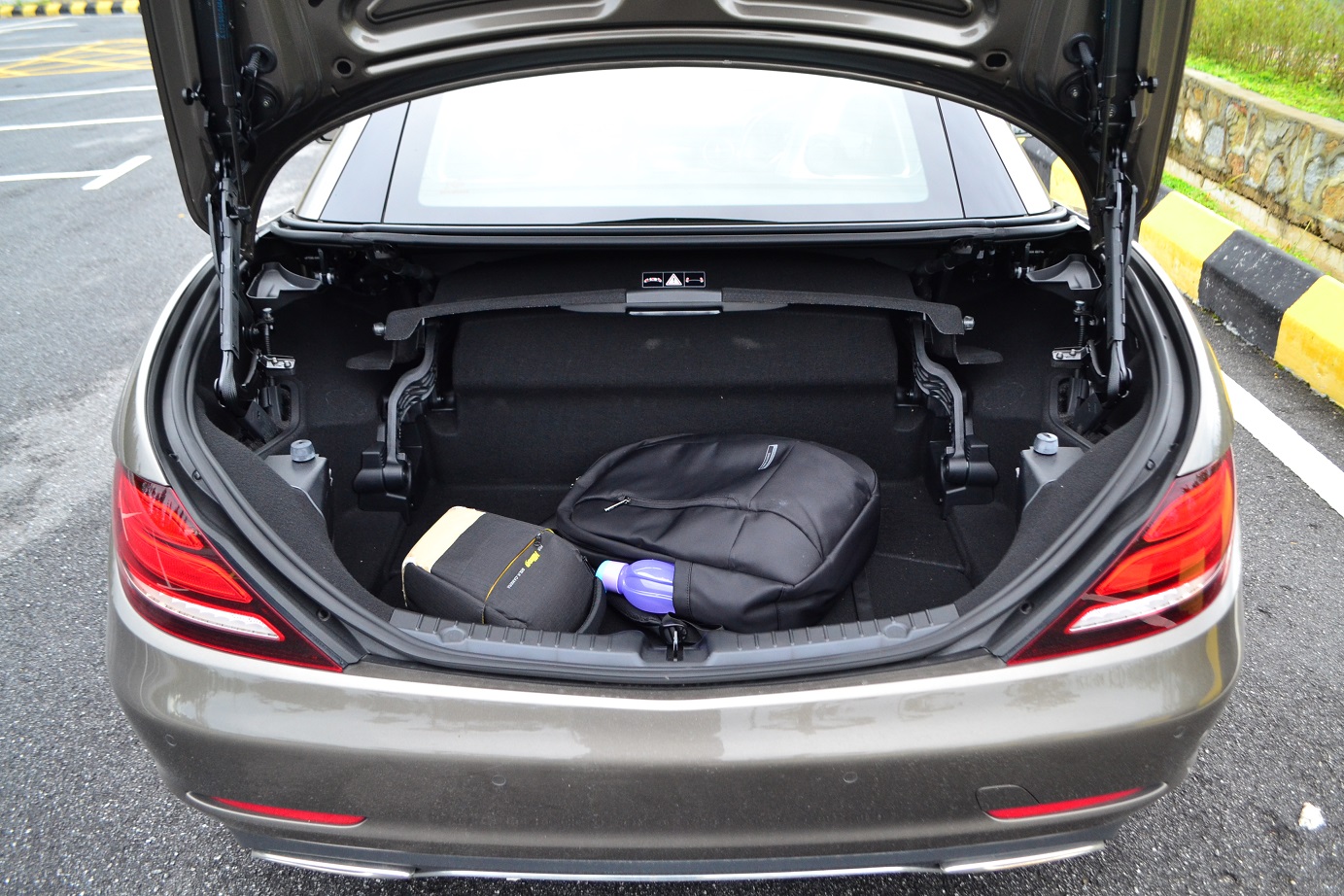 In the compact roadster segment, few vehicles can offer 335 litres of boot space. Even with the hardtop down, the boot space is still commendable and accommodating luggage for two on a short vacation isn't much of a problem. But do be mindful of buying stuff home from said holiday as this isn't your typical 4-door sedan and space is limited. This is a vehicle for you to bring back memories and photographs, not small furniture and durians.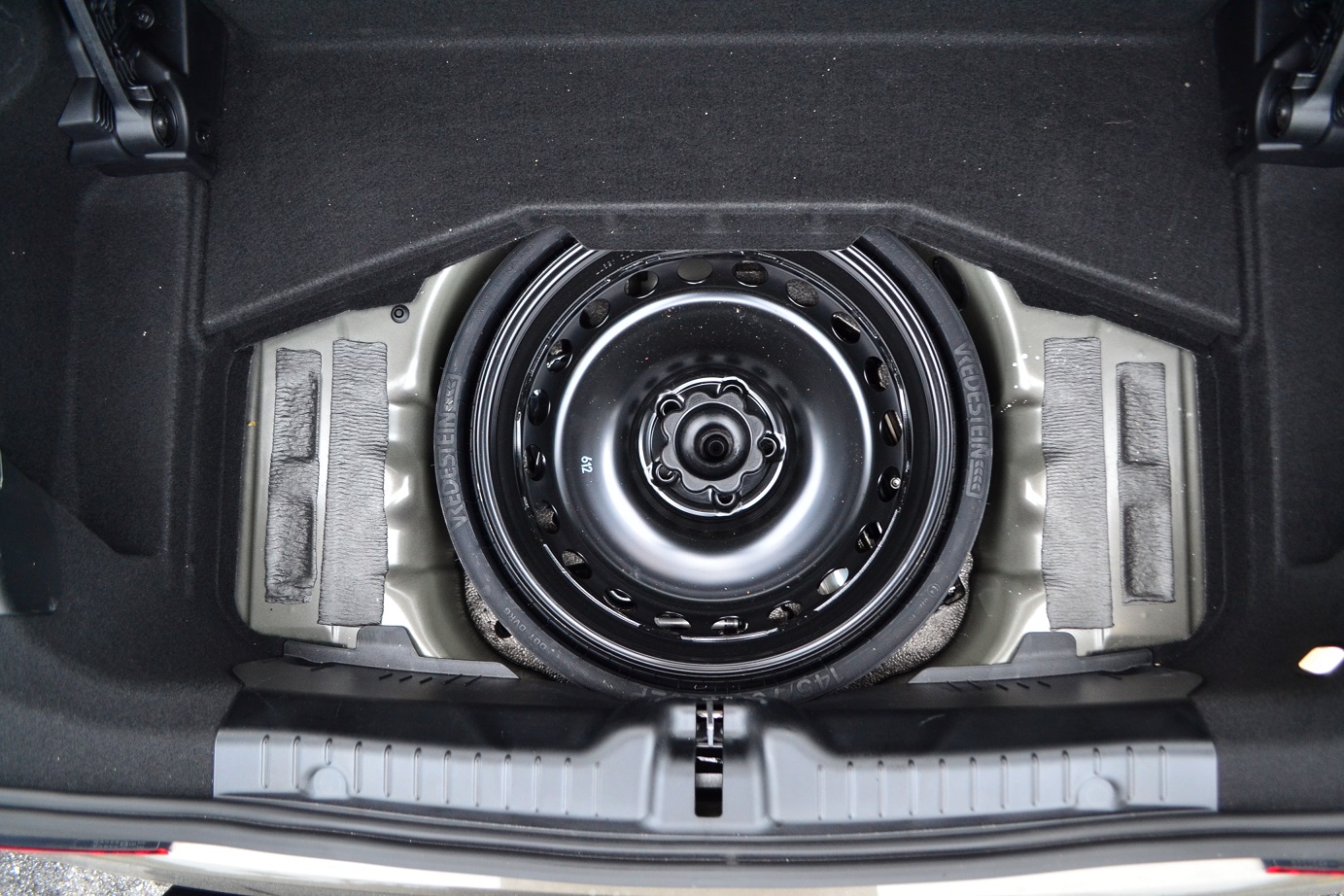 It's always reassuring (for me at least) to find a spare tire in any vehicle and in the case of the SLC, we see a space saver below the boot floor. That's unexpected since this is a compact car after all.
Ownership and Experience
The SLC200 retails for RM398,888 OTR excluding insurance and comes with a 4-years unlimited mileage warranty. Also of note, Mercedes-Benz Financial offers creative financial solutions to enhance customers financing experience with attractive Agility financing packages. Agility Financing is a hire purchase program where the future value of the vehicle (when trading in) is guaranteed and you essentially pay lower monthly installments vs traditional hire purchase. Do visit your nearest Mercedes-Benz showroom for more information.
Now, is this worth the price?
Oh most definitely. My biggest fear when it comes to compact roadsters like the SLC is that manufacturers may not keep them in their lineup forever. In a world where autonomous driving is being developed at a rapid pace, humans – or at least the later generation are taking the fun away from driving; preferring to be passengers instead. Fun is what a roadster is. And just as I mentioned at the beginning of this article, a potential owner may own many cars before ending up with an SLC. Sure there are exceptions, but said owner probably has a C or E-class back home, or a GLE SUV before having a spot for the SLC. From a product development side, it makes sense for companies to focus on delivering what customers want. That is improving the sedan and SUV segment.
And that would be quite a shame because the SLC provides a wholly different driving experience for the driver and the lucky passenger he/she takes along.
Of course, being able to afford the SLC300 would be great. That has 245 hp and a max torque of 370 Nm which allows it to hit 0-100km/h in 5.8 secs up to a top speed of 250 km/h. But ask yourself this – how often would you be buying a roadster just to blast down a highway at top speed? The SLC300 has a price tag of RM468,888 and with that amount of money, there are plenty of fast car options to choose from. That is not to say that RM400k is a small amount of money with less choices but if you want to experience nature without a helmet, to be the center of attention wherever you go and the luxury of driving a Mercedes-Benz.
Trust me, the SLC200 would do just fine