Luxury is a matter of perspective. To some, being able to soak in a warm tub after a long day at work is rich. Or to savor an exotic delicacy that stimulates all your senses. Perhaps caressing fine bed sheets made of satin silk in a lavish 5-star resort.
Businesses that focuses on the affluent evolves constantly in their attempt to provide a bespoke experience for their customers and in the case of BMW, the All-New BMW 740Le xDrive, representing one of their newest flagship 7 Series variant in the country must hit all the right notes in defining opulence. The competition is strong in this segment with many naturally asking how is it compared to its strongest rival, the Mercedes-Benz S-class.
Considering the phenomenal success seen by BMW PHEV variants, the 740Le offers industry leading innovation from BMW i division at very attractive EEV tax exempted prices. Is it enough to hold the best luxury limousine in the country? Let's find out
Design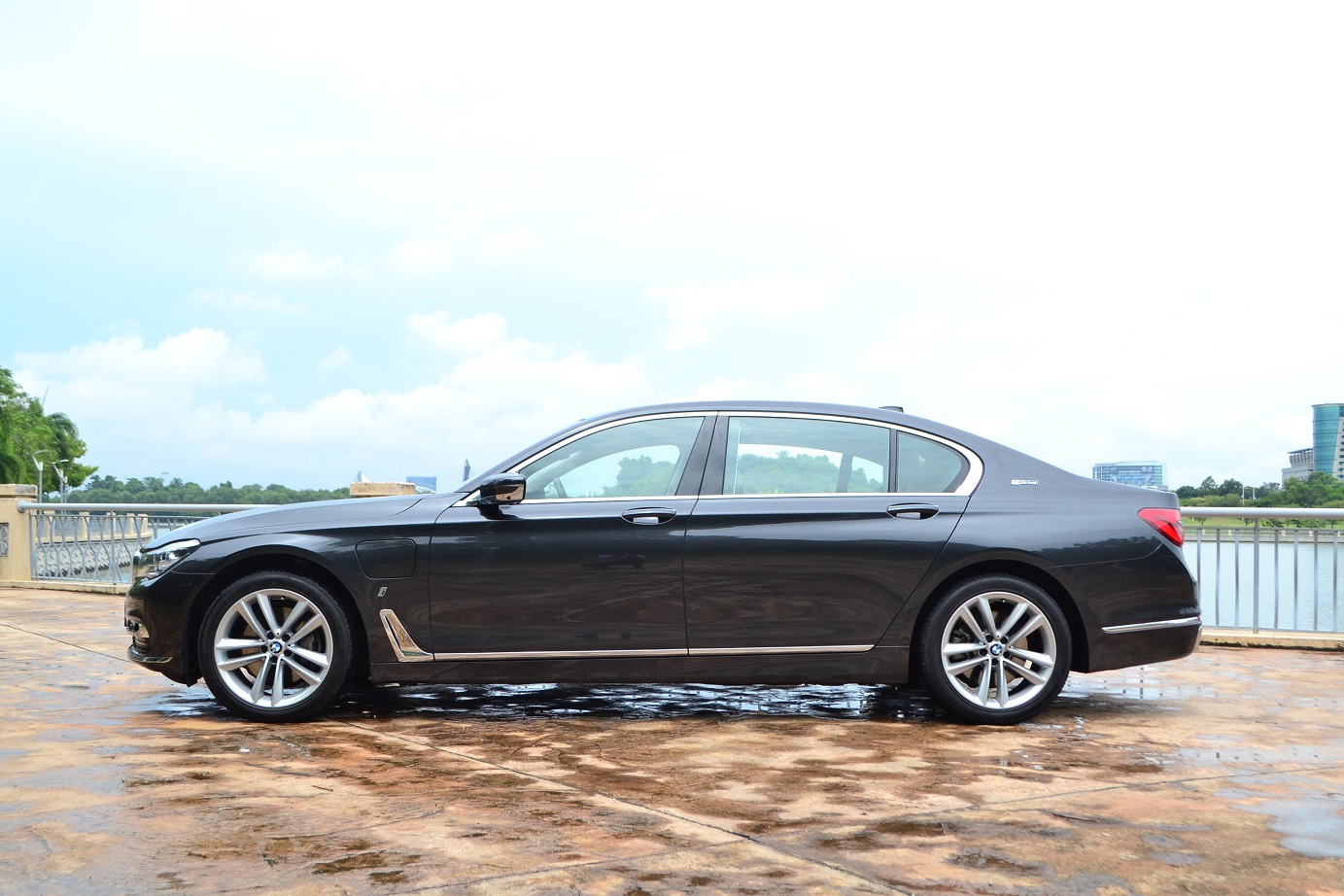 Seen from the front, the 740Le xDrive commands a majestic presence with it's sweeping headlights, signature BMW kidney grille and chrome accents on the lower bumper. Make no mistake; this is a large vehicle with it measuring 5,238 mm in length, 1,902 mm wide and 1,479 mm tall. The 740Le has a 3,210 mm wheelbase equal in proportions as its predecessor, effectively maintaining its position as the largest series-produced sedan BMW has built to date.
What I like most about it is though you'll find chrome bits here and there, it's not overtly done and compliments the elegance of the vehicle really well. Case to point is the set of simple 19-inch Double-Spoke light alloy wheels; don't need any multi-spoke (and a pain to clean) rims to make a car look expensive. This is just nice and makes the side appear a lot sleeker.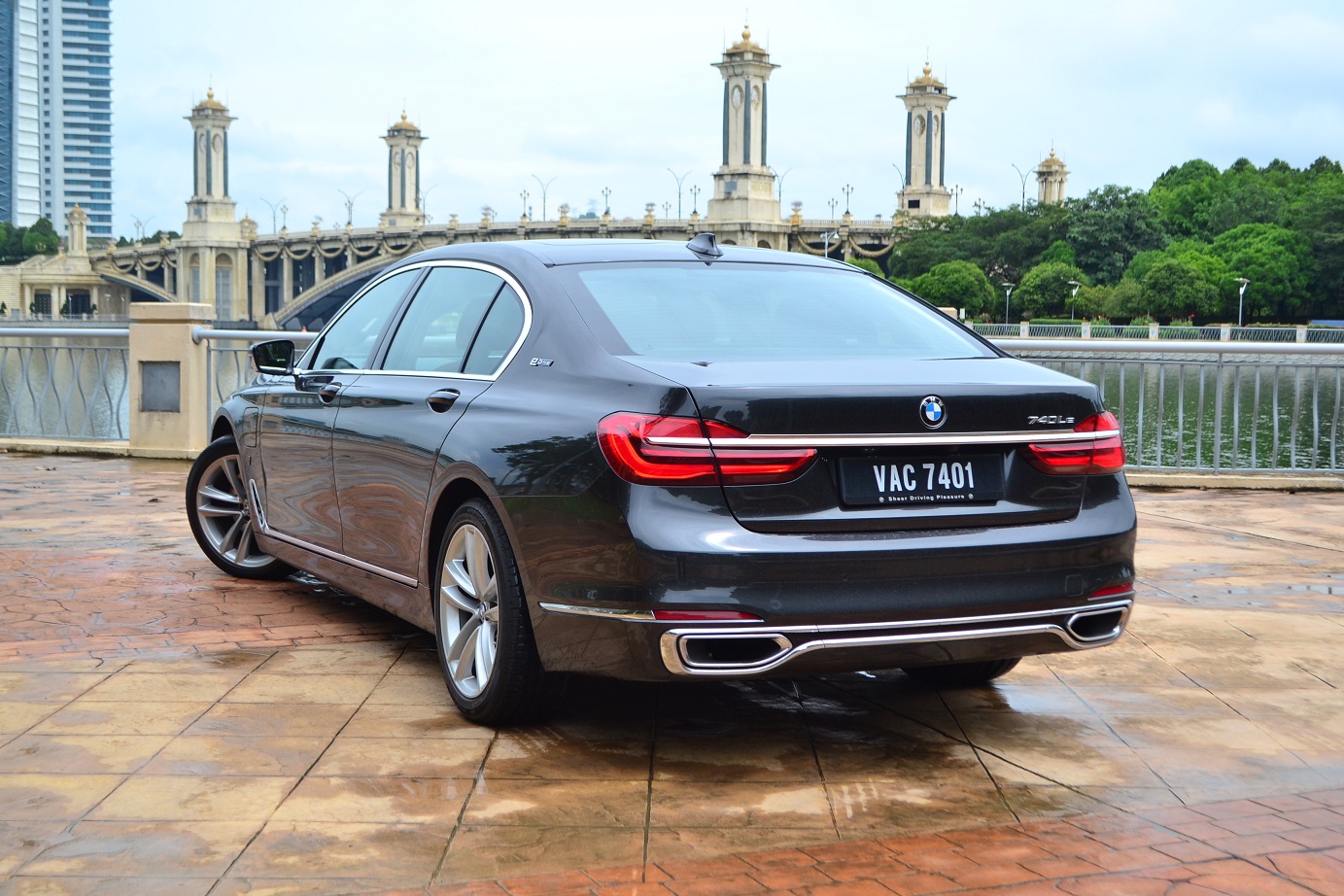 The rear appearance on the other hand is rather controversial. On one hand, we see horizontally-inclined rear LED tail lights with a thin chrome strip running between them that makes the rear look nicely wide and planted. The chrome bits at the bottom on the other hand makes things look – busy and messes up an otherwise graceful behind.
Performance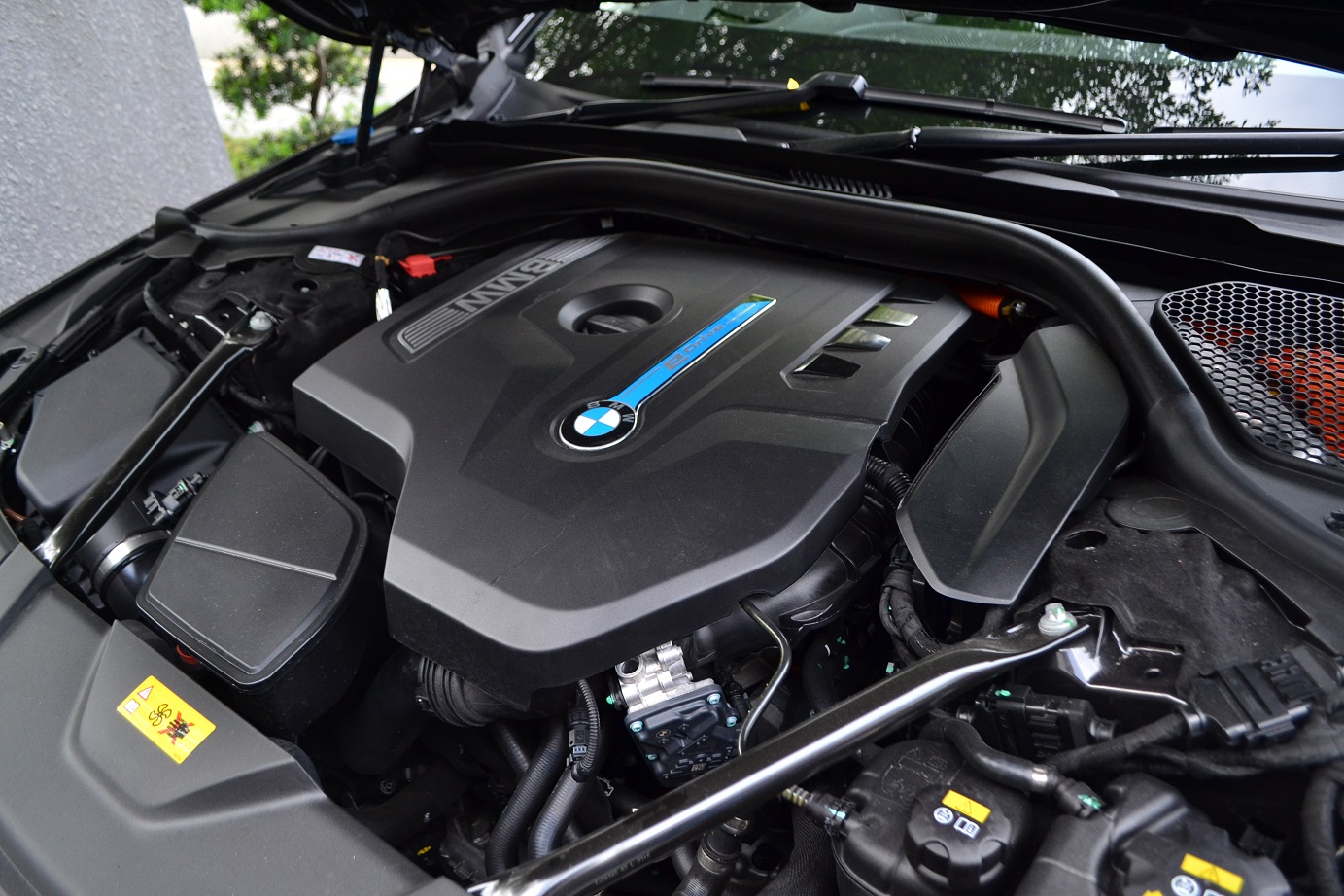 Key highlights;
Engine:  2.0 litre four-cylinder in-line engine with BMW TwinPower Turbo EfficientDynamics engine
Maximum engine power: 258hp @ 5,000-6,500rpm
Maximum engine torque: 400Nm @ 1,550 – 4,400rpm
Maximum electric engine power: 113hp @ 0 – 3,170rpm
Maximum electric engine torque: 250Nm @ 0 – 3,170rom
Electric driving range (based on NEDC cycle): 41km
Combined maximum power: 326PS
Combined maximum torque: 500Nm
Fuel consumption: 2.5l/100km and a
CO2 emission: 56 g/km
I was in a BMW showroom earlier and overheard an expat who came in perusing the 740Le exclaim "Only 2.0litre 4-inline?". Yes, my friend, no more straight six inline but really, it's more than you'll ever need. With a combined power of 326PS and 500Nm, the 740Le propels itself from standstill to 100km/h in 5.3seconds and continues to climb in speed all the way to 250km/h.
While it's good to know you can outpace almost every other sedan on the road, such powers are rarely unleashed fully since buyers of this segment isn't the type that regularly rushes from one venue to another. The greatest strength of the 740Le is below …
Ride and Handling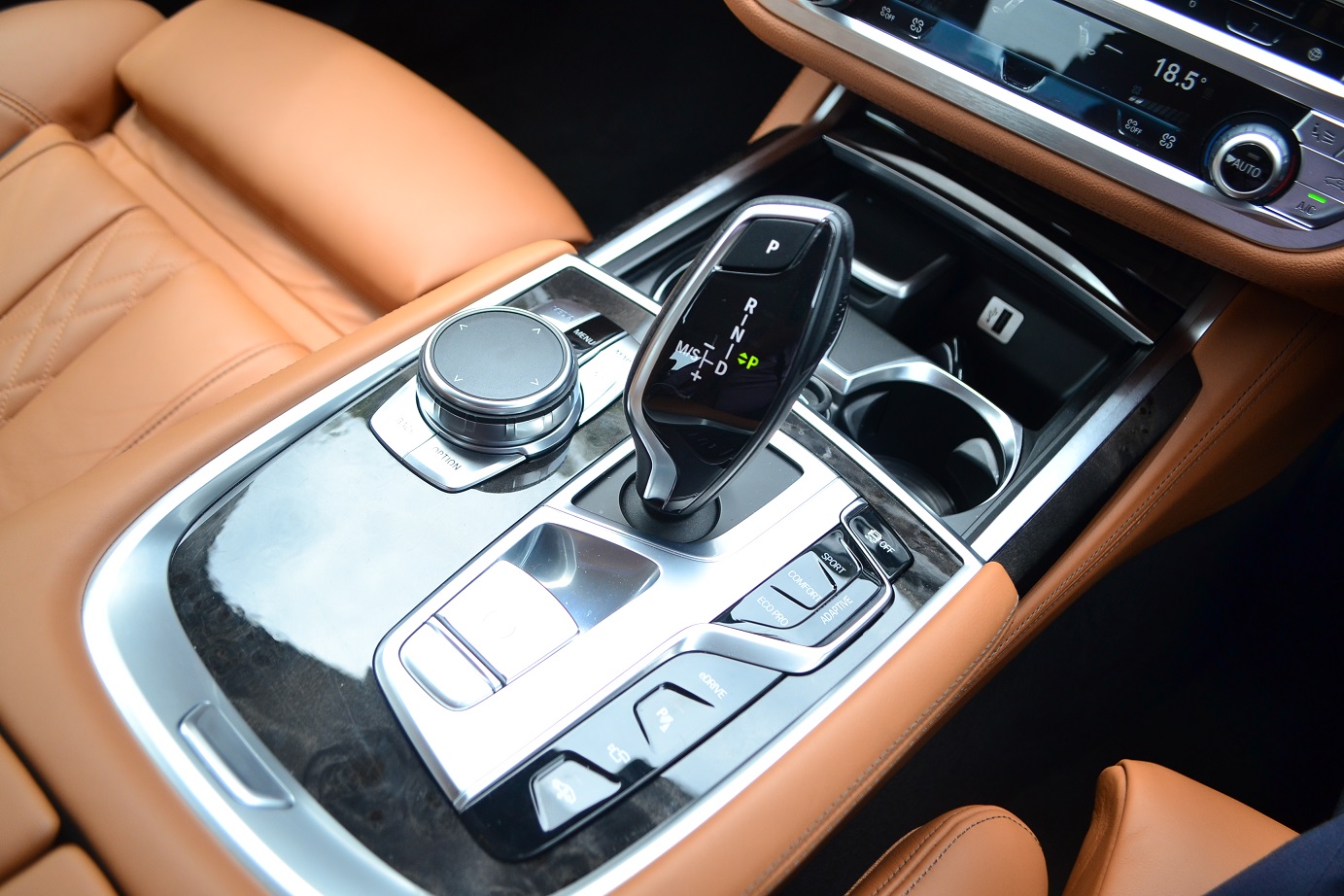 While the S-class may arguably offer a more sublime passenger experience, I feel that the 740Le triumps over the Mercedes-Benz in terms of how easy it is to drive the vehicle. Manufacturers often strive to make stepping into their flagship limousines an occasion and sometimes it gets a bit – overwhelming when faced with so many features for a new person who've never driven such a vehicle.
In the 740Le, most of the controls are laid out similar to most other vehicles and the two piece of gadgetry you need to acclimatize with is the electronic gear shifter and the iDrive rotary knob, which is something you probably shouldn't fiddle with when on the go. The electric parking brake, auto hold function, suspension control and drive modes are all ergonomically placed next to the gear stick, just as you would find in most other vehicles. This means even a freshie out from uni would have no issues operating this vehicle, assuming once he/she gets used to the mammoth dimensions of the 740Le.
Of course, one might say a limousine is best enjoyed at the back with a chauffeur driving it but what if you're both the boss and enjoy driving? The 740Le provides an overall experience that's balanced if you're a successful director who drives to and from work on weekdays while enjoying taking the family out on weekends. If you're in the car with two car guys, being driver and passenger holds equal appeal. That's a testimont of how well-rounded the vehicle is which is a bit unusual considering this is a limo.
You can configure the fuel/battery charge consumption with the eDrive button located on the centre console allows the driver to select between:
AUTO eDrive mode –  the combustion engine and electric motor synchronises intelligently to maximise the use of locally emission-free mobility – only activating the combustion engine at the speed of around 80 km/h or under heavy throttle conditions.
MAX eDrive mode – Pure EV mode with the combustion engine kicking in if occasional aggressive acceleration is desired
Battery Control – manually engage the use of the high-voltage battery by setting the charge value to be availed for pure-electric driving later in the journey.
Interesting to note that when I collected the vehicle from BMW Malaysia's HQ in Cyberjaya, I noticed the mileage range of the full tank was jusst around 410km. Sometimes, the poor range could be due to the previous media when returning the car drove it like he/she stole it and the onboard computer registering a higher than usual consumption and calculates the range accordingly. But I was told the 740Le's full tank/charge range is truly around that due to its reduced capacity fuel tank (just 46litres) as a result of making space for hybrid batteries.
Speaking of drive modes, the 740Le has Driving Experience Control which allows the driver to select between ECO PRO, COMFORT, and SPORT driving modes. By default, everytime you start the car, COMFORT mode is activated and most of the time, I'll just leave it as it is. In that mode, you can also choose to maximize the 2-axle air suspension dampening by selecting COMFORT Plus which good when moving in low city traffic but makes it feel like a boat in high speed cruising. SPORT mode ensures the engine is switched on all times with the battery providing extra boost when necessary and transform the car into a ballistic missile should you wish to tap all 326hp/500Nm the engine has to offer.
For the first time in Malaysia, the 740Le xDrive is introduced with an all-wheel drive system that enables fully variable drive power to be distributed when needed between the front and rear axles when needed, even delivering up to almost 100 percent of power to every wheel. It been raining of late and this is a feature I appreciate most.
It goes without saying that the NVH in the 740Le is superb as is most vehicles in the segment. I say putting so much power in the 740Le is rather redundant because there are many vehicles out there with engines that can put loads of thrust on the road but not many can insulate vibrations from said roads while moving. The air suspension does a wonderful job soaking up bumps while at the same time maintaining excellent stability when cornerning at high speeds.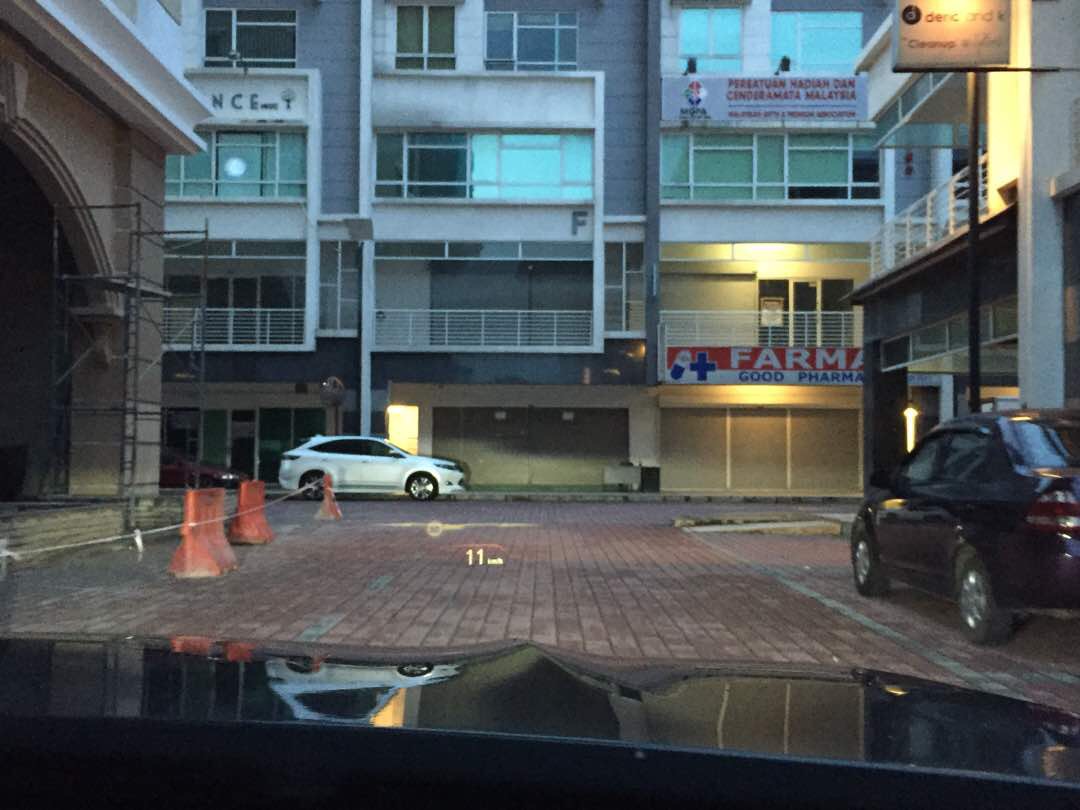 The biggest problem I have with the 740Le that was given to me was the light beam orientation; it's aimed too high and there's no way an owner can set it lower. In the picture above, the white SUV is about 20meters away from mine and you can see the light beam has hit its roof. The 740Le comes equipped with Laserlight with adaptive headlights that has a range of 600m. If I had turned into a highway with no traffic in front of me, all vehicles 40m and beyond, including oncoming would be blinded by my beam.
My solution was to tailgate a tall vehicle so that the beam is blocked or drive as fast as possible to avoid glaring others, which gives the impression that this is a driver with bad road manners. When I drove it leisurely at night, I was flashed by oncoming traffic thinking that I had accidentally activated the highbeam! Fortunately, I've been told that adjustments can be made but the vehicle must go back to a service centre for that to be done.
So next time when you see a BMW's headlight shining into your eyes, be a bit more understanding that it might not be his/her fault ya?
Cabin Convenience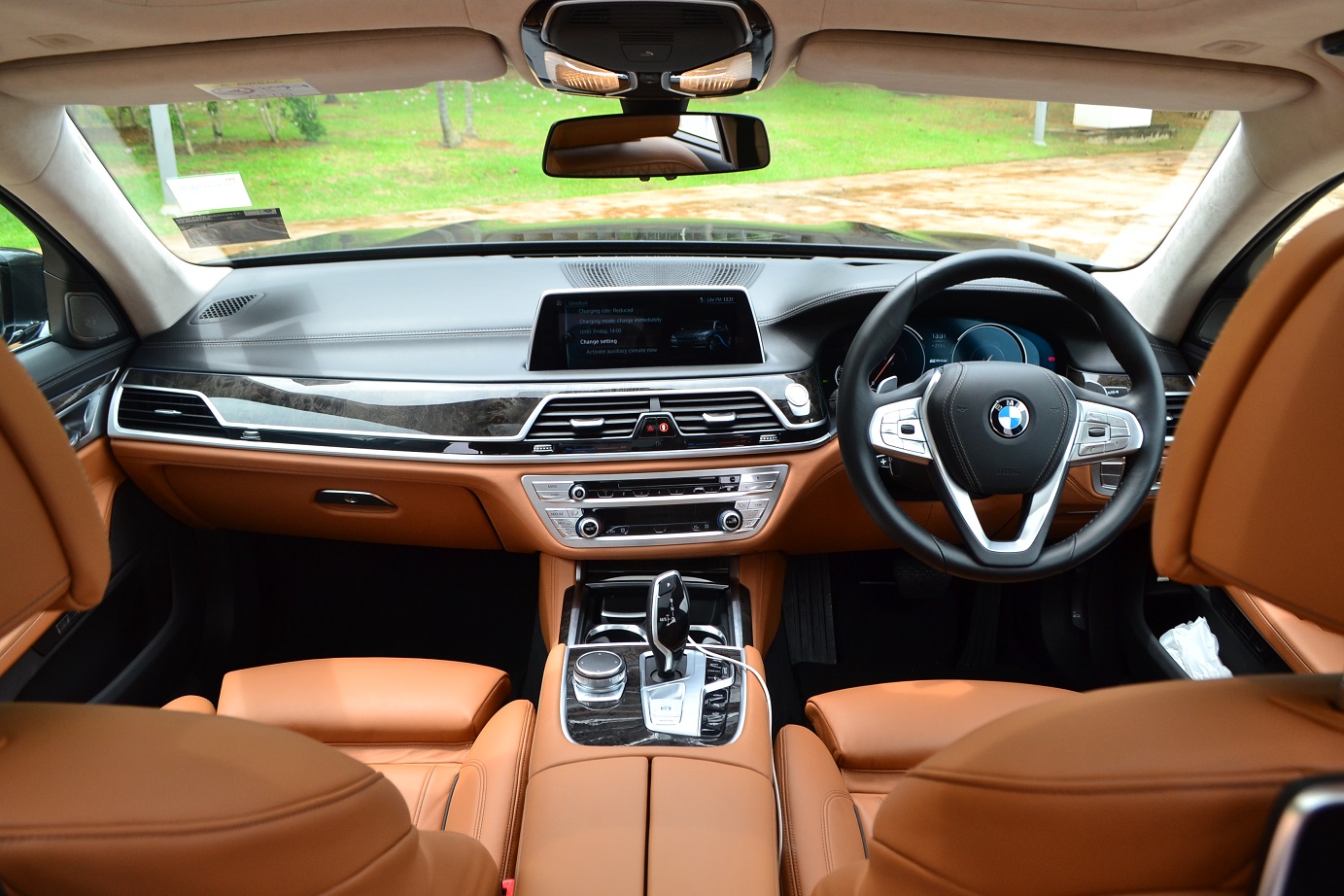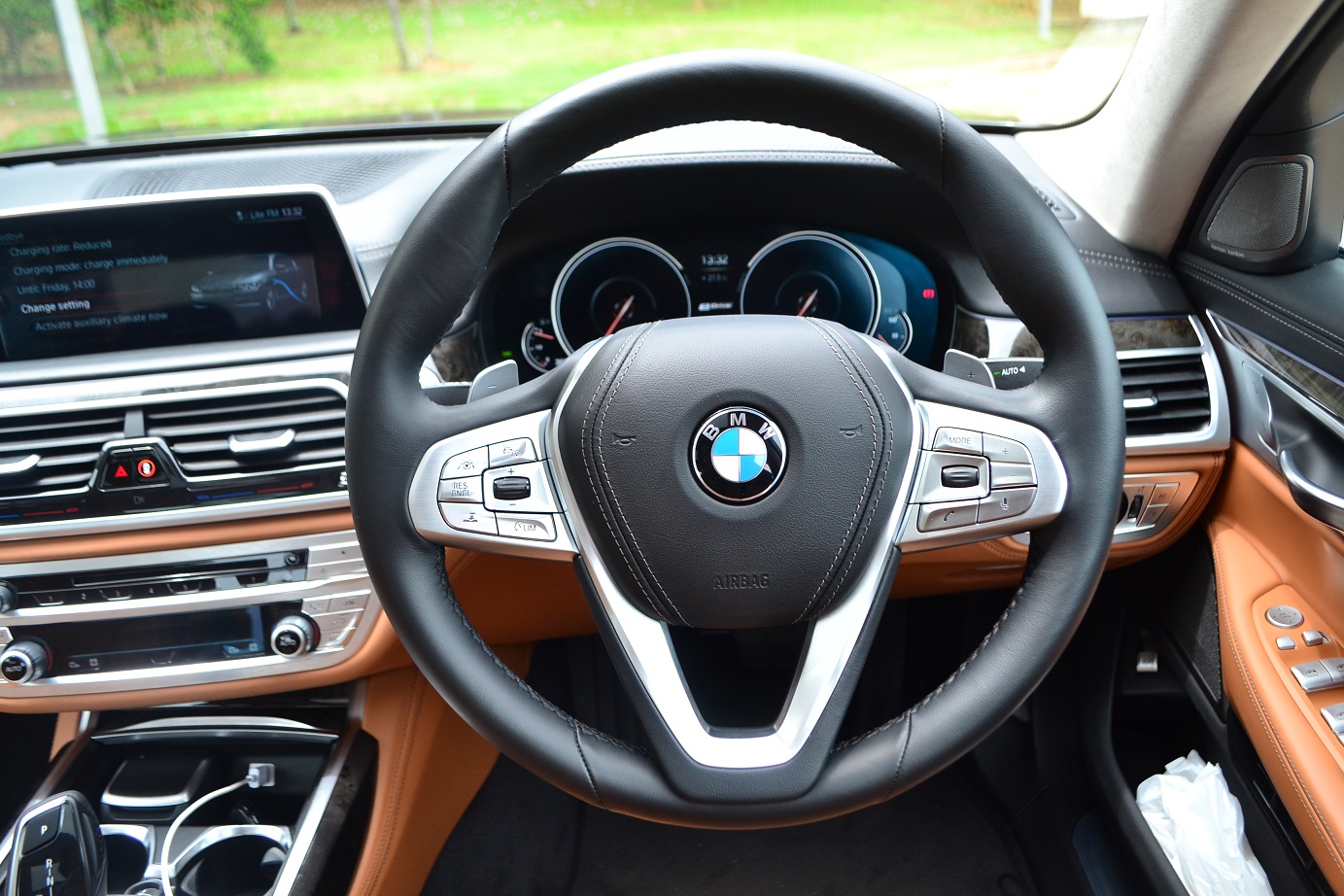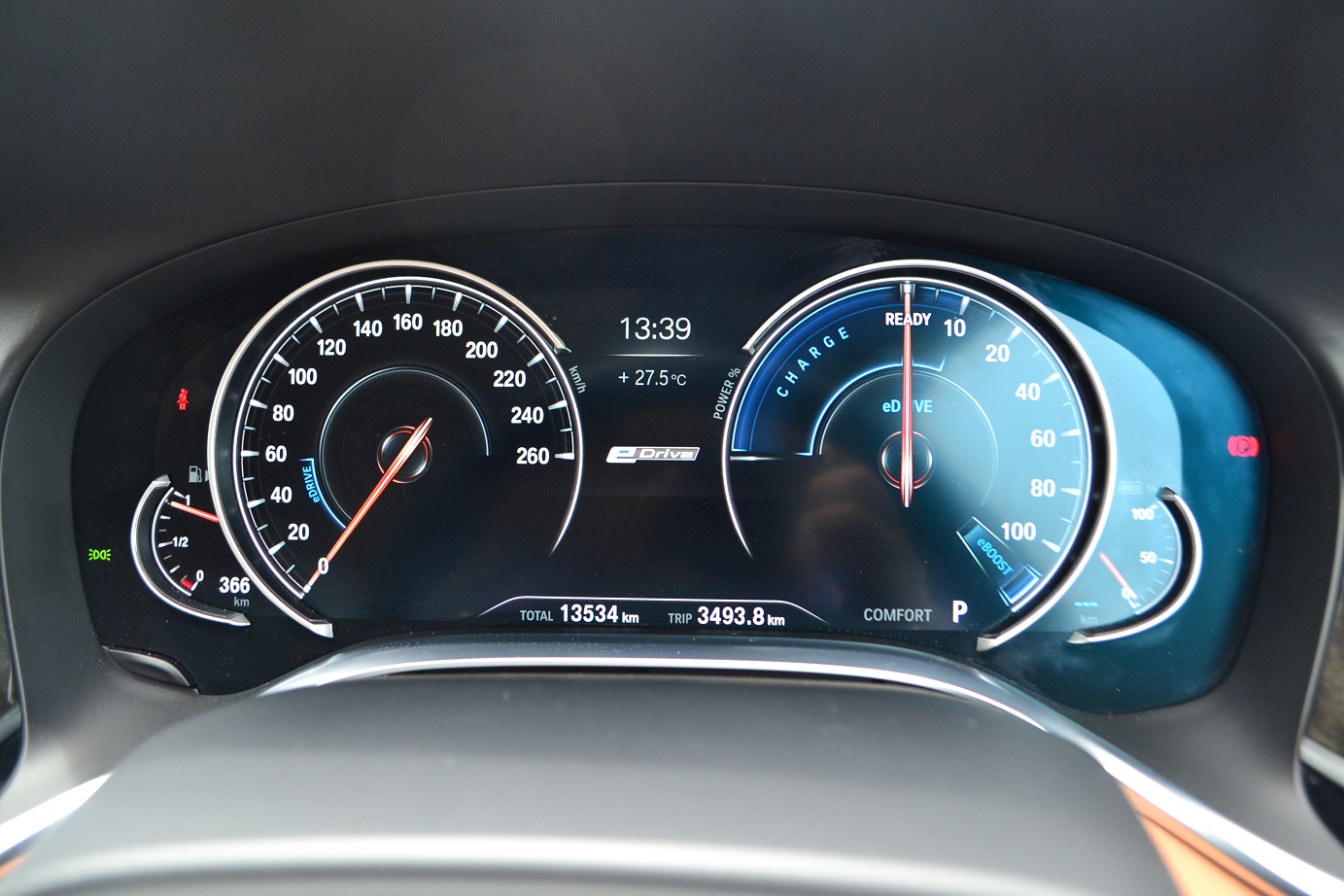 I'll let the pictures speak for themselves.
Premium Nappa leather, interior trim finishes in Poplar Grain Grey fine-wood, impeccable fit and finish and a slew of technology that includes  BMW Touch Display for the on-board monitors and BMW Gesture Control promises a conveyance experience unlike any other. Being a flagship limousine, space is abundant and the panoramic Sky Lounge glass roof combined with the taupe leather color adds to the airy feel of the cabin. At night, the Sky Lounge roof's LED-based lighting installation of over 15,000 lighting elements never fails to impress any passenger.
You'll also find a Welcome Light Carpet for the area in front of the front doors and Ambient highlight offering six different colour variants for light and mood effects in the car.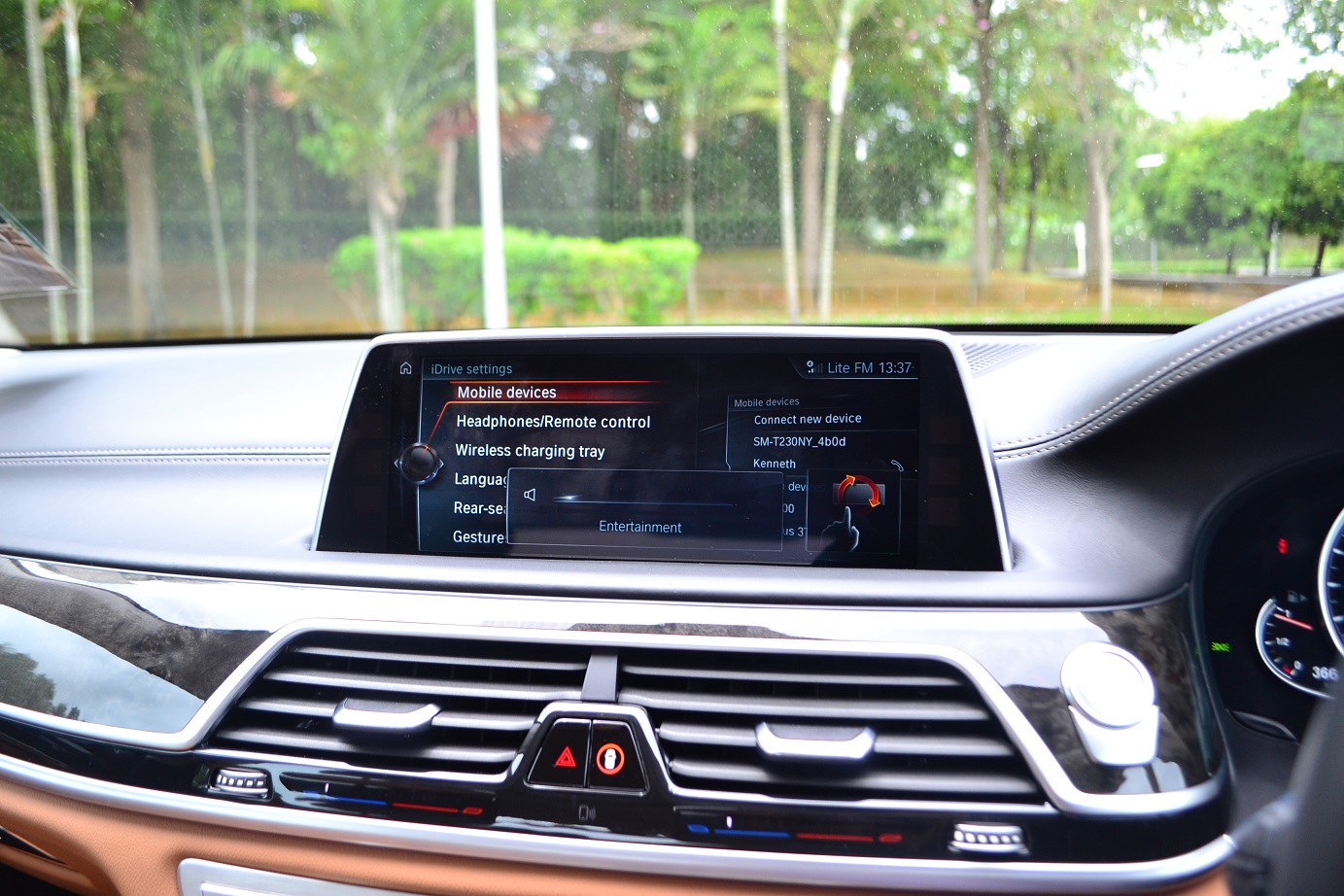 The 740Le has a 10.25″ touch display Navigation System Professional infotainment and sound reproduction is handled by a 16-Speaker 600w Harman Kardon Surround Sound System. The onboard audio theater is marvelous.
The unit also has BMW Gesture Control which allows the use of simple hand gestures to interact with it. With your elbow on the arm rest, point to the hazard light button with your index finger (below it is the motion sensor that detects your fingers) and dial clockwise or anti-clockwise to increase or decrease volume. You can also 'stab' forward with both index and middle finger (imagine you're trying to poke both eyes of an imaginary foe) to activate other functions that you can program the infotainment system to do such as muting the audio or changing radio stations.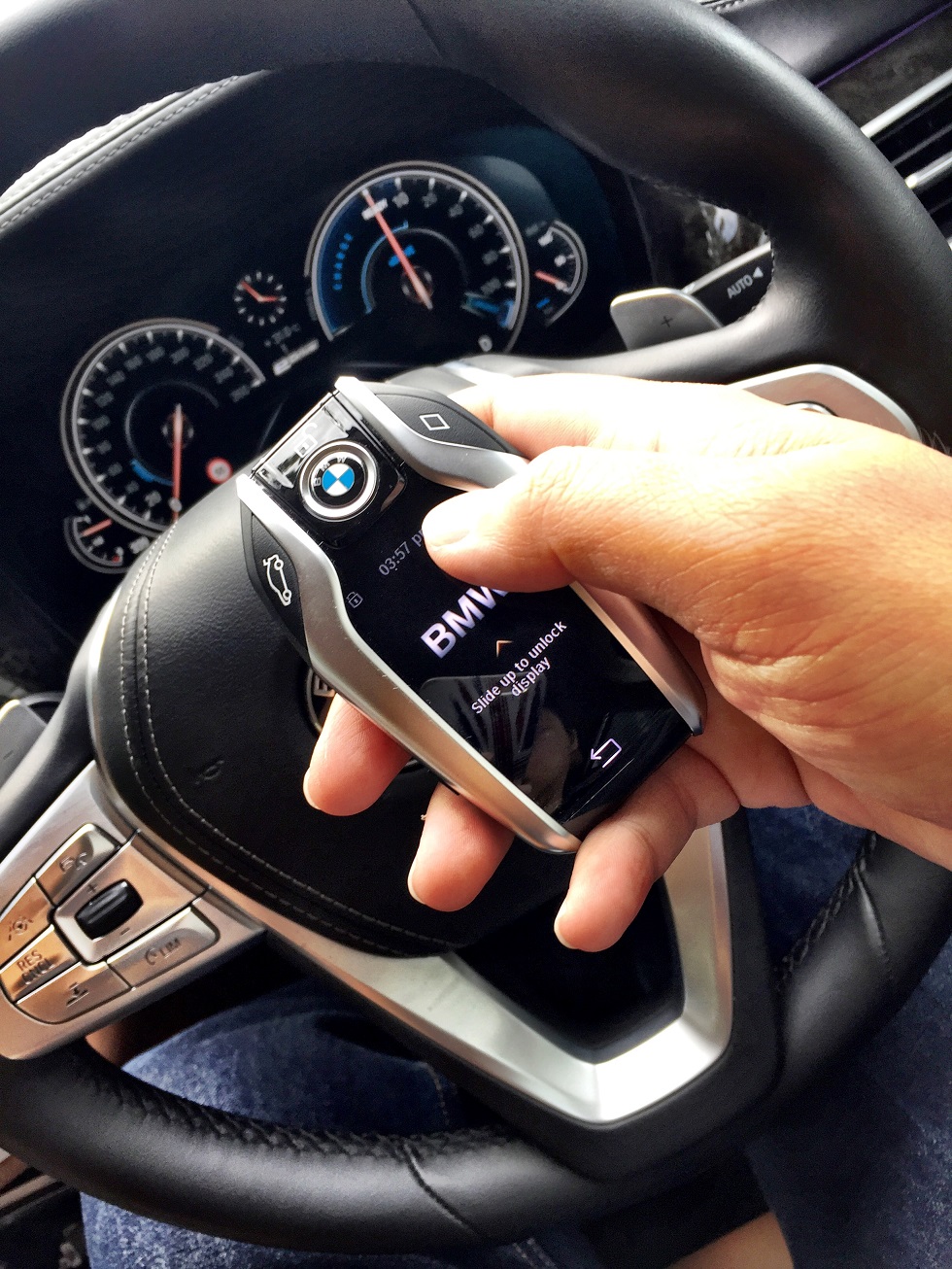 The BMW Display Key via its integrated Touch Display allows the driver to
check the fill level of the fuel tank,
the current vehicle range and electric charge status,
the status of the central locking system, windows and glass roof, service prompts and
the time of day, as well as
activation the air conditioning and ventilation system within the vehicle.
all done remotely.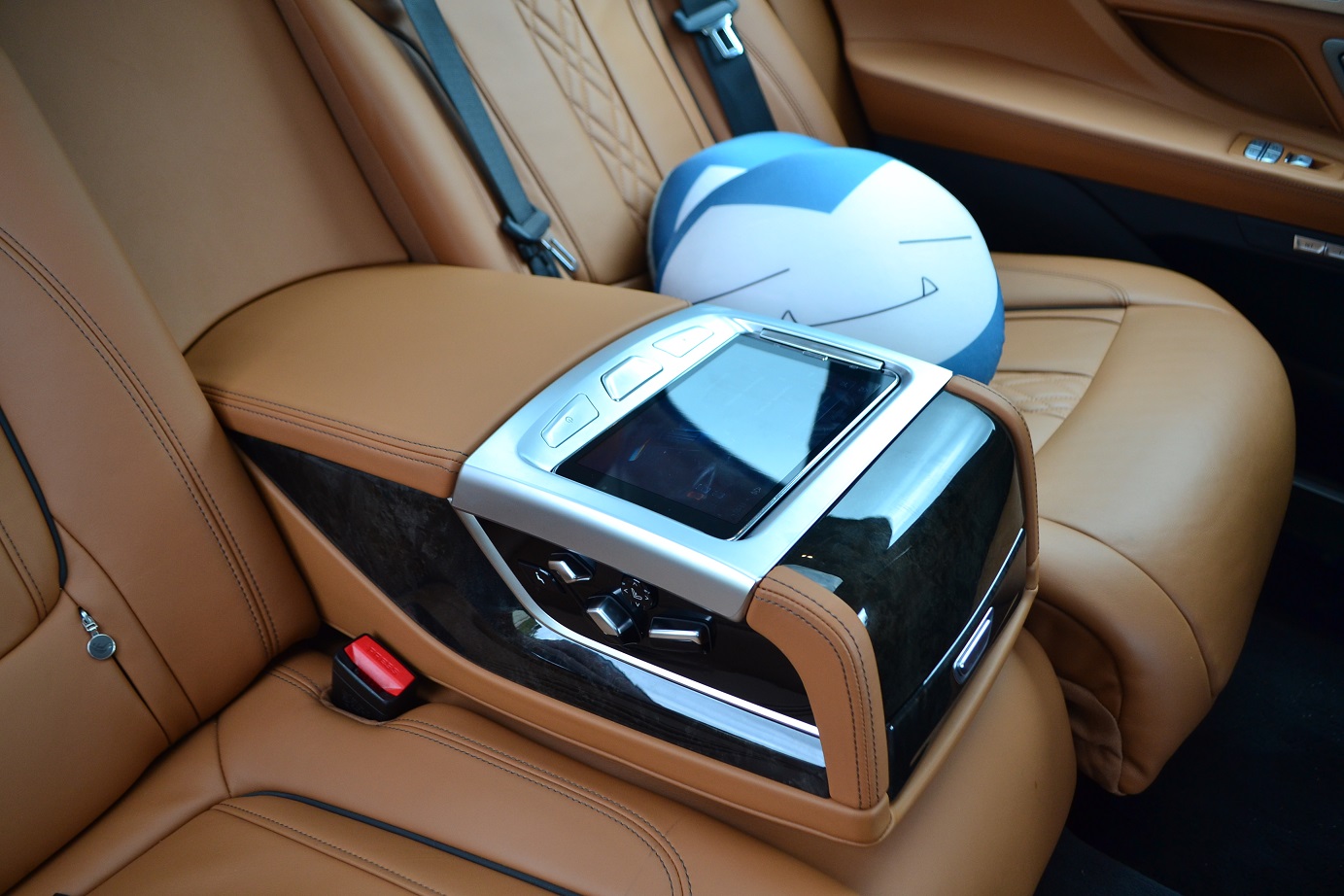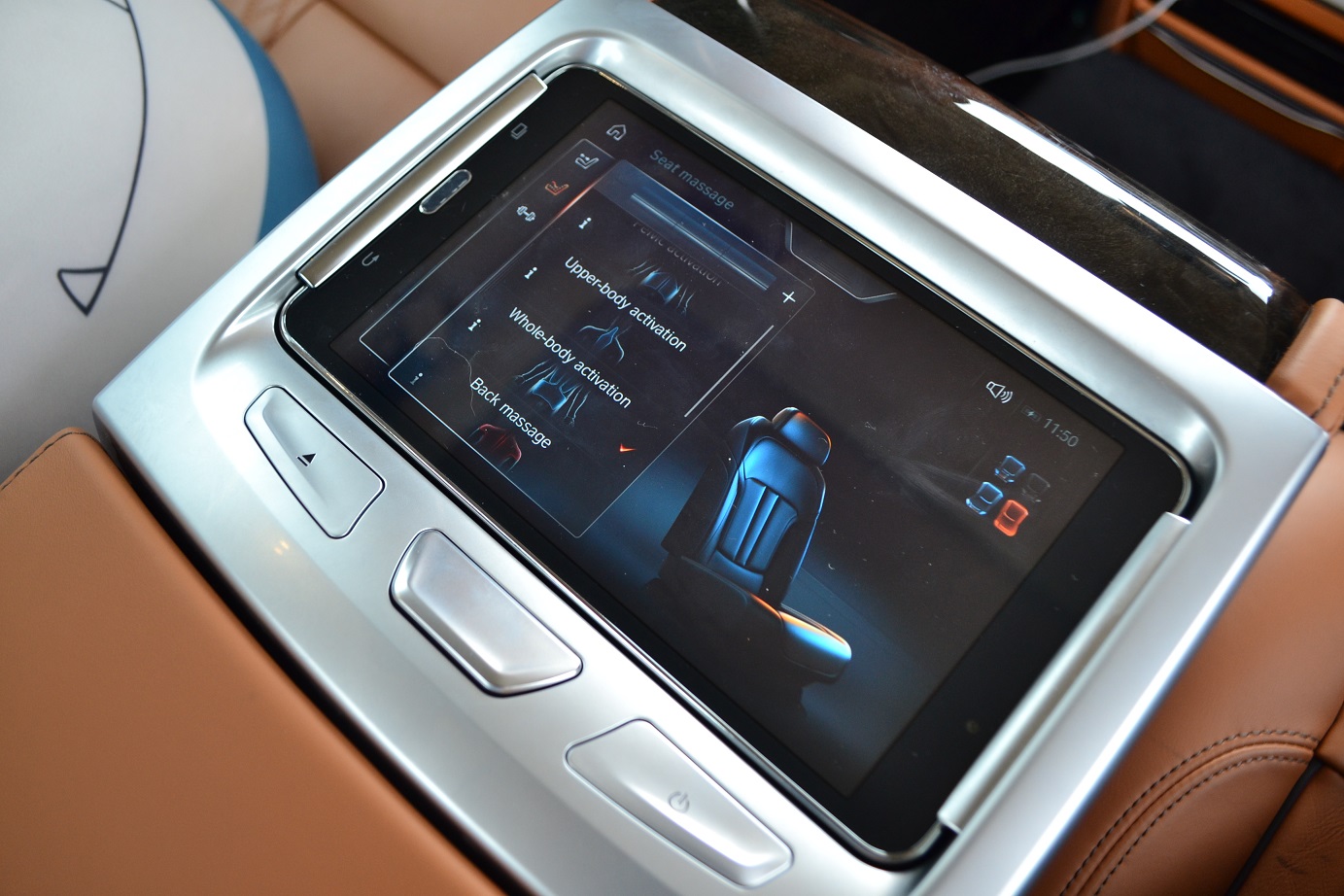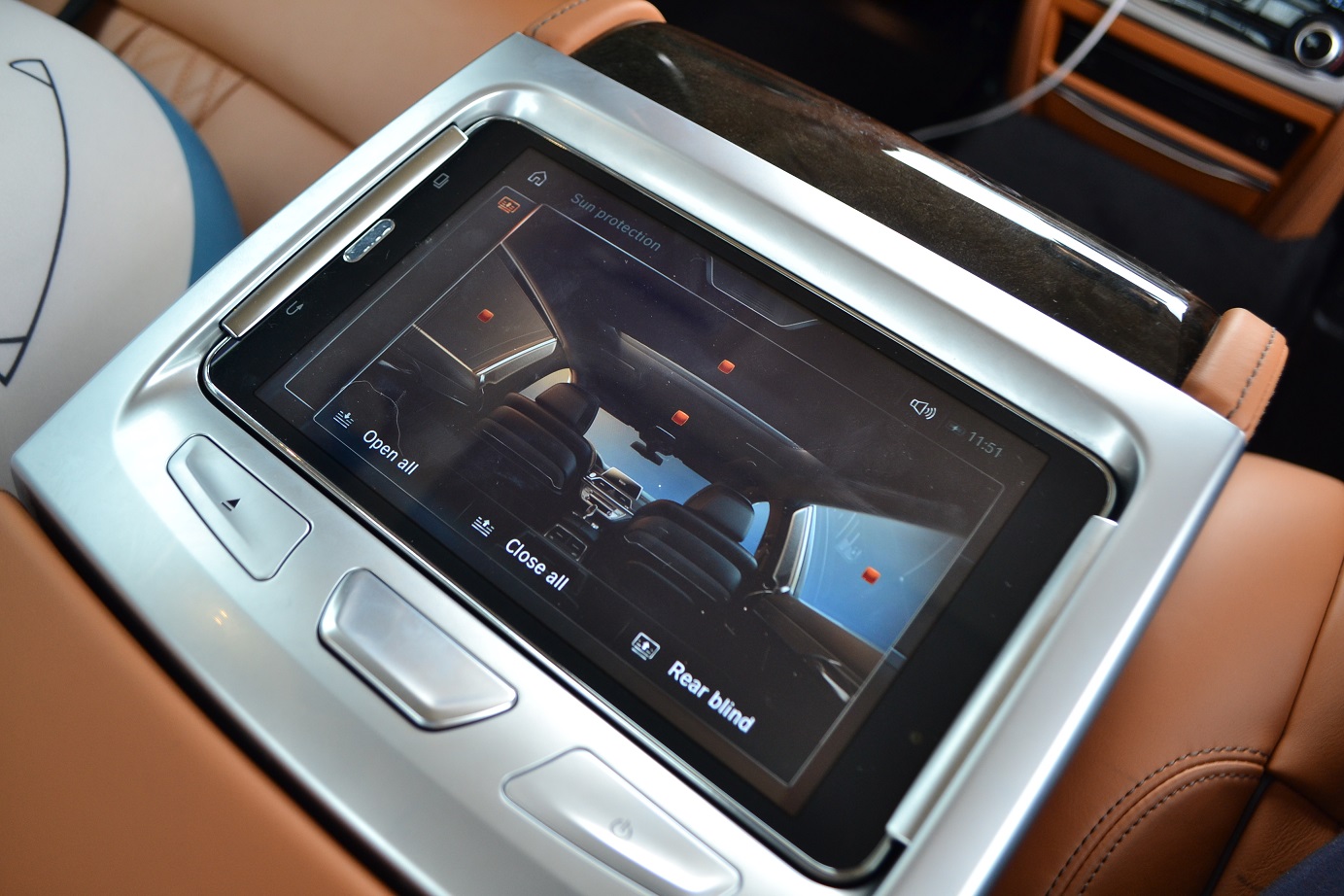 BMW Touch Command control unit located in the rear centre console – a removable 7-inch tablet that is connected to the vehicle systems and allows passengers to access all comfort and entertainment functions.
The tablet electrically adjusts the seats for both the front and rear passengers, with lumbar support moulded for both the driver and front passengers for elevated comfort. The rear seats also has massage functions with eight massage programmes including the Vitality programme. If you have a chauffeur, it's quite difficult for him to move the front passenger seat forward since the electric controls are at the bottom left of the front seats. You can move it yourself using this tablet.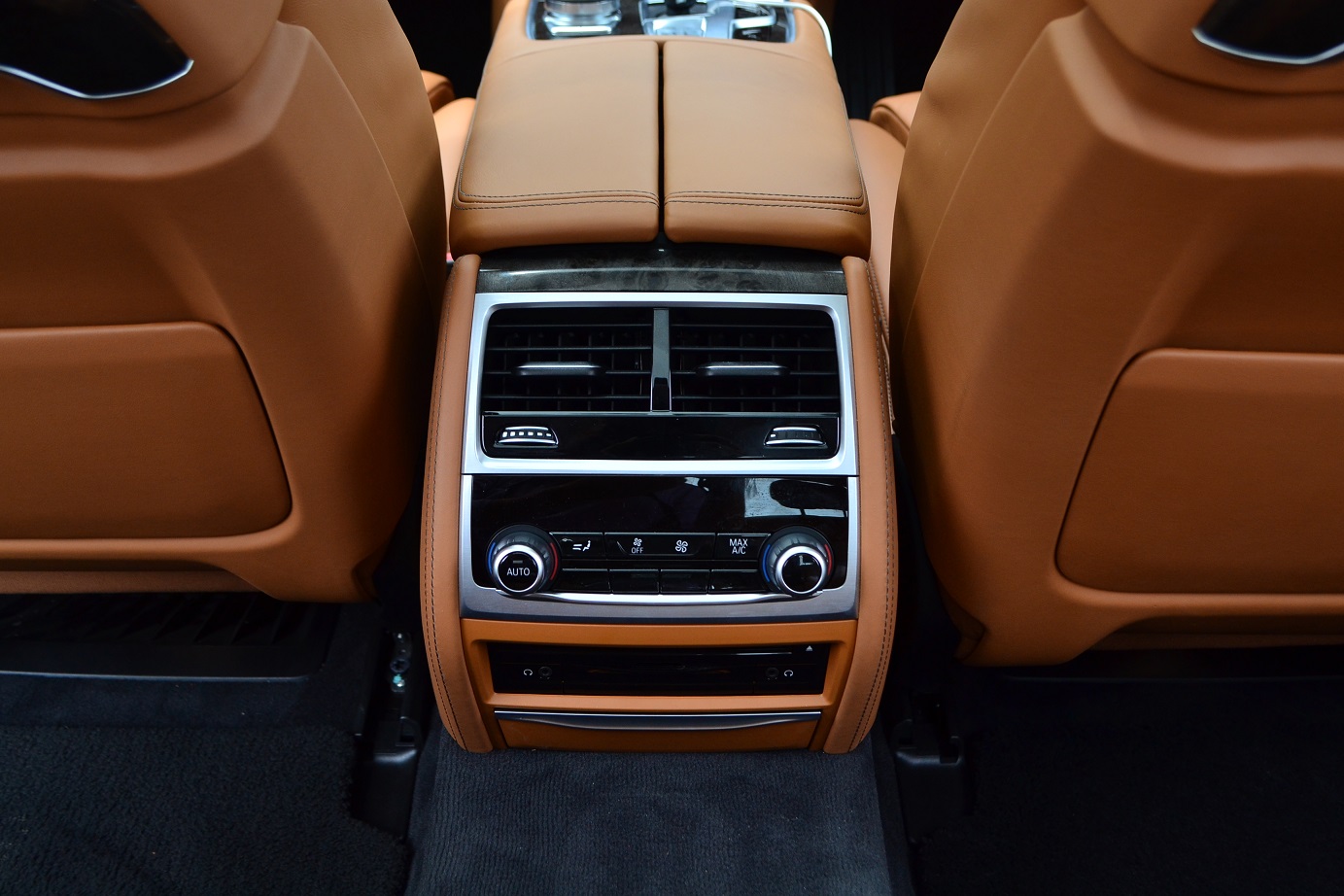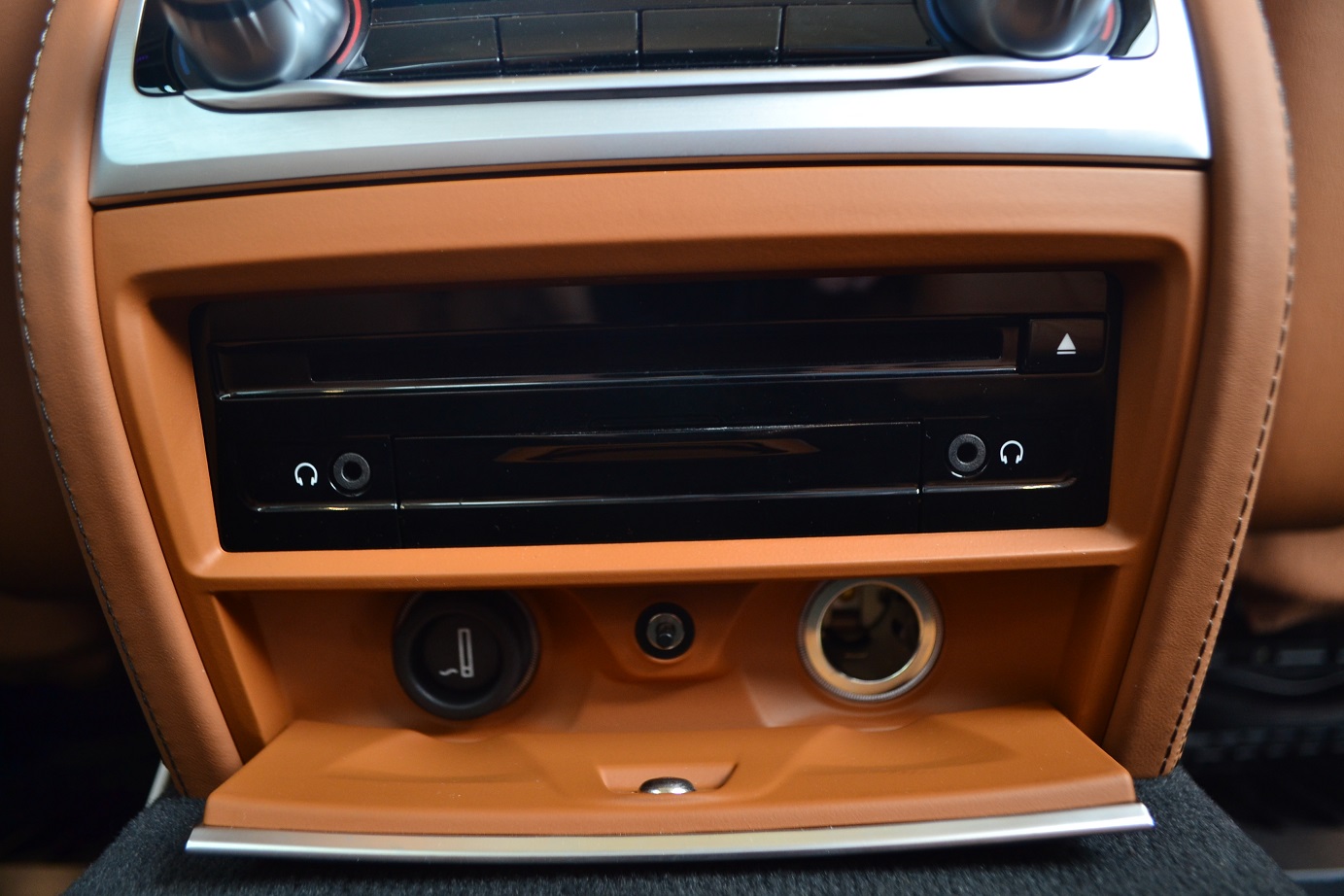 Rear passengers can also entertain themselves via two 10″ screens mounted behind the front seats and you can adjust your own temperature with dual zone rear air conditioning.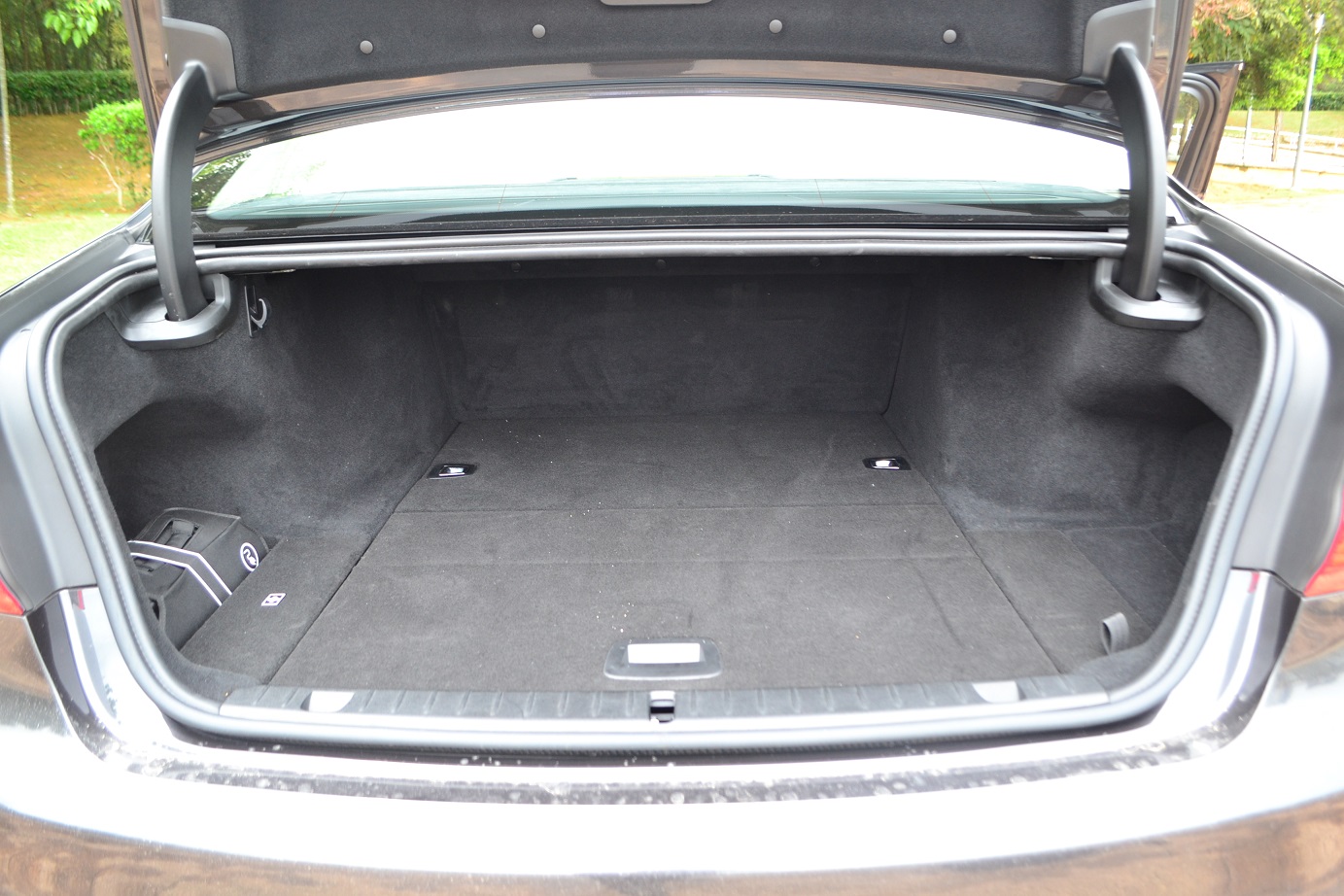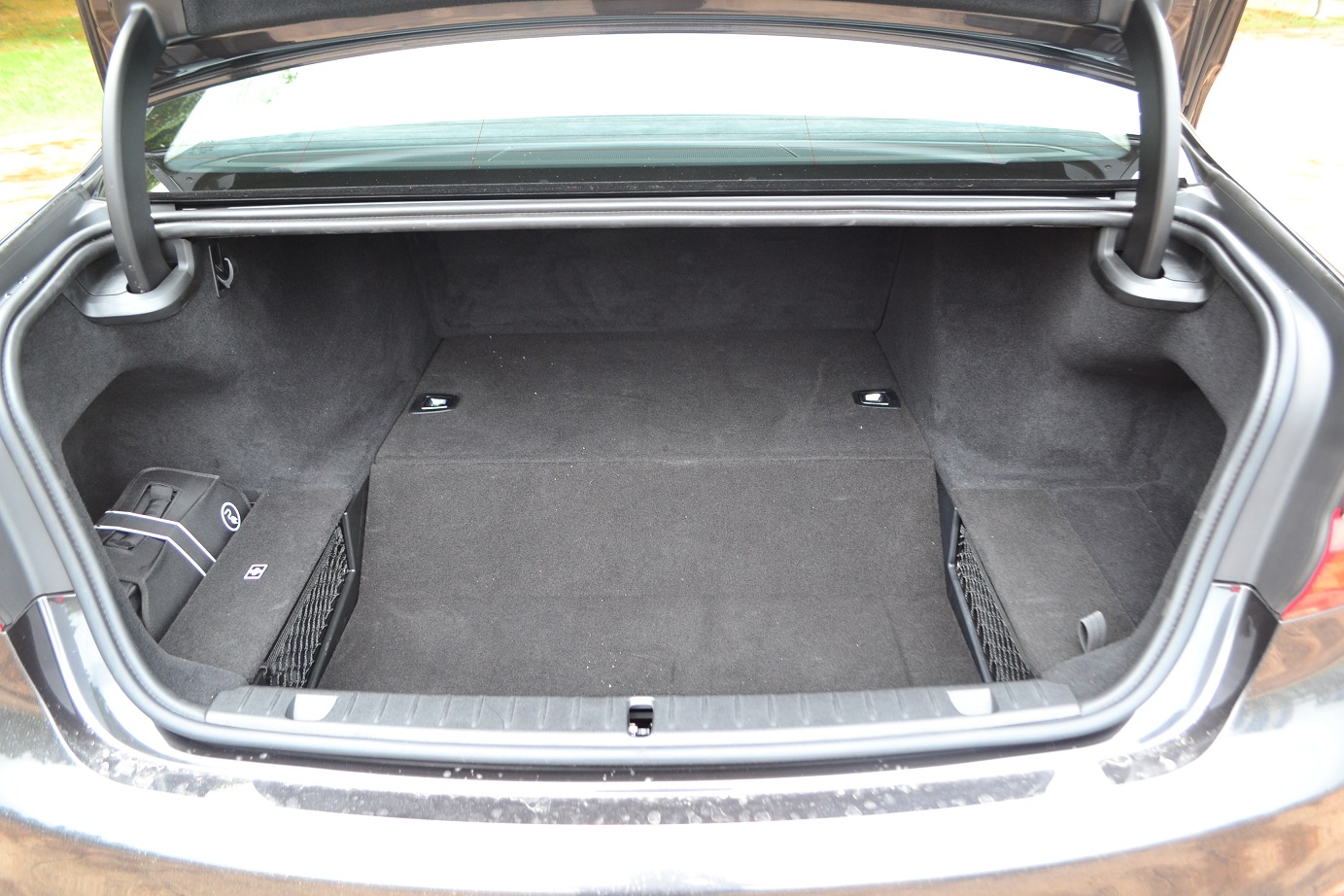 With the 740Le housing its batteries behind, the boot space is slightly compromised with just 420litres (as opposed to 515itres in non-PHEV variants) but no worries; there's ample space for your golf bag
Safety
Safety is of paramount importance in limousines and the 740Le does not dissappoint with the following active and passive safety features;-
front side
side airbags,
head/curtain airbags for the front and rear seats,
knee airbag for the driver,
ISOFIX child seat mountings in the rear
Active Protection System
Carbon Core innovative lightweight construction with carbon elements in the passenger cell
Dynamic Stability Control (DSC)
Dynamic Traction Mode (DTC)
ABS
BA
Run-flat tires and flat tyre indicator
Returning in the new luxury plug-in hybrid sedan is the BMW ConnectedDrive as well as a suit of driver assistance systems including the latest BMW head-up display, Parking Assistant as well as Driving Assistant Plus and Surround View systems.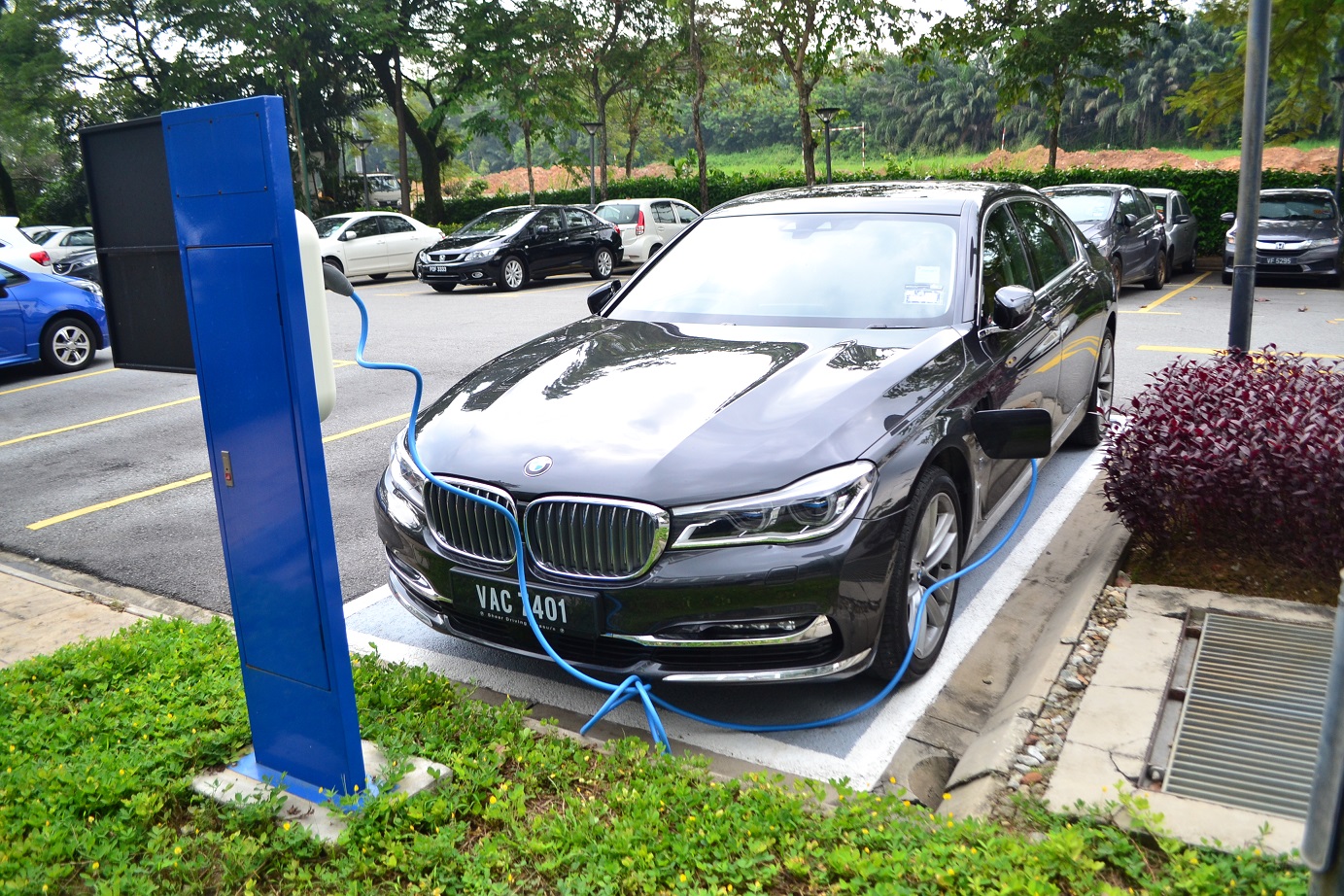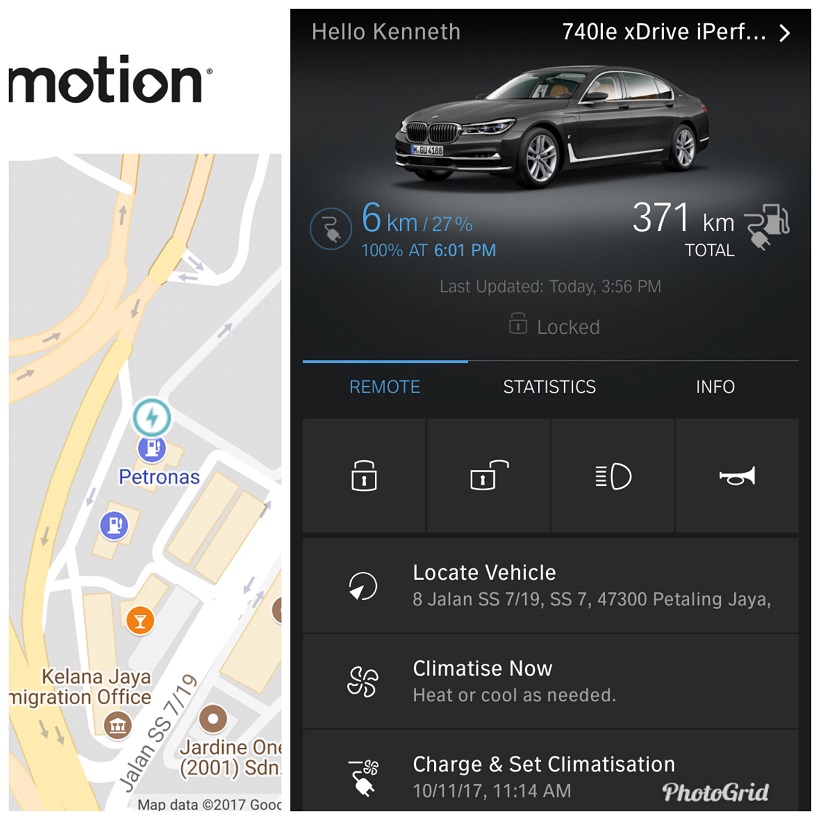 The BMW Connected app which allows the driver to control the auxiliary air conditioning function from a smartphone and you can monitor charge levels of the high-voltage battery, the locations of charging stations, and the distance covered on electric power alone and the consequent amount of petrol saved. This is very useful as you can leave your vehicle charging in a nearby petrol station and walk to your office while monitoring when you can return to pick it up once the charge is full. Just so the cabin is nice and cool, I can activate the air conditioning just as I leave my office so that the cabin is nice and cool when I arrive at the station.
Charging options with BMW 360° ELECTRIC.
With a gross energy capacity of 9.2 kWh, the high-voltage lithium-ion battery of the All-New BMW 740Le xDrive can be recharged from any domestic power socket. Meanwhile, full charge through the BMW i Wallbox Connect can be achieved in under five hours and the charging process managed via either the BMW Remote app on a smartphone or the graphic in the car's instrument cluster.
As part of the BMW 360° ELECTRIC program, owners of the All-New BMW 740Le xDrive join those of the BMW i8, BMW 330e and BMW X5 xDrive40e in enjoying easy access to GreenTech Malaysia's network of 181 ChargEV stations nationwide through the BMW ChargeNow mobility service.
Ownership
The All-New BMW 740Le xDrive is available in Black Sapphire, Imperial Blue, Mineral White, and Sophisto Grey and comes with a 5-years unlimited mileage warranty, free Scheduled Service Program and BMW Tyre Warranty Programme. The price? RM598,800 OTR excluding insurance. That's significantly cheaper than the 740Li's RM788,800 price tag thanks to government tax break incentives on PHEVs.
Is it worth buying?
Most definitely.
But how does it stack yp against the Mercedes-Benz S400h whichi carries a similar price tag?
While  both vehicles target the same affluent group, they cater for owners with different preferences. Mercedes-Benz aims to offer a more personalize ownership experience by improving the sales and after sales aspects of its business while BMW tantalizers buyers with better value in terms of lifestyle. The BMW Excellence Club, for instance is a new and exclusive membership and customer loyalty program for all owners of the new BMW 7 Series that allows existing and new BMW 7 Series owners to enjoy a host of exclusive privileges including tailored concierge programs, bespoke private events, exclusive valet service at some of the renowned addresses nationwide, priority appointment scheduling at élite establishments as well as access to premium hospitality lounges. You don't just buy a car, you buy into a life experience with BMW.
As mentioned before, both the 740Le and the S400h offer lots of tech and gadgetry but it is the 740Le that's easier to get used to and drive. Not a strong consideration point if you have a driver whose job is to familiarize his/herself with the functions of the car but if you have a household that regularly shares the use of the vehicle, this is important. I believe my mother would be able to familiarize herself a lot quicker in the 740Le than the S400h simply because the layout is something she's used to.
Ultimately, I believe both companies have strategized well by playing on the strengths of their flagships. If you prefer to be driven, the S400h could be the limousine for you. But if you like the thrill of holding the steering wheel yourself and have a love to explore both the urban and rural jungles, the 740Le is the one you should pick.