I get asked often whether is it rewarding being an automotive journalist/writer.  It is if
you truly have a passion for automotive
you can work under conditions that has words like "short schedule", "jet lag" and "low pay"
Well, 'low-pay' is relative. Assuming that your writing prowess is of acceptable quality, a freelance contributor (doing between 800-1,200 words) may be paid around RM300-350 per article. An employed writer around RM3-5k, add RM2k if senior position exists. When you reach management which are multi-role aside from writing/checking/editing articles, the pay grade starts from RM8k onwards.
When you think about it, the salary scale is really not much different from any job that requires a degree nowadays – and typically, it's always the bosses/owners that reaps the highest returns. So while a writer/editor may be driving a new fancy car, owning that new fancy car might be a challenge unless he/she has other sources of income or start a successful publication media.
However, there are extremely rare instances when we come across something that's great while remaining very affordable.
Again, 'affordable' is relative but all things considered, buying a brand new stylish BMW for less than RM200k is a steal for many.
Surely there's a catch somewhere, you say? Well, I admit I've always thought models such as the 1-series is a poor man's choice. A wannabe hipster who wants to look cool but can't cough up enough cash for a proper 3-series. So when the keys to the 118i M Sport were handed to me, I approached it with a mild disinterest.
A few days later, I returned the keys with much regret – the 118i M Sport not only erased whatever negative presumptions I had of the series, I'm absolutely smitten by it. Here's my story with it;-
Design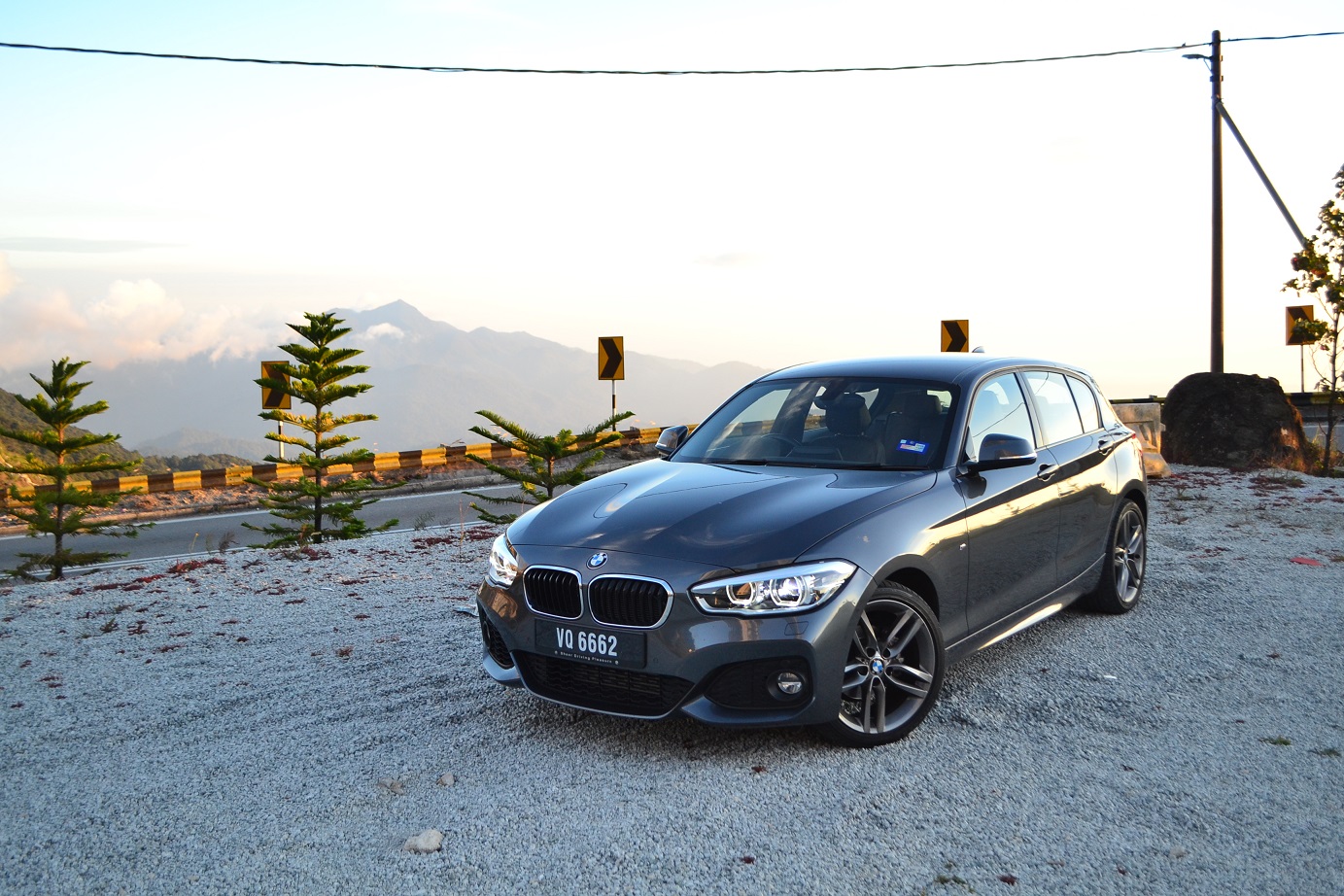 "This is really small"
The first thing that came into my mind when I stepped in this car. It's not claustrophobic-inducing small but coming from a 7-seater SUV, you can understand the reservation I had since I feel like an oversize gorilla sitting in the cabin of the 118i M Sport. It's a snug fit with my left leg constantly rubbing the side but overall, it's not difficult to get used to.
I disliked the F20's pre-facelift froggy-like headlights but love the current rendition which makes the whole front look balanced. The 1-series's kidney grille is probably the smallest seen on a BMW sold here but that's not a bad things especially when we take into account the three huge blackened areas on the lower bumper.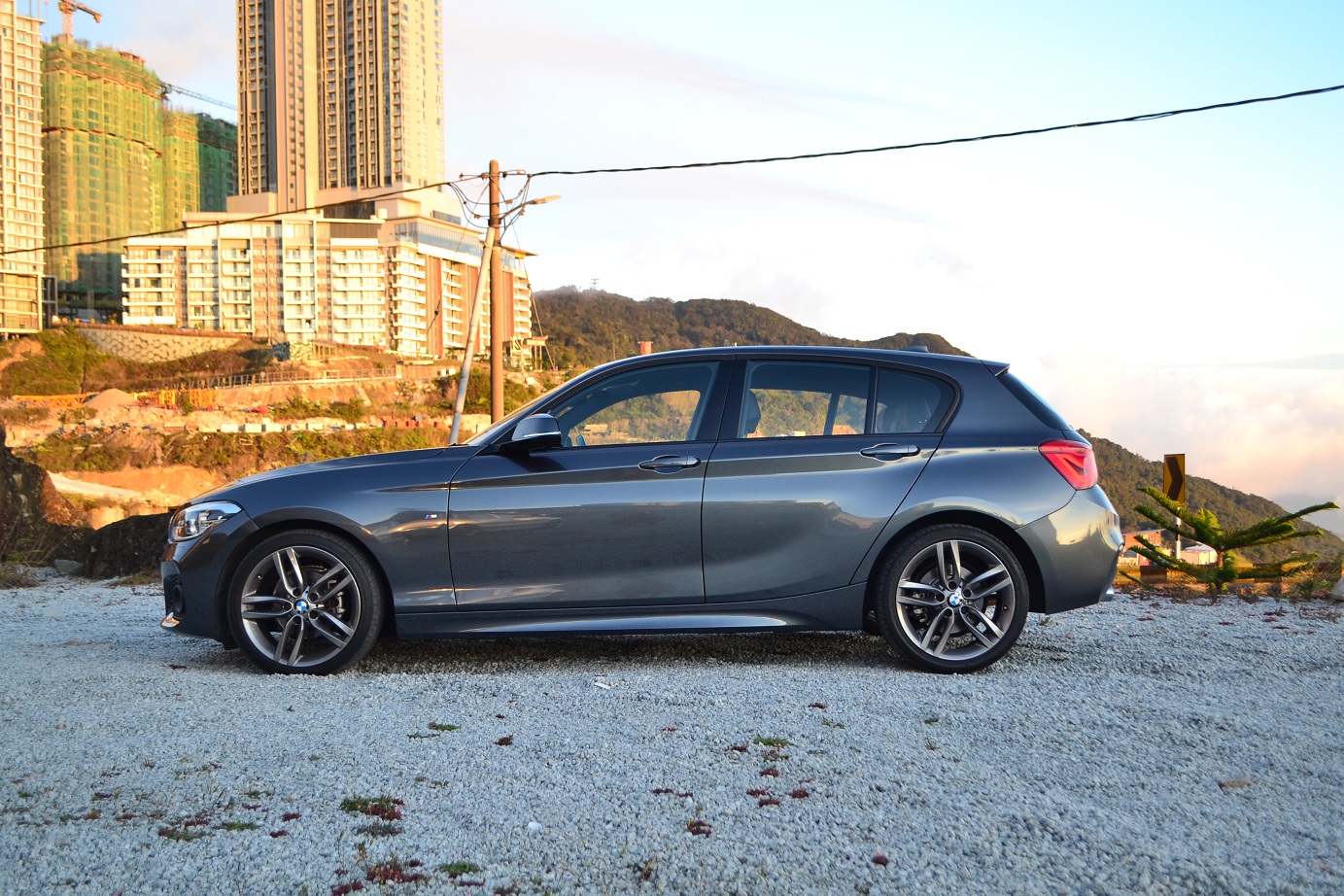 Measuring 4,329mm in length, 1,765mm in width, 1,440mm in height and a wheelbase of 2,690mm, it isn't exactly non-luxury B-segment size, neither is it a sedan (the 3-er is longer by 30cm only). The side profile of the FL we see here is a lot sleeker than before but inside, it is tight, especially for rear passengers (more on this later).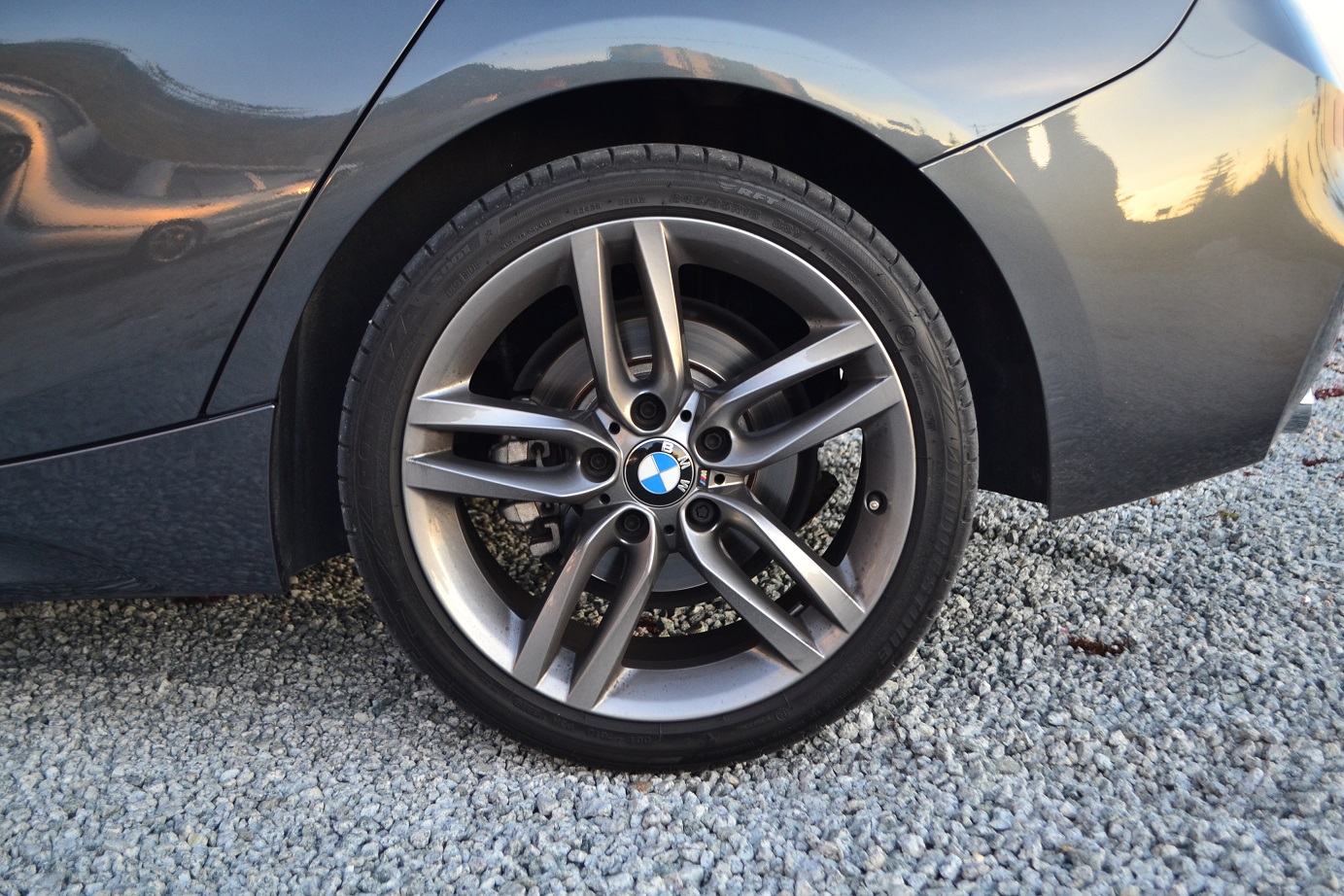 The 118i M Sport comes with 225/40R18 tires for the front and 245/35R18 for the rear so don't make the mistake of swapping front and rear tires if you think you want to get even wear on all four tires. Love the double-spoke style in Ferric Grey Metallic – looks clean even when it's covered with brake dust.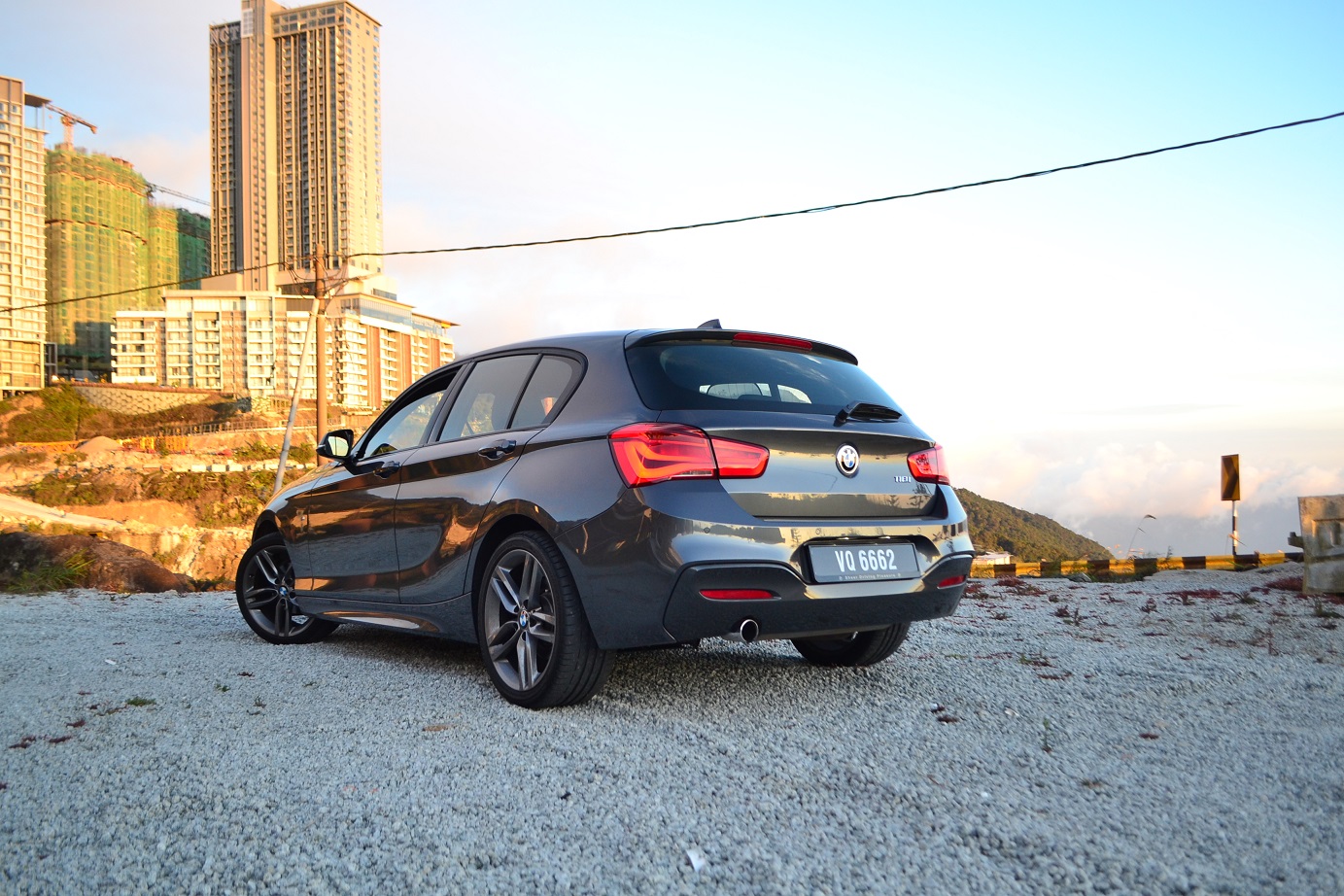 The rear sees the tail lamps being redesigned to be more horizontally inclined compared to its predecessor and this makes the rear look lowered and poised. All in all, compared to the earlier model, the FL 118i M Sport is a far more handsome vehicle and you certainly won't look bad being seen in one.
Performance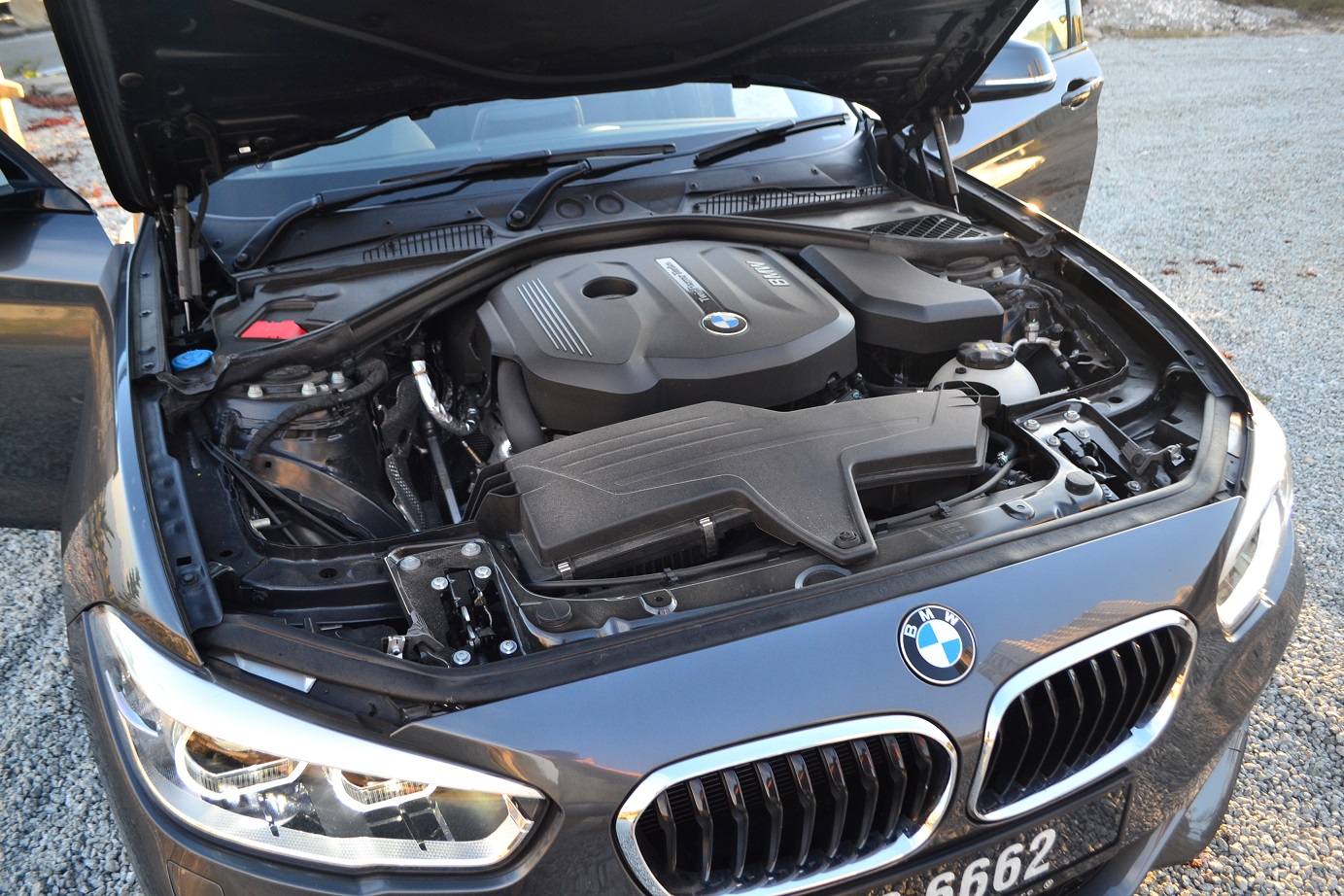 The power on the other hand has mixed reviews. Powering the 118i is a 1.5 litre, BMW TwinPower Turbo three-cylinder petrol engine that produces 136 hp @ 4,400 rpm and 220 Nm from 1,250 to 4,300 rpm. 0-100km/h is rated at 8.7 seconds with a top speed of 210km/h. Getting it up to speed is fine but once it reaches 160km/h, the power tapers off a bit and the smallish 1.5l capacity shows here. It's a bit …  unfamiliar for me to give way to other vehicles since I am in a BMW but on long straights, there's no point hogging the fast lane.
Still, combined fuel consumption is an impressive 5.1l/100km so that's a start.
Ride and Handling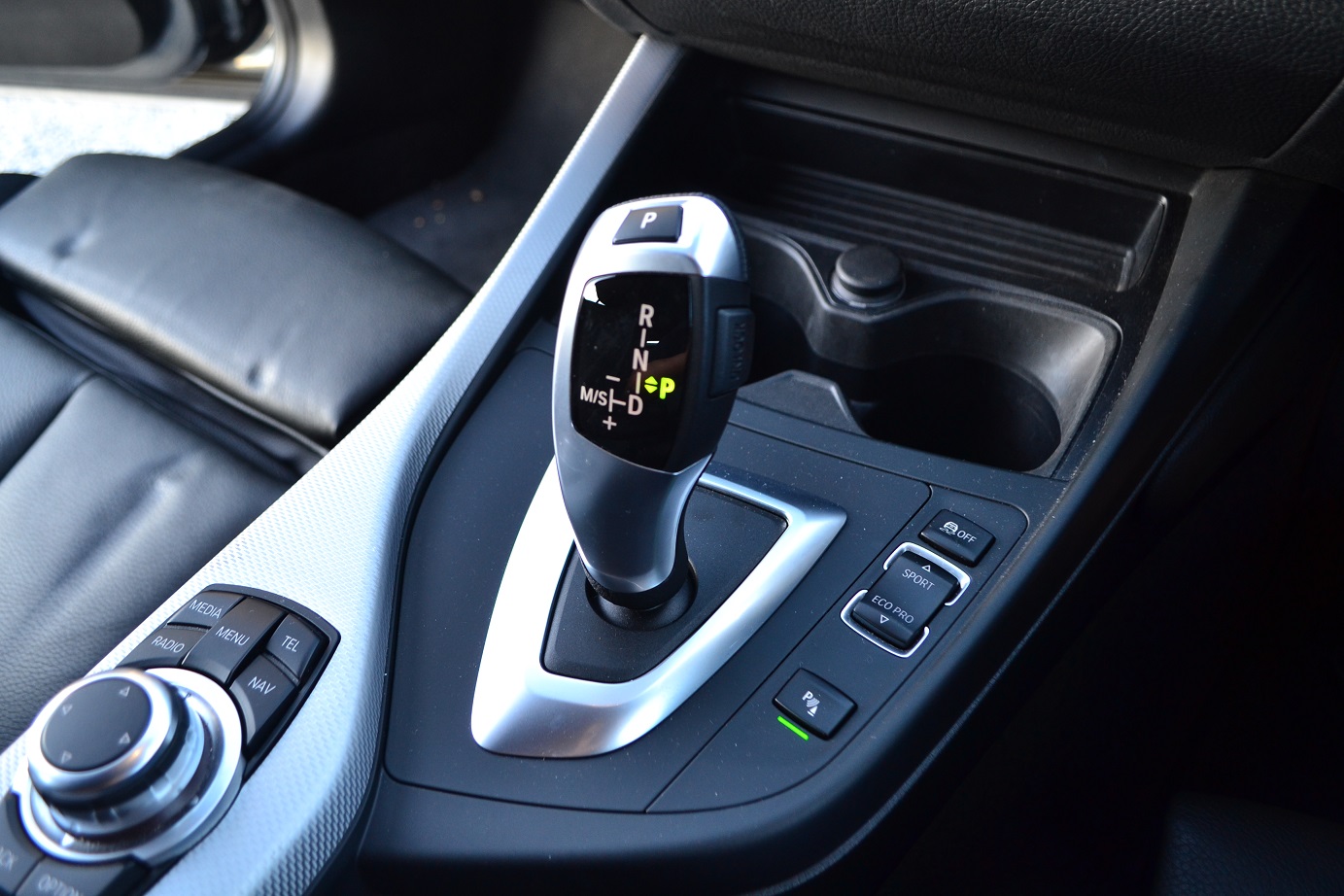 While high speed cruising may not be the 118i M Sport's forte, it is the corners that make you truly appreciate it for what it is and shows its Ultimate Driving Experience pedigree. Paired to an 8-speed Steptronic automatic and a rear wheel driven set-up, the 118i carves corners with such composure that I daresay even a 3-er would not have. The M Sport suspension, when set to SPORT+ mode easily compensates for any imperfections that threatens to push its footing off and there's barely any hint of over or under steer; choose any tarmac and the 118i M Sport rewards you every in of the way.
Just to pick a fight when you're cruising at high speeds.
Cabin Convenience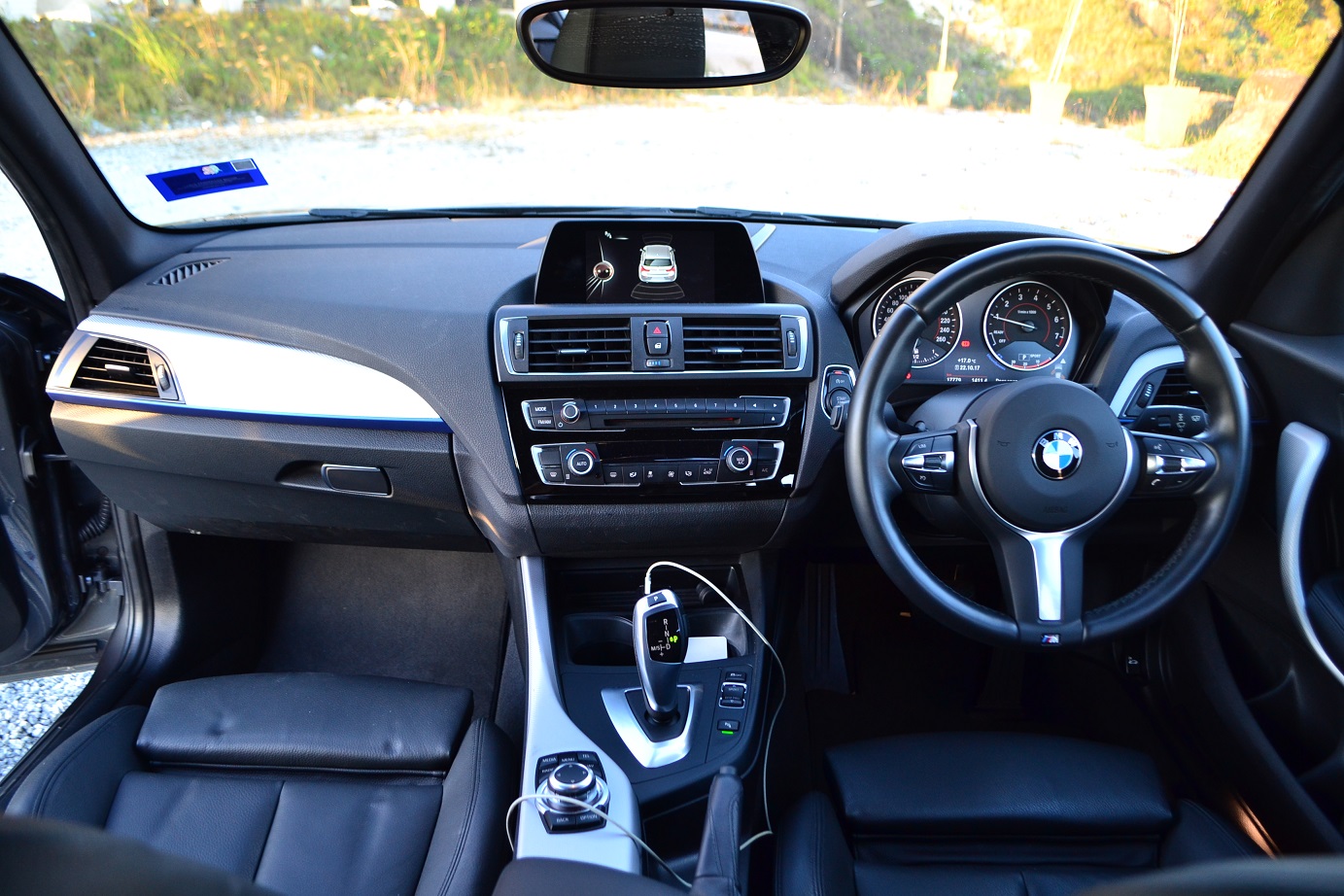 Funny how I used to think that the 118i M Sport was all bare bones inside commensurate with it's relatively affordable price tag. Far from it as everything you'd expect to find in a 3-er is here. You get BMW Individual roof-lining Anthracite, Dakota leather upholstery, aluminum door sill finishers with M designation and a chunky M leather steering wheel with multi-function buttons.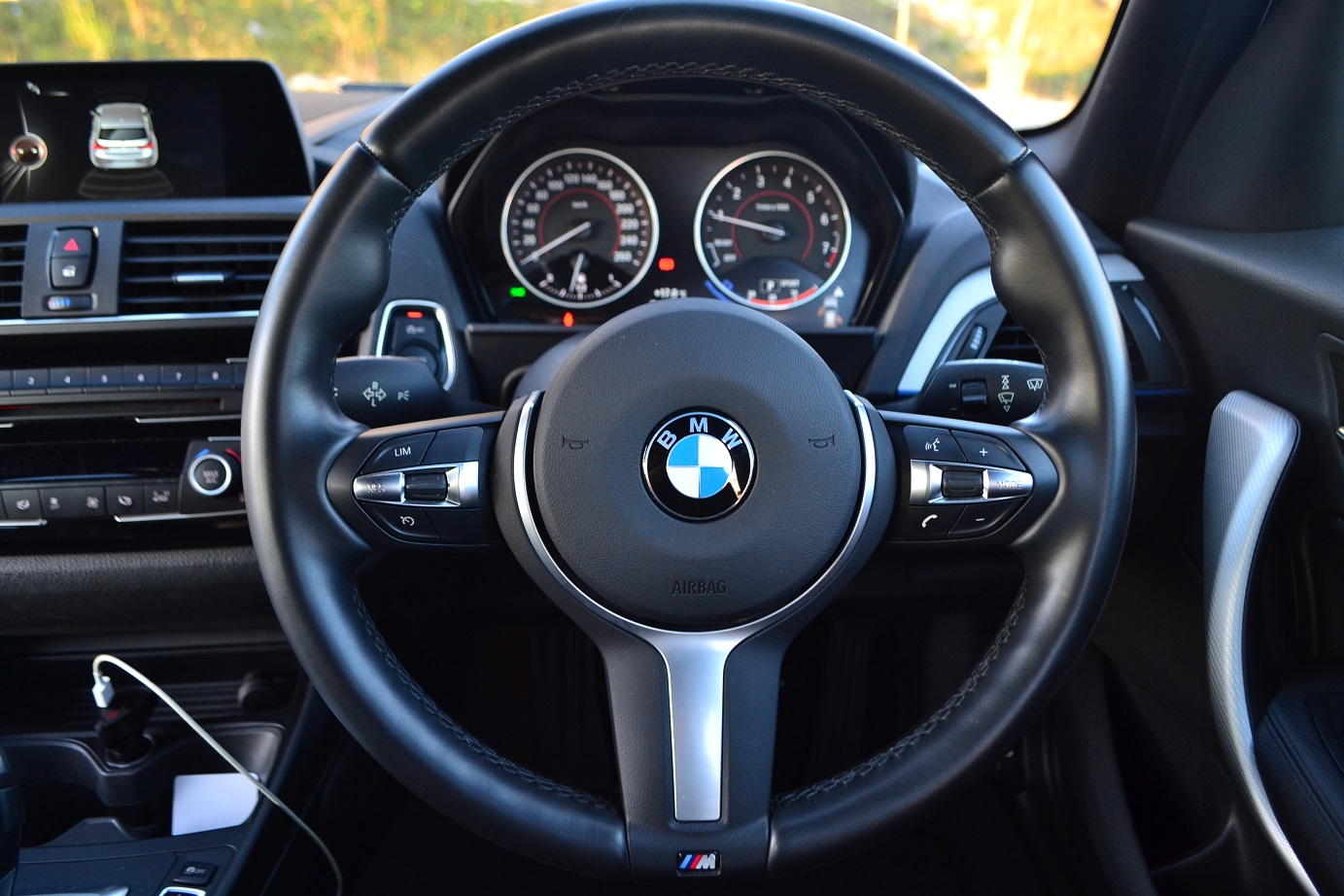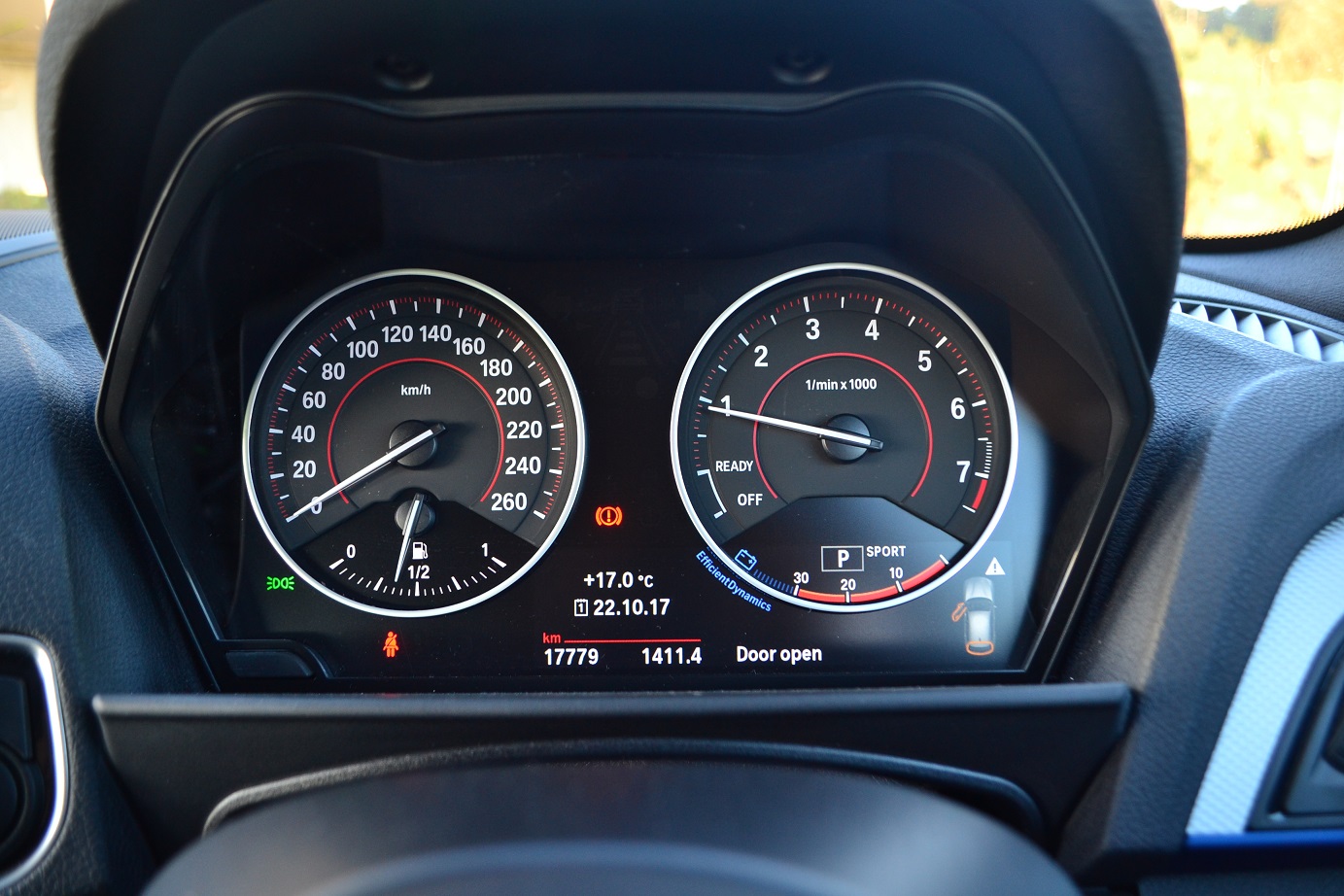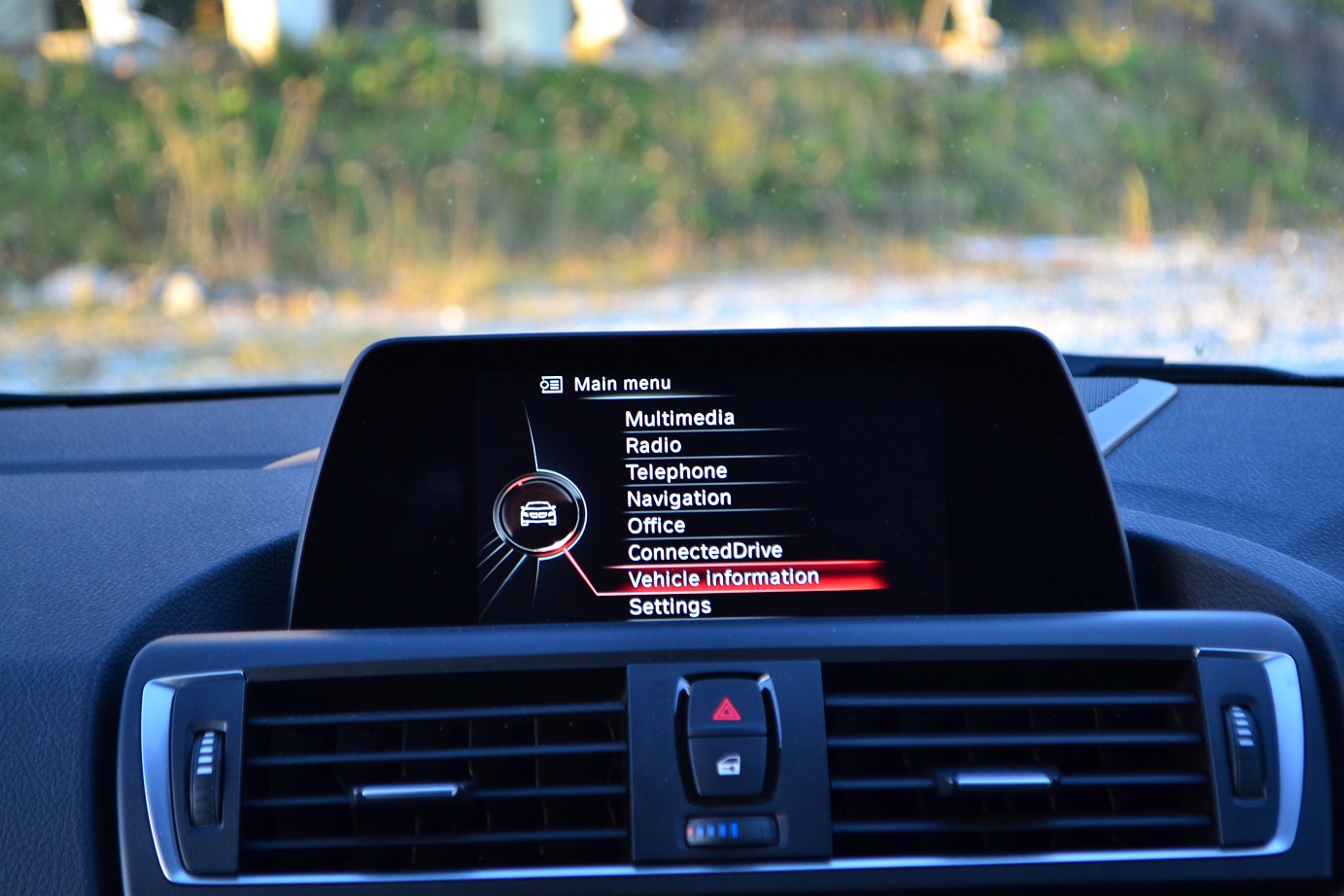 For entertainment, the 118i M Sport gets an infotainment system with 6.5″ split screen functionality display monitor integrated with the iDrive Controller with direct menu control buttons. The system also features BMW ConnectedDrive services including Intelligent Emergency Call, Teleservices, Concierge and Remote Services Connectivity, Bluetooth, USB devices and AUX-in connection.
Sound reproduction is through a 205W 7-speaker system and for the most part, the sound quality is decent but lacks clarity and imaging.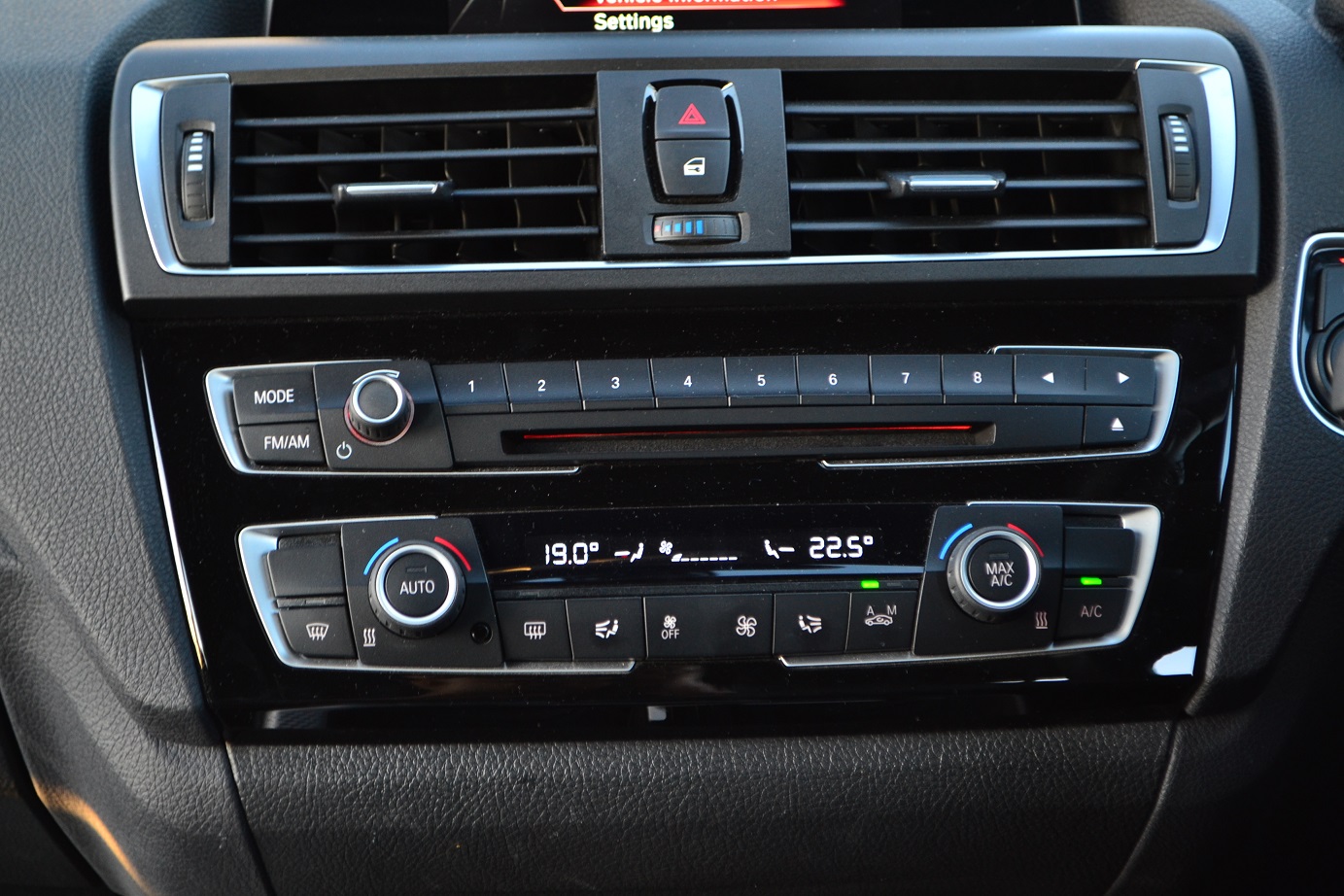 Climate control is an automatic, two-zone with extended contents including rear air vents.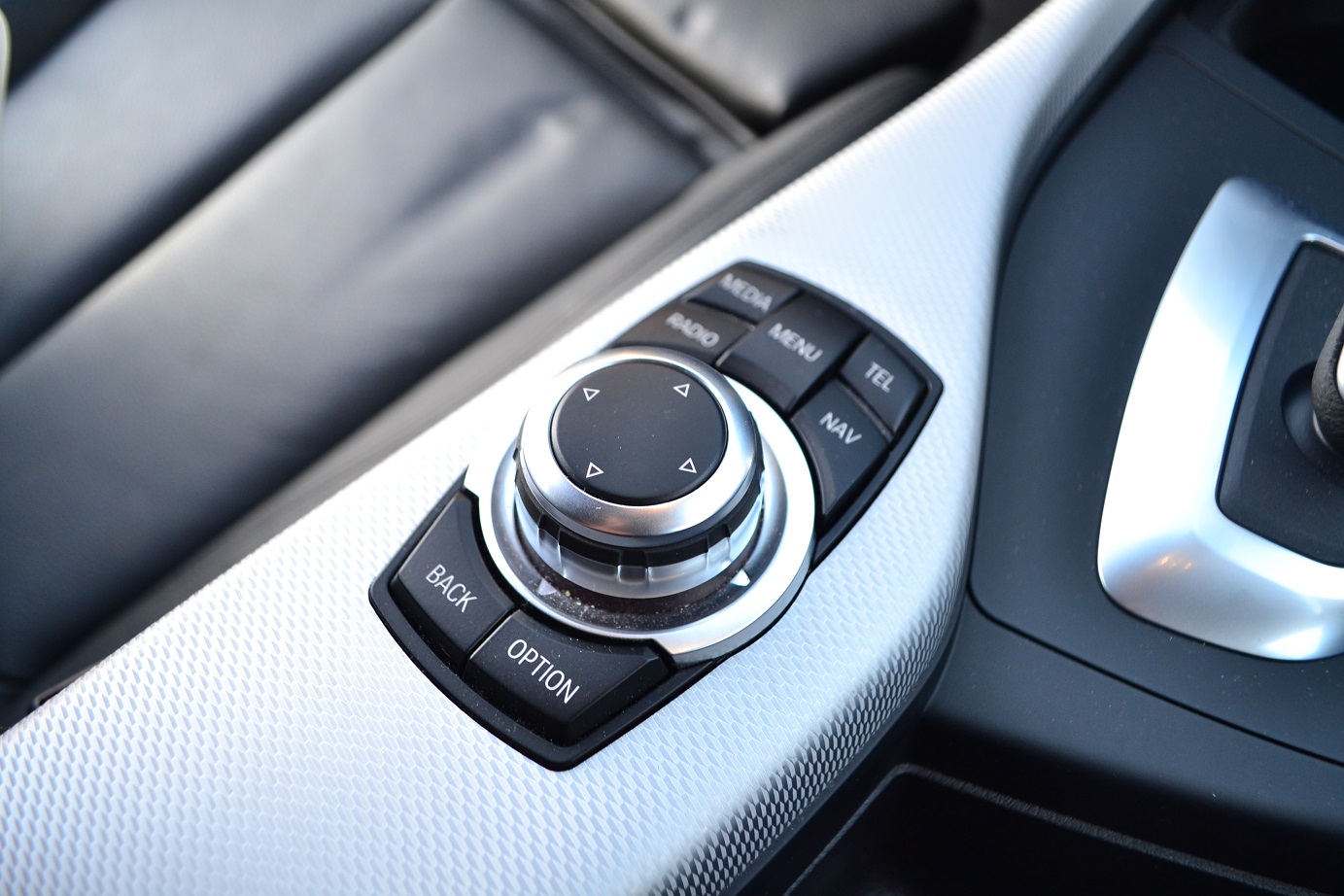 Still the best in the business, the BMW iDrive Controller is a breeze to get used to and use. For some, the 118i may be their first BMW and when they're familiar with this controller, it would serve them all the way to the flagship 7-series.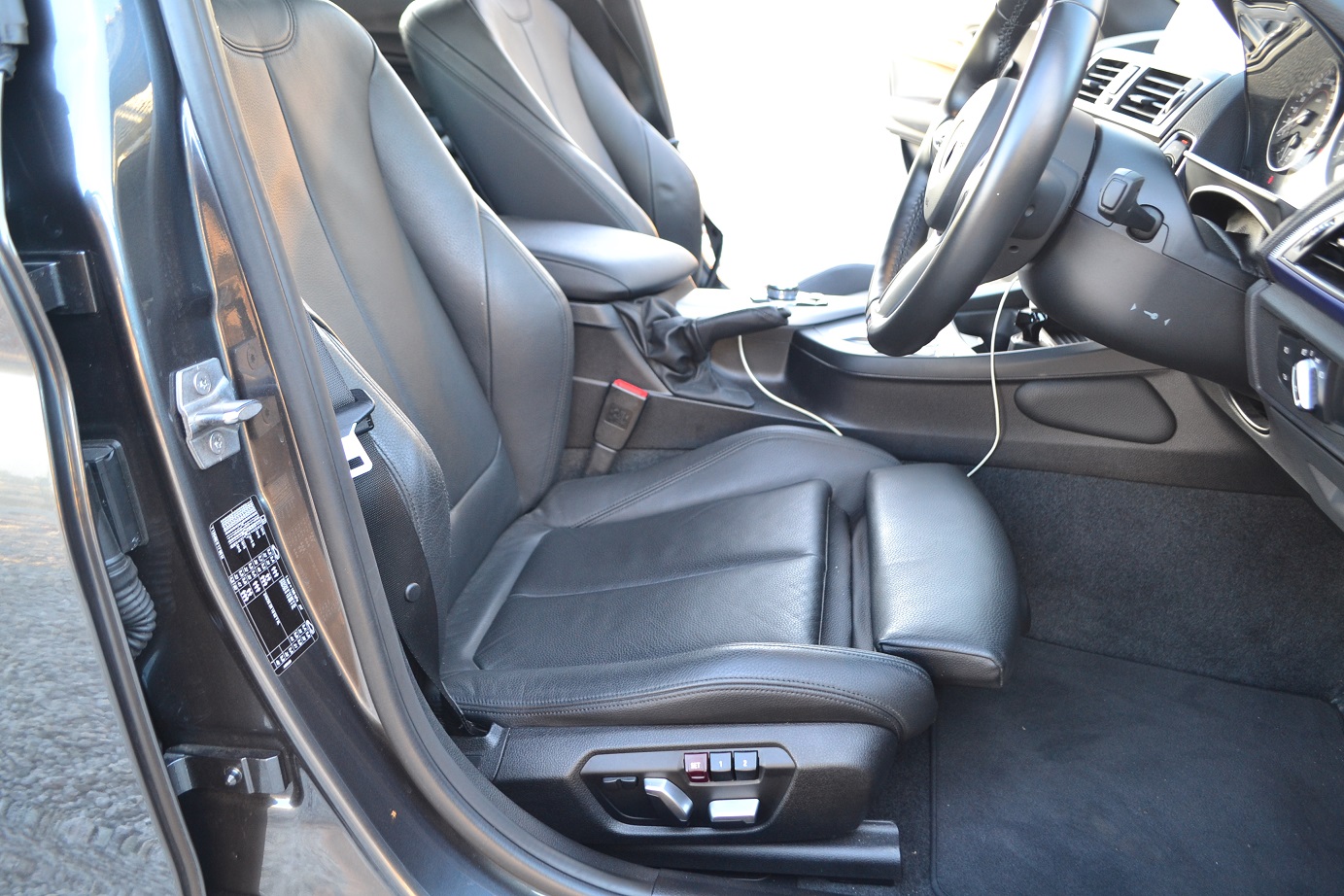 I've always found BMW seats somewhat uncomfortable for my frame because thigh support is, IMHO insufficient. That said, the electric sports seats for the driver and front passenger in the 118i M Sport is not too bad and does a good job keeping you in place as you navigate fast corners.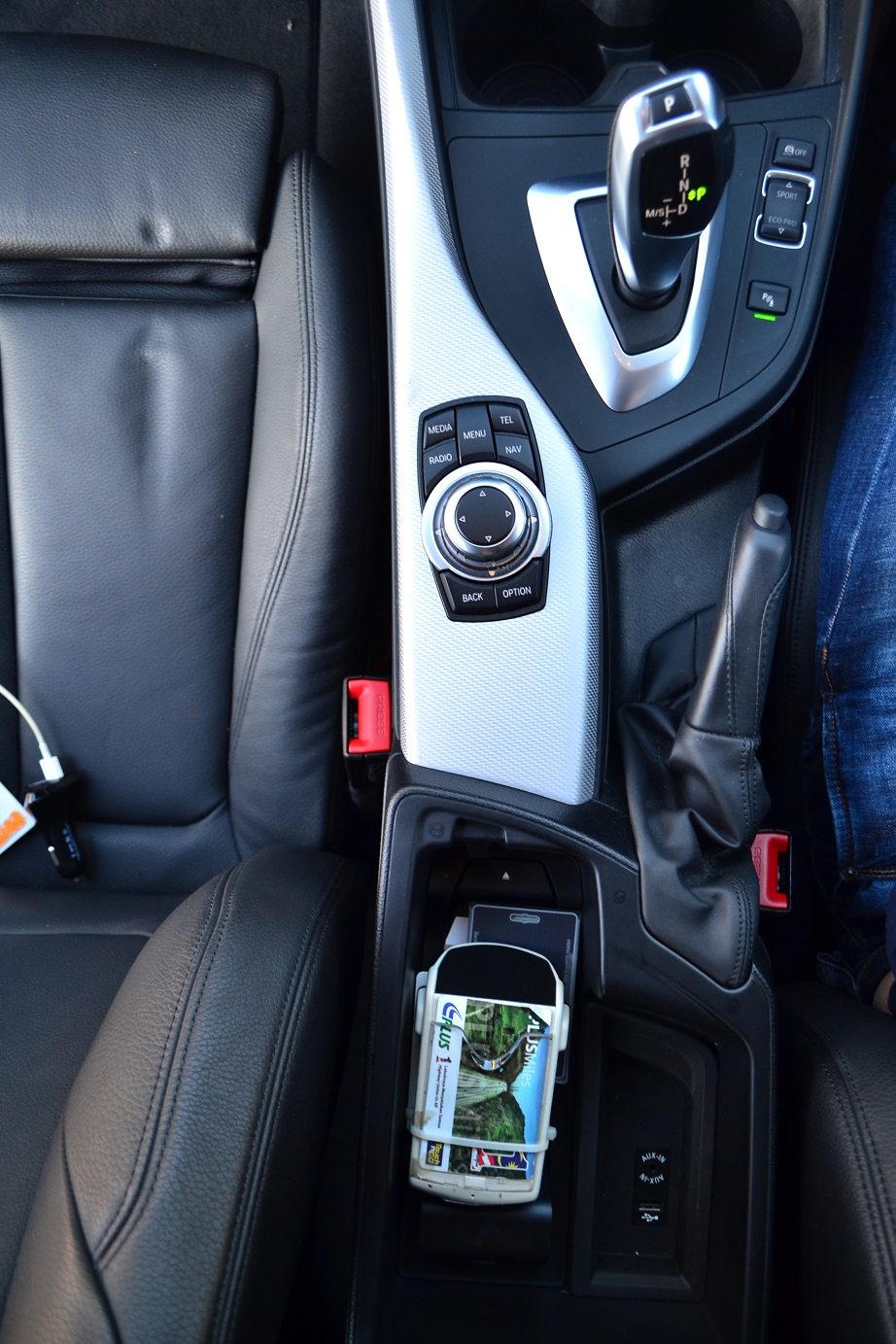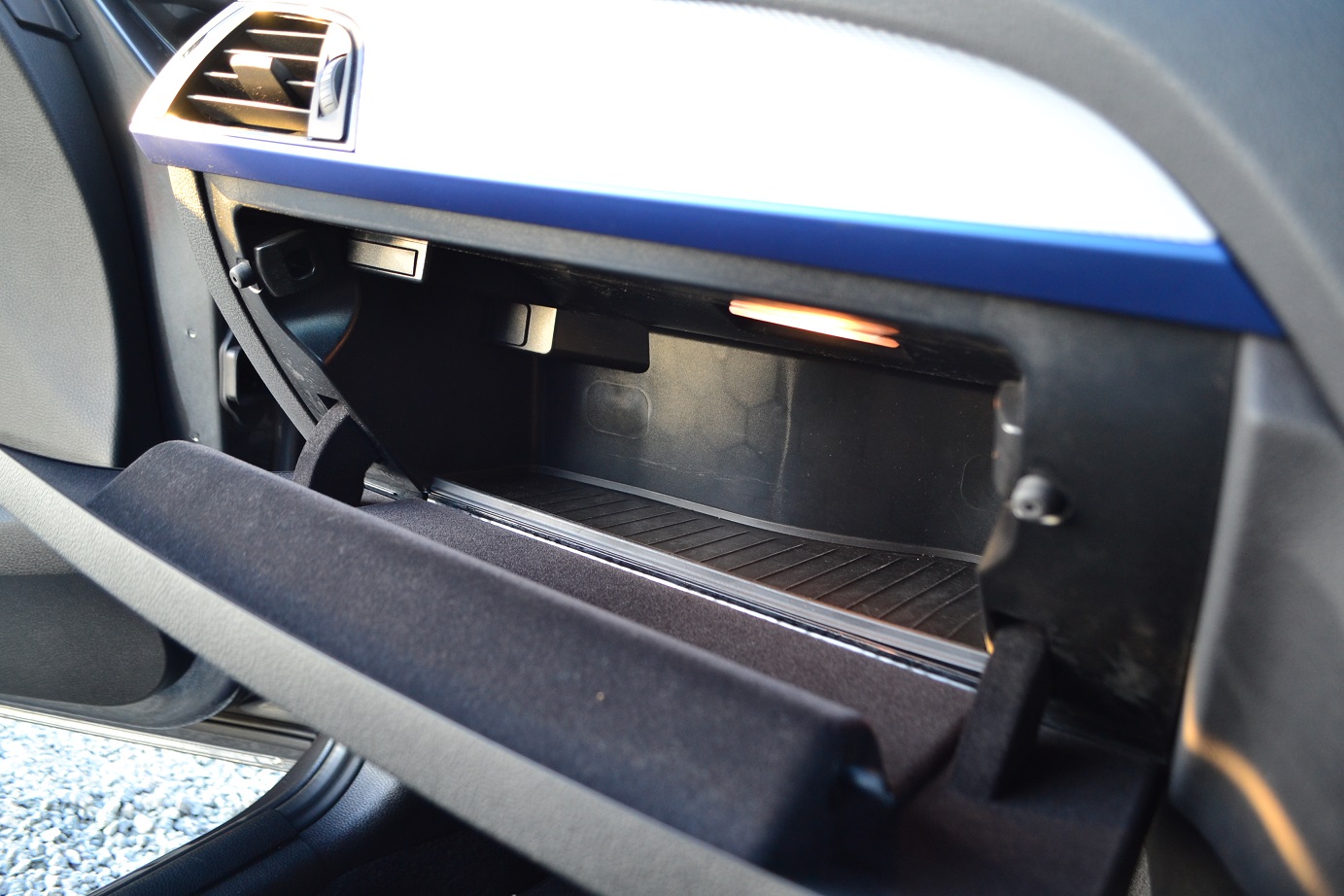 Cubical spaces for odd small items are found in the two cup holders below the climate controls and a center compartment that is big enough to accommodate a Smart Tag. For a small car like the 118i, the glove compartment size is decent enough for regular items.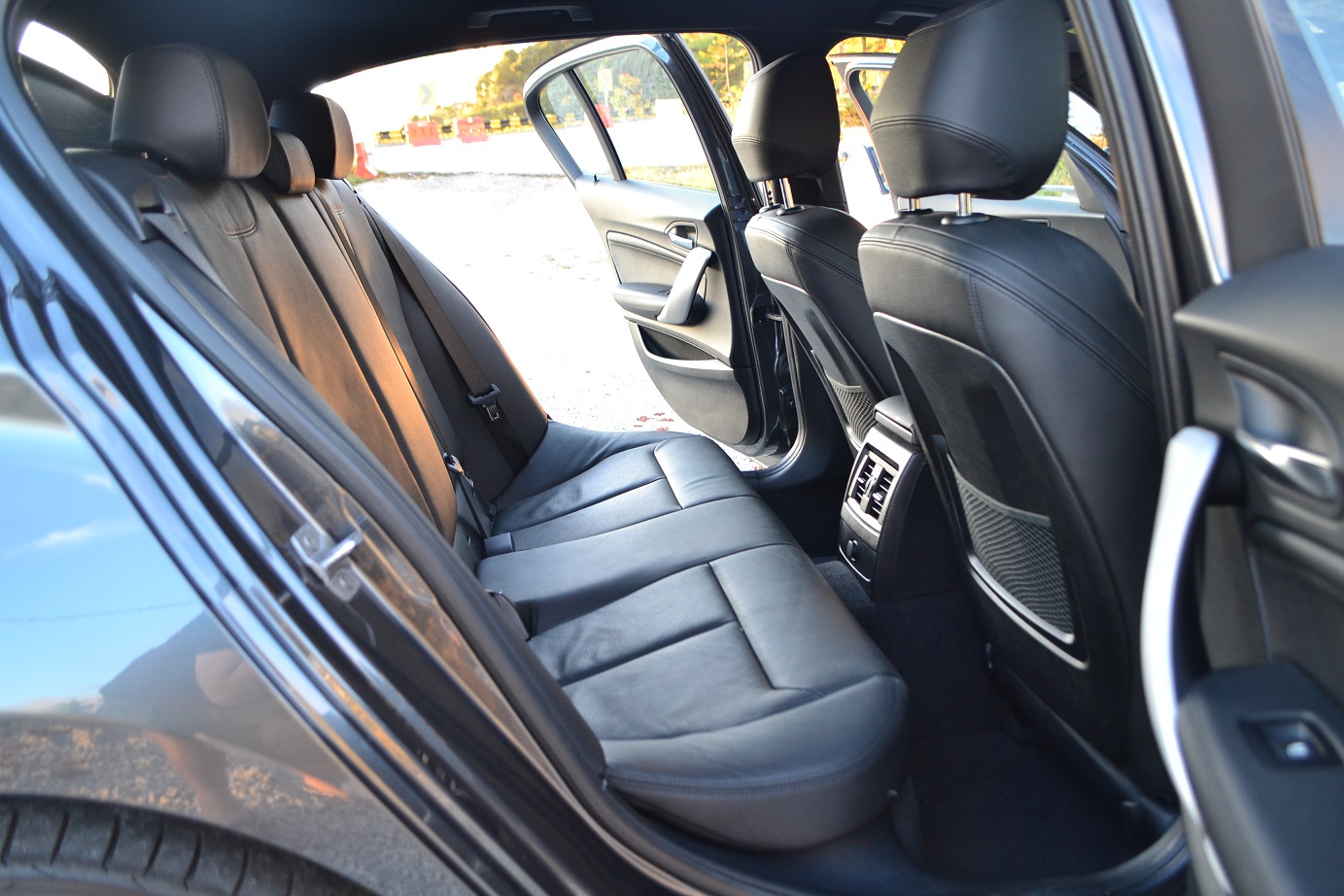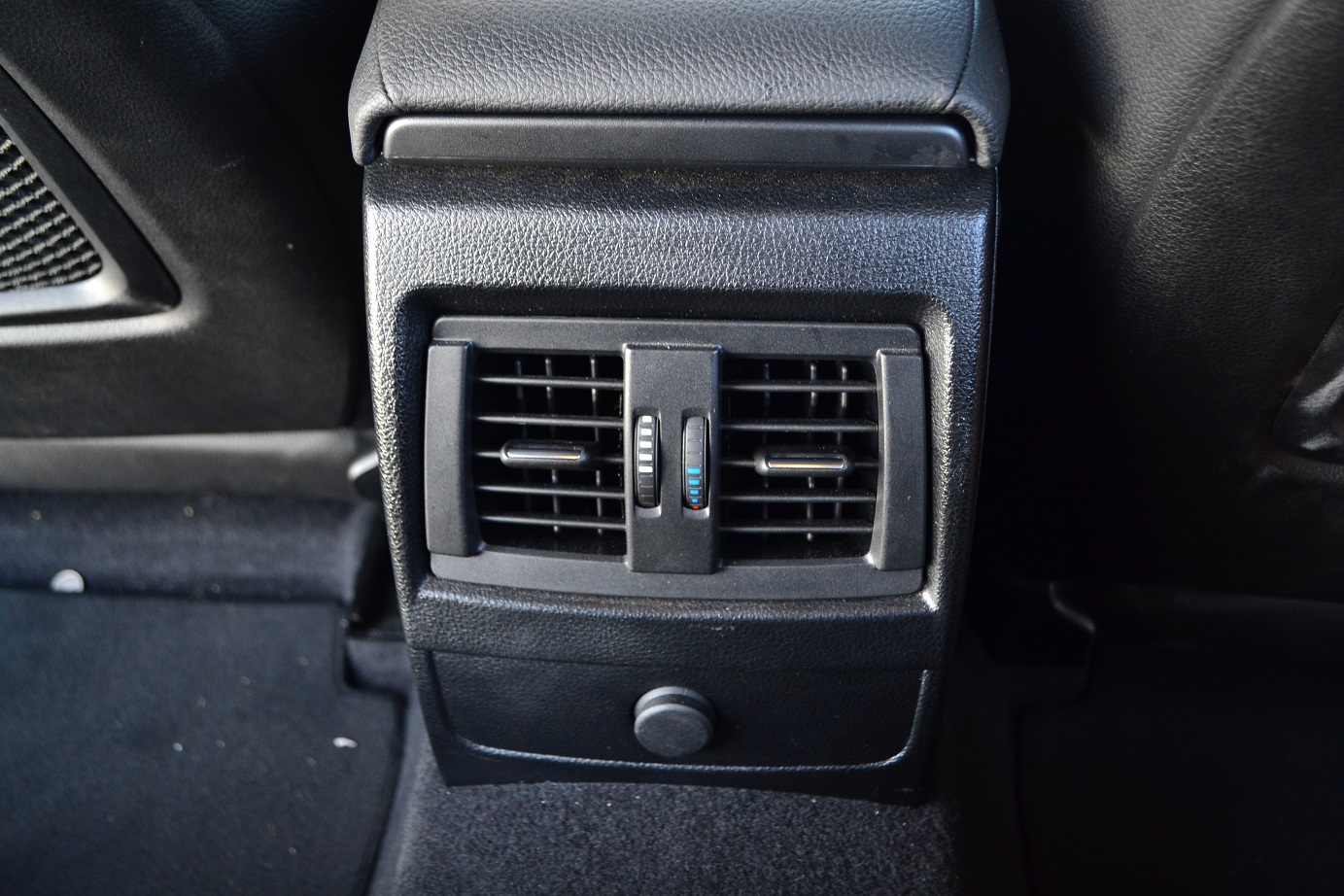 This is a small car and there's no denying that the rear seats can be a tight fit for adults taller than 5'8″. Legroom is a premium and be careful when entering or exiting the vehicle as the headroom isn't particularly great either. Still, if you're single or a couple with small children, the 118i offers sufficient space for a small family – at least until the kids grow up or your wallet grows to the point when you trade in the 118i for a BMW sedan.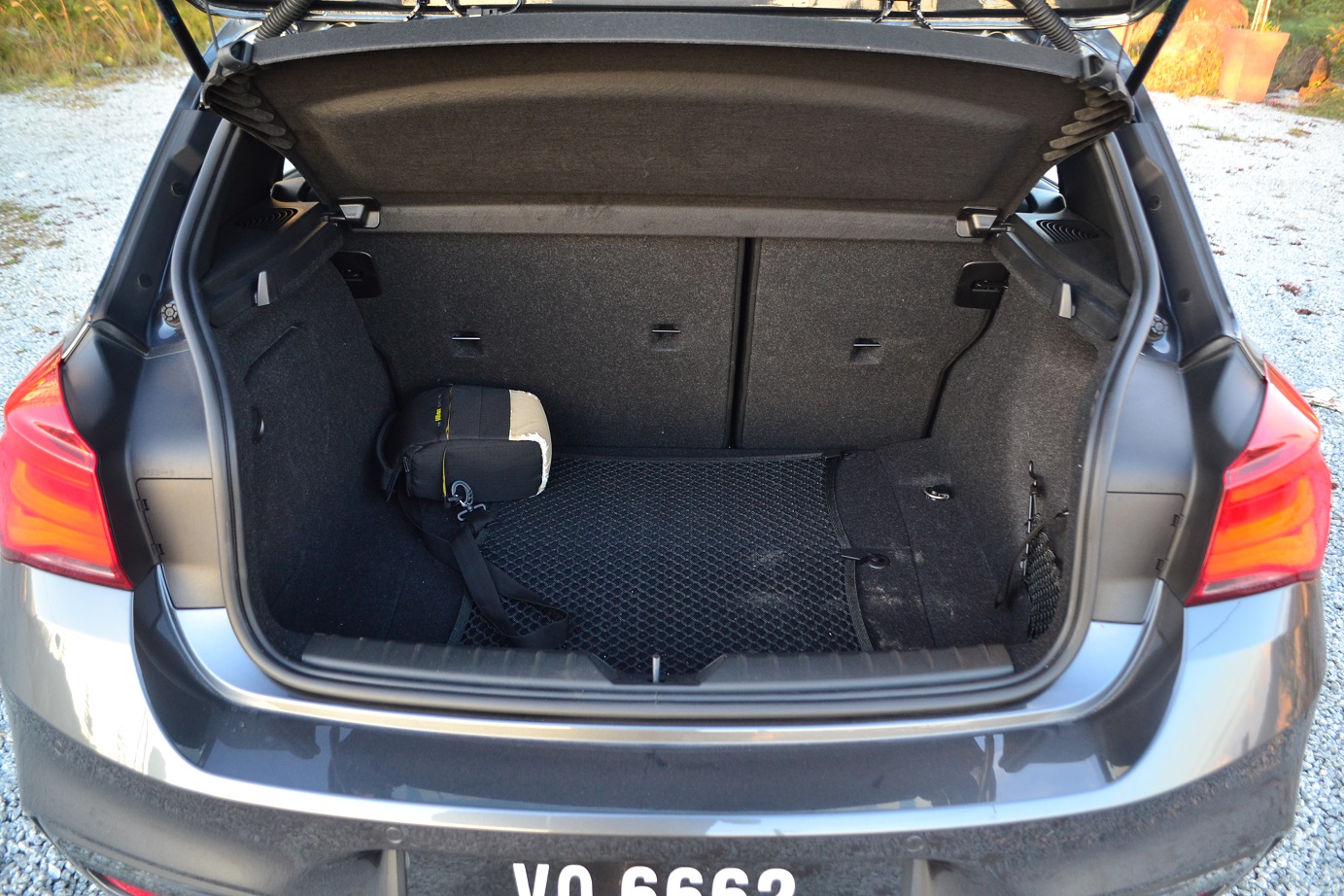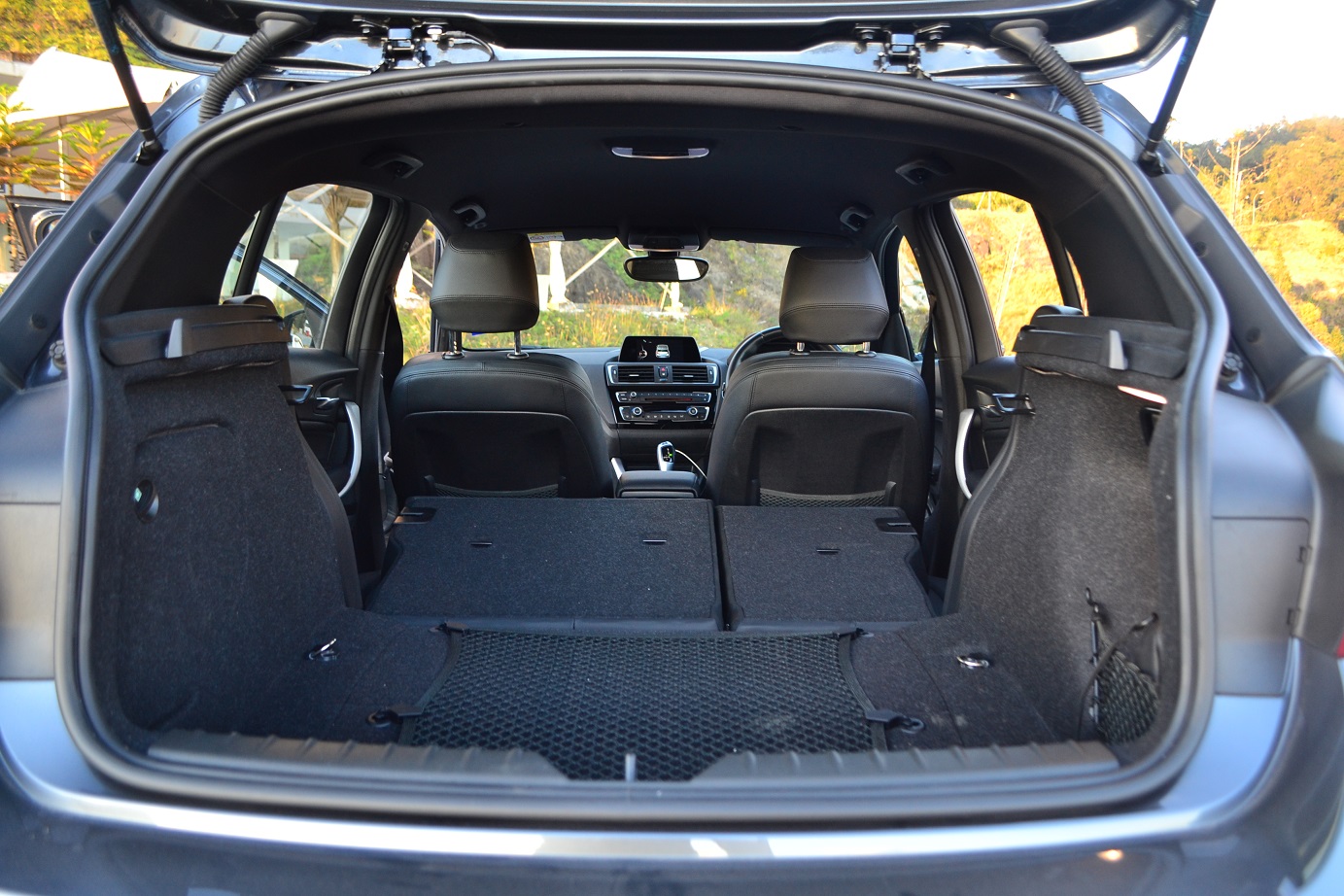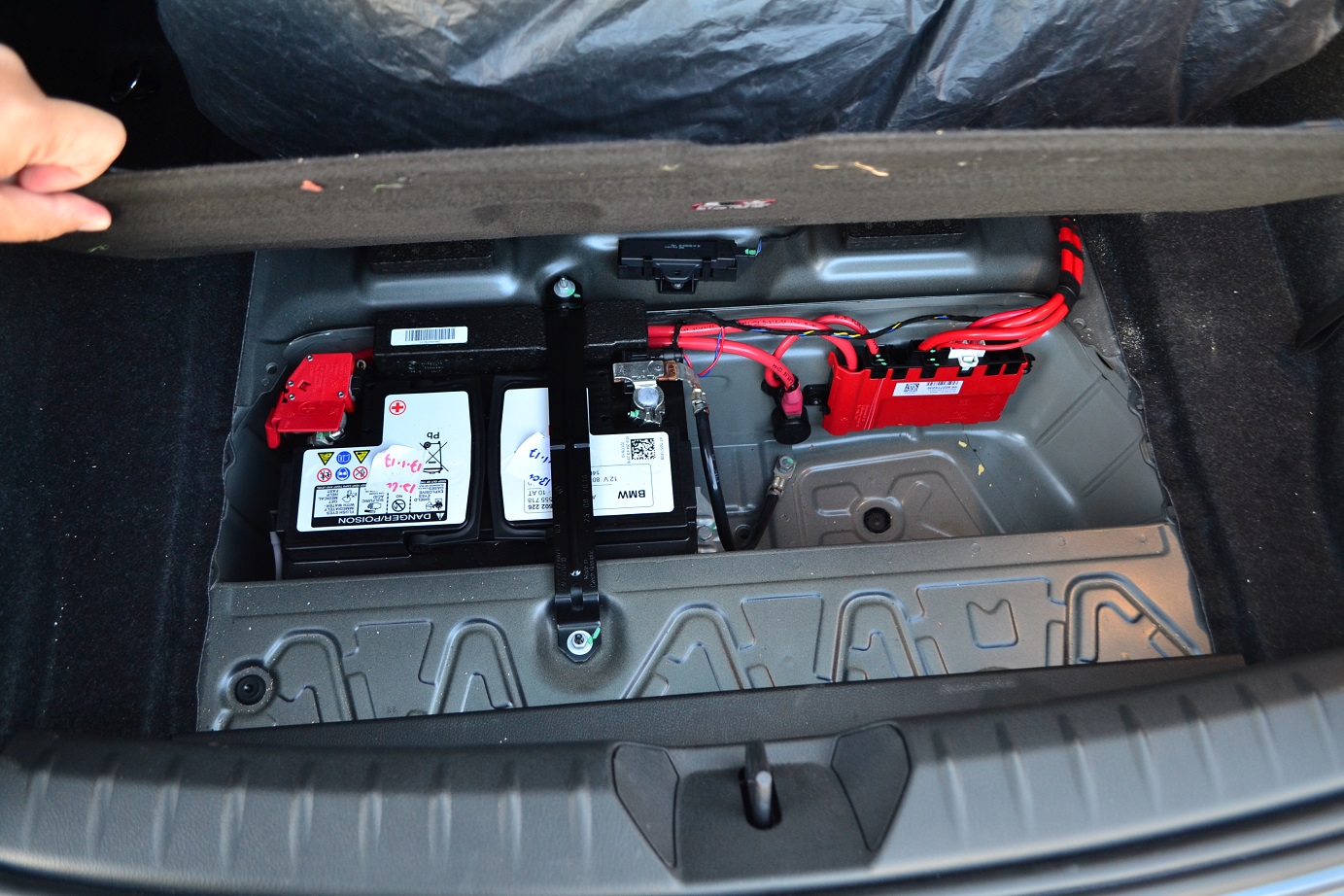 Small but adequate is how I would describe the boot space of the 118i. There shouldn't be any problems fitting luggage for a small family in here and if you desire more than the standard 360litres of space, you can fold the 60:40 rear seats for larger items (or a pet) to fit.
Oh, one more thing I must say about BMW vehicles – their batteries last quite some time before replacement is necessary and I think partly is due to the battery being placed below the boot floor which is away from the heat in the engine bay unlike many other vehicles. Just make sure you use the specified battery type per the owner's manual and it would serve you well for many years.
Safety
The 118i M Sport comes with the following active and passive safety features;-
Front airbags
Head airbags, front and rear, curtain head protection system with splinter protection
Side airbags for driver and front passenger, integrated into the front back seat
Central locking system with electronic immobilizer and crash sensor
ISOFIX
Disc brakes at the front and rear, interior ventilation
Dynamic braking lights
DSC
ABS
ASC
CBC
DTC
Run-flat tires with flat tyre indicator
Ownership
The 118i M Sport comes with the price tag of RM188,800 OTR excluding insurance and comes with a 5-years BMW warranty with free scheduled service. The run-flat tires have a 24 months warranty. You can choose between four colors; Mineral Grey (as tested here), Estoril Blue, Black Sapphire or the non-metallic Alpine white.
Should you buy one?
Well, that depends on how important space is in your choice of a new vehicle. I love the look of the 118i M Sport and without a doubt the dynamism of the drive is a huge plus point in its favor; there's so much more character in this compared to the 3-series's road manners. The compact size also works in favor of it being easier to maneuver and park in the city and if you do not need the rear seats to ferry passengers, it has good enough space for one (or two).  All key elements that makes BMW stand out is here in the 118i M Sport.
That, to me is enough – you figure out a way to convince the missus, ya?