Ahh, youth. The zest of life. Everyone will go through a phase where the spirit refuses to be bound; challenges are just steps in testing your creativity … you go where you want to go, however fast you want, you park where you want and the words "accident" and "injury" does not exist in your vocabulary.  And you need a car to reflect the high level of energy and enthusiasm you have everyday, a car that's zippy around the city, fast on the highways and easy to park wherever life may find you.
The Volkswagen Polo may well be such a car that suits your need.
Launched in August 2010, the Polo has since received a revision of specifications in October 2011 and compared to the launch model, the enhanced unit gets the RCD 310 head unit with CD player, USB adapter cable and MEDIA-IN mobile device interface (previously basic RCD 210 CD player),  upsized 17″ wheels (previously 15″), center front arm rest, front fog lights and, most importantly, ESP!
Design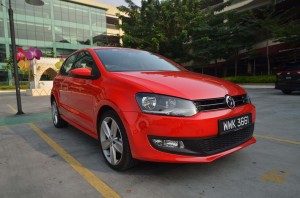 You have to admit, Volkswagen's smallest vehicle looks feisty and smart.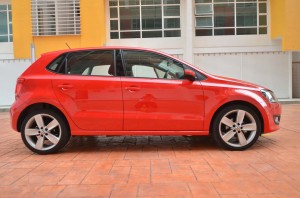 Measuring 3,970mm in height, 1,682 in width and 1,488mm in height, the Polo is a B segment contender going against the likes of the Suzuki Swift and the Myvi. Compared to the Myvi, the Polo is longer by 280mm, wider by a marginal 15mm and shorter by 223mm, making it look a whole lot more sleeker than the national best selling B segment.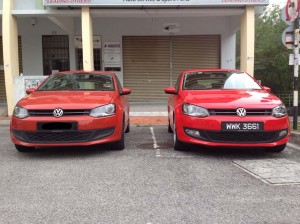 With the Polo Sport (the so-called enhanced version of the Polo), the inclusion of the front fog lights completes the overall front fascia of the car. Yup, it looks like a Golf at first glance, especially when both cars shares the similar looking trapezoidal front headlights link bridged by a flat horizontal grill.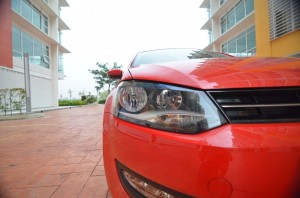 Simple, yet elegant, VW headlights now comes in various sizes but of a similar narrow design across all of the VW family …. except for the Beetle, of course. Inside the headlights, you'll find halogen headlamps with manual leveling. No DRLs and no Follow-Me-Home lightning either.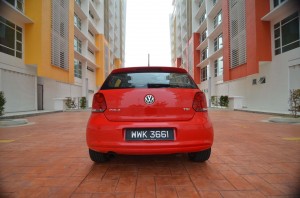 At the back, the tail lights stands out as the most notable feature, particularly when the edges run parallel to the side of the car.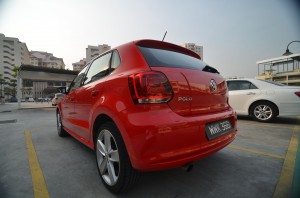 Opt for red and you'll get a placebo effect of +5hp
.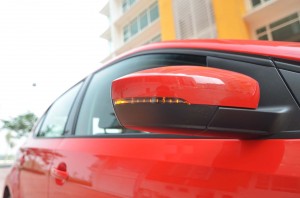 Integrated signal lights on the side mirrors, increases the visual appeal by 2 fold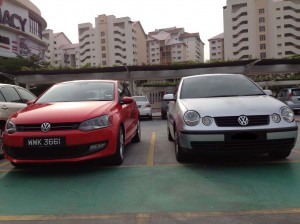 The old makes way for the new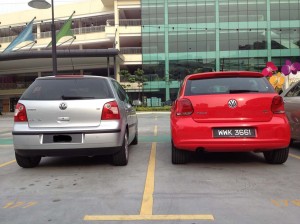 As for the rims, you get 17″ 'Boavista' alloy wheels, wrapped with 215/40 R17 tires.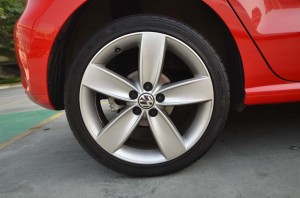 I like the rims … makes it so easy to clean and the low profile tires enhances the sporty character of the vehicle. A far cry from the earlier 15″ offered in the first launch model as seen below;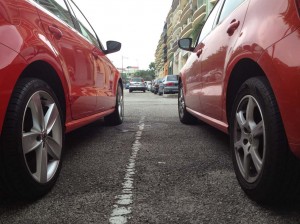 Performance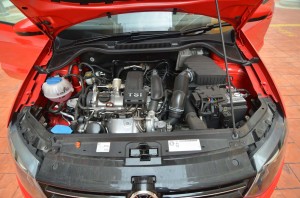 Propelling the Polo is a 1.2 litre direct injection exhaust turbocharger. For those who believe in the old mantra of "There is no replacement for displacement", they'd be in for a big surprise. As Europe tightens emission regulations, manufacturers are finding various ways to fulfill those requirements while at the same time not sacrificing the performance of predecessors. One of such means is turbocharging a small displacement engine and the 1.2 TSi engine here dishes out 105PS @ 5,000rpm and 175Nm torque @ 1,550 – 4,100rpm. With a kerb weight of just 1,126kg, power to weight ratio is excellent, capable to hurling you to 100kph from the gates of your mother-in-law's house in just 9.7seconds. Ironically, prior to the release of the Polo Sedan, this was the "slowest" VW on sale in Malaysia.
Driving the Polo has given me a good contrast to the twin charged Golf TSi I have at home. Turbo lag is more apparent in the Polo compared to the Golf; while it is not to say the car is underpowered at lower RPM range, you'll experience a huge surge of power above 1,500rom when the turbo kicks in. The feeling, when that happens is extremely stimulating, making you want to push it further and faster. The engine does sound a bit whiny at higher RPM though and aside from the higher engine pitch, you don't really feel the speed until you look at the speedometer. Impressive, for such a small car.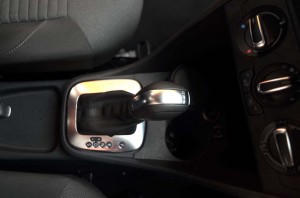 The Polo remains as the cheapest VW model equipped with a DSG 7 speed gearbox. Like any dual-clutch system, the shifting is seamless and can hardly be felt although at low speeds it could be a little jerky. One thing I do notice that's different from the Golf is that the Polo tends to creep more on D1. This means during traffic jams (or in my case, trying to park as near to the gate as possible without hitting it), one has to pay attention to ensuring he/she doesn't kiss the car in front if the handbrake is not engaged.
Ride and Handling
With such thin profile tires, you can expect 2 things:-
Body roll is more controlled which is a good thing
Ride comfort gets thrown off the window which is bad
I can confirm that point number 1 is true. The car felt composed at corners but push it a little faster, the tires will start to screech. The Polo uses MacPherson struts for the front and a torsion beam with coil springs for the rear which is probably the reason why the driving feel around corners is not as good as compared to, say the Golf which uses multi-link rear suspension. This is not to say that all rear torsion beam car handles like crap around corners but some have remarked that the Ford Fiesta and Mazda 2 is better at corners so best check it out yourself (as would I).
Nevertheless, doing S corners felt great in this car. If it gets too hot, lift off the pedal and the car will behave back in line. The only time when you need to be more alert is if you're out of the power band …. should the car's RPM drop to below 1,500rpm for any reason, you'd better be prepared for the turbo surge. So if delicate control is required, best shift the gearstick to manual override for more fun. Pity there's no paddle shifters though.
Cabin Convenience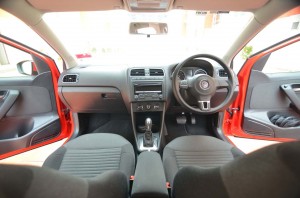 There is no mistaking who's the manufacturer of this car, even if it does originate from South Africa instead of Wolfsburg, Germany. Build quality remains top notch and the dashboard is soft plastics (well, semi soft to me) while fit and finish remains infallible.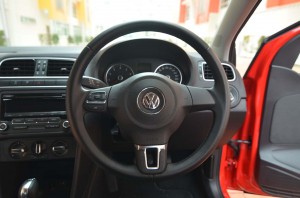 The leather wrapped steering feels good to hold and the audio controls are easy to operate. It's a pity that the Bluetooth answer/drop call button found in the center of the audio controls are not working. Apparently there were some issues between VW and local authorities and this has resulted in Bluetooth functions in all VW models sold here being removed (but not the buttons on the steering wheel). The good news is that the Bluetooth module can be retrofitted …. the bad news is this may set you back about RM2,000 and you need to do it at accessory shops outside instead of the authorized SC so beware of warranty issues.
The manual head light leveler can be found on the lower right side behind the steering, as well as the manual head lights, front and rear fog lights controls. Also seen here is the controls for the  illumination intensity of the dials. To turn on the fog lights, twist clockwise to turn on the main headlights and pull the knob up one step for front fog lights and two steps for rear fog lights.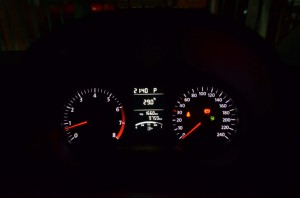 You'll find 2 dials behind the steering …. RPM and speed. Don't bother looking for the temperature meter … there isn't any so the only warning you'll get if the engine starts to overheat is a warning sign. In between the 2 dials, you'll find a digital reader that shows the time, gear status, outside temperature, ODO meter and fuel gauge. The total ODO can be changed to display speed in MPH but that's not very useful here in our country.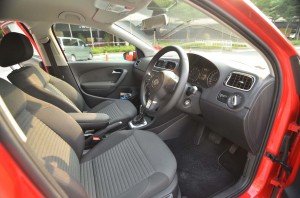 Controls are all in easy reach and the seats are sufficiently supportive. I did not feel tired driving the car for long periods of time (mostly getting stuck in traffic). The steering wheel's tilt and telescopic adjustable feature is very much appreciated by mutants like me who keeps finding his arms are shorter than his legs and have a harder time finding the ideal driving position.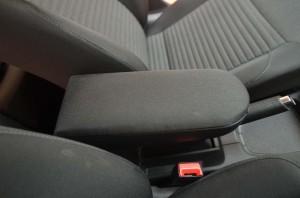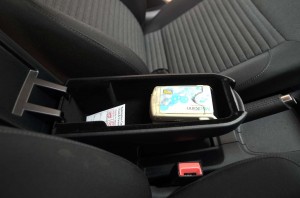 In the middle, you get an arm rest that has a surface area enough to probably accommodate the driver only. Inside, you'll find enough width space for a Smart Tag and it's a good thing that the arm rest is long as other small items like keys and access cards can be kept here.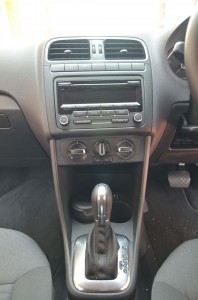 For entertainment, you have the RCD 310 which is the same unit you'll find in a Golf and Jetta. This is a huge welcome over the earlier RCD210 which was a single DIN player and somewhat spoiled the center fascia of the cabin.  Controls are intuitive and easy to use. Sadly, the air conditioning unit is manual and no dual zone here.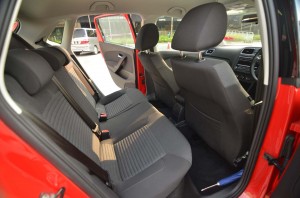 At the back, legroom is rather limited but the rear seat inclination is reasonably comfortable. You'll find a cup holder in the center.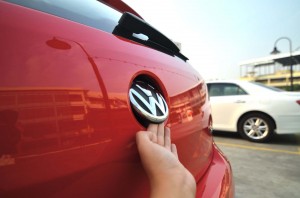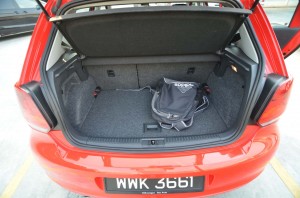 Meanwhile in the boot, space is typical of a B segment hatchback. You get 280litres of space, a large boot opening aperture and a two-level floor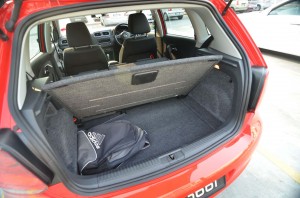 Ideal for separating cargo (such as fragile from non-fragile). You get about 4″ of space in the lower platform and for illustration purposes, I've placed my iPhone as a yardstick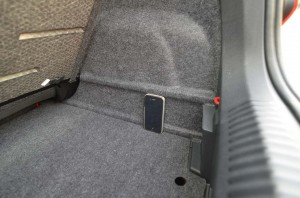 .
I do believe it's high enough for cartons of eggs and milk, no?
.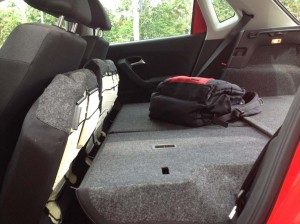 .
The rear seats can be folded completely flat and you'll get a cavernous 952litres of space. Impressive for a car this size.
.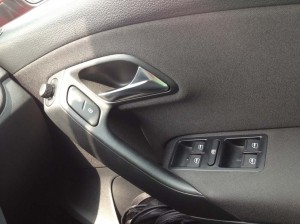 .
Aside from this, all 4 powder windows are of One-Touch Down/Up and this, in turn gives you the ability to remotely wind down all 4 windows by holding onto the UNLOCK button on the remote for a few seconds or LOCK to wind up all windows. I've lost count how many passengers of mine are wow-ed by this feature (or be alarmed that I had forgotten to wind-up my windows earlier when I parked)
.
Safety
In the areas of safety, Volkswagen has not skimped on giving you features to ensure your survivability. You get:-
3-point inertia front seat belts with height adjustment and belt tensioners and three 3-point inertia rear seat belts
Anti-slip regulator ASR
Collapsible safety steering column
Combined head and side airbags at the front
Driver and front passenger airbag
Electrohydraulic power steering
Electronic differential lock EDL
ESP
Electronic vehicle immobilisation device
Electronically controlled anti-lock braking system ABS
Engine drag torque control EDTC
Euro NCAP-5 star rating for adult occupant protection
Extended pedestrian protection measures
Front and rear disc brakes (front ventilated)
ISOFIX child seat anchorage system
Park distance control PDC
Rear fog lamp
Safety optimised front head restraints
Warning buzzer and light for unfastened front seat belts
Warning triangle breakdown sign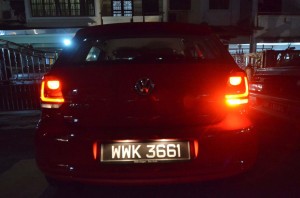 I have always been a strong advocate of the inclusion of rear fog lights in all vehicles and with the Polo having this feature, it scores high on my list. Rear fog lights not only make you more visible in the rain, it can be used to illuminate what you're reversing to.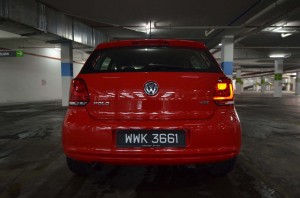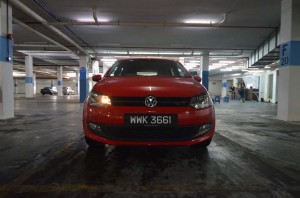 Another cool safety feature is parking lights where drivers can choose to switch on the left or right side of the rear tail lights and front auxiliary light so that other road users can see your car better, particularly when you park at dark corners. Merely flick the signal switch to either left or right to turn on the corresponding left or right front & rear lights and you'll get a buzzer warning inside the cabin alerting you that parking light is switched on (or that you may have accidentally forgotten to turn off the signal). We often see this in more expensive models and it's nice to find this feature here.
Specifications
Exterior
4 'Boavista' alloy wheels, 7J x 17″ tyres 215/40 R17
Body colored bumpers
Door mirrors with integrated turn signals
Front fog lamps and fixed bending light
Halogen headlights
Heat-insulating green tinted glass
Power mirrors
Interior
3 rear headrest
Asymmetrical split folding rear seat backrest
Drawers under front seats
Front and rear power windows
Gearshift knob in leather
Glove compartment with cooling system
Height and reach adjustable steering
Illuminated vanity mirrors in sun visor
Mobile Device Interface MEDIA-IN with USB adapter cable
Multi-function leather-covered 3-spoke steering wheel
Radio 'RCD 310' with MP3 player including CD player
Radio remote controlled central locking with 2 folding keys
Spare wheel with tire
Ownership and maintenance
The Polo retails for RM113,888 without insurance. Based on the assumption that you take 90% loan with a 2.5% interest, you're looking at a monthly repayment of RM1,922 / RM1,424 / RM1,163 for 5 / 7 / 9 years respectively. For this segment, you have the Ford Fiesta, Mazda 2 and of course, the Perodua Myvi but consider that this remains as the most affordable turbocharged continental car in Malaysia, it certainly has its appeal. Also, some might consider forking out a little more to get the larger C segment Peugeot 308THP which offers a larger cabin and a bigger boot but in terms of branding, the 2 manufacturers remain apart with VW having a perceived higher value compared to the Pug.
As for maintenance, the Polo (as do all VW sold my authorised centres in Malaysia) comes with 5 years unlimited mileage warranty is servicing is once every 15,000km or 1 year whichever comes first. Standard servicing is around RM400+ while intervals of every 30k km (30k ,90k, 150k), it should set you back around RM900ish. Major service will come in 60,000km, 120,000km, 180,000km and that will cost you around RM1,400+. *Note: Maintenance/service cost may vary between SCs. What is quoted here are some figures obtained from one branch in Old Klang Road so best check with your respective SA and SCs.
So is it worth it? Well, if space is not high on your priorities, I'd say the Polo fits very well for buyers who're young or young-at-heart. It also helps that every once in a while, VW and its dealers throws out some interesting discounts and pre-owned Polos so do shop around and more importantly, test drive to your heart's content.
Chic and trendy, the VW Polo is an absolute joy to run around the city …. oh, did I forget to mention it's frugal on fuel as well? On paper, VW claims 5.3litres for every 100km. As hard as I was driving it around, the fuel gauge refuses to drop …. I do believe I can save up quite a bit by having less frequent stops at the petrol station.
Follow kensomuse in Twitter @ https://twitter.com/kensomuse
Follow kensomuse in Facebook @ https://www.facebook.com/Kensomuse