.
.
It's finally here …. the latest incarnation of the Kia Rio. First seen at the Geneva International Motor Show in March 2011, the 3rd generation Rio had Kia laughing its way to the bank in 2011 with a total of 466,826 units sold, making it the best selling Kia model globally.
.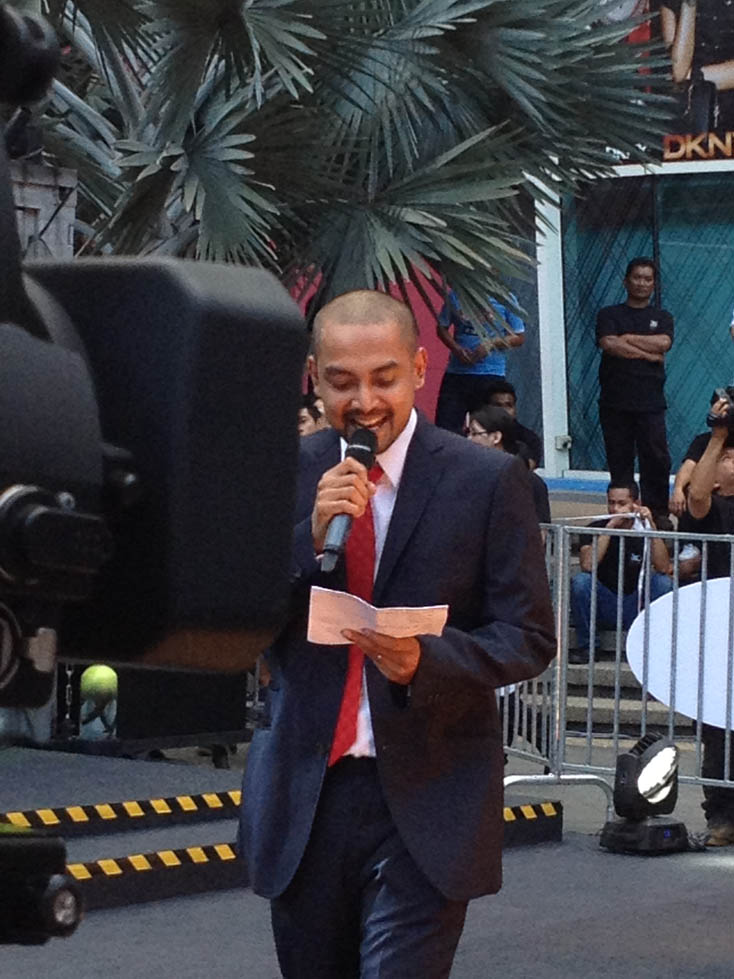 .
Typical of any new car launches, NazaKia did not pull any brakes in ensuring the event was an impressive one. We had JJ of Hitz.fm MC-ing the event. Am not so used to seeing him in a coat and tie but hey, it`s a corporate event … gotta look the part.
.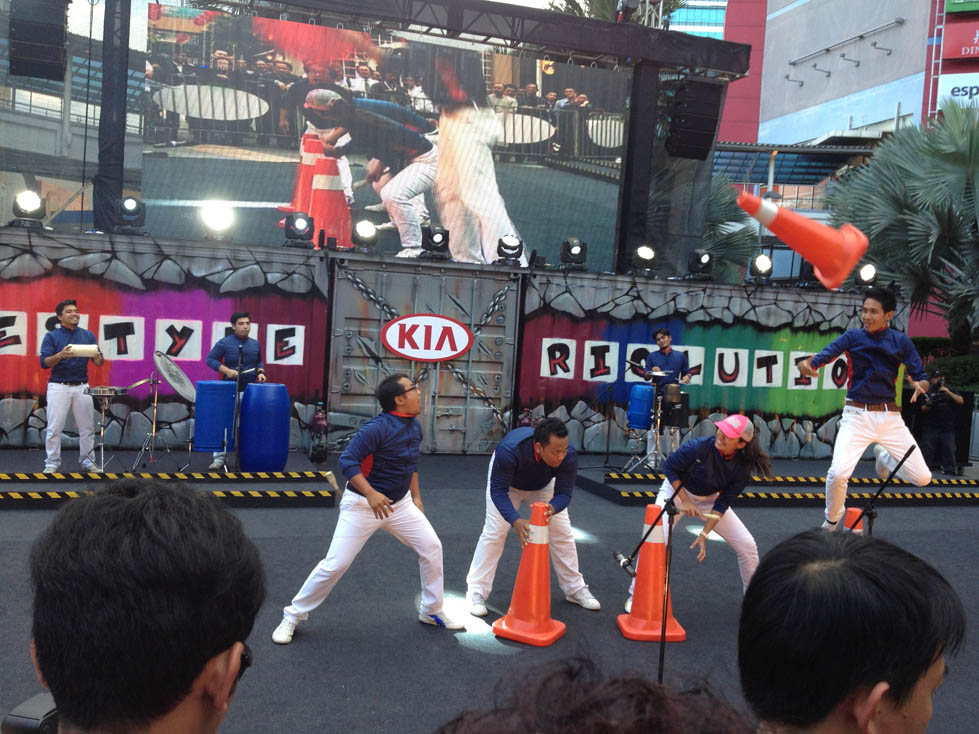 .
Then we had performances from percussionists and street dancers which emphasized the young and hip design of the target audience for the Rio. All in all, it was a fun time there.
.
Now that NazaKia has finally got through all the business case studies, business proposals, approval from Ministry of Finance and MITI, price negotiations, blah blah blah, the all new Rio is set to rock the B segment of the country …. at a price, of course. Launched in 2 trim levels; the SX (high spec) and EX (entry level), how good is it compared to the competition? Let's find out:
.
Design
.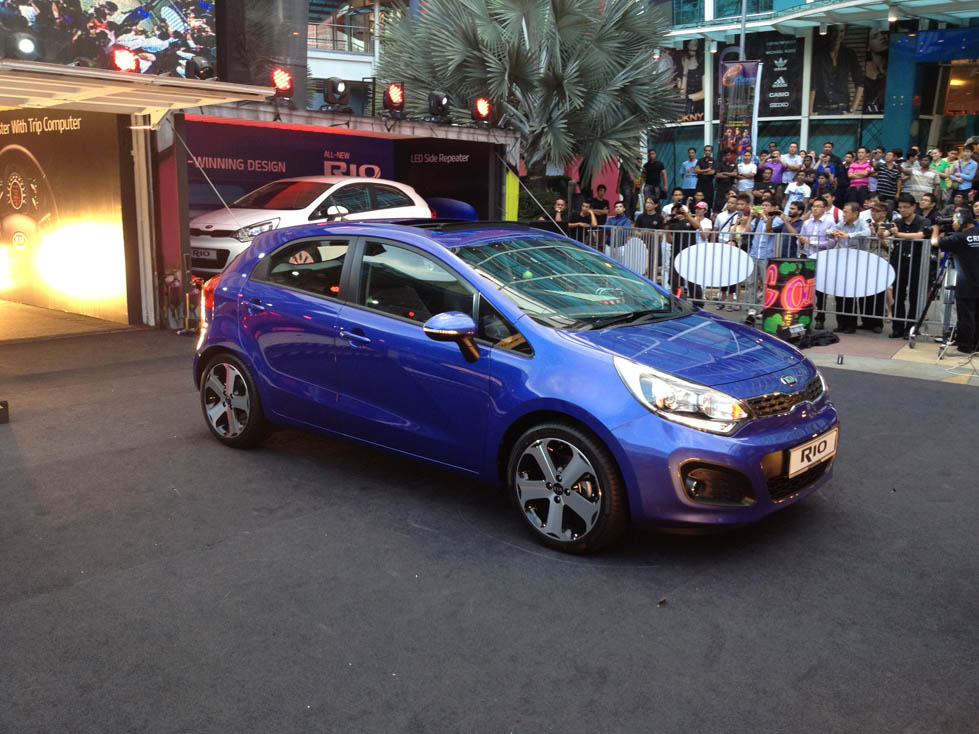 .
It is a pretty handsome car, I must say. Looking at the Rio invokes an image of urban chicness that's not very often found in B segments (well, except maybe the Ford Fiesta but more on this later). The sleek design has a drag coefficient (essentially how aerodynamic is the car) of 0.32 which is the same for the Mazda 3 and Honda Civic and this relatively low value allows better fuel consumption and reduces wind noise when traveling at speeds.
.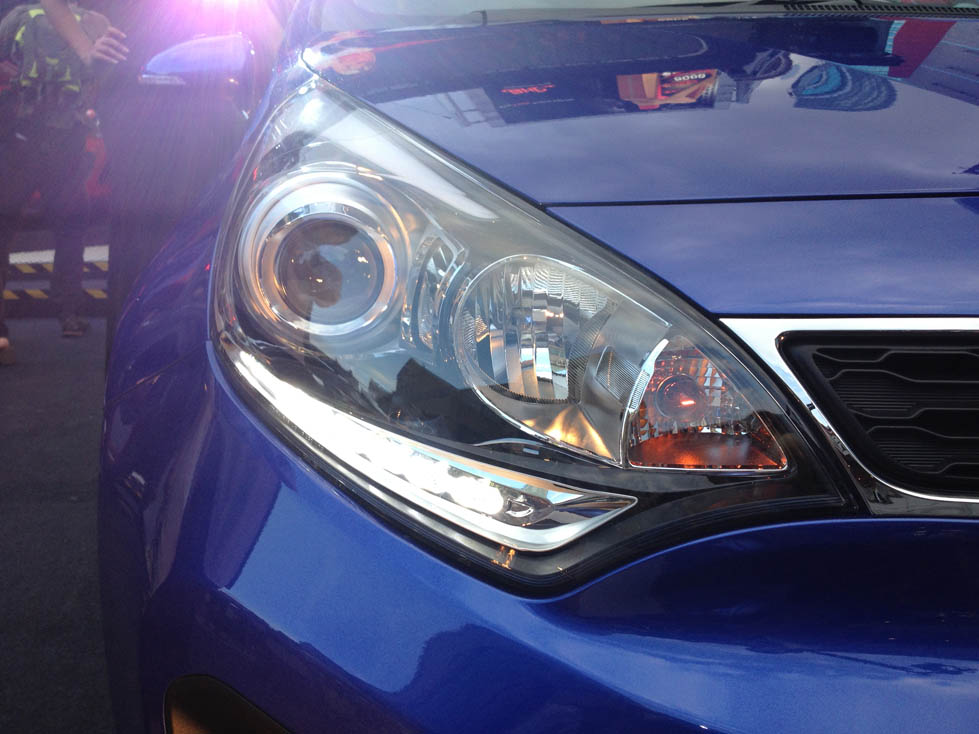 .
NazaKia's COO, Datuk Hafiz Syed Abu Bakar dubs the Rio as a new benchmark in the B segment market, bringing new features that's hardly seen for this price scale. Well, I can say that LED Daytime Running Lights are definitely a first in its class since no one else offers it at the moment. Projector headlamps are also not very often seen for B segment hatches (that is, if one discounts the gargantuan number of Lagi Power Lagi Bests MyVis running around). The Rio is also the only one in its class to offer static bending light which operates the same as the K5 where it provides light in the direction where the steering wheel turns to ensure wider visibility. Most useful when parking.
.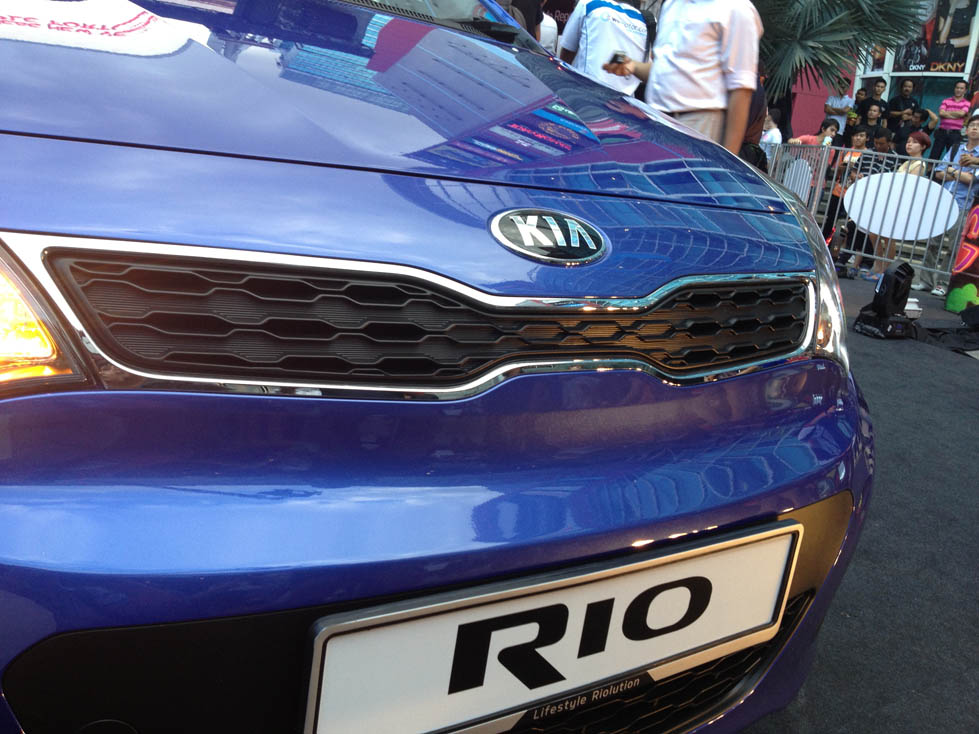 .
Yup, it's every bit Schreyer's tiger nose grille here with geometrical lattice pattern that gives the front a wider stance.
.
The difference between the SX and EX is not very much. Up front the SX has front fog lights at the bumper whereas the EX has this feature omitted.
.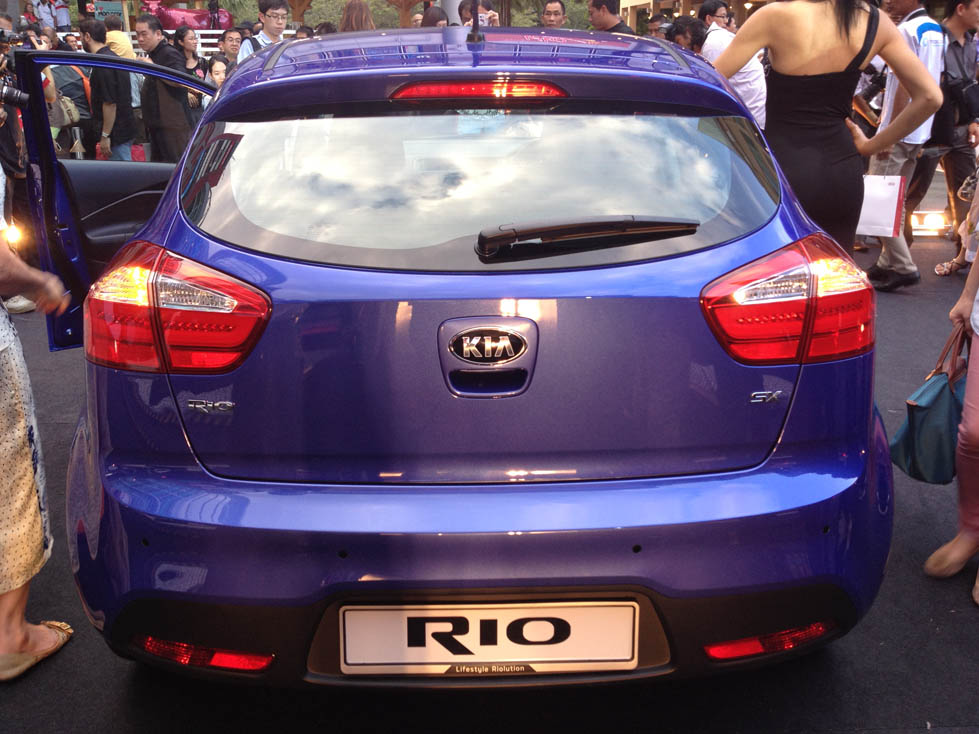 .
At the back, both SX and EX are identical.
.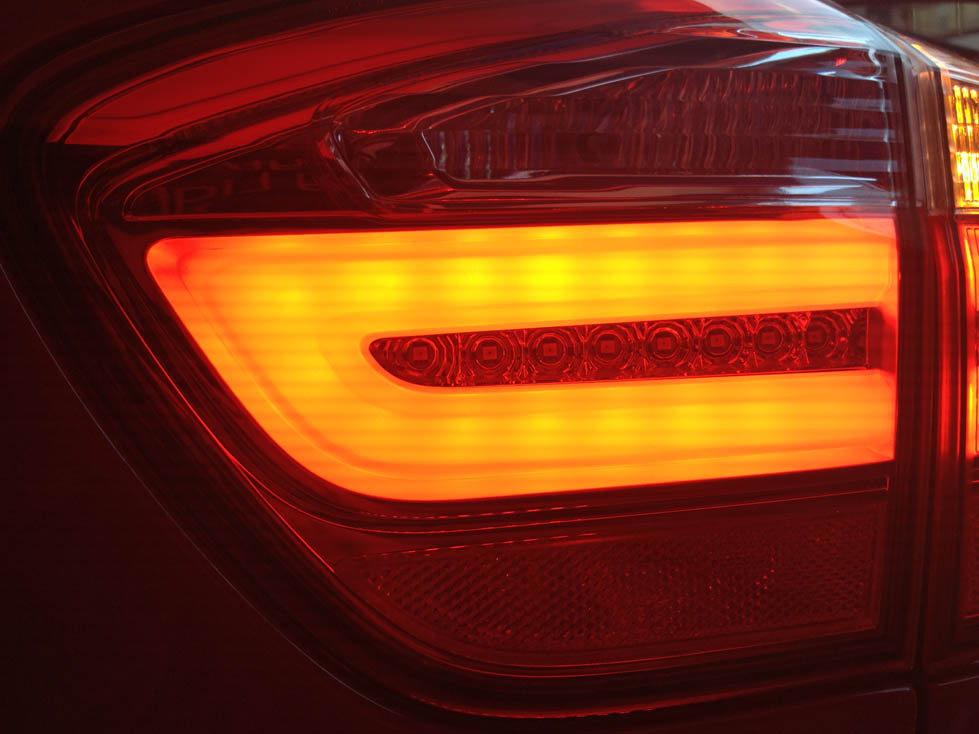 .
I love the LED rear tail light bar. Reminds me of an Audi rear signature.
.
.
Both variants have rear fog lights which makes it safer to drive in heavy rain. Only the right side found on the lower rear bumper lights up, though.
.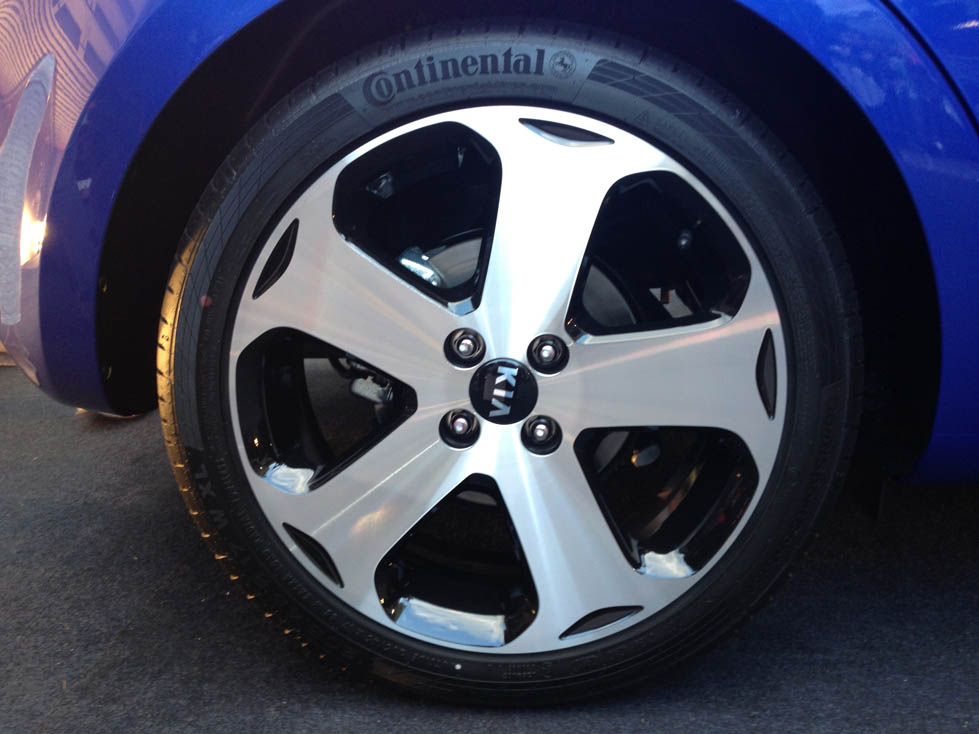 .
At the side, the most obvious difference between the SX and the EX is the rims. The SX gets 17″ light weight alloy wheels while the EX gets below:
.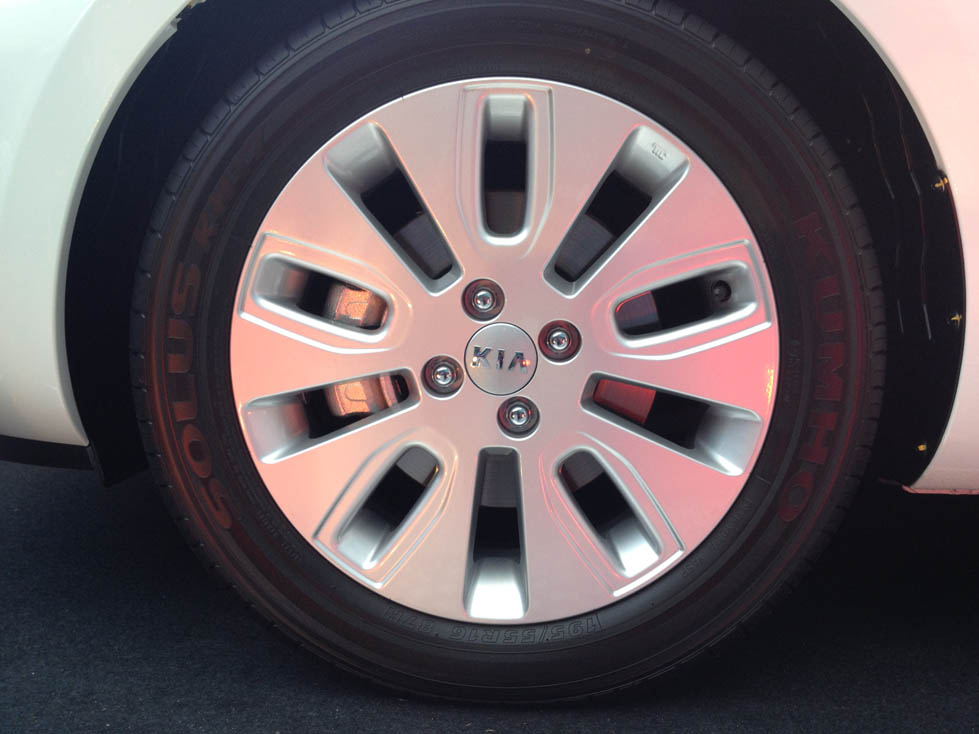 .
By virtue of the SX's rim being easier to clean, I'm more inclined towards it.
.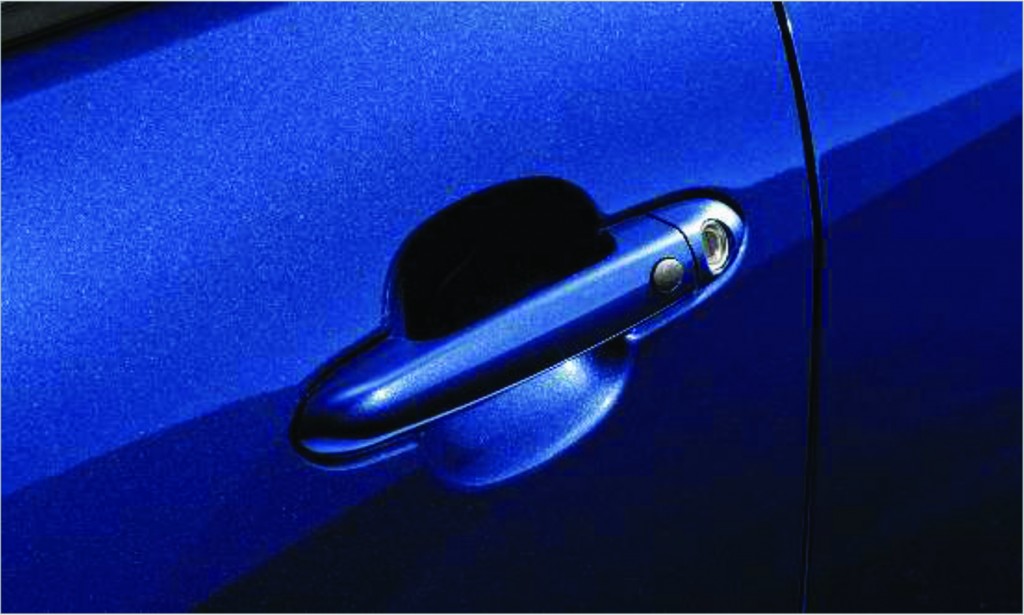 .
Aside from that, the SX would have a button on its front doors that tells its keyless entry function, making it one of the safer cars around for ladies especially at car parks.
.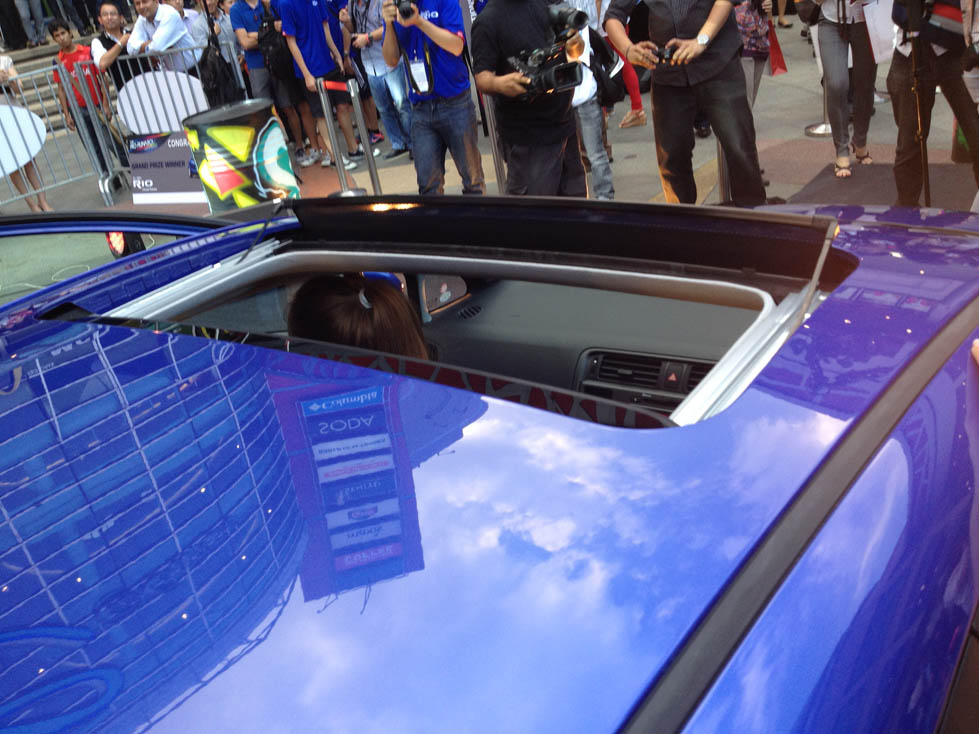 .
From the top, the sunroof clearly differentiates the SX from the EX.
.
Aside from these, the LED side signals are incorporated to the electric folding mirrors, adding a more upscale feel to the car overall.
.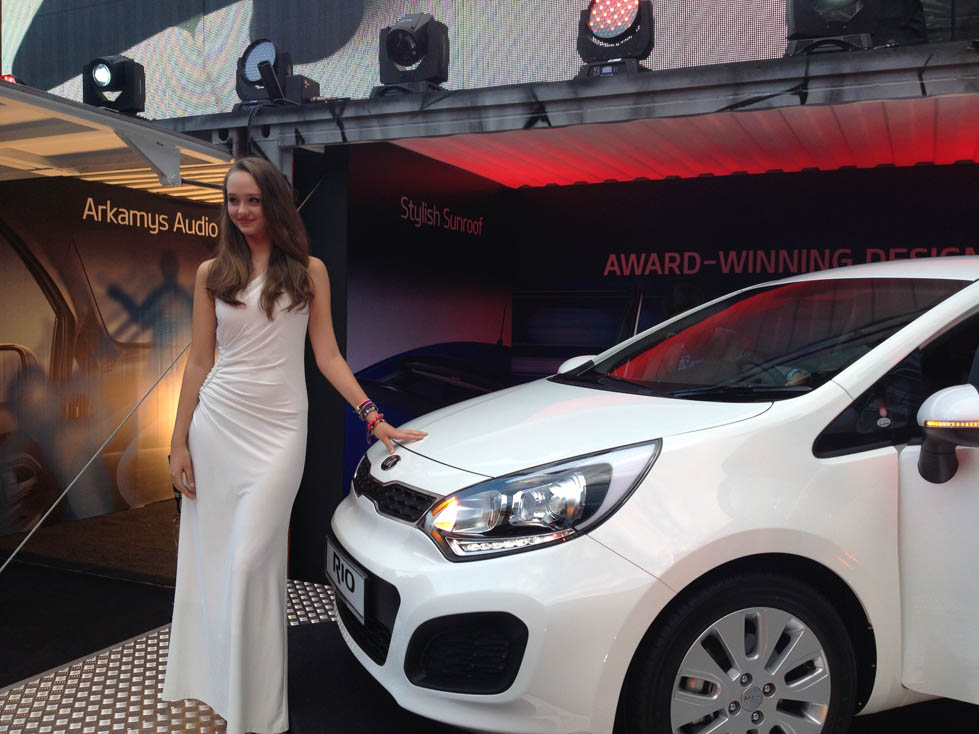 .
I'll take the white one …. which one? How about both?
.
.
Performance
.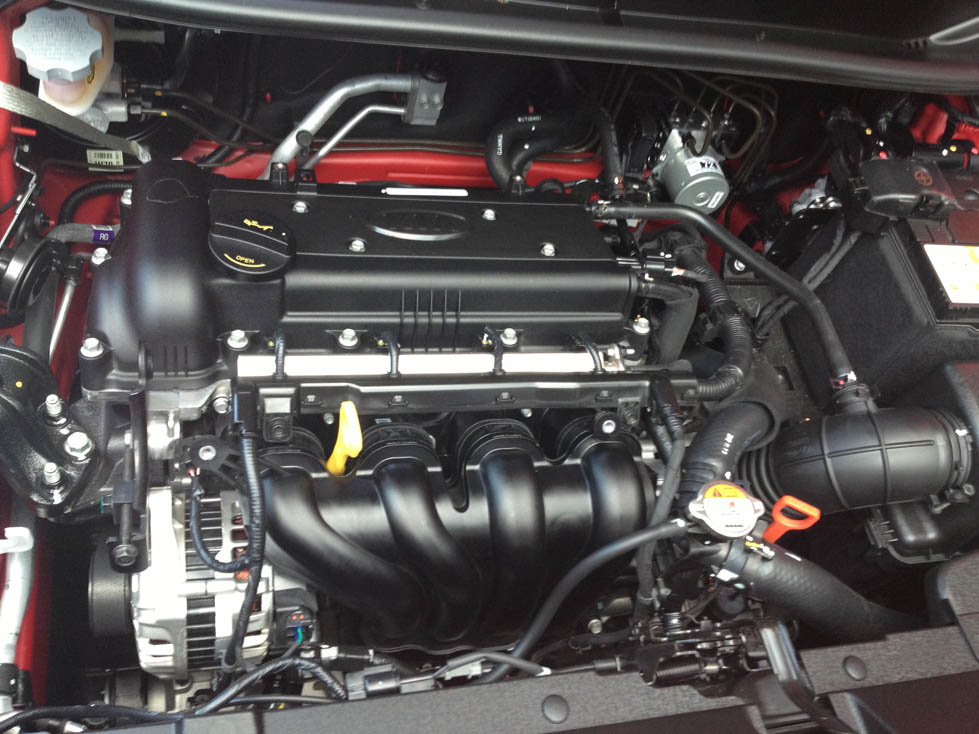 .
Under its hood, we can find a 1.4litre Gamma MPI CVVT petrol engine, dishing out 109PS worth of power at 6,300rpm and 137Nm of torque at 4,200rpm. There's quite a number of people who are concerned whether pairing a 17″ wheels to a 1.4litre engine is a smart move. I had a chance to test the car on a route of my choice (albeit only shortly) since I was there early and I drove the car around The Curve, pass Lexus, onto Penchala link, made a U-turn back towards the Curve. This route allowed some higher cornering speed. highway cruising, pick up from zero and from 70 to 110kph as well as a sharp hairpin turn.
.
To be honest, I was expecting a rather laggy driving experience, considering that 1) it has one of the smaller, non-force inducted engines in the segment and 2) huge (in its segment) wheels which means more rolling resistance. Surprisingly, it's not that bad. While the pull won't be as great as a turbocharged Polo, the acceleration will not lose out to the Polo sedan or the Peugeot 308 VTi. I dare say its pick up is on par with other B segments …. not stellarly fast but certainly not a tortoise either. I'm guessing the EX's acceleration should be slightly better than the SX with its one size smaller 16″ wheels but there was no way for me to confirm this as the 4 test units at the Curve are all SXs.
.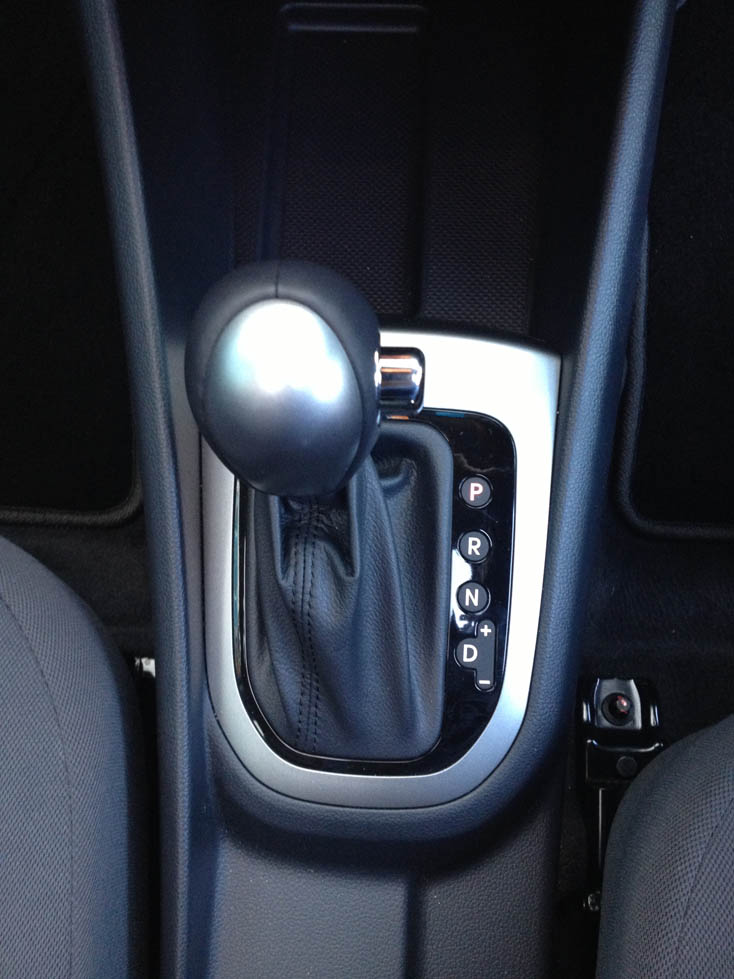 .
No official zero to hundred figures but the 4-speed conventional torque converter gearbox with manual shift gate does its job well enough. Still, majority of B segments are also offering 4 speed gearboxes (exception being the Fiesta and Polo sedan which has 6 gears and the new Honda City with 5 gears) so it's not really an issue.
.
The only setback that I experience is that the power delivery of the 1.4litre Gamma is not linear. At low speeds, the Rio moves like any other car and you won't feel there is any lacking of power. But if you have to move forward quickly like in a overtaking maneuver, you'd have to rev the engine to beyond 3,500rpm before any significant pull can be felt. In this range, the sound of the engine is anything but refined (BUT, the engine showed only about 300km on its ODO meter so it's practically a virgin. Expect the performance to be a little different when after 1st service) and no matter what, the relatively smallish engine displacement will make itself felt most keenly when you're trying to move at illegal speeds or climbing a steep hill. Still, for a city car, it does its job well enough …. after all, you're only paying RM70 for its annual road tax.
.
Ride and Handling
.
As for the handling, the MacPherson struts on the front and Torsion Beam at the rear set up works well enough. The car balances itself well at higher speed corners, possibly due to the larger rims. As is with all front engined front wheel car, understeer will set in when pushed too hard around the bend and this, being a city car will probably happen a lot sooner than most other performance car. The only other car that I felt has far superior cornering ability is the Suzuki Swift.
.
If you were to ask me about its suspension, it's close to a Honda City's feel. Stiff but not uncomfortable for all passengers, even the rear. When moving at 110kph, the car felt composed (sorry, forgot to check what was the rpm at that speed) and felt confident in pushing it more. Hopefully I can get the media car soon to verify more on the higher speed performance since short test drives and short test routes don't really do justice to the car.
.
The motor driven power steering is taken from the Forte 2.0 and changes the weight of the steering according to the speed of the car. At low speeds, the steering is lighter and becomes heavier the faster you go. Purist may not like such electronic intervention, especially when you're not completely sure whether the feedback you receive is artificial or true but it makes a lot of sense for a city car whose main habitat is traffic logged roads and shopping mall car parks. For me, it felt strange initially when there's a constant change in its weight but it's easy enough to adapt to and does not pose an issue once your arm has calibrated itself to it.
.
What's different compared to the Forte is the NVH (Noise, Vibration and Harshness). The Rio has less road noise in the cabin compared to the Forte. According to the SA, they have made some improvement on the door insulation and even the door construction is a little different. Pay attention to this when you go for your test drive as this was one area I didn't expect much but was sufficiently impressed for the segment.
.
.
Cabin Convenience
.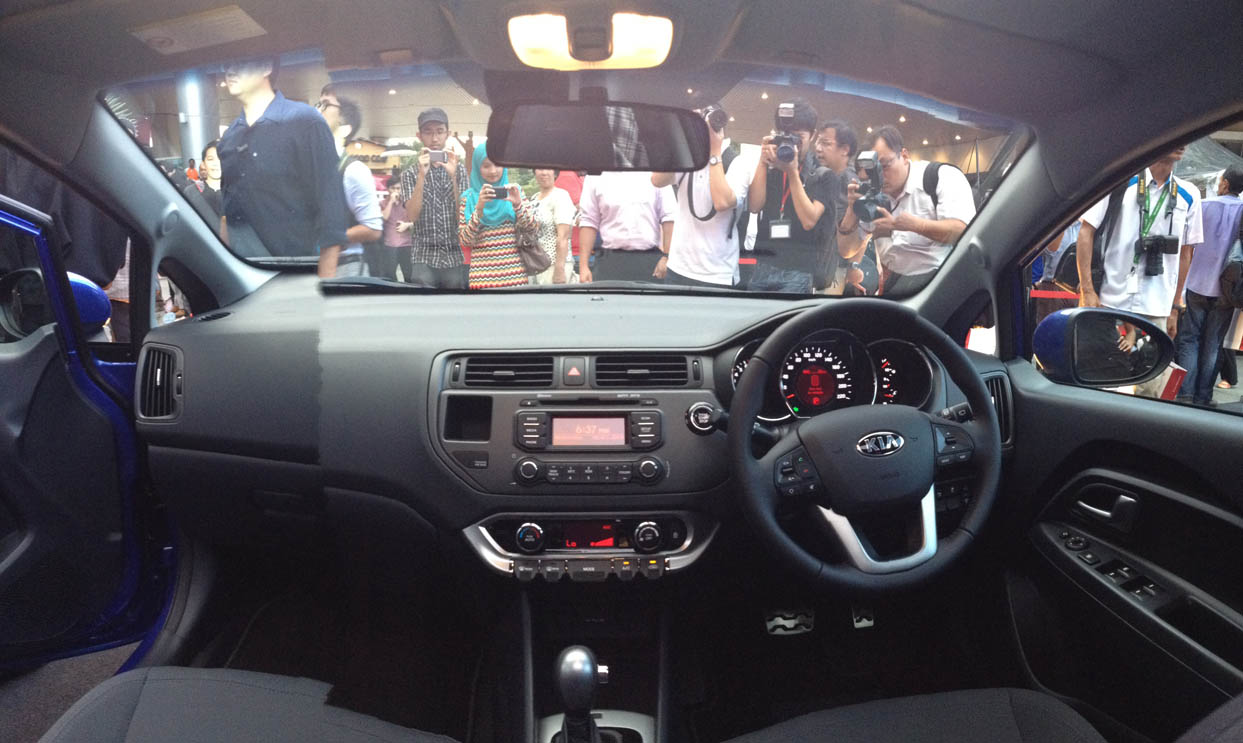 .
Pardon the cut off at the left dashboard but I think overall, you can see how simple yet classy the cabin is. Some might not like the orange displays but in case you didn't already know, Audi also uses orange in their displays.
.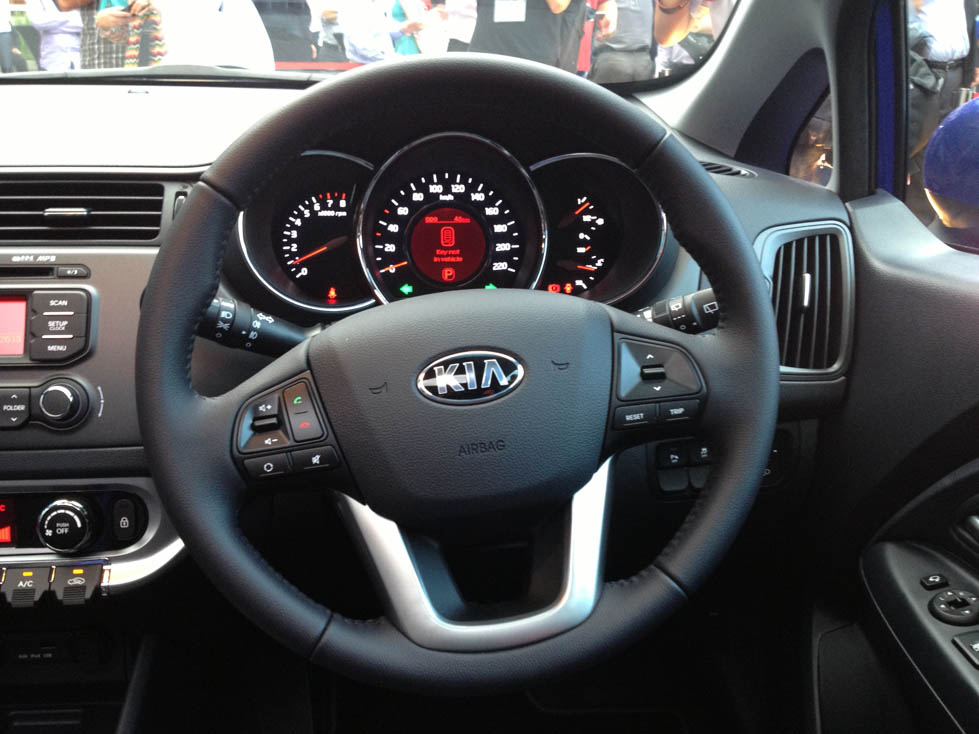 .
You've got to appreciate the meaty steering wheel. Kia has done a good job at tidying up the buttons on the steering so it looks less cluttered …. or maybe it's because there isn't cruise control buttons to fiddle with. I guess Kia is positioning the Rio as a city car  and not an outstation tourer to feel that cruise control is a feature less missed by drivers. The steering has tilt and reach adjustment.
.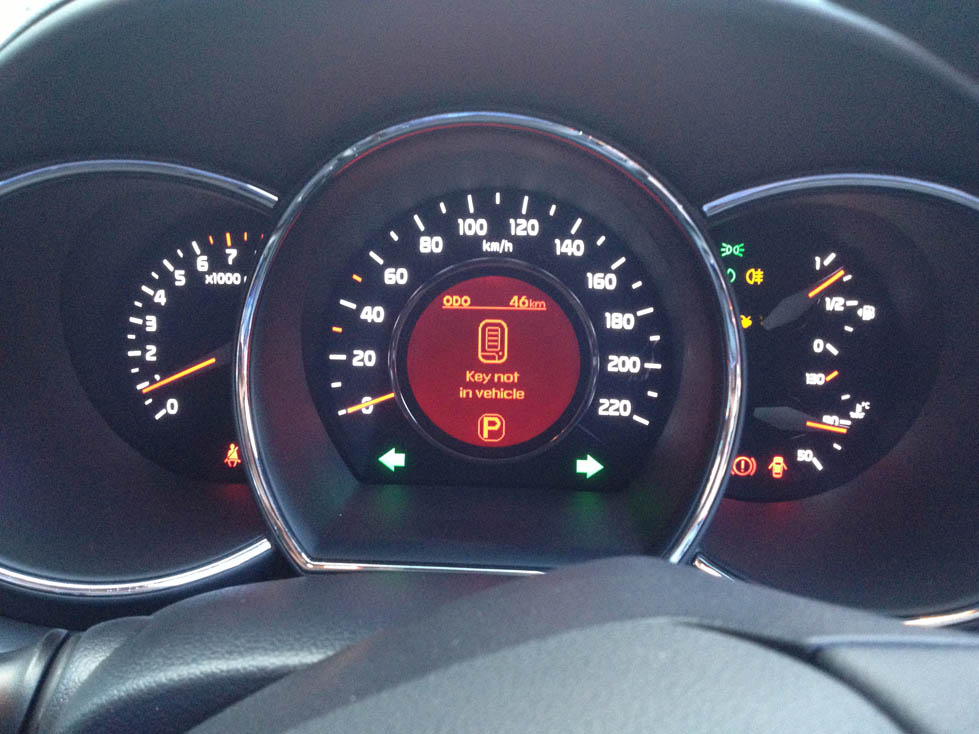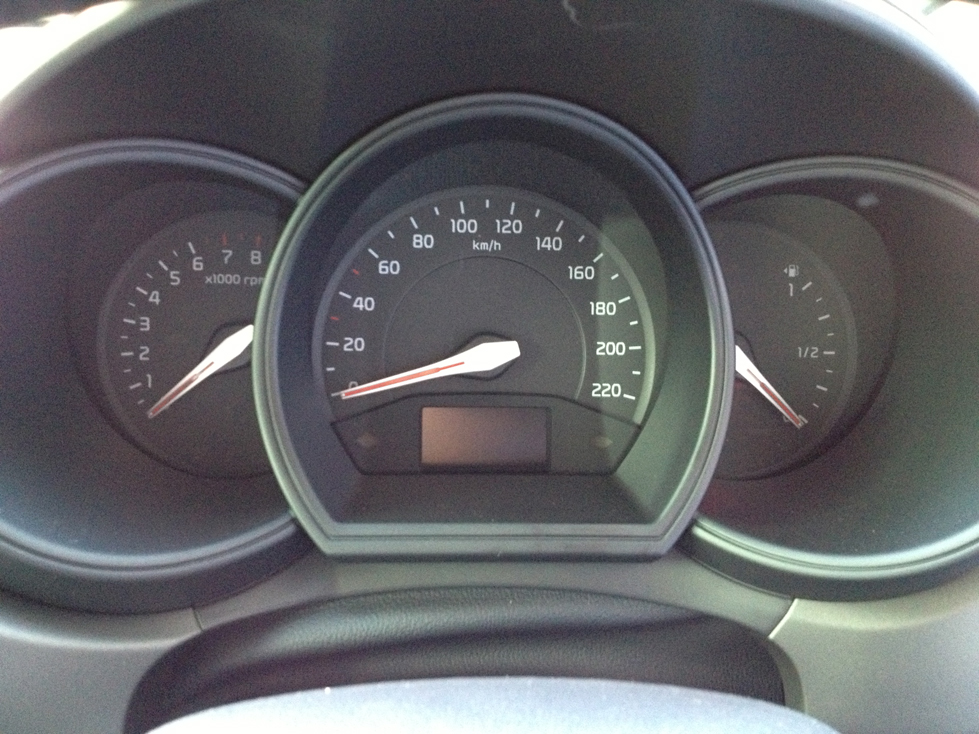 .
The SX gets Supervision Cluster with trip computer whereas the EX doesn't.
.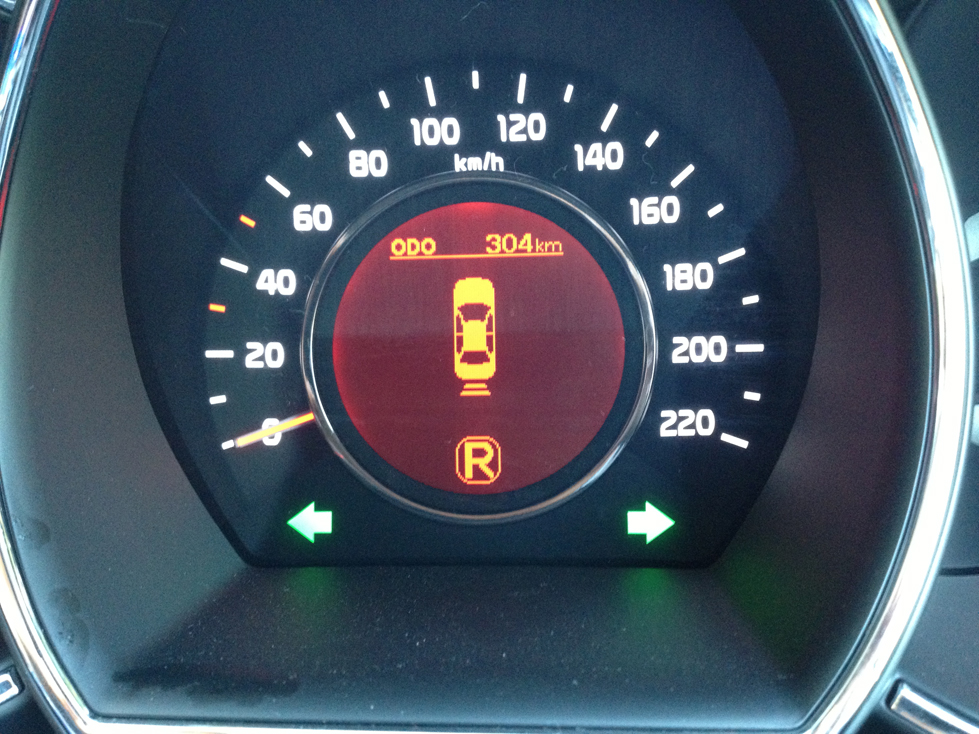 .
Don't know how the EX is going to display the parking icons though since the SX shows it in the Supervision cluster.
.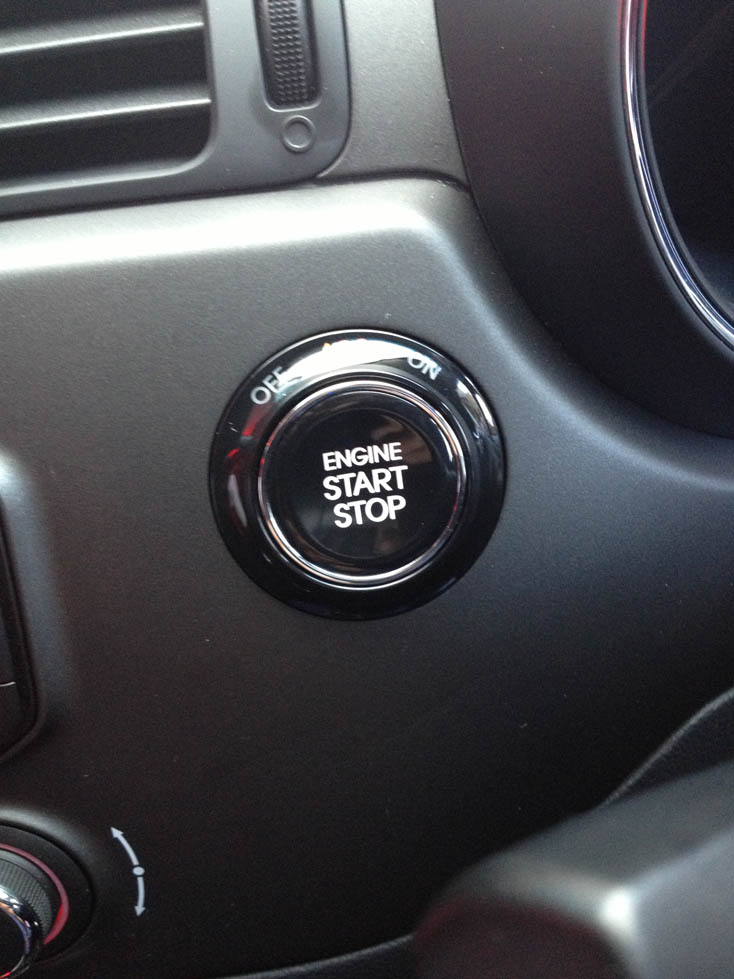 .
Behind the steering on the left is where you'll find the power button (only for the SX)
.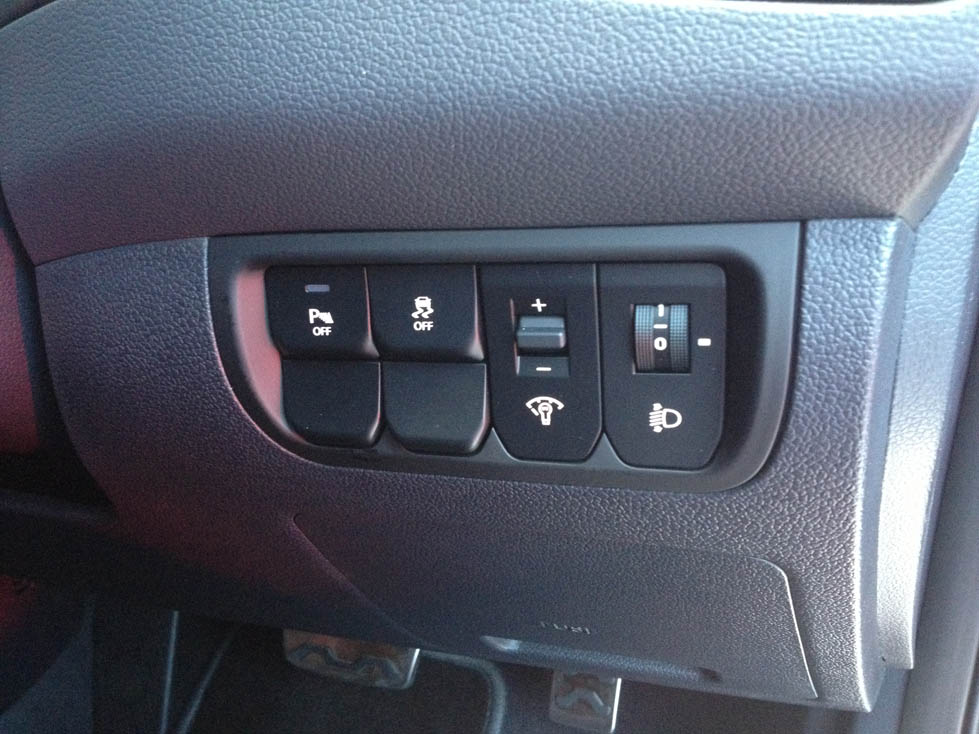 .
Whereas on the right side behind the steering, you'll find the buttons to deactivate the reverse beepers, ESP deactivation, dashboard light intensity and headlamp leveling.
.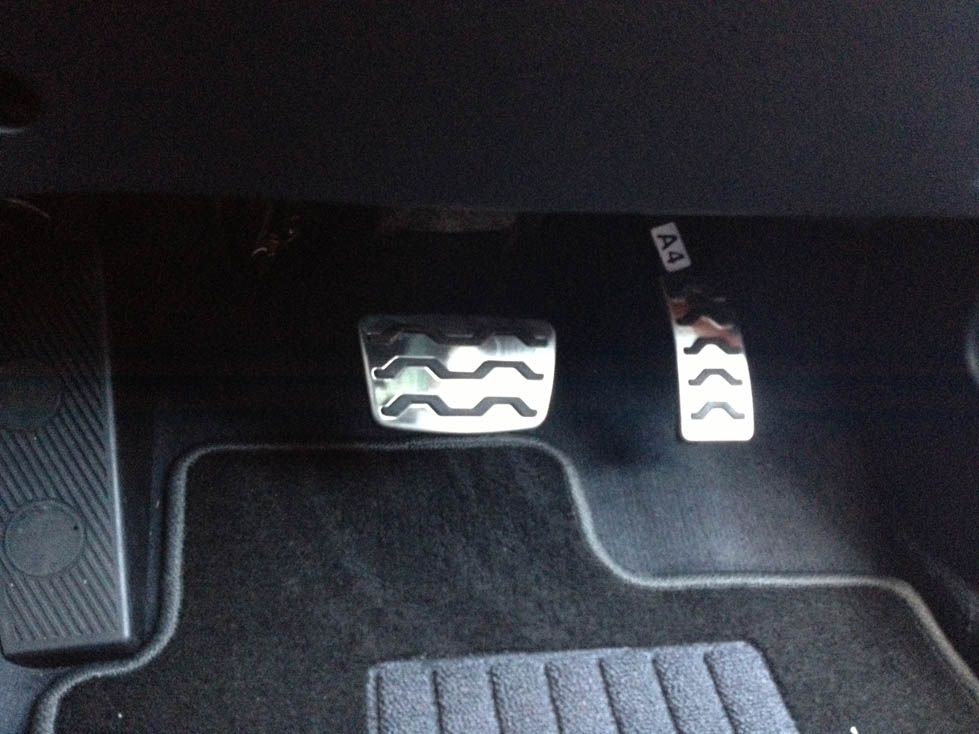 .
It's nice that both SX and EX gets alloy pedals.
.
.
Illuminated vanity mirrors …. makes putting on make up so much easier
.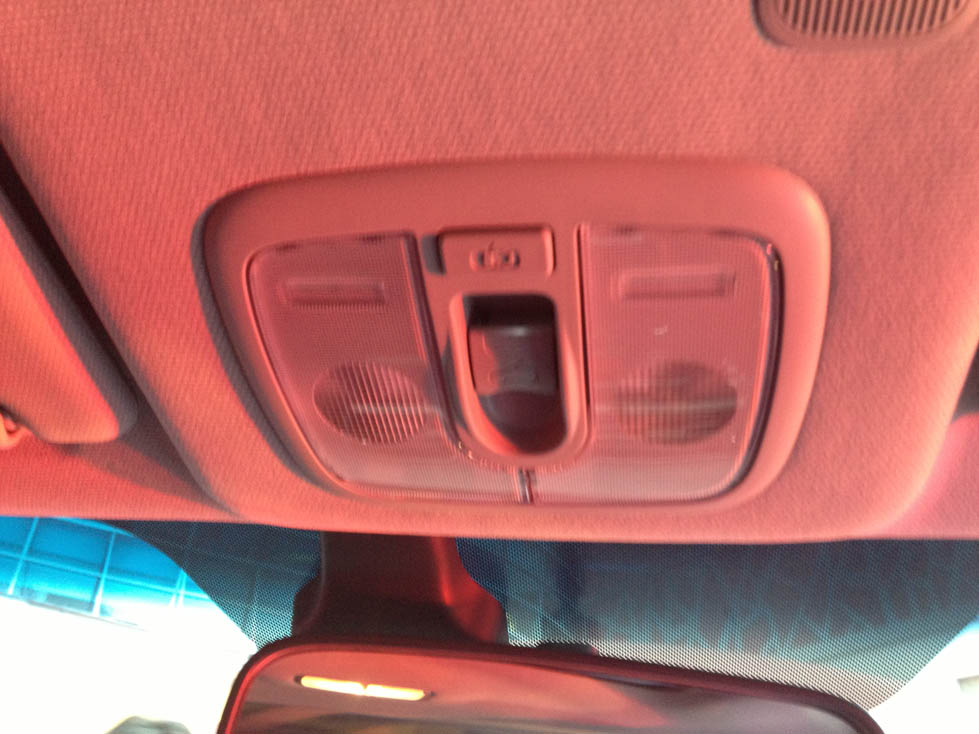 .
And in the roof center up front, you have the controls for the sunroof.
.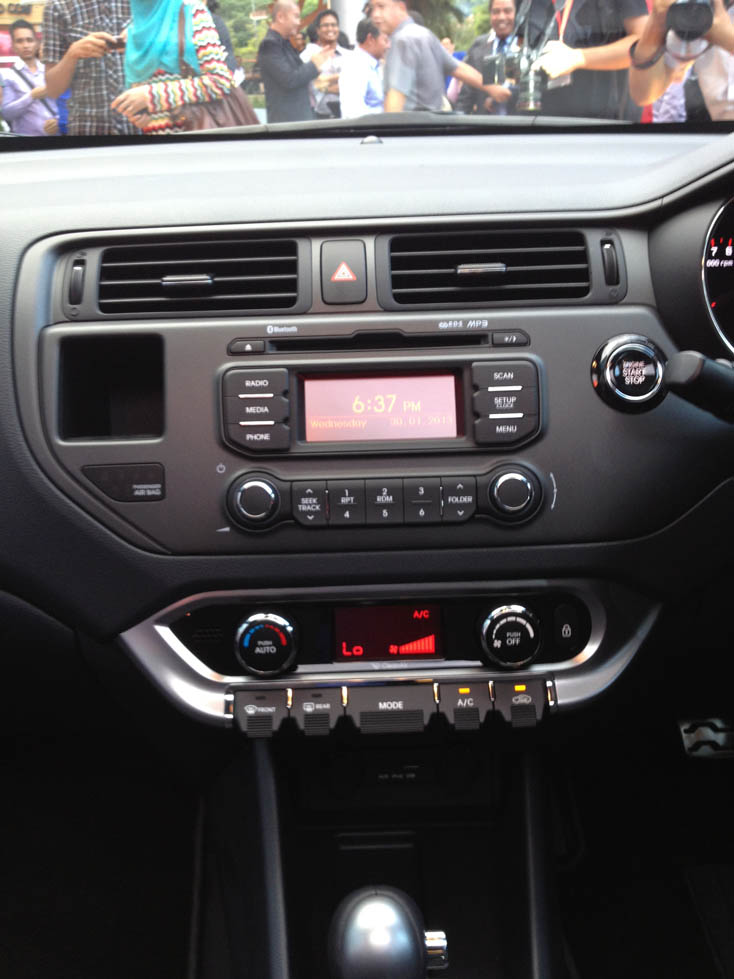 .
.
I love the neat layout of the center fascia.  The controls appear quite intuitive to use and for the SX, you'll get fully automatic air conditioning with cluster ionizer as well as an auto defog system that activates when sensors detect misty conditions on the front windscreen. SX variant also gets rain and light sensors.
.
.
Here's the manual climate controls for the EX
.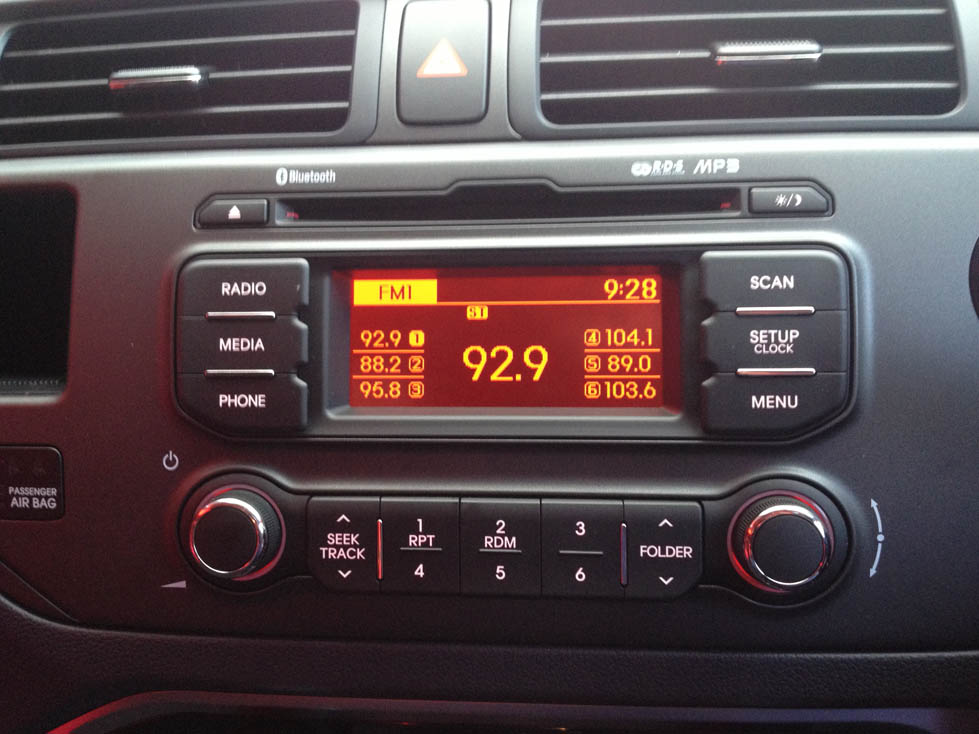 .
Didn't have a chance to test out the Arkamys audio system that's claimed to provide 'virtual sound" that overcomes the vehicle's acoustic contraints and brings a deep, immersive and realistic sound experience. The headunit has radio, CD, MP3, RDS as well as Bluetooth integrated.
.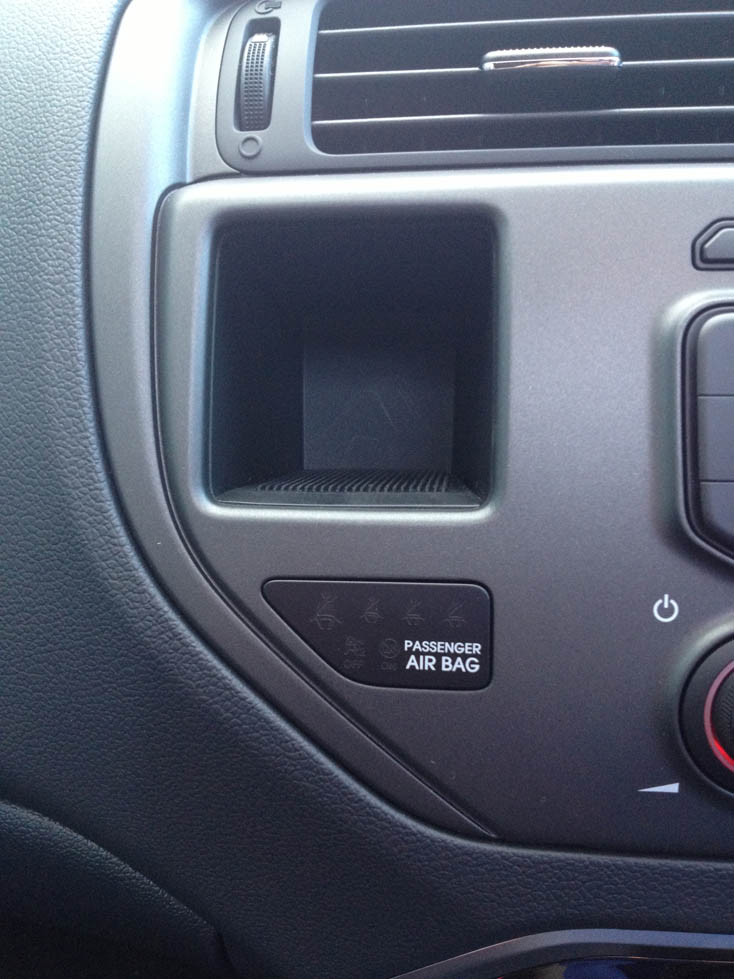 .
Interesting enough, there's a tiny cubicle found on the left side of the headunit. No idea what's ideal to be stored there but an iPhone 4 can fit in there without any issues.
.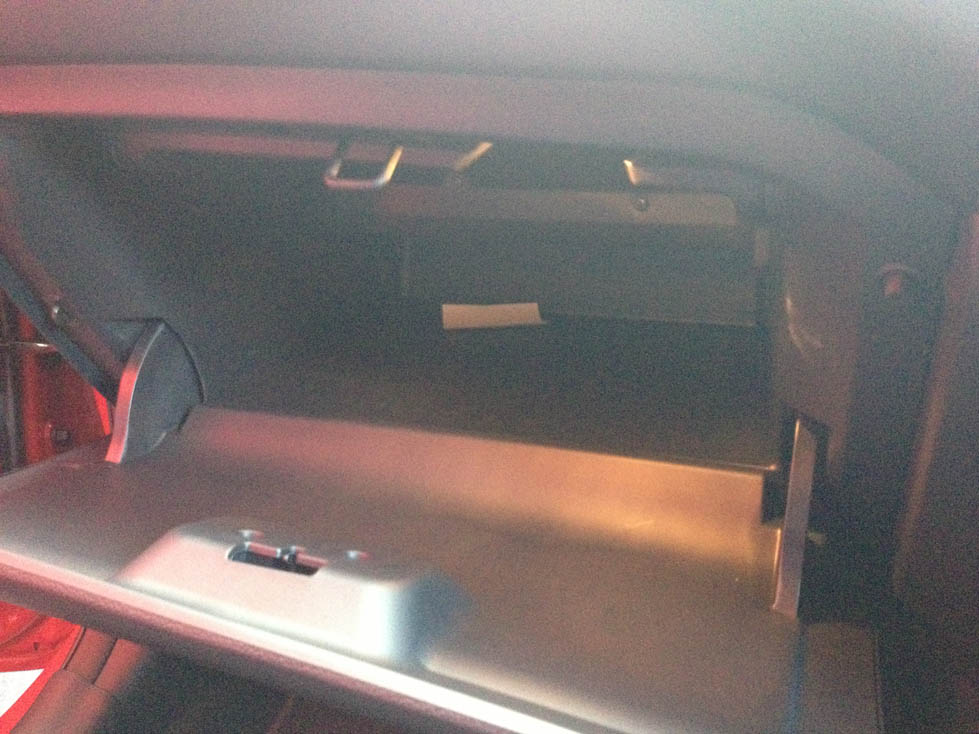 .
The glove box is large (you can fit an A4 paper in there) and has an air conditioning duct inside for cooling of beverages stored inside.
.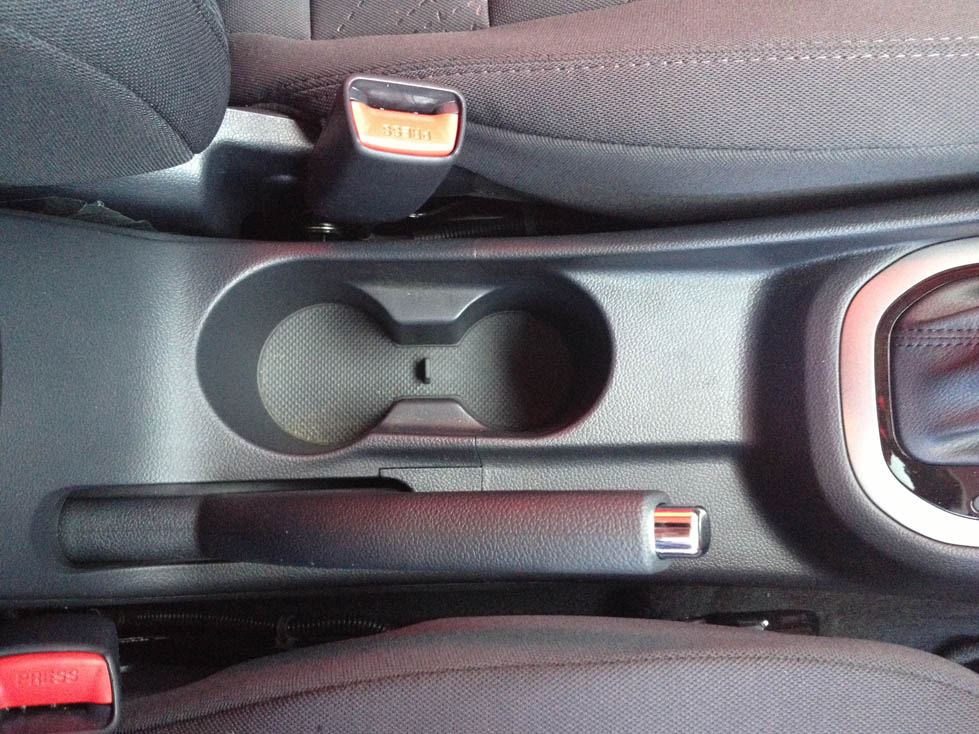 .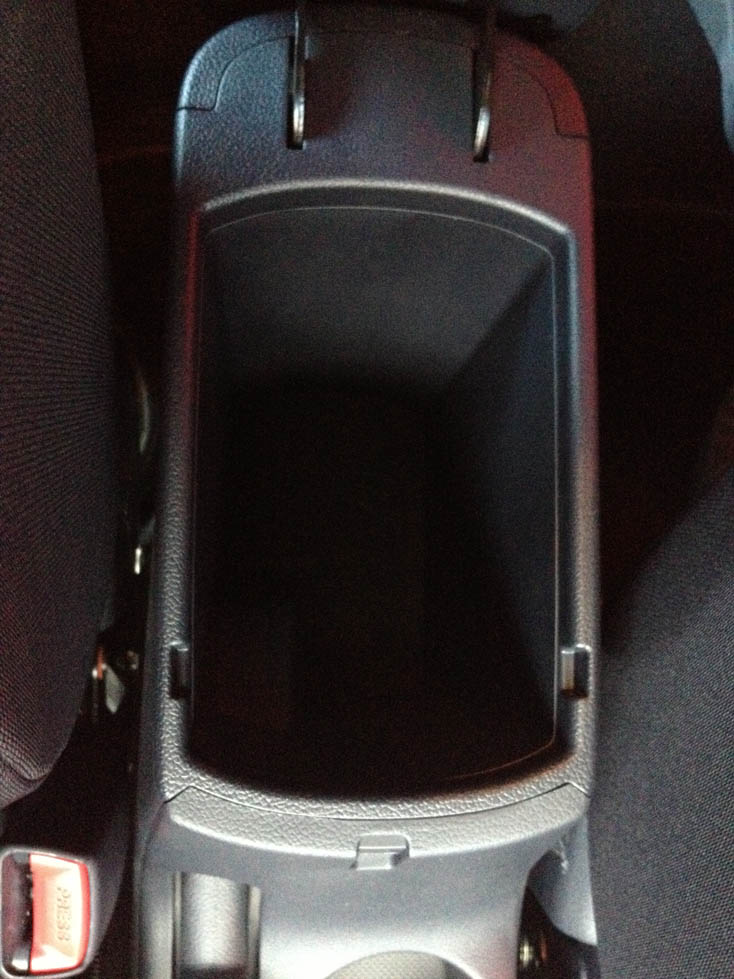 .
Cup holders are pretty basic and the front sliding arm rest has a pretty large compartment underneath for storing Smart Tags and other small items.
.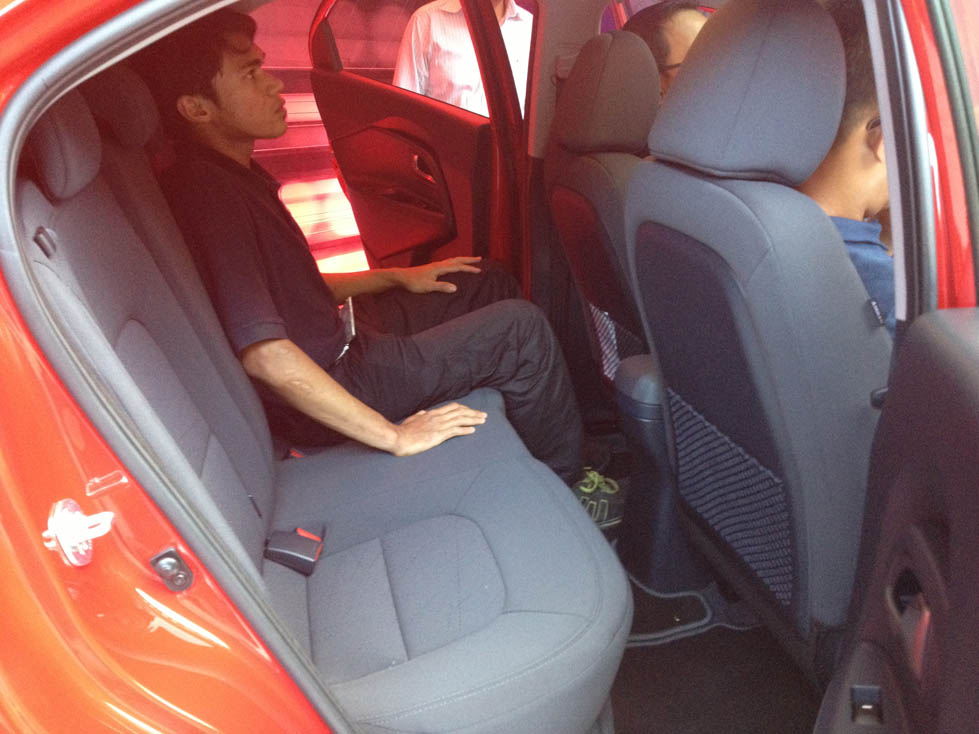 .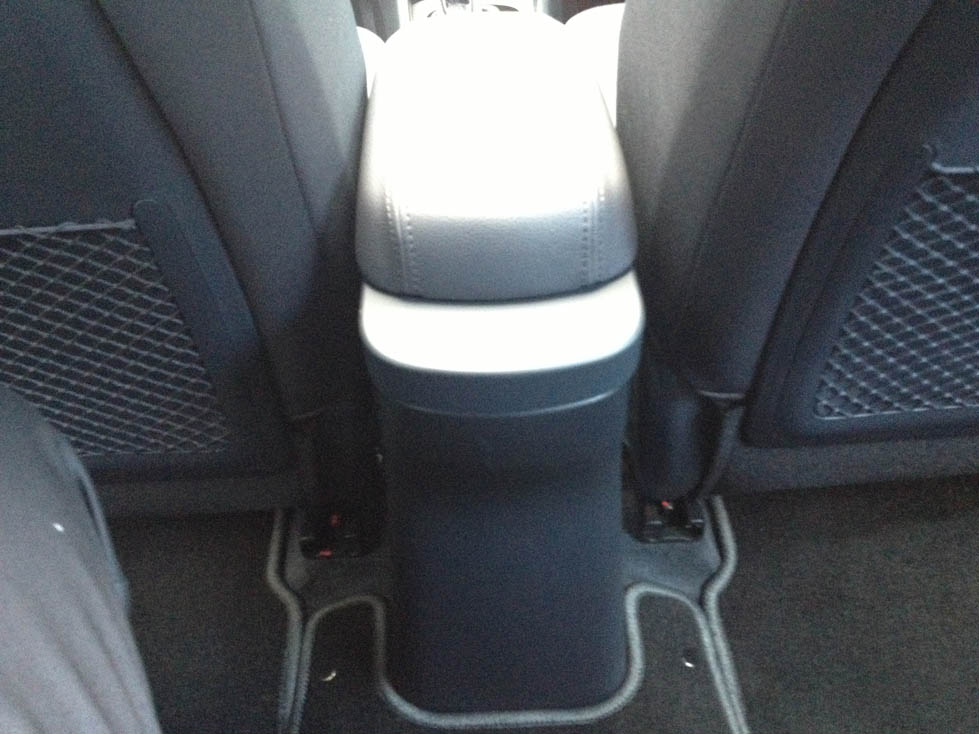 .
At the back, rear legroom and headroom is pretty good for the segment. Too bad no rear air conditioning vents. Both variants sports fabric seats instead of leather seats. The Rio is also equipped with ISOFIX mounting points for child seat achors so it's good for family with young ones.
.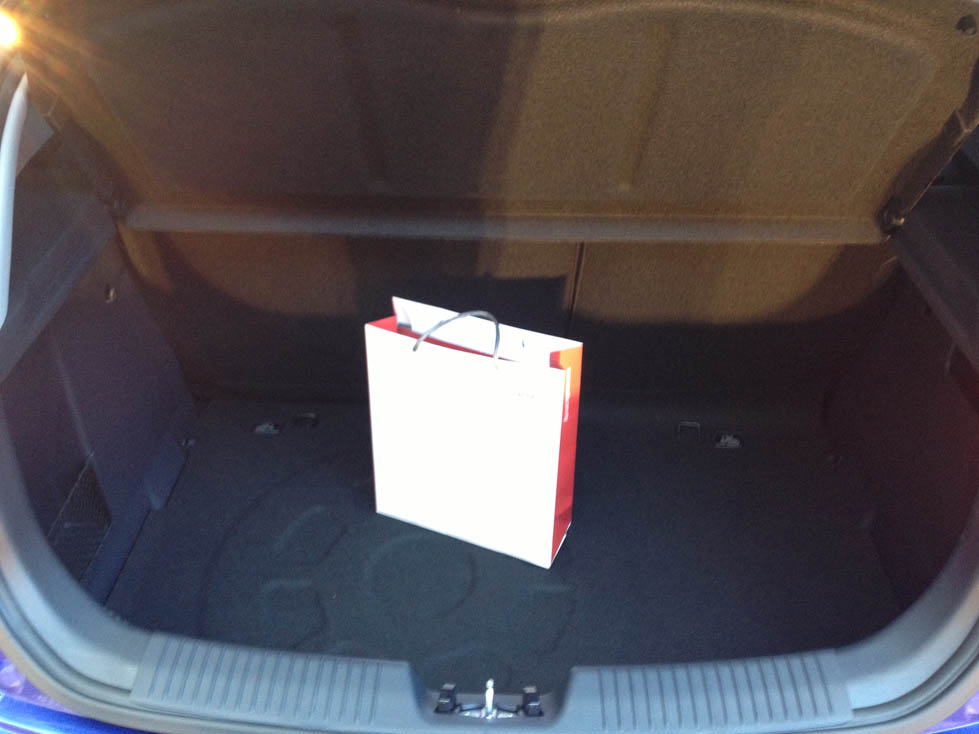 .
The boot is surprisingly spacious for a B segment hatch, offering 288 litres of space and increases greatly when the 60:40 rear seats are folded down. Underneath the boot floor is a full sized spare tire.
.
.
Safety
.
The Rio has a slew of active and passive features to ensure you get home safely:-
.
Dual front airbags
Side airbags
Curtain airbags (total 6 airbags)
Driver side and sunroof anti pinching technology
Euro NCAP 5 star rating
Front 3-point ELR type with height adjuster seatbelt
Rear 3-point ELR type (sides) and 3-point static center seatbelt
ISOFIX child anchor
Rear parking assist system
ABS
EBD
BA
TCS
ESC
Vehicle Stability Management
.
I was particularly impressed seeing the results of the IIHS overlap crash test (which the new Camry and Prius scored very badly) for the Rio which scored Good. The  video can be seen HERE
.
Seriously, I can't think of anything else a B segment car lacks in terms of safety. To me, the Rio is a Volvo among the Bs.
.
.
Specifications
.
1.4 EX
.
Exterior
.
LED DRL head lamp
High mounted LED stop lamp
Electric adjustable, integrated side indicators, electric folding side mirrors
16″ alloy wheels with 195/55 tires
.
Interior
.
Black color fabric upholstery
Metal look center fascia trim
Trip computer
Sunvisor with illumination
Radio/CD/MP3/AUX/RDS headunit
6 speaker system
Manual air conditioning
Aluminum driving pedals
Active head restraint, height adjustable (Driver only) front seats
60:40 split folding with headrest adjuster rear seat
Motor driven power, leather wrapped with audio and bluetooth connectivity controls steering, tilt and telescopic
Front and rear powered windows with driver auto up & down and driver anti-pinch safety window
Glove box cooler with illumination
Luggage covering shelf cover
.
1.4 SX
.
In addition to the 1.4 EX unless stated otherwise
.
17″ alloy wheels with 205/45 tires
Front fog lamps
Sunroof
Supervision cluster instrument panel
Fully automatic air conditioner with cluster ionizer
Auto defog system
Rain sensor
Keyless entry smart key
Push Start button
.
.
Maintenance and Ownership
.
The all-new Rio retails for the price of RM73,888 for the 1.4 EX (OTR inclusive of insurance) and RM79,888 for the SX and comes with a 5 year unlimited mileage warranty. No information on its routine maintenance cost as well as frequency yet but its FC is claimed to be an impressive 16.6km per litre on a combined cycle or urban and extra-urban drive. Datuk Hafiz revealed that in the first 6 months, the Rio is a semi-knockdown version and after that, it will be fully CKD. Sorry folks, even with the full CKD production, no chance in price or specs.
.
As for the maintenance cost, take a look at the following chart:-
.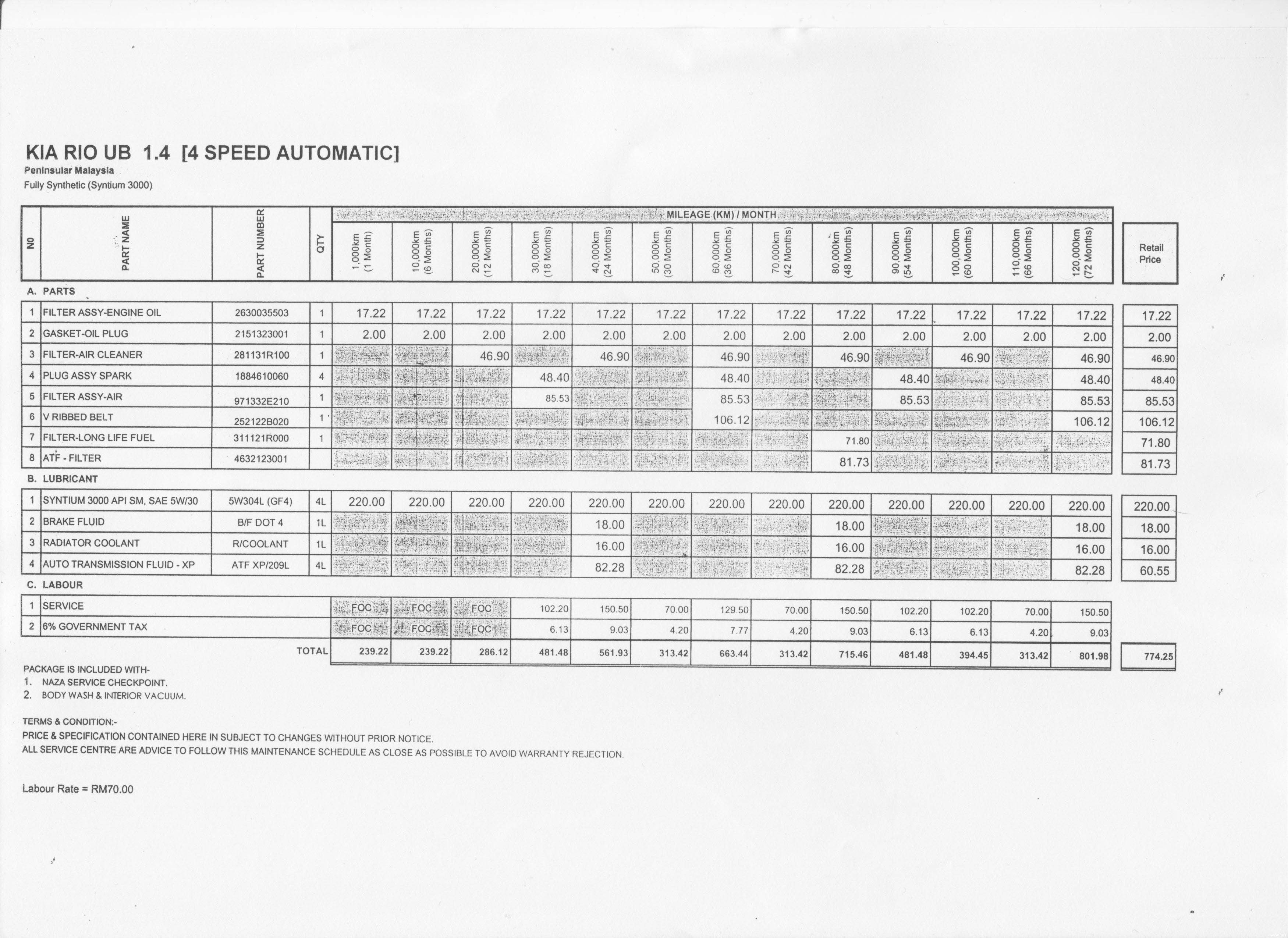 .
Now the main question that everyone is asking ….. is the asking price too much, especially considering it's very close to the Fiesta range. It's quite a disappointment to those who were hoping it'll be in the RM50k-60k range. Make no mistake about it, with its main target for the young and young at heart, it is going head-on against the Fiesta which has done a great job positioning itself as a trendy, young, hip vehicle. Here's how the Rio stacks against other competitors in the B segment:
.
.
Looking at the chart above, the Fiesta beats the Rio in a few areas. It has a higher cc engine which translates to more power & torque and it has a 6 speed gearbox (not to mention a dual shifter as well). In contrast, the Rio's main selling point is it's size …. Fiesta rear legroom leaves a lot to be desired but the Rio does not suffer the same limitations. Make no mistake about it, the Rio is still a B segment so don't go comparing it against C segments like Forte and Focus but against a Fiesta, I'd take the cabin space of the Rio any time. I mean, look at this following picture:-
.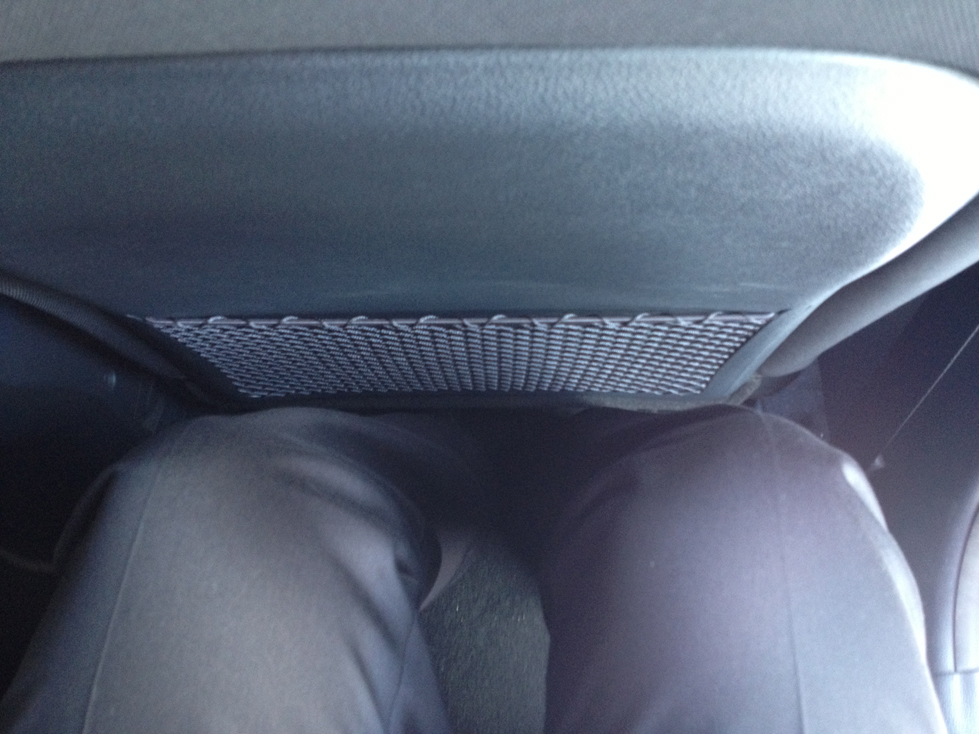 .
I'm 178cm in height and after adjusting the front seats to my frame, I still have this much space behind without my knee scraping the back of the front seats. Try doing this in the Fiesta and you'll get what I mean.
.
Furthermore, I find the Rio's dashboard design to be simpler unlike the Fiesta which appears fussy to me (but this is just my personal opinion). Other areas where the Rio SX is better is it having a sunroof, disc brakes all round, 17″ alloy wheels and projector headlamps with LED DRLs,  (the last 2 points are important because I"m young, I'd really love the attention). As to 2nd hand value and after sales support, neither Kia nor Ford are particularly mainstream but Kia's value, especially after the Forte's introduction has been higher as opposed to itself in the past whereas Ford has largely remained ….. well, a Ford. I hear more stories about Sime Darby Auto Connexion carrying inadequate spare parts, resulting in lengthy repair periods compared to Kia but do make your own research if you're comparing against both makes if you're in the market for one. Don't forget that Kia's warranty exceeds Ford's with  unlimited mileage vs Fiesta's 200,000km (though admittedly, for a city car, it is doubtful if one will ever reach this figure if they're just commuting in the city). Safety-wise, the Rio is a clear winner with 6 airbags over the Fiesta Sport's 2.
.
Then, there are some who argues that for its price, might as well go for the Nissan Almera which has a cabin size as big as a tennis court. Sure, no doubt about it being the king of B segment cabin space. But not everyone (particularly the young, hip, trendy) can accept the conservative look of the Almera so the target market is as different as Chatime and teh tarik at your local mamak store.
.
No, if it's within the B segment, the Rio has its case. To me, B segment shoppers are price sensitive and (if we are to agree that the young, hip and trendy will be inclined to take a closer look at the Rio before deciding) impulsive. Just go for a couple of test drives and it will become more apparent which one will appeal to you.  The bigger headache, IMHO is for those who have an RM80k budget, should you fork out a little bit more for a C segment like the Inspira or the 1.6 Forte? The Forte 1.6 EX is even cheaper than the asking price for the Rio SX (price overlaps are rare in the industry so I suspect this variant may be canned soon to prevent market confusion and canibalization). If we're talking about the Inspira 1.8 or Forte 1.6 SX, that extra couple of grand extra would not amount to much if divided over time in a loan (that is not even factoring the discount for these long available models).
.
Ultimately, which model, size and make to decide on is up to individual taste. For me, the Rio has certainly cover most points urban youngsters seek in a modern vehicle. All that remains is that all important test drive to see if your heart decides better than your head ….. after all, being young is all about listening to your heart more than your head …. most of the time. NazaKia is offering the public a chance to be among the first to test drive it at The Curve from today onwards till this weekend, Sunday 3 Feb so head on there!
.
.
.