.
.
I hated this car. Seriously, I did. For a moment, I thought someone was pranking me by putting a Giulietta skin on … well, another car. Its acceleration is frustratingly slow, its gearbox rather retarded, its brakes grabs you by the balls if you tap the pedal harder than what's needed to squash tofu. In short, it's as though you meet this really hot, sophisticated chick at the bar, decides to take her on a date only to discover that she has a totally different sense of humor as you, bitches about trivial matters like the weather and when you spend 6 hours writing a love letter pouring your heart out, she throws it into the rubbish bin saying she ain't got the time to read it. Within minutes of turning the ignition and driving off in this sexy hot hatchback, I miss my car and wondered if I have finally found my opposing match.
.
First impressions matters …. but first impressions are only skin deep. And after driving the Giulietta for a couple of days, I realized that appreciation only comes after one gains a certain degree of understanding about it. Turns out at the end of the 3rd day, I returned the key to it with a heavy heart. It was a very interesting Italian fling and I probably gained some insight of what it means to be a true fan of Alfa Romeo, the Alfistis.
.
.
Design
.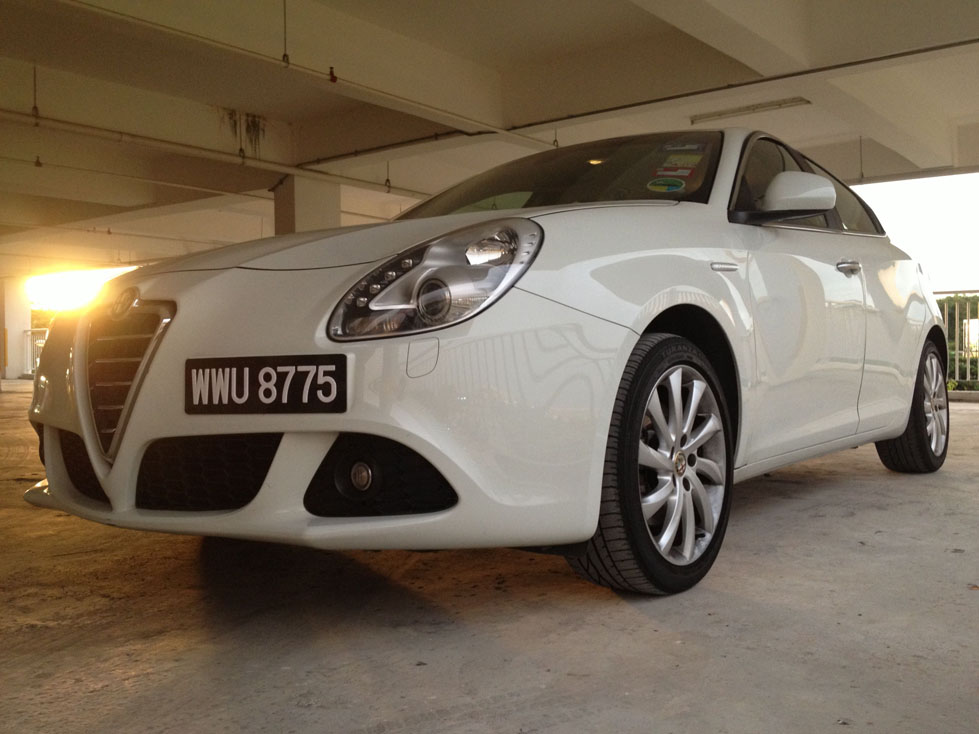 .
Alfa Romeo has always been in the forefront of making some of the most desirable cars in world and the Giulietta is no exception. It's a hatch designed for a family of four (or 5 if you're Asian and fits probably 2 if you happen to be the size of an Italian mafia boss who've had no inhibition when it comes to food) and wherever you go with it, it's bound to turn heads. Parking the Giulietta at the front valet of upscale Bangsar shopping malls will look perfectly fine, next to Bentleys and Ferraris.
.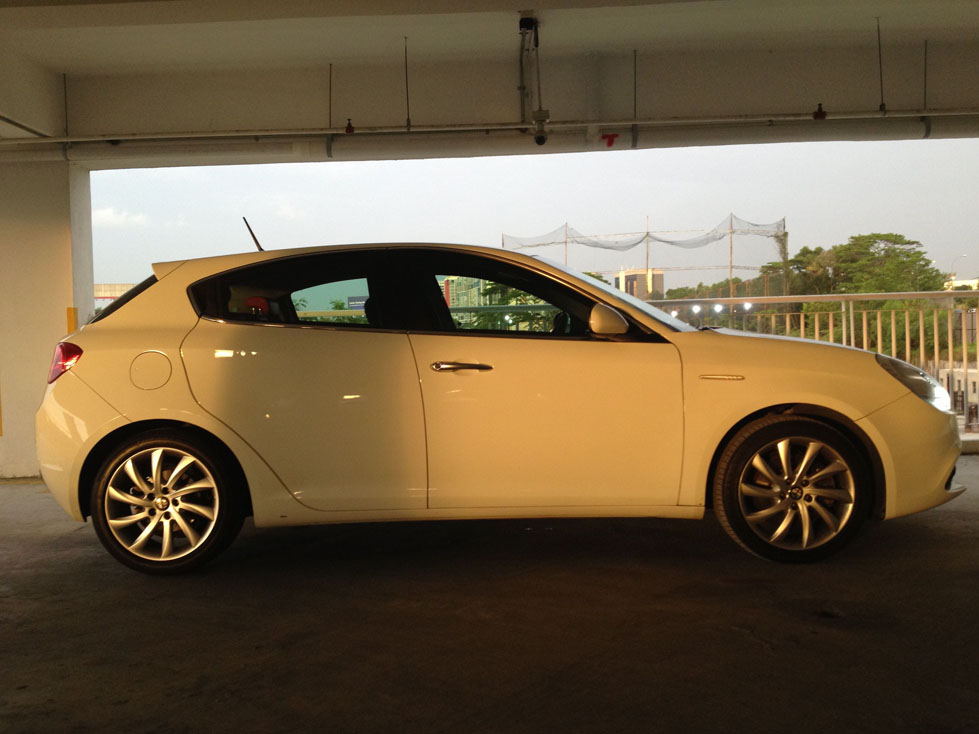 .
As far as dimension goes, Alfa Romeo seems to have created the Giulietta targeting the Volkswagen Golf. Measuring 4,351mm in length, 1,798mm in width and 1,466mm in height with a wheelbase of 2,634mm, it's not much different from the Veedub. What's clearly different is that if you were to drive by in a Golf, no one would spare you a second glance. The Giulietta, on the other hand has been known to cause quite a few neck sprains of people following its course.
.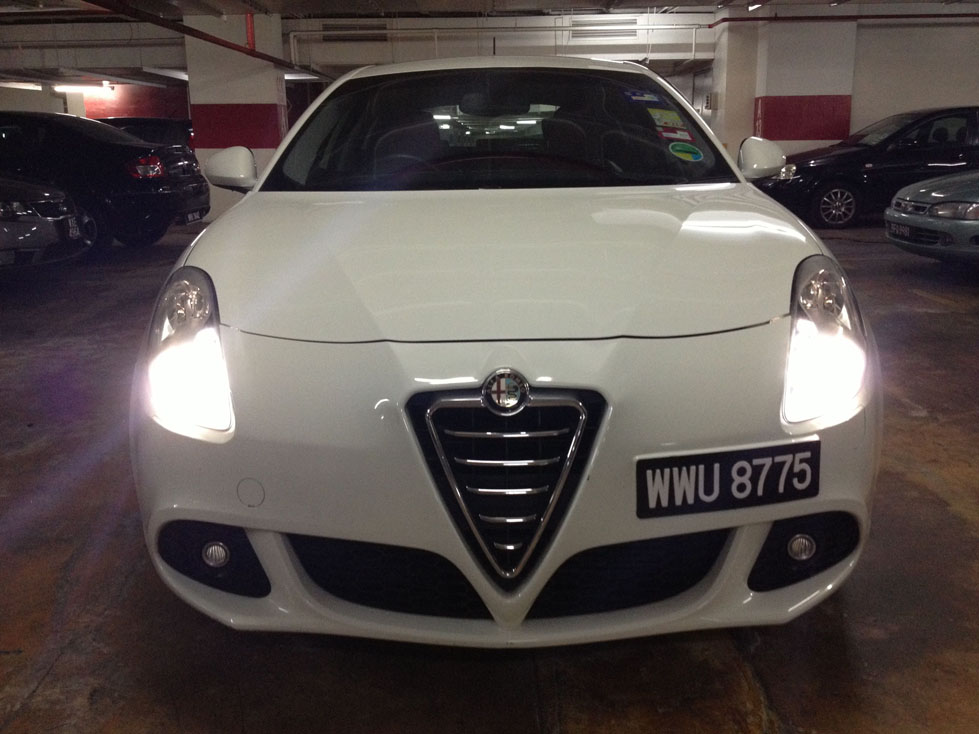 .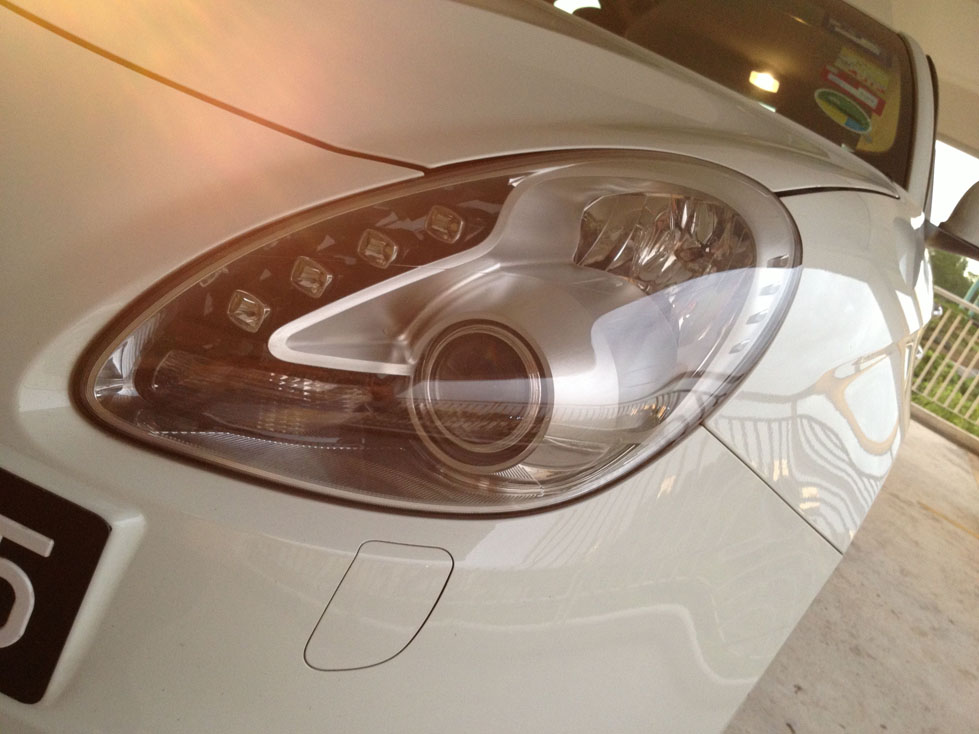 .
Some hardcore traditionalist Alfisti might disagree with its appeal, saying it's a departure from its traditional design. With its bug-shaped headlights, the front fascia of the Giulietta is far from the usual angry looking, ready-for-a-fight Alfa squint like in the 159.
.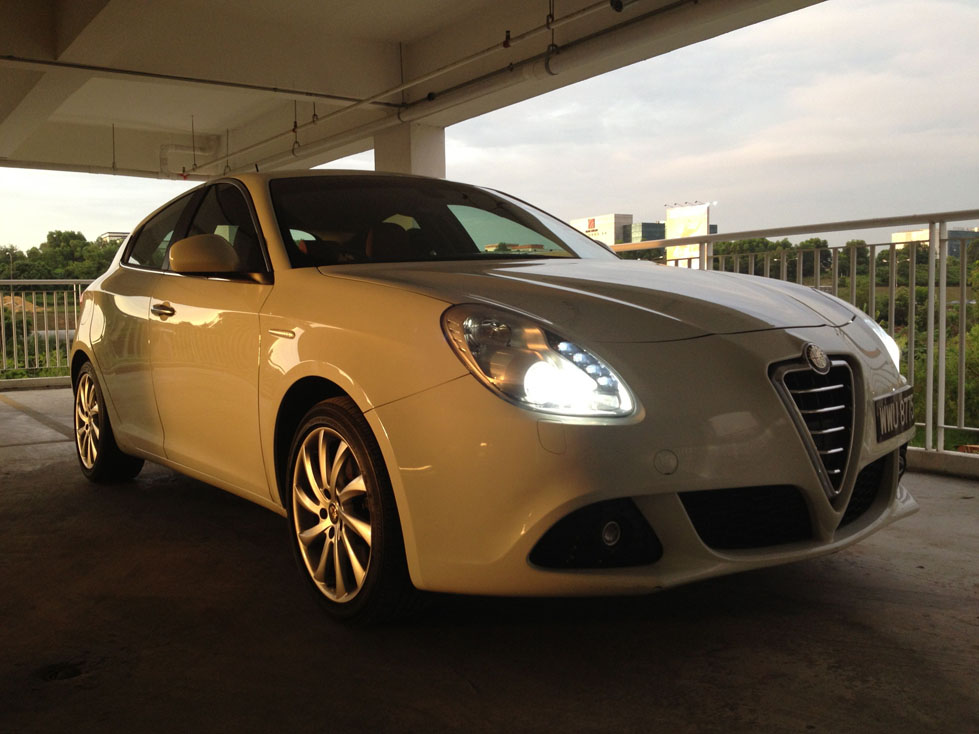 .
In fact, it's got the word "Cute" stamped in almost every angle you choose to view it.
.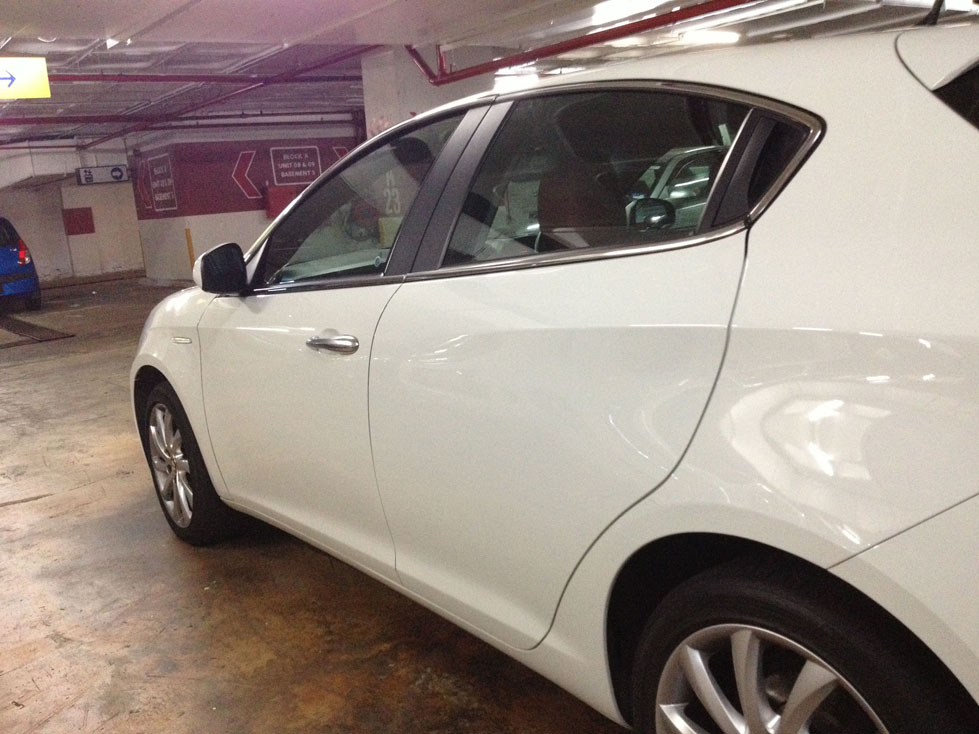 .
Particularly amusing is when you have passengers who're unaccustomed to the hidden rear door levers found near the rear windows. I had a colleague who thought this was a 2 door and wanted to slide the front seats forward to squeeze in.
.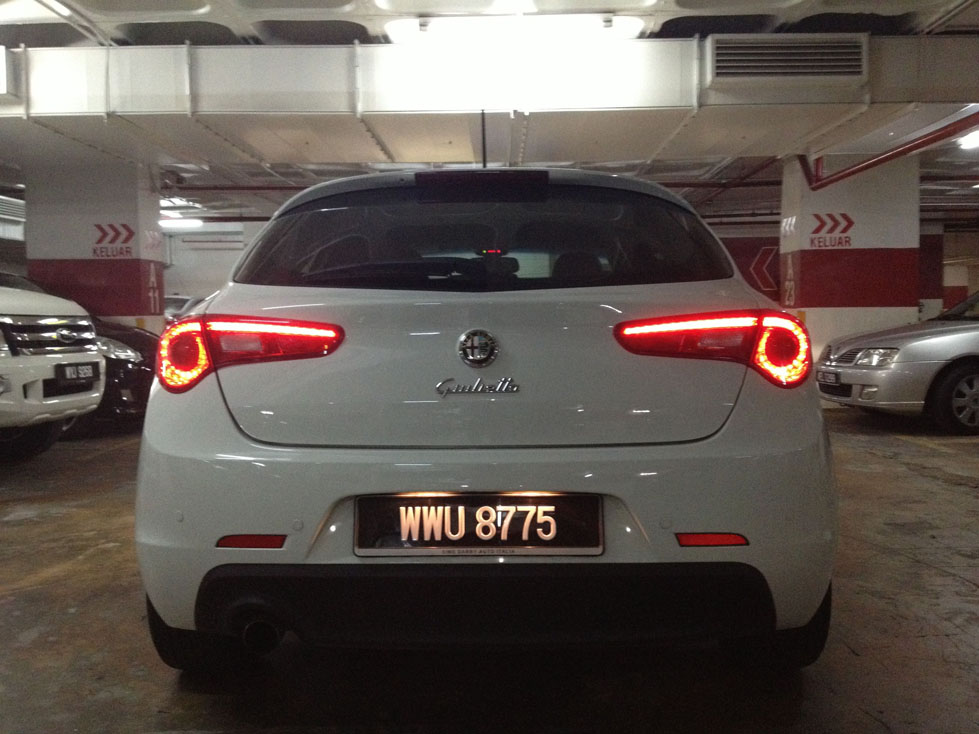 .
The rear tail light signature is one of, if not the most sexy design one can find on a hot hatch's hump. The lines are clean, with the opening to the boot being the Alfa Romeo logo that can be pushed.
.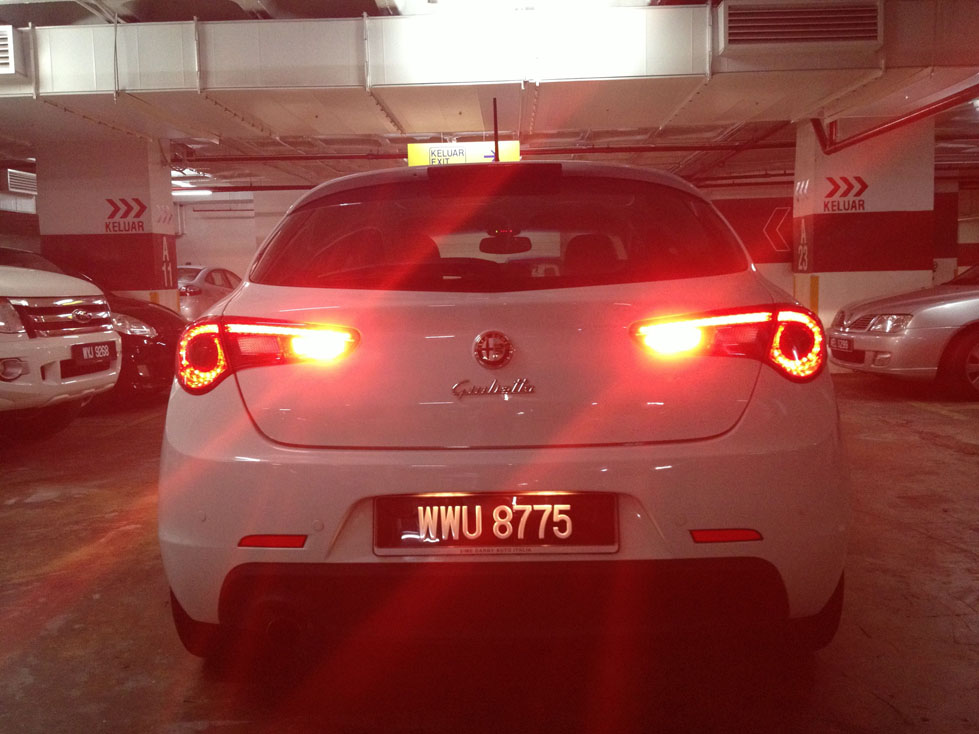 .
Should you require more attention from the back, the rear fog lights could probably illuminate the entire dance floor of a club.
.
.
Performance
.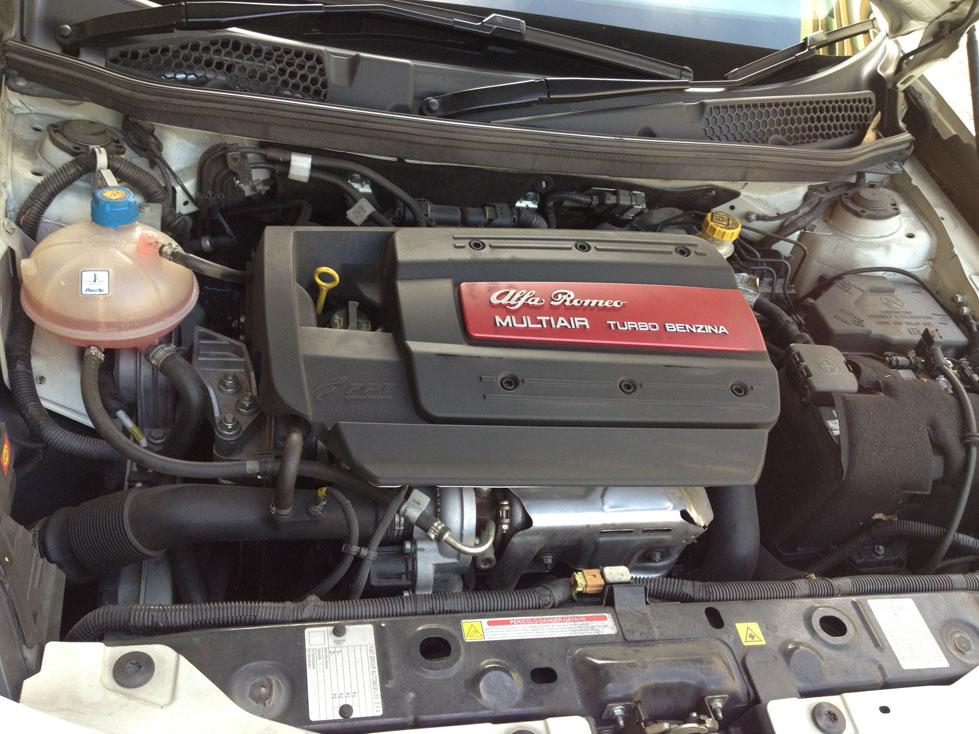 .
At the heart of the heart wrenching Giulietta is the award winning 1.4litre MultiAir turbocharged engine, which electronically controls air intake. This means air intake can be optimized to cater to various power demands  without sacrificing fuel consumption.
.
Zero to hundred is rated to be 7.7 seconds which is faster than the Golf's 8.4 seconds century sprint so quite naturally, I had high expectations of it. Its maximum power is 170HP (which is 30HP more than the Mk VII Golf) and maximum torque is the same at 250Nm so it can't be that bad, right? But the experience was far from what I expected. There was a severe turbo lag that is conspicuously present every time when you want to come out from a junction to join a busy road. Seeing that maximum torque is achieved at 1,750rpm and above, it should not be this bad. I tried to be gentle on the throttle, I tried to be hard but no matter what I do, the anti-climatic lag is ALWAYS there!
.
Then, I noticed this little lever in front of the gear stick:-
.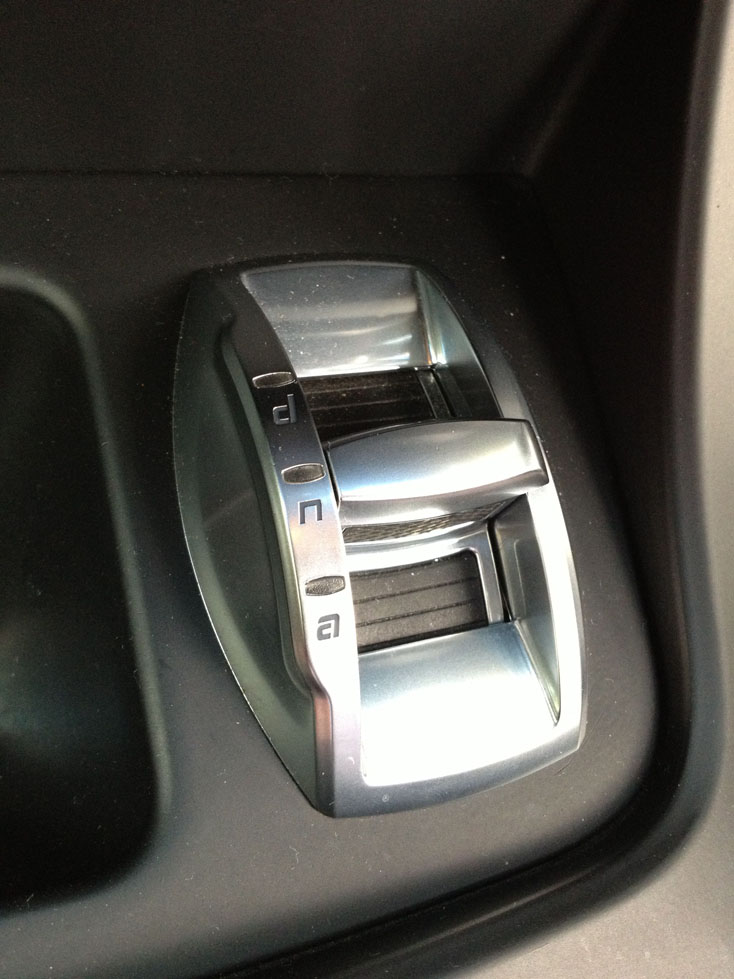 .
A small little plasticy thingy that looked like what you'd expect to find on a bicycle and commands almost no attention. Don't under estimate it. This is the controls for Alfa's dna system which is the car's dynamic system that changes your hot babe from a sedated girl to a hot chick on stimulants.
.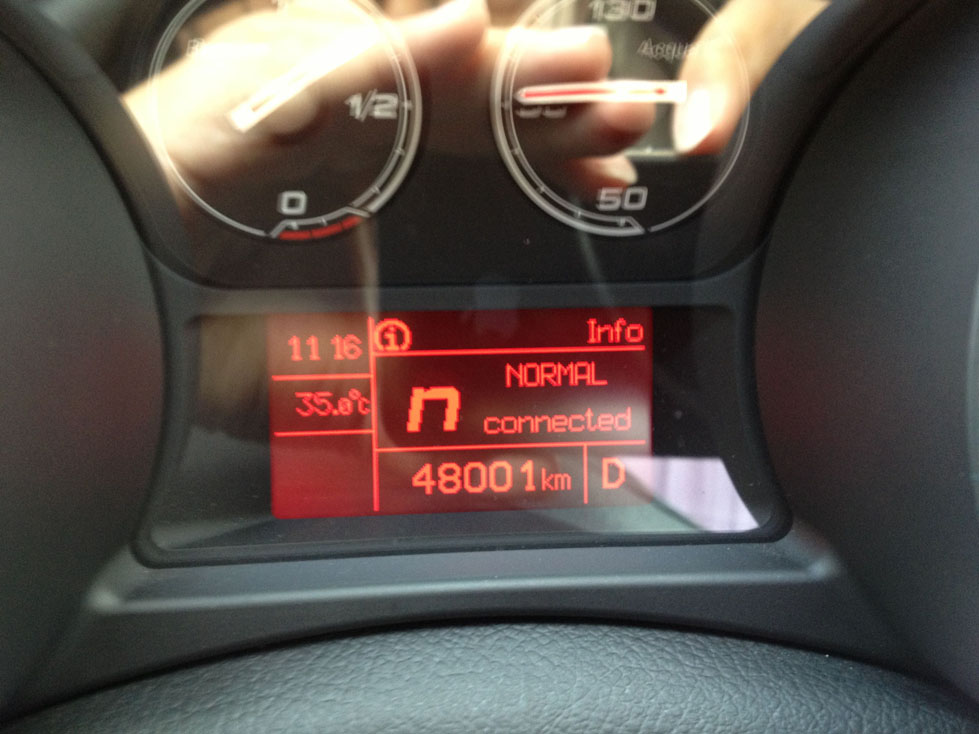 .
The dna system alters the throttle and steering response and each time when you start the engine, it moves to 'n' setting which means Normal. After some digging, I found that in this mode, the maximum torque is only 230Nm and it comes at 2,250rpm. No wonder every time when the rpm was below 2,000, it drives like Nanny's car. There was no way it could do naught to 100 in 7.7 seconds.
.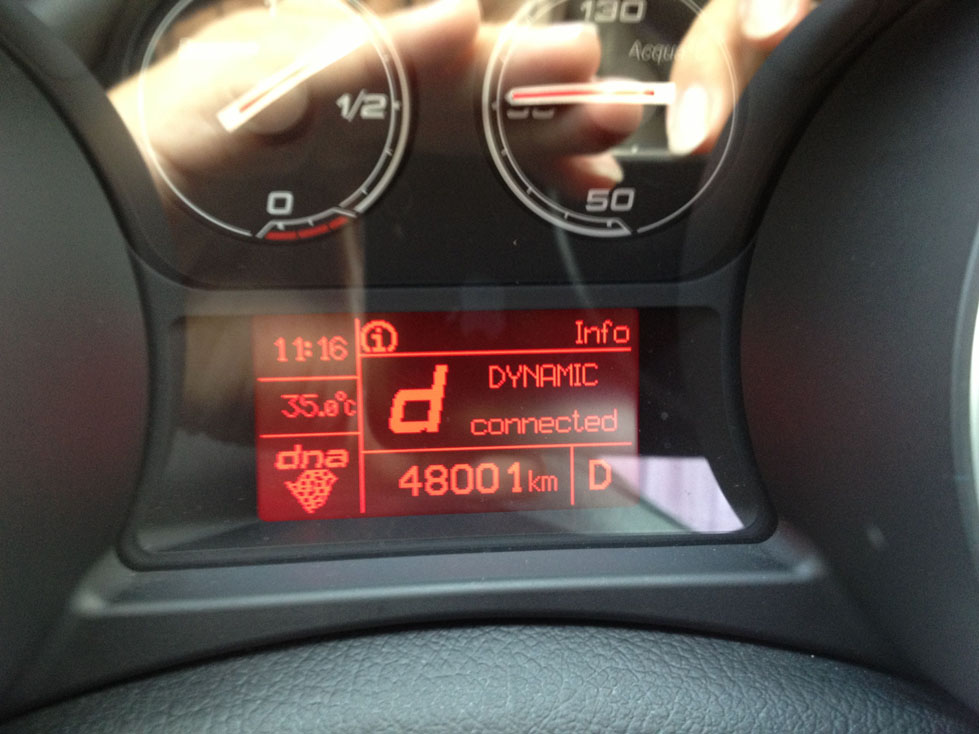 .
 Pushing the lever up to 'd' brings you to nirvana! In the engine response becomes Diabolical. Suddenly Ms Cutesy's powerplant gains the ability to overboost to 250Nm and maximum torque comes in lower at 1,750rpm. Power delivery becomes near instantaneous and it certainly feels a lot faster than the Golf at this point.
.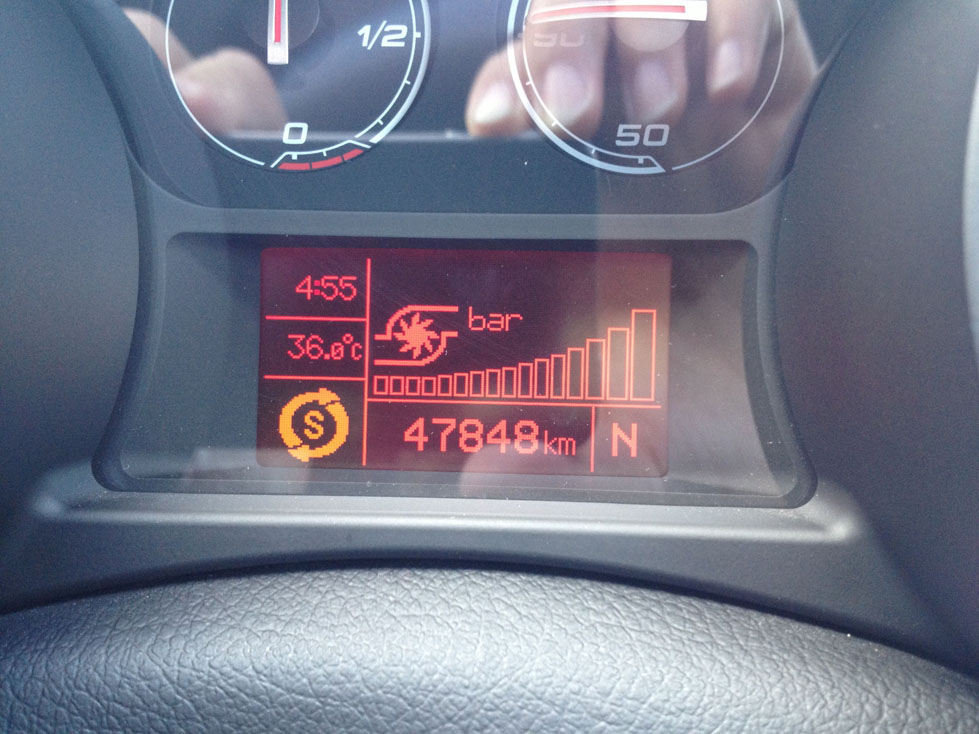 .
You even get a nice visual display on that LCD between the meters telling you how much boost your turbo is giving you.
.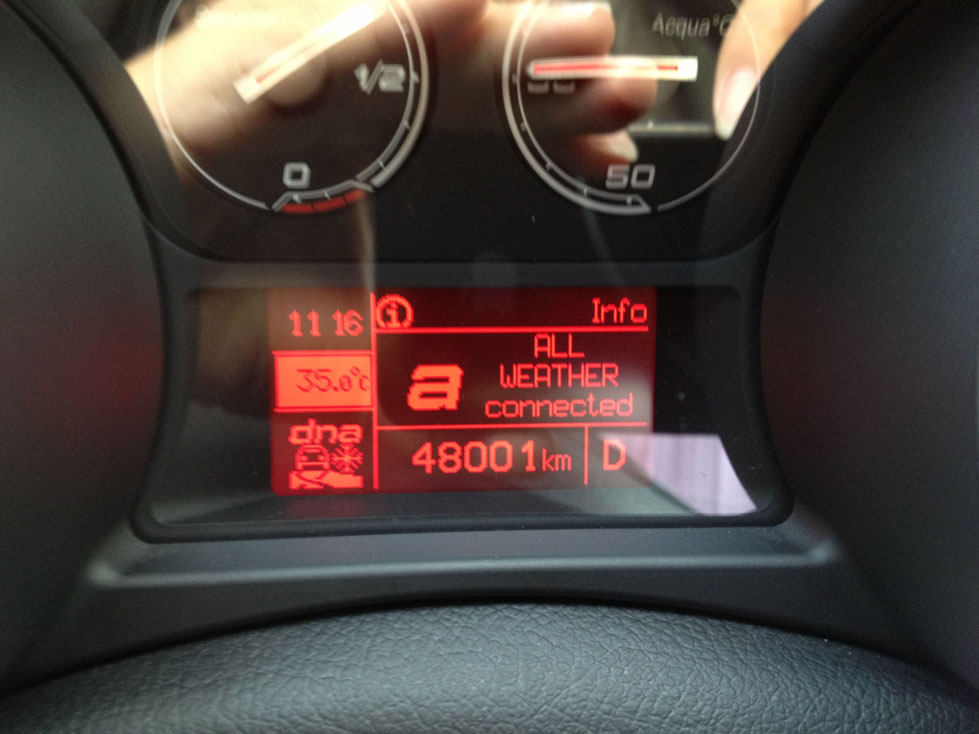 .
Little chance for me to fully utilize the 'a' mode which is All Weather and is meant to be used in poor grip conditions. Engine response is more gradual and controlled.
.
My initial problem was I drove the car under Normal mode, expecting a high performance vehicle. When I shifted to Dynamic, the car was properly as fast as it should and it was a joy to drive. But after some time, particularly if you're ferrying passengers and comfort gains higher priority, changing the nature of the engine to a more comfort orientation is preferred. This is the strength of the dna system; it's almost as though you have twins on your bed with very distinctively different characters. One who likes it fast and rough, the other slow and passionate. How about it? Two for the price of one?
.
.
Ride and Handling
.
One word: Superb. Chassis control and body roll are all well controlled and only when you're pushing corners at insane speeds to you feel understeering trying to spoil your fun. The Giulietta handles like a charm, chucking corners like it was designed to do.
.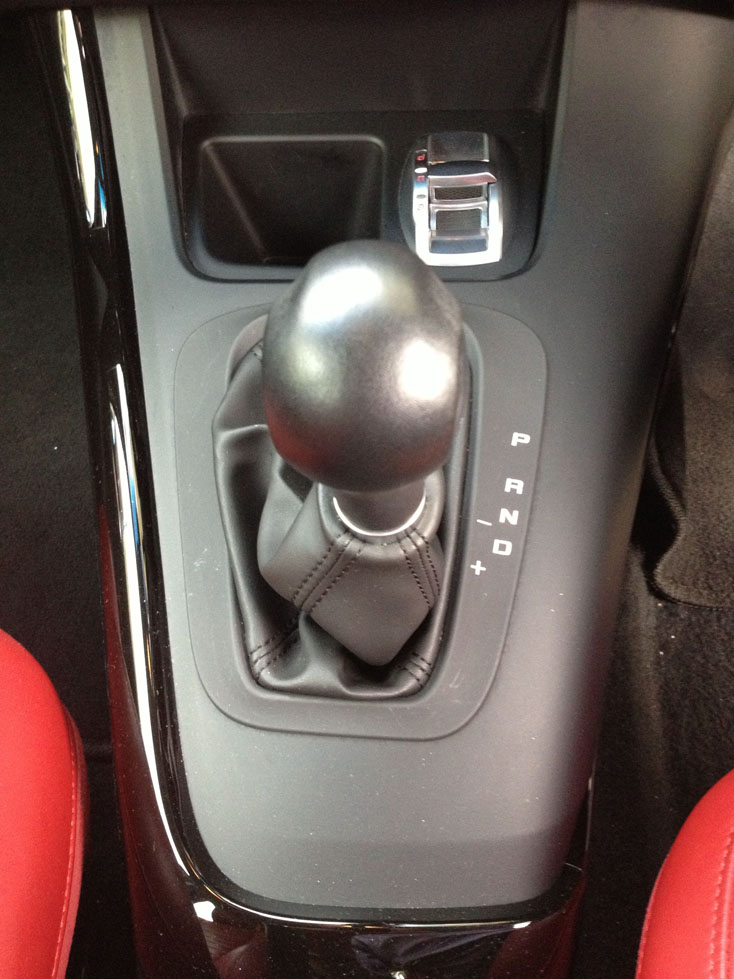 .
It's 6-speed TCT (Twin Clutch Transmission), like most dual-clutch systems functions well during cruising or high speeds but is less than perfect at low or stop-go speeds. And as the Giulietta also has the stop start feature where the engine shuts off when not moving and comes back to life when the brake pedal is lifted, traffic crawls becomes a whole lot annoying. Good thing the stop start can be manually switched off.
.
Still, if one is on 'n' mode, the steering is light enough for effortless town driving. In 'd' mode, the steering becomes more weighted but road feel does not necessarily improve as much. What's really nice is that steering accuracy and sensitivity has gone to near orgasmic levels in this mode, with the car obeying instantly your every commands through the wheel.
.
Nevertheless, steering input on 'n' is relatively good and sound insulation is decidedly continental so high speed cruising is fairly comfortable. In fact, most of the time, you don't feel the speed you're traveling in until you look at the dials.
.
.
Cabin Convenience
.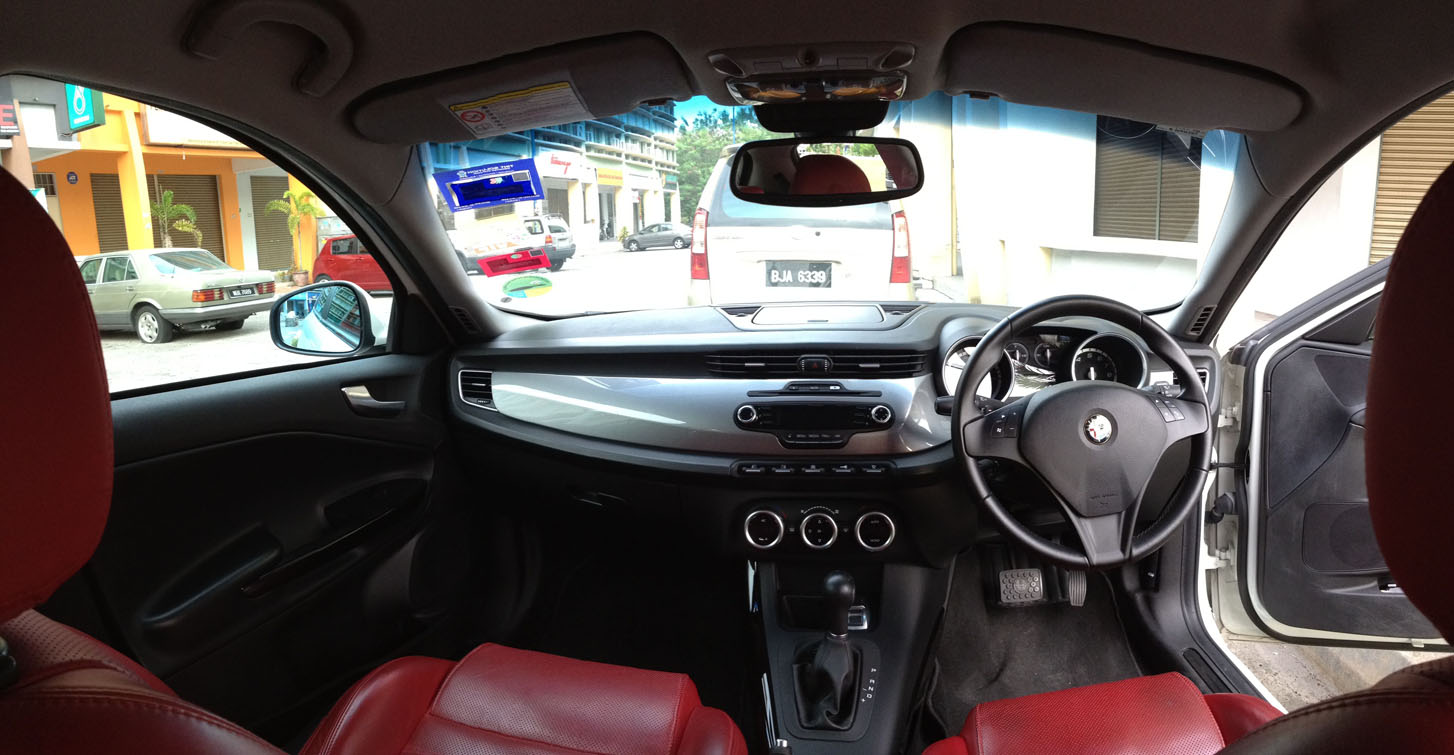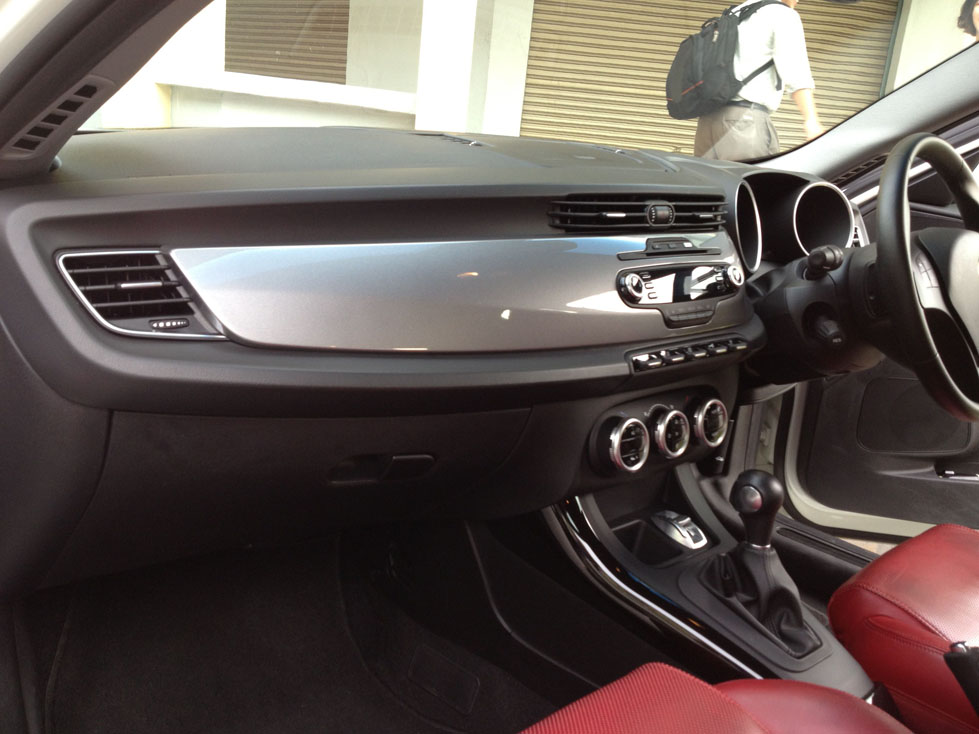 .
The insides is a great place to be in …. the impression I have is everything being elegantly simple. I have always subscribed to the thought that less is more and in the case of the Giulietta's dash, I'd say they've done a pretty good job.
.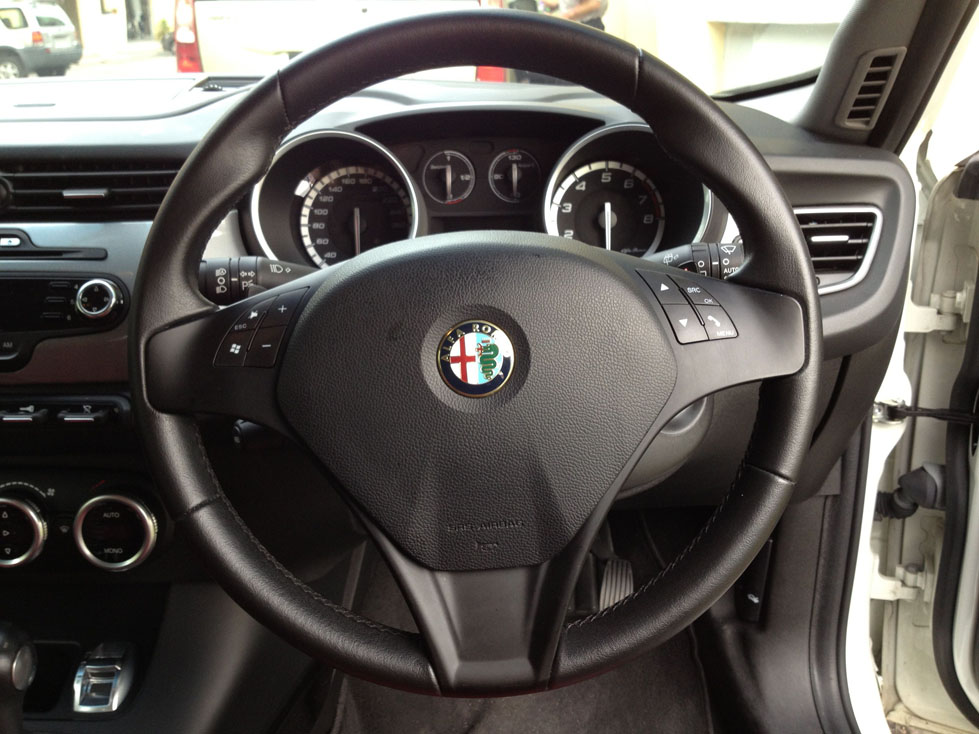 .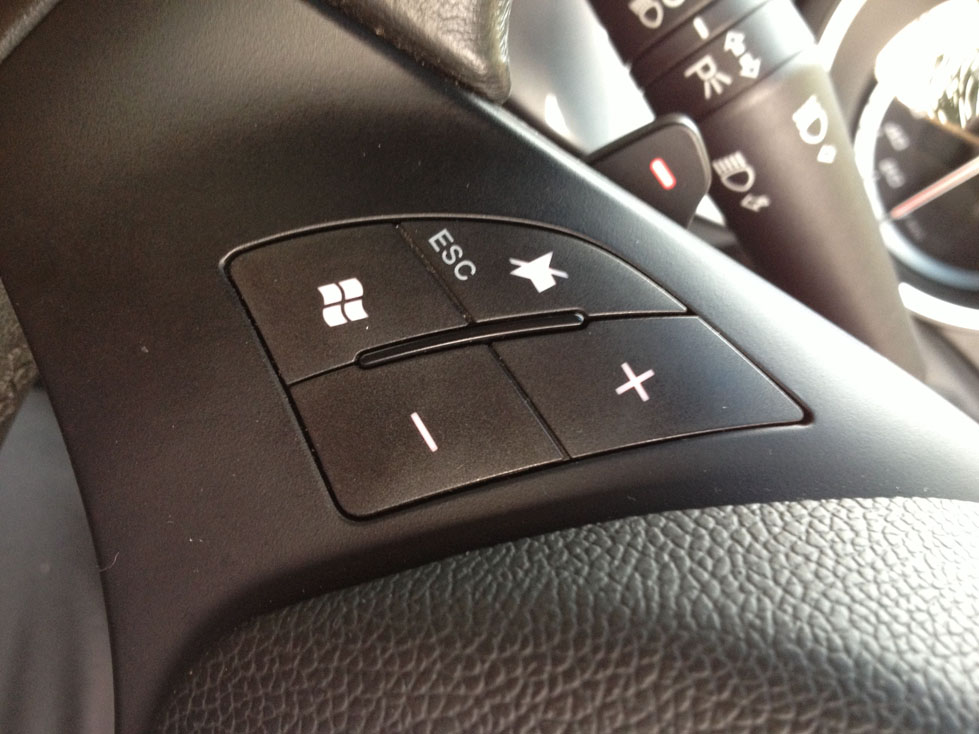 .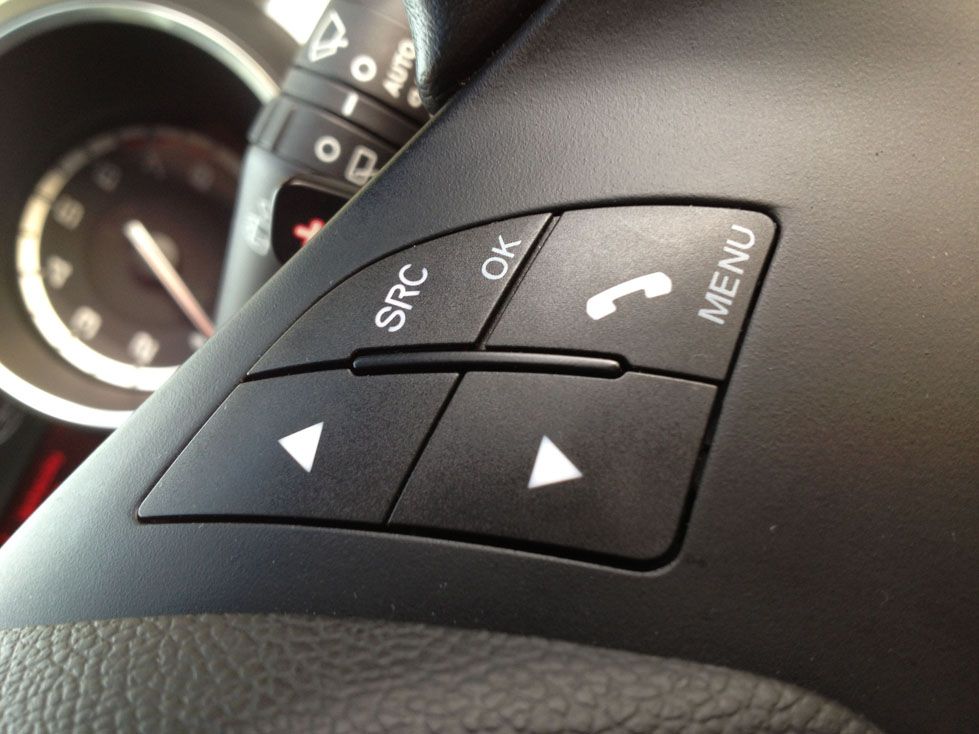 .
Erm, is that a Windows logo I see on the left steering wheel controls? Nope, that calls up the Blue & Me controls which is a voice command unit. It's not as extensive as Ford's and controls items like Bluetooth and audio settings. In Europe, Tom Tom GPS systems can also be paired to the Blue & Me system.
.
Aside from that, the steering is meaty and grip is reassuringly good.
.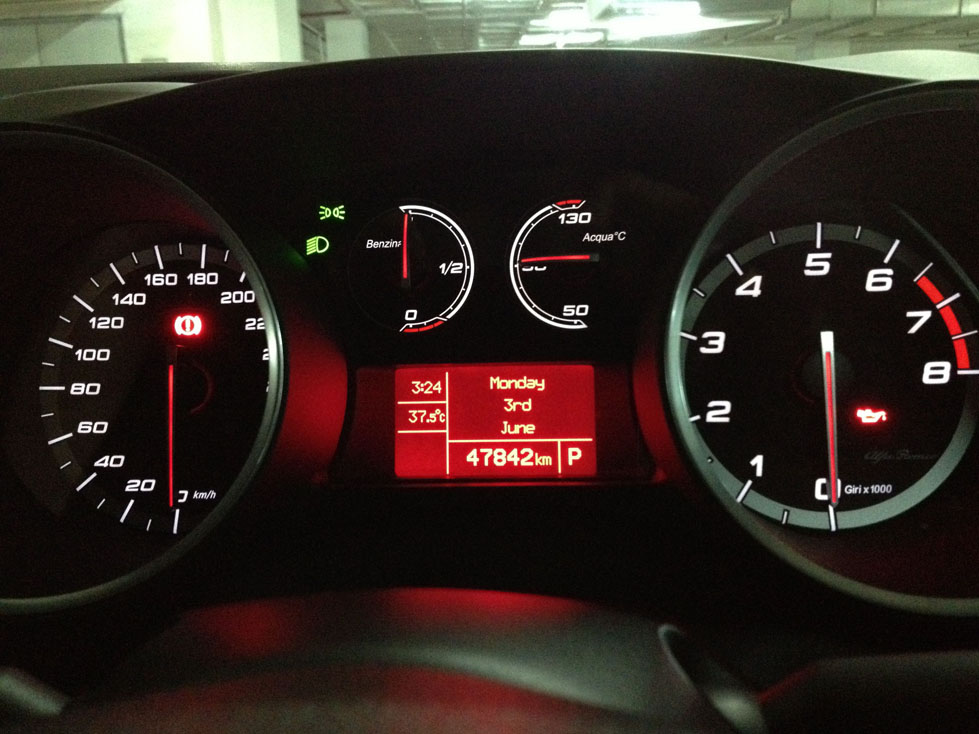 .
Speed and rpm dials at 6 o'clock positions. Very race orientation. And I especially love the fact that they use Italian for water (Aqua), fuel (Benzina) and RPM (Giri). That's what I call style.
.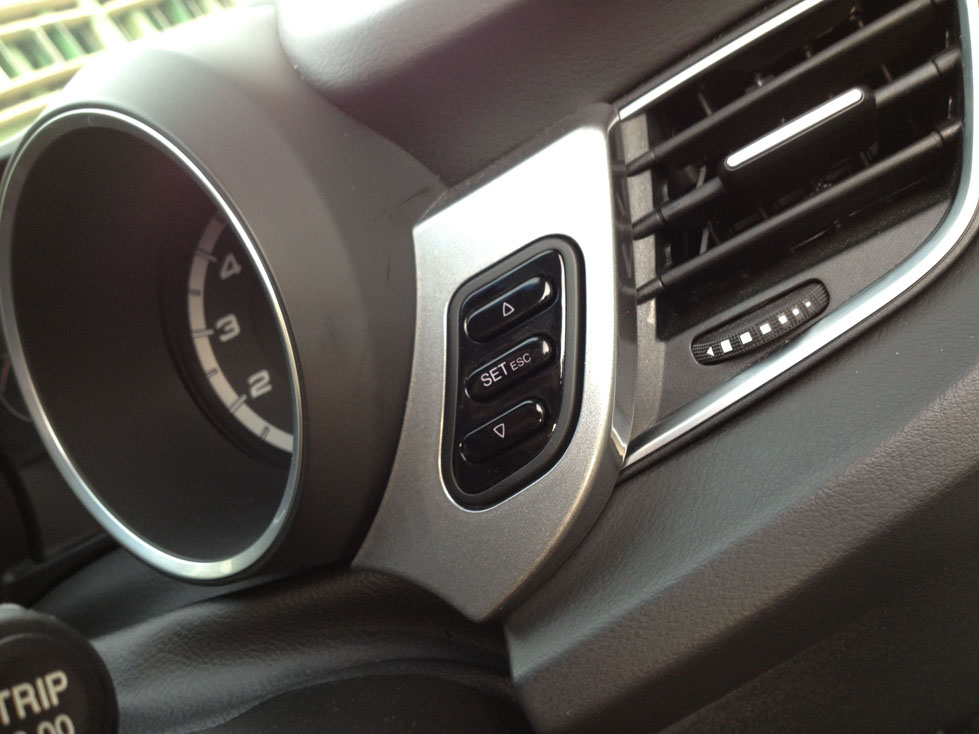 .
Accessing the multi function display is done here instead of what's normally found on the steering wheel.
.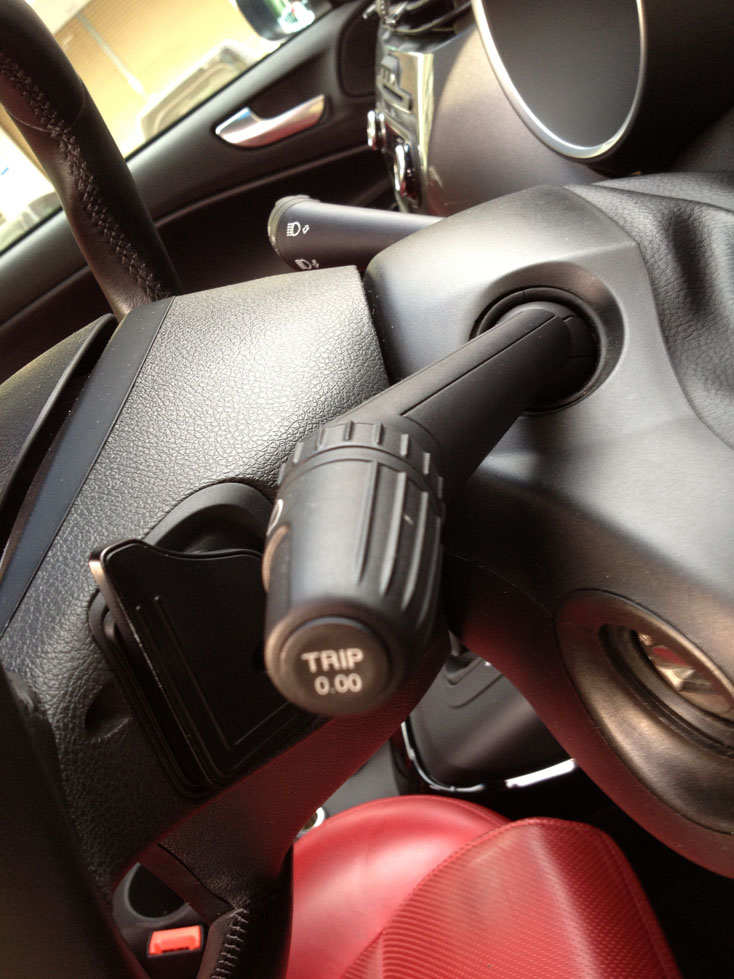 .
What I don't quite appreciate is the stalks. They're flimsy and each time when you flick it back to neutral, it stops with a "clack". They way the stalk moves spoils the expensive nature of the cabin and honestly, next to the steering wheel, the stalk is what most people will be using all the time so this lack of quality will stand out very much to the driver.
.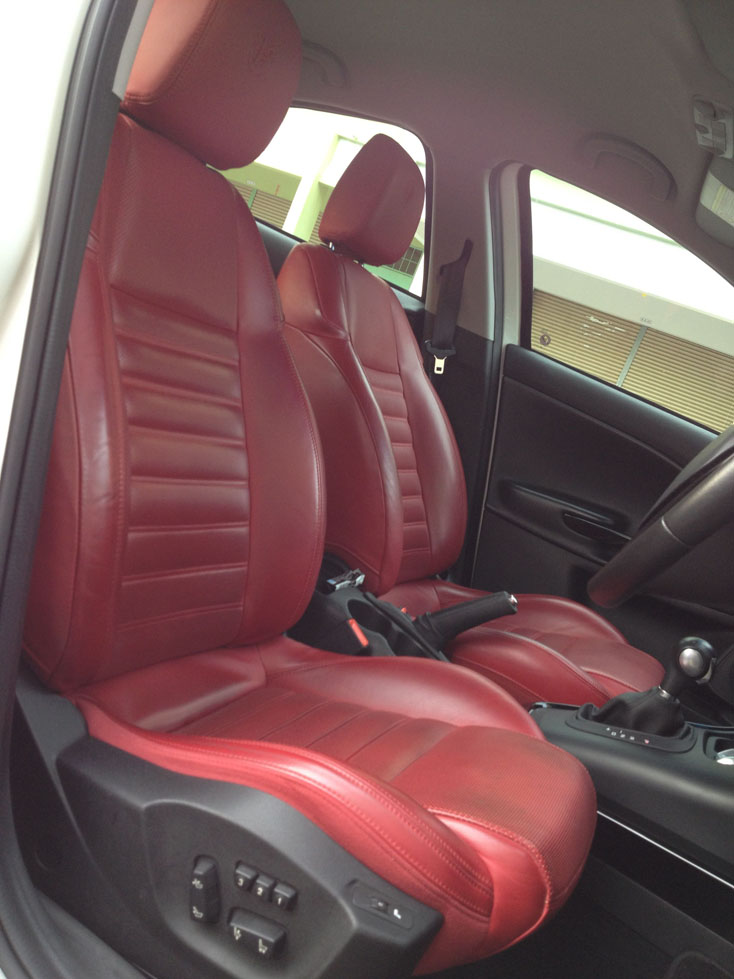 .
.
The red leather, powered seats with memory are absolutely great to be in. No, you don't quite need those seat heaters unless you plan on having matching colored butt cheeks.
.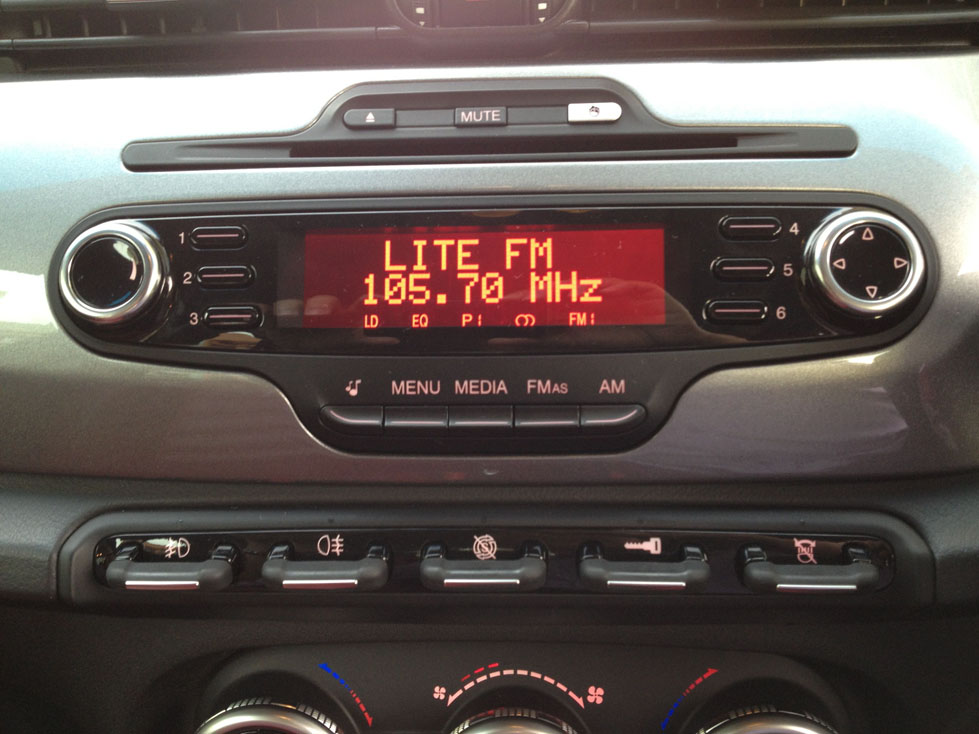 .
The headunit is as functionally simple as can be but at least it's not as clinical as Volkswagen's layout. 'U' shaped levers are an interesting design element
.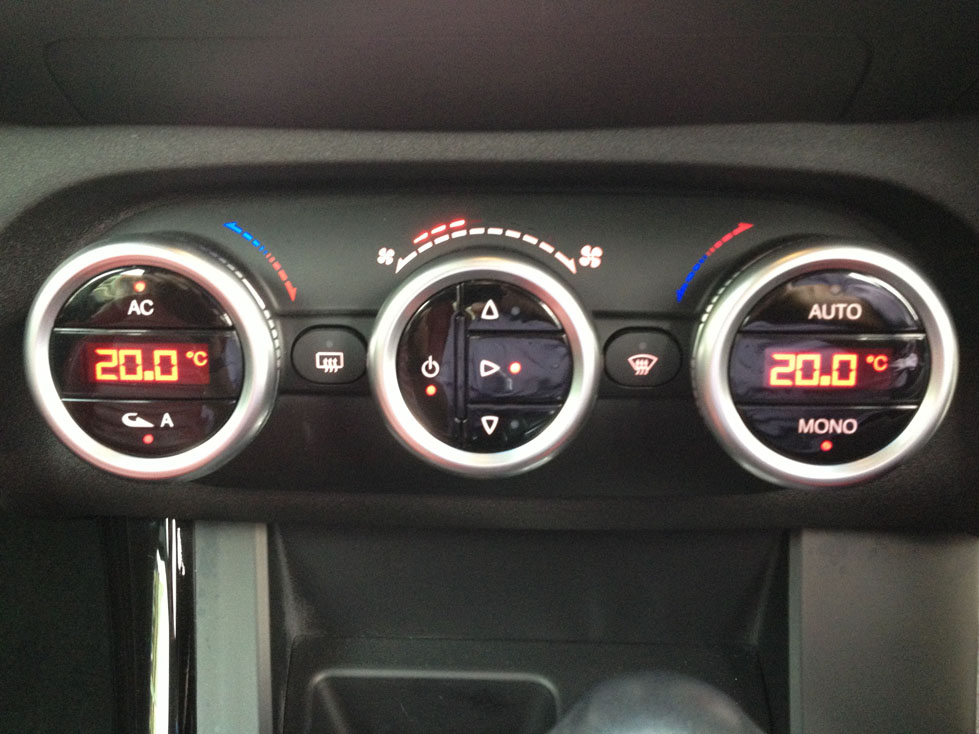 .
Dual zone climate control are the standard nowadays although its throughput could be better.
.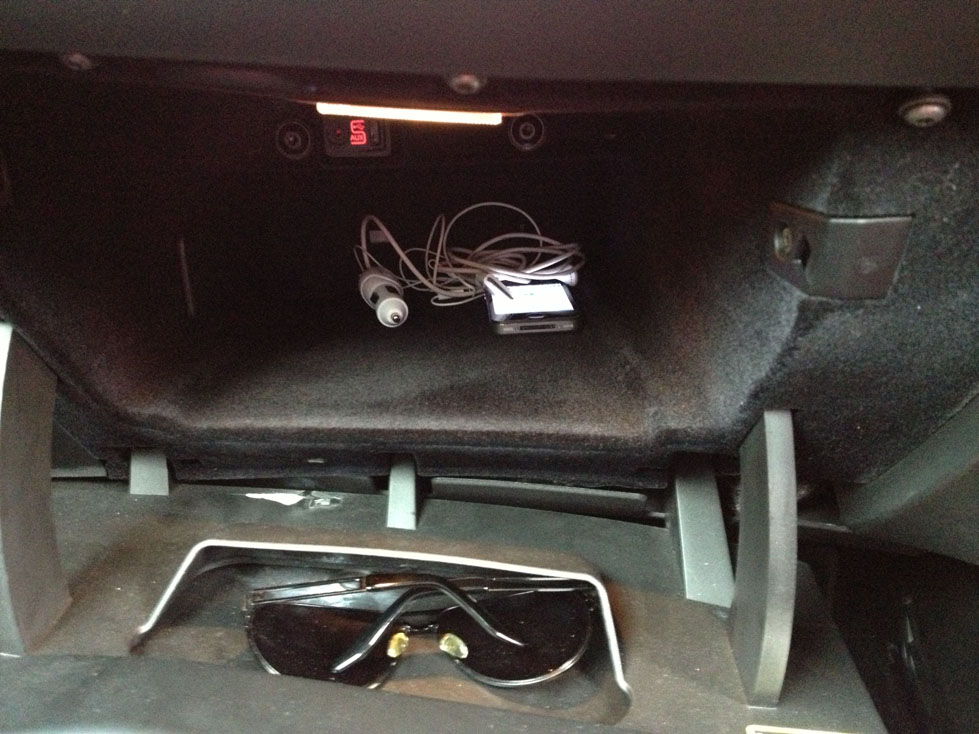 .
The glove compartment is one of the largest you'd ever find in this segment although with the way it opens, it also reveals certain gap issues. Also, it will hit the front passenger's knees so it is a minor ergonomic issue that hopefully in its next incarnation, Alfa Romeo will fix this.
.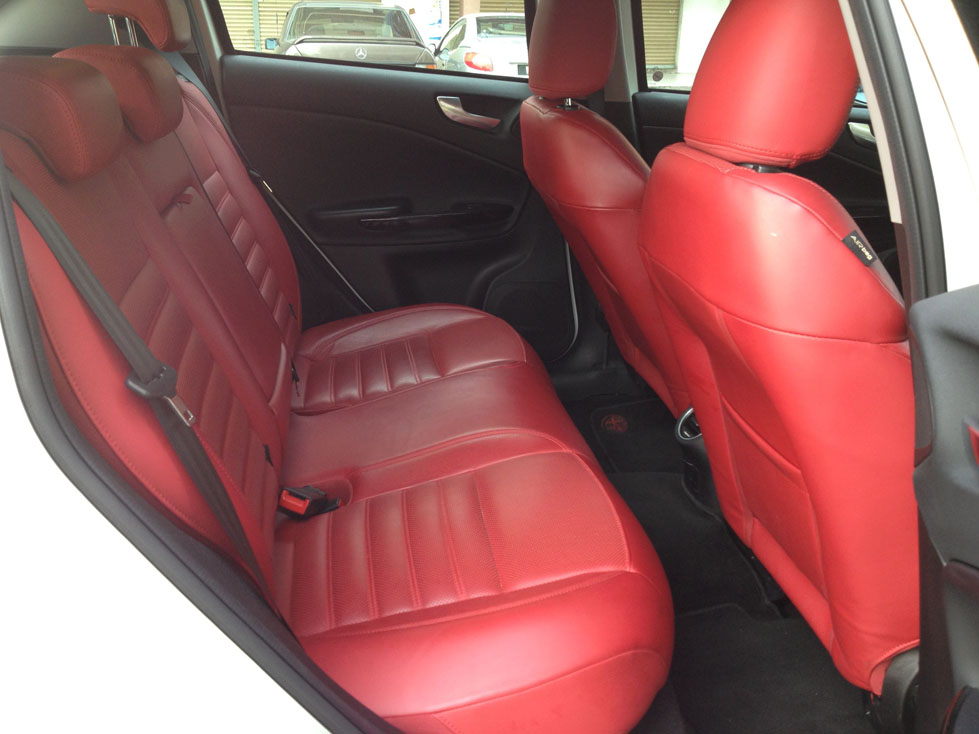 .
Rear legroom isn't the best in its class and loses out to the Golf. It is comparable to the Peugeot 308.
.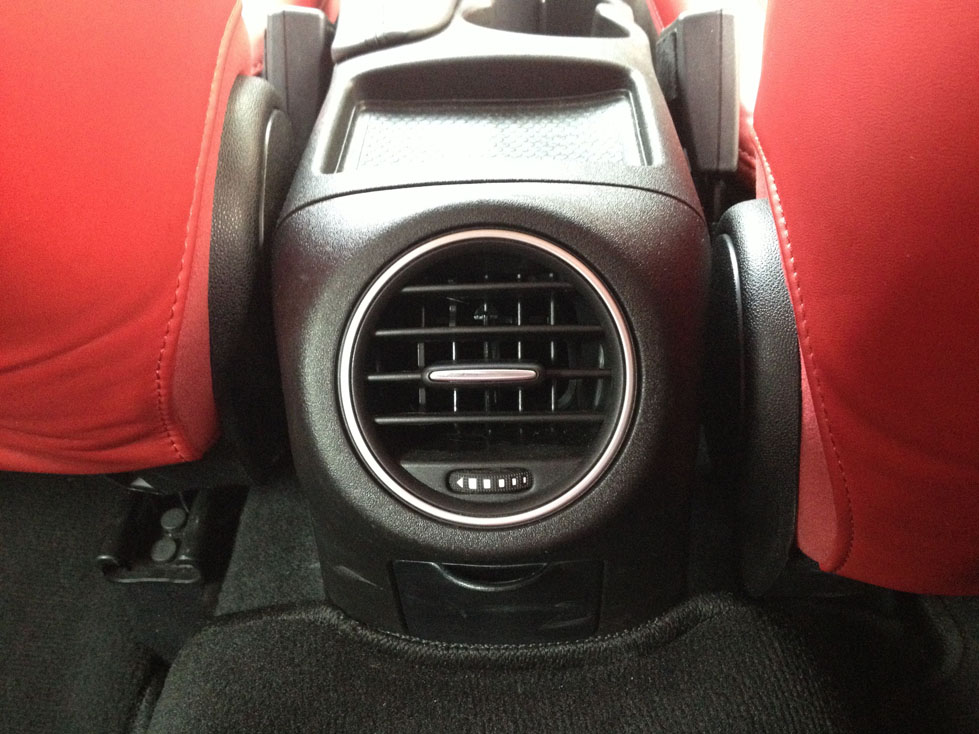 .
Single aircon vent …. stylish yes.
.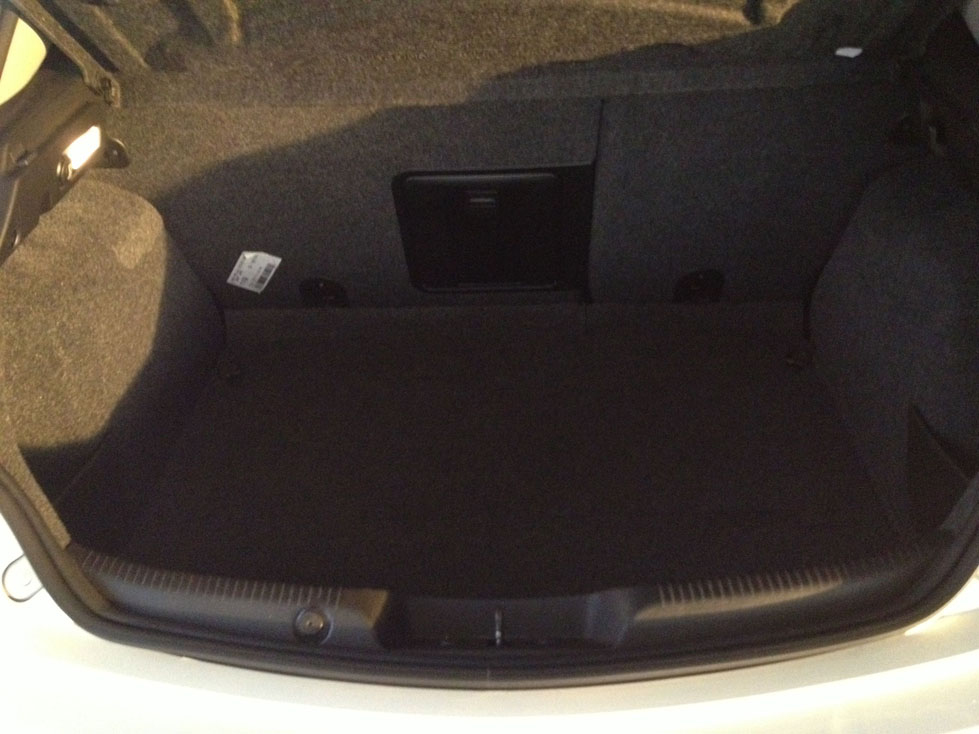 .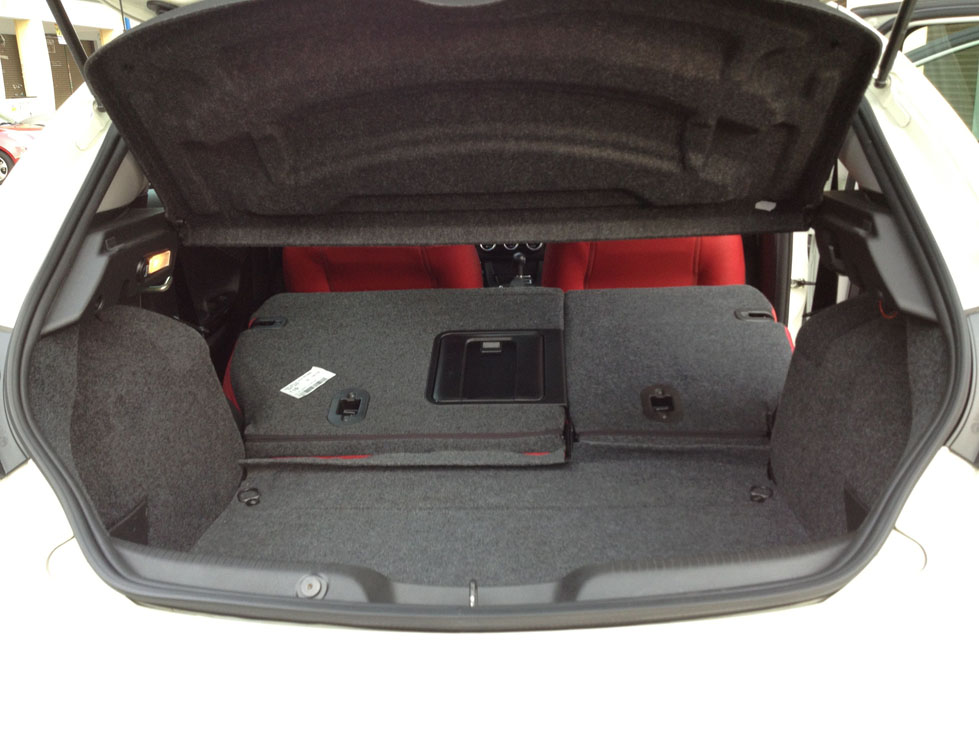 .
As for the boot, you get 350litres of space with the rear seats up. Pretty useful by itself you can always create more space by lowering the 60:40 split rear seats.
.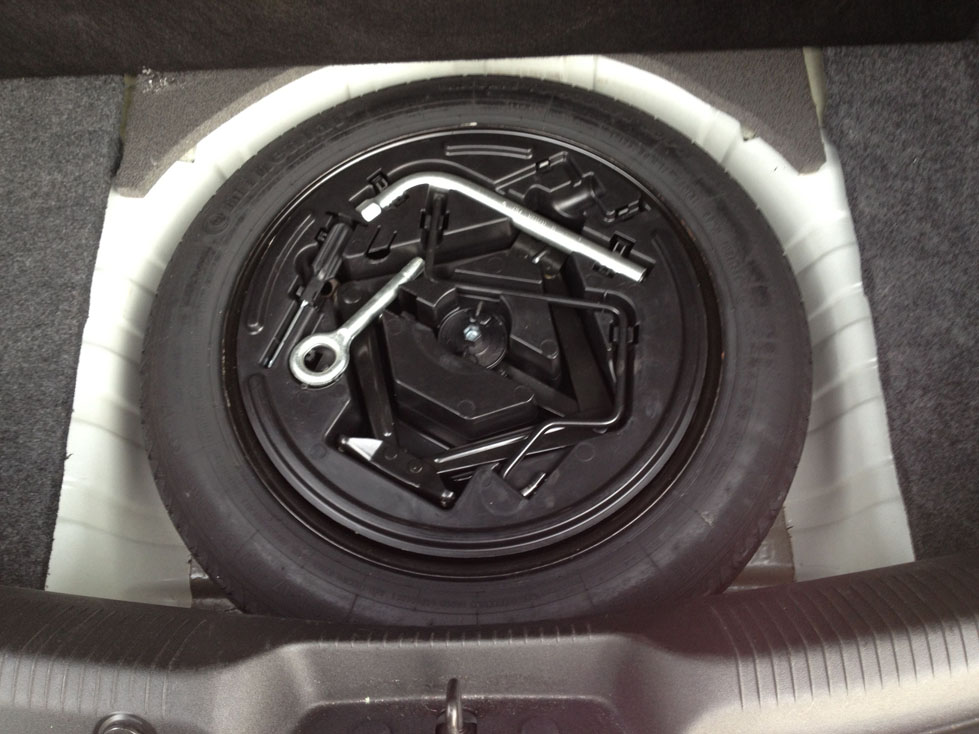 .
For a spare, you get space savers.
.
.
Safety
.
As is most continental cars, the Giulietta is no push over when it comes to safety, offering the following features for you:-
Alfa Immobilizer and Alarm system
6 airbags
5-star Euro NCAP rating
Double pretensioner front seat system
Q2 Electronic System
ABS
EBD
HBA
Vehicle Dynamics Control
Modular System Regulator
Control Brake Cornering System
Hill Holder Control
Anti Slip Regulation System
Dynamic Steering Torque System
Torque Transfer Control System
.
.
Specifications
.
Daytime Running Lights
AFS Adaptive Xenon Lights
Alfa Romeo D.N.A. System
Start & Stop System
Automatic Dual Zone Climate Control System
Electric Powered Steering System
Cruise Control System
Alfa Sound System with CD/MP3 player
6 speaker system
Blue & Me System
Leather Upholstery
MacPherson Front Suspension
Multilink Rear Suspension
.
.
Ownership and Maintenance
.
The Alfa Romeo Giulietta retails for RM178,888 (price excludes road tax, insurance and registration related charges). It has a 2 years unlimited mileage warranty and service interval is every 10,000km. An engine oil and filter change with labor will cost RM 400 which is pretty reasonable.
.
Ultimately, if you're in the market to consider a Golf, the Giulietta is a viable option. Though it costs some RM20,000 more than the Golf, the Giulietta remains as a novelty over the Golf, enough to get it featured in the latest Fast and Furious 6 movie. Everyone knows how expensive a Golf can be in Malaysia but looking at the Giulietta makes one wonders if this costs double of the Golf. The perceived value of the Giulietta, the result of its brand heritage and handsome design is a lot higher in the eyes of the public. Never mind the fact that you might see at least one Golf in a day of driving but to see an Alfa Romeo? That's like seeing a rainbow once in a while.
.
It's certainly far from perfect but that's the thing; its imperfection makes it perfect. The Giulietta is the car that reminds you what it's like to have fun driving. It doesn't have a range meter, it doesn't have powered side mirrors but really …. those are little things that may mean a lot to some ….. but not to an Alfisti. The Giulietta, even though it does not have the same design cues as its other siblings have the same Alfa Romeo character and in that sense, it takes a special someone to truly appreciate an Alfa Romeo. Are you that somebody?
.
.
.