.
There's a lot of things with the word 'Smart' nowadays. Smart TV, Smartphone, Smart Tag …. it makes you wonder if there's anything that isn't Smart? Back when I was growing up, things weren't so conniving. The only thing that had 'Smart' in it back then was Smarties!
.
At any rate, translated to a car, it's all about meeting European standards and each manufacturer attempting to out do each other in performance, ride and handling and specifications while boasting fuel economy that requires you to refill as often as a nuclear submarine needing to stop for fuel. With dwindling natural resources and increasing carbon cost, it pays get one's technology right and preserving Mother Earth without sacrificing on driving pleasure and creature comforts is as sure as eggs is eggs.
.
And this is where the Ford Kuga comes in. Filled to the brim with technology that makes any other SUV look like Flintstone carts, the Kuga is another fine example of Ford's attempt at world domination. But will it be enough to win the war by merely outgunning the competition? I guess we'll have to look deeper then.
.
Design
.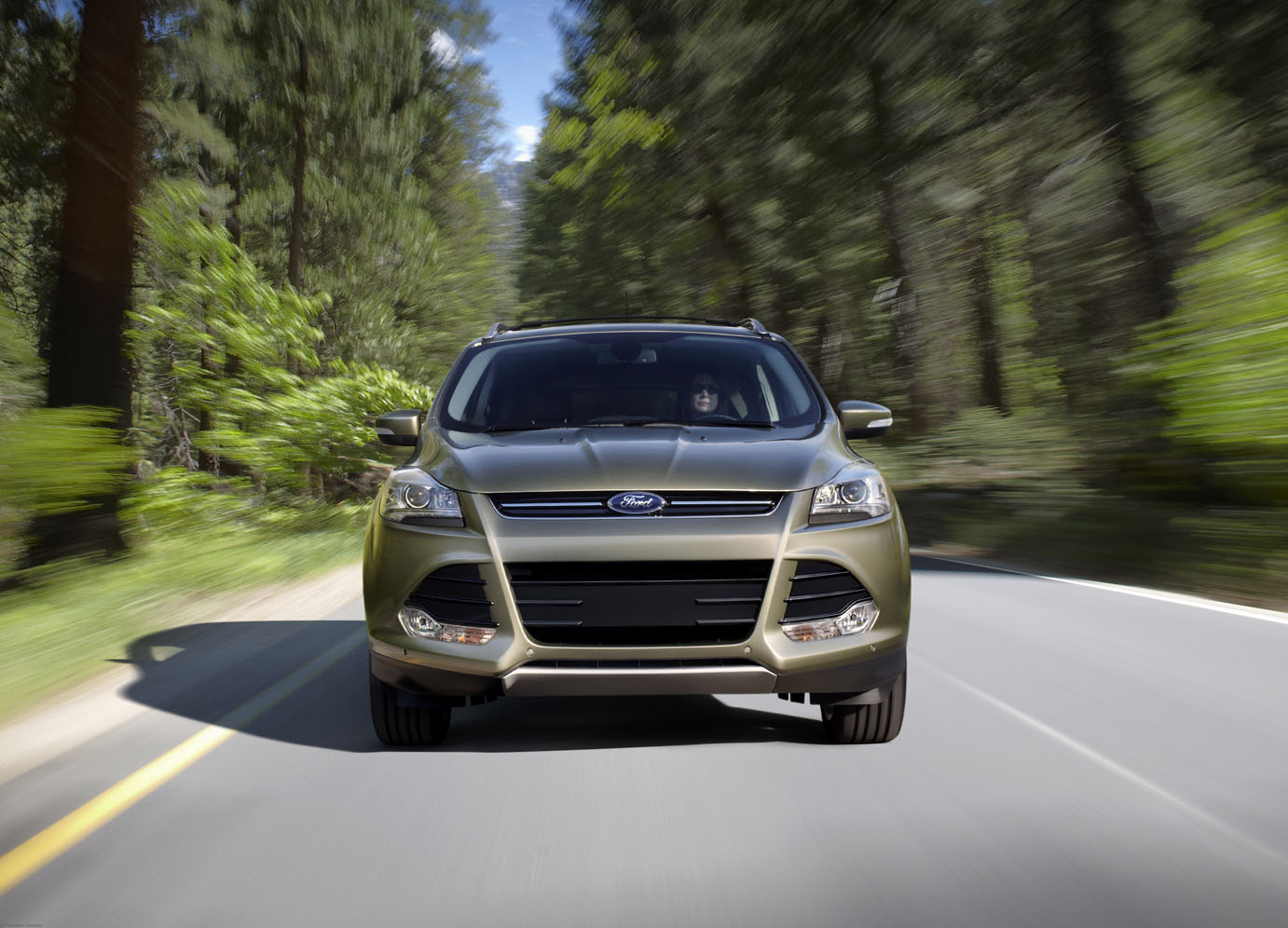 .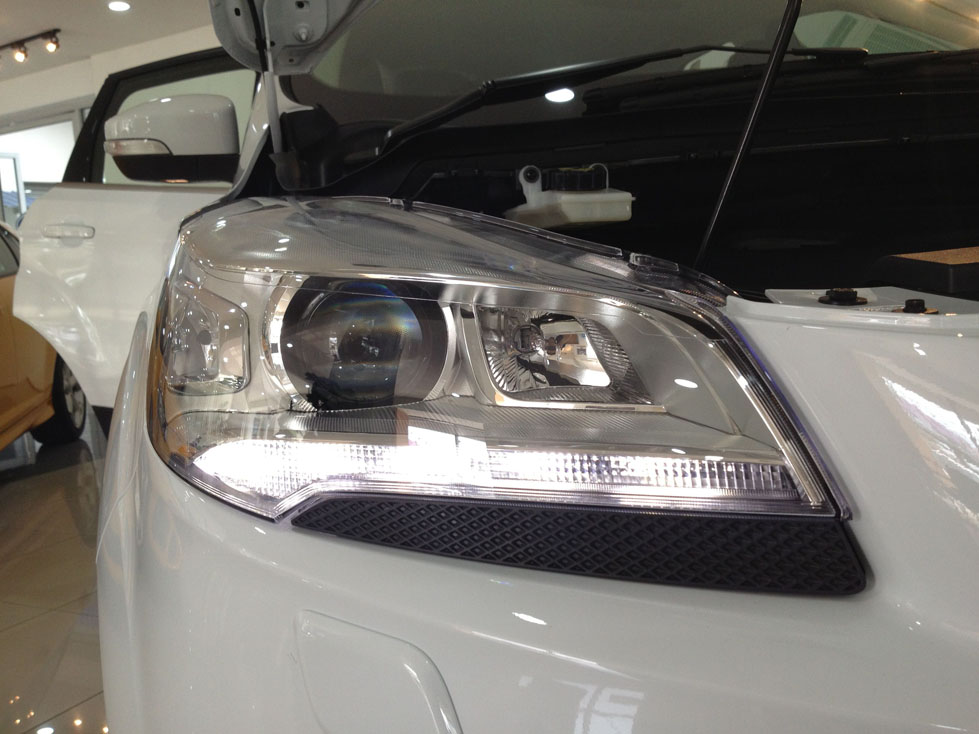 .
Clean and simple is how the designers kept the front end of the Escape replacement model. Similar to the Focus, the Kuga's lower grille is an inverted trapezoid design flanked by triangles with the fog lights lining the base of the side triangles. Its front headlamps have an upward sweep pretty much like anything Ford nowadays and the Kuga is the 2nd SUV sporting LED DRLs next to the Sportage (the CX-5 only has halogens for DRLs).
.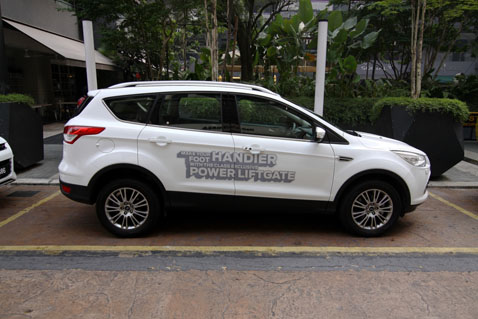 .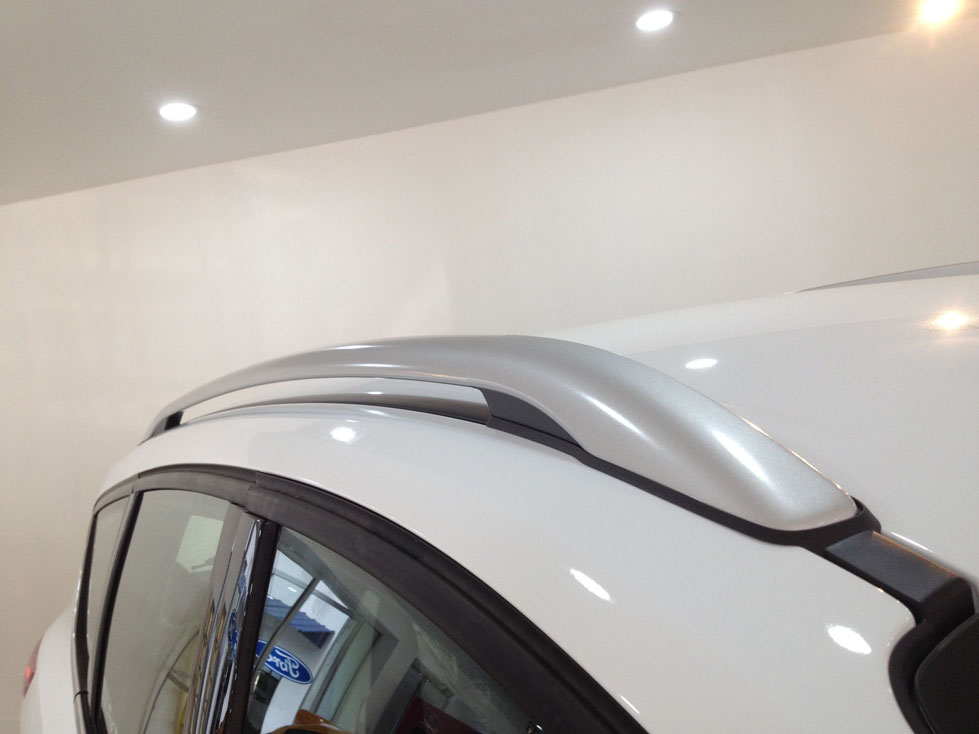 .
Measuring 4,524mm in length, 1,838mm in width, 1,702mm in height with a wheelbase of 1,838mm, the Kuga shares almost the same dimensions as the Mazda CX-5. Indeed, Kuga counts the Mazda as its strongest competitor worldwide. If you look at the Kuga from the side, you'd get the impression that it's got a heavy upper half with a short front end, in no small part due to it being the tallest in the segment dwarfing even the Nissan X-trail. If not for a tapered windscreen, it could pass off as a high MPV and the silver roof rails creates added height.
.
.
Keyless entry is offered in the Kuga although I wonder in today's time and age, why would they not paint the button body color. The SA tells me so that it's easier to see but hello, I don't need to look at my phone pad all the time to type an SMS; what makes you say pressing a button with my thumb when I am gripping the handle going to be that difficult?
.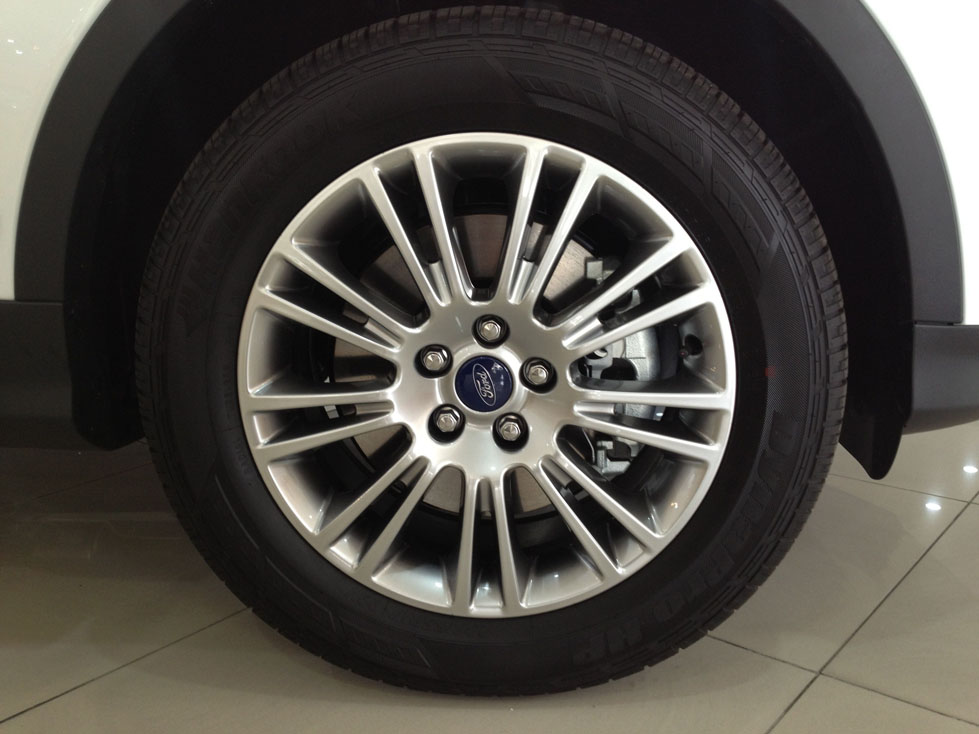 .
Like most of everyone else, 17″ is the flavor of the SUV market.
.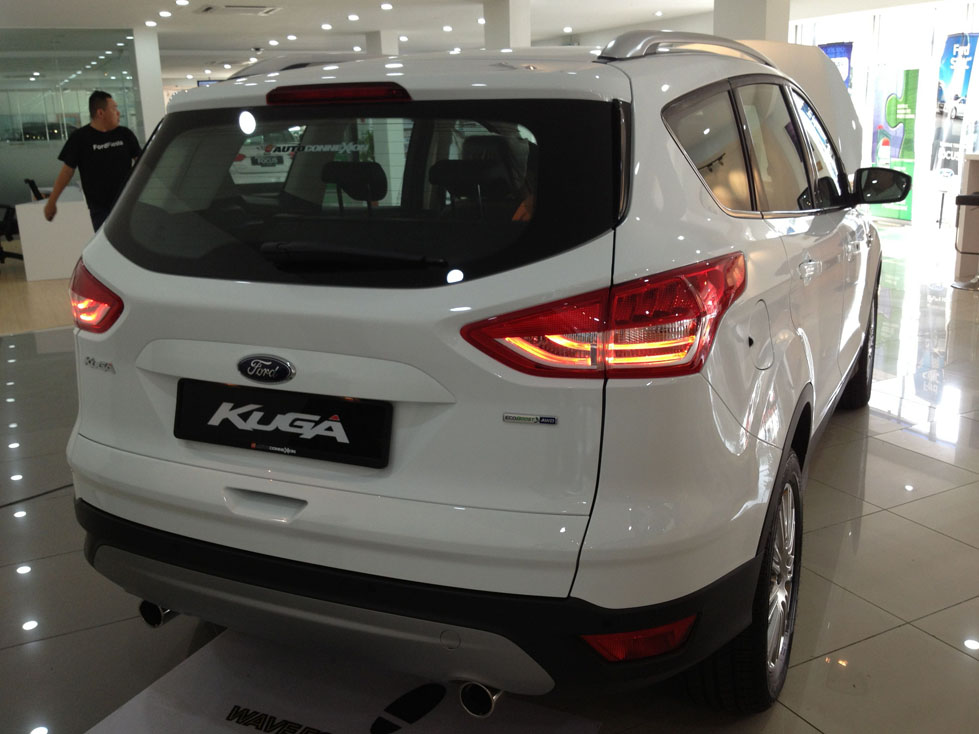 .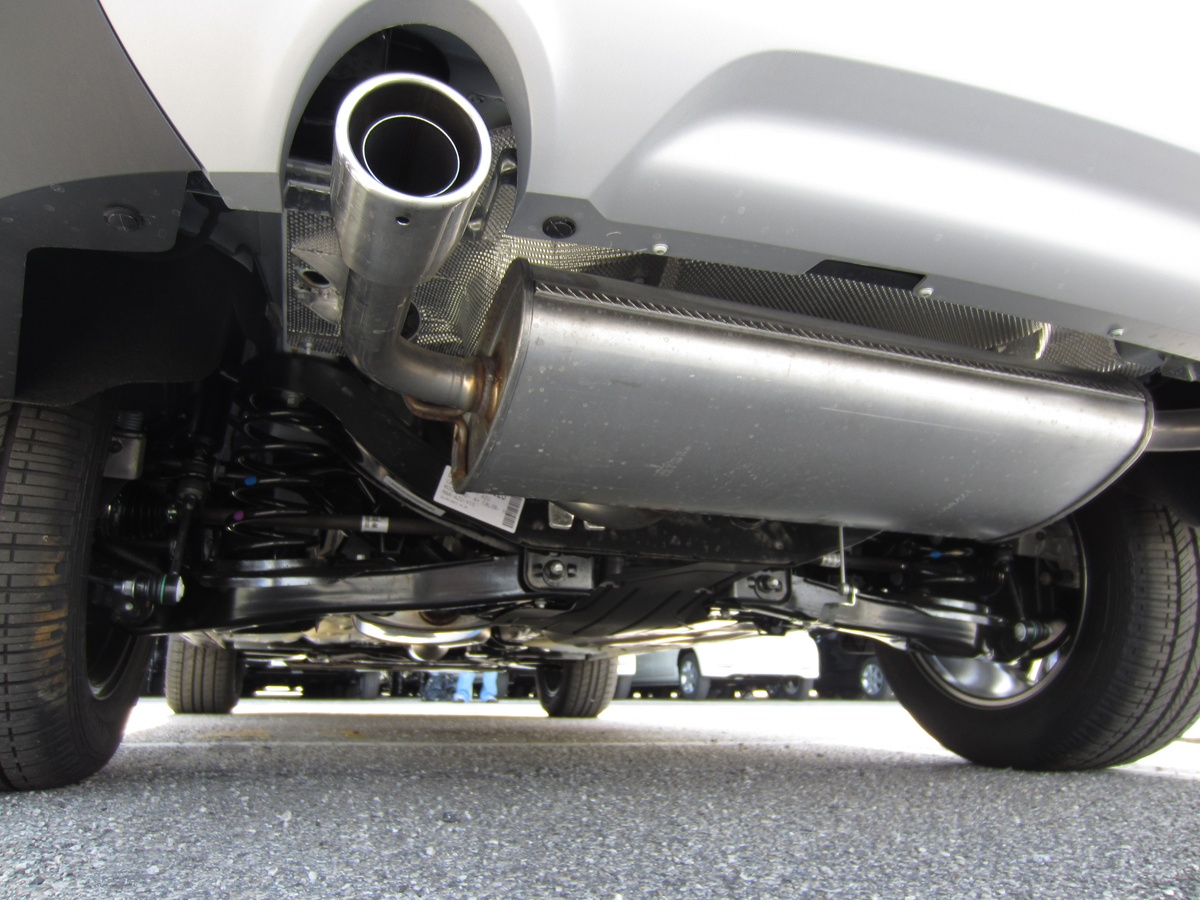 .
At the back, the lines are all kept minimalistically simple. Seen at night, the twin lines tail lamp profile has a very elegant and unique signature. The side mirrors fold automatically when the car is locked and unfolds when unlocked, similar to the Peugeot 308.
.
.
Performance
.
.
Only one engine specification and that is the 1.6litre GTDI Ecoboost, giving you a class-leading 180PS at 5,700rpm and 240Nm of torque at 2,500rpm (well, the Honda CR-V 2.4litre dishes out 10PS higher at 190PS but torque still loses out at 222Nm). The first time when I saw the spec sheet, I was thinking there's going to be a severe turbo lag since max torque comes in beyond 2,000rpm (recalling how it felt with the Alfa Romeo Giulietta HERE). I was surprised to note that it's not the case with this mill. The kick when hitting the sweet rpm spot isn't felt that hard … meaning to say power delivery is very linear and pulls all the way to 200kph. There isn't any official 0-100kph data from Ford but international reviewers have mentioned it to be about 10 seconds (plus minus 0.5secs). Forgot to bring my stopwatch with me when I tested it.
.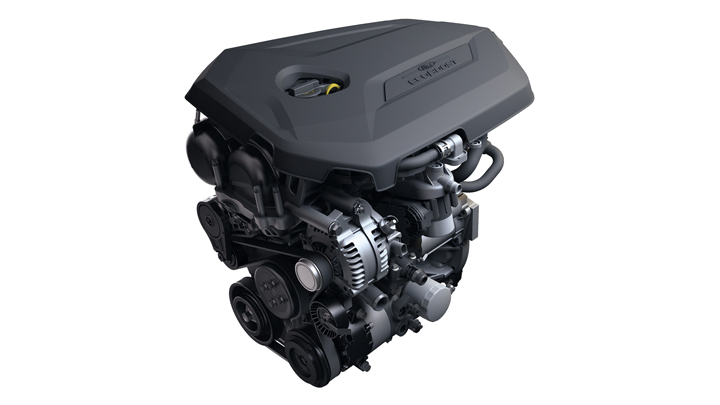 .
It certainly feels fast and I believe no small part of it is due to the Active Grille Shutter (also found in the Ford Focus) which close the front vents to reduce aerodymanic drag. The 6-speed SelectShift Automatic, though not the same as the Focus's TwinClutch system shifts with little drama and is fairly accurate in choosing the right gear for you. Bear in mind that like most manufacturers today, it would shift up at a lower rpm so if you need to do some overtaking maneuvers, best use the manual over ride which is the same oddly-placed rocker button for your thumb to twiddle.
.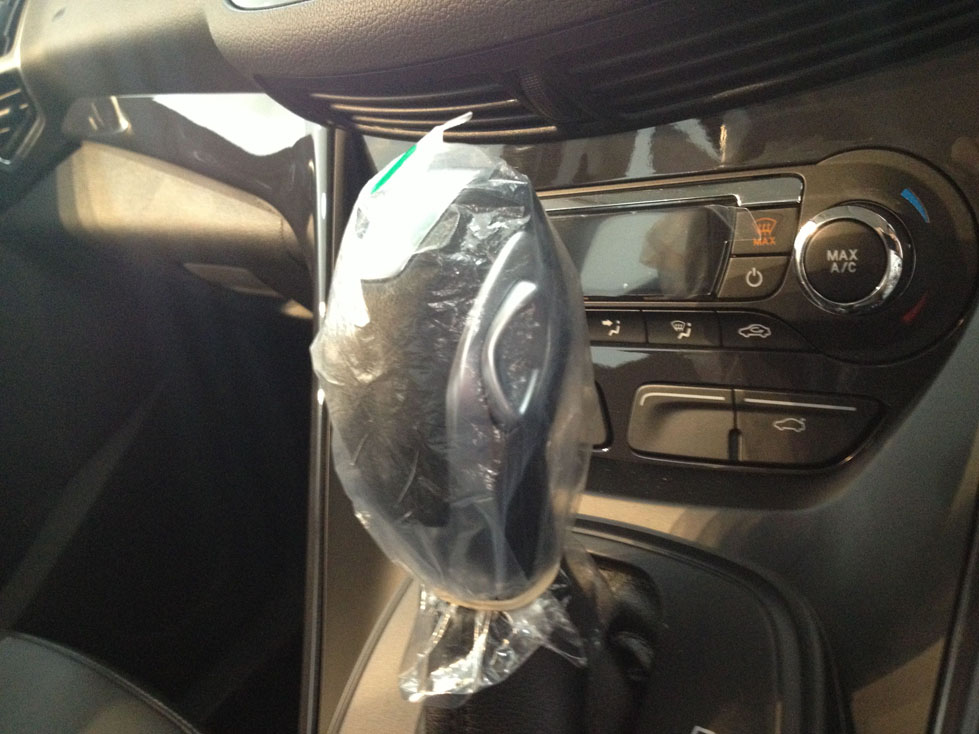 .
Until today, it's puzzling to me why Ford needs to reinvent the wheel on this …. It's not like you're changing gears on a PS3 console or something.
.
.
Ride and Handling
.
Ford's forte has always been in the area of drivability and virtually all Ford vehicle drivers get to enjoy superb handling and steering accuracy. The Kuga is no exception. Sporting MacPherson Strut suspension in the front, it has control blade multi-link for the rear, something not often seen in an SUV.
.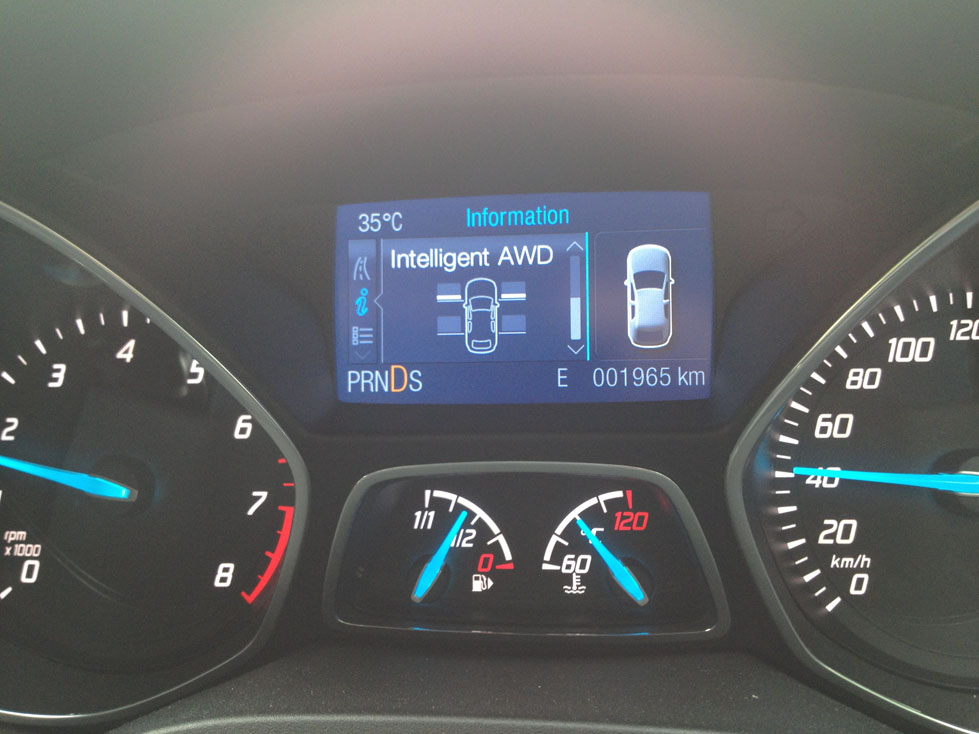 .
And, to ensure you have ample grip, the Kuga (like the Focus) comes with Torque Vectoring Control which balances the amount of power and braking delivered to each of the two front wheels.  To further cement the SUV King of corners, Ford gives it an Intelligent All-Wheel Drive system which shows and manages power distribution between all four wheels. During hard acceleration, power is divided between four wheels and when cruising, you can see most of the power being thrown only to the front. It should be interesting to see how the system fairs when driving on wet roads.
.
Speaking of roads, on badly tarred ones, you won't feel the irregularities much. In fact, it glides through with as much comfort as a satin pillow. Once would guess that to achieve such a result, the suspension would have to be soft and this, in turn will lead to increased body roll as the car may lean too much when turning. But that's not the case with this SUV. Ford has physics-defying magic where body roll is minimal and it is very confident-inspiring to push such a tall vehicle at higher speeds around bends. The Electric Power-assisted Steering is light but provides ample road feedback to know when you're pushing things a little too far and should ease off with the gas pedal.
.
.
Cabin Convenience
.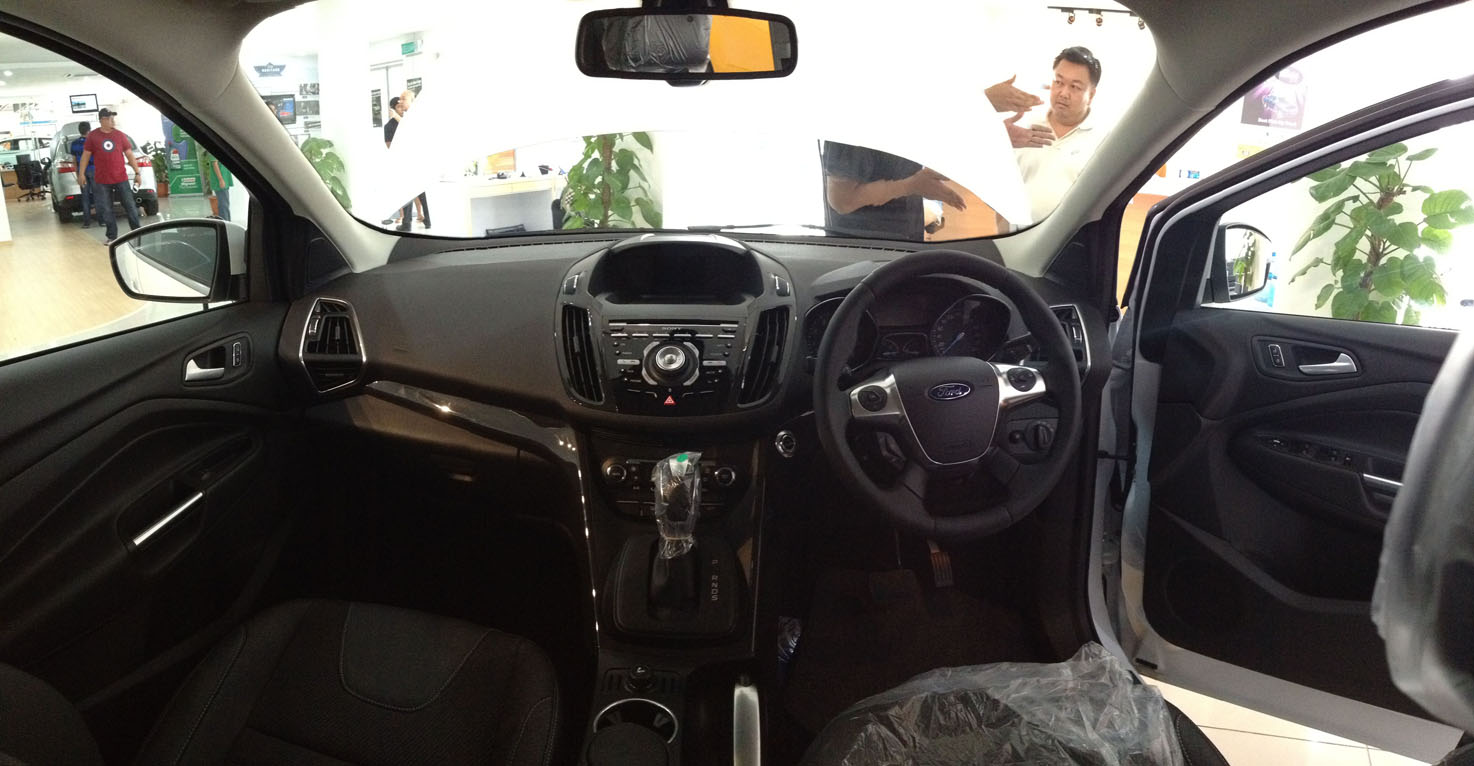 .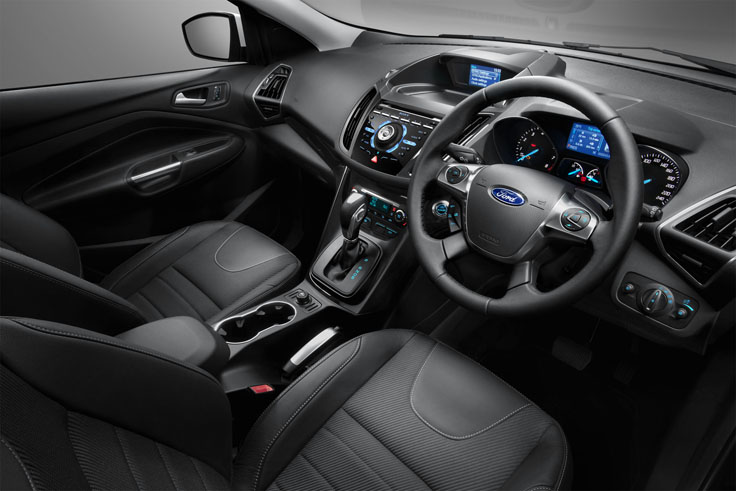 .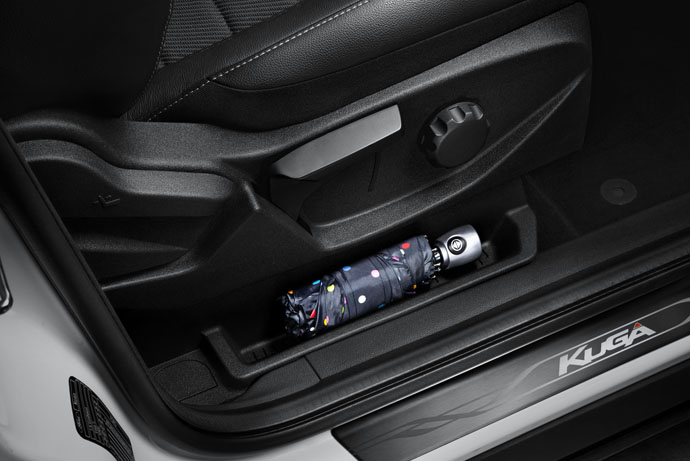 .
Hmmm, umbrella or nunchucks …. decisions
.
Like all Fords, the Kuga's cabin oozes quality. This Spain made model has enough notches, compartments and spaces that'll satisfy any person into accessories. Everything has a made-to-outlast-your-grandmother feel to it and all controls and buttons are within easy reach of the driver.
.
.
The leather wrapped steering has a good, chucky grip amd feels just about the right size for both genders. Everything has a snug fit when you're sitting in front of this wheel …. a little too tight if you ask me. We complain about Peugeots transmission tunnel being big and intrusive to the front leg well, making it a little difficult to rest our left foot and it's surprising to note that the Kuga shares the same issue. Ok, maybe my frame and size ain't the best suited for the Kuga but hey, this is an American car …. I'm sure there are more Americans weighing more than 100kg who's taller than me. I could still be comfortable in this as long as I ignore my left foot.
.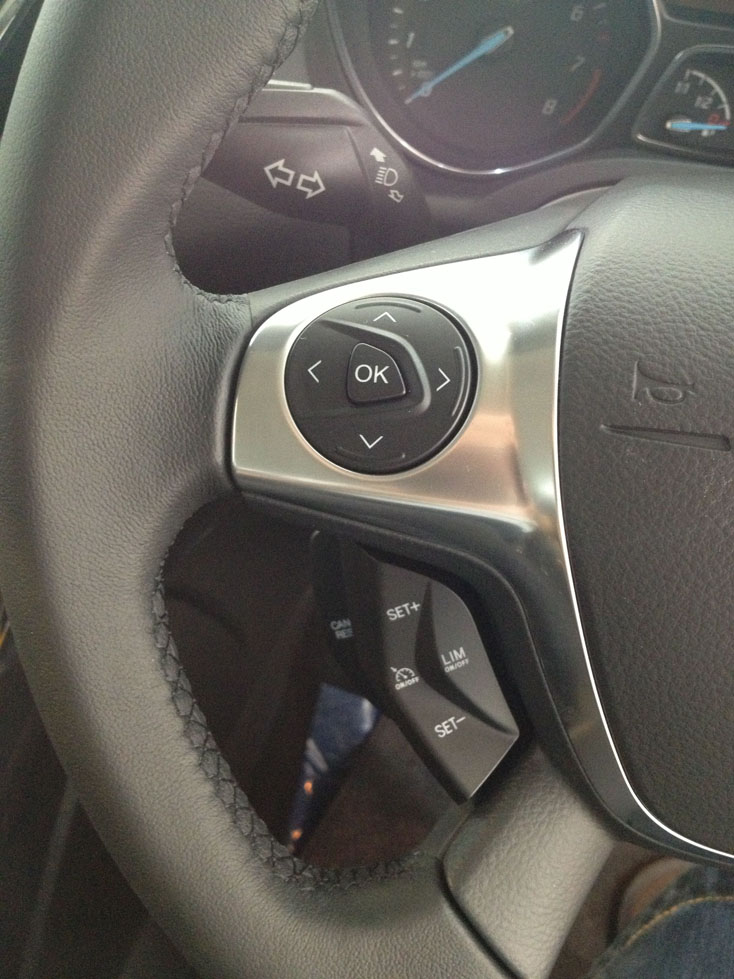 .
Probably one of the largest cruise control buttons you'd find on a car, ever
.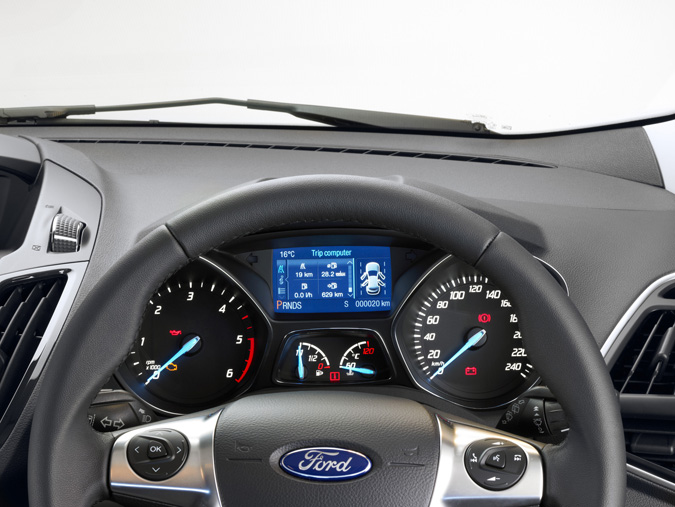 .
One of the best things I love about the Kuga is the displays. I have to say that white on a blue background doesn't have as much contrasts as white on black but it is clear and sharp. Best of all is you can toggle a summary of all important trip computer info into one display unlike some other makes where you have to scroll for the info page by page.
.
.
You know it's a continental when you headlamp activation requires you to twist a knob instead of a stalk
.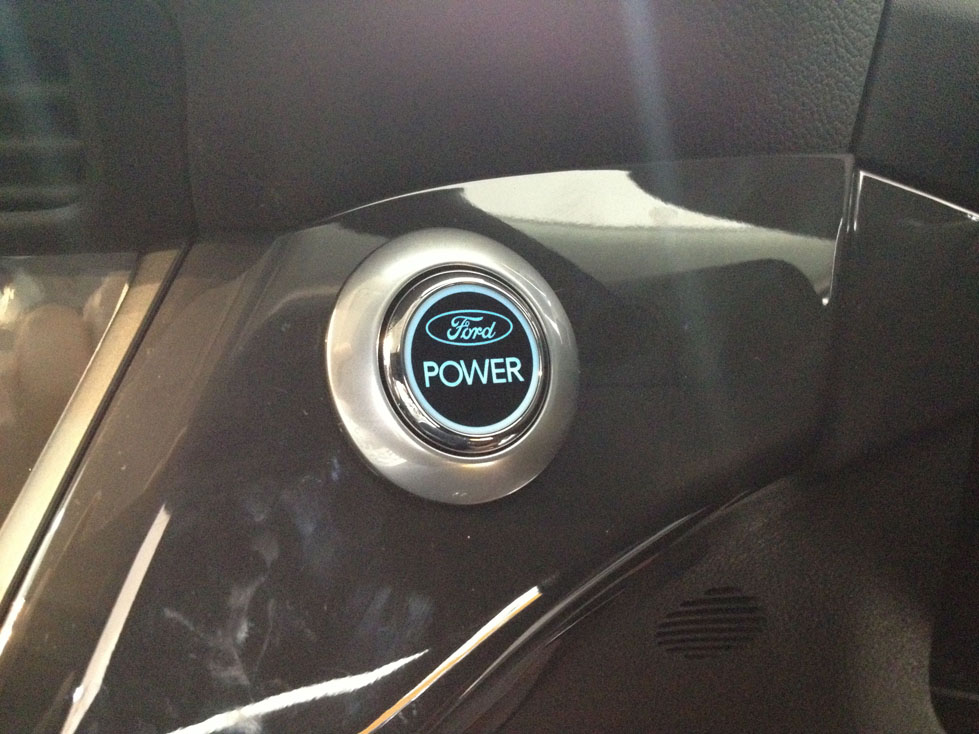 .
Like most Fords nowadays, Keyless Entry and engine Push Start is standard though the position of the button being on the left side is less intuitive compared to the right since that's where we usually slot our keys in.
.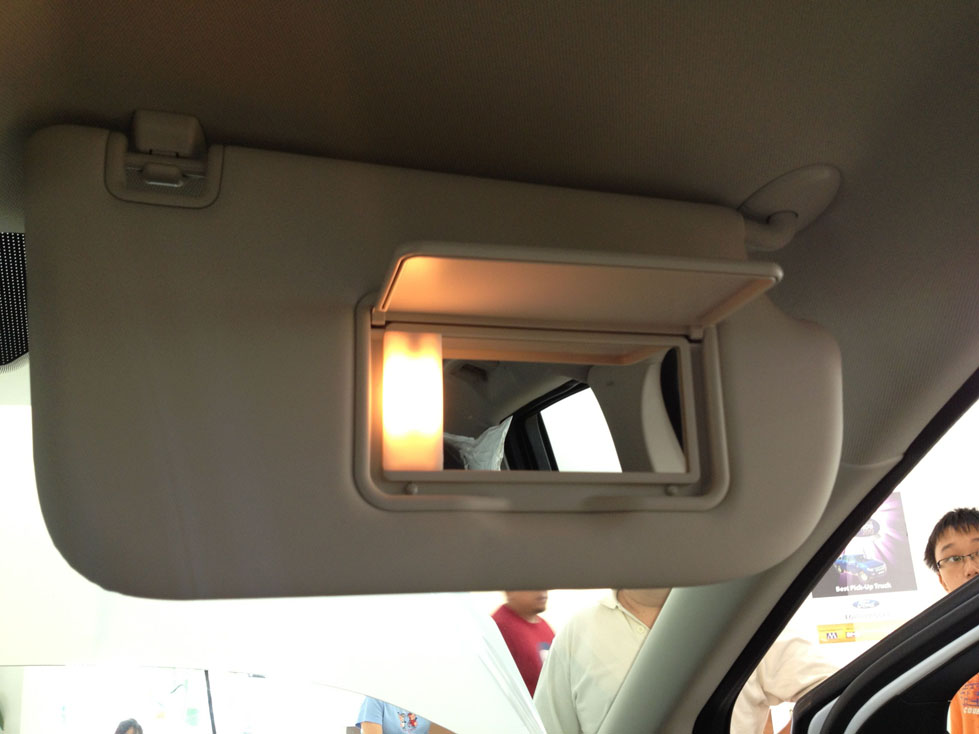 .
Illuminated vanity mirrors, must have even for the metro sexual guy
.
.
I've always felt semi leather is more difficult to stitch compared to full leather but that's what you're getting with the Kuga. At least no steaming hot seat when you collect your car under the hot sun. I find the seats are not as wide as some of the Asian made SUVs but it hugs you well enough not to throw you about.
.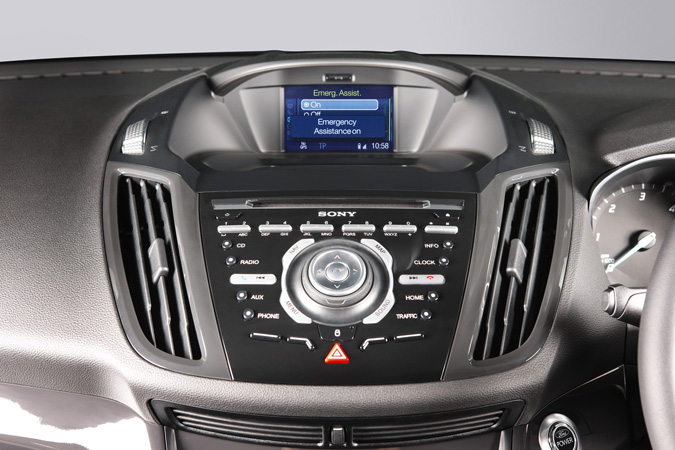 .
Sony has been partnering with Ford for years now, supplying and tuning their headunits. The Kuga is no exception and with class leading 9 speakers (the CX-5 had the same number but after they CKDed it, the number of speakers dropped to 6), you could drown out any nagging from your gf at the turn of a button. The sound pressure coming from these speakers is enormous – you could get a good spine massage if you play something bassy.
.
The downside of the headunit is that it's rather complicated and with so many buttons to press, best to leave it to your front passenger to make changes other than volume and track which you can control from the steering wheel.
.
.
There's a platform on top of the steering wheel where you can dump your phone there for the sun to cook. It's the perfect spot for those wavy, twitchy sun-powered mechanical plant …. or a real cactus that you can throw at thieves.
.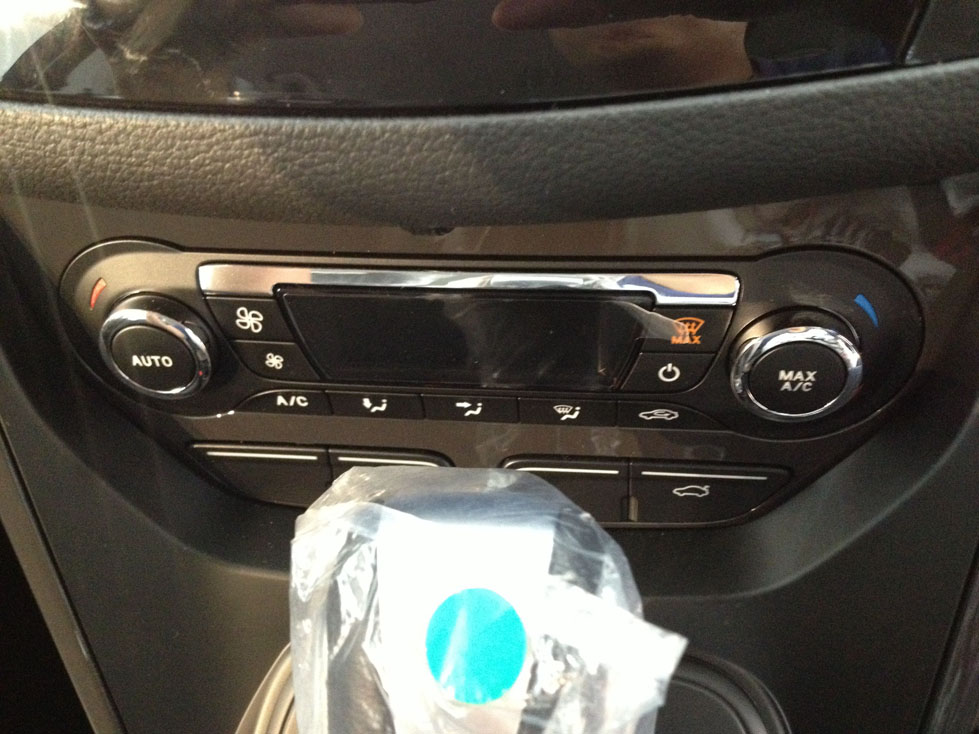 .
The dual zone air conditioning is sufficient for our weather although its throughput isn't as chilling as, say a Denso. What's not cool about it is as you can see in the picture above, the gear stick can get in the way of its operation if it is at P.
.
.
Cup holders in the center ….. must haves for long distance driving
.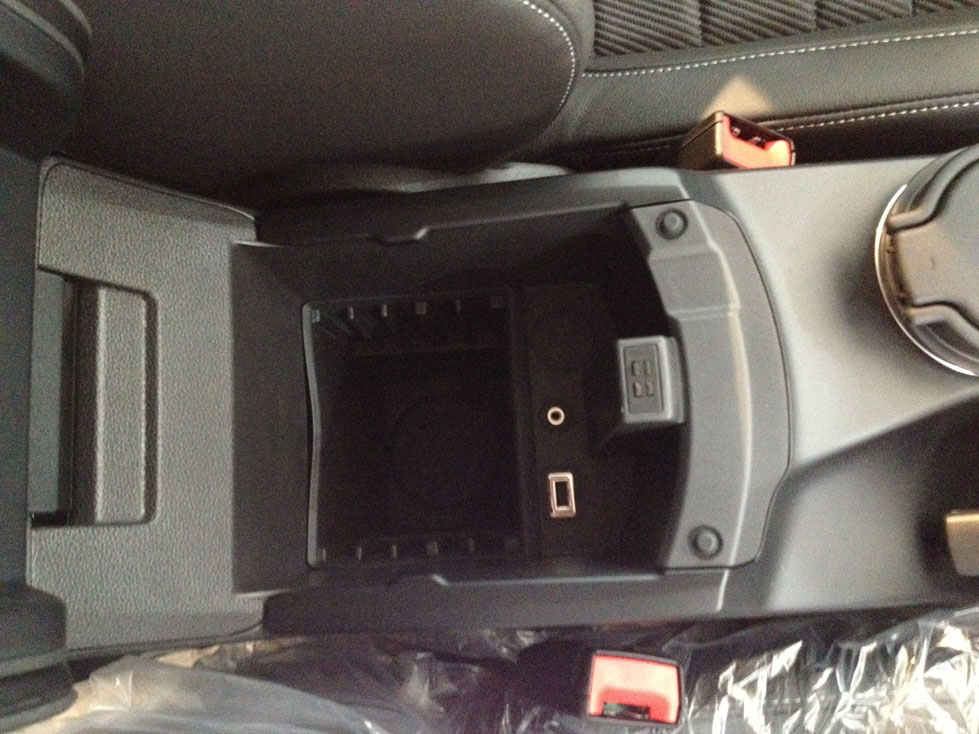 .
There are larger compartments below the armrest among other SUV contenders but it's sufficient for Smart Tags and headphones.
.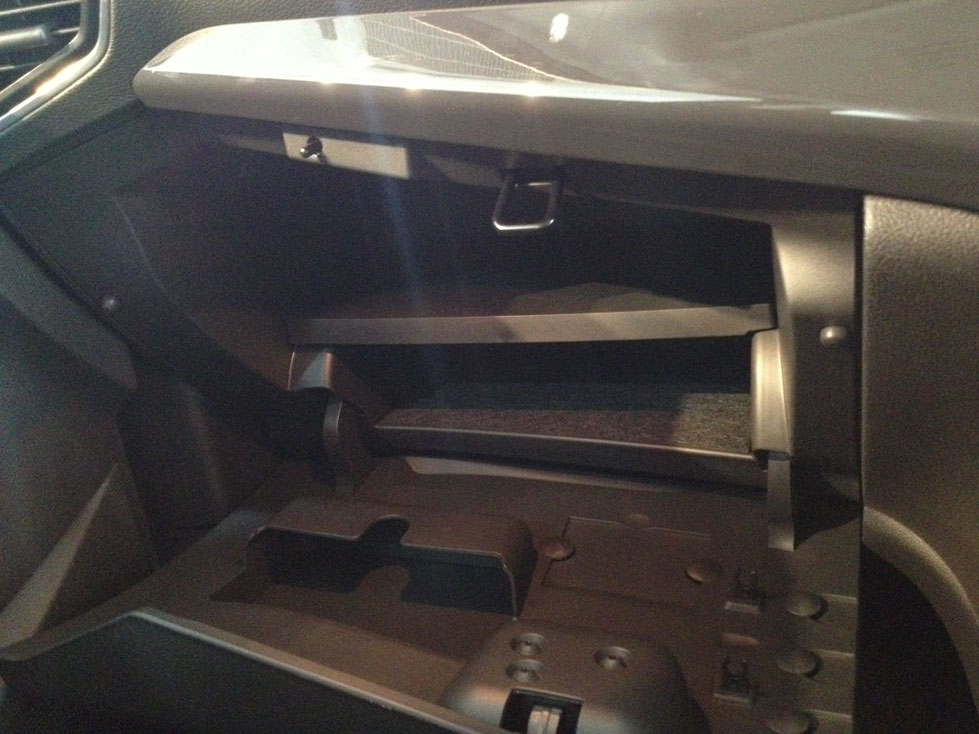 .
Loved the two-tiered glove compartment. Always wondered where am I going to keep my doughnuts, sandwiches and bannananananana.
.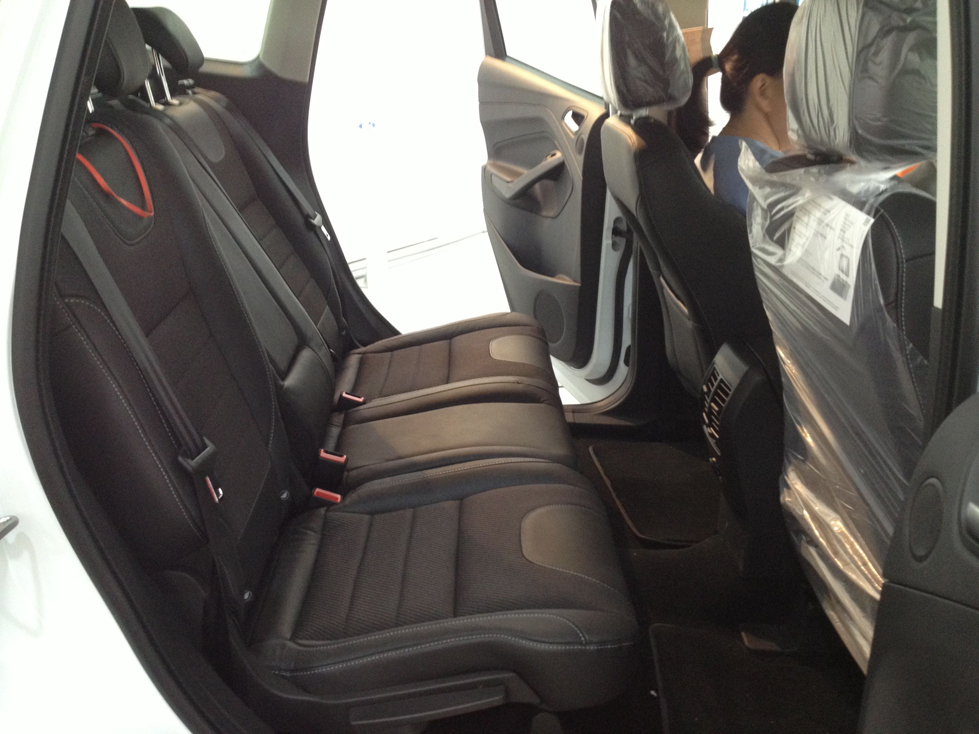 .
The rear seats is impressive, boasting excellent legroom space (at the cost of shorter thigh support but it's also the same with the CX-5) and the rear seats can recline a few degrees backwards which makes it far more comfortable for long journeys.
.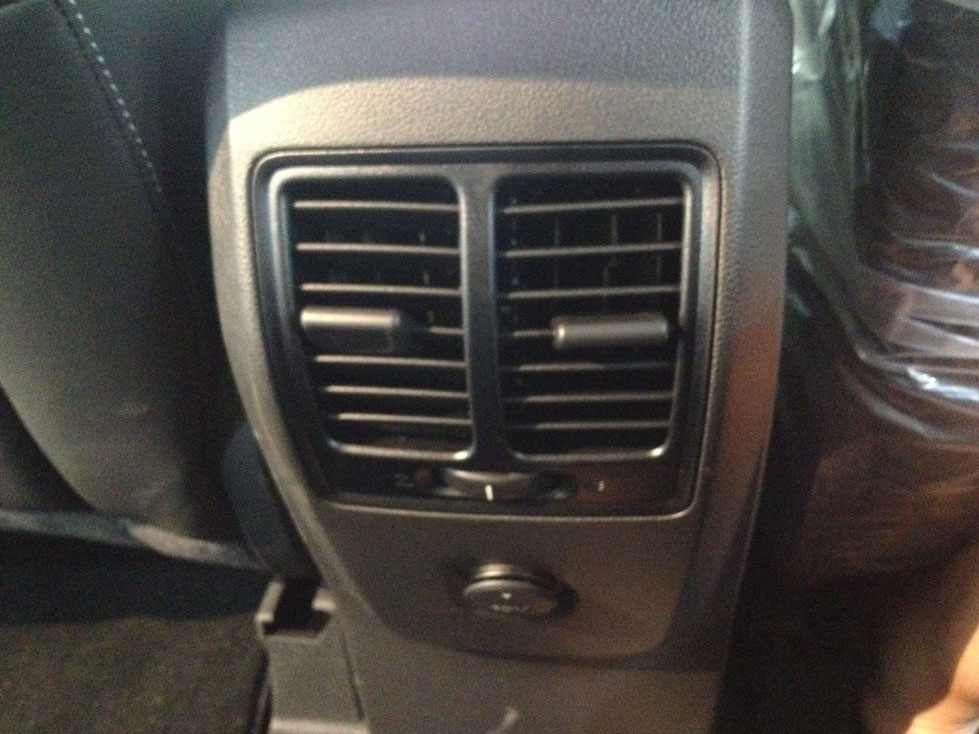 .
Rear air conditioning vents …. a feature sorely lacking in the CX-5
.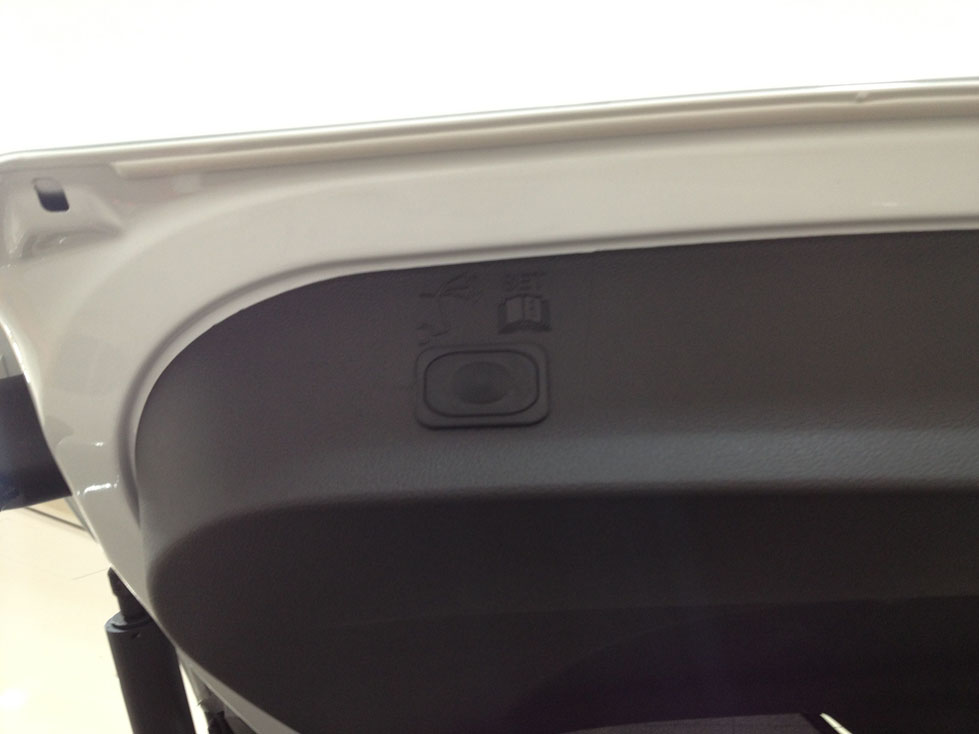 .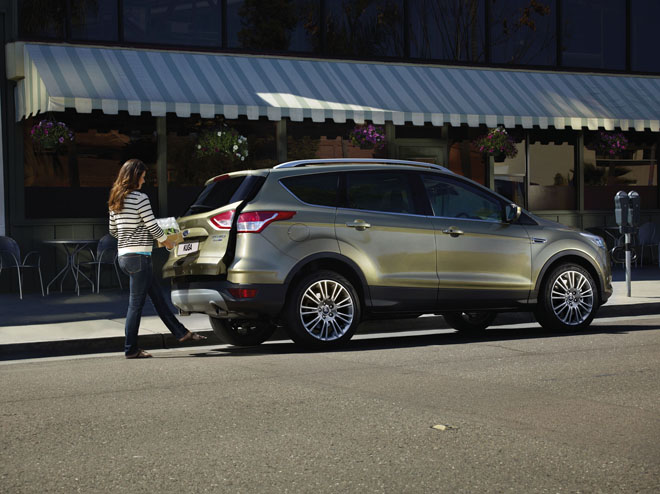 .
First in its class and the most affordable SUV to have a powered tailgate. Not only that, the Kuga banks heavily on its first in class hands-free function where once the car detects the key AND a kicking motion is sensed under the rear bumper, the tailgate opens automatically. Very useful especially when you're carrying things you're reluctant to put on the floor. The tailgate height can also be adjusted to make it more convenient for people like Tyrion Lannister to reach and if you're often parked in a place with a low ceiling.
.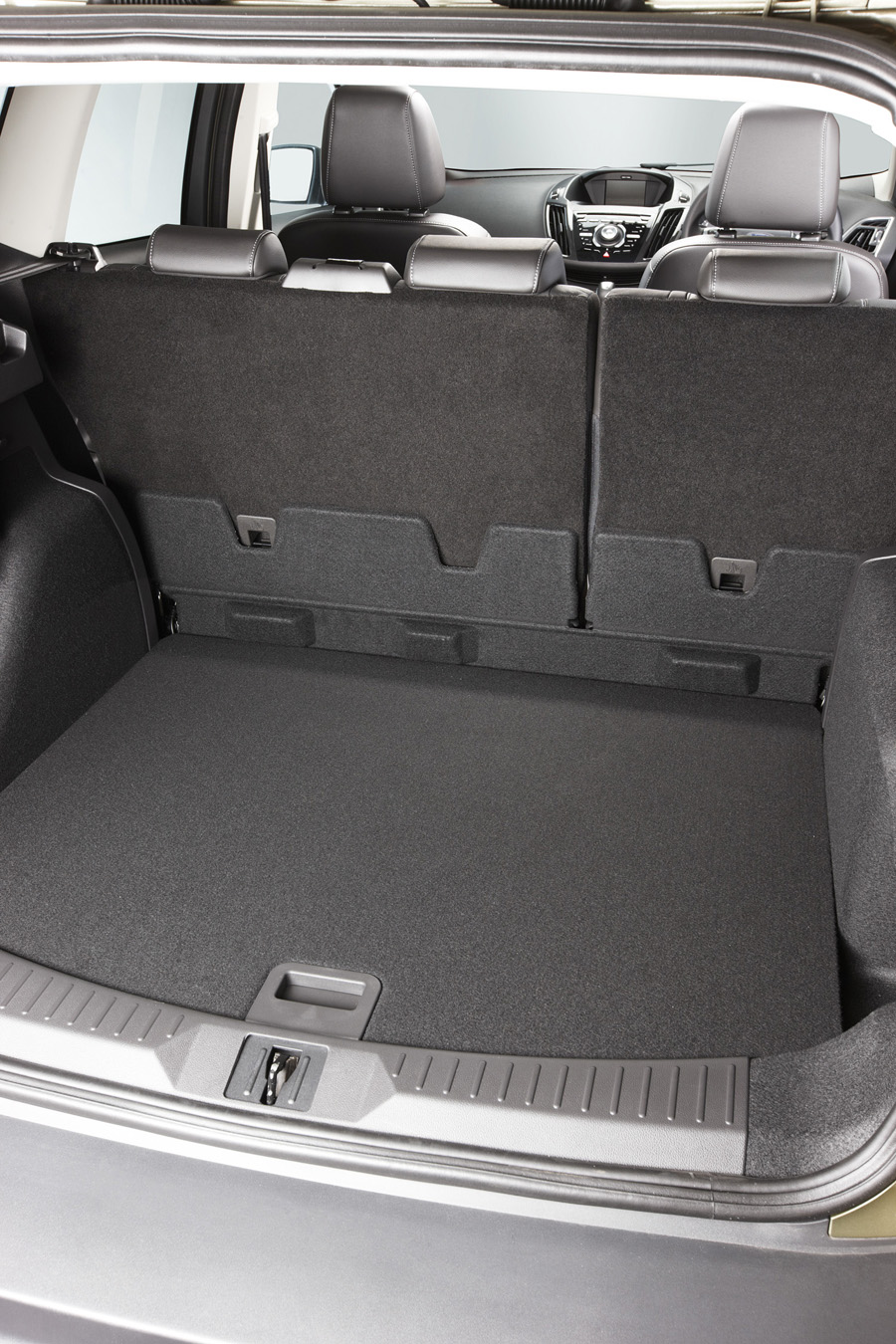 .
 406 litres of space at your disposal. Where Kuga's tailgate is the absolute winner, the CX-5's boot cover which is integrated to the tailgate and opens along with it is far more utilitarian compared to the conventional cover adopted by the Kuga.
.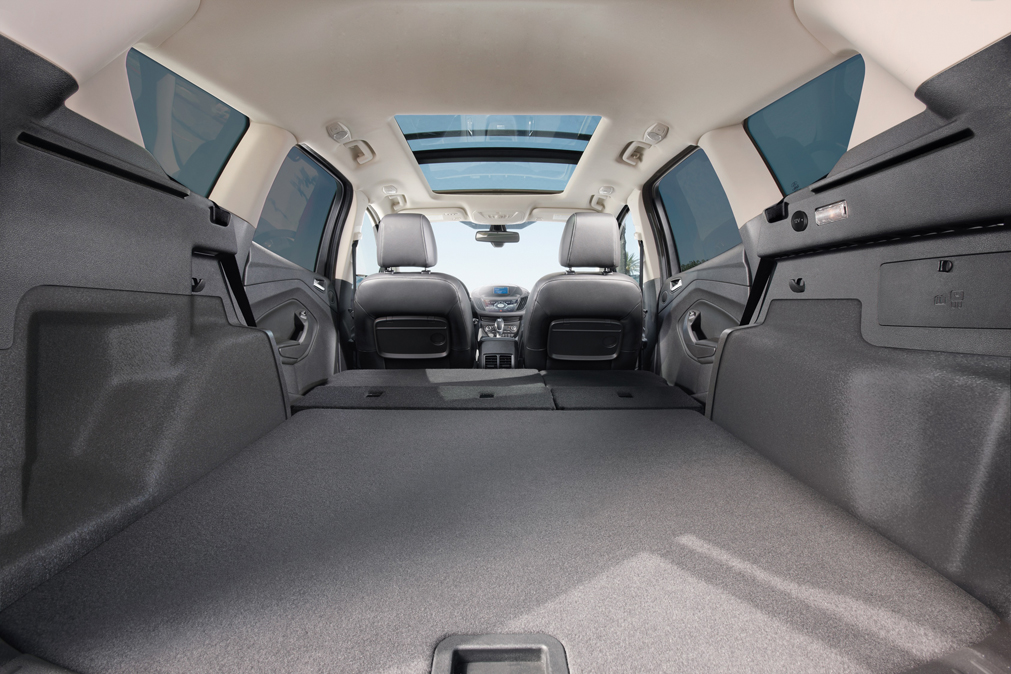 .
Should more be required, feel free to drop the 60:40 split folding rear seats which will then add another 46litres. Many say that the 60:40 loses out to the CX-5's 40:20:40 split folding but seriously, how often do we fold the center 20? If it's kids fighting at the back, I doubt folding one little seat is going to do much in separating them. To me, that's nitpicking.
P.S: Ignore the panoramic sunroof. Ours don't come with it
.
.
For spares, you get space savers! Always good to have since you're driving an SUV weighing about 1.7tonnes
.
.
Safety
.
I doubt you'll ever complain about the safety features that comes with the Kuga considering the extensive list of goodies they have in there:-
.
ABS
EBA
ESP
Roll Stability Control
Hill Start Assist
Trailer Sway Control
EPATS Passive Anti Theft System
Thatcham Category 1 alarm with volume sensing & perimeter alarm
SPS Post Crash Alert
7 airbags (class leading)
Collapsible steering column
Seat belt pretensioners
Seat belt reminder
ISOFIX for Childseat attachment
Side impact beam
Curve Control
Rear parking sensor
.
.
Specifications
.
Exterior
Active Grille Shutter
Electric, heated side mirror with integrated side indicators
Bi-Xenon HID automatic headlamps with Follow-Me-Home function
Headlamp washer jet
Front and rear fog lamps
LED rear tail lamps with Emergency Hazard Warning
Roof rail
Handsfree power liftgate
Electronically controlled side mirrors
.
Interior
Anti allergy interior
Keyless ignition system
EcoMode
Torque Vectoring Control
4.2″ TFT Multifunction Display
Bluetooth and Voice Command
Automatic airconditioning with Dual Zone Climate
MP3, CD Indash with 9 speakers with auxiliary port
Compass display in cluster
Tilt & telescopic steering wheel adjust
Audio control on steering wheel
Overhead console with sunglass holder
Leather wrapped steering wheel
Leather wrapped gear knob
Select shift technology
Power door lock
Partial leather seat
Manual 6-way driver seat adjust
Manual 4-way passenger seat adjust
Sunvisor with illuminated vanity mirror
Auto dimming rear view mirror
Interior foot well illumination
Rain sensing automatic wiper system
Power window – Global open & close
.
.
Maintenance and Ownership
.
The Kuga is yours for the price of RM159,999 and comes with a 5 years or 200,000km warranty. Not only that, Ford is also giving the Extended Service Plan (ESP) which would see owners dropping off and collecting their cars for FREE within the first 3 years (or 60,000km). In addition to routine inspection and maintenance services, Ford's ESP covers free replacements for selected wear-and-tear items, including spark plugs, shock absorbers, engine belts, brake pads, and wiper blades. Ford claims the average fuel consumption of the Kuga is about 7.7km per 100km and has a fuel tank of 60litres.
.
So how does it fare compared to its competitors? Take a look at this:-
.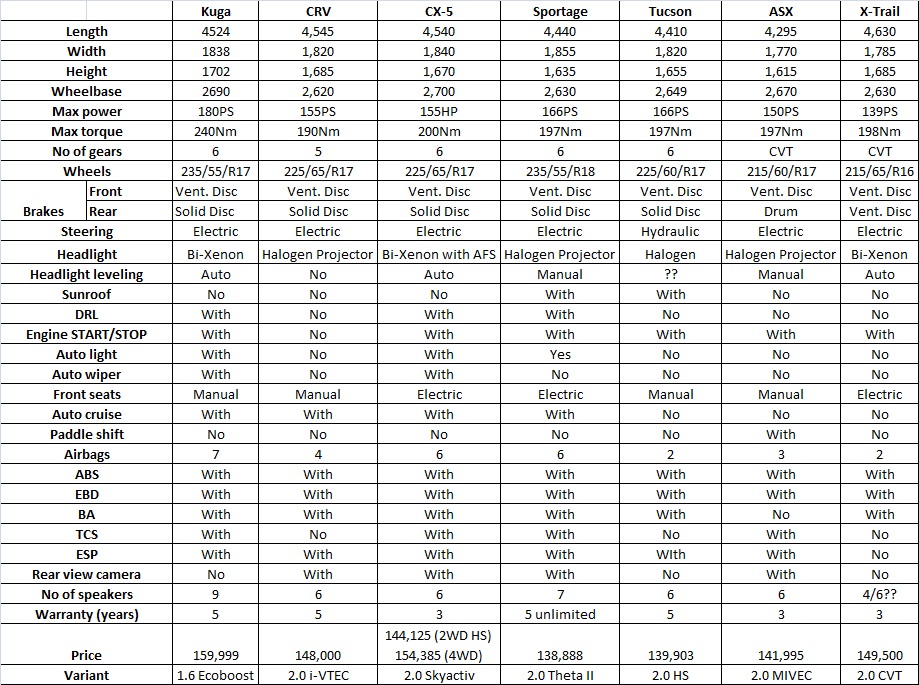 .
Do note that the chart above did not take into consideration the new 2.4litre CR-V which now leads the pack in terms of horsepower (there are a few other additional features of the CR-V 2.4 which can be seen HERE. But on the following areas, the Kuga is the king:-
Highest number of airbags: 7
Highest amount of torque: 240Nm
Least amount of road tax per year: 1.6litres engine
Highest number of speakers: 9
Only one to offer powered tailgate
Only one to offer sensor activated tailgate
.
I shall not mention other technologies which are proprietary to Ford so it's not entirely comparable but all in all, it's a good package. The only stigma the Kuga has to overcome is the belief that Ford has poor resale value and lack of spare parts. Which is a real shame because this is a well assembled car with loads of features. Not only does it have to deal with the image issue (ask anyone this: between a Japanese brand and an American, which would they pick?), the competition is formidable and in my short visit to the showroom, I hear the names like CX-5 and CR-V being mentioned more than a couple of times. Comparing with the Mazda, both drive well but I prefer the Kuga's front dashboard design which tapers to the front whereas the CX-5 is rather flat and this doesn't add the airy feeling the Kuga provides.
.
Ford has been making phenomenal headway into the Malaysian market, especially with the Fiesta. To me the success of the Fiesta shows a younger group of the public that is less brand bias and more open to seeing a car as a whole instead of what badge is plastered on the car.  It would take some time for this group to grow. In the case of the Ford Mondeo which is also class leading in many ways in the D segment, it enjoys far less numbers compared to its competitors and I wonder if the Kuga which also aims at those in their mid 20s onwards sharing a similar fate. SDAC, the importers of Ford is certainly not holding back when it comes to promotion and only time will tell.
.
For me, I would say the Kuga is a near perfect SUV with its excellent safety features, fantastic driving experience and specifications loaded to the brim with only the smallish seats marring the score. Ford owners don't really care much about resale value because the cars Ford makes are built to last and most of my Ford-owning friends drive (and love) them for years. We cannot conclusively say that the newer Ecoboost engines are reliable long term but so far, I've not heard of cases of engine related failures (as opposed to the higher number reported on other continental marques). In that sense, I wouldn't mind having one at home. At least I'll be home earlier than any other aunties from the wet market to catch the latest Korean drama on TV.
.
.
.