.
By now, it should dawn upon most Malaysians that fulfilling the promise of cheaper car prices isn't as straight forward as signing a few pieces of paper by the powers-that-be but do try to be optimistic as price will come down (eventually) through market liberalisation and (hopefully) a more definitive automotive policy that encourages manufacturers to price their offerings more competitively. As this 'lengthy' process of diminishing car prices takes its course, the vehicle category that will see the most immediate action would have to be the smaller, compact segment vehicles, be it hatchback or sedan. 'A' segments like the Perodua Viva and Suzuki Alto hasn't been very popular due to its restrictive size and close pricing of B segment models whereas dropping D segment vehicles such as the Toyota Camry and Honda Accord would make as much sense as the government declaring a huge discount on LV bags when the public asking for price reduction of school bags.
.
Managing B segment models are easier since they are sought after in greater quantities and features aren't as critical as the asking price. As it is with every segment however, there will be those catering for cheap & easy to maintain and a few that rewards those willing to pay a little bit more for their compact, small car. One of such manufacturer who opted for the later is Peugeot with the 208 hatchback.
.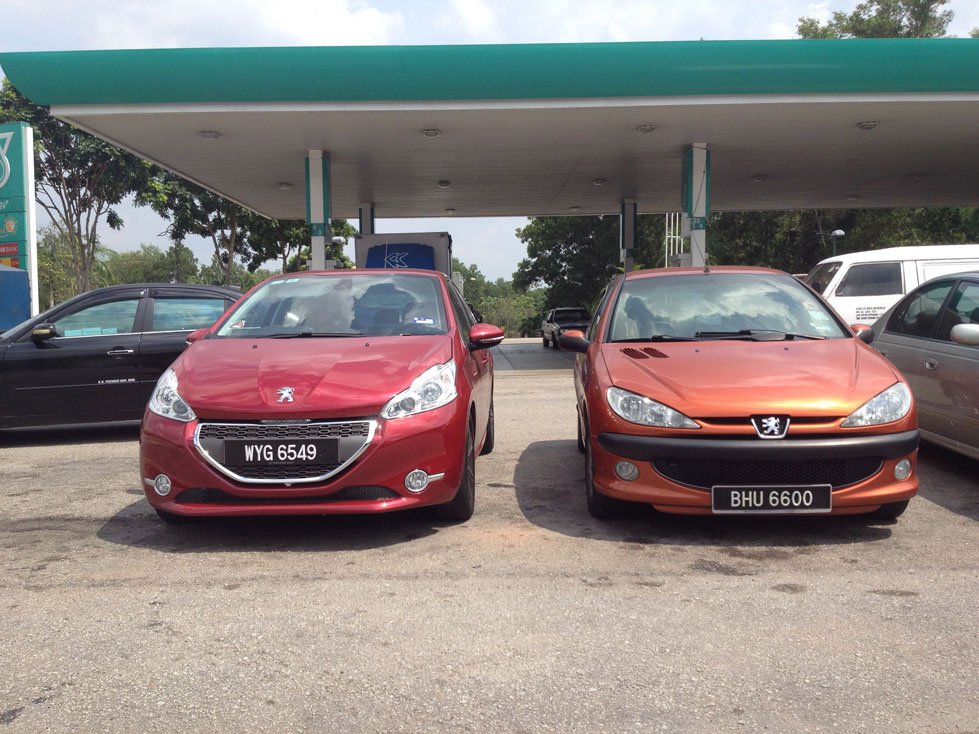 .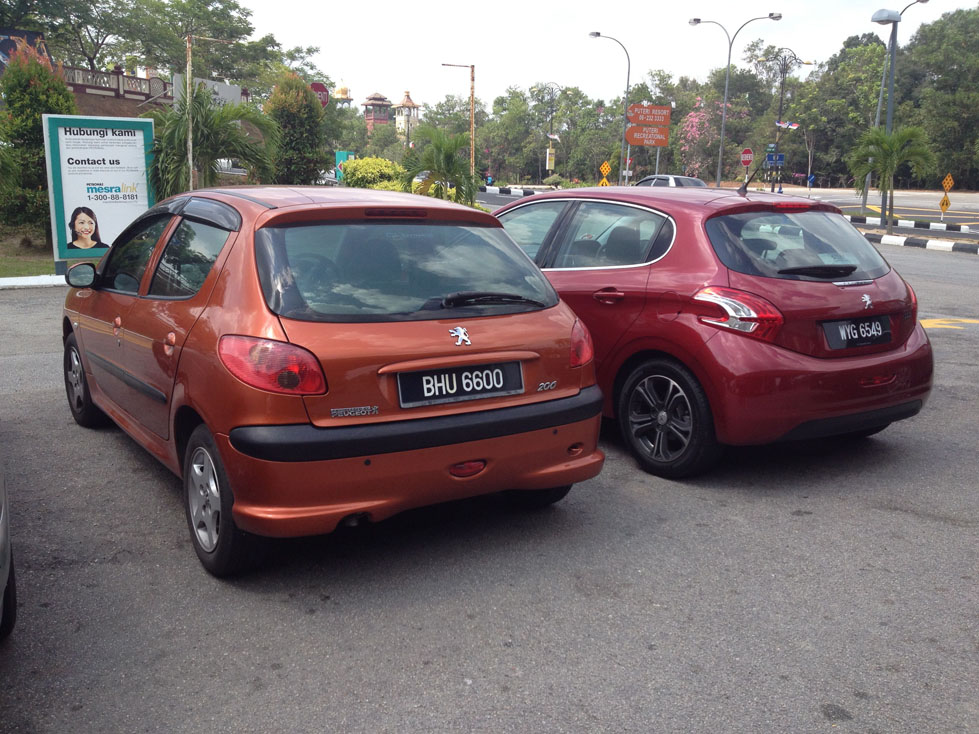 .
If you ask me, I'm always in the opinion that Peugeot has a strong reputation for making great hatchbacks. The iconic 205 GTi was the GTi to own at its heyday,  followed by the 206 (also known as Naza Bestari here) which sold by the trailer loads.  Then the 207 was introduced …
.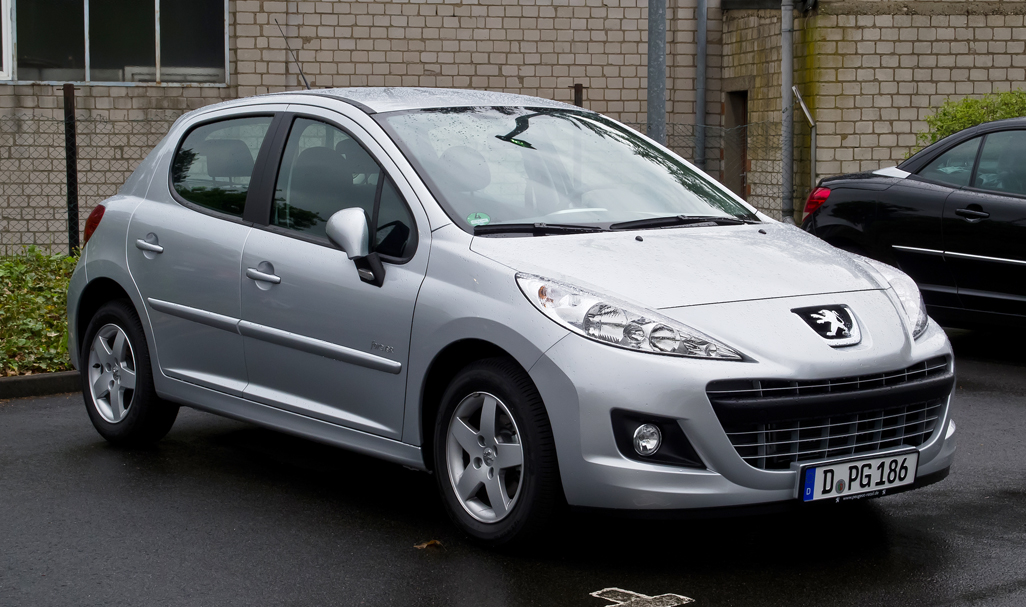 .
Which, unfortunately is not available here. Instead, Malaysia's 207 looks like a 206 with a boot (which isn't all that bad as you can read in the article HERE) and marks Peugeot's departure from the compact hatch segment locally. The good news is the 208 puts them squarely back into the game, this time with players previously not encountered by the 206. The Volkswagen CKD Polo 1.6 hatchback has just being launched and the Ford Fiesta has been making waves in Malaysia during Peugeot's absence. Launched back in April 2013, the 208 isn't exactly cheap but as the saying goes, "you get what you pay for". Exactly what you're paying (and more importantly, is it worth what you pay), let's find out.
.
.
Design
.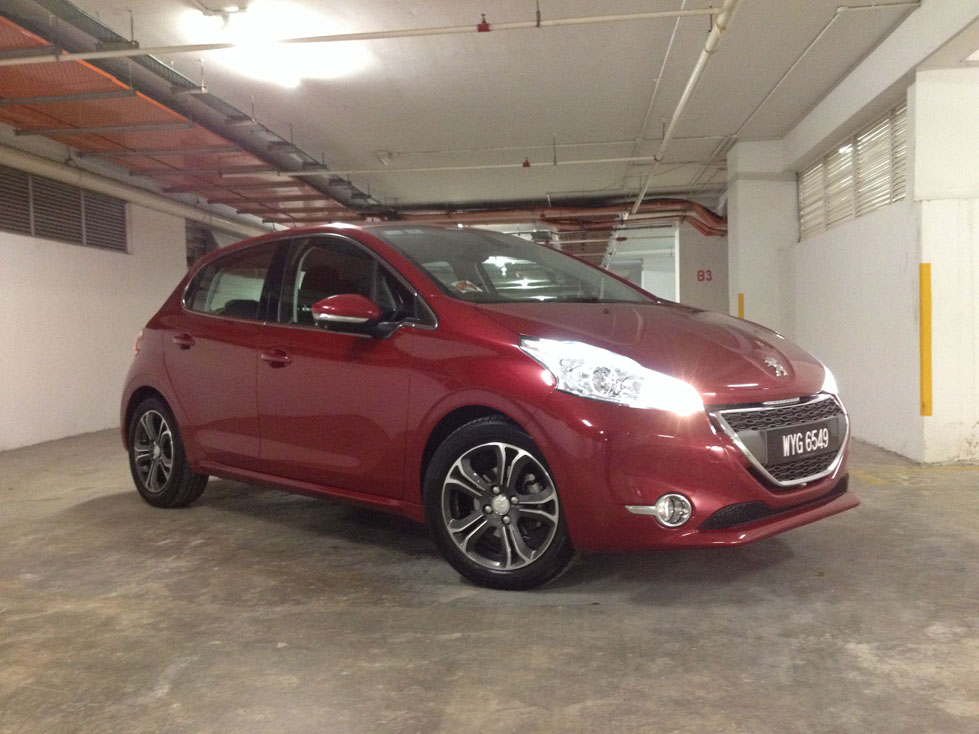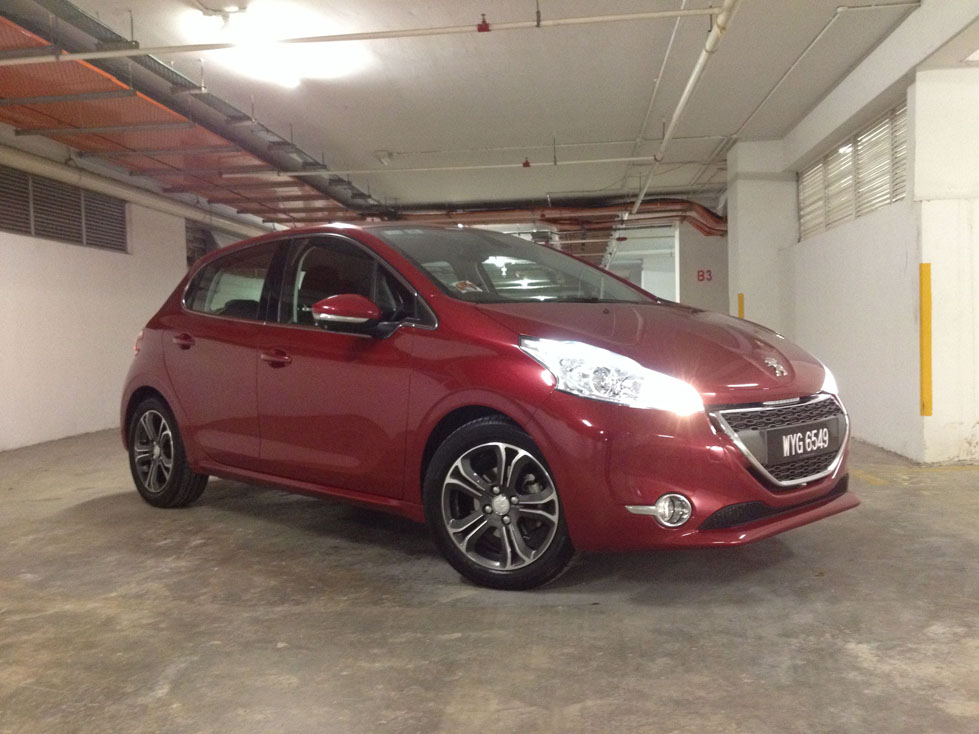 .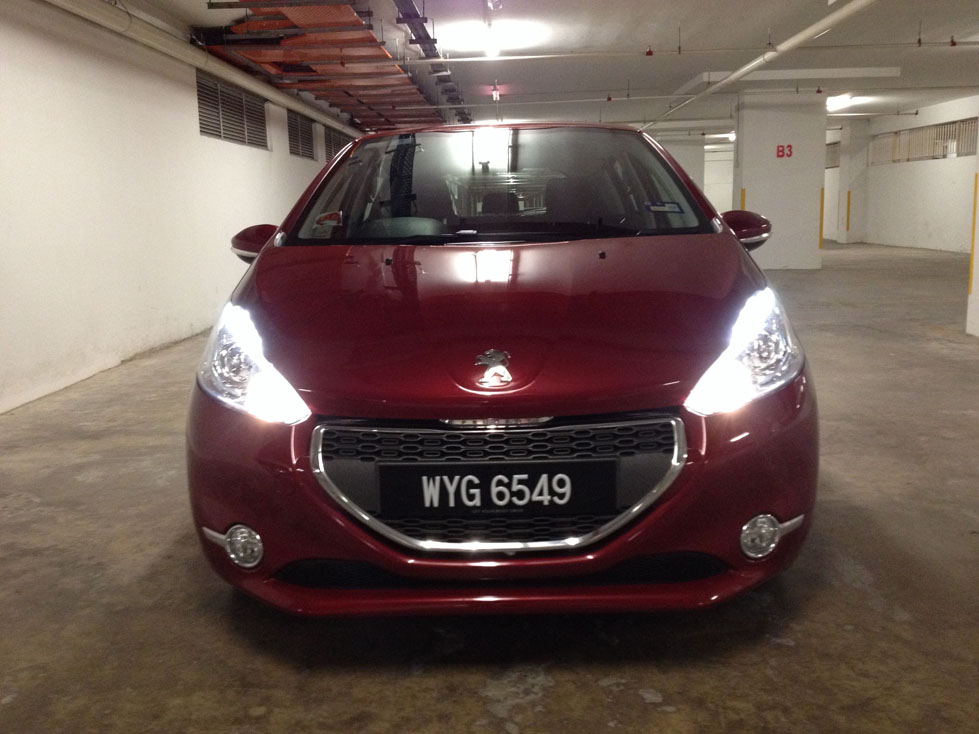 .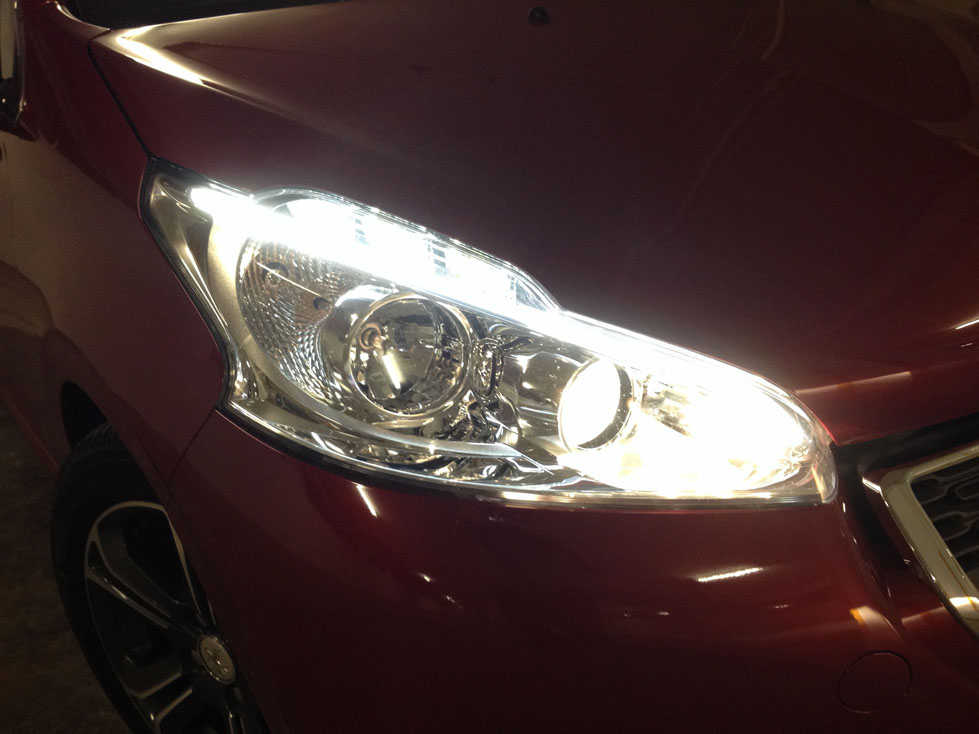 .
Happy is the word to describe the 208. With a chromed smiley grin that's bound to cheer even the most dour road user, the front mien is completed with LED Daytime Running Lights that outlines the upper portion of the halogen headlamps and chromed front fog lamps. The new Peugeot "floating grille" effect is prominently featured here, with a Peugeot lettering font size obviously not meant for the short sighted appearing below the bonnet "nose" of the car.
.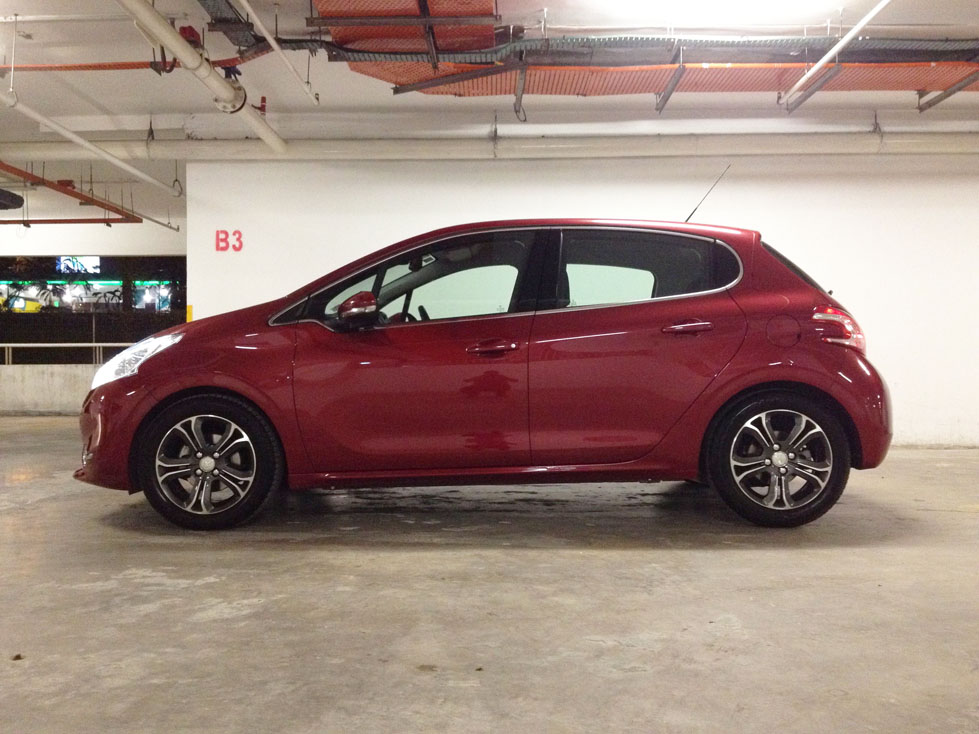 .
Measuring 3,962mm in length, 1,739mm in width and 1,460mm in height with a wheelbase of 2,538mm, the 208 is only about a finger nail longer, wider and higher than the Ford Fiesta. The wheelbase is 49mm longer compared to the Fiesta but honestly, the 5cm advantage doesn't feel like much sitting behind in both cars.
.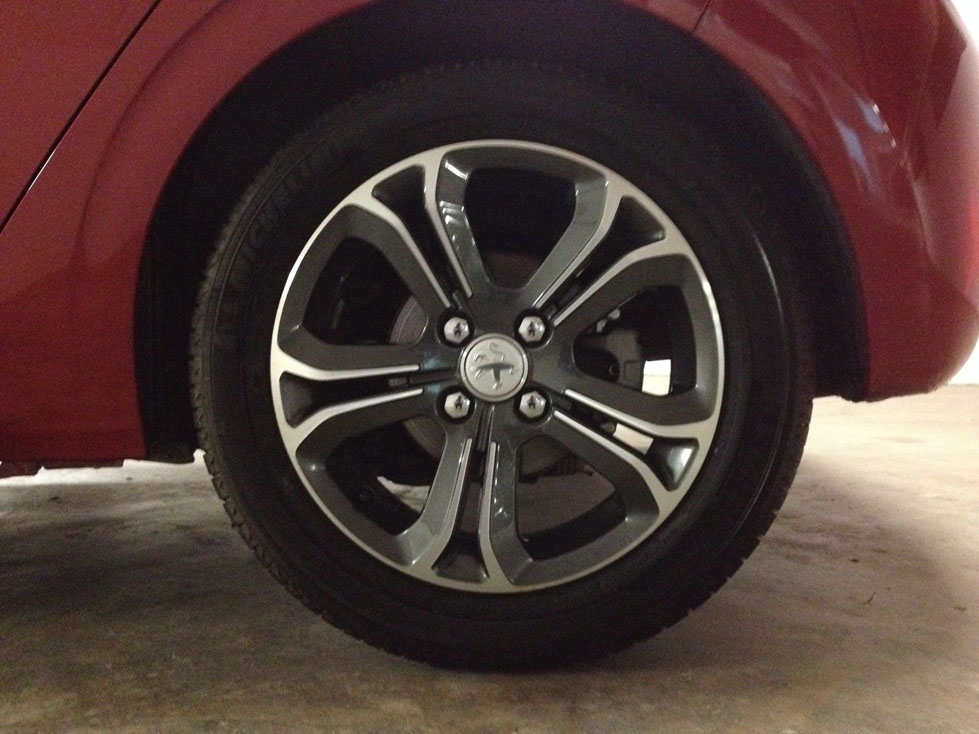 .
The 5-door 208 comes with 195/55/R16 two tone Helium alloys. The 3-door on the other hand has 17″ wheels with a different 2-tone design.
.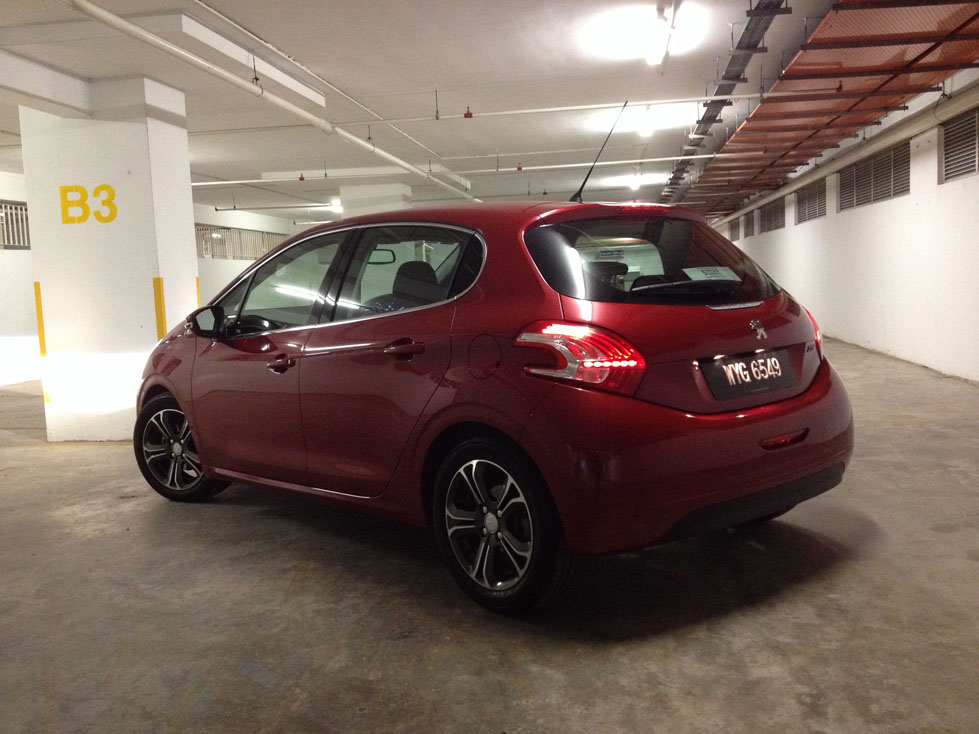 .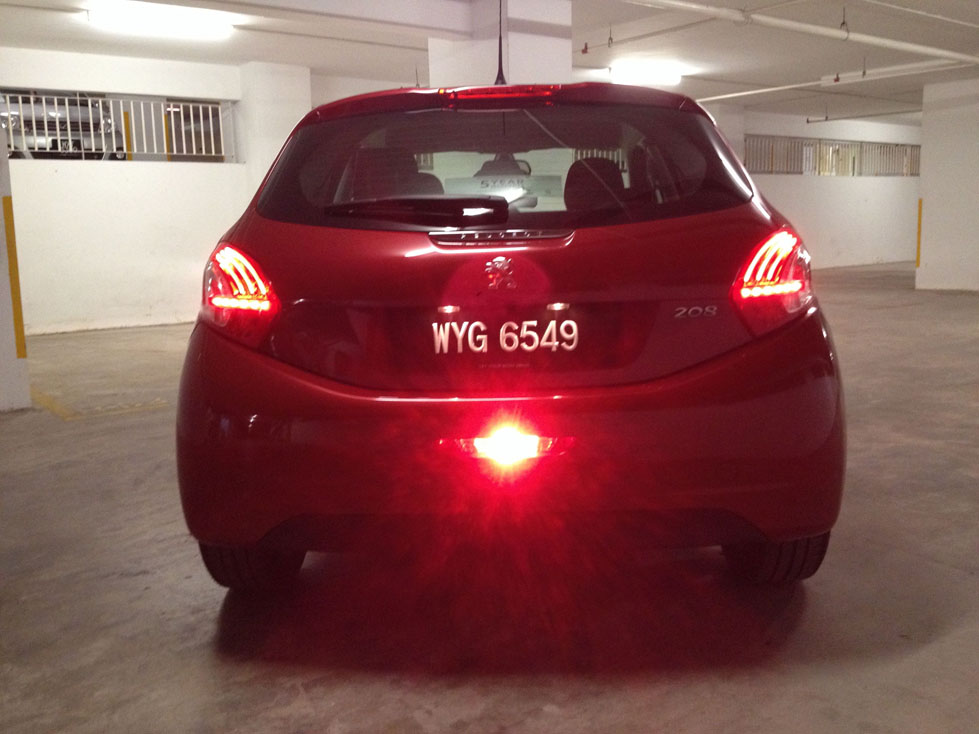 .
At the back, the tri-clawed LED rear tail lamp is the most prominent feature, with a center rear fog light that'll significantly increase your visibility during heavy rain (remember, hazard lights switched when your car is not stationary is deemed illegal).
.
All in all, the entire package makes the 208 look s0 sleek …. so stylish ….. so cute …. so much like a:-
.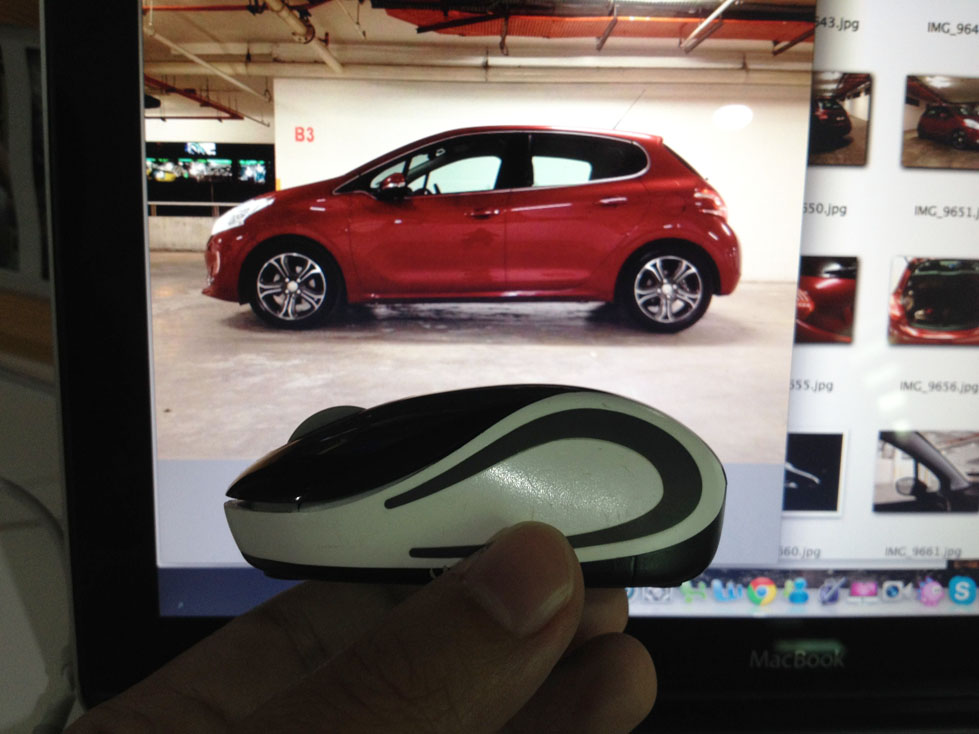 …. the resemblance is uncanny.
.
.
Performance
.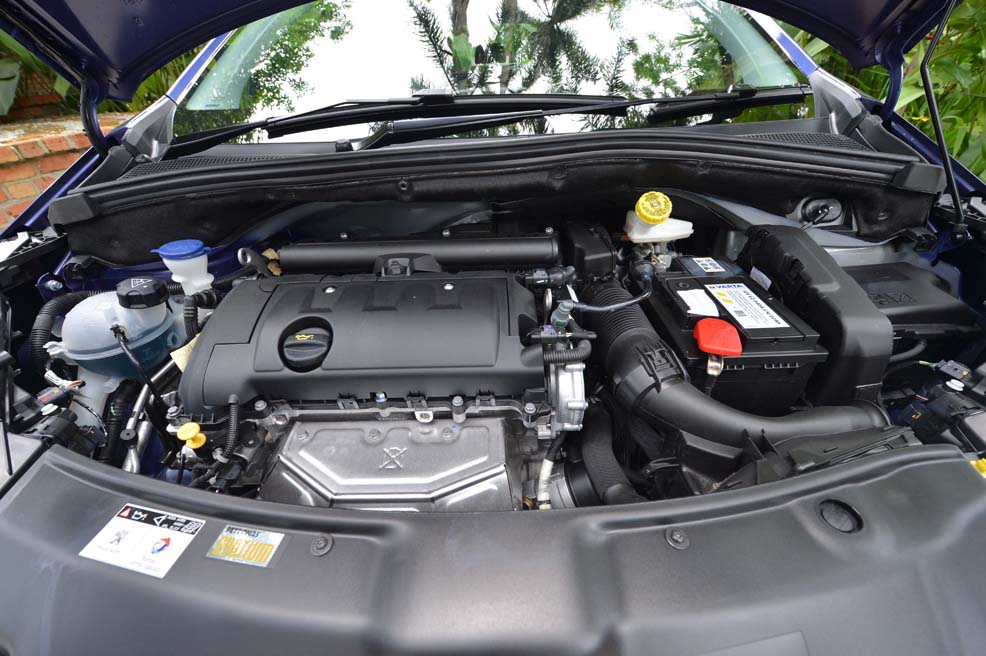 .
The 208 offered here comes with the 1.6litre, 4-inline, DOHC VTi engine (the same as found in the VTi Peugeot 308 as tested HERE) which offers 122 PS @ 6,000rpm and 160Nm @ 4,250rpm. While acceleration is anything but fast (0-100kph done in 10.7seconds), it is adequate and more than sufficient for city drives. If you're going outstation with this, best not keep to the fast lane.
.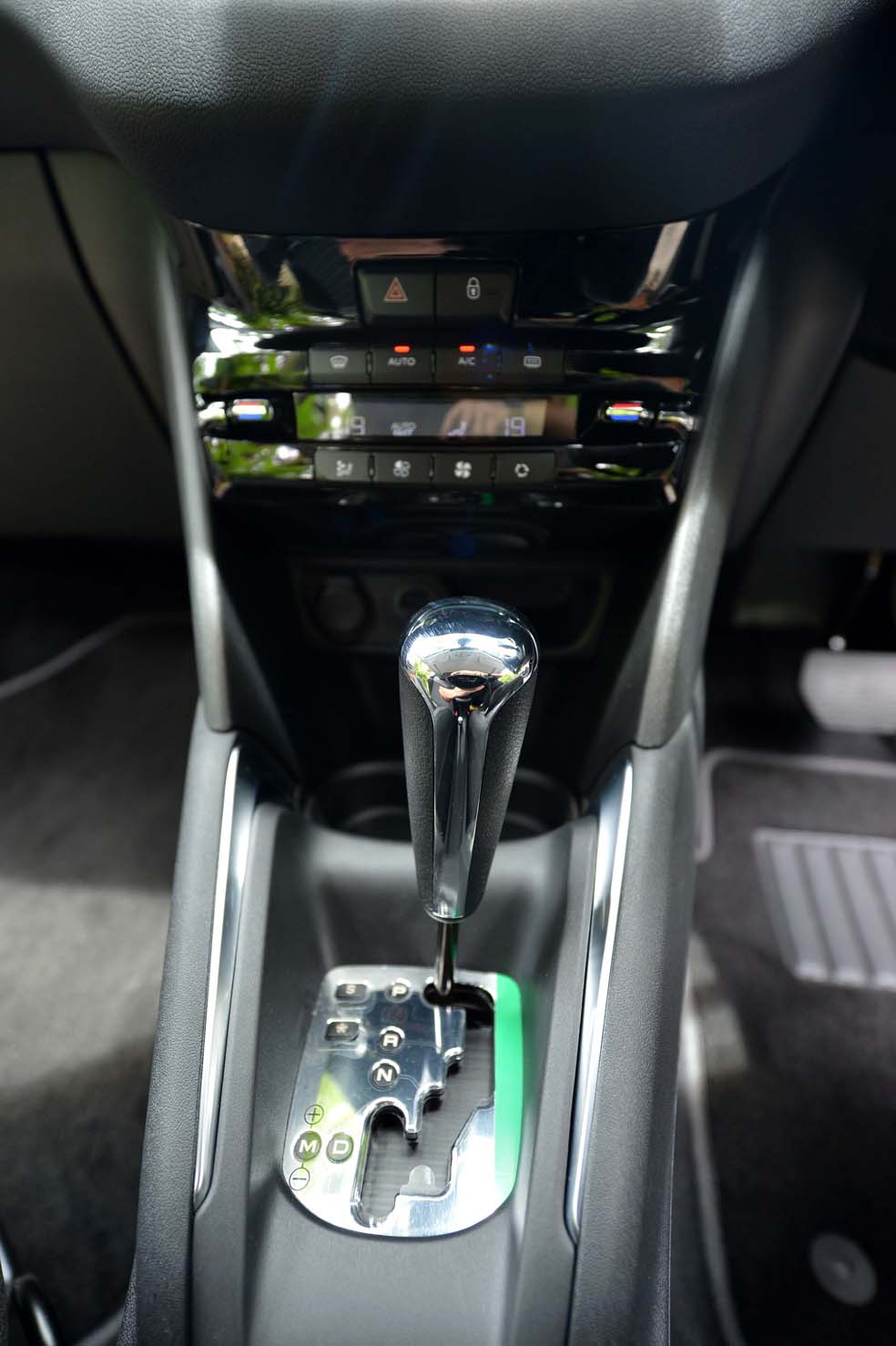 .
Paired to a 4-speed automatic adaptive gearbox with tiptronic and sport mode, cruising speed on highways would put you at these rpm levels:-
.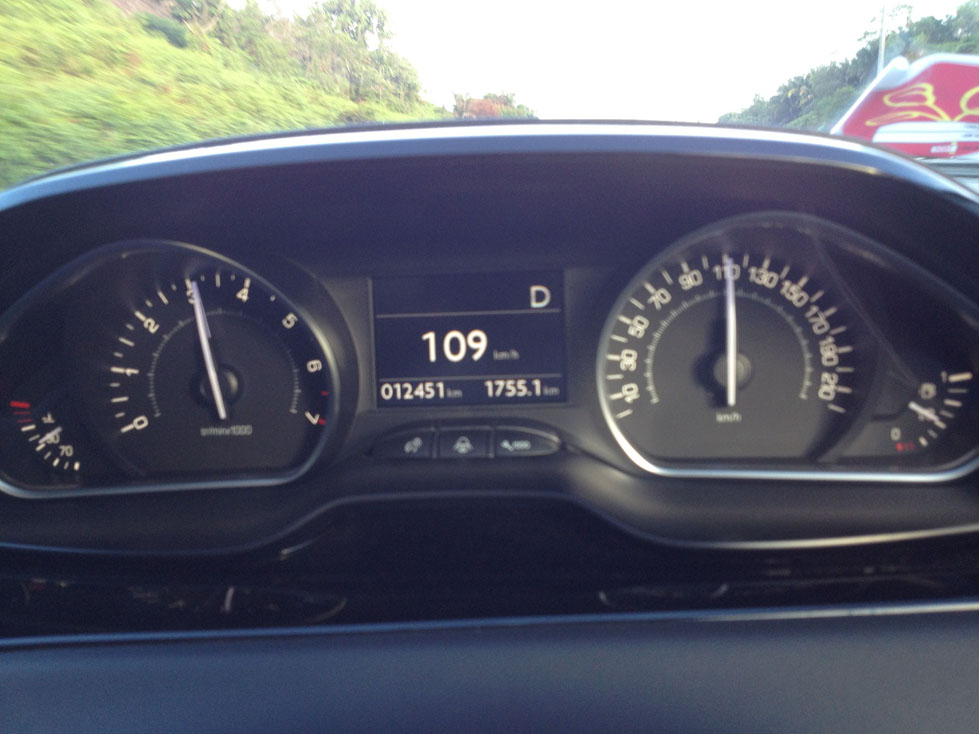 .
Which doesn't necessarily translate to higher fuel consumption. More on this later.
.
.
Ride and Handling
.
Suspension wise, the 208 has MacPherson Struts with anti-roll bar in front and trailing arm with deformable cross-member axle. Trudging along in concrete jungles in city limit speeds, you'll find the suspension to be soft, comfortable even and pretty much like any other continental car. It's slightly harder compared to asian made equivalent makes, which means it plays at corners a little better than the rest (ok, if it's against the Suzuki Swift, I reserve judgement). Being a compact hatchback, steering accuracy is sharp and turning radius is very good.
.
Speaking of steering, it's typical of any non-sports, city-comfort oriented vehicle; steering feedback that's as numb as downing a couple of triple-espresso while studying hard before tomorrow's final exam which is a shame as the chassis is capable of handling much more. Still, such lightness is more blessing than bane taking into context where this car is used most of the time. After all, not many would drive and tackle corners like petrol and maintenance is free.
.
As for the noise and vibration, both are composed even at speeds above legal limits, with more of the former intruding into the cabin when the car is travelling above 140kph. For a car of this size to lose that composure only at that sort of speed is commendable.
.
.
Cabin Convenience
.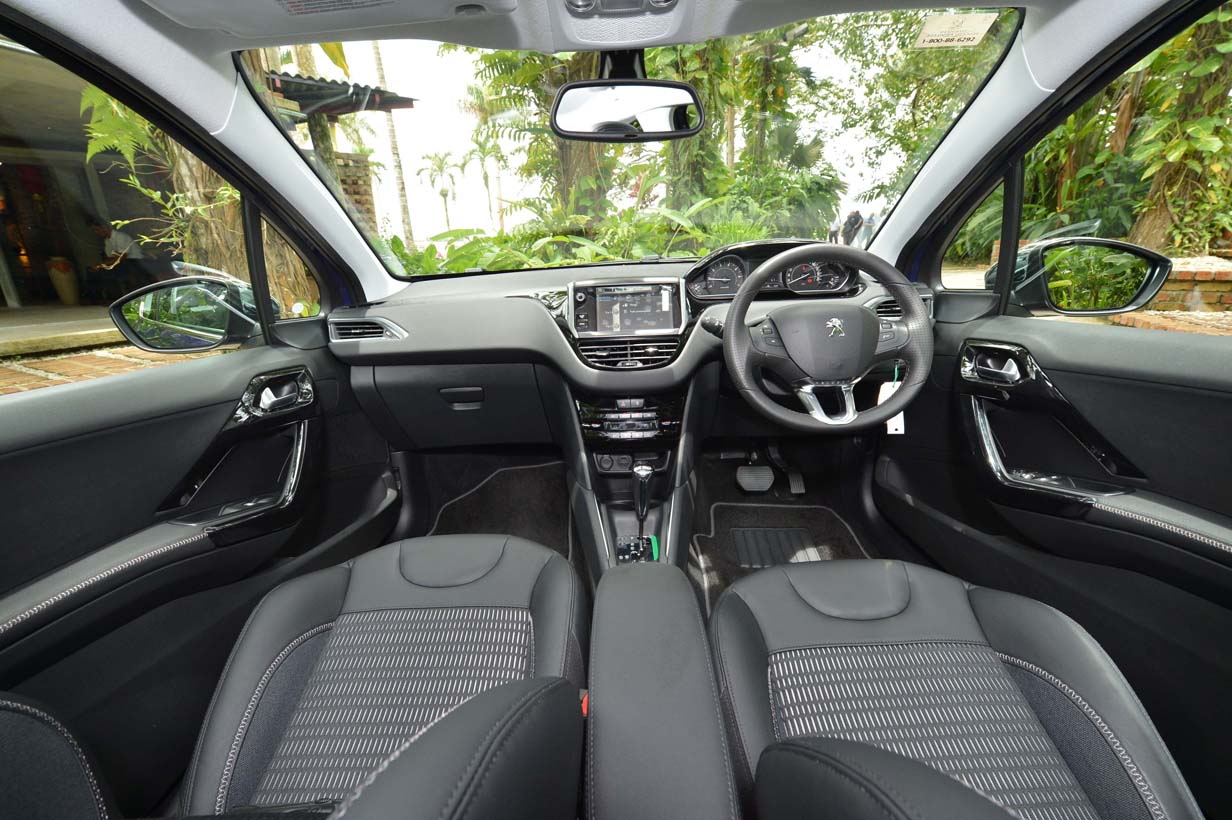 .
Targeting those young and young at heart, the interior is nothing short of being radical. In the cockpit, you'll find the Peugeot's smallest ever steering wheel, a floating instrument panel with LCD color display that makes Compact Discs redundant and an overall design that seems to be the antithesis of the Ford Fiesta button-full dashboard.
.
.
Just as every auto journalist out there who have tested the 208, you'd have a tough time having a full view of the instrument panel without the steering wheel partially blocking it – not unless you happen to be a dwarf. And even if that was the case, the front seats would have no problems accommodating the drwarish girth. Peugeot says that the design is deliberate for drivers to look "over" the steering wheel instead "through" it, positioning the wheel closer to the lap similar to a go-kart which, according to them is far more relaxing in the long run. I say not only they designed the car for a dwarf height driver, they've also made it to fit the shorter reach of a dwarf.
.
Ok, it may be just me needing more time getting used to it. And after a while, you do – but ultimately, I think most drivers would do like what I did; sacrifice the instrument panel view. Really, if you have to choose between driving comfortably and changing your driving habits to suit a car, take the former. It's not only safer
.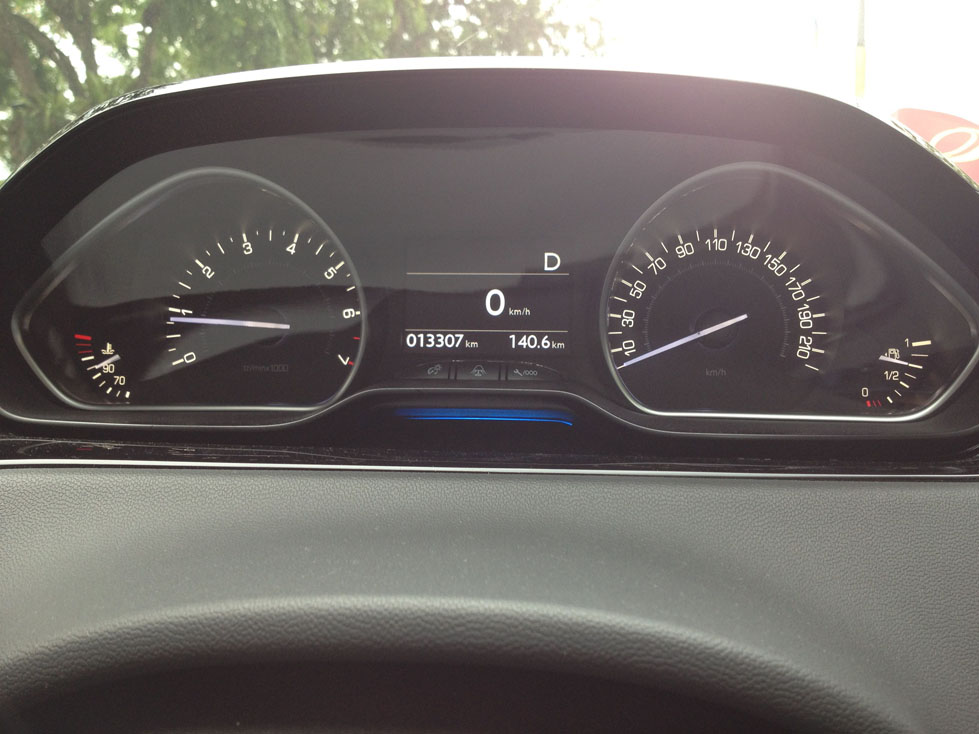 .
The instrument panel …. something you won't be seeing much if you're taller than 5″. That blue LED below the panel is supposedly there to help you relax. Not that it made any difference to me so most of the time, I left it there even though it can be switched off.
.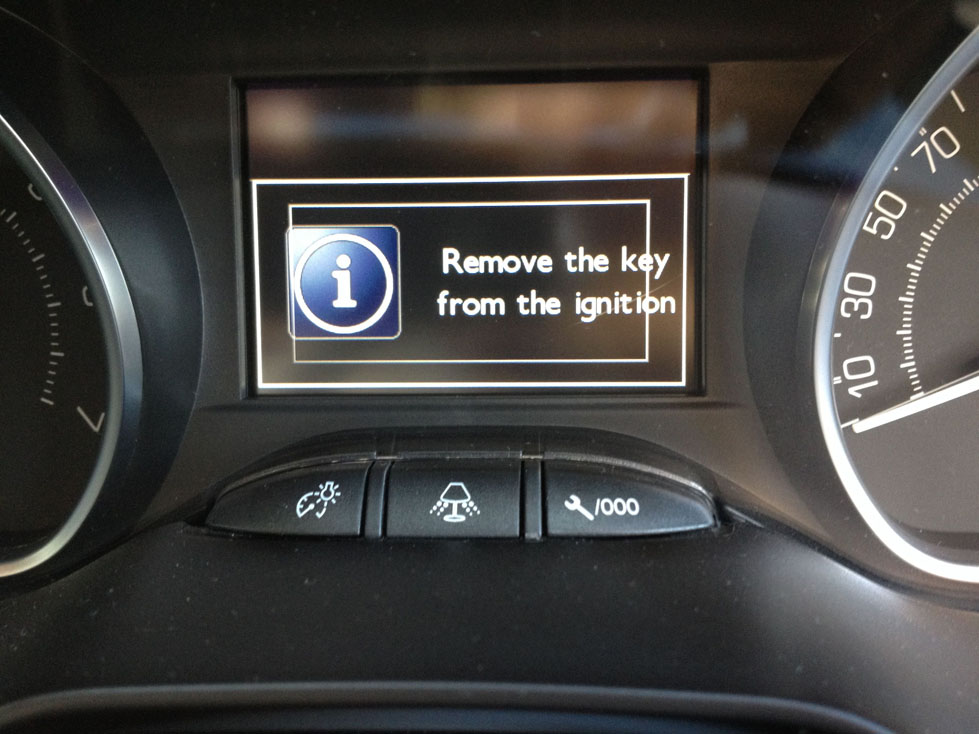 .
The 208 is one chirpily noisy car. Most manufacturers will be content to give you a 'DING' or a 'PING' if you forgot to do something. In the 208, I count no less than 3 different alarm chimes whenever you do something naughty (no, not candles and whips). Forgot to remove you key? You'll be rewarded with a repetitive sound so loud that it'll jolt you out of whatever fantasy (or phone call) you were having.
.
.
Forgot to move the gear to 'P' before switching off the ignition, you encounter another melody.
.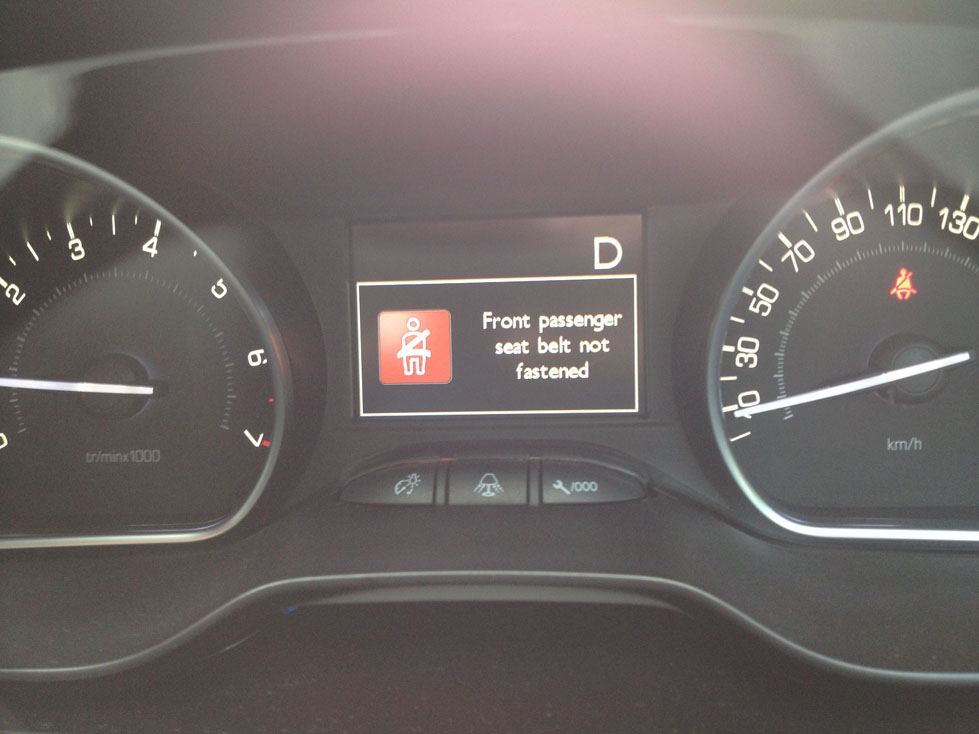 .
And of course with the seat belt warning, how can one forget a unique sound associated with it. Seriously, if a day passes where you don't encounter an alarm chime, go reward yourself like you've just scored all As in your finals.
.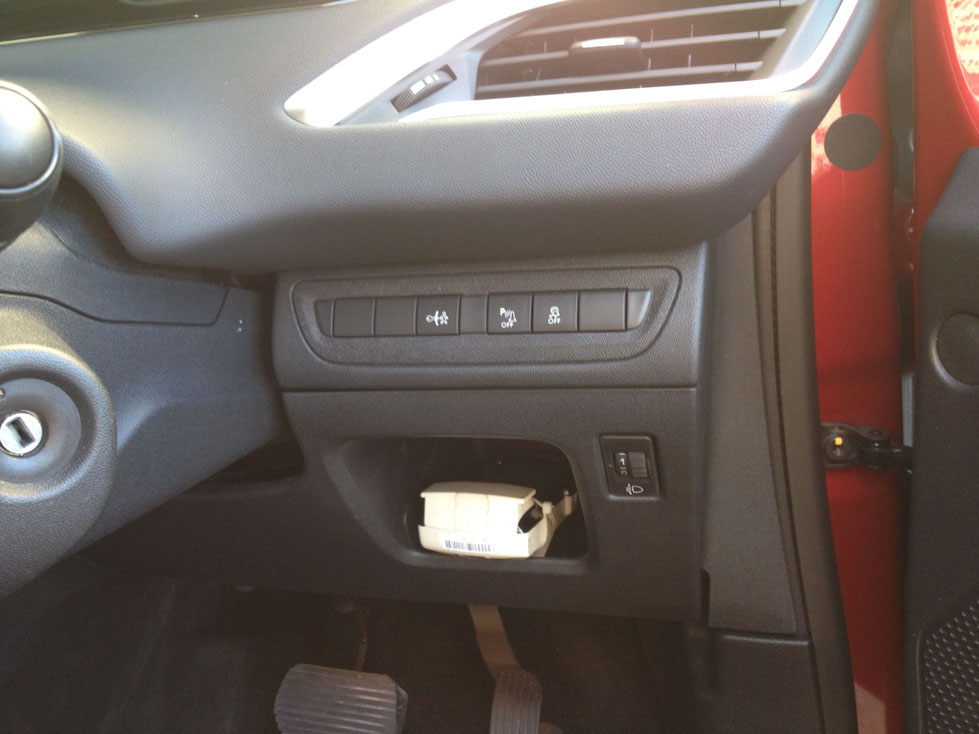 .
On the right side behind the steering wheel, there's a small compartment for you to place your Smart Tag and access cards.
.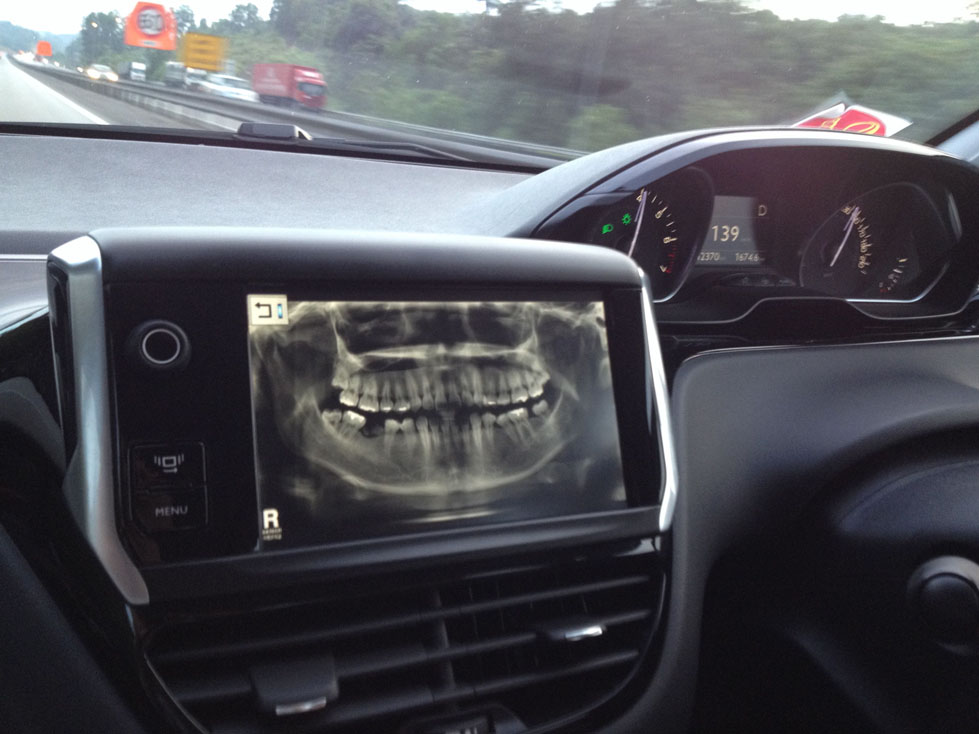 .
The party piece of the 208 has to be the interactive HD color touchscreen. Through it, you'll get to manage the Bluetooth, radio and since CDs are so yesterday, you'll also get to play digital files via USB or audio streaming. It'll also display wallpapers … dentists love them as they can help diagnose your dental condition while on the go. All audio are channel to a 6-speaker Arkamys 3D sound system which isn't bad for a stock audio system.
.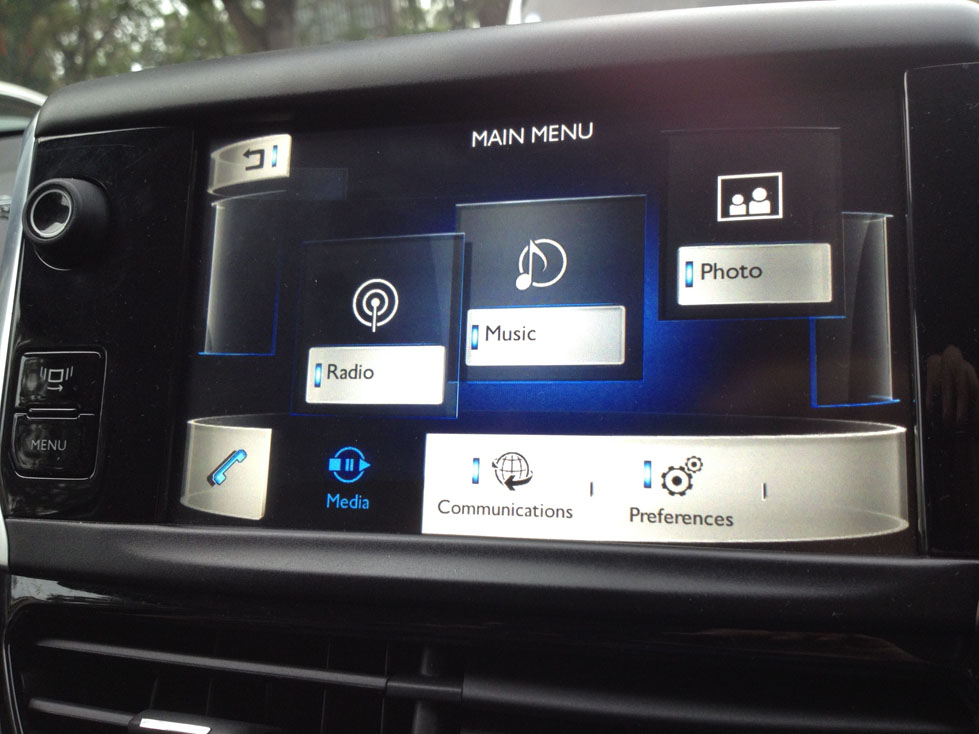 .
.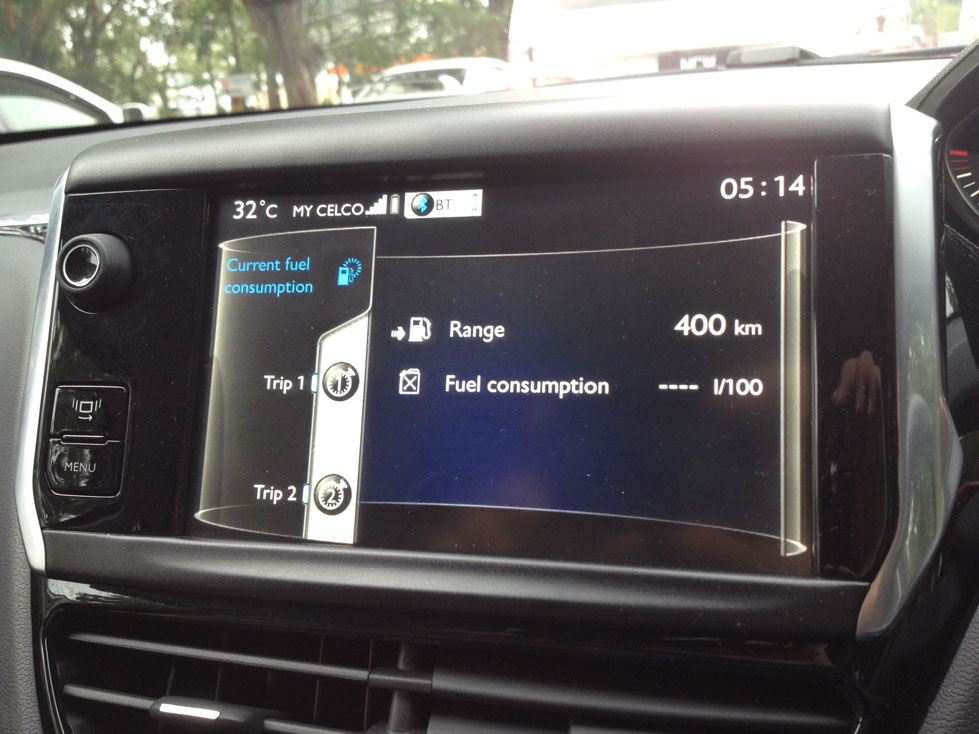 .
The controls aren't that intuitive, I'm afraid. The user interface looks like it's a swipe-type since it's cylinder shaped but it's really just point-and-press. And don't expect smartphone levels of sensitivity. There are times when multiple finger stabs are required before you get to where you want to be.
.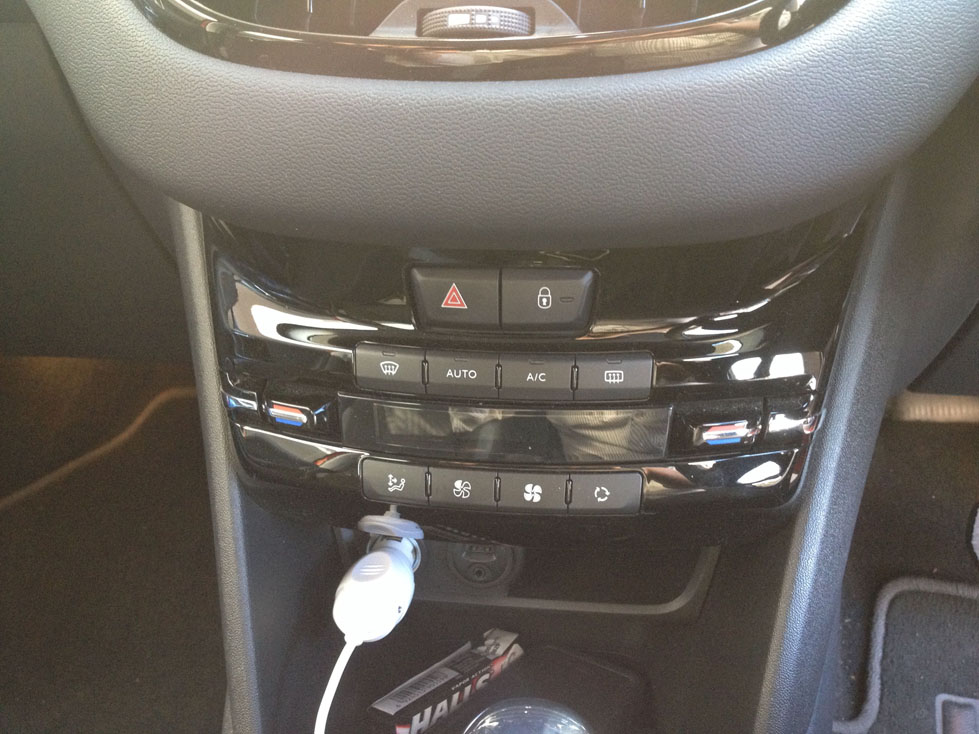 .
Thankfully, the air conditioning controls are a lot simpler to operate. You get a dual zone automatic system which. in most cases you'd have to set to full blast in our searing weather.
.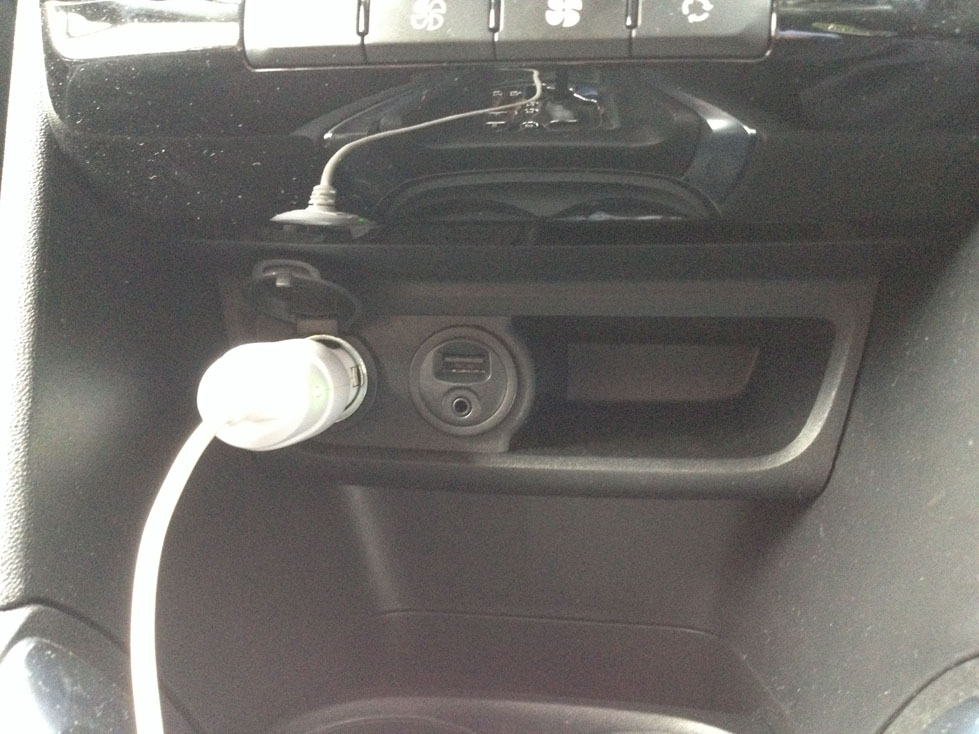 .
Never really managed to fiddle with the USB connection …. most of the time, the 12V socket is occupied by the GPS power socket whereas the USB is used to power the phone.
.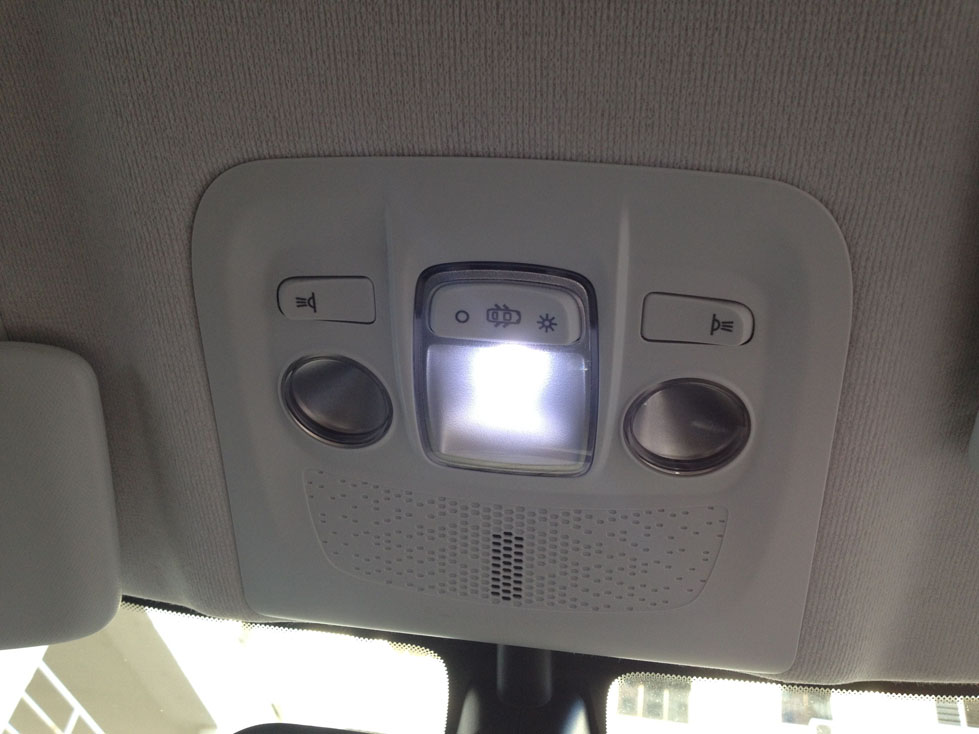 .
LEDs everywhere. In this case, you'll find a white for cabin lighting.
.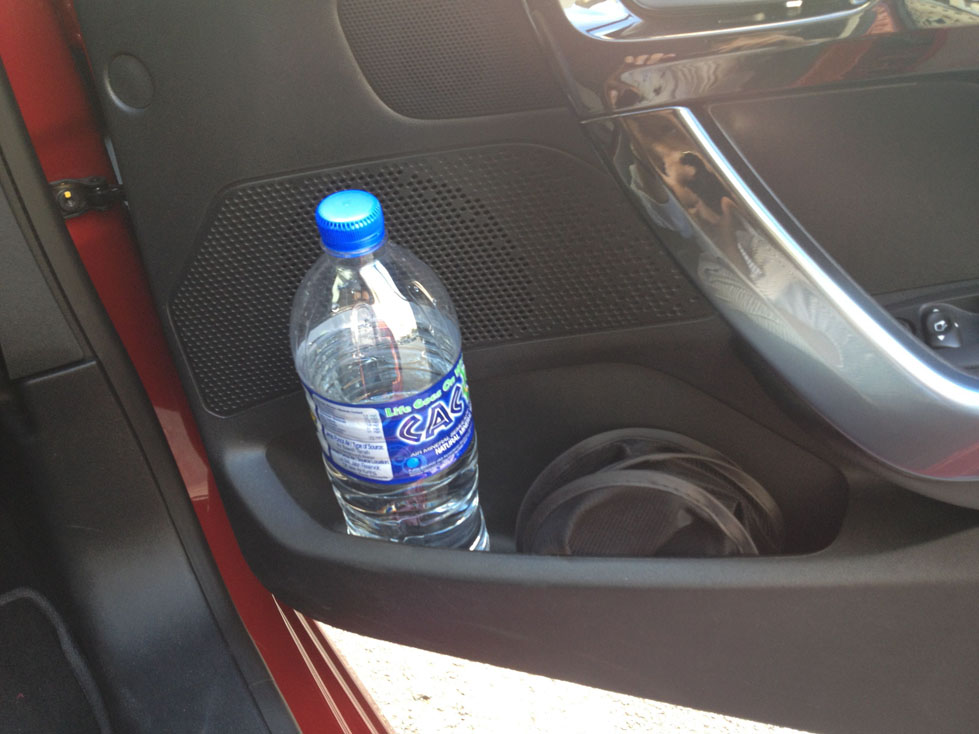 .
The biggest gripe one may have with the 208 is the lack of storage compartment. Case to point is cup holders. You'll find 2 below the charging sockets but if the gear is placed in 'P', access to the cup holders isn't very ergonomic due to the air conditioning panel jolting outwards, granting you limited access to position your Starbucks cup. Thankfully, the side bins are large enough to accommodate even 1.5litre plastic bottles.
.
Don't get me started with the glove compartment. Thanks to Peugeot not shifting the fuse box from the left-hand drive to the right, you'll get one that won't fit an A4 sized file. Well, at least without a CD player, you won't need to manage CD cases in there.
.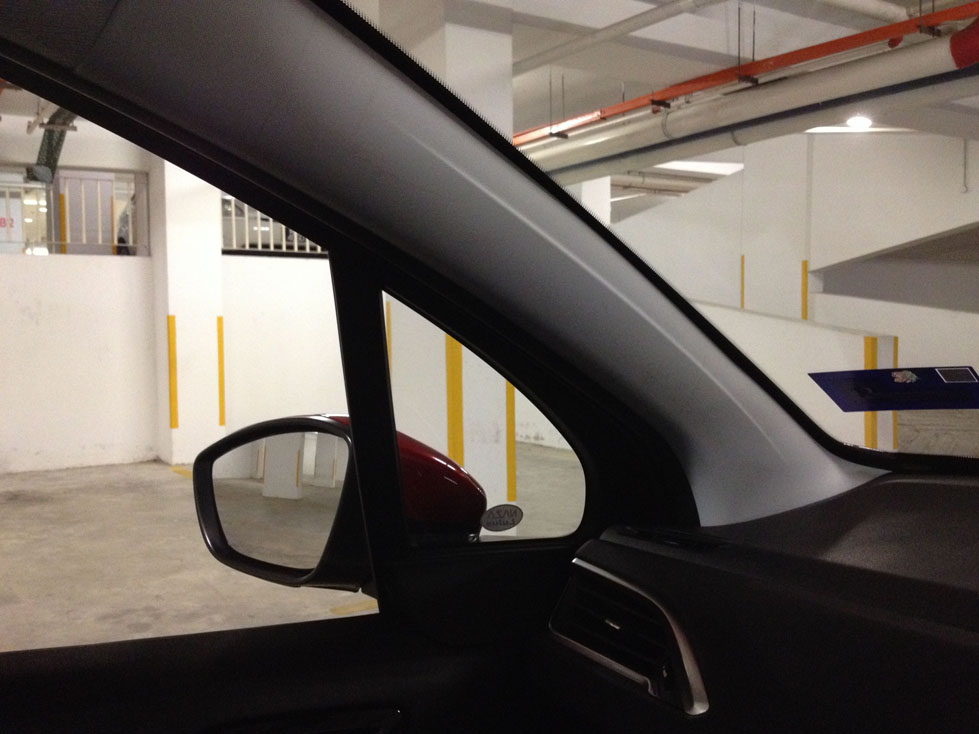 .
Visibility is excellent due to a large quarter glass which makes the A pillars thinner and safer to maneuver around corners.
.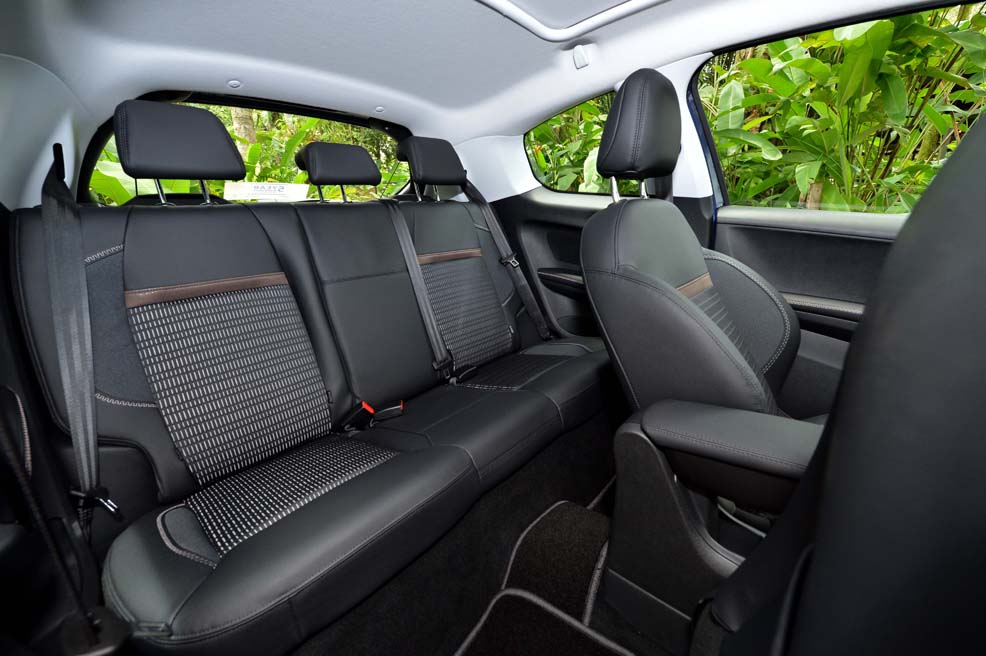 .
There isn't much to shout about for the rear bench. Here, the Perodua MyVi reigns supreme but if compared against the VW Polo and Fiesta, the 208 is just as cramped for tall rear passengers. This is, after all a B segment so we can't expect D segment space.
.
Boot space isn't too shabby for the 208. You'll find 1,152 litres of space if you fold the rear 60:40 seats down.
.
.
Safety
.
Small it may be but the 208 is not lacking any features when it comes to ensuring your safety:-
.
6 airbags
ABS
EBA
EBD
ESP
ASR
Dynamic Stability Control
Hill Start Assist
Very High Strength Steel (VHSS) body structure
Deadlocking
Electric child safety door lock
Peugeot rolling code transponder immobiliser security
Auto hazard light on de-acceleration
Seatbelt alarm (audio) for all passengers
2 x ISOFIX anchorage points at rear
3 x 3-point rear seat belt
EURO NCAP 5-star safety rating
"Follow Me Home" Security Lighting
Remote "Guide Me Home" Security Lighting
Rear parking aid with audio visual assistance & 4 sensors
Anti pinch power winders
.
.
Specifications
.
Exterior
Front & rear LED signature lighting
Floating grille design
Auto headlight & auto wipers function
Driver  & Passenger Side View mirror with heater
Electric folding mirrors
One touch all around power window
Front and rear fog lamps
Intermittent rear wiper and washer
Automatic rear wiper in reverse gear
16″ two tone Helium alloys
Full size spare wheels
.
Interior
Interactive HD Color Touchscreen
Arkamys 3D Sound Audio System with 6 Speakers
USB, Bluetooth & Audio Streaming Connectivity
Digital Dual Zone Auto Air-conditioning
Floating instrument panel with LCD color display & multi stage illumination
Trip computer, trip distance recorder, service indicator, engine oil level, speedometer, door opening status & audio source
Sports steering wheel with controls
Advanced Electric Power Steering System
Height & Reach Adjustable steering wheel
Semi-bucket Moonlight Fabric seats upholstery
6-way driver and front passenger seat adjustment
Centre Armrest with storage compartment
Front and rear seats with adjustable headrests
60:40 One Touch foldable rear seats
Seat back pockets
Glove Box with cooler
2 cupholders
Passenger and driver sunvisor with illuminated vanity mirror
LED courtesy reading lamp
12V power socket
.
The 208 also comes in a 3-door guise and there are some differences in terms of specs compared to the 5-door variant:-
.
Same as the 5-door variant unless stated otherwise
.
205/45/R17 wheels instead of 195/55/R15
17″ Two Tone Oxygen Alloy wheels
Driver side only for One Touch All Around Power Windows with Anti Pinch
Semi-bucket Sahara Leather & Fabric Seat upholstery
Panoramic roof with mood lighting
.
.
Maintenance and Ownership
.
The Peugeot 208 5-doors comes with a price tag of RM85,888 whereas the 3-door variant costs a cool 10-grand more at RM95,888. Like all Peugeots, it comes with a 5-year unlimited mileage warranty. Servicing is done once every 10,000km (or 6 months whichever is sooner) and the cost per service is outlined below:-
.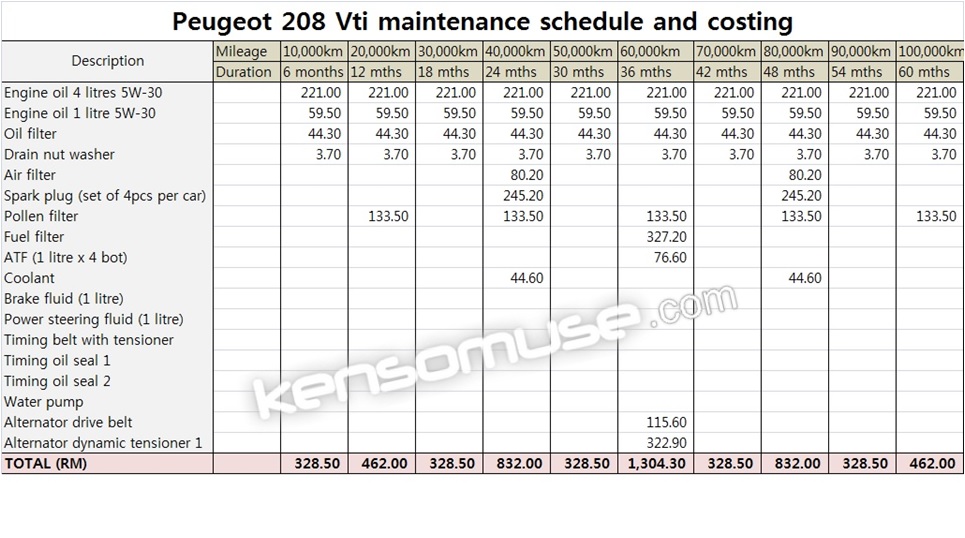 .
Expensive or not, you be the judge ….. but remember to judge it against a continental. In this respect, Ford Fiesta may triumph against the 208 since every once in a while Sime Darby AutoConnexion throws in free service promotions. Note that manufacturers may change the price of each item without prior notice so please verify with the service centres accordingly.
.
How about the fuel consumption? Peugeot claims a 6.7litres/100km. Here's how I scored in a trip to Penang, zipping around town then returning:-
.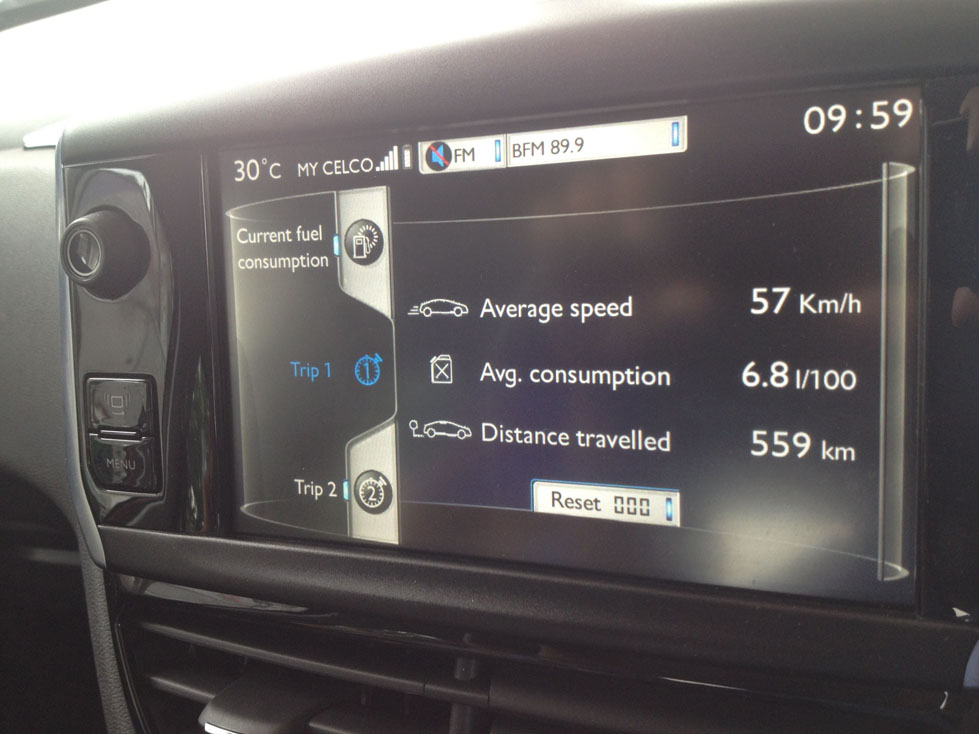 .
As for the real world fuel consumption, I scored this much with 41.89litres of RON95 (RM87.98 at present fuel prices). Not too far from the brochure's spec but I have to say most of the drive is done on the highway, cruising at 110kph so the combined FC in urban and suburban roads would not be as optimistic as stated.
.
What are my options in the segment?
.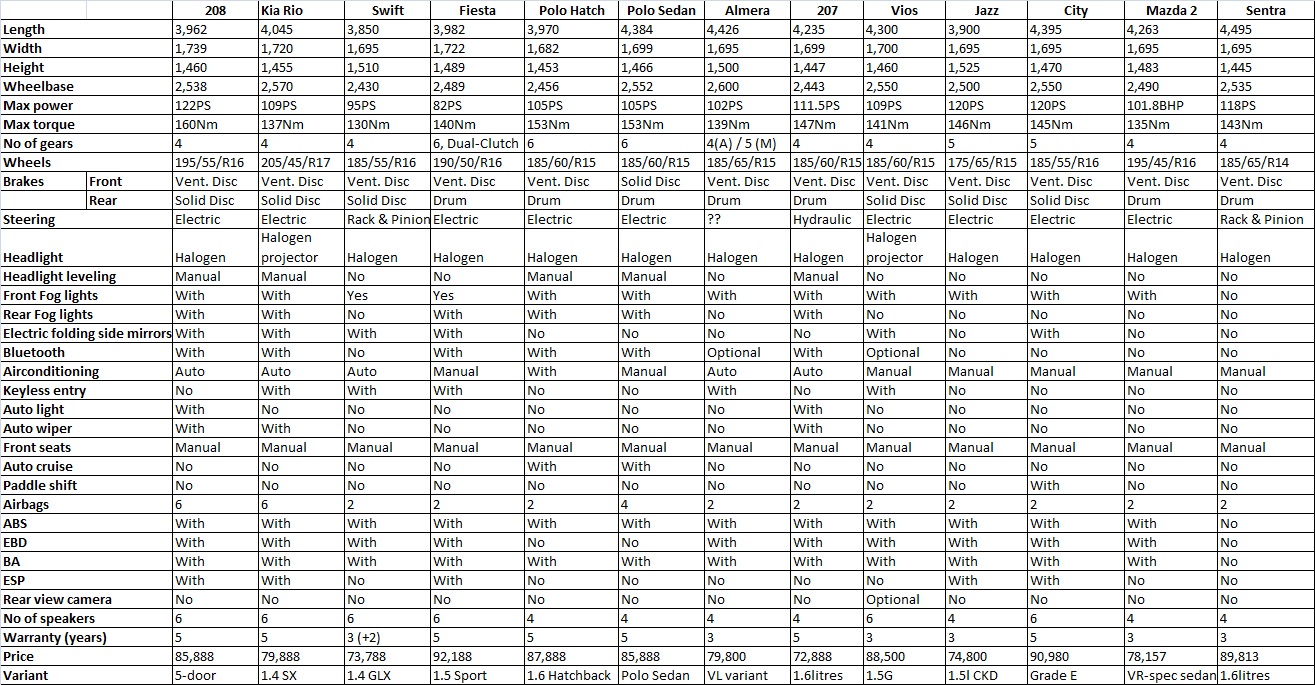 .
Note that final selling price may vary as some manufacturers omit the insurance fee. Also, some specifications may be changed depending on when you see this chart. Please check with your respective dealers to reconfirm
.
Quite a lot, actually. Not counting the MyVi and the Proton Saga, you've got 13 other models to choose from. From a safety point of view, the 208 and the Kia Rio tops the charts. If you're considering a continental, then price range is pretty much around the RM80-90k mark  but none offers as much safety kit as the 208. From that perspective, there really isn't much to fault with the 208.
.
At the end of the day, don't we all wish car prices are cheaper but as the Chinese saying goes, "an extra point in money spent is an extra point in the product we get". And for the asking price, the 208 represents the best value-for-money continental car to date.
.
.
.