.
The problem with people is often they don't know what they want. You don't have to look far for examples; just think of the last time you asked (or being asked) where would you like to go for dinner and the occasional indecision would cost you a whole lot more time, fuel and other mental/stomach related stress that makes any corner coffee shop sound a lot more appealing than the effort required to consult everyone in the group, consult your other half and consulting your palate before actually deciding. We know that we would want to have dinner; we just don't know precisely what kind of food we would like to indulge ourselves with. Which is precisely the reason why companies like Apple should be admired for creating a product that literally revolutionise the smartphone industry. The iPhone was so simple and easy to use, it made everyone realise there is a want – no, a need for something less complex, far less learning curve to pick up and use. Before long, everyone was saying this is exactly what they were looking for – never mind the fact that prior to the iPhone, nothing remotely resembling it existed! It was a niche – one that no one saw and companies invest considerable resources to identify and tap into these unrealised needs.
.
The risks are great but so are the rewards. In the automotive world, we've seen our fair share of such examples but none probably more judicious than Porsche with the Cayenne. From a company on the brink of death thanks to a largely singular product lineup catering to only one segment of buyers, the SUV (and subsequently the Panamera 4-door luxury sedan) became the wind that changed the fortunes of the company. Since then, we've witnessed numerous attempts by other car manufacturers to create new vehicle types that would (hopefully) bring more smiles to the board of directors during annual financial reviews.
.
One of such type is the 4-door coupe sedan and over here, we've seen the likes of the Volkswagen CC and the more recently launched Mercedes CLA (in case you've missed how the CLA fared against a BMW 316i, you can read it HERE). And now, we have a new contender in this segment; the newly launched Audi A3 sedan which is offered in two variants depending on the amount of cash you are willing to deplete from your bank account. For this review, let's talk about the more fun (and costlier) 1.8litre TFSI all-wheel quattro variant.
.
.
Design
.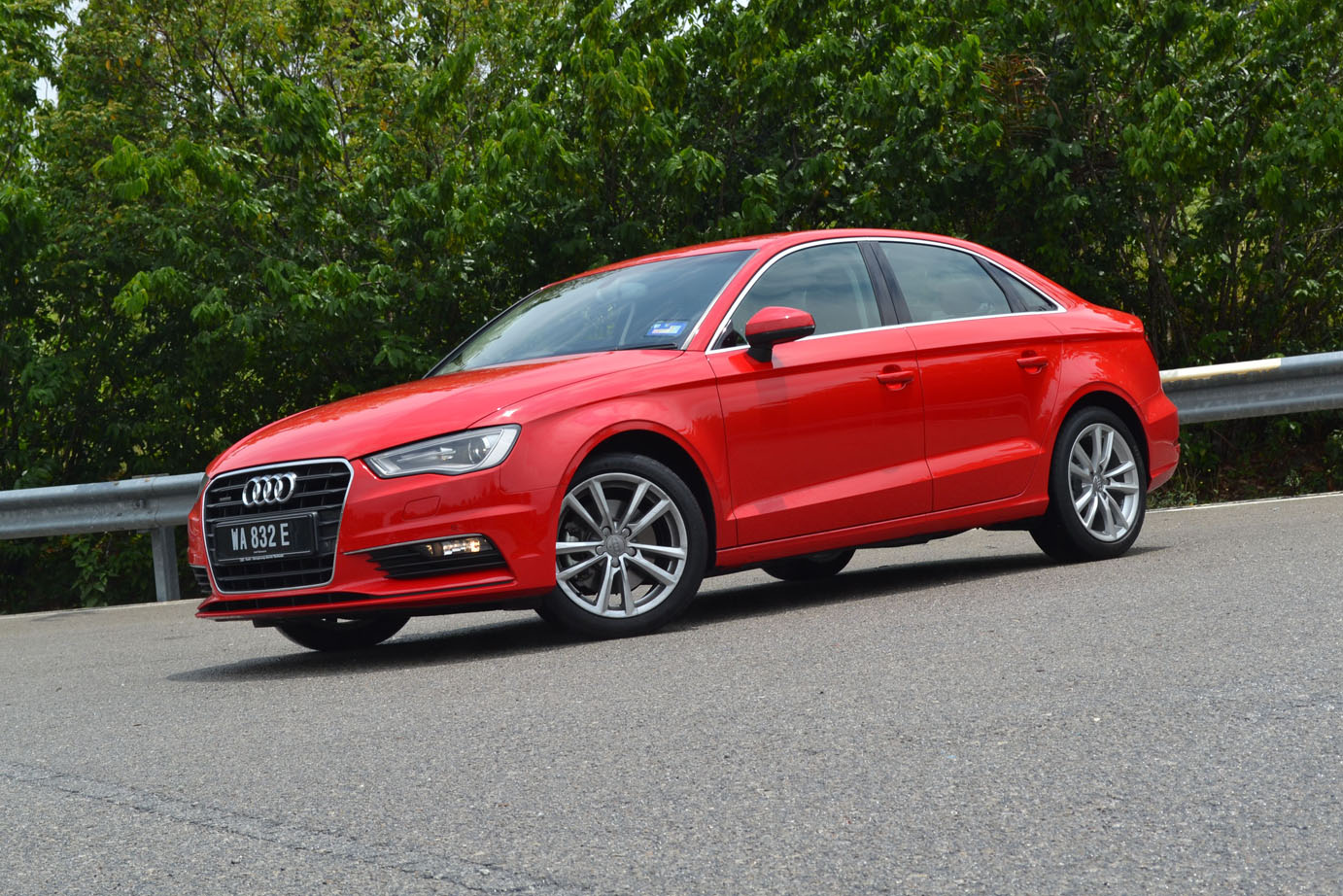 .
As it is with anything coupe-like, you'd find a low roof sweeping roofline, a wide front stance and high shoulder. The A3 is offered in two forms; a hatchback 5-door called the Sportback and the sedan. Despite looking quite identical, the body panels of both sedan and hatchback are not interchangeable – a fact of little use to us here since Audi Malaysia decided to launch the A3 only in sedan form. A wise choice, if you ask me since asians have a greater preference towards sedans and the sedan looks way better than the hatchback. Besides, by having only one variant (unlike the Mercedes CLA and A-class), a lot more focus can be done on the car, particularly when the A-class has the advantage of being launched here a lot sooner than its rival. The CLA on the other hand is still relatively rare on our roads so it's fair game.
.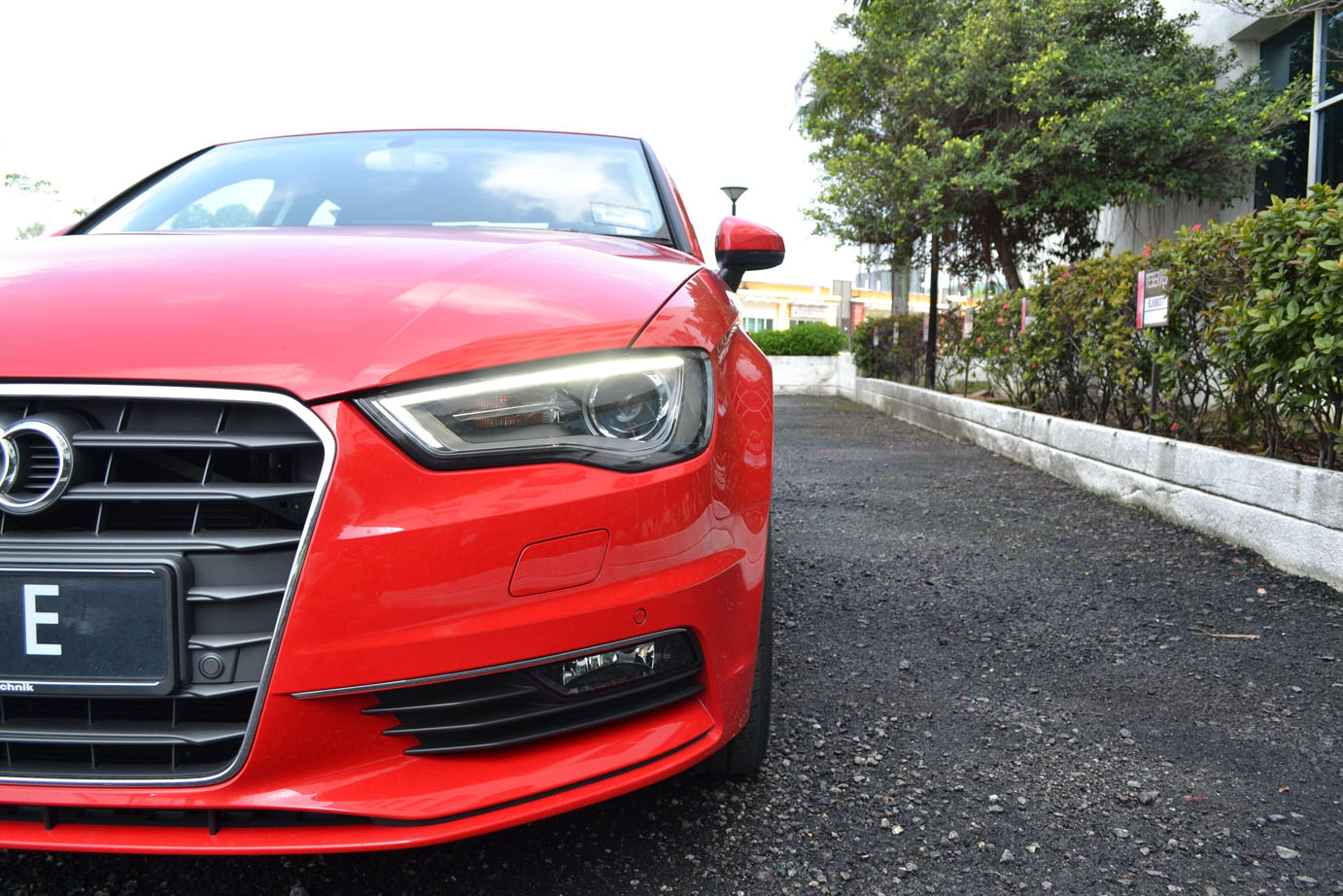 .
You cannot mistaken the A3 to be any other Audi. The "L" shaped LED DRLs are unique to itself and the humongous center grille framed by chrome enhances the muscular lines of the car. The fins at the front fog light housing can be a pain in cleaning, though but does wonderfully job at fooling another looking at it into thinking the car is wider than it actually is.
.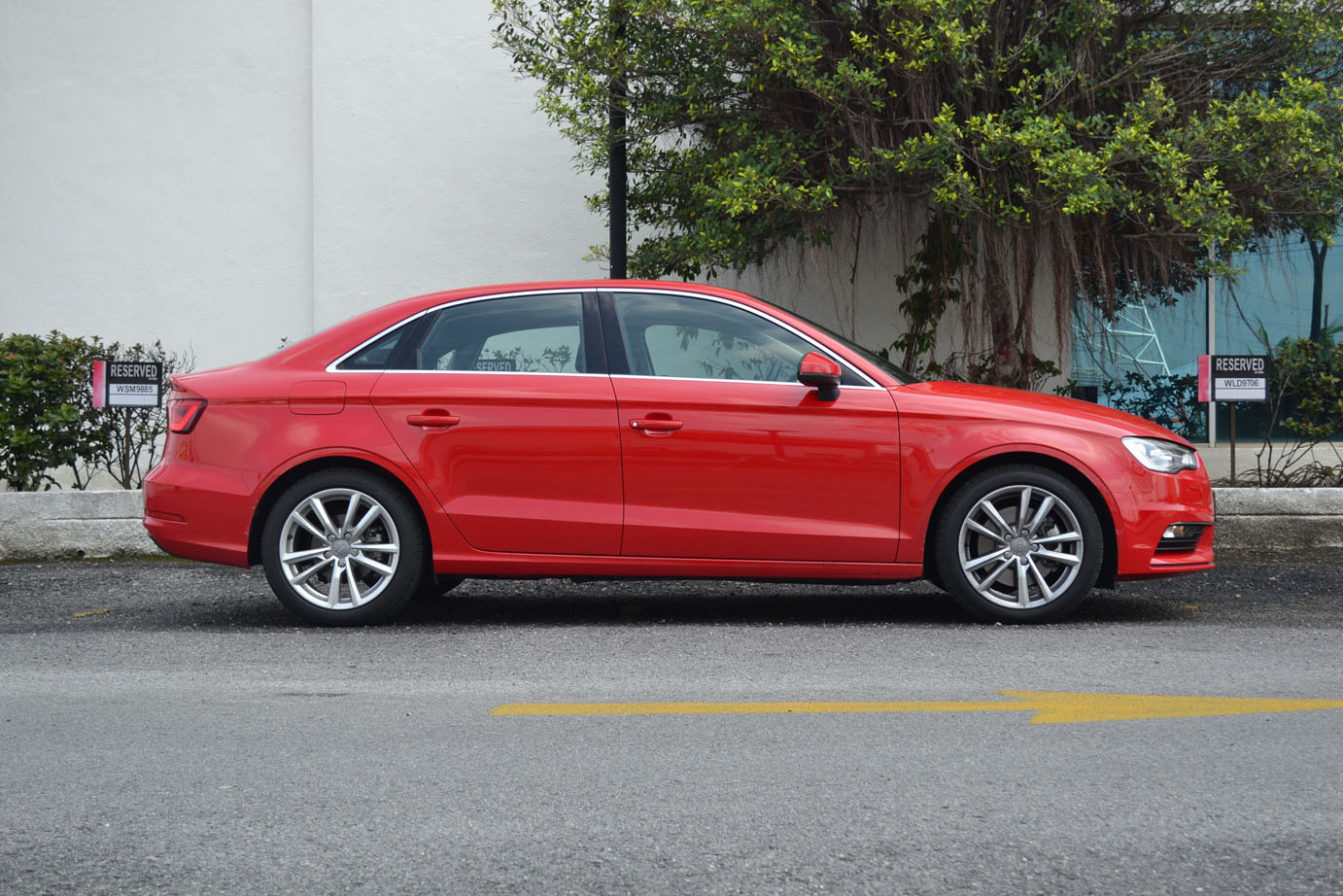 .
Measuring 4,456mm in length, 1,796mm in width and 1,416mm in height with a wheelbase of 2,637mm, the A3 Sedan is shorter with similar with and height as the Mercedes CLA. Legroom-wise, they're equally tight, and for those taller than 5'8″, the sloping rear roof would mess your hair like a motorcycle helmet, with a very probable chance of you suffering head concussions if the driver misjudged his speed going over bumps.  A line runs from the front headlights to the tail lamps while the lower crease that rises from the front wheel arch to the rear bumper adds visual drama to the athletic appeal of the car.
.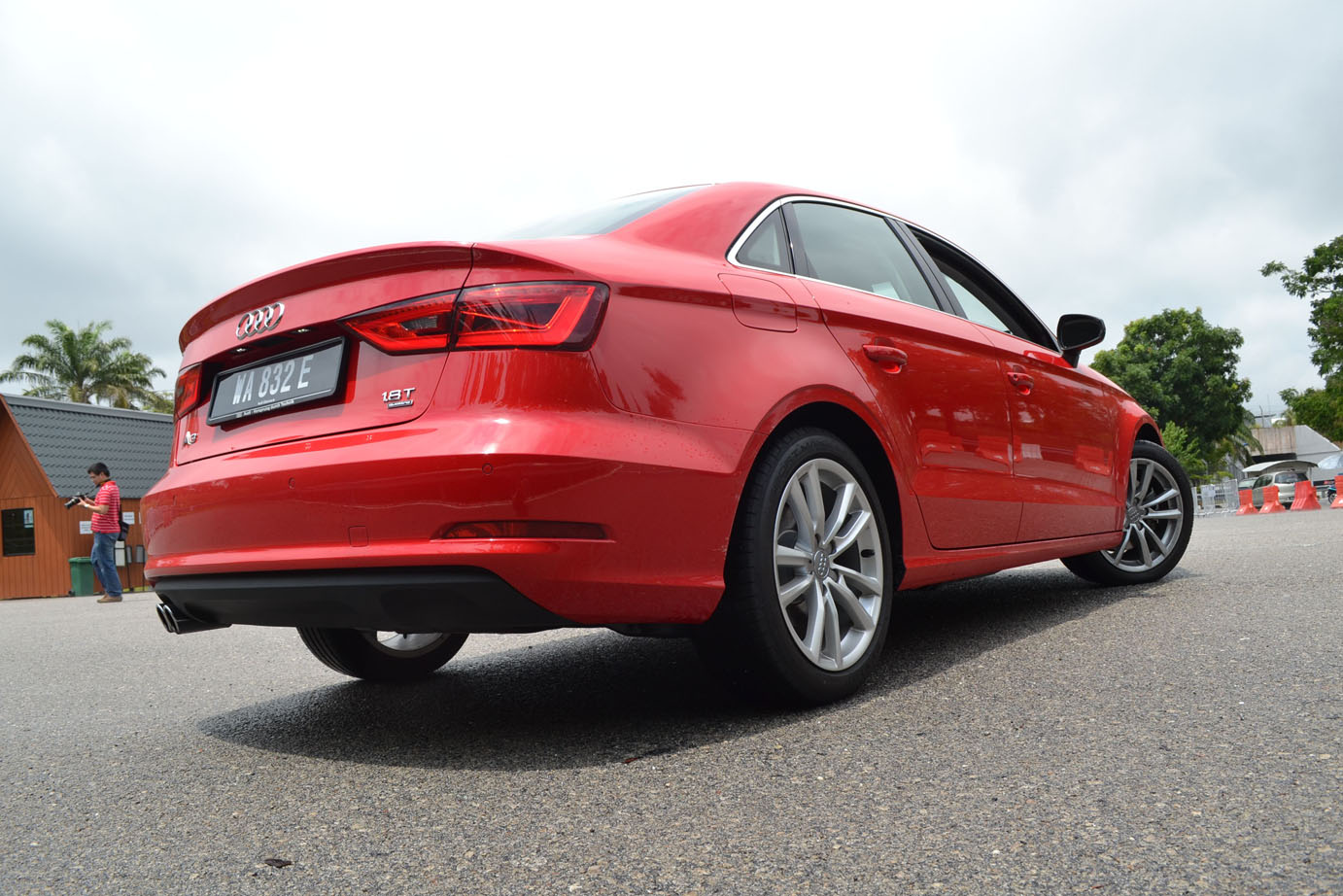 .
The rear is as pretty as the front. An integrated spoiler can be found on the boot lid and the full LED tail lamps has the same horizontal motif as the front headlights, making the car look as haunched as it does up front. Personally, I find the rear to be perfectly balanced between looking fussy and overtly simplified.
.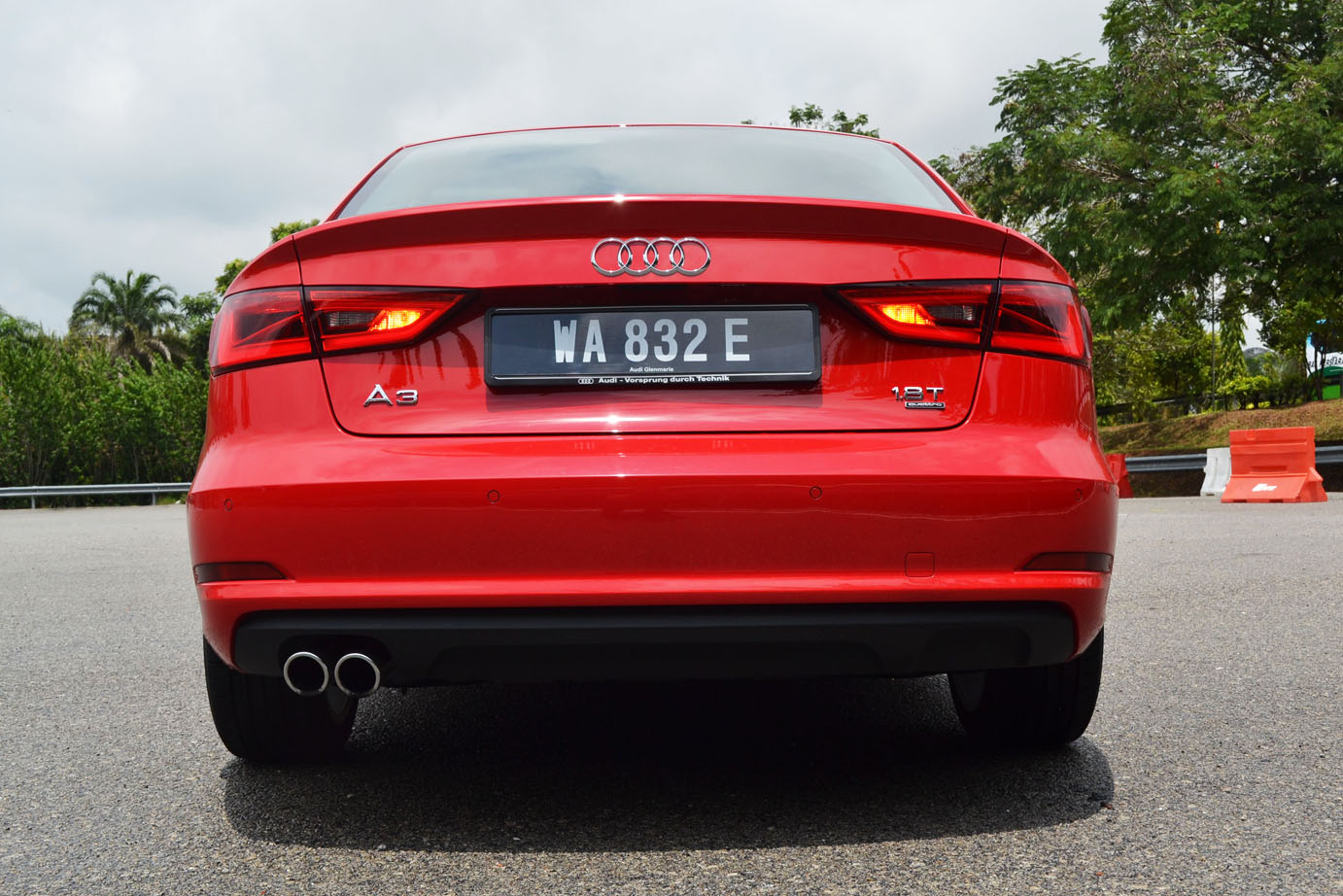 .
.
Performance
.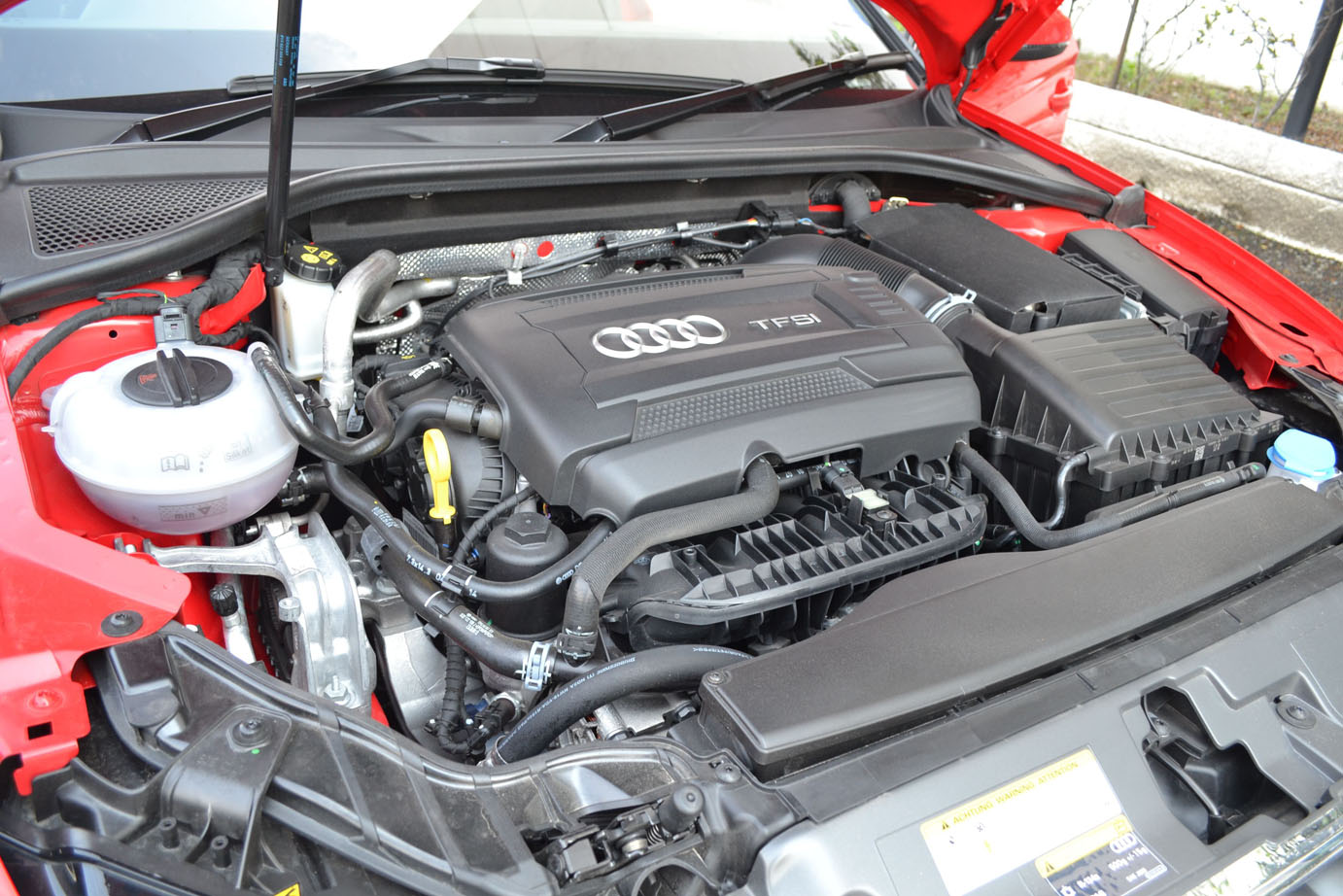 .
The 1.8litre TFSI (that's Turbocharged Fuel Stratified Injection, in case you want to know) 4-cylinder in-line petrol engine with direct fuel injection provides 180hp @ 5,100 – 6,200rpm and maximum torque of 280Nm comes in at a low 1,350 – 4,500rpm and this allows the quattro to hit 0-100kph in 6.7 seconds. With sufficient road and urgency, it can hit 228km/h
.
The acceleration is exhilarating. Not quite a Golf GTI level where the torque hits you like a fist in the gut but close enough and there never seems to be any end to the power. If you're curious to see how fast it hits, 100kph, check out the video HERE
.
.
Ride and Handling
.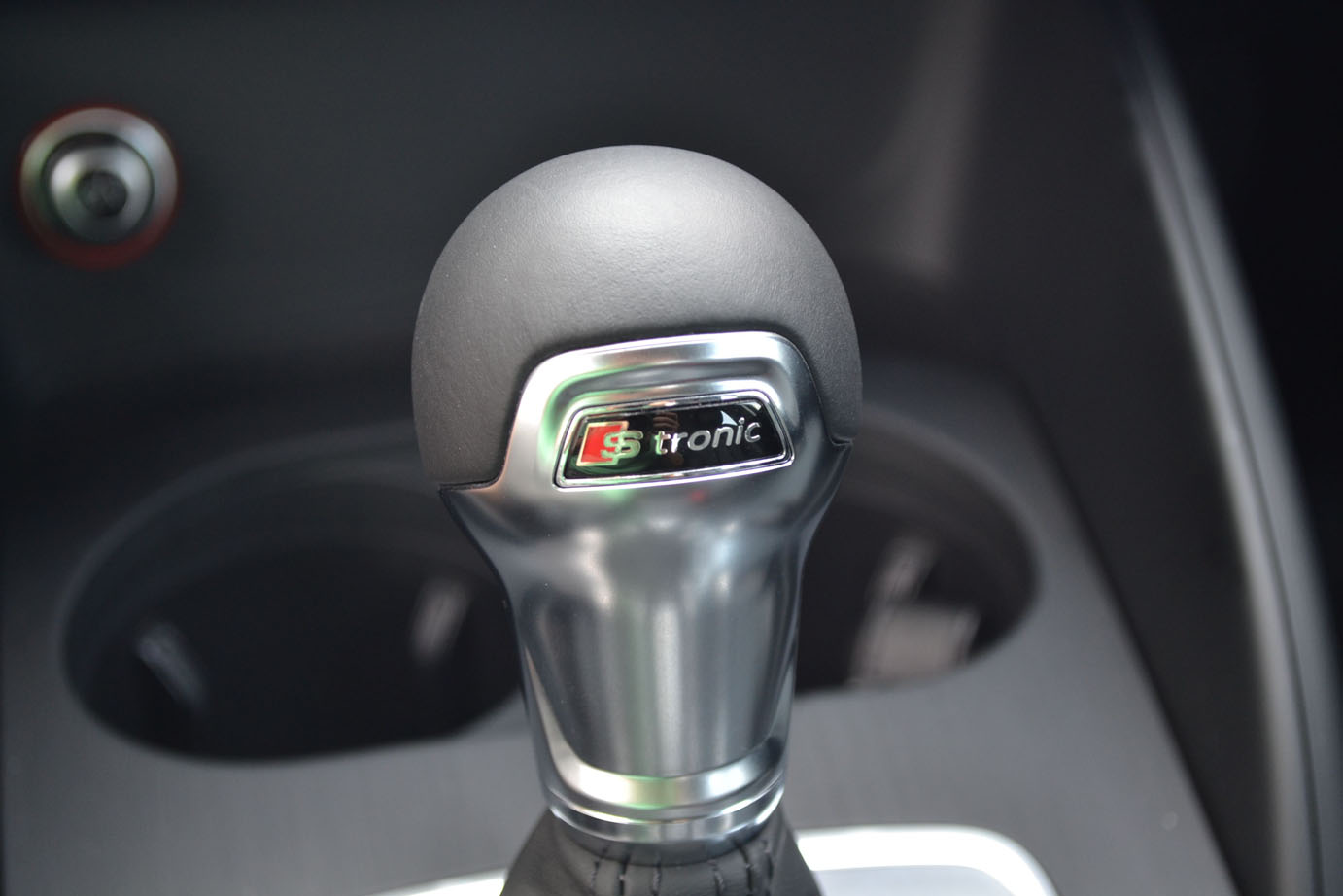 .
The A3 1.8 TFIS sports a 6-speed wet clutch S tronic gearbox which is technically the same as the Golf GTI and does a fantastic job and switching cogs in lightning speed efficiency. The fact that it's a wet clutch should elevate any concerns about premature mechatronic failure.
.
But as great as the gearbox is, it's the quattro drive that seals the deal for me. It's provides tremendous amounts of grip on the roads, truly living up to its cicak (lizard) motto. Many would say that the quattro system is best utilized in the rain and they are right. However, the permanent 4-wheel drive system not only gives you stability on wet roads, it is excellent in saving your arse once you do something stupid – like listening to your other head instead of the one housing your brains when taking a sharp corner at idiotic speeds – which I did. It was a 90 degree right turn and there was no way physics could be cheated at that kind of velocity. Just as rear started stepping out, gunning the pedal would see the car pull itself straight again and everything was done with so much poise, so little drama, it makes one look like a pro.
.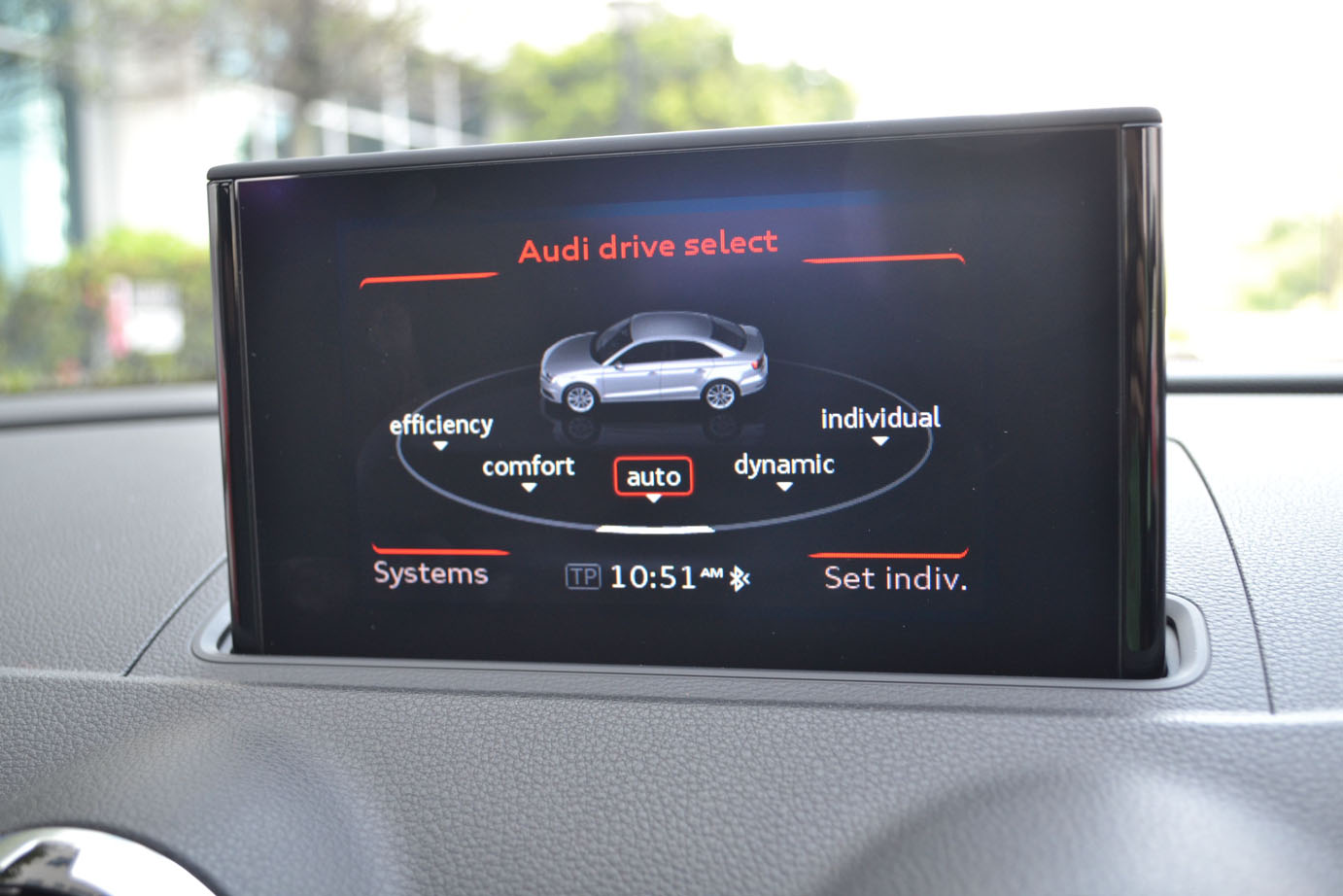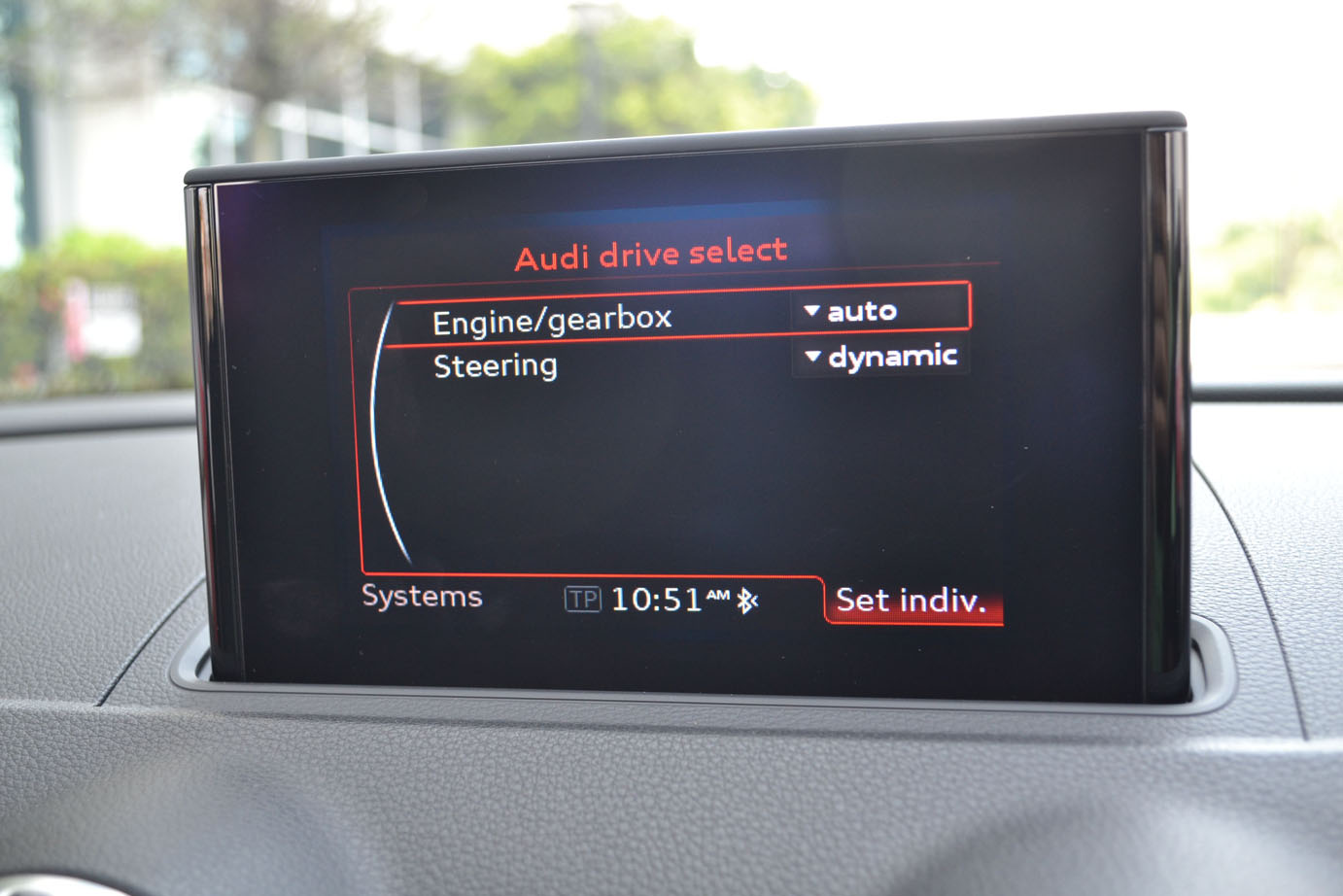 .
Another feature that the A3 1.8 TFSI has is the Audi Drive Select which allows you to change the steering weight and engine response but not the suspension settings and in this regard, the Golf GTI has an edge over it. Set to dynamic, the gearbox shifts to S mode and pulls the revs longer as opposed to comfort and efficiency which works just as decent if you're not in a terrible hurry to get anywhere.
.
Even though Audi offers the quattro with sports suspension, bumps and humps are sorted out much better compared to the Mercedes CLA which literally crashes over them. It's firm but not to the point of being uncomfortable and strikes a wonderful balance between body control and comfort. It's also easier to back up with the A3 compared to the CLA thanks to a smaller C pillar that improves the rear view.
.
The most shocking thing you'll ever experience with the A3 sedan is when it rains. Try have someone rapping their knuckles on the roof and you'll hear a hollow echo reverberating into the cabin. It's something we might expect to find in an Asian made car but to encounter this on a continental (one that costs in excess of RM200k) is quite unsettling. Otherwise, wind insulation is quite acceptable at high speed cruising.
.
.
Cabin Convenience
.
.
Like what Apple did with the iPhone, Audi, designed the interior design of the cabin with a minimalist  approach. Some might call it a little too bare and button freaks may not appreciate this layout. Whatever it may be, you can't say it's inelegant and fit and finish is top notch as you would expect from Audi. The dashboard material is soft plastics and has chrome bits as well as brushed aluminium effects placed at various places to enliven the dark interior while enhancing a sporty outlook.
.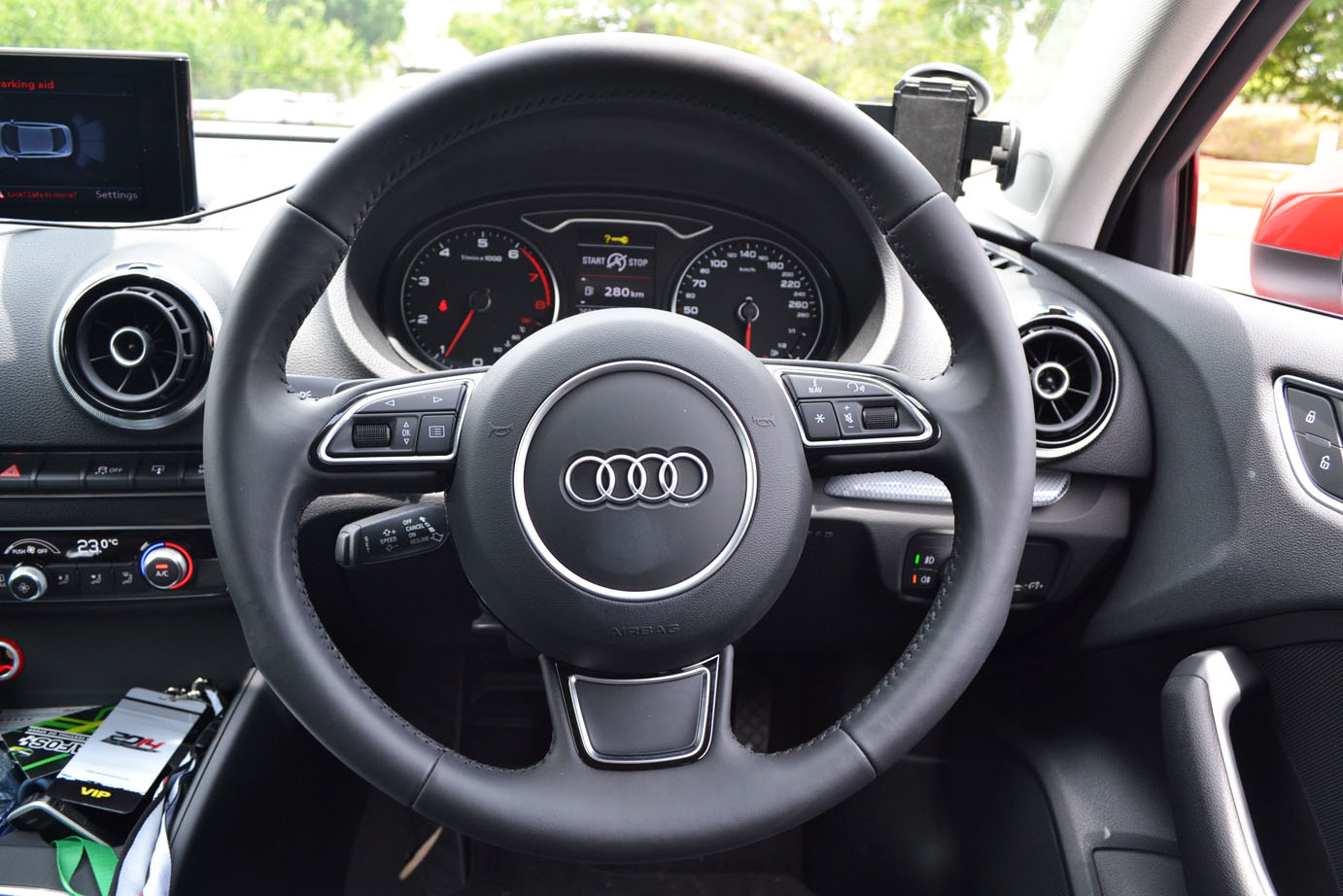 .
The leather wrapped steering wheel is meaty and nice to hold but steering mounted buttons are small and takes a bit of getting used to. What's not very cool is there isn't a radio channel toggle for you to switch between radio stations and that's one of the limitations of the MMI interface which we will discuss more below.
.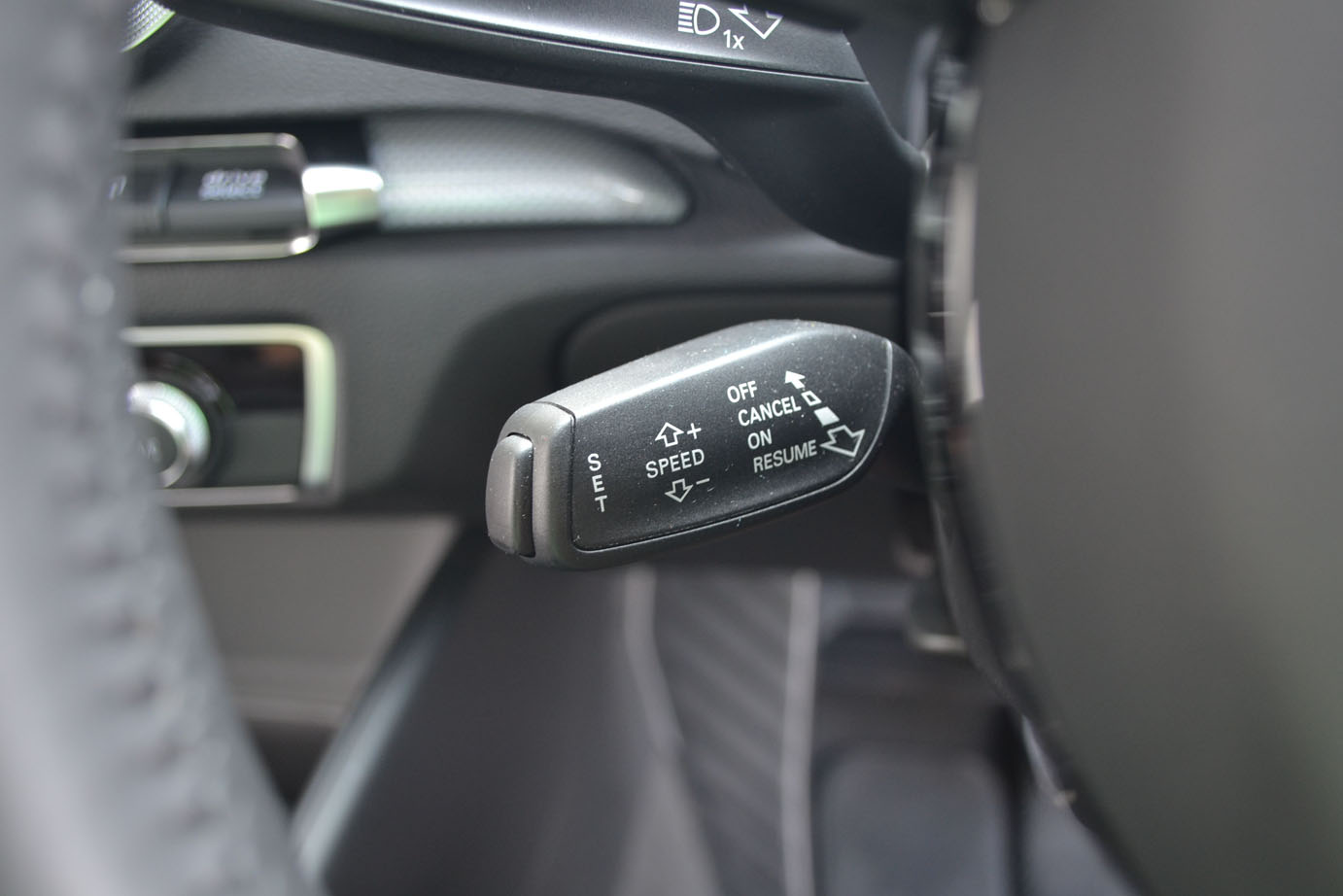 .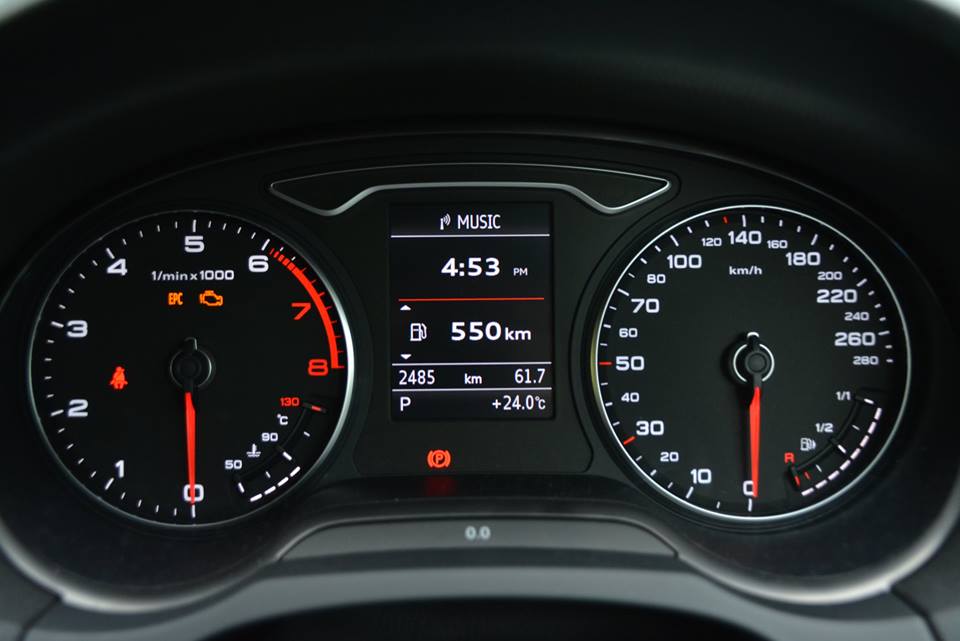 .
The meter displays are clear but temperature and fuel indicators needs a bit of squinting to see better.
.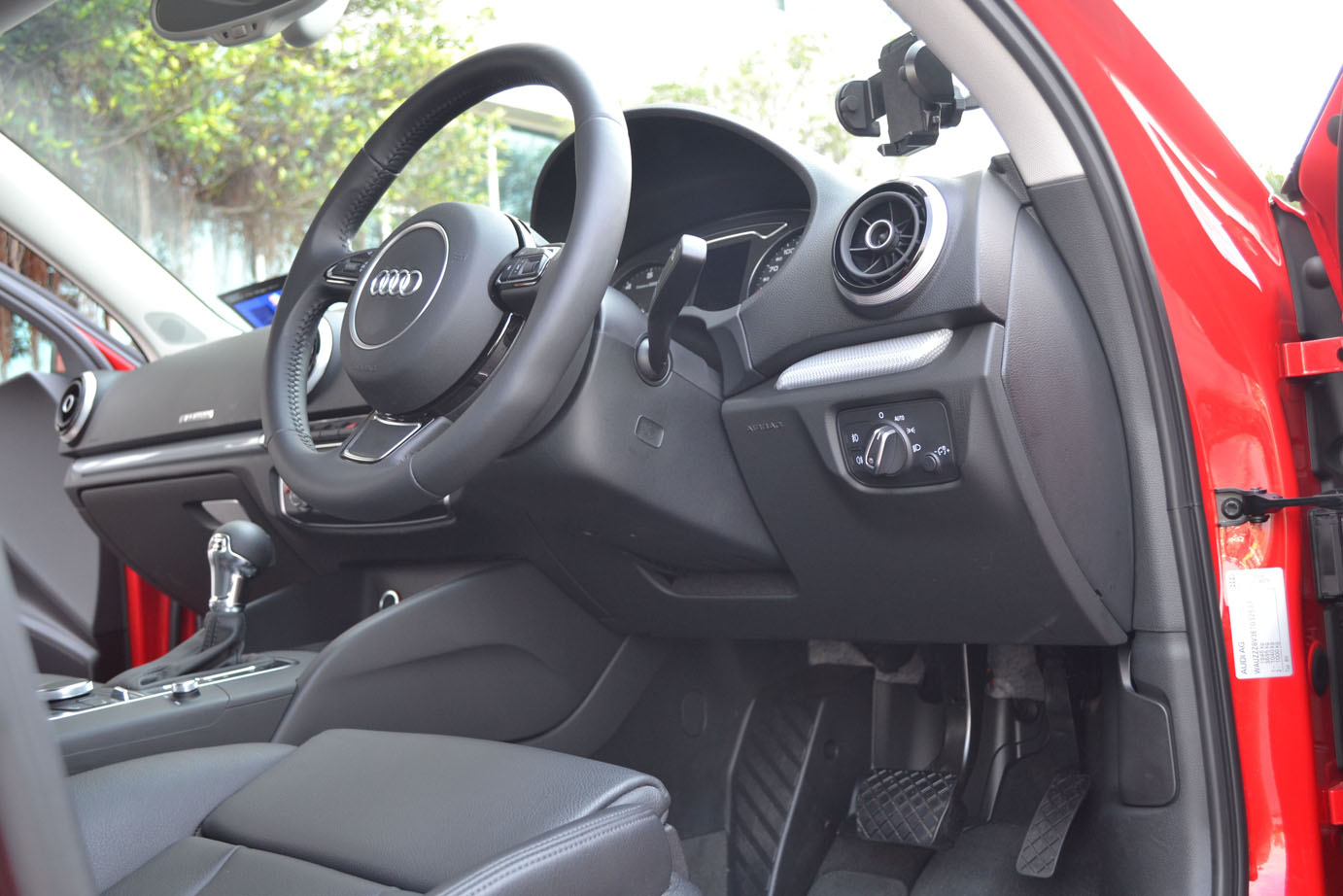 .
Most Volkswagen makes (including my good old Skoda) has a small compartment below the headlight controls that's great for Smart Tags and access cards but surprisingly, there isn't here.
.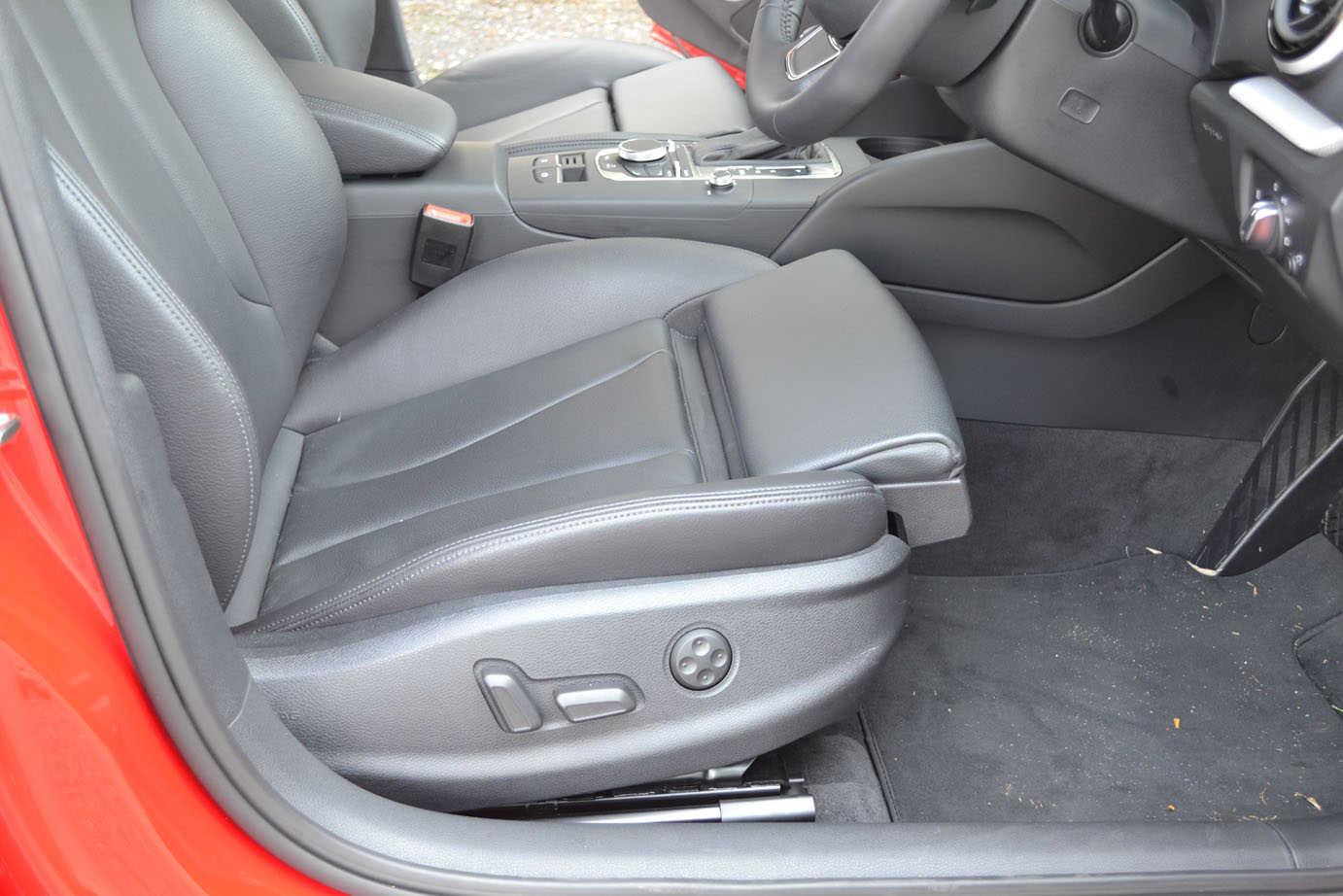 .
You'd find an electronically adjustable driver and front passenger seats with thigh support can be extended manually. No seat memory function here though.
.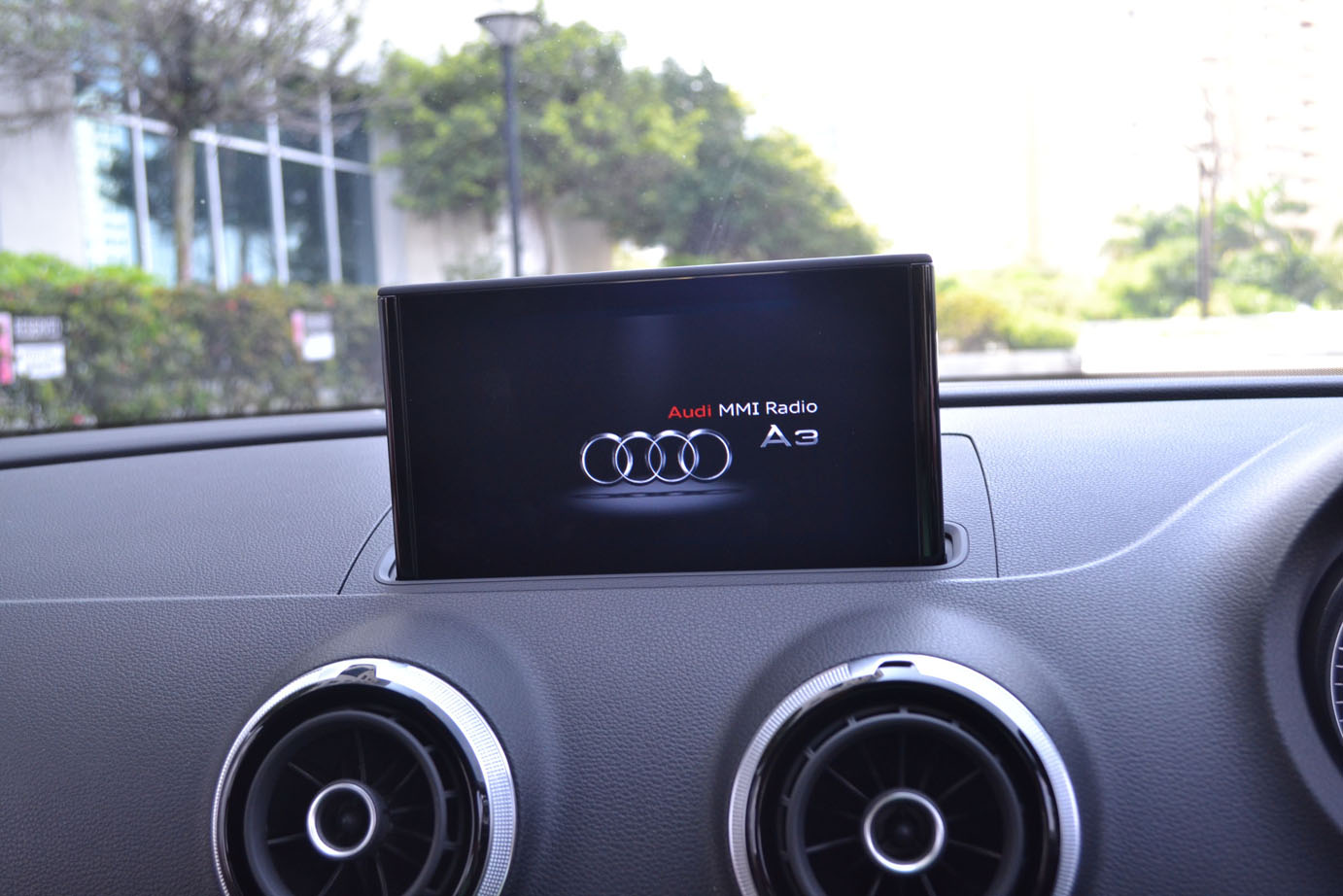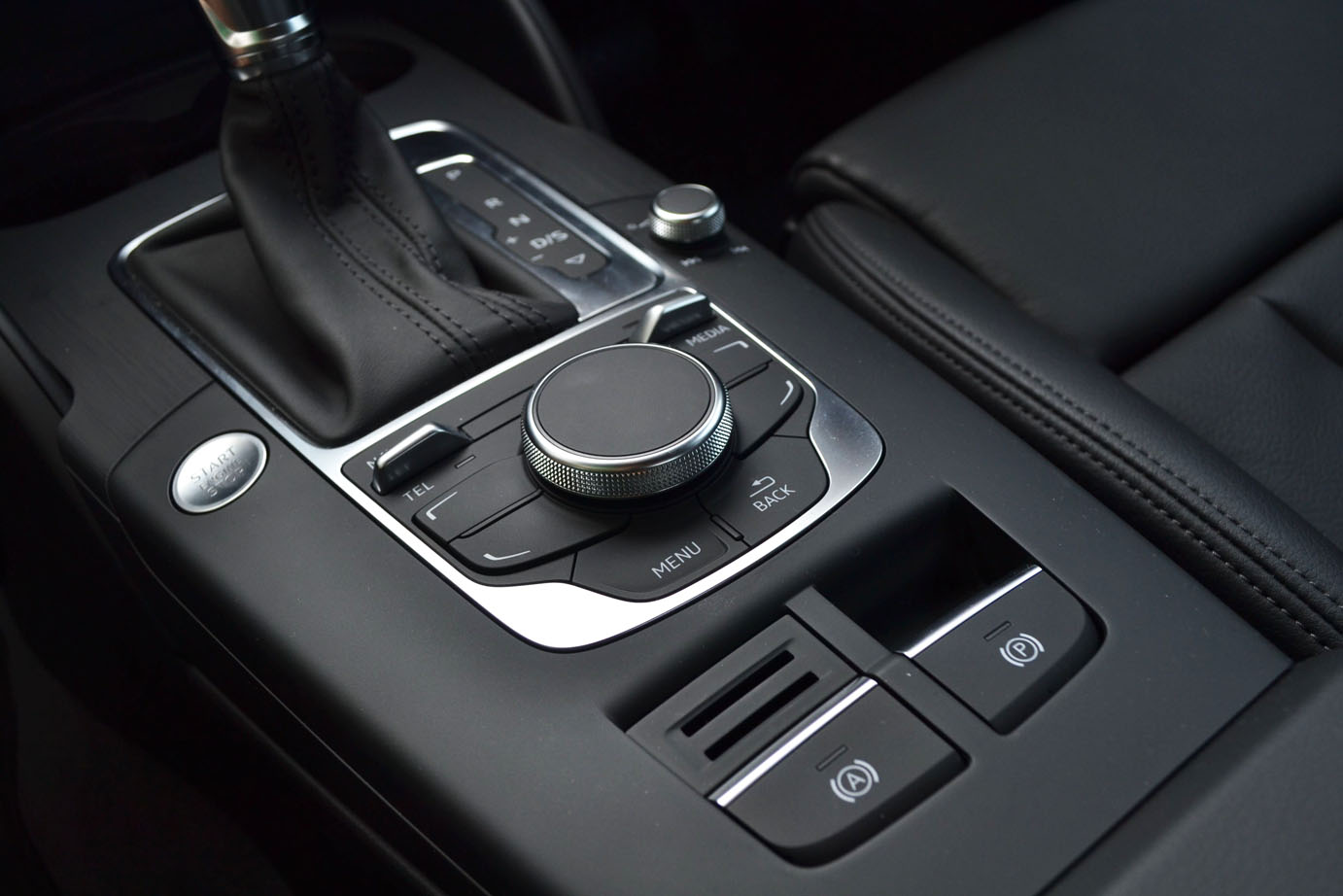 .
The Audi MMI interface is the system that controls various functions of the vehicle including radio, telephony, Bluetooth, etc. It's not particularly user friendly as the selector makes use of the 4 buttons flanking the center knob instead of using the knob to choose what you want. The other let down is the 5.8″ screen which has a resolution that leaves more to be desired, particularly in this time and age where screen resolution requirements are high and the price of the quattro which is not cheap.
.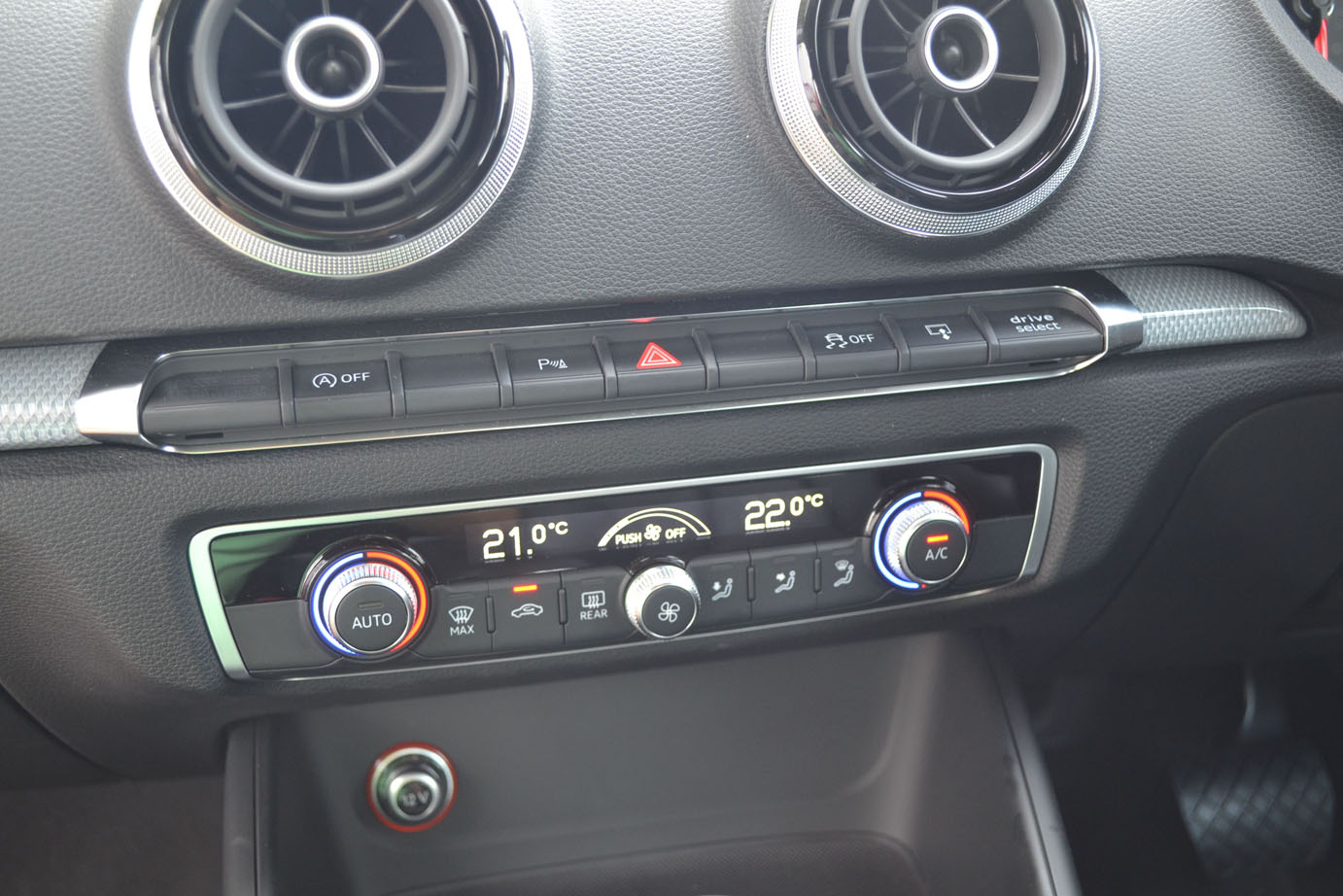 .
The center controls house various functions such as engine auto start/stop controls, ESP, etc and as you can see, there are some buttons that duds. I suspect one of the features is automatic parking which is unfortunately not an option here.
.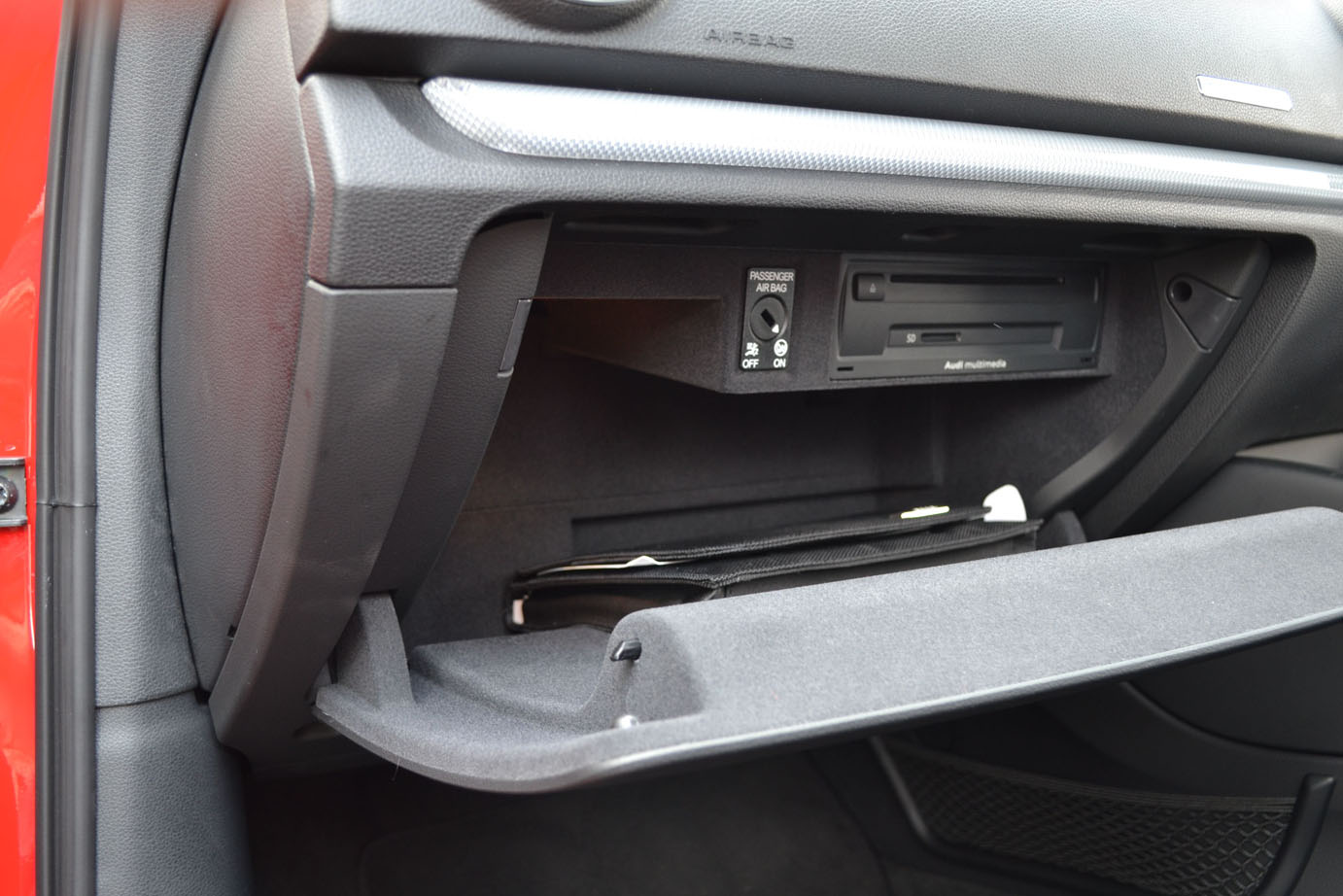 .
The glove compartment is a let down. It's shallow and compounded with the fact that CD receiver and SHDC card slot is housed here, the amount of items that can fit in here is limited to parking coupons and pens.
.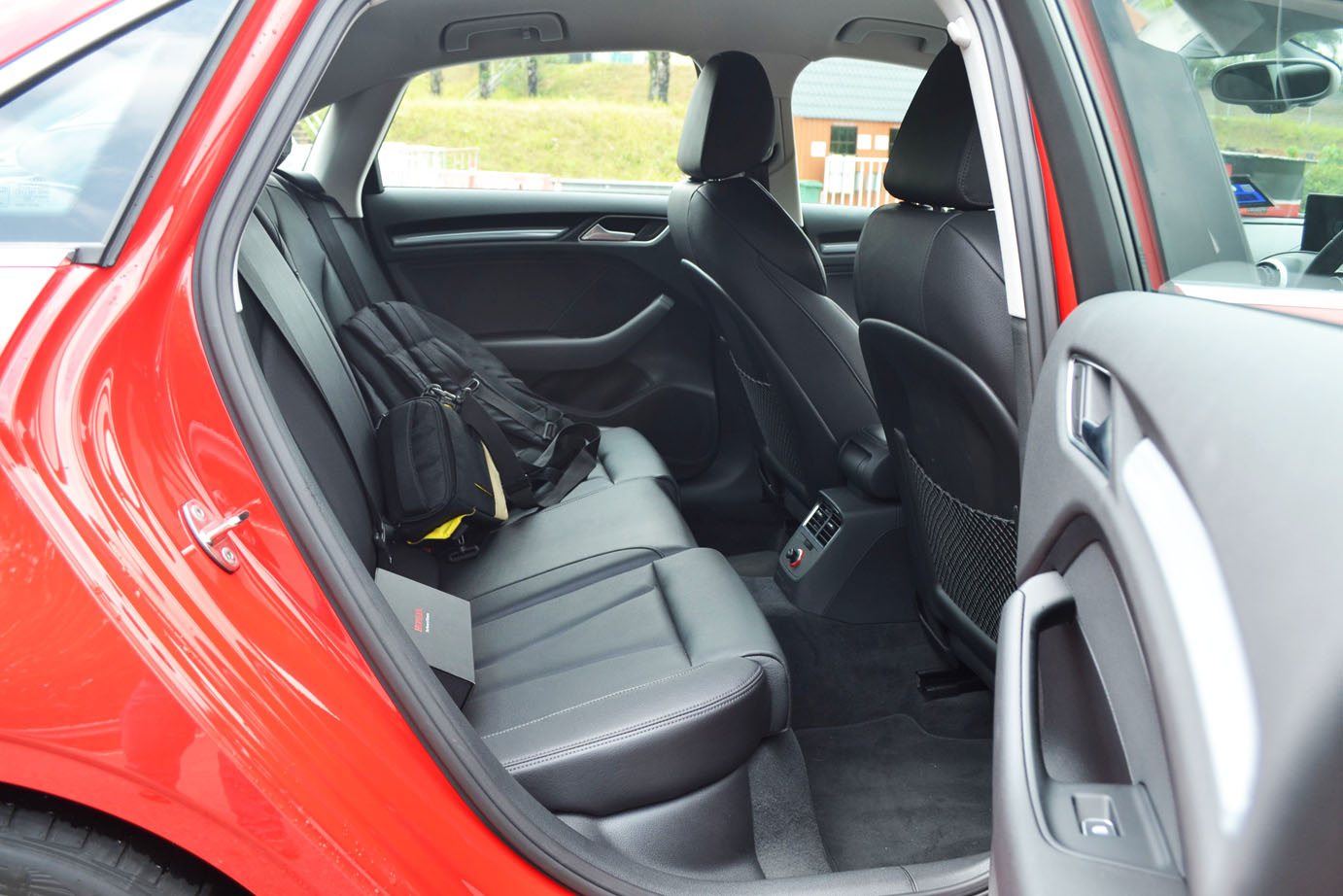 .
The rear is comfortable enough – if you're short and three adults might find it a squeeze here. The backrest recline is better than the CLA and both cars, as stated has poor rear legroom and headroom. The hump in the center, common in most continental cars is a hindrance to avoid when sitting in the middle which is probably better suited for children (buckled up safely, of course)
.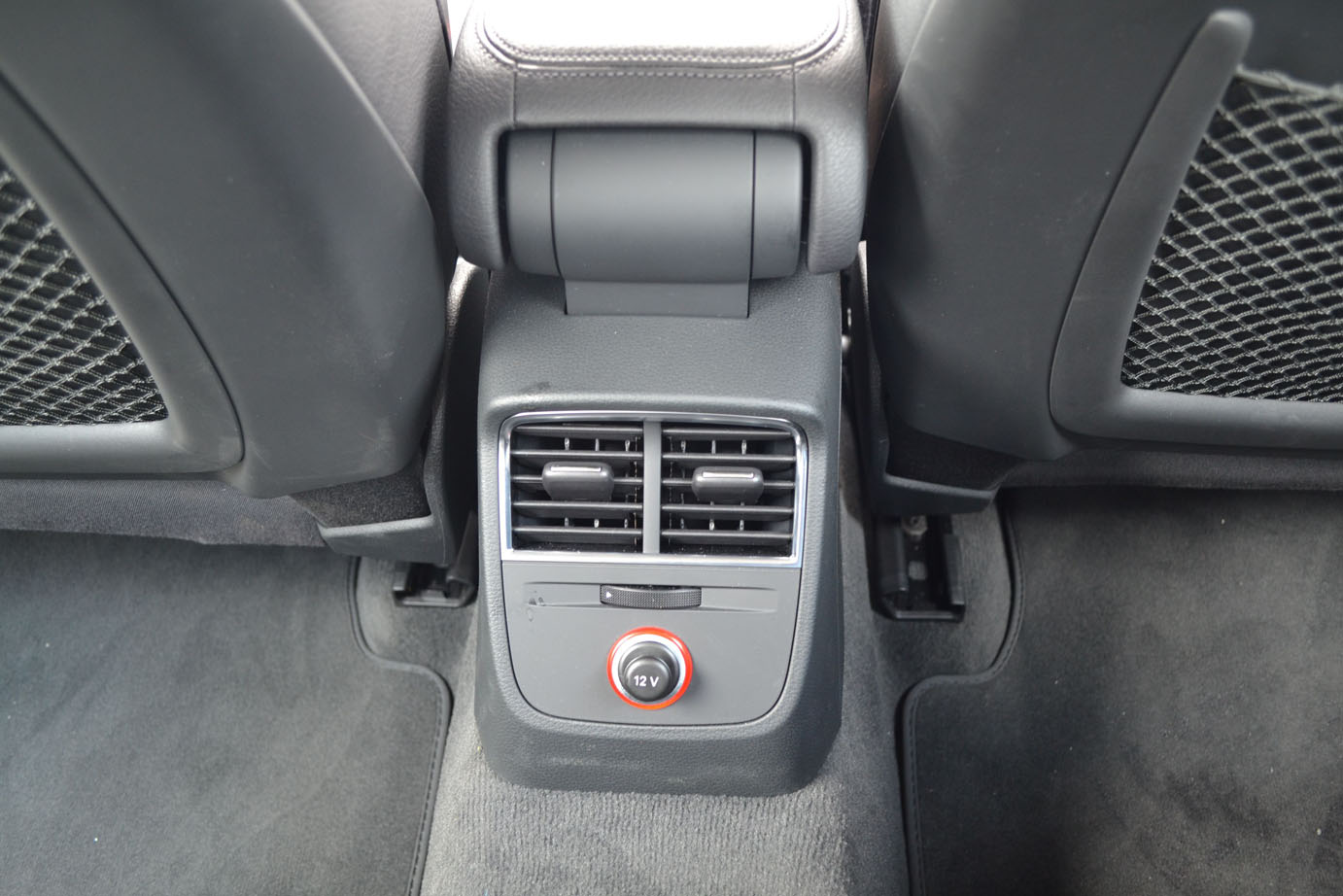 .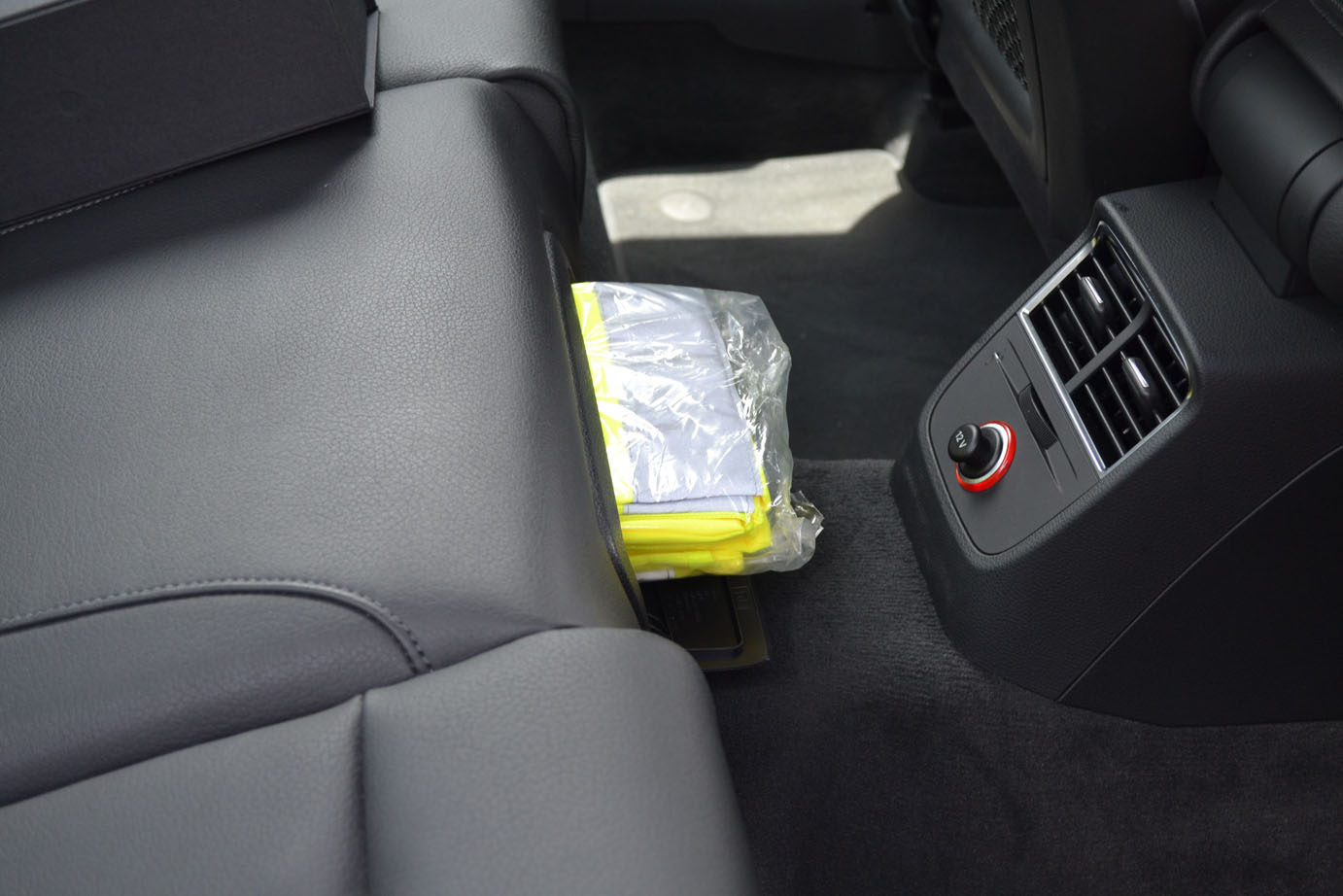 .
One good thing about the A3 is that it has safety jackets for you to wear in case of emergency breakdowns. This is a crucial item and should be worn at all times if your car makes an unscheduled stop somewhere by the side of the road. The jacket is found in the center of the rear bench.
.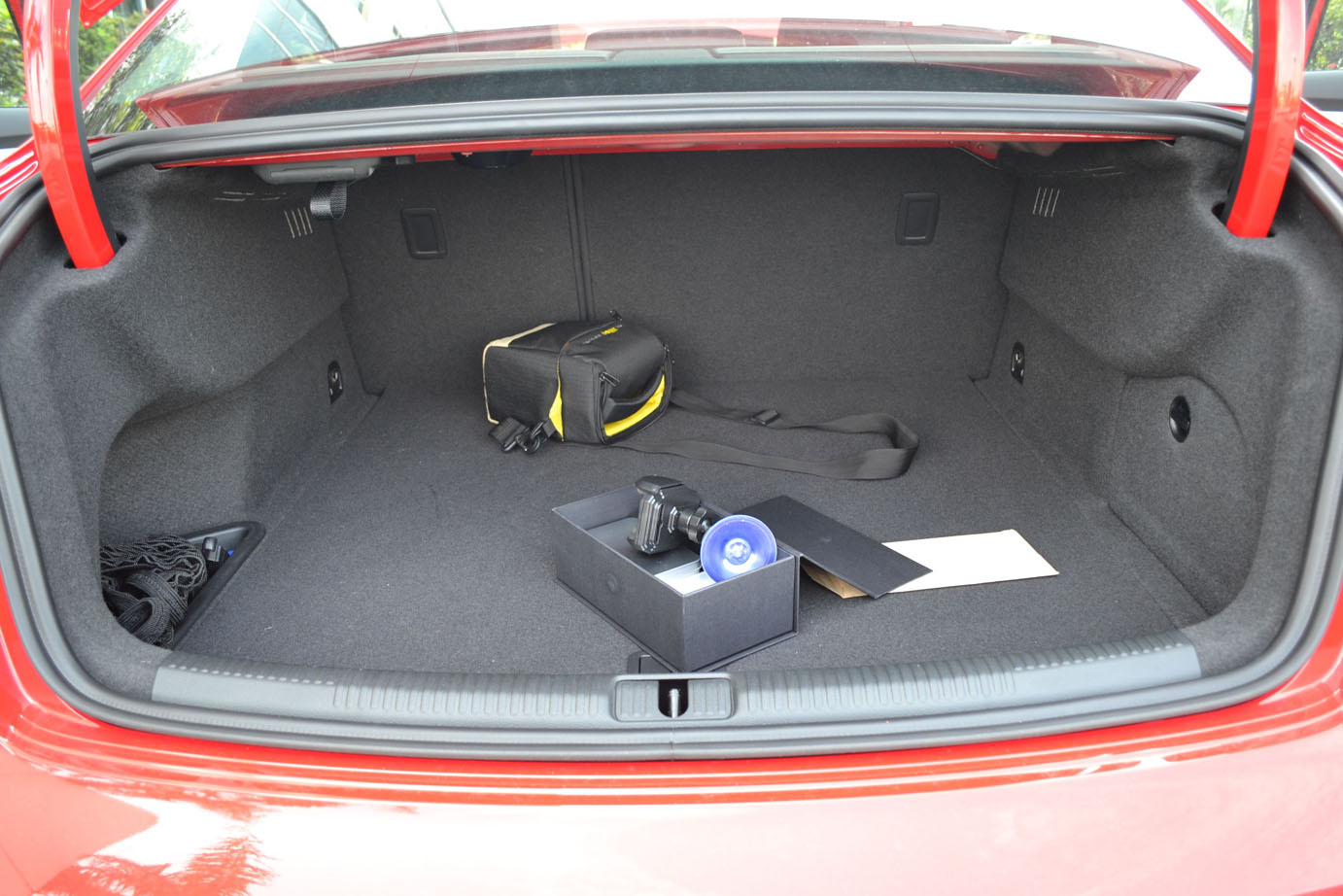 .
One of the biggest limitation of the 1.8litre is the boot space: it only has 390litres of space thanks to the quattro drive configuration which takes up undercarriage space and this is despite Audi providing a space saver tire instead of a full sized one. In comparison, the 1.4litre A3 has 35litres more cargo space. Both variants allows you to lower the rear seat backrest for more space though.
.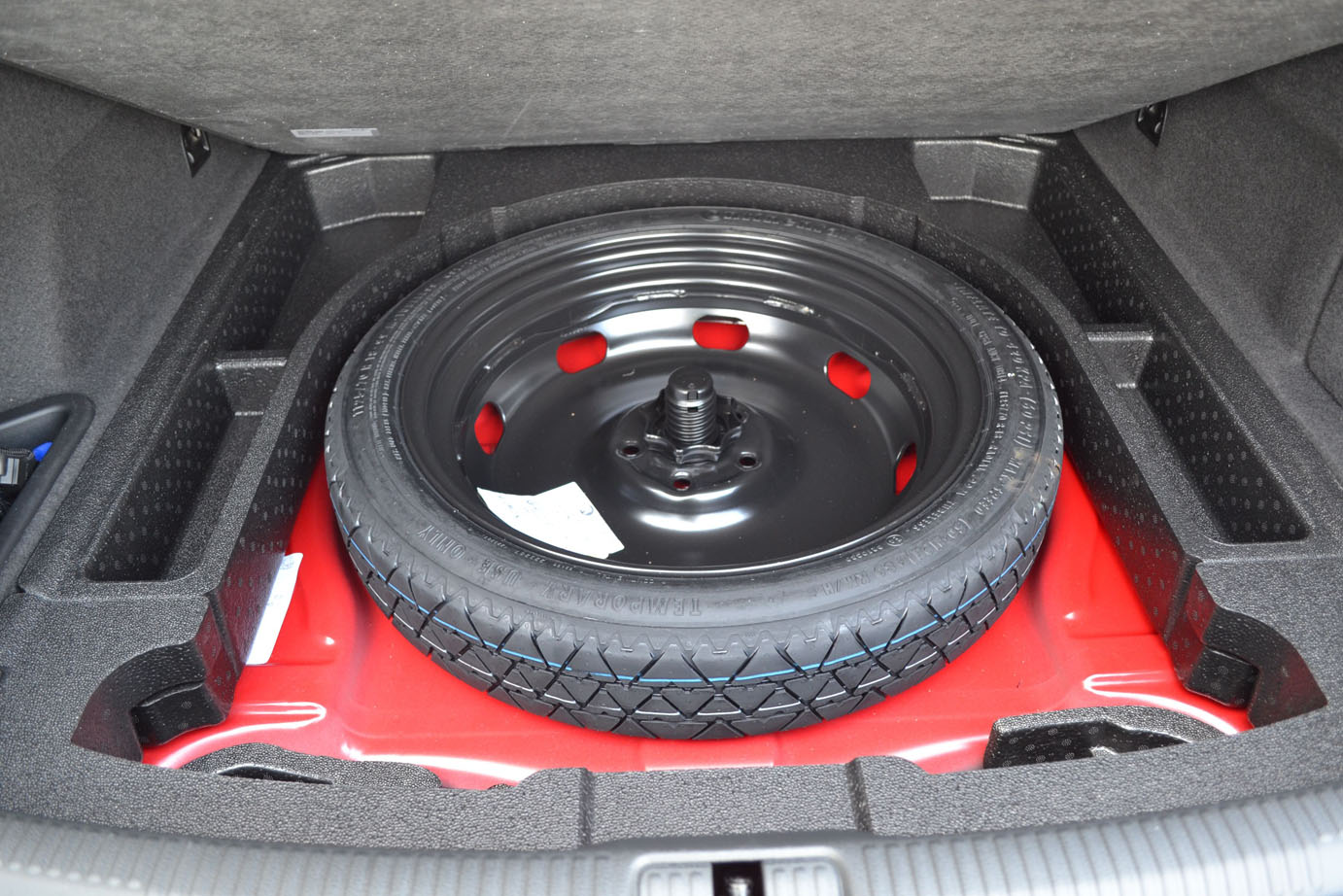 .
.
Safety
.
Worthy of its asking price, the 1.8 TFSI commands considerable respect in the safety department:- .
Driver's and front passenger's air bag with front passenger's air bag deactivation
2 head airbag
2 side airbag
Knee airbag system (total 7 airbags)
ESP
ASR
EDL
ABS
EBD
BA
Electronic vehicle immobilization device
ISOFIX child seat mounting for front passenger and rear seat
.
.
Specification
.
Exterior
Xenon plus headlights with LED Daytime Running Lights
LED rear tail lamps
Front and rear fog lights
Exterior mirrors, electrically folding/adjustable and heated with automatic anti-glare action on driver's side
Automatic headlight-range adjustment
Headlight washers
.
Interior
Interior mirror with automatic anti-glare action
Sun visors with illuminated vanity mirror on driver's and front seat passenger's side
Folding rear seat
Deluxe automatic air conditioning
Cloth headlining
3D design inlays
Front sport seats with leatherette, electric adjustment for both front seats with electric lumbar support
Multifunction leather steering wheel in 3-spoke design, with shift paddle
Door sill trims with aluminium inlays
MMI radio with MMI control panel, 5.8″ color display
Single CD player and SHDC memory card reader with MP3, AAC and WMA compatible + auxiliary input
Preparation for mobile phone (Bluetooth) with hands free operation
Driver Information System – fuel range, average fuel consumption, average speed, average driving time and service interval display
Audi music interface – iPod and USB storage media connectivity
10 loudspeaker, 180 watts total output
Convenience opening/closing feature for the windows and separate luggage compartment
Audi Drive Select – Auto/Comfort/Dynamic/Efficiency/Individual
Electromechanical parking brake
Side and rear windows in heat-insulating glass
Light and rain sensor
Cruise Control
Start/Stop system
Parking system plus, front and rear with selective display
Comfort key
Sport suspension
.
.
Ownership and Maintenance
.
The 1.8 TFSI retails for RM241,367.20 OTR excluding insurance and you may specify the following equipment to further enhance it:-
.
Full Sport edition – RM19,800
Pearl effect (except Daytona Grey color) – RM3,000
Penoramic glass roof – RM5,000
LED headlights – RM8,000
Bang & Olufsen sound system – RM4,000
Reverse Camera – RM2,000
.
All in all, the A3 1.8 TFSI is fantastic car to be in. It scores higher points than the CLA in terms of ride and handling, comfort and general practicality. Although looks can be subjective, the A3 is handsome enough by itself but in this respect the CLA draws more attention to itself, even if its front resembles the A-class. The fact that the A3 exists in sedan form only makes it more unique on our roads.
.
The issue of choosing between the 1.4 or the 1.8 is quite simple; listening to your head, you'd get the 1.4. Listening to your heart, the 1.8 would dominate your attention. The 1.4 is offered at a lower price, better fuel economy and a larger boot space for your daily needs whereas the 1.8 is all about power and control. But let's be honest here; at RM240k a pop, there are quite a number of options available for you to choose from and if power and control is what you seek, the choice is does not necessarily be limited to a luxury marque. But if it has to be among the big three German brands, then the A3 1.8 TFSI quattro is certainly one car that demands to be driven … hard. And for that, it's not so difficult a thing to decide to do, is it?
.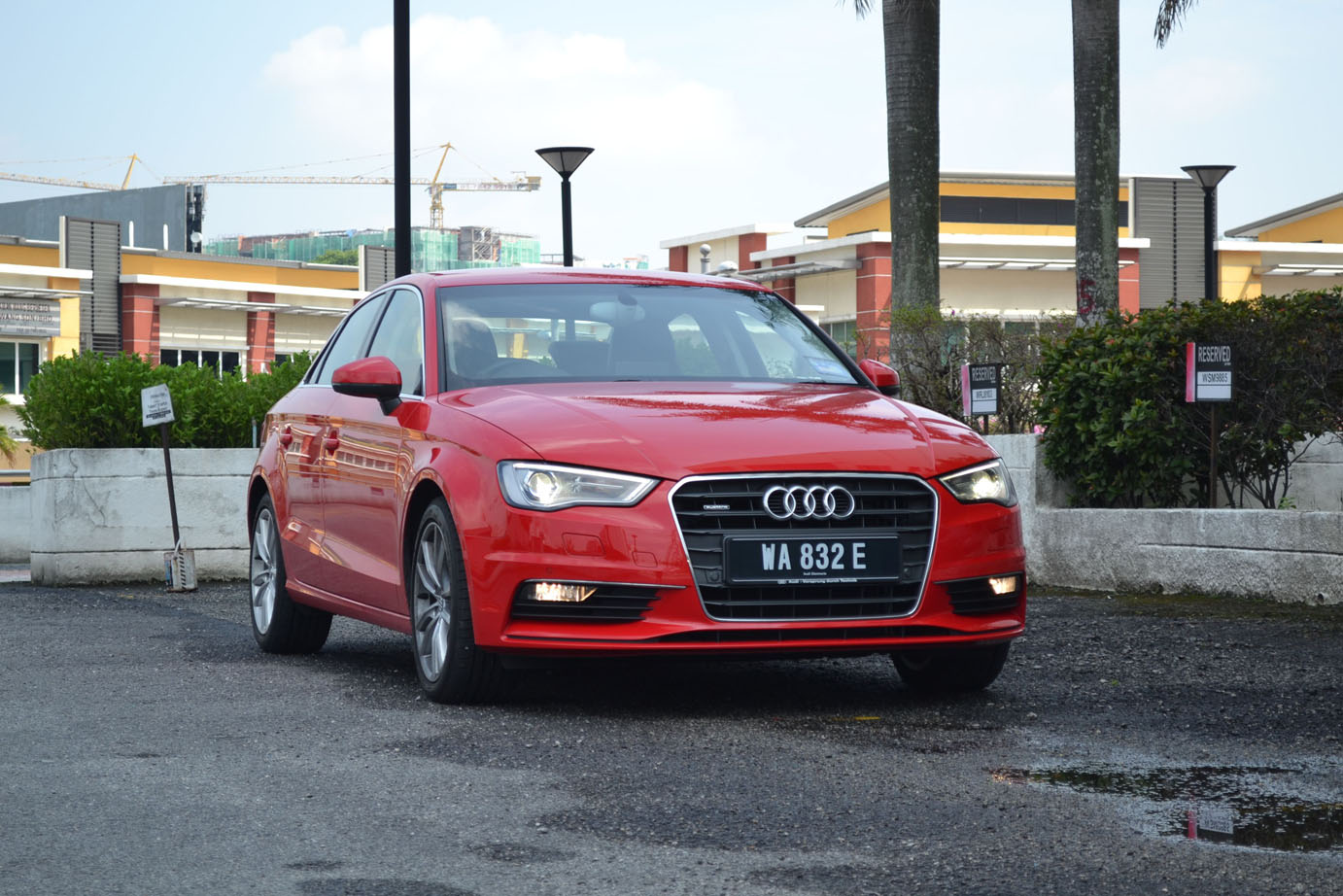 .
.
.