Consider the Swiss army knife; how can anyone not want a Swiss Army knife? It cuts, it twists, it opens, it illuminates. In some cases, it helps you remove food stuck between your teeth. Light bulb not working? No problem. Kitchen sink stuck? Piece of cake. Relationship problems with your boss? Easily solved. Don't know what to cook for dinner? I've got this. Nothing is impossible when you have a Swiss Army knife in your hands. And so the next time you find yourself in a nice souvenir shop and these red-and-white slender tools lying in the glass case enticing you, you bought one – maybe two because the bigger one had a foot sole file.
Then, couple of weeks went by and you realise the cork screw shaft remains very much a virgin, that bottle opener hasn't seen any action and the blade on the scissors hasn't sheared into anything. In fact, the only thing you'd be using often is the LED torch light – at least till you got bored of carrying extra weight with you and decided an iPhone light torch app does as well a job in finding your way to your cinema seats. By then, the Swiss army knife would have probably been chucked into some drawer, forgotten until you encounter another Swiss Army knife advertisement somewhere that shows another model being just as utilitarian, only sleeker and more sophisticated.
Compact SUVs are pretty much like Swiss Army knives.  It's for people who wants the best of both worlds. To drive a big car that can squeeze into Kancil sized parking lots. To be able to handle potholes with impunity without high maintenance bills while having the fuel consumption of a small sedan car. In that sense, a compact SUV isn't really a Victorinox where only in certain situations would you be able to fully exploit all of its tools. You'd be using the SUV for all of its intended purpose the moment you drive onto our  ask-us-first-before-you-fill-our-potholes KL roads or ever full shopping malls. As a matter of fact, it's not just Malaysia that sees a growing demand for compact SUVs – globally the thirst for this segment has been steadily increasing over the past few years.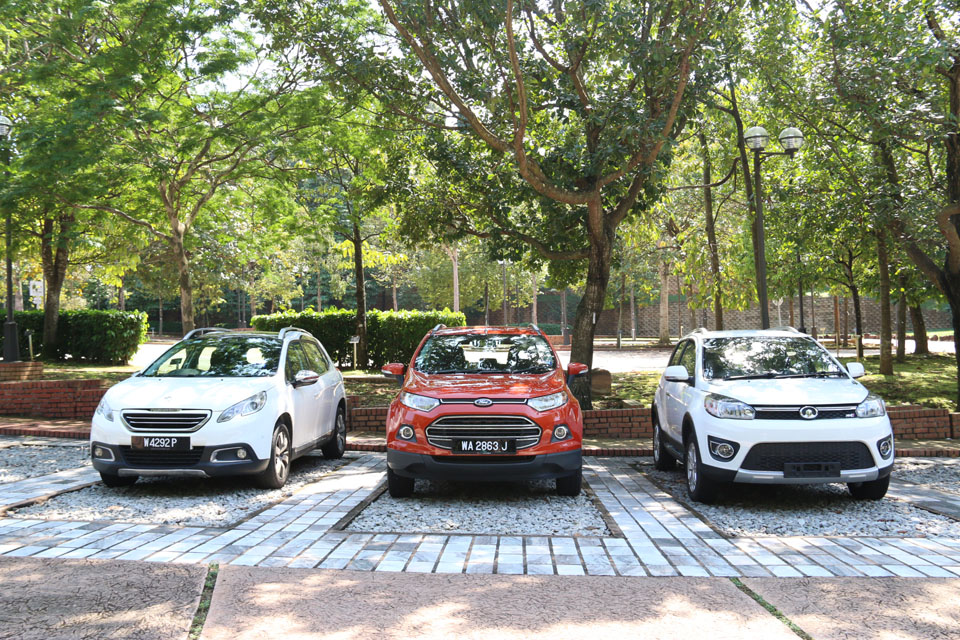 .
And so, we're assembled almost the entire compact SUVs presently sold here for a shootout. The Ford EcoSport came last to the table, being launched in August this year and is taunted as an all-terrain conquering baby SUV. The Peugeot 2008 has been on the market since Jan and recently won the NST-Maybank Compact SUV of the Year award. Then, out of nowhere, China throws the stylish Great Wall M4 with a price tag that has people wondering if their eye sights needs to be checked. Too bad we couldn't get a Toyota Rush but I don't think we're missing much. So which is the best value-for-money compact SUV here? Let's find out.
.
.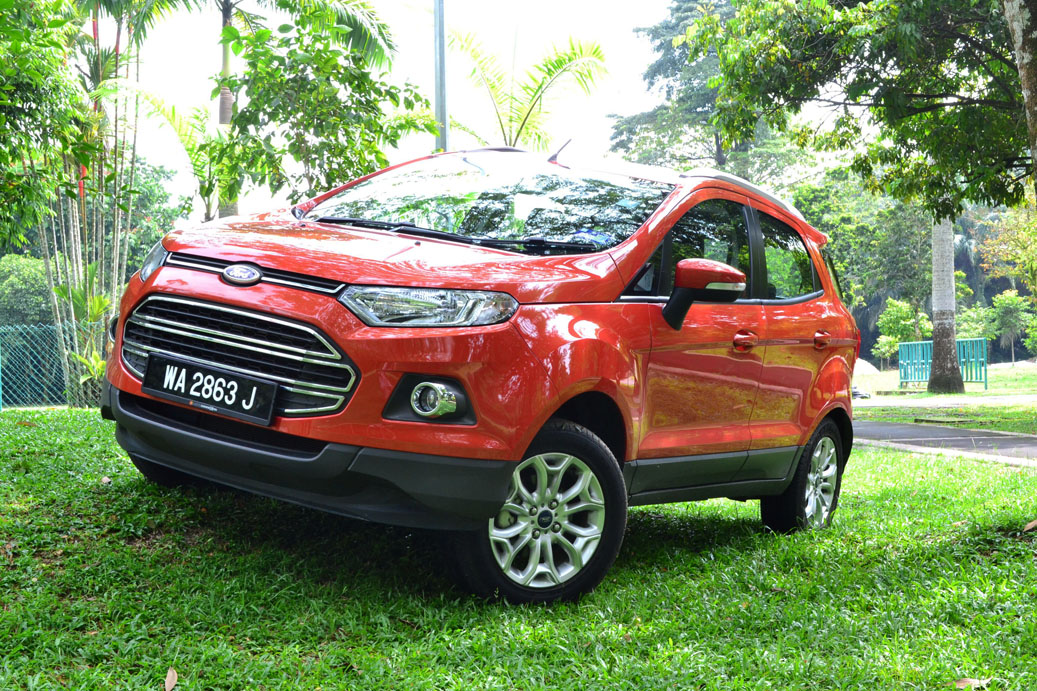 .
The Ford EcoSport is based on Ford's global B-segment platform, the same platform that's found in the Ford Fiesta and the idea is to create a vehicle that combines the agility, affordability and fuel efficiency of a compact passenger car with the flexibility, style and driving position of an SUV.
Sounds like an excellent formula for success – except they could have done a better job at its exterior design? Design is always a subjective matter but  check out Ford Malaysia's webpage of the current vehicles sold here; every single model has a sleek front profile with a rakish roof and sharp headlamps. The EcoSport's front fascia, on the other hand looks like someone did a botched nose job and making it look like something Lord Voldermort would approve. Short body, high stance and a huge trapezoidal front grille that makes any severe malocclusion teenager with braces look pretty in comparison. It's not something everyone can resonate with in their first encounter.
But after a while, the looks grows onto you. There is no denying the muscular feel the EcoSport evokes and eventually, you might begin to appreciate how the front hood seamlessly connects with the A-pillars. How many vehicles do you know of that has a curved rear windscreen that connects to the C pillars? The EcoSport has that. All these little design cues that's easily overlooked the first time you see one makes the Ecosport look solid, tough and taut; Pretty much like how a bachang looks like. Not that there's anything wrong with that.
.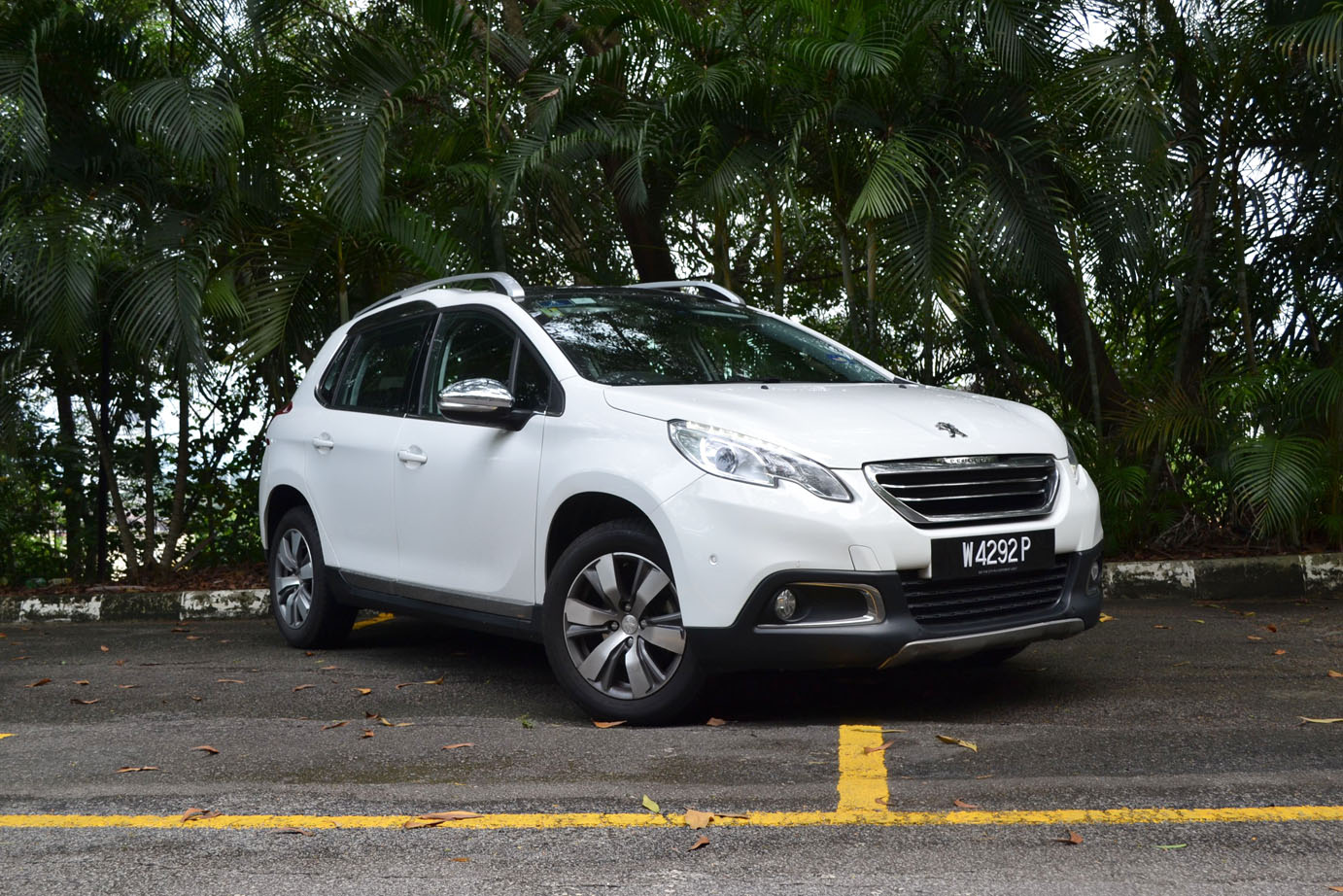 .
Where the EcoSport is tall and strong, the Peugeot 2008 is sleek and sharp.  The only vehicle in this shootout that features Daytime Running Lights (and they're LED, by the way), you get chrome – lots of it in the shape of a boomerang highlighting the front fog lamps, the side mirrors, the center grille and the bottom skid plate. You'll also find a floating Peugeot nameplate at the top of the grille. Surprisingly, the final result isn't something that's gaudy; there is a sense of symmetry and the emphasis on the bottom of the car makes it appear lowered and stable.
The 2008 is the only vehicle with projector headlamps even though it houses halogen like the other two SUVs here.
.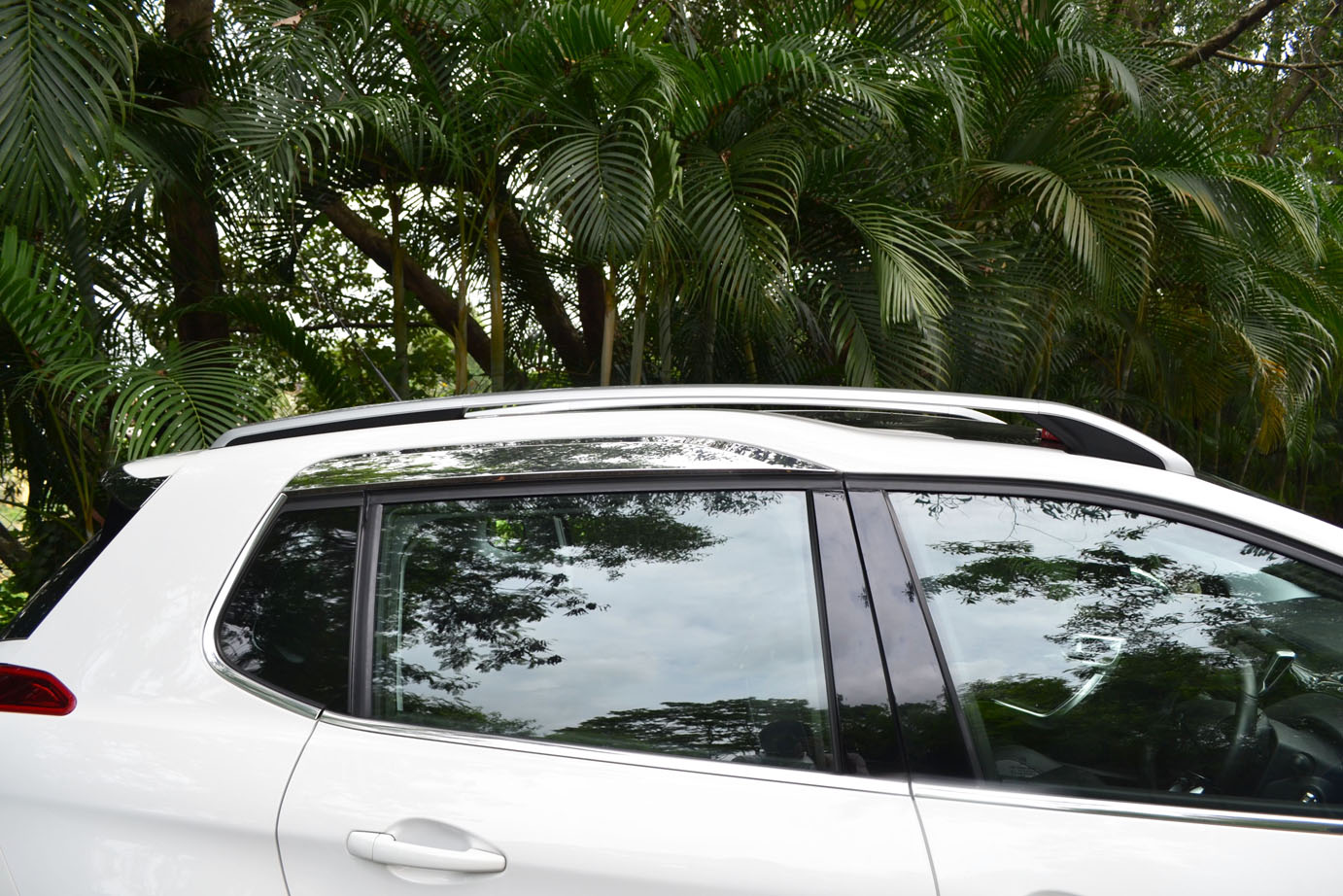 .
Interestingly, the roof appears taller from where the rear door starts but there is no change in the cabin height, making this the only vehicle I've come across that has a specially designed side profile on the roof to make it look more of the SUV type. But that's okay; women wear heels to look taller all the time – why not a car?
.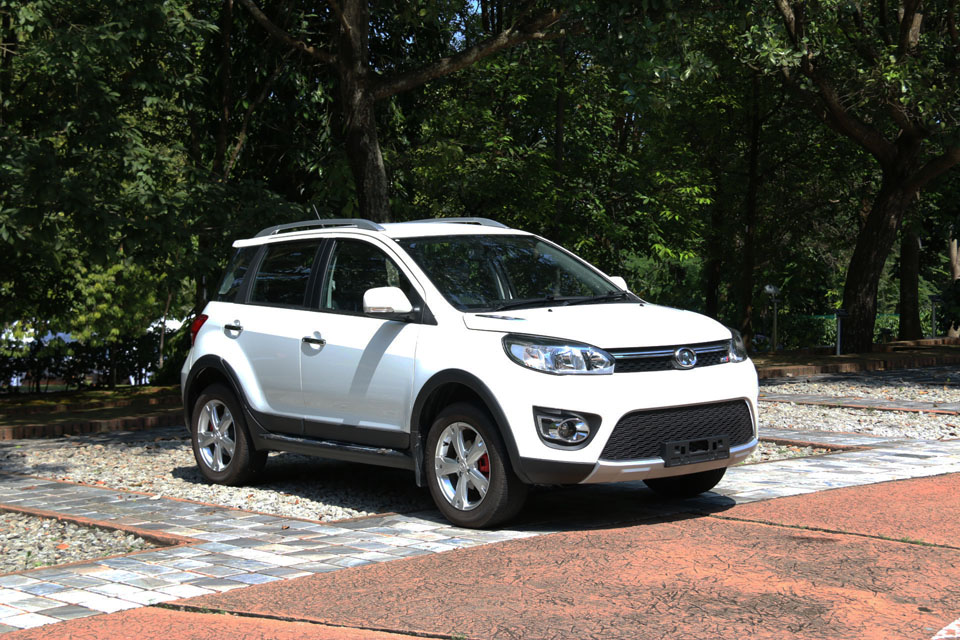 .
Looking nothing like a car out of China is the Great Wall M4. A couple of teasers and a left hand drive model displayed at the main showroom early this year had tongues wagging, particularly when it was rumoured to be selling at national car level prices. When the launch came in August this year, the rumours became factual; that there was indeed a compact SUV going for MyVi prices. The only sad thing is it's easy to forget this model exists considering there aren't many on the roads still and there's very little marketing activities going on in Great Wall Malaysia. We attempted to contact the people at Green Oranges who manages the marque but calls and emails went unanswered. Considering the limited M4 reviews in the Malaysia automotive print and online today, awareness level for this car remains very low. Which is really a pity because it looks great in the metal. Some say it looks like a jacked-up VW Golf Mk 6 with its horizontal grille and squarish headlamps
Fortunately for us, International Auto Enterprise Sdn Bhd, the dealership servicing Puchong and the areas surrounding it was very supportive of our little shootout and took the initiative to loan us a unit under their care – and it even comes with a very helpful sales advisor who's eager to share with us the details of the car.
International Auto Enterprise also informs us that this variant seen here is due to be replaced with a 2015 model and that features a new front bumper and a new, sportier rear diffuser, both of which looks like it was inspired by the Range Rover Evoque.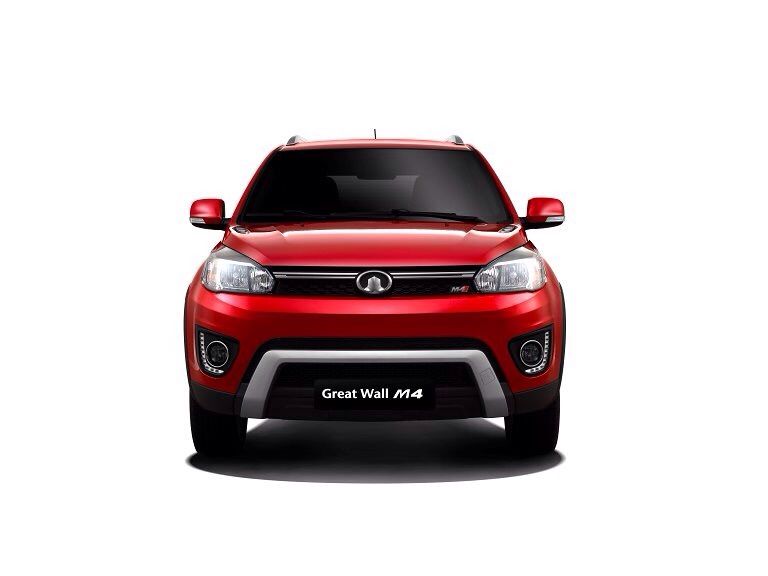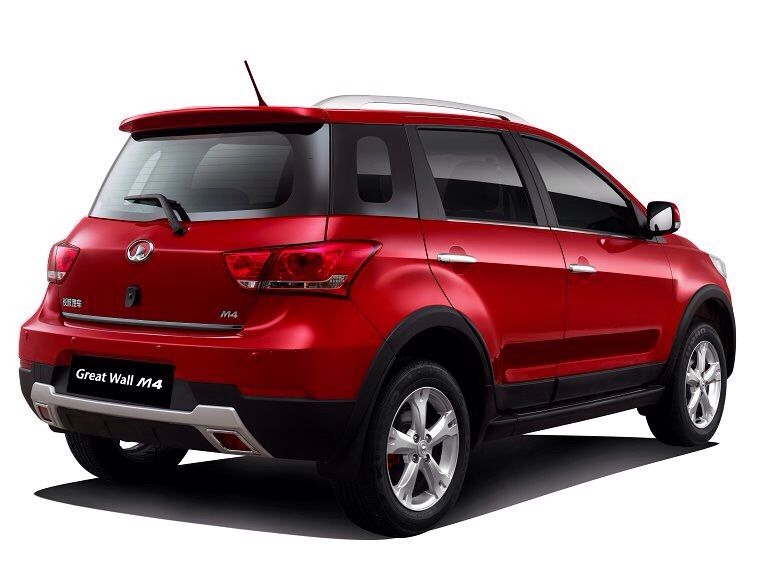 .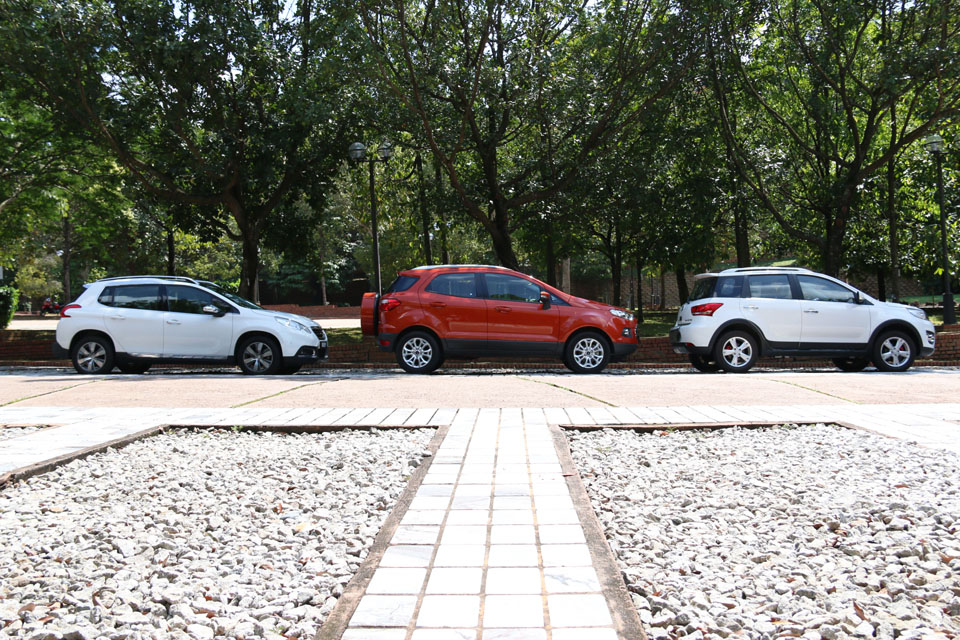 .
Size-wise, here's how they stack up against each other (Length x width x height, all units in milimeters):-
Ford EcoSport  : 4,273 x 1,765 x 1,675, wheelbase 2,519
Peugeot 2008 : 4,159 x 1,739 x 1,556, wheelbase 2,538
GWM M4: 3,961 x 1,728 x 1,617, wheelbase 2,383
The EcoSport may look the longest here but that takes into account the spare wheel cover behind so between them, it is the 2008 that offers the best cabin size (lengthwise). However, with the height of a proper SUV, ingress and egress for the elderly is most convenient with the EcoSport. Overall, sitting position in the EcoSport is most commanding, followed by the M4. The 2008 felt slightly taller than most sedans but it'll cause the greatest amount of anxiety should you find yourself in downtown KL during heavy rain and the water level rising.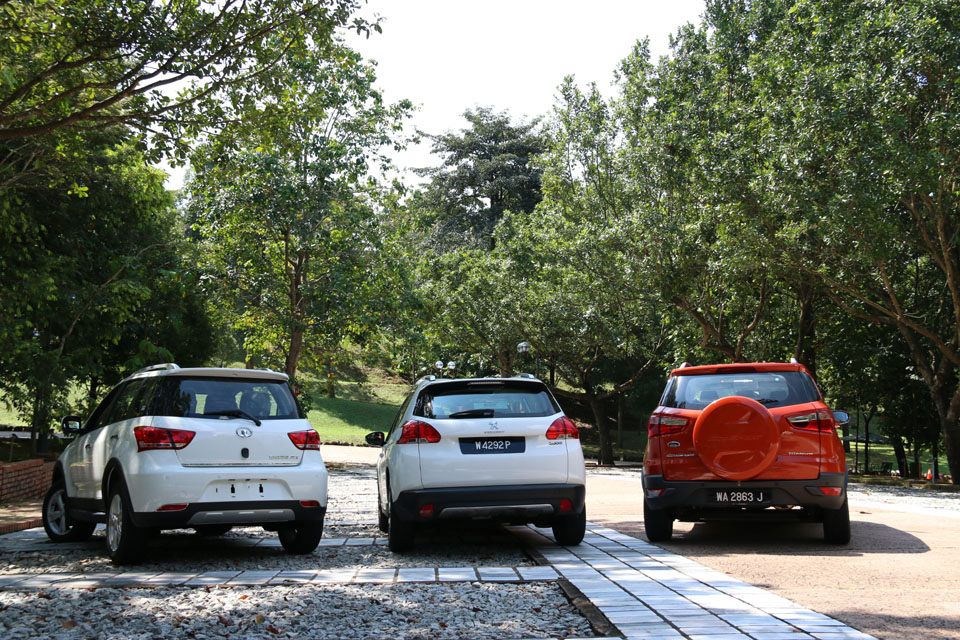 .
At the back, all three makes look very handsome. The 2008 looks the most petite, the EcoSport the most macho while the M4 has the best balance in terms of proportions. Interesting to note that all three makes has rear fog lights and this is most handy during poor visibility weather.
.
.
Performance
.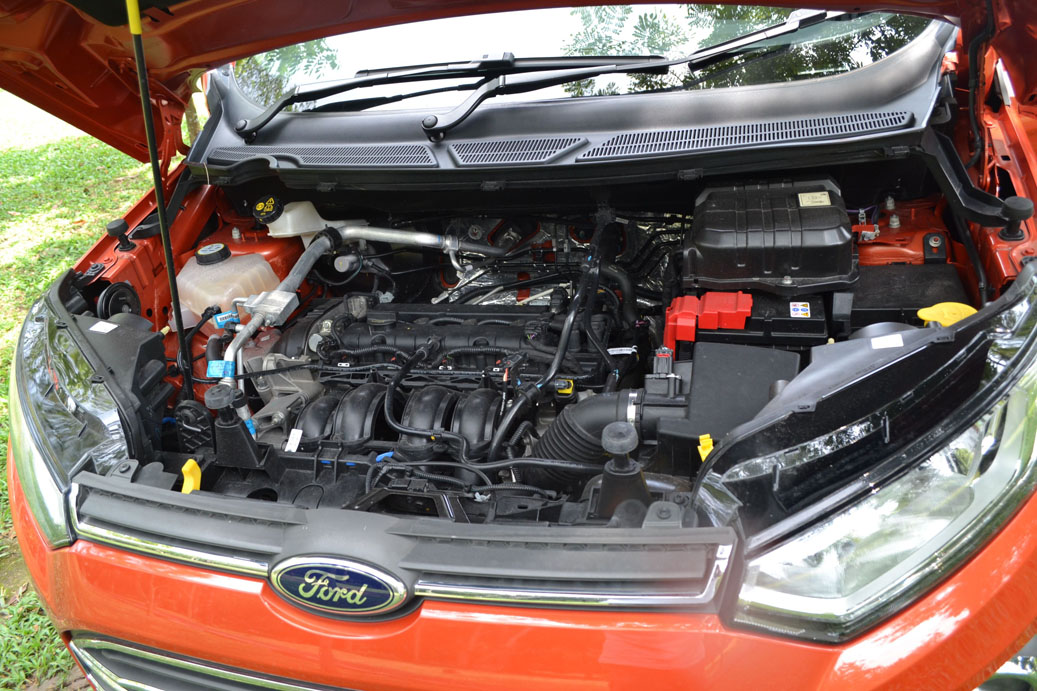 The EcoSport has the same 1.5litre Ti-VCT (that's Twin Independent Variable Cam Timing, if you want to know) engine as the Ford Fiesta 1.5l and it produces 108 hp @ 6,300rpm and 142Nm @ 4,400rpm. Posting zero to hundred figures for SUVs are rather weird considering you won't be bringing one to a drag race but if you want to know, the EcoSport hits three-figure speeds from standstill in about 12.5 – 13 seconds and hits a maximum top speed somewhere below the 170km/h mark.
.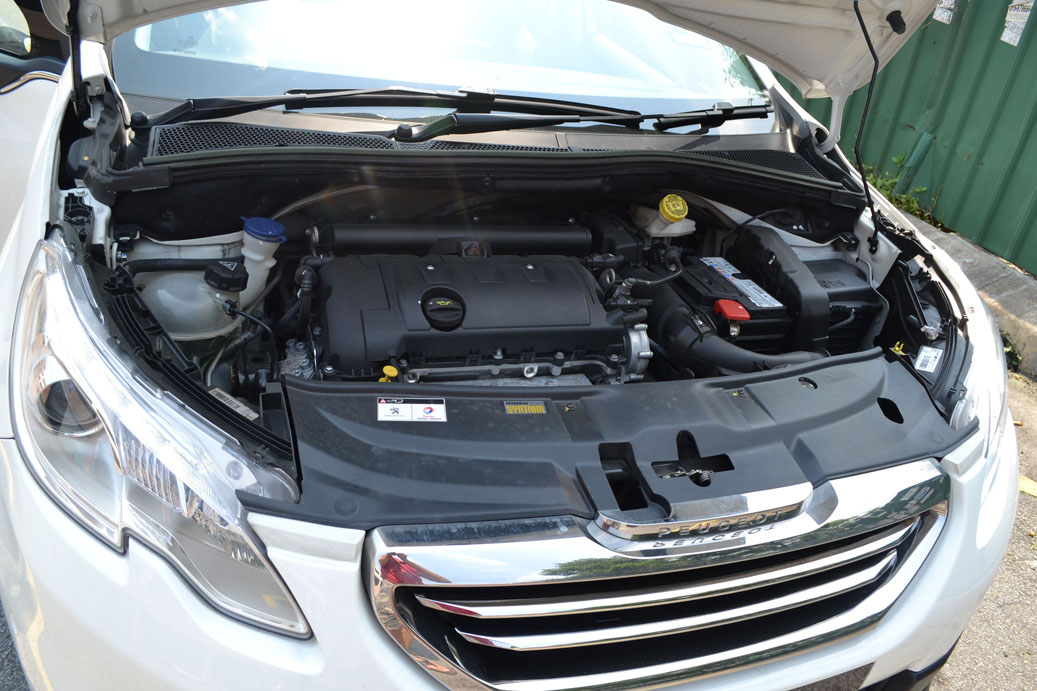 The 2008 would beat the EcoSport to the finish line by crossing the 100km/h mark in 11.2 seconds, thanks to its slightly larger capacity 1.6litre VTI Direct petrol injection engine DOHC with Variable Valve Timing that serves 122PS @ 6,000rpm with 160Nm or torque @ 4,250rpm, the most powerful in the group test here. It is capable of hitting 190km/h tops.
.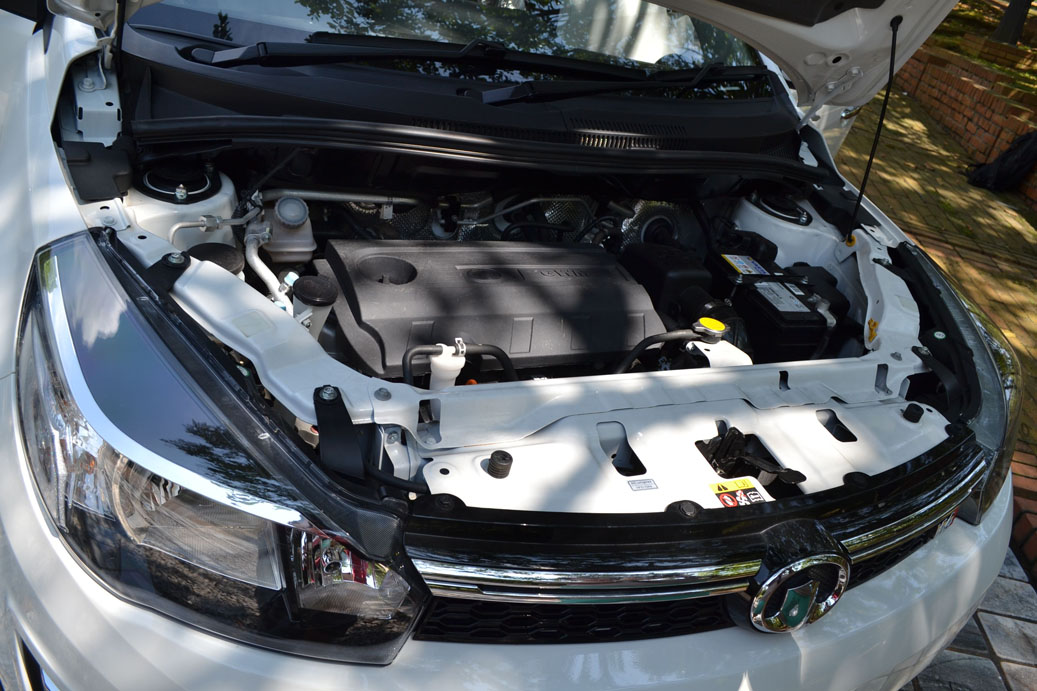 The M4 is powered by a Toyota sourced 1.5litre VVT engine (think Vios, albeit tuned weaker) that offers 105 hp @ 6,000 rpm and 138 Nm @ 4,200 rpm. No official 0-100km/h figures but on the go, there's a reasonable amount of low end torque for city drives but lacks punch in mid to high-end for highway speeding. Having said that, it is capable of reaching speeds similar to the EcoSport at about 160km/h thereabouts.
.
.
Ride and Handling
.
These are all SUVs and with the high center of gravity, a certain degree of body roll is expected, particularly when all three models here are comfort biased. The EcoSport and the M4 tested here runs on 205/60 R16 tires whereas the 2008 makes do with skinnier 195/60 R16 tires. If we were to find a winner based on how well their suspension soaks up road irregularities, it's a tough call. They're all equally comfortable to drive over humps and bumps.
.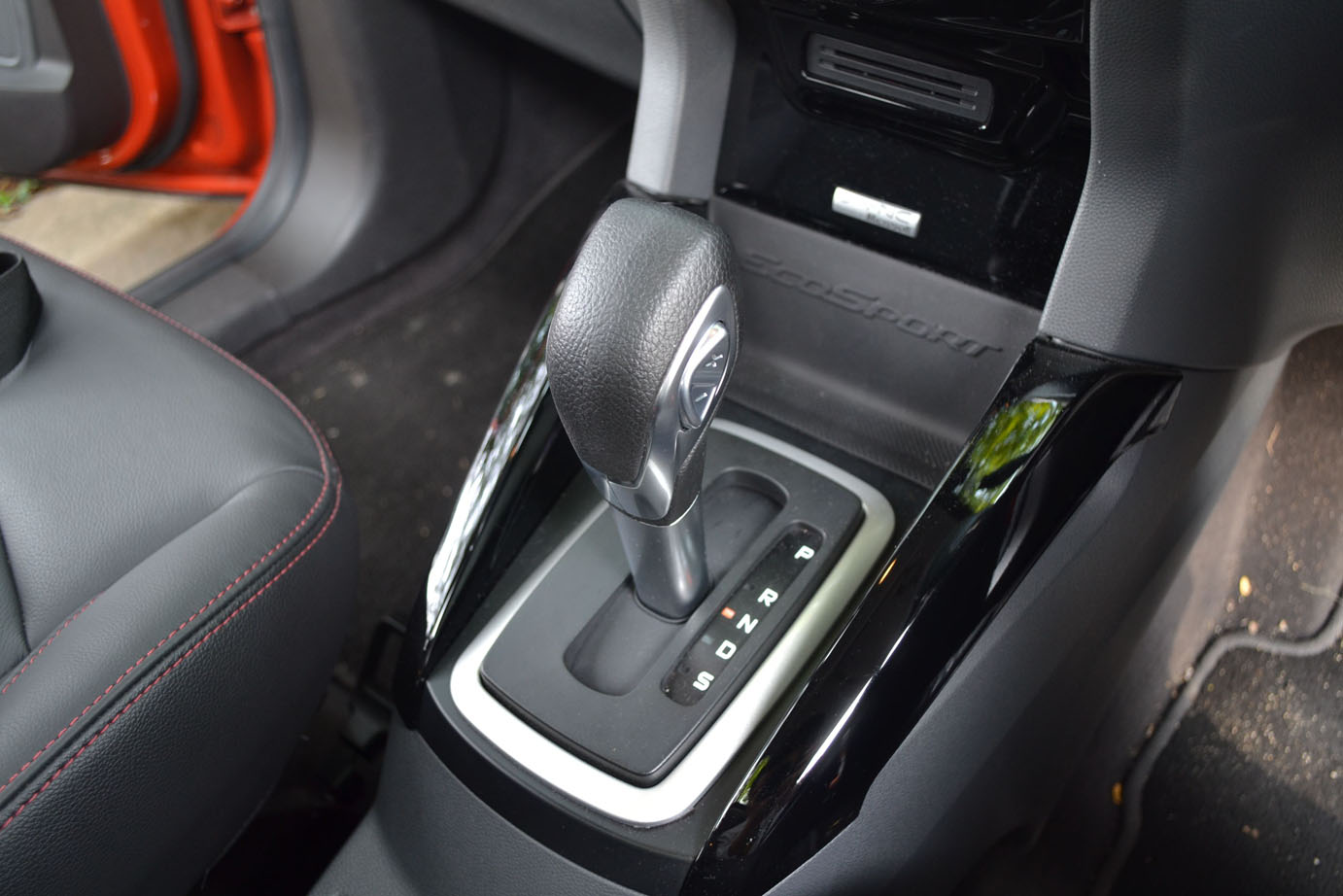 The EcoSport's engine is paired to the Getrag's 6-speed dry dual clutch PowerShift transmission and typical of any Dual Clutch Transmission is jerky at low speeds. Compared to VW's DSG, the system here is less refined, shifts are perceptible even at rolling speed acceleration. Having said that, you won't feel it overtly much if you've not driven a DCT; if anything, it's an improvement over the more commonly used torque converters. It's certainly far more engaging to use compared to CVTs, particularly when you work your thumb on the manual override which can only be activated when the gear knob is shifted to 'S'. Doing so allows better control over the gears, holding till redline.
.
Not something you would want to do often since the engine would be screaming in protest of being worked so hard. As a matter of fact, anytime when you're revving above 3,200rpm should make your hairs cringe and compounding to this are panel rattles which, in all fairness could be due to this being a tester. This one here has a chatty A-pillar and will only shut up if you put your finger on it. After a while, you get used to it. The Electronic Power Assisted Steering (EPAS) allows steering weight to belight at low speeds, making it a joy to use in parking and gains a bit of heft as speed builds up.
.
Those who've heard the EcoSport advertisement on the radio would recall how it urges you to ignore potholes and rough terrains, giving the impression that it's the SUV to go for if you find yourself often on less than ideal road surfaces. And why not since it has a 200mm ground clearance and can go swimming in a pool as deep as 550mm without any adverse effects (that's the entire wheel underwater), making it one of the most perfect vehicles to survive downtown KL during rainy season like now.  Be warned though that this is not the vehicle to go off-road with; yours truly took it to a park for some shots and it couldn't get over a hump due to its front-wheel drive layout (not to mention non off-road tires). The good news is, anyone sitting in the EcoSport has the highest sitting position when compared to the 2008 and M4.
.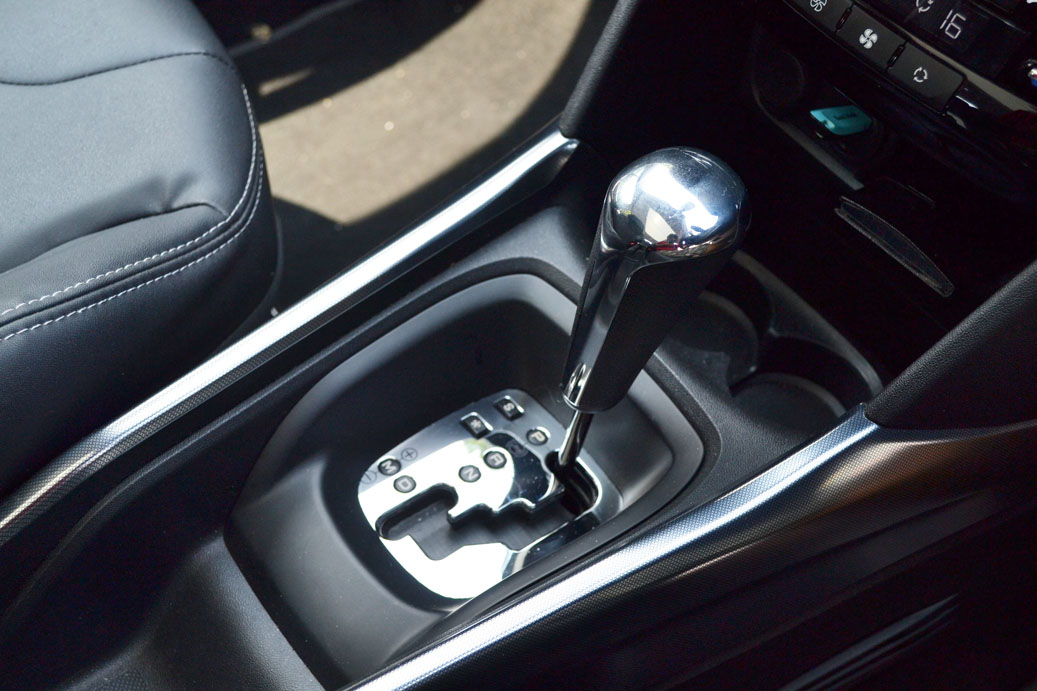 .
The 2008 meanwhile makes use of a 4-speed automatic adaptive gearbox with tiptronic and sport mode and most of the time, it does it's job pretty well. There are moments when it goes gear-hunting, particularly when throttle inputs aren't very decisive and the drone at 3,000rpm when travelling at 110km/h may irritate some but it's all a matter of getting used to. The weight at the helm is the lightest among the three which, like the EcoSport is great to use in urban areas but less appreciated when travelling at higher velocities, particularly at sweeping corners where steering feedback becomes more crucial.
.
The Pug doesn't have the ground clearance of the EcoSport, offering only 165mm and no mention of wading depth which makes it the most "sedan-ish" among the three here. In fact, it's as easy to drive as a sedan and this is a point to note for those who're uncomfortable driving a tall car.
.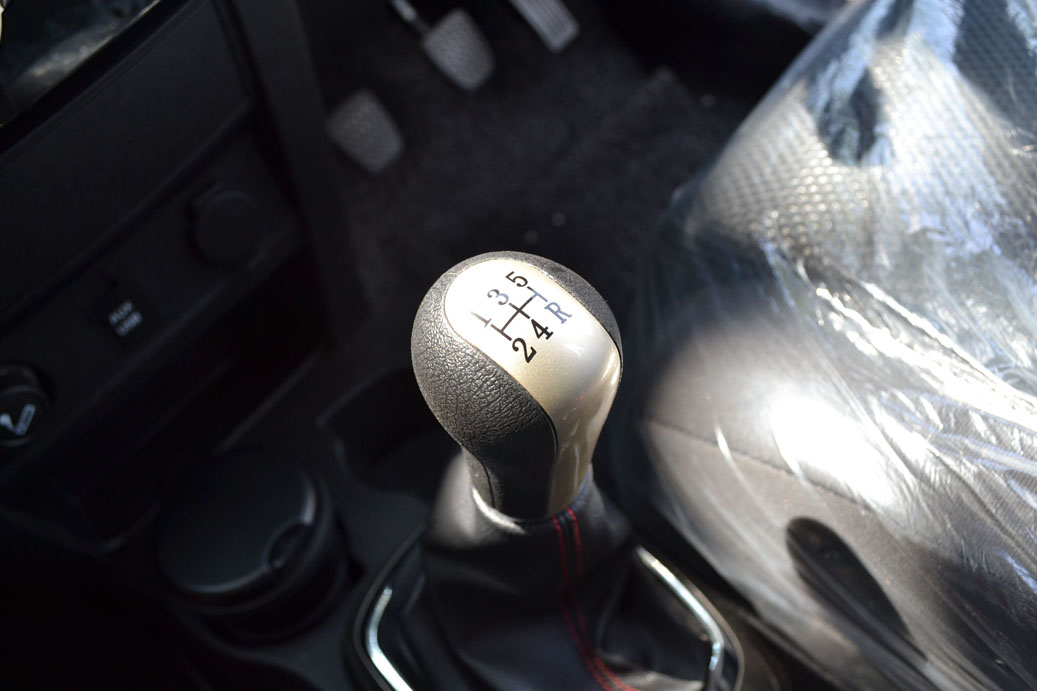 .
The Great Wall M4 has a – 5-speed manual gearbox? Wait, what's a  manual unit doing in a comparison with two other automatics? That's because there isn't an automatic M4 for us to review so we'll have to make do with this one. Not that it's a bad thing, really. The manual tranny is very easy to use, the clutch biting point is wide and quite forgiving even for a person who doesn't drive manual most of the time. 1st and 2nd gears delivers an excellent amount of torque, making it, like the EcoSport good for low end pick-up but lacks punch at mid to high range. To those who've driven the Perodua Kembara before, it's characteristics are very similar.
.
It may not have the EcoSport's 0.2m clearance but the M4's 185mm ground clearance is still respectable. Everything in the cabin felt solidly built with no rattles detected but considering that this is a new unit (note the wrapped plastics) and we only had about 3 hours of testing, that's not surprising. Wind noise when travelling at speeds is acceptable, surprisingly less than the EcoSport but a trite more vocal compared to the 2008.
.
Go Auto, the company responsible for assembling Great Wall Motor here has announced the availability of the CKD built M4 with a 6-speed Getrag 6AMT160 automatic manual transmission. As an AMT, it behaves different from traditional torque-converter automatics or even dual clutch transmissions. You won't have a clutch pedal so in that sense, you just need to figure out how to modulate the gas and brake pedals. Until we test the AMT variant, we won't know if this version will have the jerky, power-surge effect commonly associated to AMT equipped cars.
.
.
Cabin Convenience
.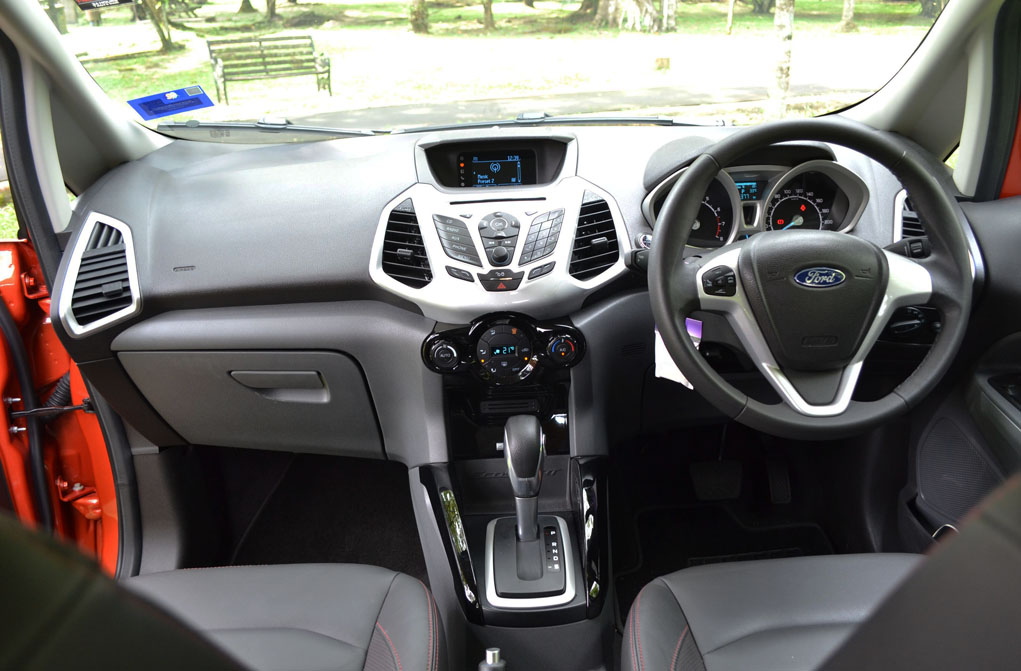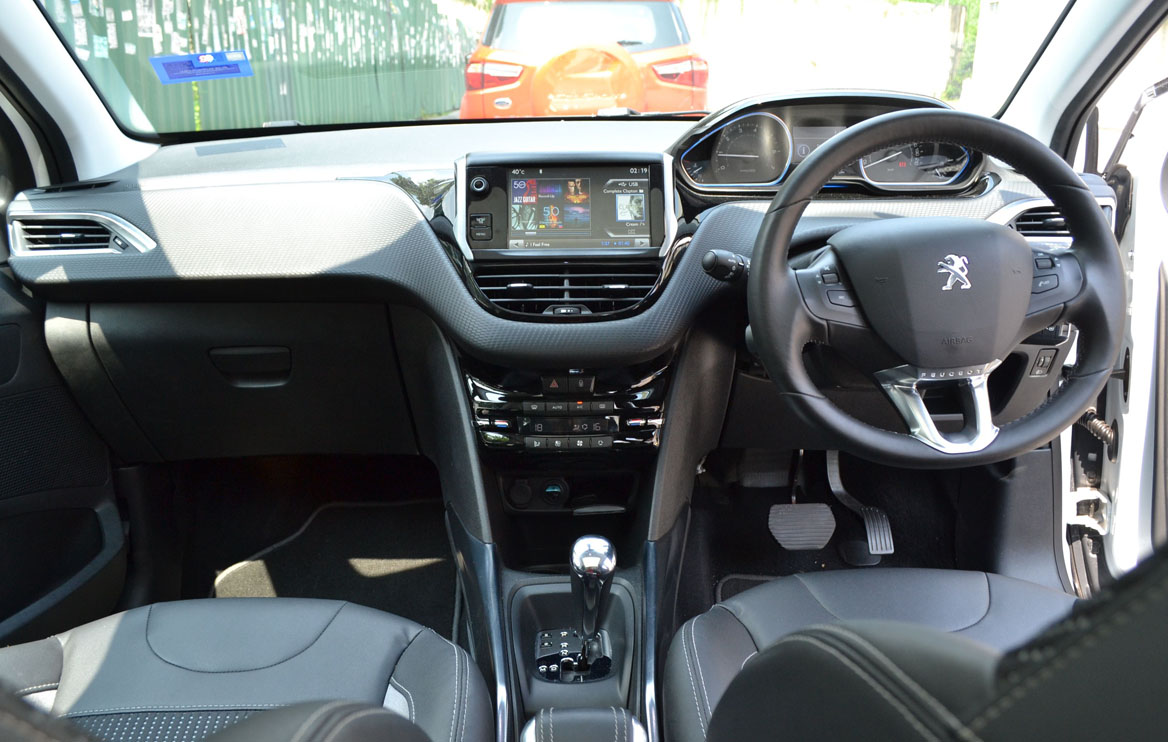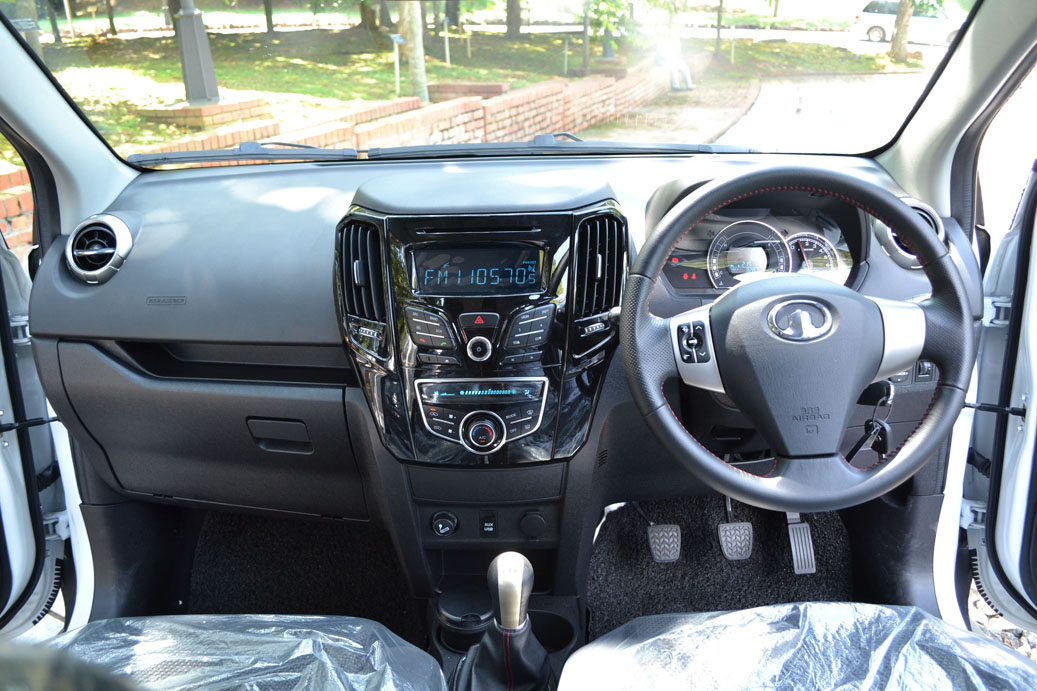 .
All three cabin sports very different design cues with both the Ecosport and 2008 bearing similarities with the smaller hatchbacks they're based on. The EcoSport has a more angular approach in its dashboard lines compared to the Fiesta, influencing the air conditioning vents as well as the instrument panels. The 2008 looks virtually identical to the 208 except for the faux carbon fibre laminates on the dashboard. Since we're seen both Ford and Peugeot designs in more than one model, the M4's clean layout makes for a refreshing change. Except for the glossy black piano finish in the center which is a finger print magnet.
.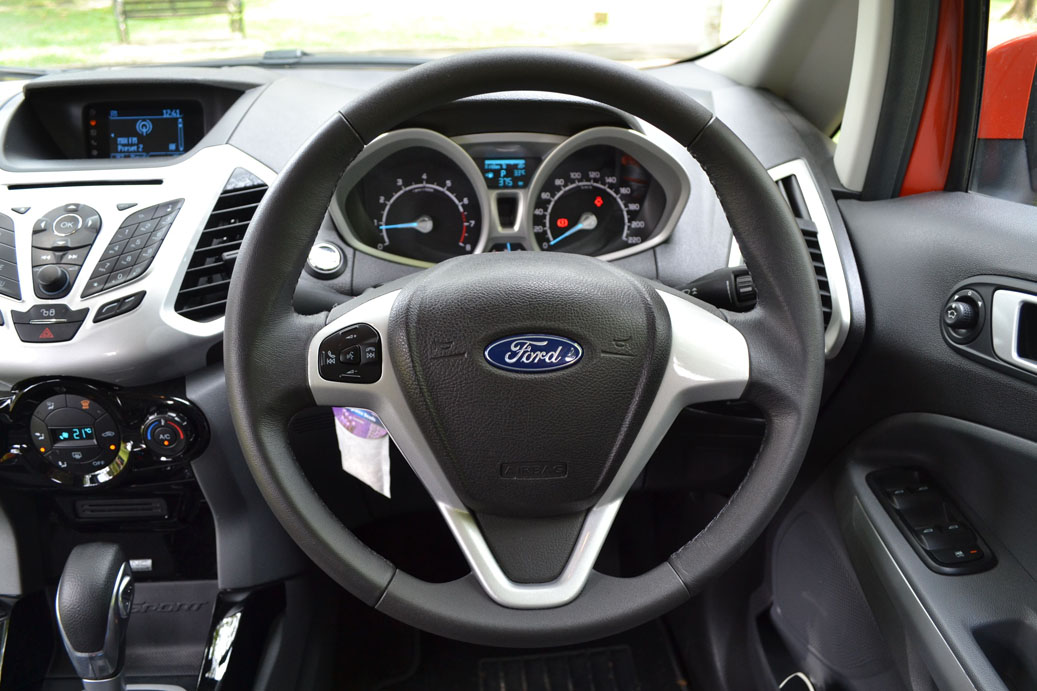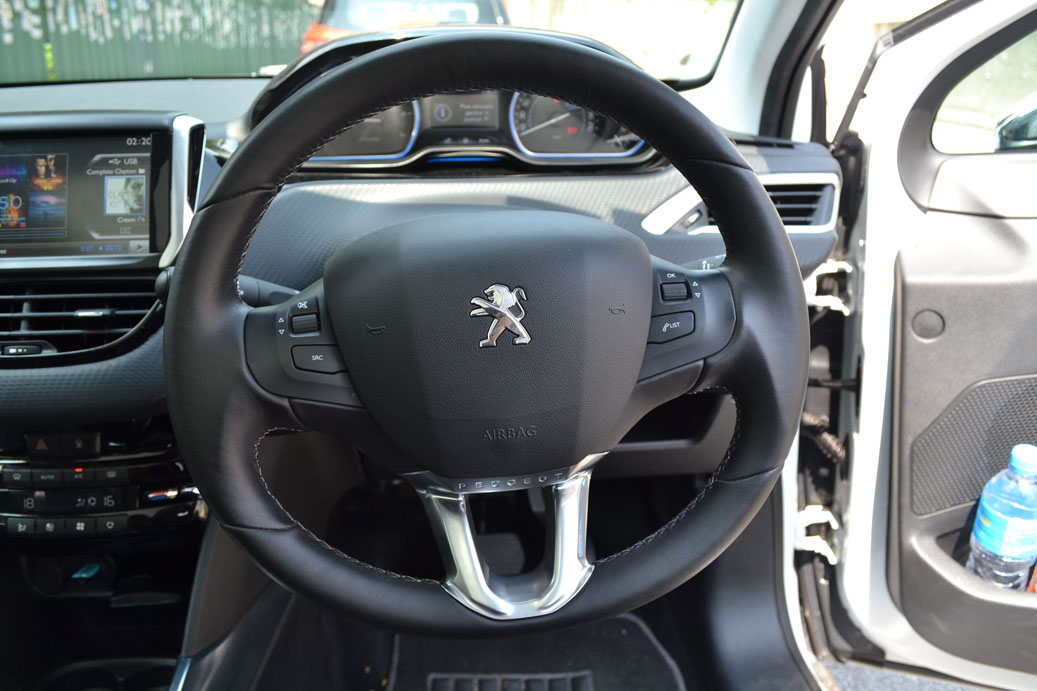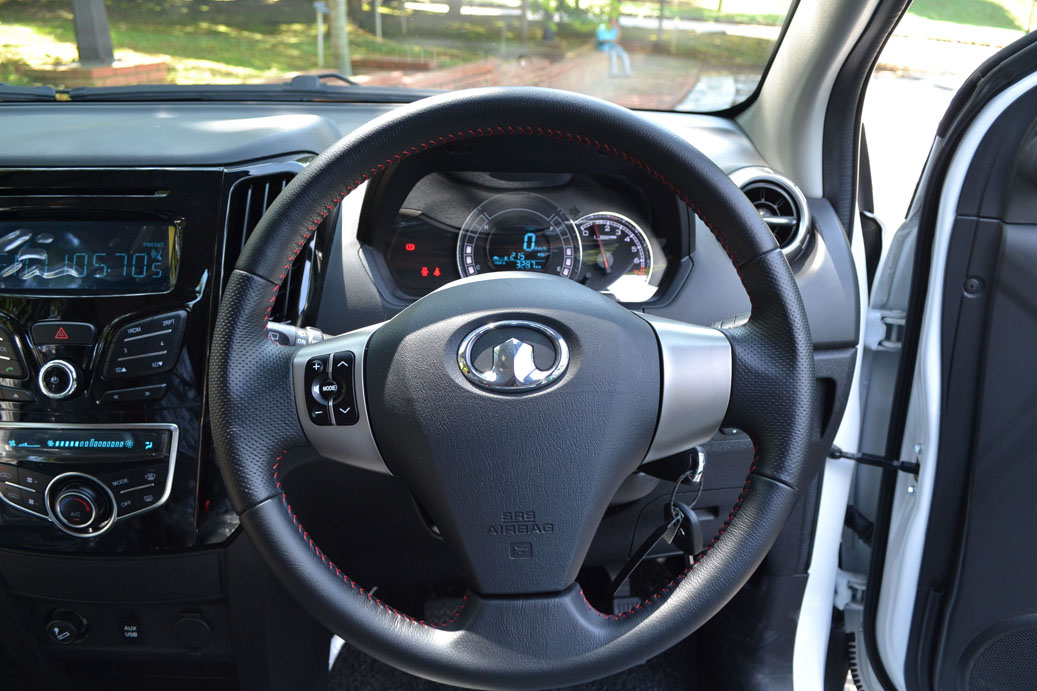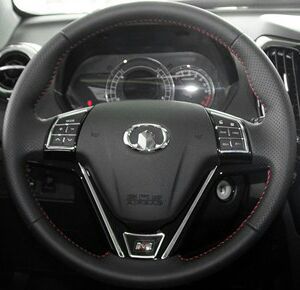 .
All three vehicles here has leather wrapped steering but the EcoSport felt the coarsest, the 2008 the smallest (and annoyingly gets in the way of viewing the instrument panels) while the M4, surprisingly has the best balance in terms of comfort and grip. Those looking into ordering the M4 can look forward to a new steering wheel design which separates the audio from multi function controls found on the steering spokes.
.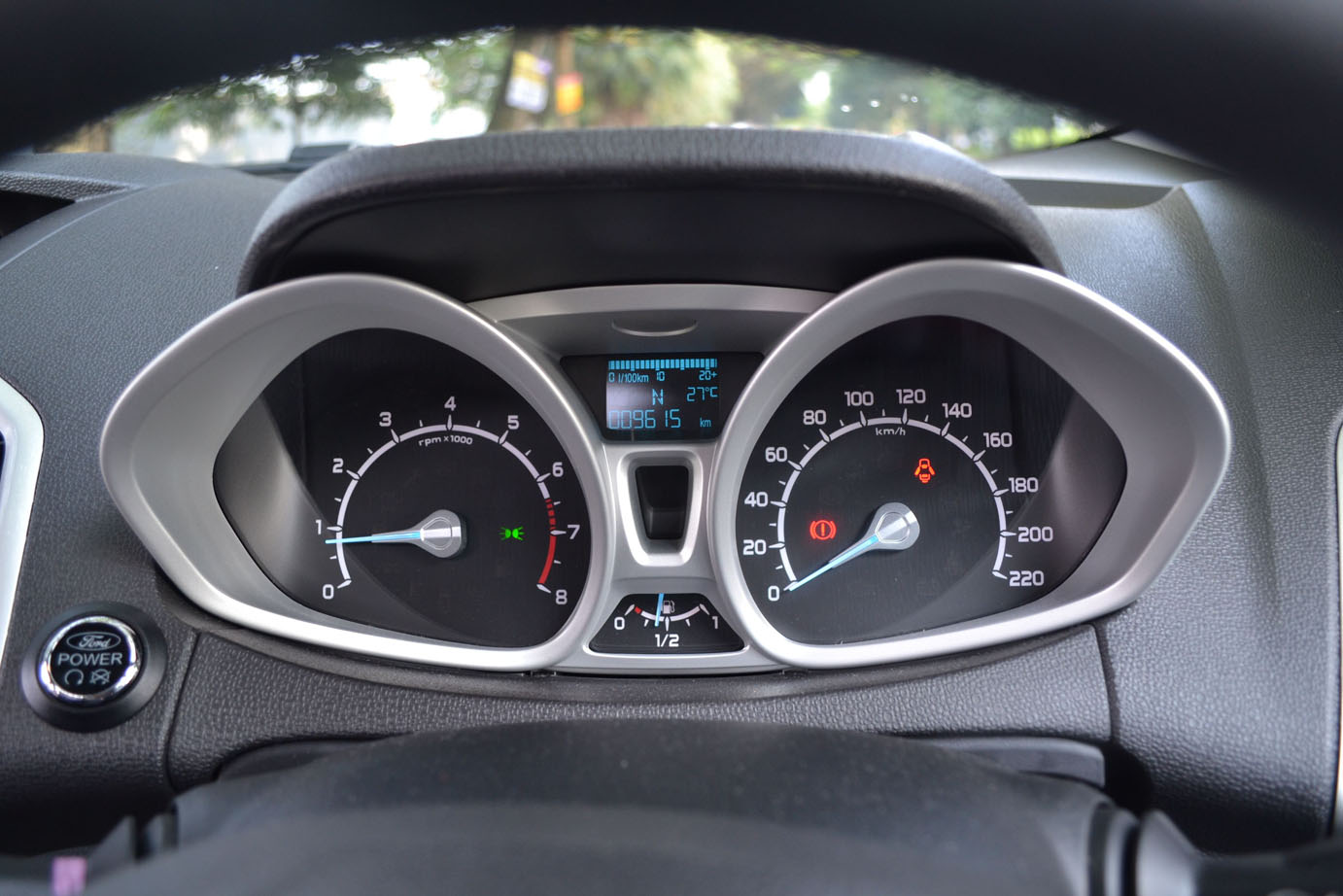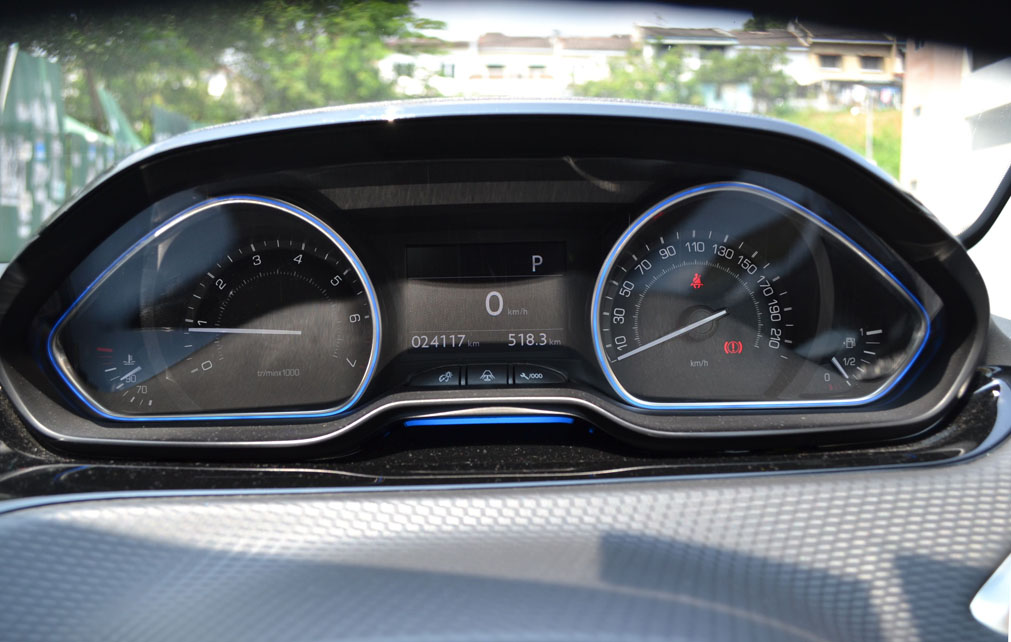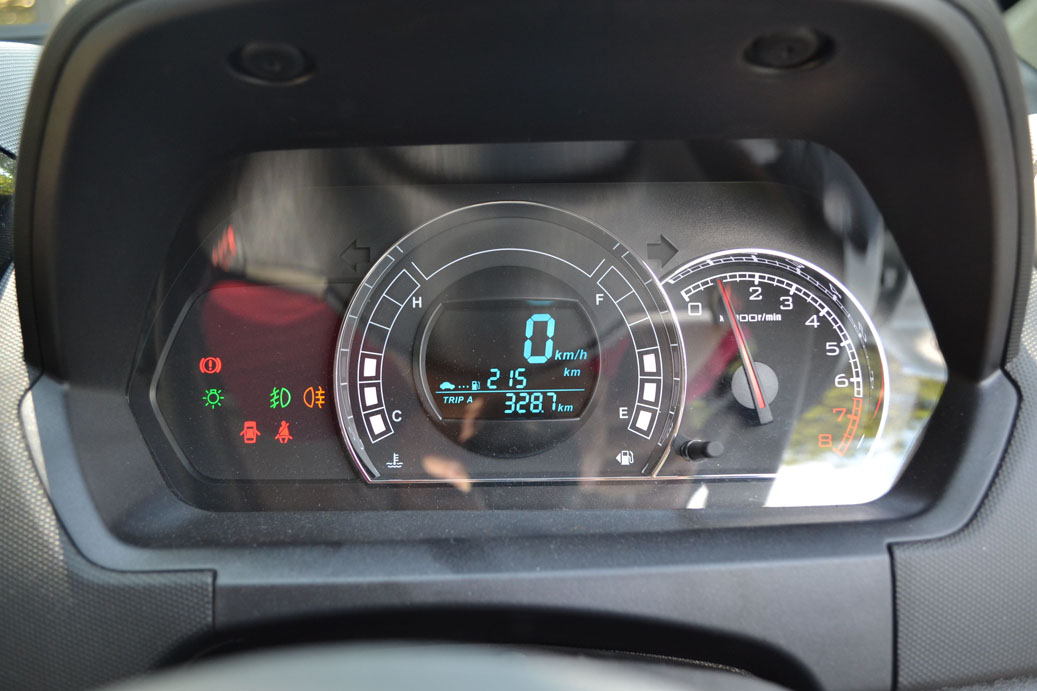 .
Markings on the EcoSport meter are the clearest and easiest to read but smallish middle display makes it difficult to see, especially under bright sunlight. It is also the only one here with no engine temperature display.
The funkiest display among the three would have to be the 2008. With its blue LED outline, rpm and speed meter with a font style and size meant only for those with 20/20 vision (and an acrobatic neck to see past the ever present steering handle).
The M4's turquoise illuminated meters are clear and easy to read, with the speedometer substituted with a digital readout. The multi function display is basic with distance-before-empty, Trip A, Trip B being available, it's quite sufficient.
.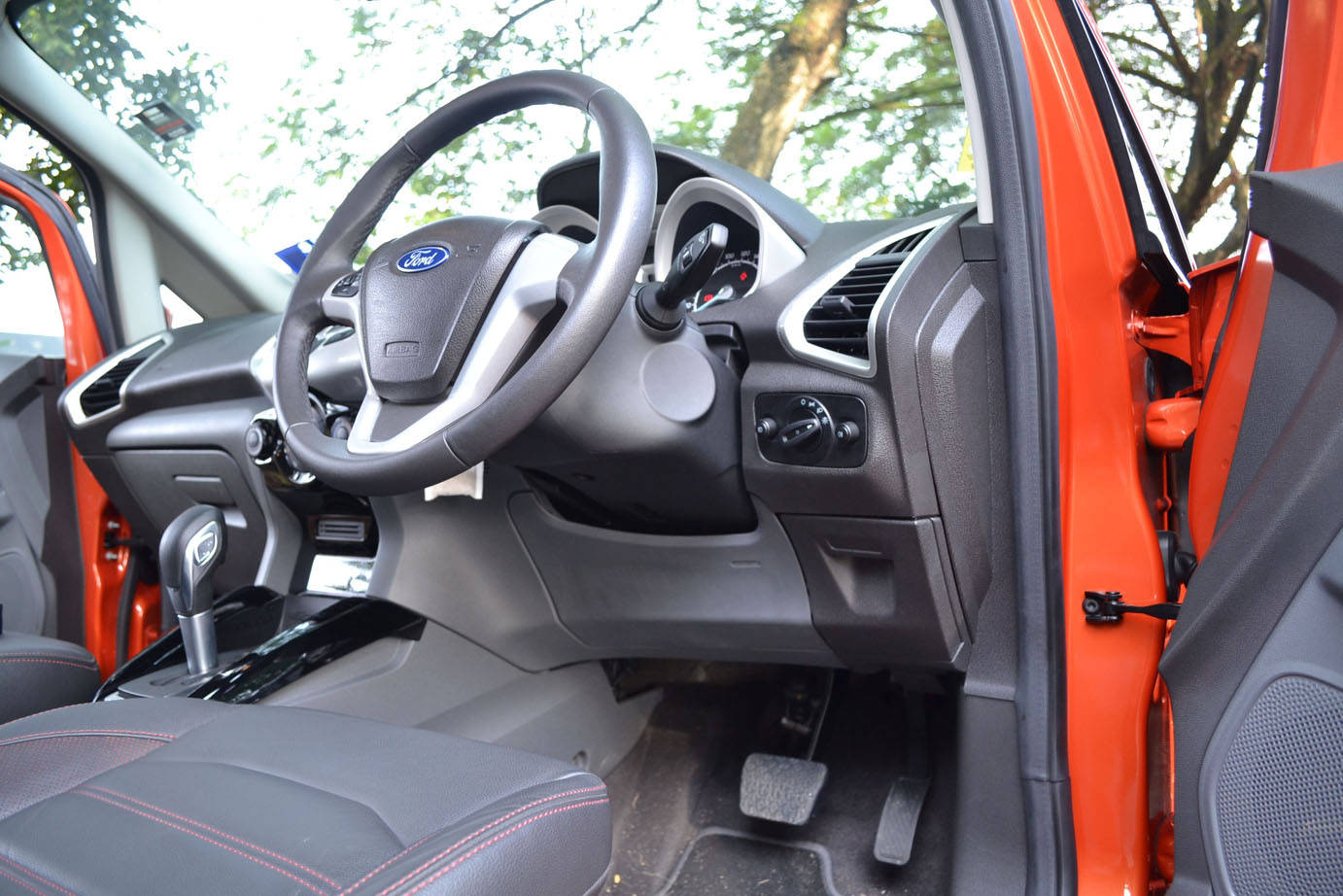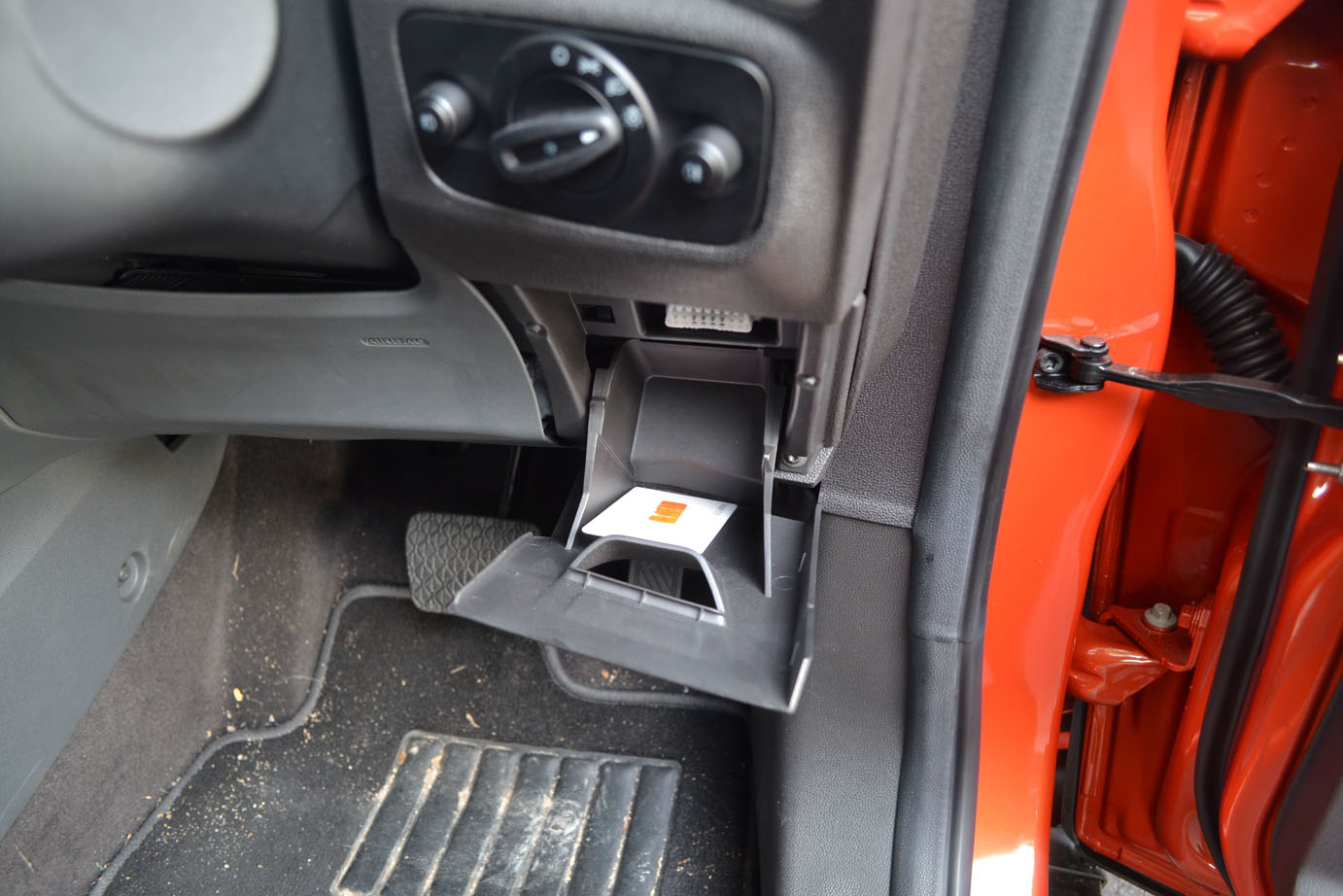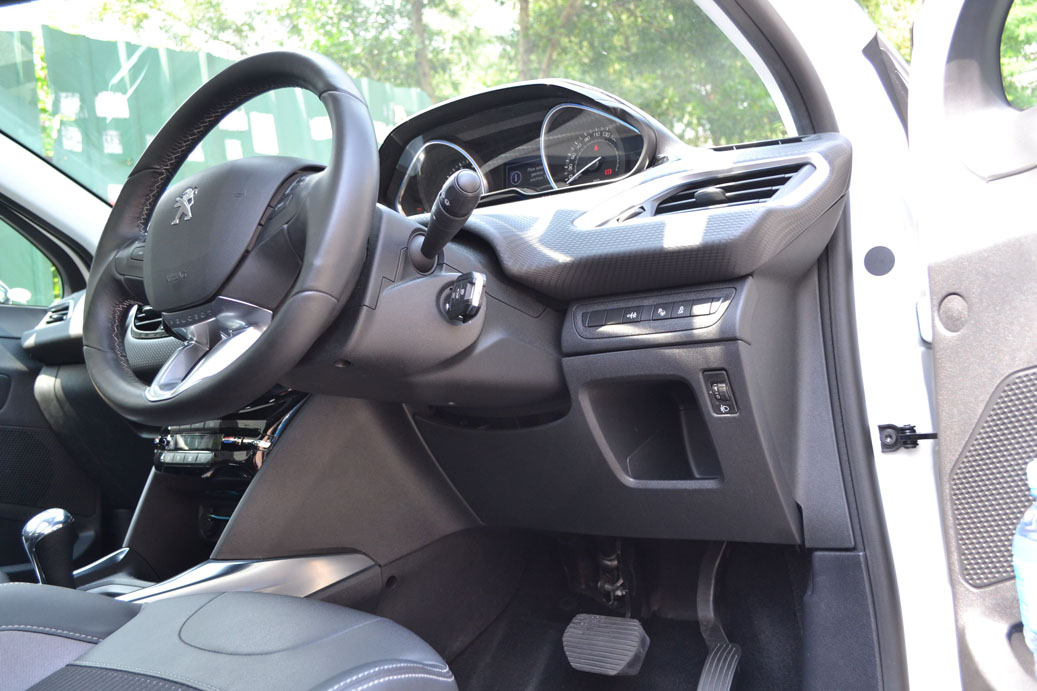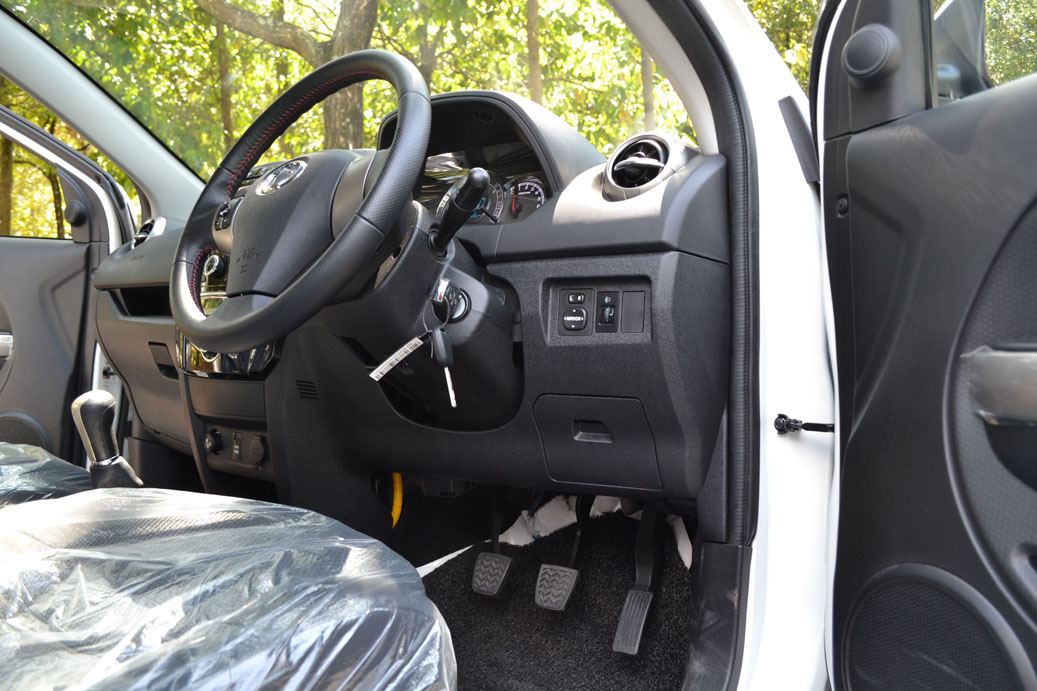 .
Looking at the area below the steering wheel on the right, the EcoSport is the only model here that has its headlamp switches separated from the steering mounted stalks. It is also the only one with a compartment for access cards but Smart Tags do not fit (or rather, the second generation Smart Tags which I possess don't). The 2008 has an open space that fits both Smart Tags and access cards whereas the M4 has a fuse box there to fit neither Smart Tag nor access cards.
.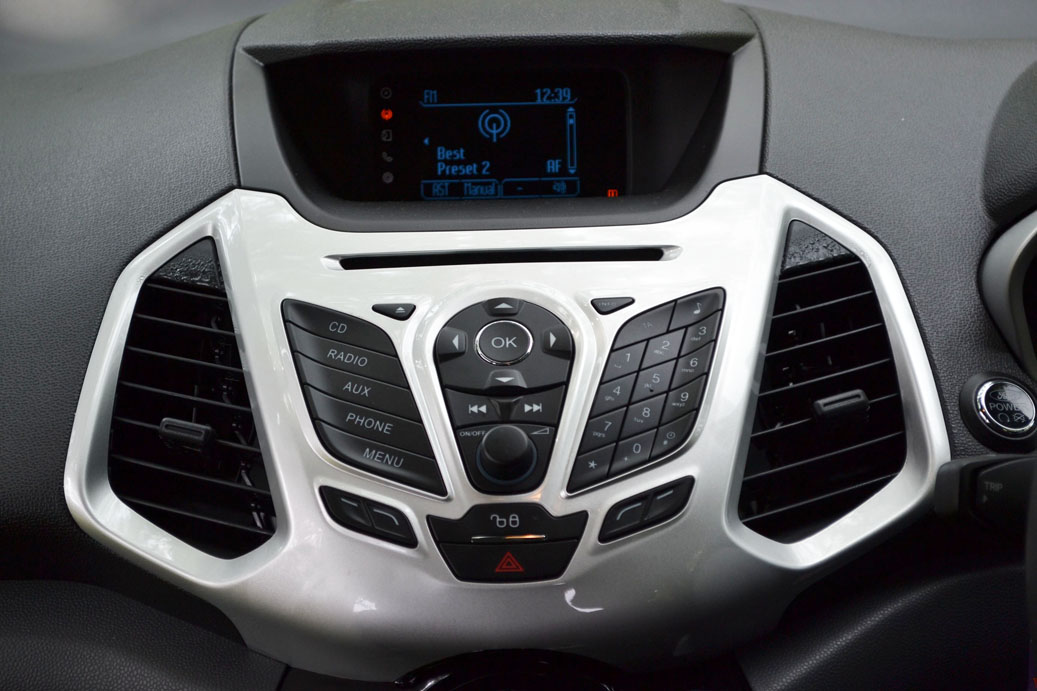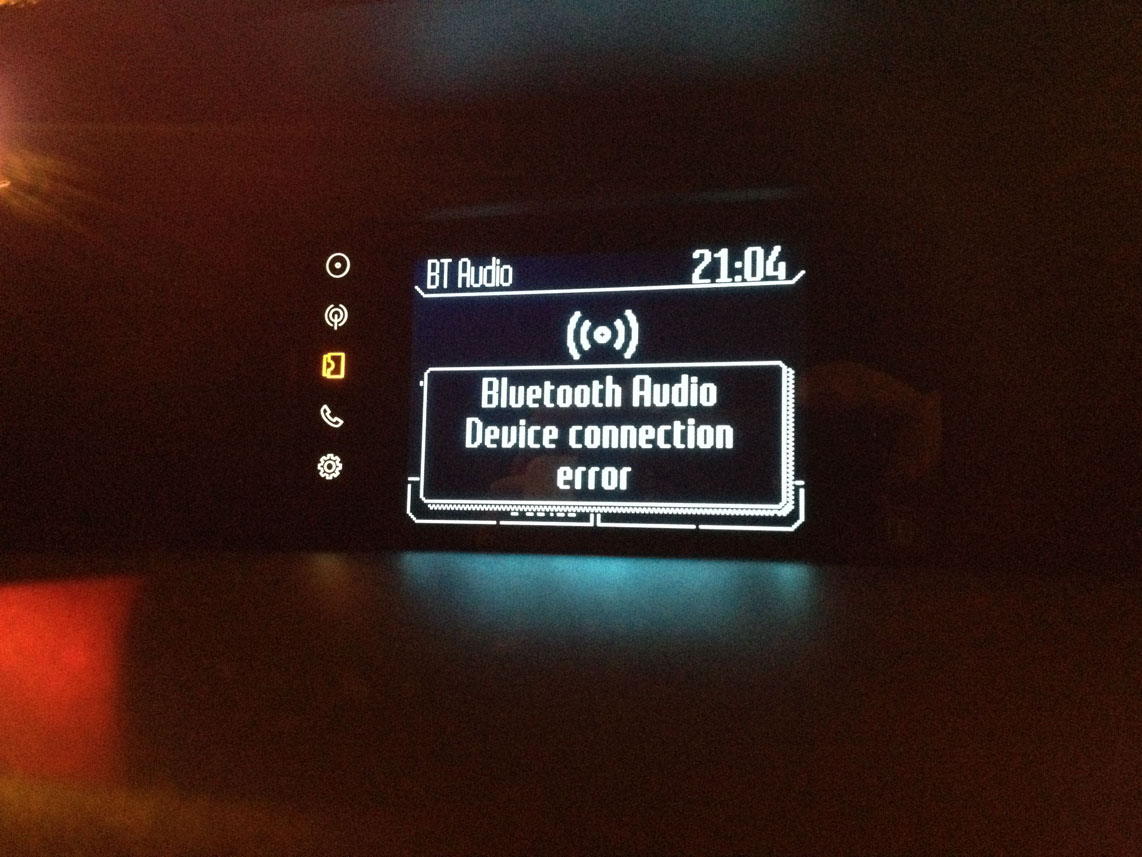 .
The EcoSport features Ford SYNC audio, a voice activated system that allows you to control your smartphone. Through it, you can make calls, read SMSes and access audio playback on CD/radio/Bluetooth streaming by voice command. The system is user friendly and takes into account various accents, an issue common in Malaysia's multi-cultural makeup. It's jointly developed my Microsoft and works best with Blackberry and Android. However, those using iPhones may experience niggling problems – like your phone shows Bluetooth connected but the system doesn't. Once, the whole thing just decided to go bonkers in between dropping a call then nothing – no radio, no CD, no Bluetooth could be heard and a reset (that's shutting your engine down and restarting) was the only thing to restore function.
.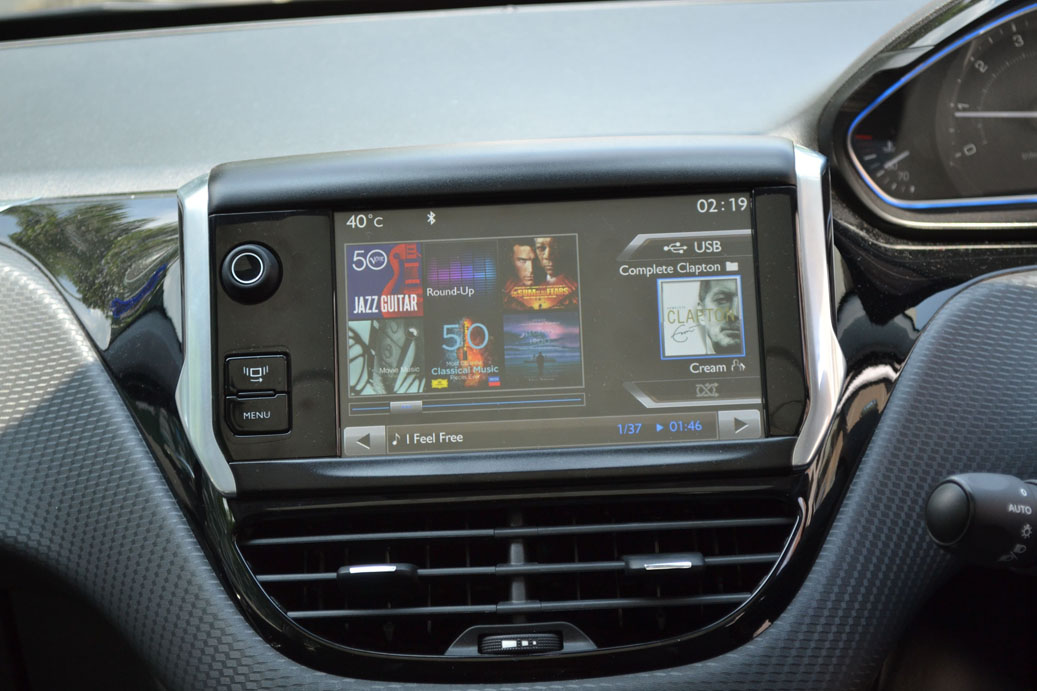 .
The 2008 is the only vehicle here that doesn't come with a CD player and to most young drivers born post-1990, this really isn't an issue since most media is kept in iPods, iPhones, iPads, pendrives, portable hard discs, Android, cloud, etc. A physical manifestation of just 10 – 12 songs in one circular disc that one needs to pay the price of two venti Starbucks Frapuccino when you can torrent songs online, unlimited, for free? Gosh, who needs CDs in this time and age? Yep, dinosaurs like some of those here who uses CD cases not filled with porn is quite rare but we do exist. But personally, I don't really mind. Bluetooth streaming is the way to go and the 2008 has this feature which makes me a happy camper. Like the EcoSport, the 2008 boasts a 6-speaker sound system.
.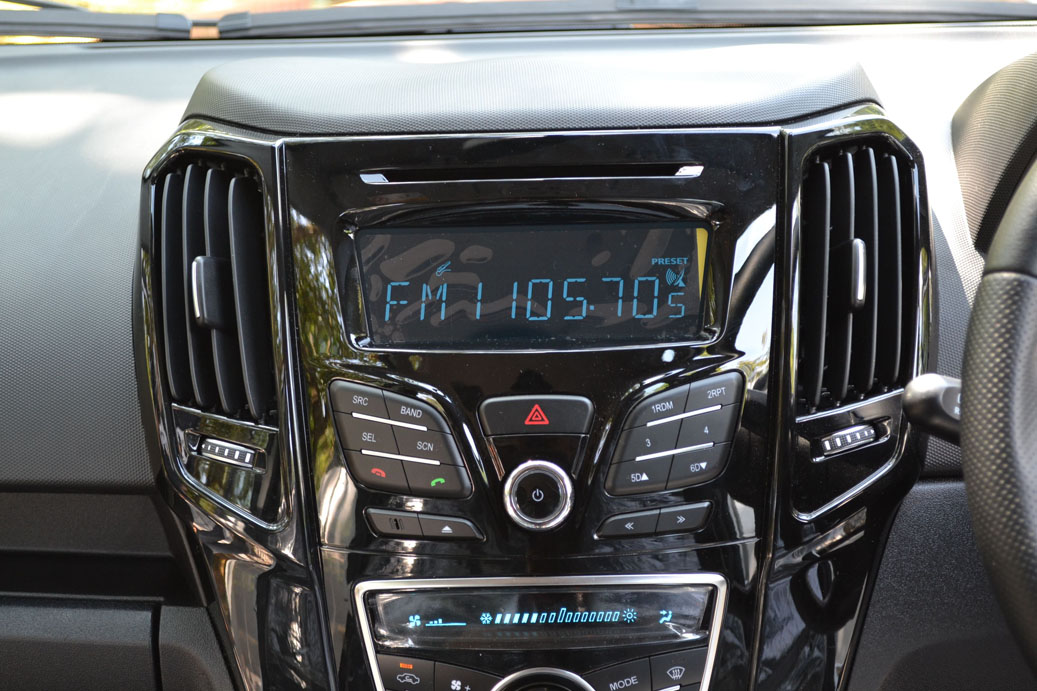 .
The unit offered by the M4 offers CD, USB and depending on variant, may have a 7″ LCD screen with Satellite Navigation and Around View Camera System. The one seen here is the older 2014 spec which differs a bit from the 2015 models. Sound playback is done through four low tone speakers mounted on the doors. Without a pair of tweeters near the A-pillars, the M4 has the music reproduction problem as Nissans; it's all coming from your feet.
.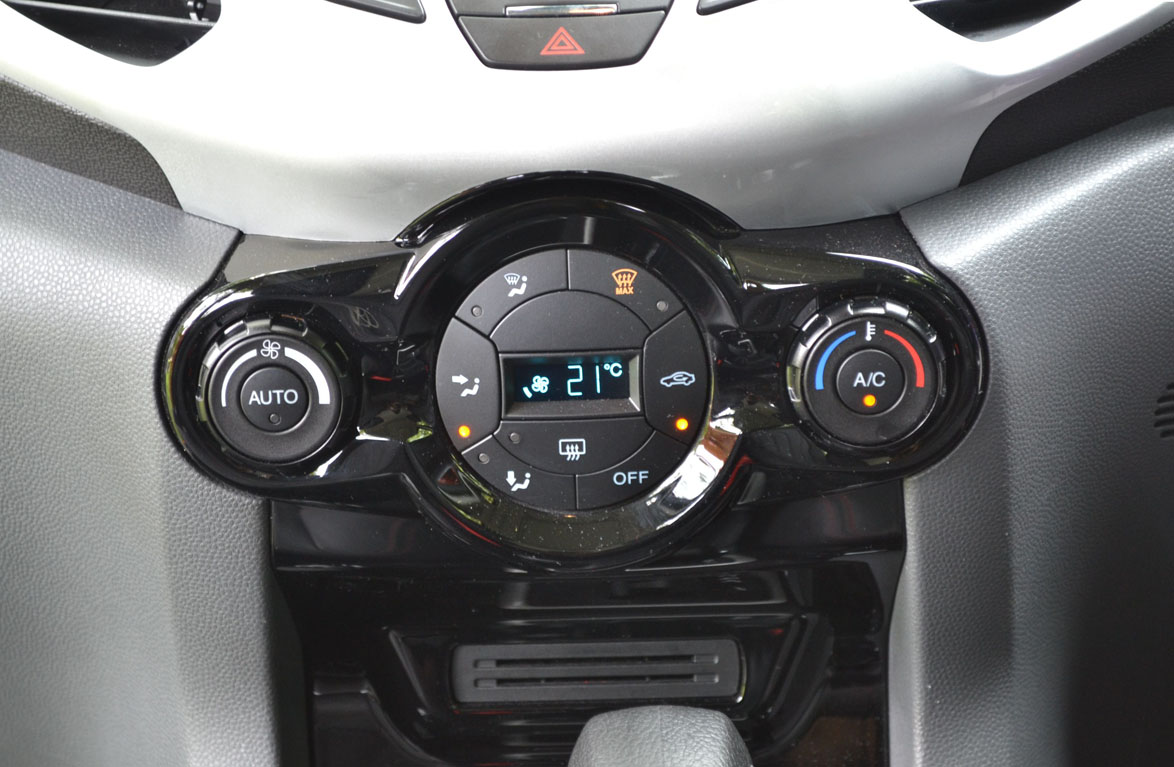 The EcoSport air conditioning controls – as straight forward as it can get. Throughput is sufficient to tackle our hot weather and if quicker dissipation of heat is desired, the retractable sunroof provides an avenue for hot air to escape.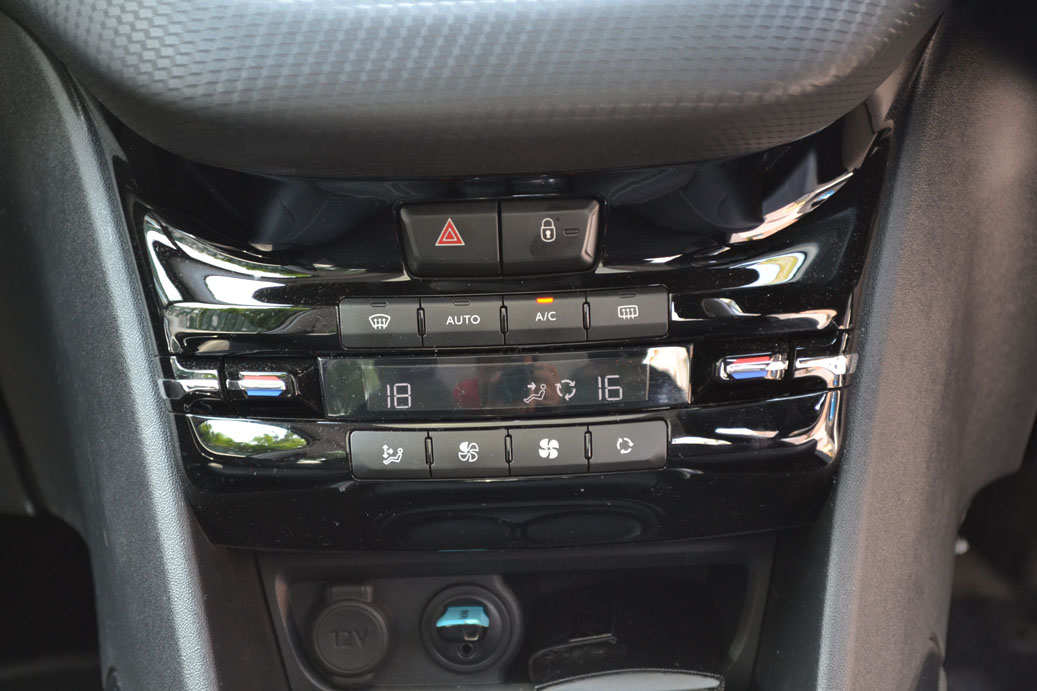 The 2008 air conditioning controls – tuned more for European countries rather than the tropics. But it's the only one offering dual zone climate control.
The M4's unit is the most wintery – without needing to blast it, it is quite effective in banishing the afternoon heat. Strangely, it doesn't offer any numbers to show what temperature you're setting. Then again, the 2008's numbers also don't reflect cabin temperature; those are just numbers for users to feel more comfortable using instead of 1,2, 3, etc. The Premium spec has automatic air conditioning function.
.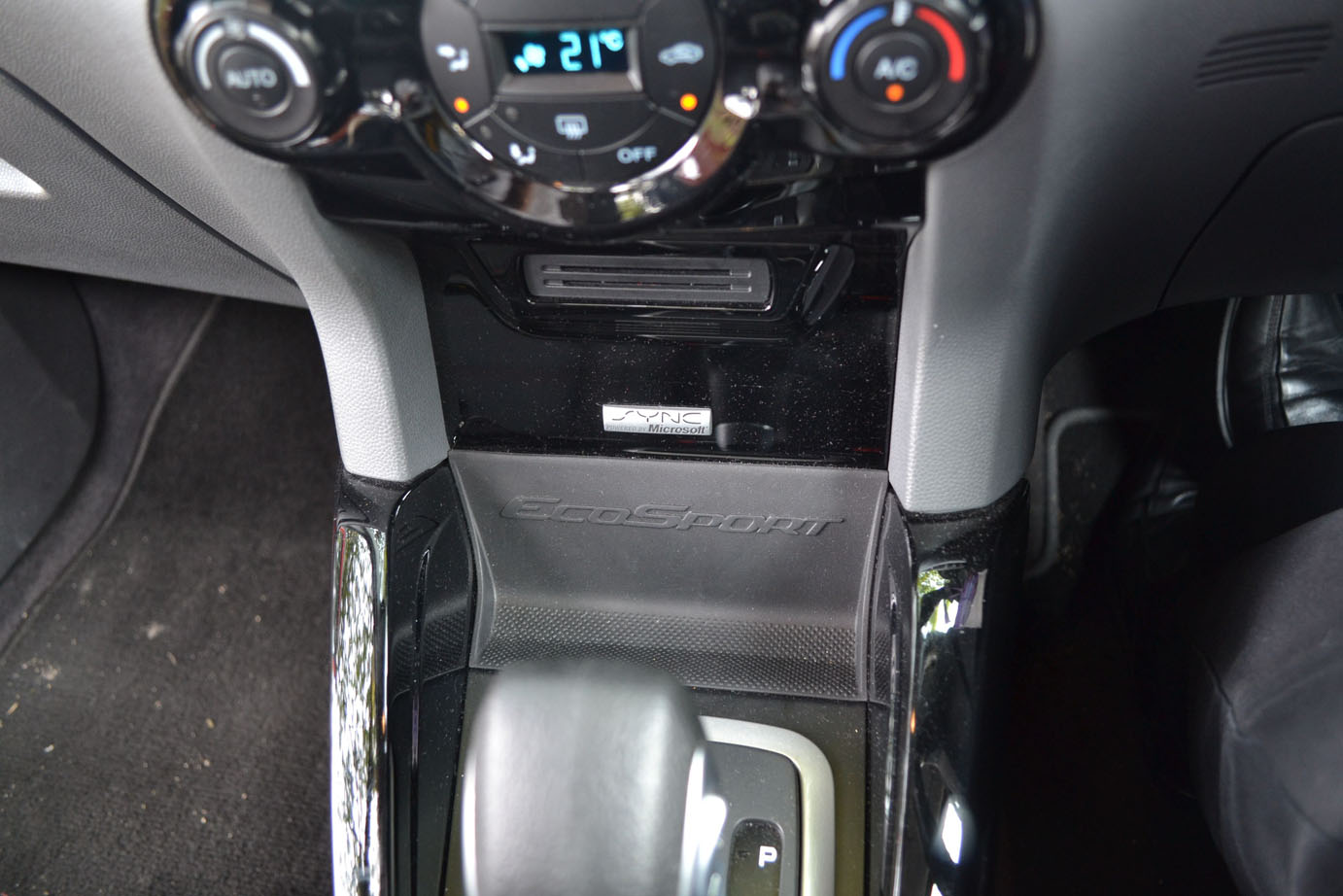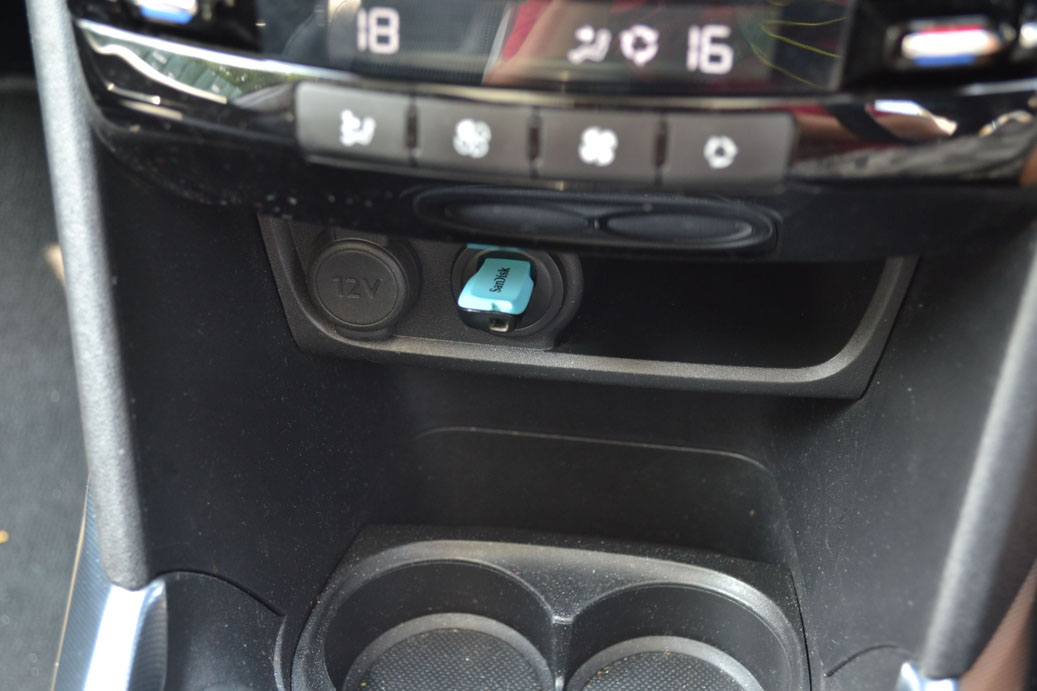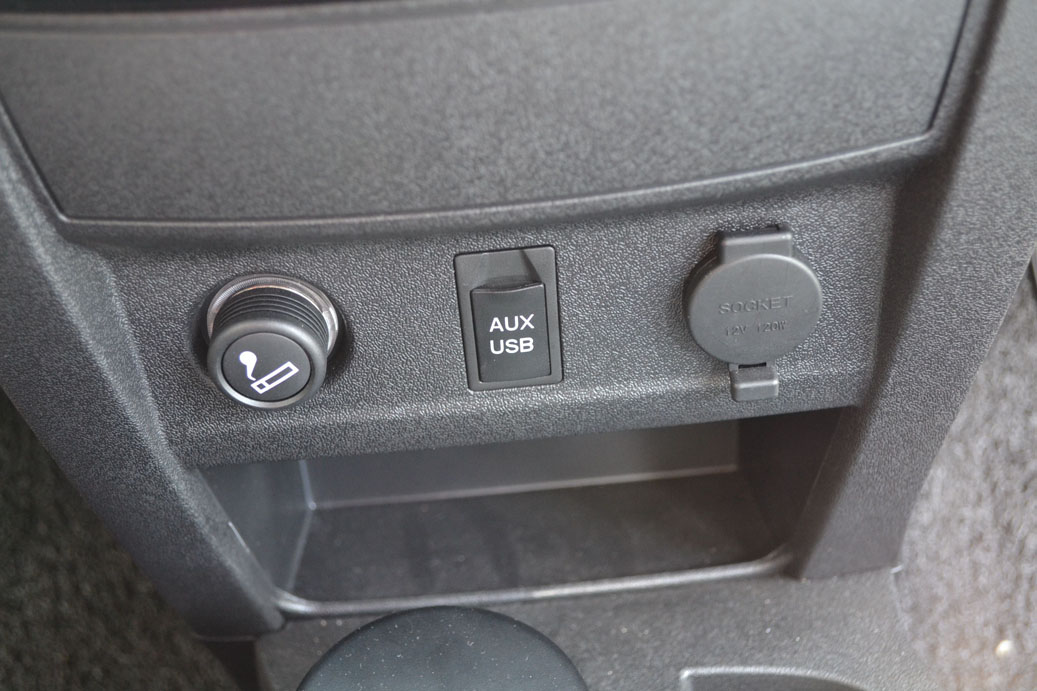 .
Below the air conditioning controls are usually extra spaces for you to chuck your phones or wallets but the EcoSport offers limited space. There are two card slots, presumably for Touch & Gos and access cards and that's about it. Both the 2008 and M4 has a 12V power socket and USB ports here, with the M4 placing an additional power socket for a cigarette lighter.
There are two cup holders here in the 2008 but due to the angle of the center dash and the gearbox, you can't really fit a 500ml water bottle here.
.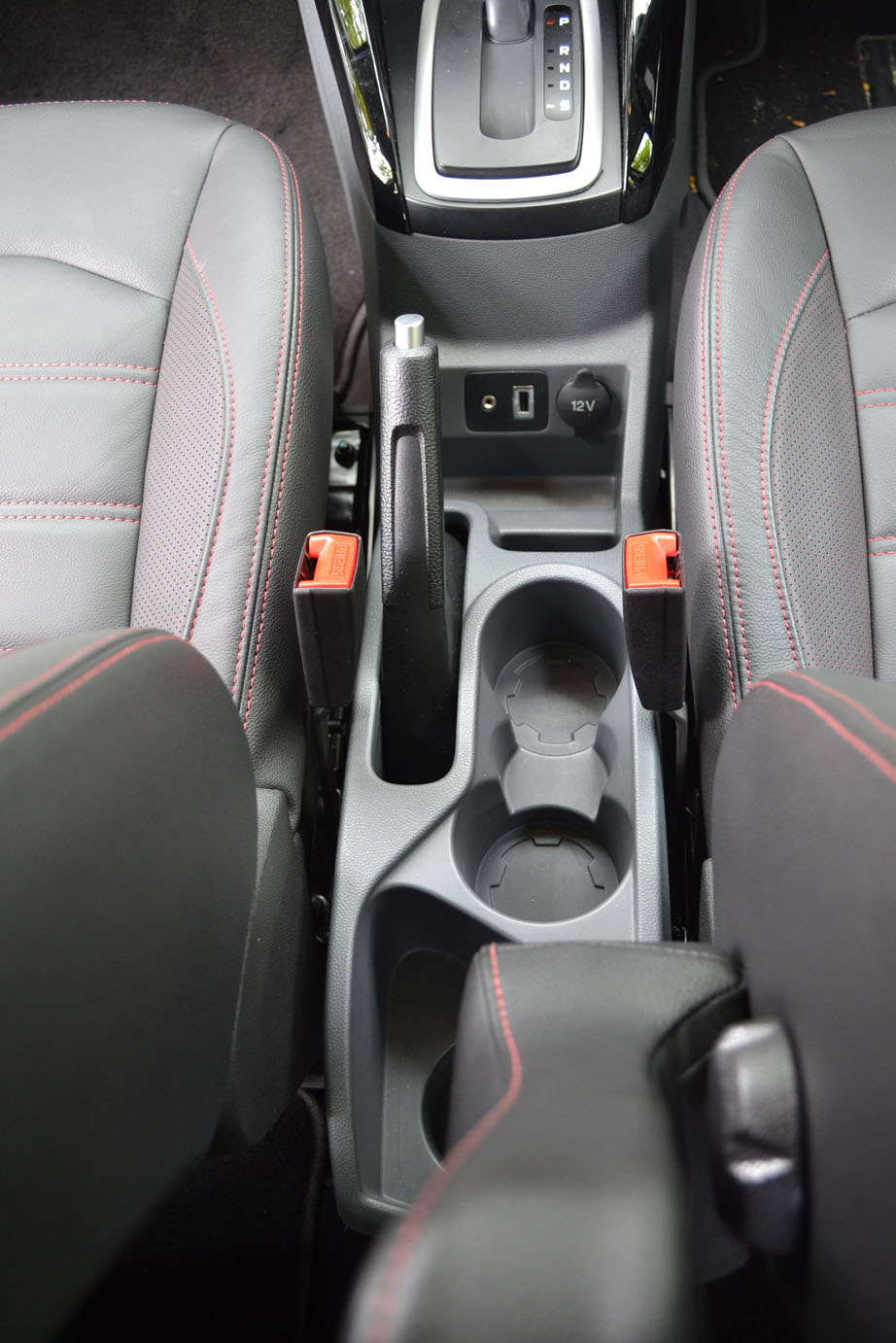 .
Cup holders for the EcoSport is found between the front passenger and driver and you get not two but three cup cubicles here, although the one most posterior is meant for rear passengers. The 12V electrical port as well as the USB and AUX-in ports can be seen here as well.
.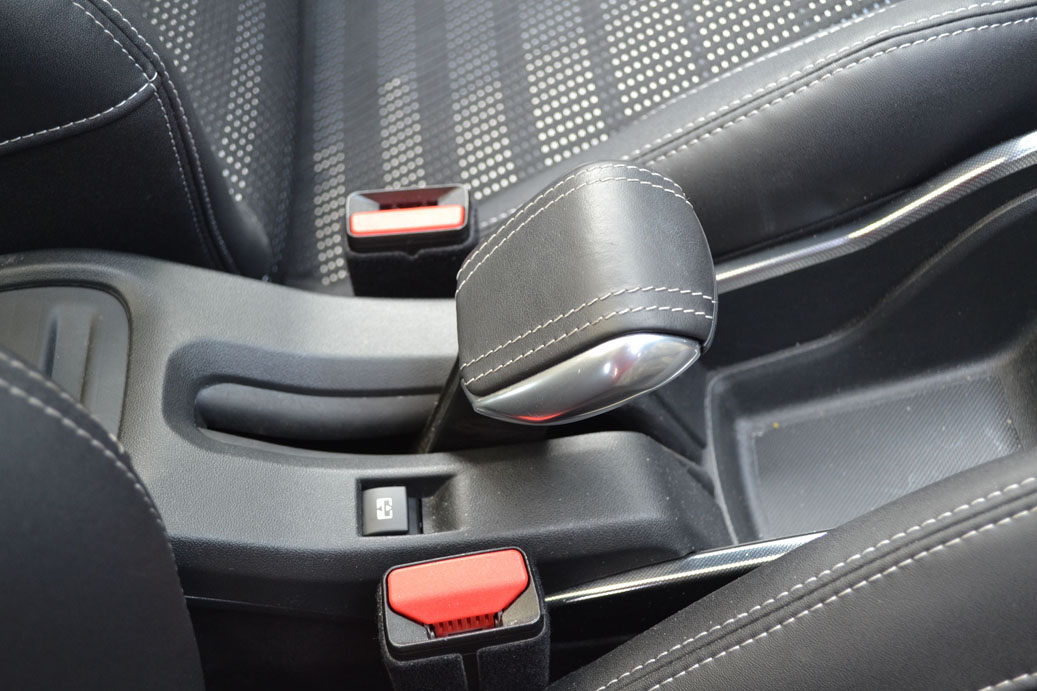 .
Aviation style hand brake – nice to look at but ergonomically less pleasant to use. Where traditional handbrakes have you grip and thumb the release to pull/push, the 2008's release requires fingers to operate and pushing/pulling is less instinctive.
.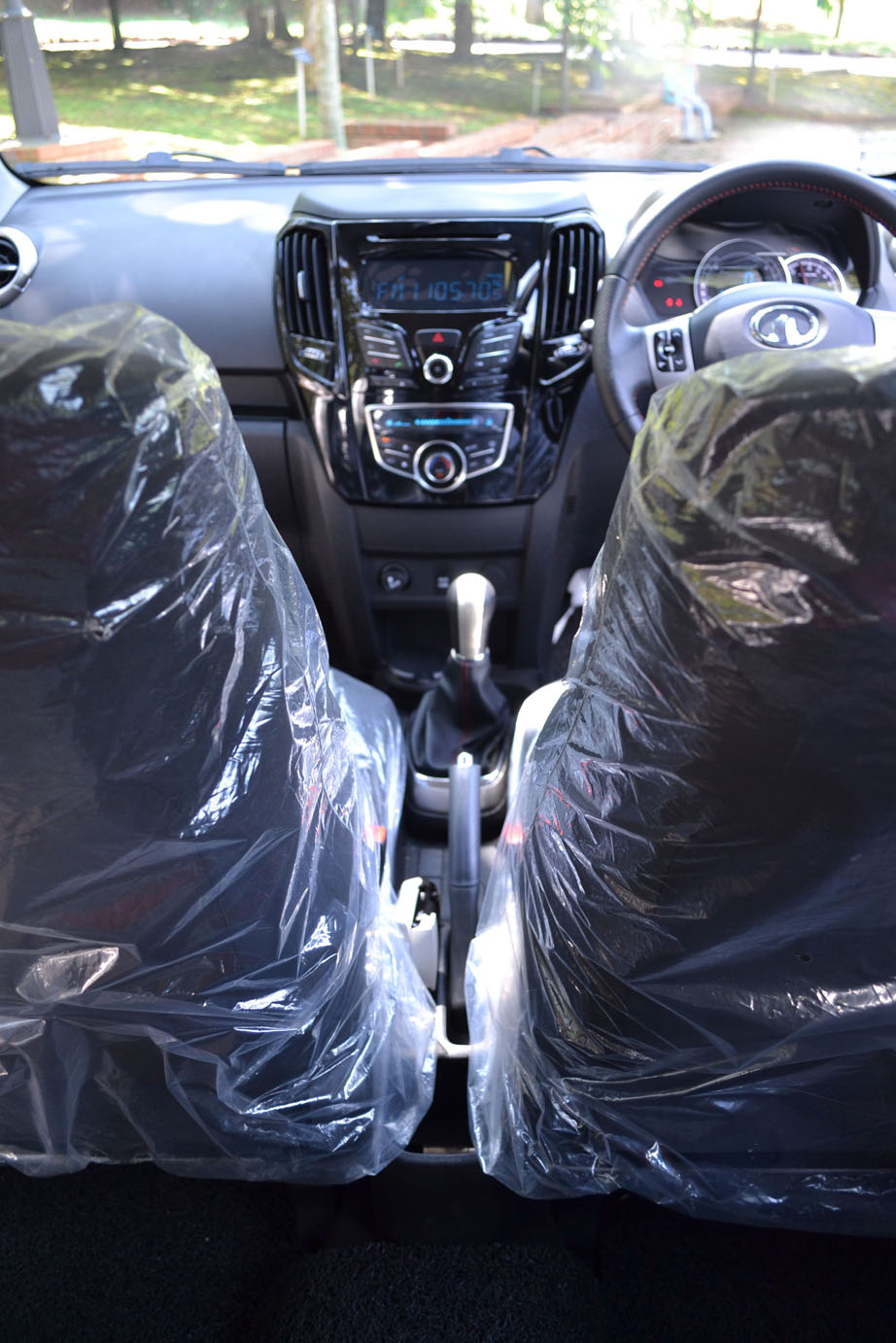 .
The space in between the front seats of the M4 has …. pretty much nothing. The M4 has the narrowest cabin among the three and this makes everyone sits closer to one another.
.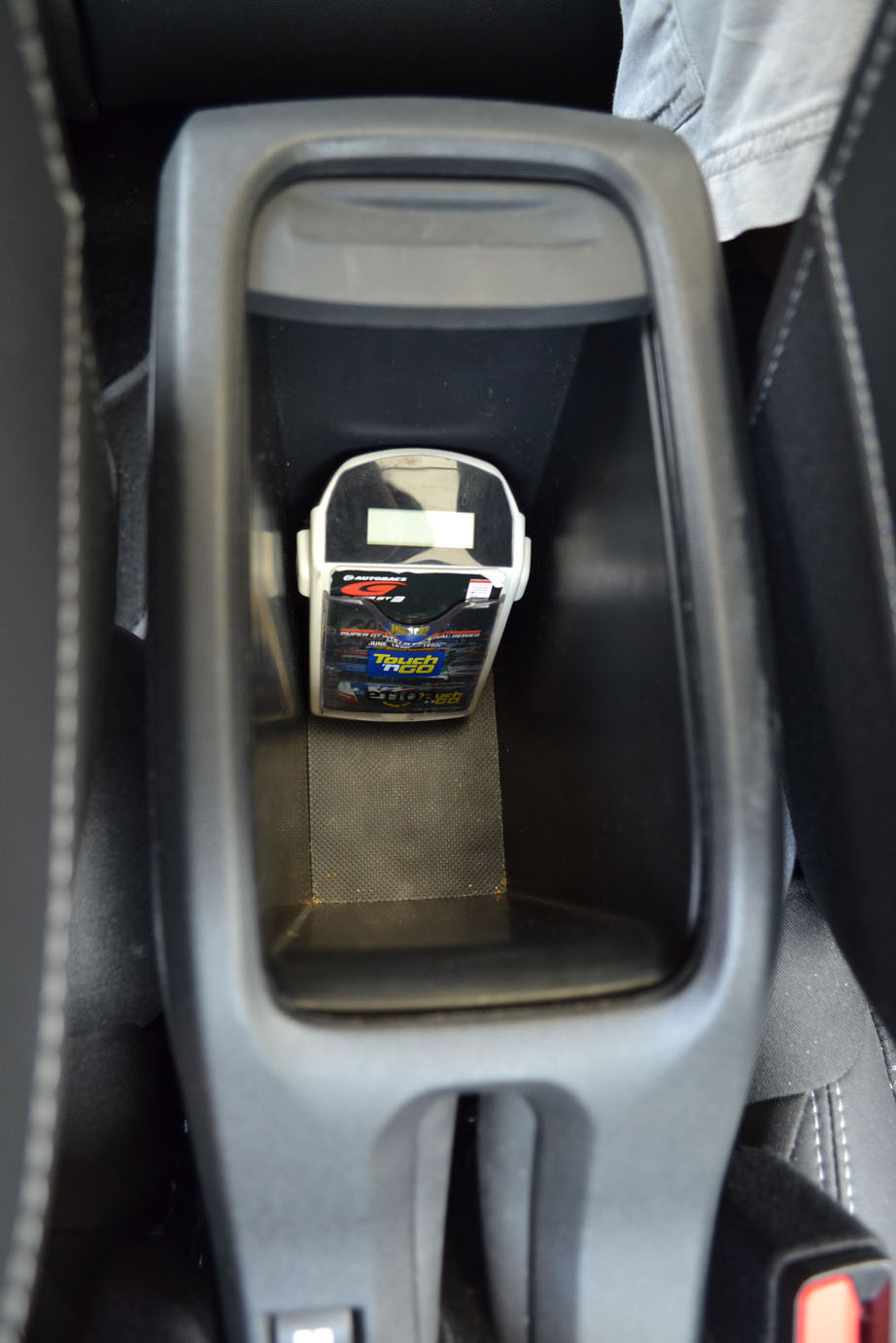 Both the EcoSport and M4 doesn't have a concealable center console and this makes hiding Smart Tags and other small valuables a bit more challenging. Dumping said items into the glove compartment may hide them from prying eyes but retrieving them from the driver's side with the seatbelt on could prove to be a challenge. Fortunately in the 2008, there is one such compartment.
.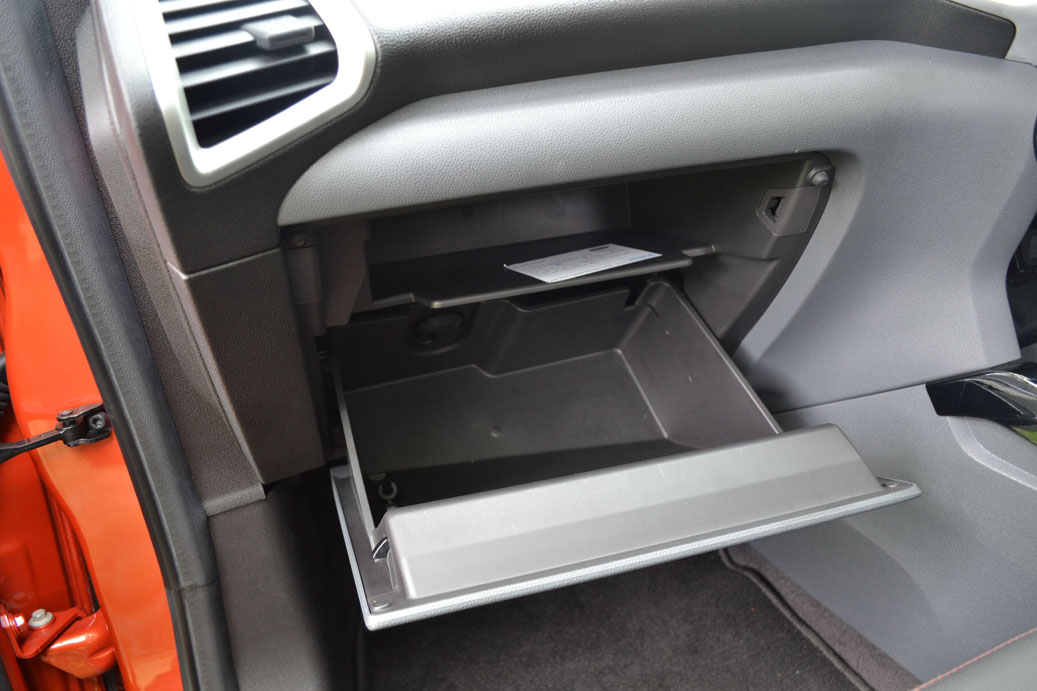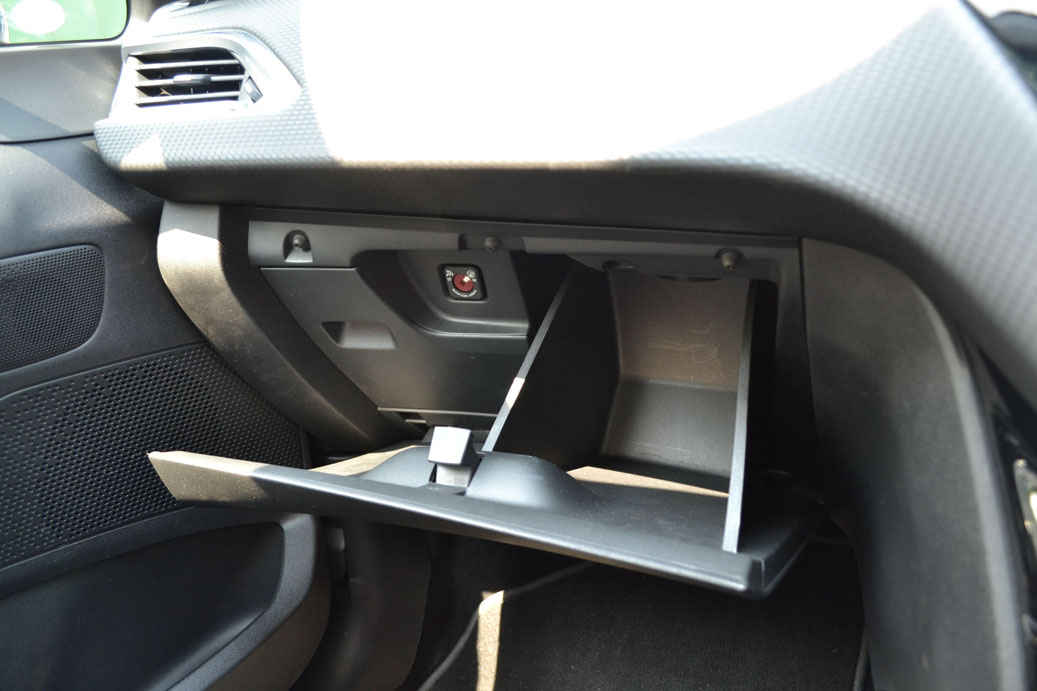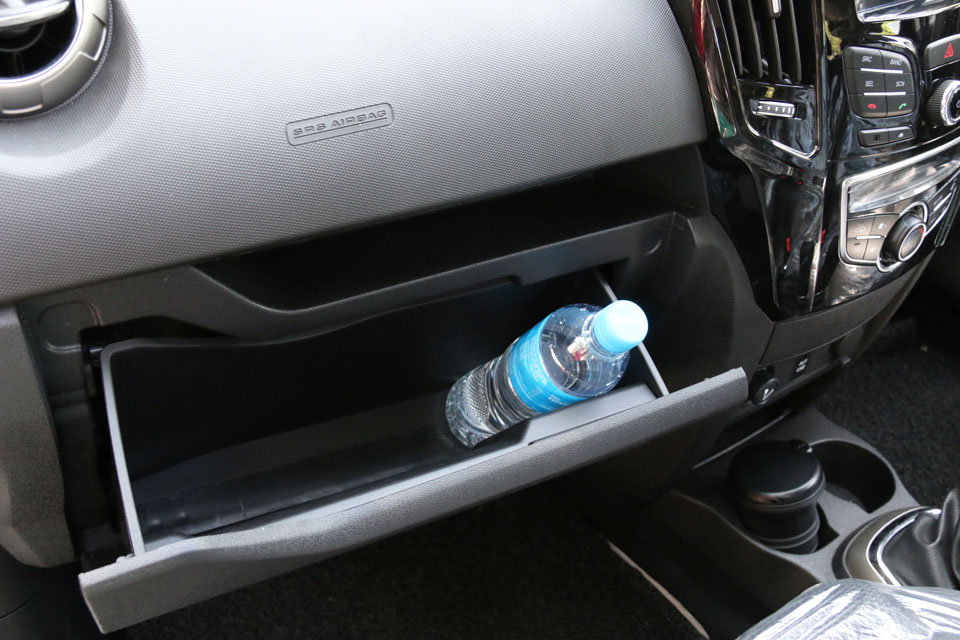 .
For glove compartments, the EcoSport offers the roomiest space; two tiered in fact so that you can separate fragile from hardier small items. The 2008's space is a joke, no thanks to the fuse box located there whereas the M4 lacks depth.
.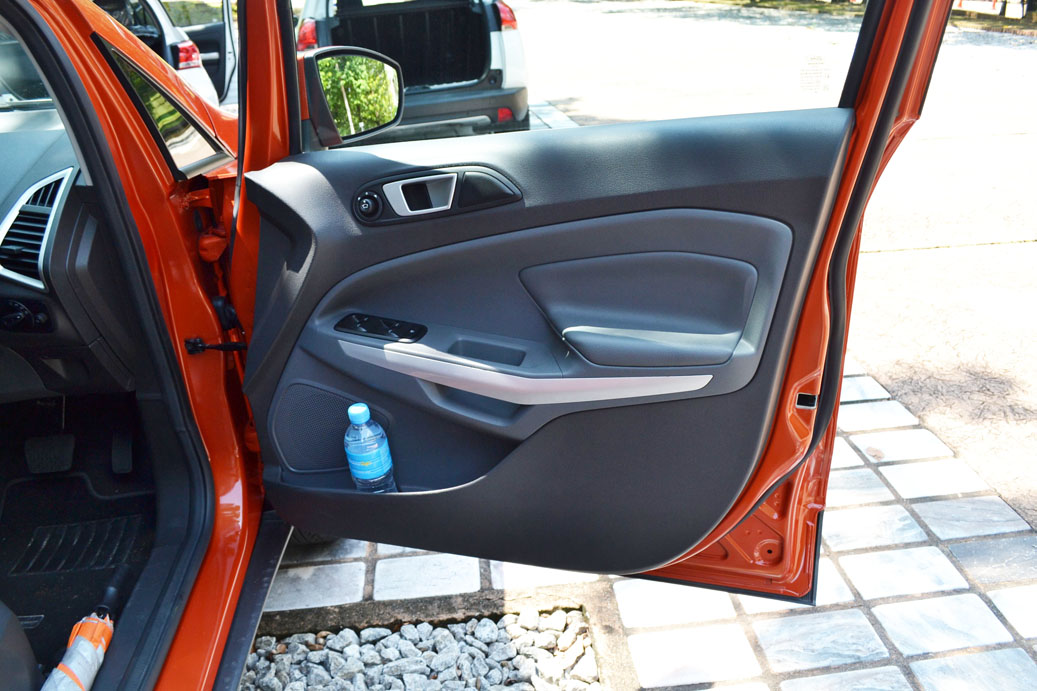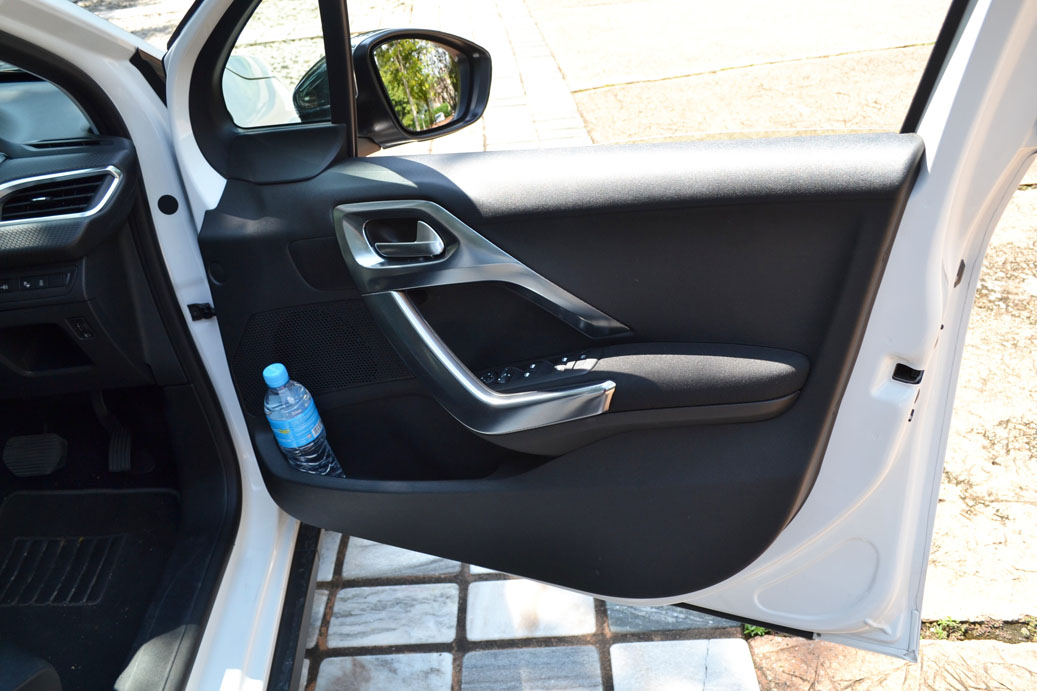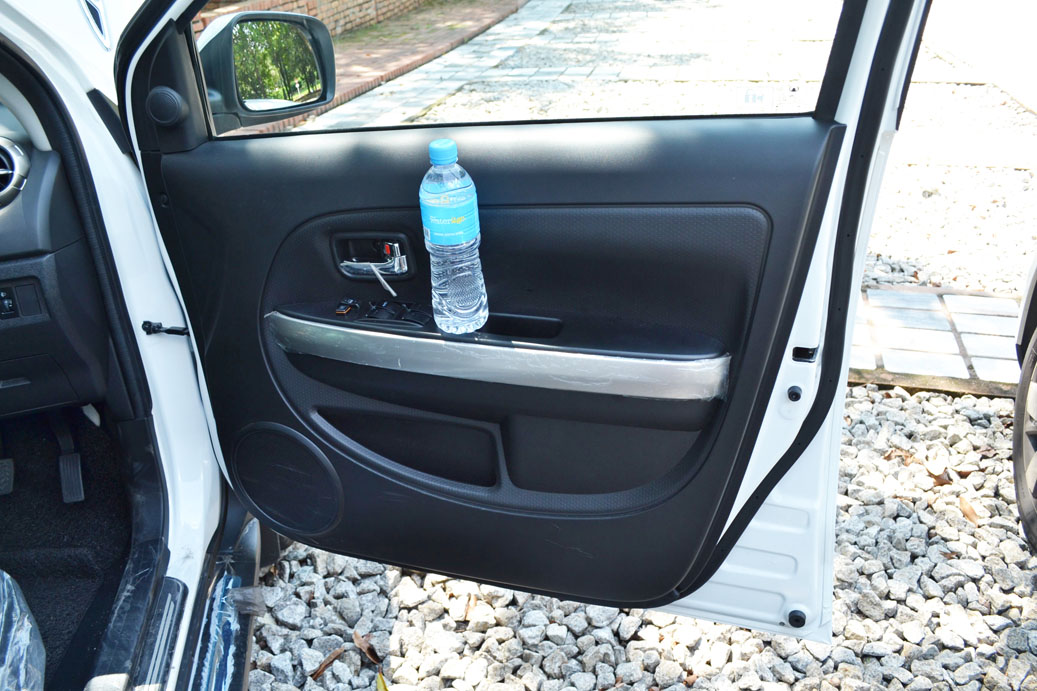 Door bins of both the EcoSport and 2008 has sufficient space for a 500ml bottle but the M4 has barely enough for a newspaper.
.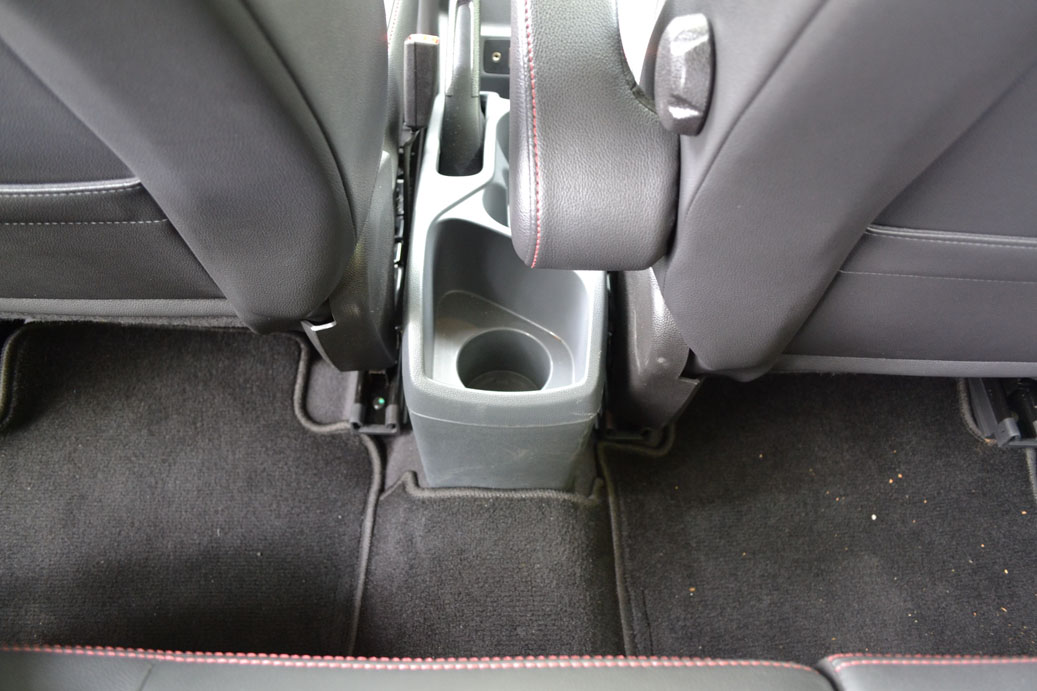 .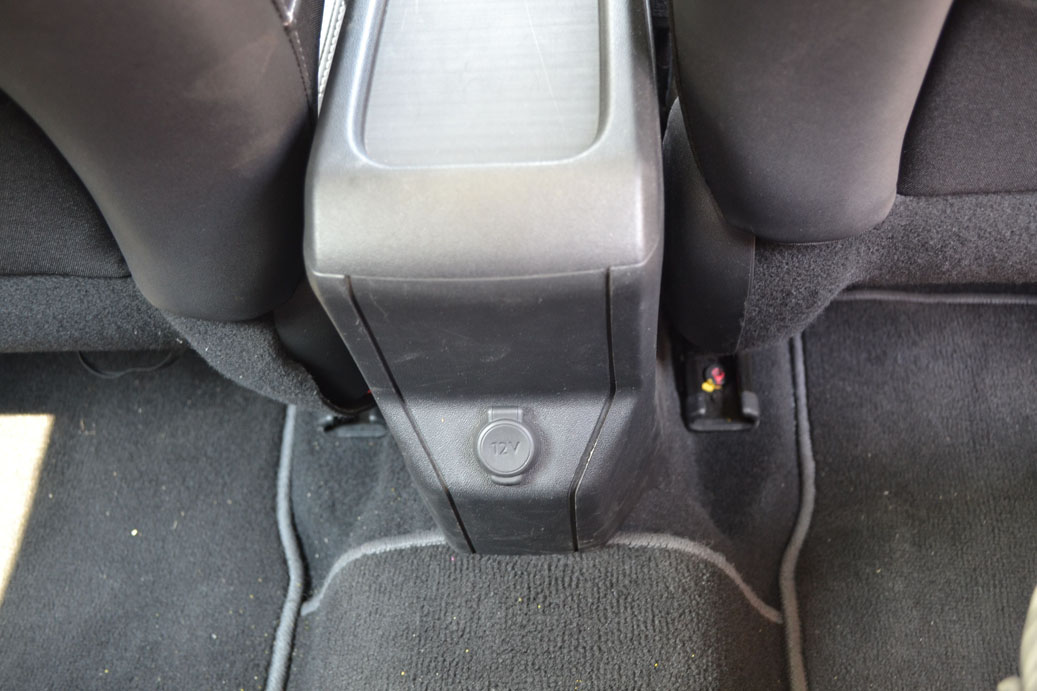 .
Moving behind, all three vehicles here does not have rear air conditioning vents since they're all B-segment sized cabins and rear passengers won't find miss it much. With the M4 offering nothing in the center console, the 2008 has another 12V power socket here while the EcoSport's rear 12V socket is found at the sides of the rear seat which is a position that some may wonder how water-proof it is in case someone has to open the rear door when it's pouring outside.
.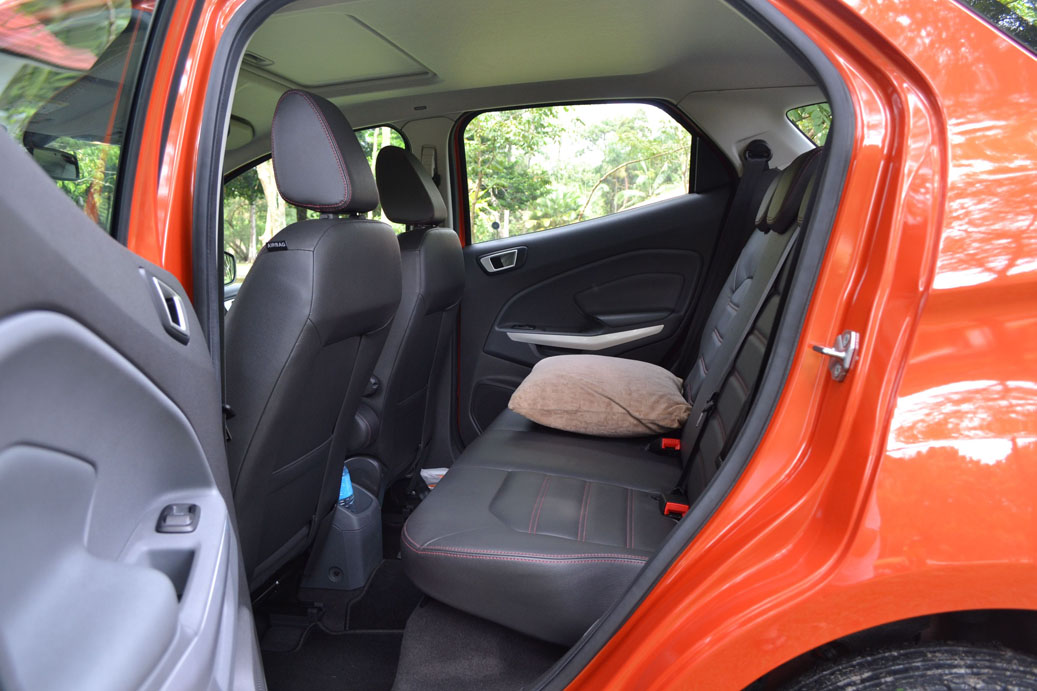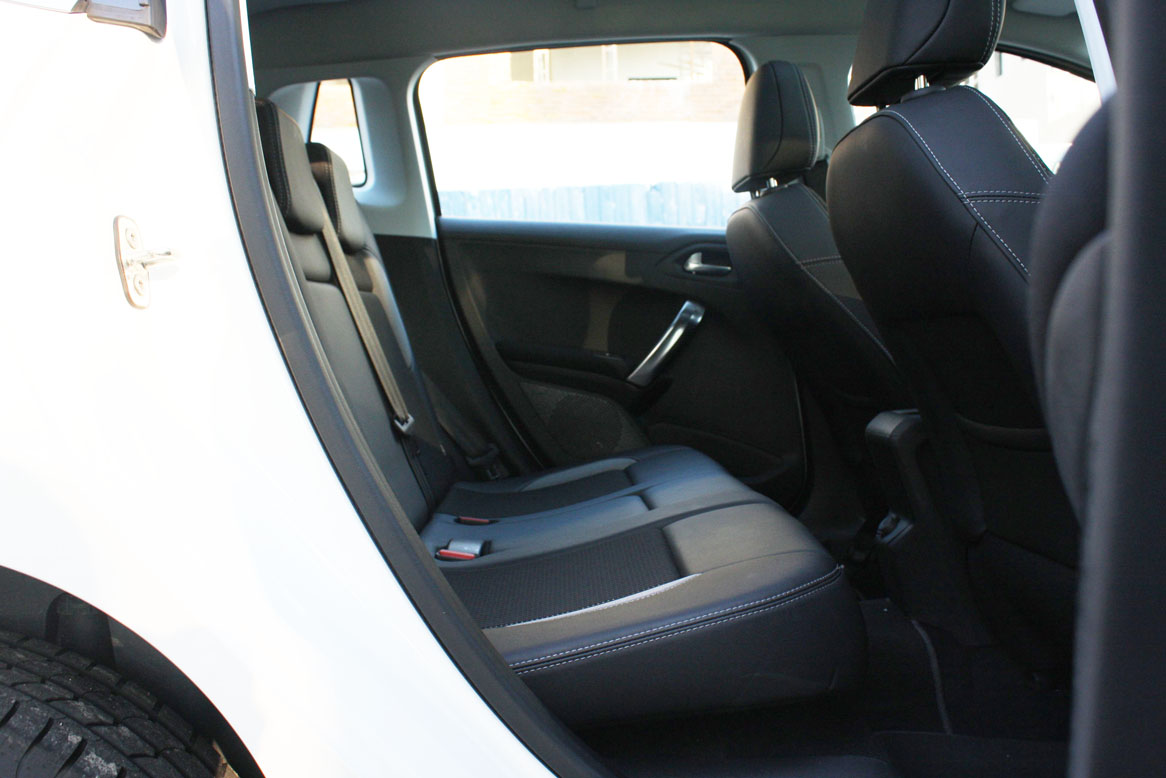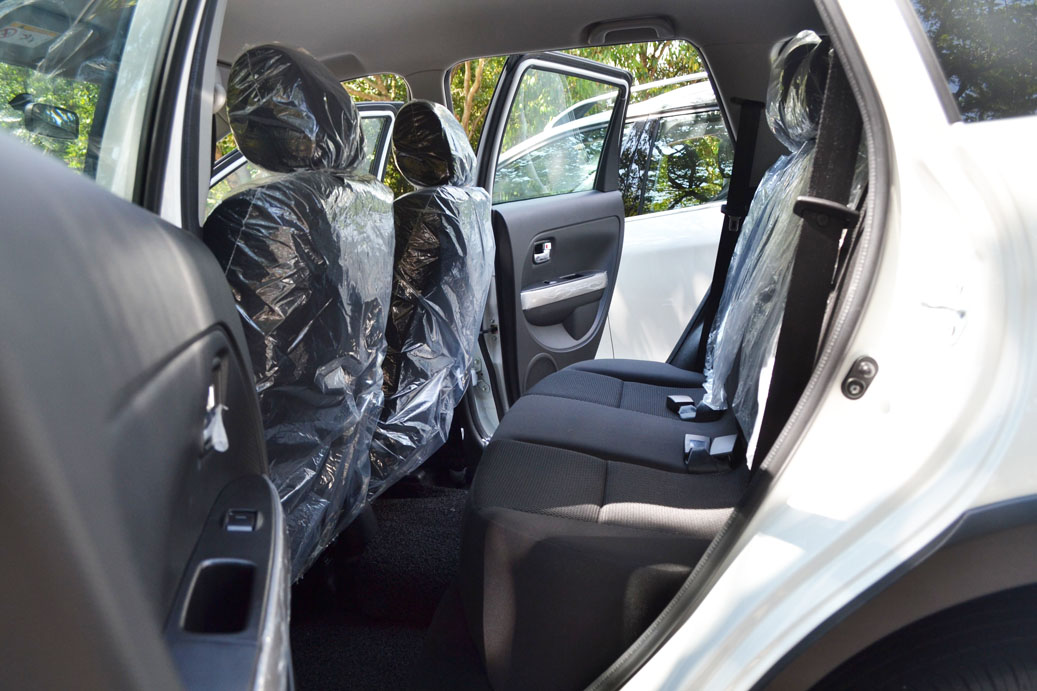 .
Make no mistake, these cabins are small so rear legroom comes at a premium. Having said that, if it's rear inclination, the EcoSport offers the most comfortable rear seats but the biggest grip one may have with it (especially true for those who regularly go outstation on working trips is the lack of hand holds in the cabin); There is absolutely nowhere for you to hang your working clothes in the EcoSport. You should pack a spare iron and ironing board whenever you go on such trips.
The 2008 has rear passengers seating rather upright and this is the same for the M4 but between these two, the 2008 has poorer headroom which makes it the least passenger friendly here.
It should also be noted that the Titanium spec EcoSport comes with full leather seats, the 2008 partial leather and the M4 is fabric with all leather seats reserved only for the Premium spec model.
.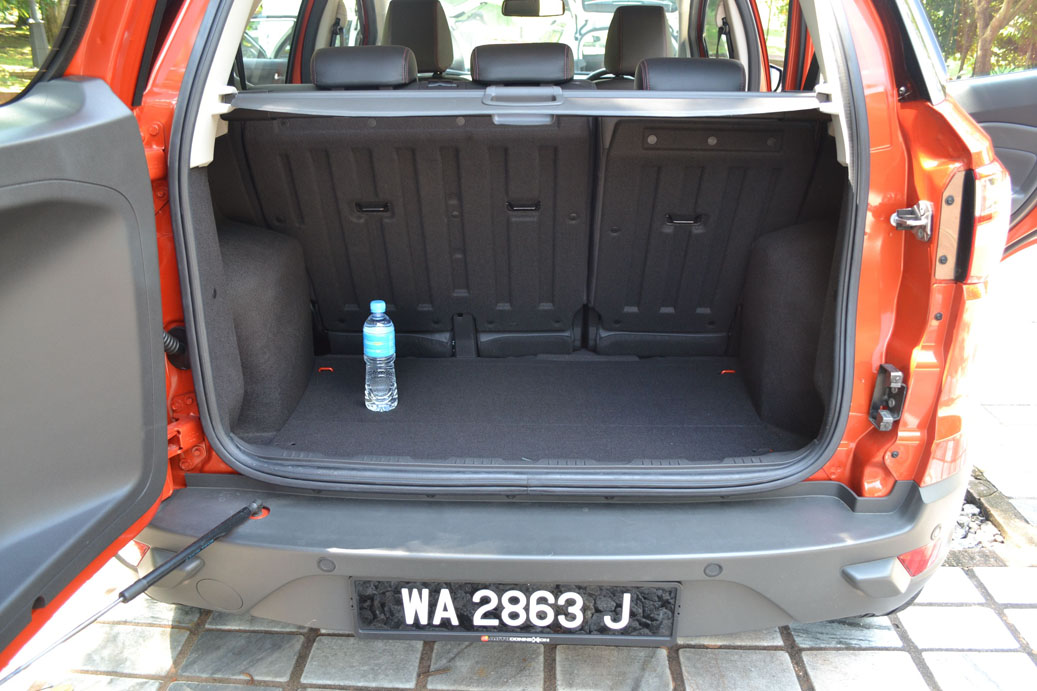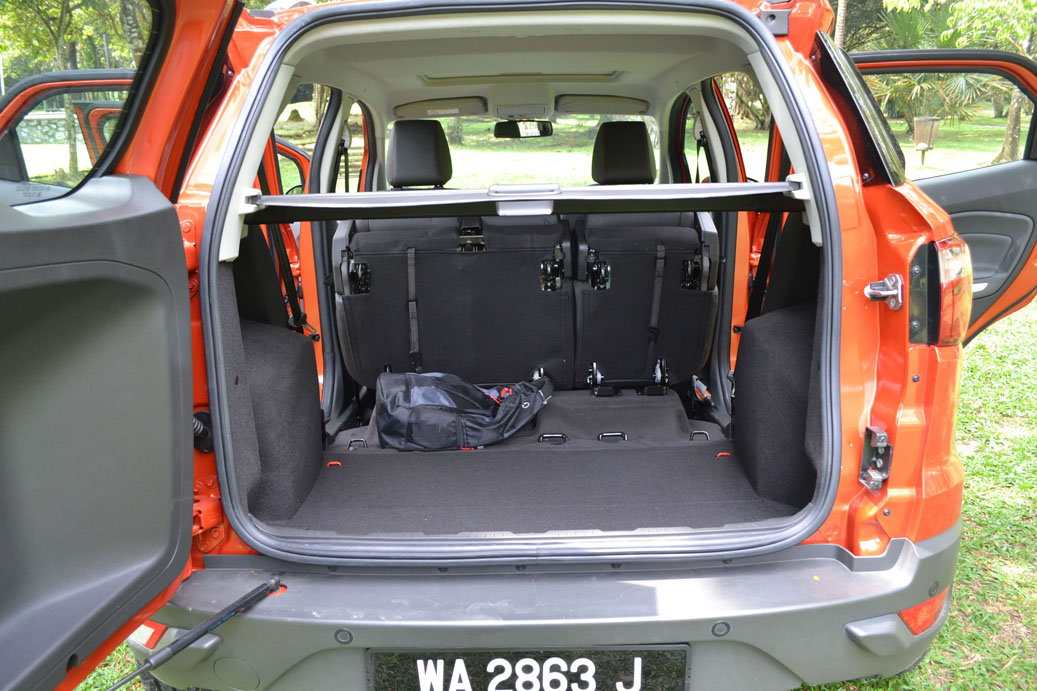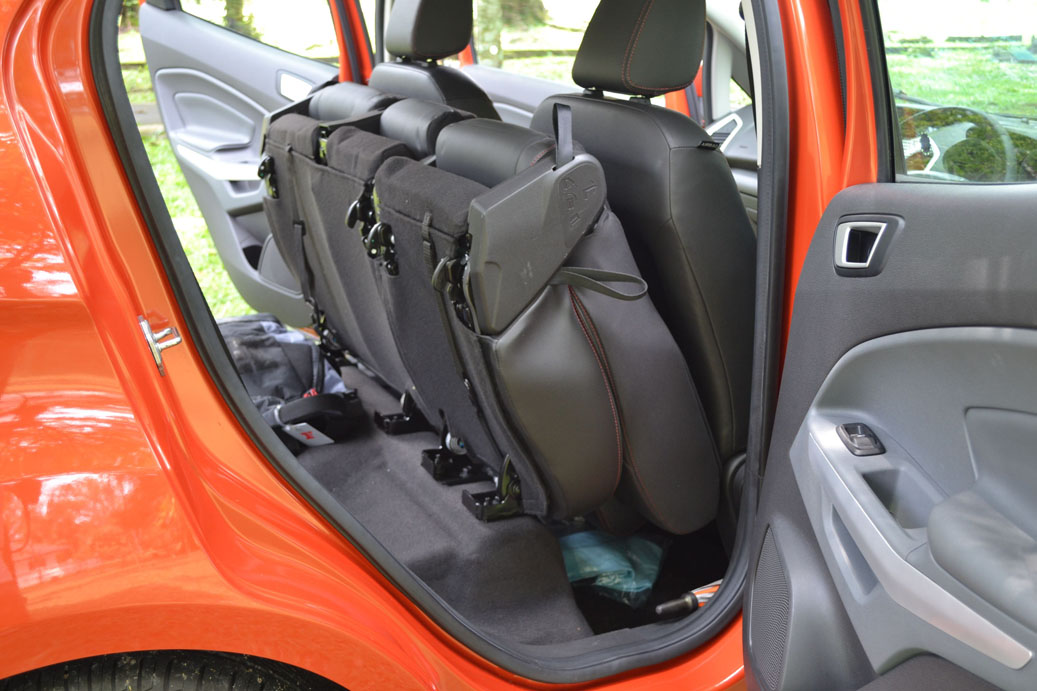 .
Being an SUV (albeit a small one), cargo space remains an important feature. The EcoSport offers 362litres of space with the rear seats up and this expands to 705litres when the seats are folded. Big enough for a washing machine as their brochure claims.
The EcoSport has the lowest platform when compared to the 2008 and M4, making it easier to load and unload cargo. Do be careful with the rear door though. Unlike traditional SUVs or hatchbacks, it doesn't swing up but opens sideways. The reason for this is because of the added weight of the external spare tire which adds weight to the whole rear door. Should it open upwards, it would require a stronger pump and it may not be as durable (not to mention you'd be constantly worried when the whole tire and door dropping down on you).
.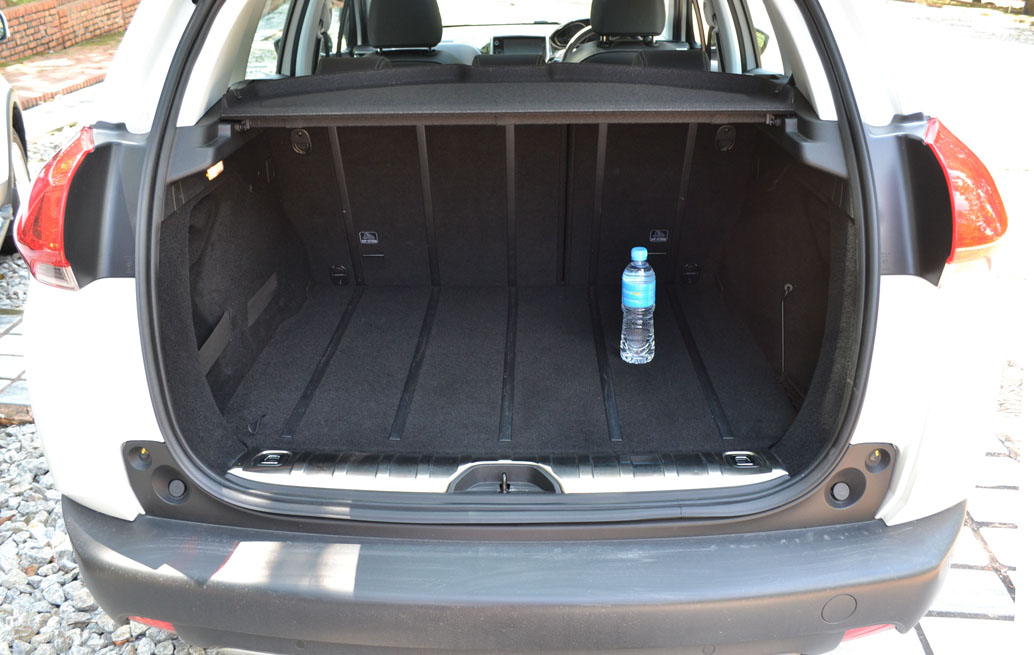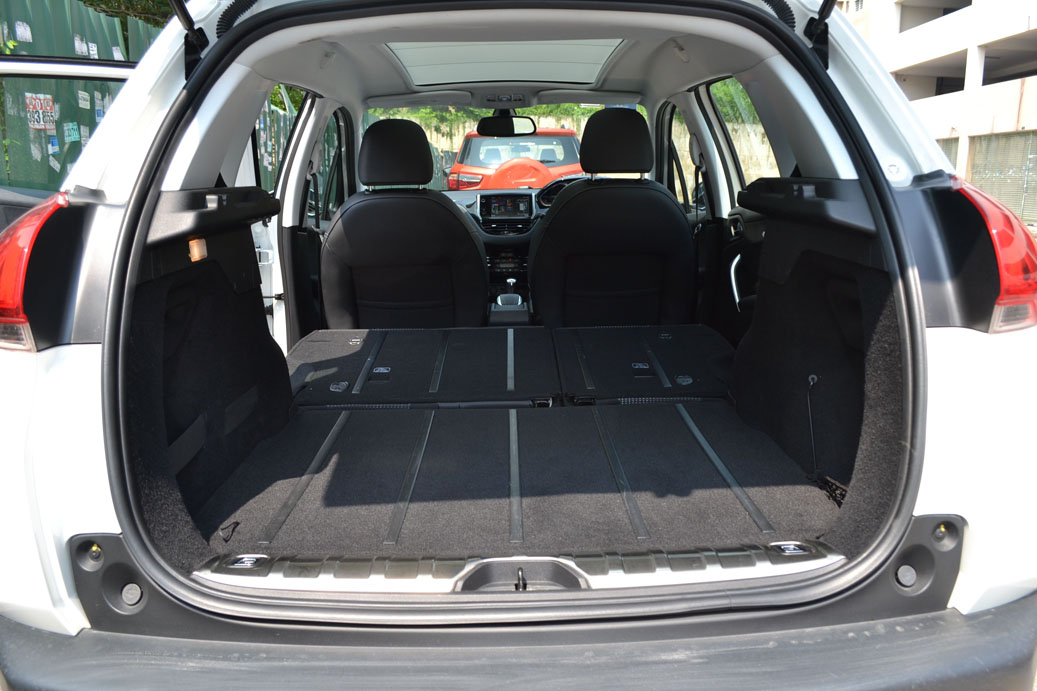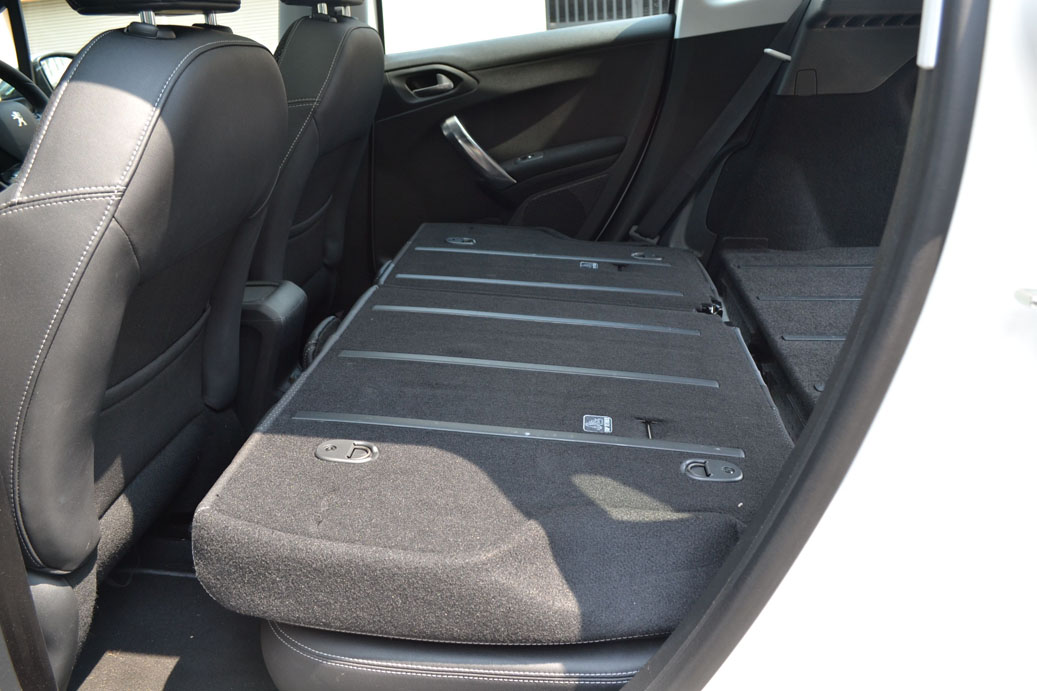 .
The 2008's 360litres of cargo space increases to a whooping 1,194 litres when the rear seats are folded, making this the king of good delivery among the three here thanks to its rear seats being able to fold down completely flat. Where a washing machine goes into the Ecosport, a small fridge would fit in here nicely and with some mattress, comforter and pillows, it can be converted nicely to a star gazing mobile bed, particularly when it has a moonroof that opens all the way to the rear.
.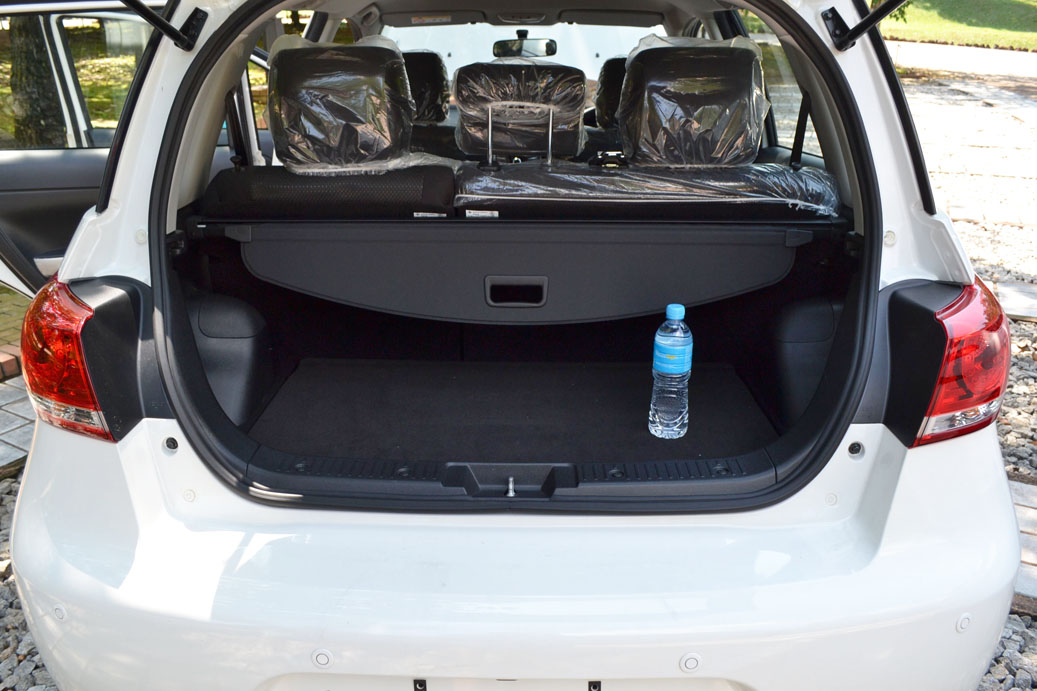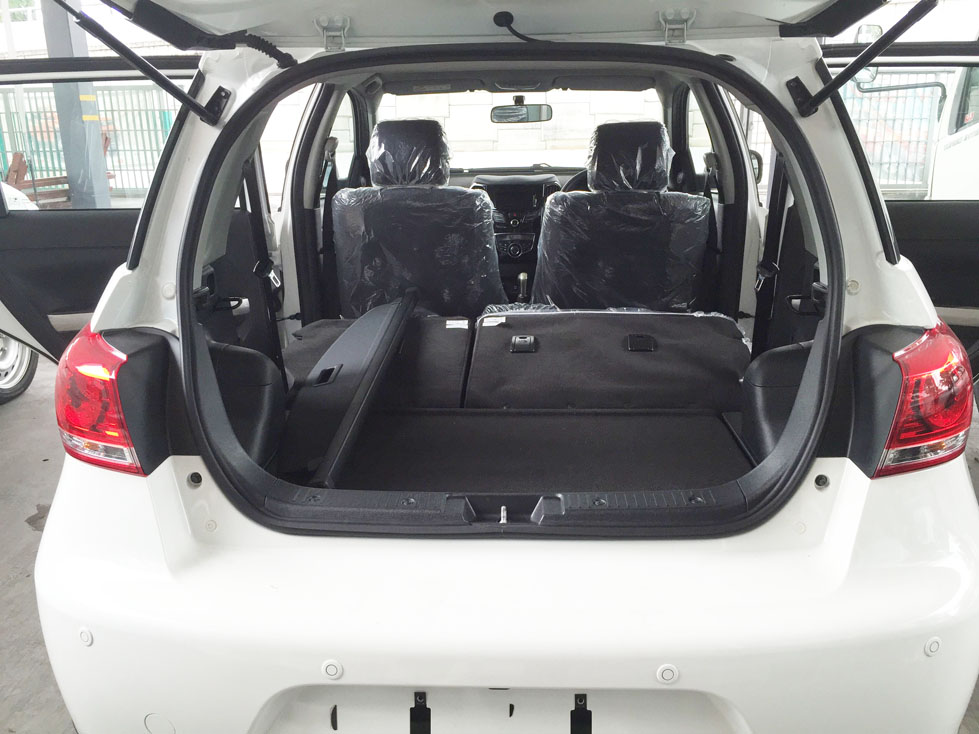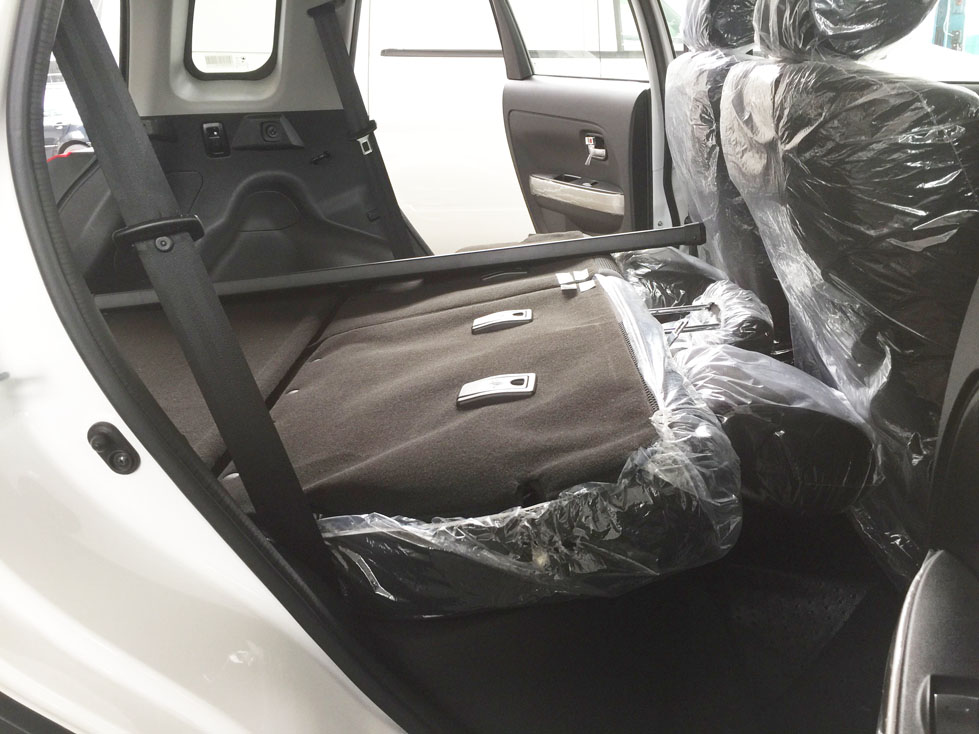 .
The M4's rear bench may not fold completely flat but it's close there. 310litres of space can be had if the rear seats are up but there is no data on how much cargo it can hold when the seats are down. My guess is it should top the EcoSport's.
.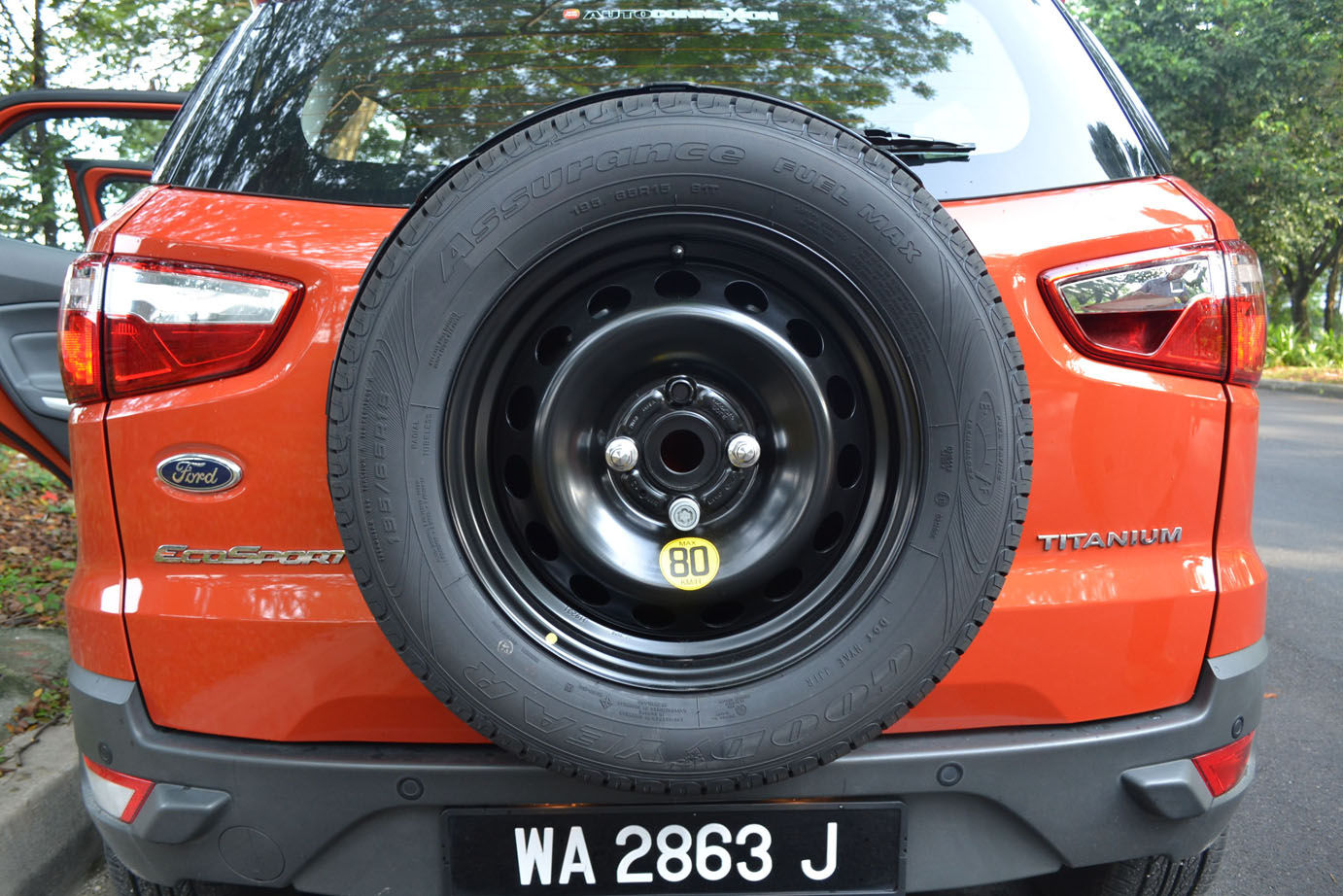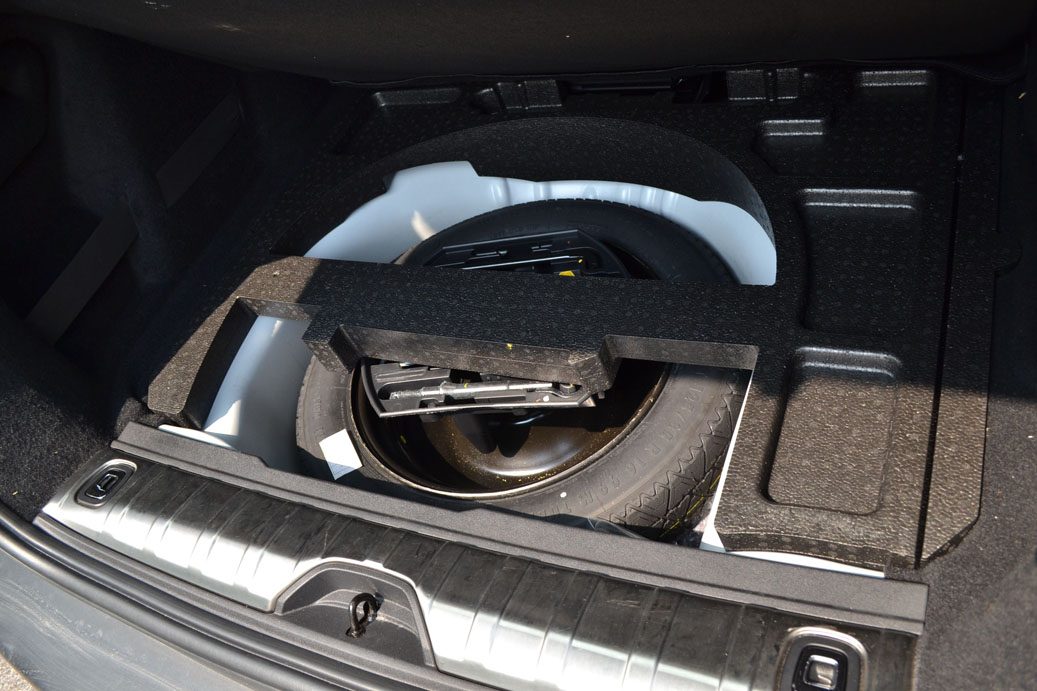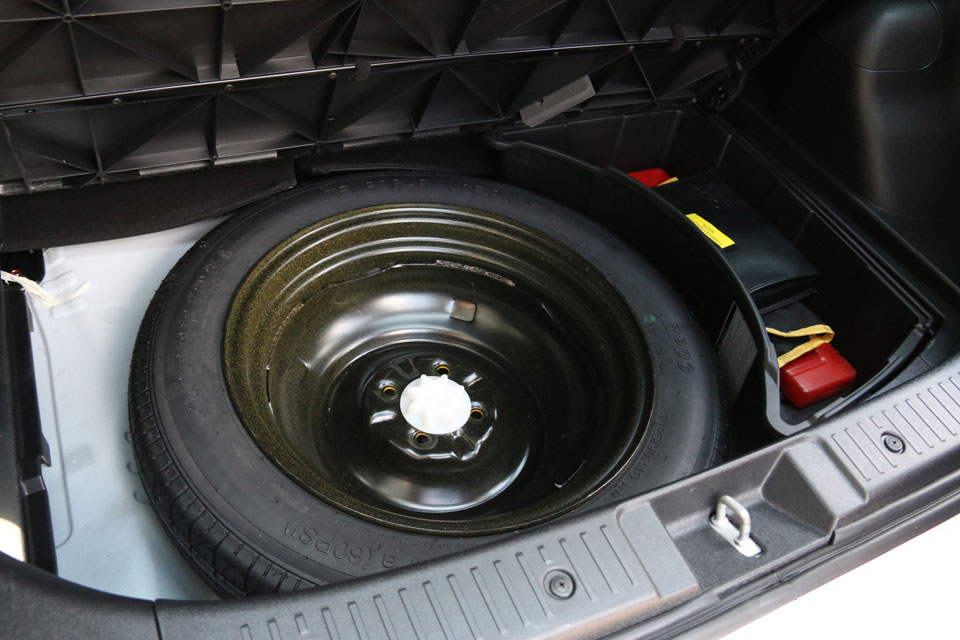 .
For spares, all three SUVs here make do with space savers but Ford oddly specifies the size for the EcoSport's spare to be smaller than the running tires. At 15″, the spare is one rim size smaller but its aspect ratio is 65 (vs 60) so the rolling diameter remains similar.
.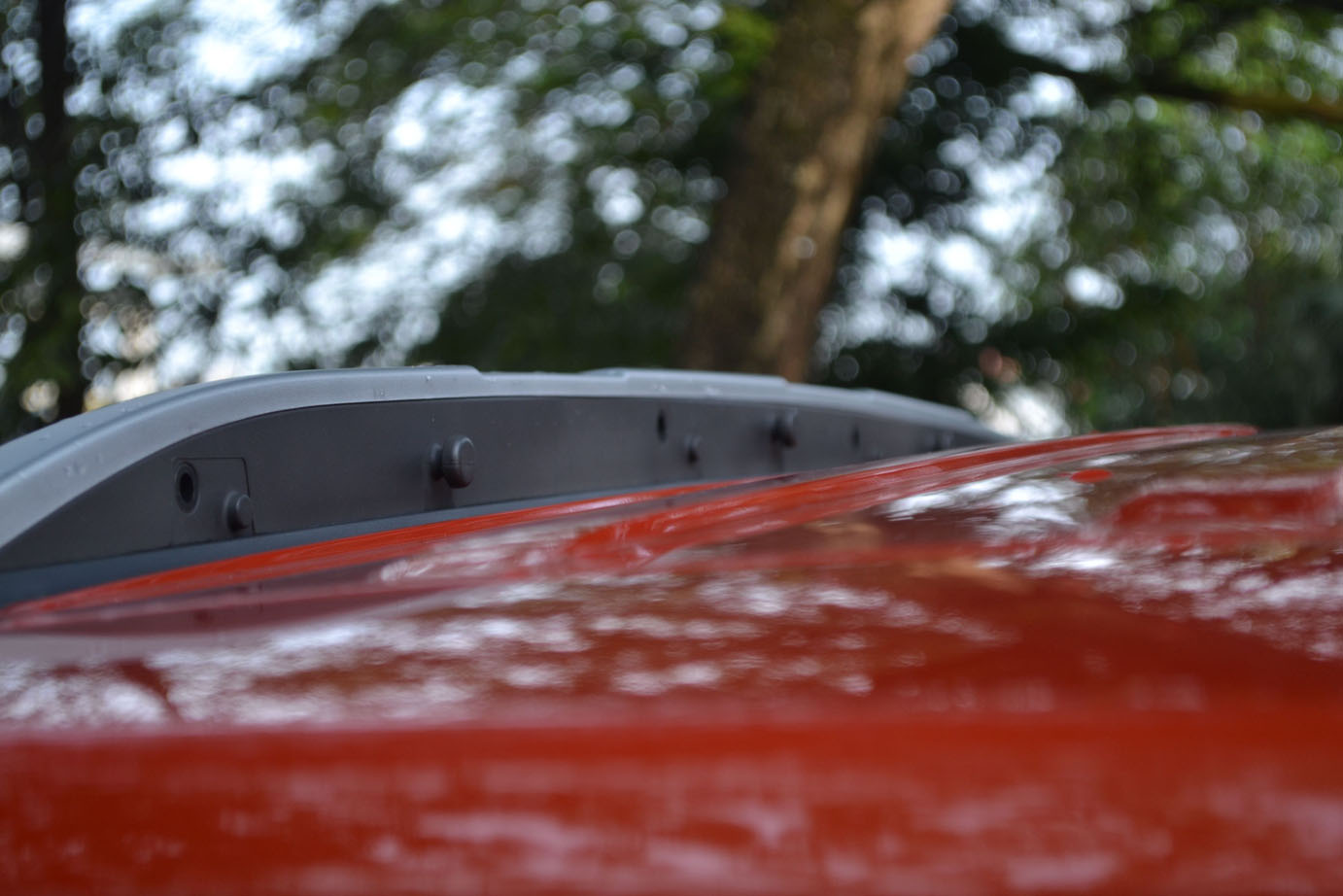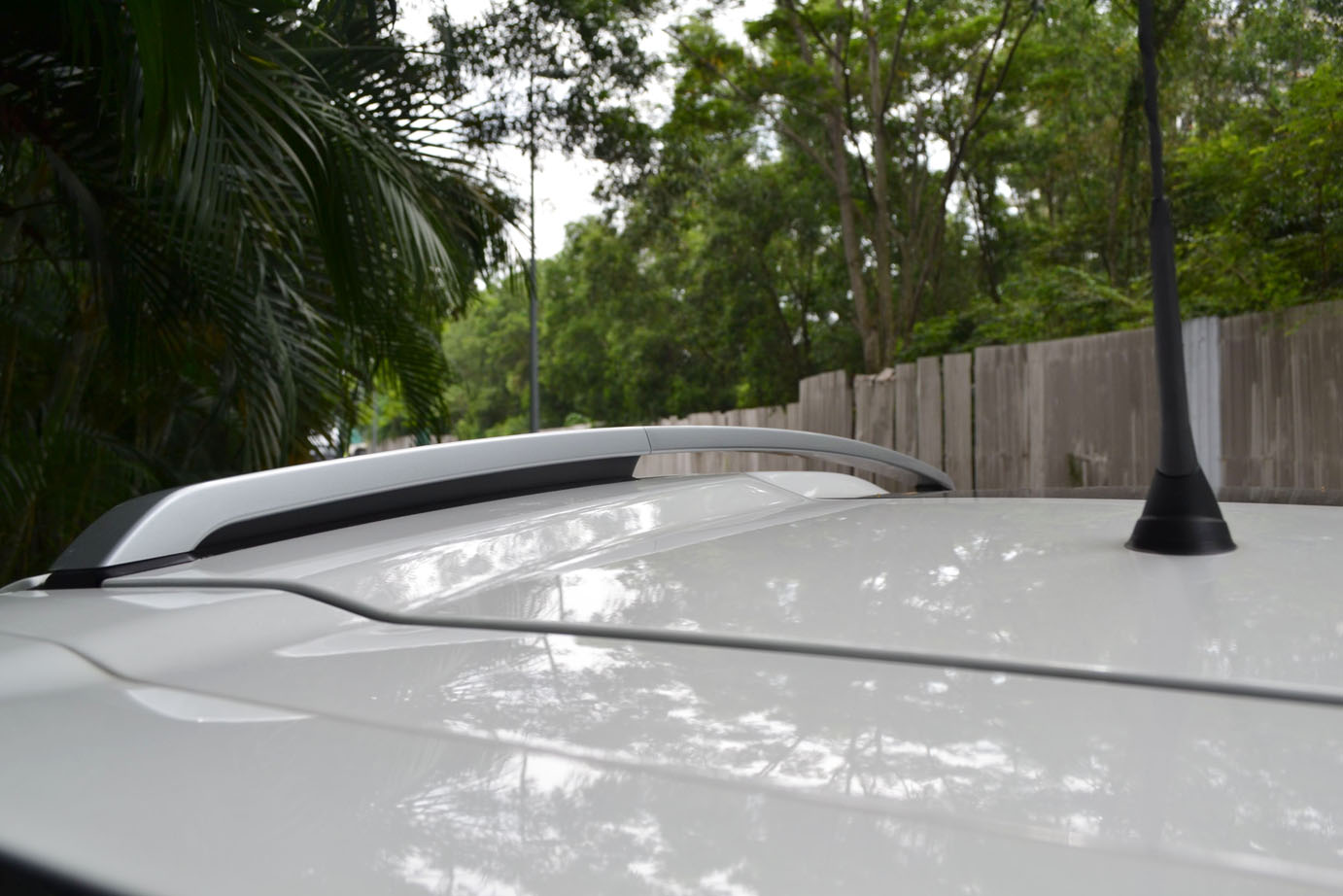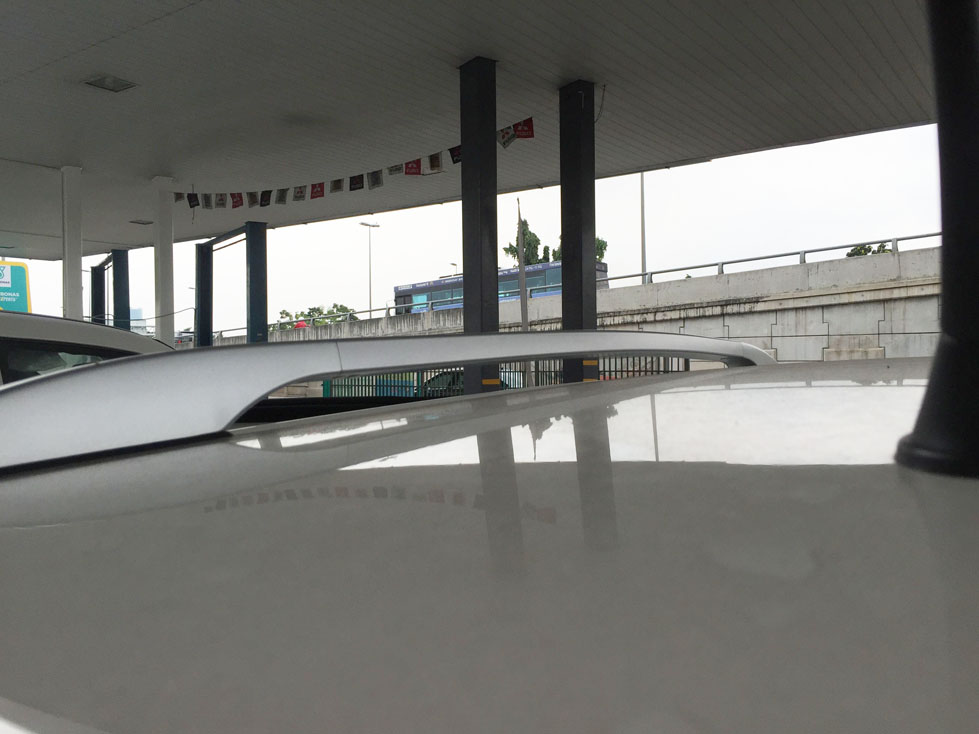 .
All three features roof rails as befitting their SUV genes but it's the EcoSport's that's proven to be most utilitarian with holes and studs set on the rails whereas the other two has smooth rails with no indication of the amount of weight they can carry.
.
.
Safety
.
Ford Ecosport 1.5l Titanium
7 airbags
ABS
EBA
EBD
ESP
TCS
HLA
Passive Anti-Theft System (PATS) with Immobilizer
Seat belts with Pre-tensioners
Central Lock
2 x ISOFIX Child Seat Mounting Points
Rear Parking Aid with Park Pilot
Front disc, rear drum brakes
.
Peugeot 2008
6 airbags
Advanced Electric Power Steering System (EPS)
ABS
EBA
EBD
ESP
ASR
DSC
Hill Start Assist
Very High Strength Steel (VHSS) body structure
Deadlocking
Electric child safety door lock
Peugeot rolling code transponder immobiliser security
Auto hazard light on de-acceleration
2 x ISOFIX anchorage points at rear
3 x 3-point rear seat belt
5-star Euro NCAP
4-wheel disc brakes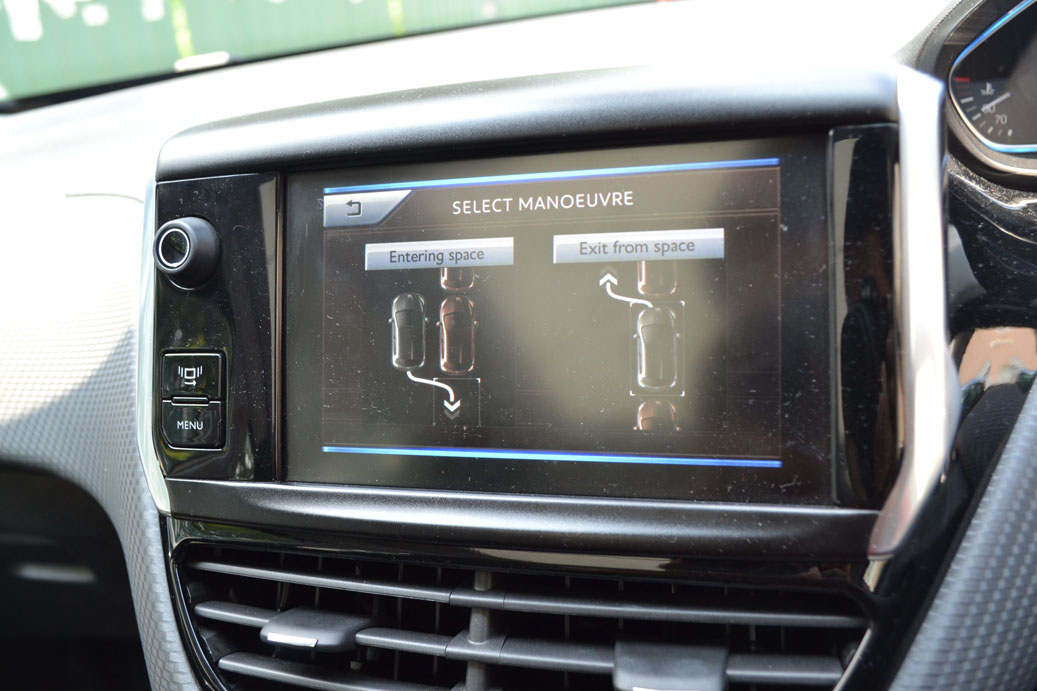 Special mention must be made of the Peugeot's Smart Park Assist, a system that controls the steering angles automatically by using the car's front, side and rear sensors and leaving the driver to modulate the gas and brake pedals only. And, unlike most systems which helps you move the car into parking position, this system can also be used to exit a parking spot. Fellow write, Vinod Nair shares his views of how this system made his life more – interesting HERE.
.
Great Wall M4
2 airbags
ABS
EBD
BA
Height adjustable front seat belts with pre-tensioners
3-point seat belt for center rear seat
Manual internal anti-glare rear view mirror
Rear door child lock
Child seat fixing device
Reverse sensor (Comfort and Premium spec only)
Reverse camera (Premium only)
Battery alert sensor (BAS)
Engine immobiliser
Door automatic locking function (Comfort and Premium spec only)
Seat belt unfastened warning system
Door ajar warning system
Key-in-ignition warning system
High level brake light
4-wheel disc brakes
Note: ESP is supposed to be offered in the CKD pack but no official news yet.
.
.
Specifications
.
Ford Ecosport 1.5l Titanium
Exterior
Chrome finish front grille and front fog lamps
Power slide sunroof
Auto headlamps with Home safe lighting
Power adjustable wing mirror
Front and rear fog lamp
Auto rain sensing wiper
Rear wiper and de-fogger
Silver painted roof rails
205/60 R16 tire
Spare tyre with cover
Interior
Smart Keyless Entry and Push Start button
Steering with audio control
Full leather seat with leather door trim
60:40 split folding rear seat
Electronic Automatic Temperature Control (EATC)
Leather wrapped steering wheel and gear knob
Auto dimming rear view mirror
Driver seat adjustable lumbar support and armrest
Front passenger under seat shoe stowage
Driver & front passenger sunvisor
Power window with Driver's One touch auto up/down
Fuel computer
Cooled glovebox
SYNC Audio System with Bluetooth Connectivity & Voice Command, CD, MP3, AM/FM, Auxiliary Input, USB unit with iPod functionality
6 speaker system
.
Peugeot 2008
Exterior
Front & Rear LED Signature Lighting
Smart Park Assist (entry & exit)
Front and rear parking aid with audio visual asisstance
Chrome grille design
Auto headlights & auto wiper function
"Follow me home" security lighting
Remote "Guide me home" security lighting
Cornering Assist Fog lamp
Driver and passenger rer view mirror with heater
Electric folding mirrors with chrome
One touch all power windows with anti-pinch
Front and rear fog lamps
Automatic rear wiper in reverse gear
16″ two tone alloy rims
Side mirror in chrome finish
Interior
Panoramic roof with mood lighting & electric sunblind
Color touchscreen with USB & Bluetooth connectivity
Arkamys 3D Sound Audio System
6 speaker system
Digital dual zone auto air-conditioning
Head Up instrument panel with LCD colour display, multi stage illumination and blue lighting surround
Trip computer, trip distance recorder, service indicator, engine oil level, speedometer, door opening status and audio source
Leather steering wheel with intuitive controls
Aviation style parking brake
Advance electric power steering system
Driver and passenger seat height adjustment
Centre armrest with storage
Smart one touch 60:40 foldable rear seats
Passenger and driver sun visors with vanity mirror (illuminated)
Auto dimming rear view mirror
12V power socket for First and Second row
.
The GWM M4 (Premium spec)
Exterior
Electrically, height adjustable halogen headlamps
Front and rear fog lights
Front boneless wiper
Luggage carrier (Comfort and Premium spec only)
Spoiler (Premium spec only)
Door visor (Premum spec only)
Body-coloured Manually Foldable and Electrically Adjustable Side Mirrors with Integrated Side Indicator (Premium spec has Defogger)
Interior
Steering wheel with audio controls
Polyurethane Steering Wheel (Premium spec only)
Leather steering wheel (Comfort and Premium spec only)
Trip Computer
12V Power Outlet
Luggage Cabin Curtain (Comfort and Premium spec only)
Power Windows(Four Doors)
Fabric seats (Premium spec has leather seats)
4-way Manually Adjustable Driver Seat
4-way Manually Adjustable Front Passenger Seat
60:40 split folding rear seats
CD, USB, Radio AM/FM Multi Media system (Comfort and Premium spec has M5 7″ LCD display with navigation)
Around view camera system (Premium spec only)
4 low tone speakers (Comfort and Premium spec has 2 high tone + 4 low tone speakers)
Rearview Mirror with smart tag (Premium spec only)
Manually Electric Air Conditioning (Premium spec has automatic)
.
Ownership and Maintenance
.
The Ecosport Titanium spec, as tested here retails for RM103,888 OTR inclusive of insurance (The lower spec-ed Trend costs slightly over RM10k less). It comes in four different colors, namely Mars Red (as seen here), Winning Blue, Frozen White and Midnight Sky. Ford offers the EcoSport with a 3-years or 100,000km warranty. The good news is Ford is also offering a 3-years or 60,000km Extended Service Plan which covers all service costs (including consumables such as engine oil) with the vehicle.
The Peugeot 2008 meanwhile sells for RM119,888 OTR inclusive of insurance. Available in Digital White (as tested), Virtual Blue, Dakota Brown and Artense Grey, the 2008 comes with an unlimited mileage 5-years warranty.
The Great Wall M4 has three variants to choose from and each variant has both auto and manual form. The OTR inclusive of insurance private registration price is as follows:-
5-speed manual
Standard – RM46,990
Comfort – RM51,990
Premium – RM56,990
6-speed automatic manual transmission AMT
Standard – RM48,990
Comfort – RM54,990
Premium – RM59,990
Choice of colors include Blue Black, Orange, Silver, White, Red and Blue and it comes with a 3-years or 100,000km warranty, the same as the EcoSport
.
Now comes the difficult part; which one to pick? In all honestly, even though they're all in the same segment, each of their strengths could not be more different. The EcoSport offers features that targets those who love going to rugged places, the 2008 aims at full time urbanites who prowls the concrete jungle while the M4 caters to those who needs something affordable and easy to run around with.
To start with, the EcoSport presents a very valid proposition for our Malaysian roads. With potholes appearing faster than the municipal councils fixing them and even more prevalent are flash floods, the high ground clearance and superb wading depth makes it the undisputed winner if we evaluate an SUV from a truly sports utilitarian point of view. It's looks and questionable ergonomics such as the rear 12V power socket, playing thumbs on manual override of a jerky dual clutch Powershift transmission makes buyers a little hesitant in paying the deposit for one.
The Great Wall M4's value is unprecedented. Many of us believe the maxim you-pay-for-what-you-get and with the starting price of about RM47k, many assumed that the quality will take a beating. After all, this is a "China" car and mainland China hasn't been known to be producing top-quality vehicles. But surprisingly, the M4 holds up quite well. Sure, the materials aren't exactly Gucci quality but the fit and finish is excellent and for a vehicle at this price point, it's pretty cool. Cheap and cheerful? You betcha! At least you won't be in so much pain if your missus or college going kids scratch it. The only question that only time will tell is how good the after sales support is going to be. With 39 service centers on Peninsular Malaysia's most major towns and cities and 3 in East Malaysia with plans to open more branches plus a full-fledged local assembly operations here in Malaysia, Great Wall is shaping up to be a strong contender in the automotive sector of Malaysia.
The 2008 is the eldest among the trio here but that has not stopped it from winning awards. It's got the typical French flair for styling, filled with features that'll appeal to the modern Gen-Ys and a flat bed! It's almost perfect for any couple or young family – almost because of its 4-speed gearbox, would be nice if they had keyless entry/push start and it's rather discouraging price tag of being significantly dearer compared to the Ford, not to mention the M4. But its hard to argue when you bring aesthetics into the picture. Those accustomed to sedans would be comfortable with the 2008. Well, at least you can claim novelty of driving a rare compact SUV around town and this is my pick among the three.
.
.
After all, who needs a Swiss Army knife nowadays anyway when you've got the Internet for all your questions?
.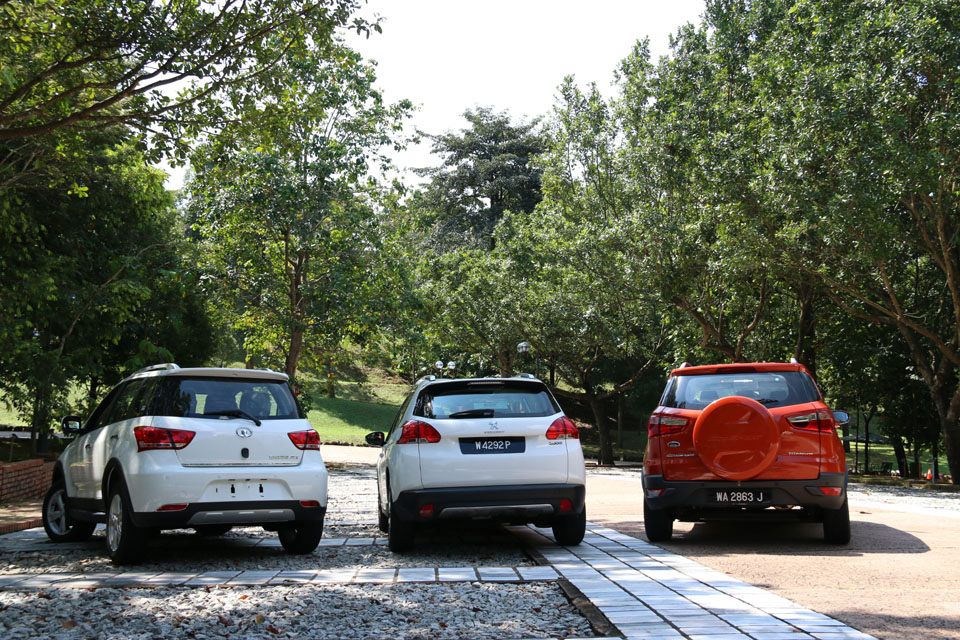 .
Editor's note: kensomuse would like to express its gratitude towards International Auto Enterprise Sdn Bhd for their support in loaning us their M4 for this shootout. International Auto Enterprise is a sales and service center located  in Puchong and serves the population there and its surroundings. They can be reached below:-
Lot PT 11, Lebuhraya Damansara Puchong,
Taman Perindustrian Pusat Bandar Puchong,
47100, Puchong, Selangor
Tel: 03-8062 3331
Fax: 03-8062 3332
It's near what was Tractor's Malaysia and its premise was once a petrol station.