Honda Malaysia celebrated a historical milestone today with the production of the 600,000th unit in its local plant in Pegoh, Malacca. In the same event, Honda Malaysia also took delight in its 100,000 sales units achievement for the current financial year (1 April 2016 to 31 March 2017) despite the challenging market situation over the past year. These achievements mark a successful and strong first quarter of 2017 for the company which is renowned for its challenging spirit and setting the benchmark in the industry.
Some quick facts on the Honda Malaysia plant;-
Age of plant: 14 years
Number of assembly lines: Two. No.1 Line started operations in 2003 and the No.2 Line that began in 2014.
Models assembled: Seven. The Accord, City, Civic, CR-V, Jazz, HR-V and BR-V
Capacity: Average 208 units per day with flexible production capacity that can produce multiple models at the same time in order to meet market demand. This flexibility has shortened the waiting period for all Honda models to just one to two months on average.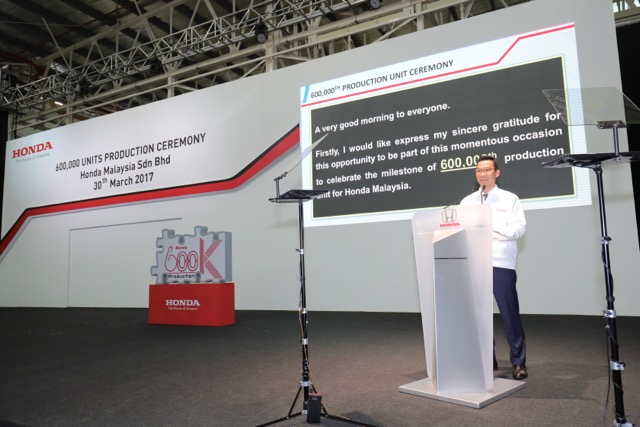 Honda Malaysia Managing Director and Chief Executive Officer, Mr. Katsuto Hayashi said, "The addition of the No.2 Line in 2014 has enabled Honda Malaysia to grow at an accelerated rate. We achieved 300,000 production units in just three years as compared to 11 years taken earlier to reach the first 300,000 units. I believe this was achieved through good strategy and strong challenging spirit from the Honda family. With this readily-available facility in Malacca Plant, Honda Malaysia has the spare capacity to fulfill bookings from customers as well as produce the best products for Malaysians."
Technology found in plant
Some of the latest technologies applied in the plant include
automated Smart Welding Machine to produce high rigidity body frame utilizing high quality material
international standard painting facility comprising Spray Robots and Under Body Coating which improve the quality of body paint and ensure precise coating thickness.
Custom-built 2.1km Test Course
Honda Malaysia attributed their good market acceptance and accelerated growth to the support and cooperation received from numerous parties, especially the government, members of the media, Honda Assembly, Honda dealers, suppliers, partners and all Honda associates. In thanking all their stakeholders, Mr. Hayashi said, "We thank each and every one for their continuous support. Honda Malaysia will continue to serve our Malaysian customers with quality products as well as excellent after sales service that exceed customers expectations."
Also present to witness the momentous milestone occasion were Mr. Seiji Kuraishi, the Executive Vice President, Executive Officer and Representative Director of Honda Motor Co., Ltd. and Mr. Noriaki Abe, Chief Operating Officer, Regional Operations (Asia & Oceania) of Honda Motor Co., Ltd. and President and CEO of Asian Honda Motor Co., Ltd. Both Mr. Kuraishi and Mr. Abe look forward to more accomplishments by Honda Malaysia.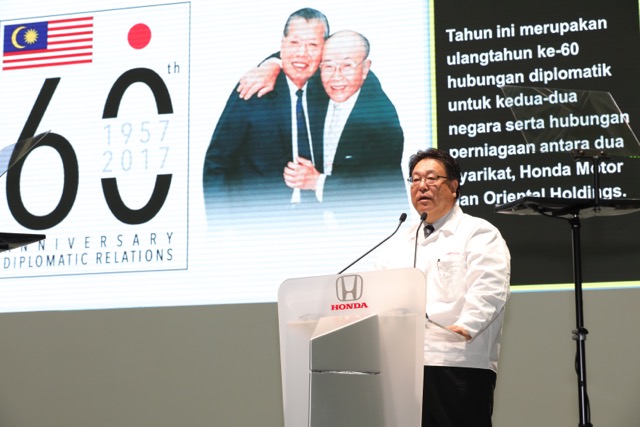 Mr. Kuraishi who was the second Honda Malaysia Managing Director and Chief Executive Officer in 2002 to 2005 was appreciative of Honda Malaysia's contribution. He said that Honda Malaysia's growth is due to the efforts and understanding of Honda's philosophy, vision and way of thinking by the local associates. Mr. Kuraishi noted that some of the young associates whom he hired over 10 years ago are now managing the company by playing important roles with passion. He commended Honda Malaysia for attaining No.1 in Non-National segment and No.2 in overall TIV and expressed gratitude to all Honda dealers and sales associates. He was very pleased that Honda Malaysia took top spot as the country that achieved the highest market share among Honda automobile operations globally for the first 2 months of 2017.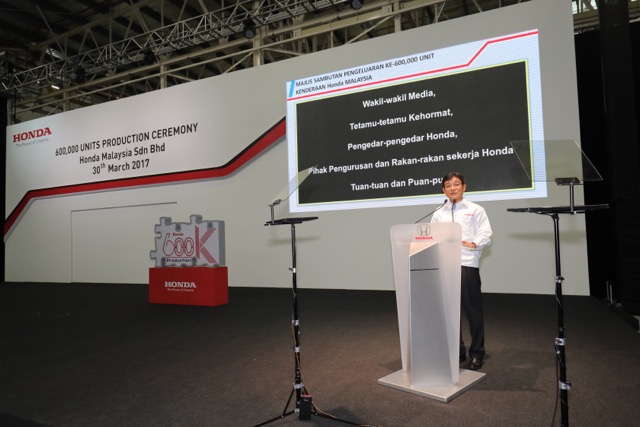 In the meantime, Mr. Abe who has been keeping track of Honda Malaysia's rapid growth over the years commended the internal and external "Team Honda" for the accomplishments and expressed gratitude to all involved. He congratulated Honda Malaysia on the success of the All-New BR-V which took the No.1 position in the MPV and utility segment in February 2017, outselling the National MPVs. Mr. Abe said, "I am glad to see Honda cars being well accepted by Malaysians. This is part of Honda's strategy in Asia to continue to bring the Joy of Buying to the people in this region."
Earlier this year, Honda Malaysia introduced the All-New BR-V, a model that was developed in Asia exclusively for Asian countries. Since its introduction in January, Honda Malaysia has achieved almost 10,000 booking units and more than 5,200 registrations. The launch of New City on 2 March also received positive feedback from customers, with close to 3,000 units booked within a month of its launch, 50% more than the monthly target of 2,000 units.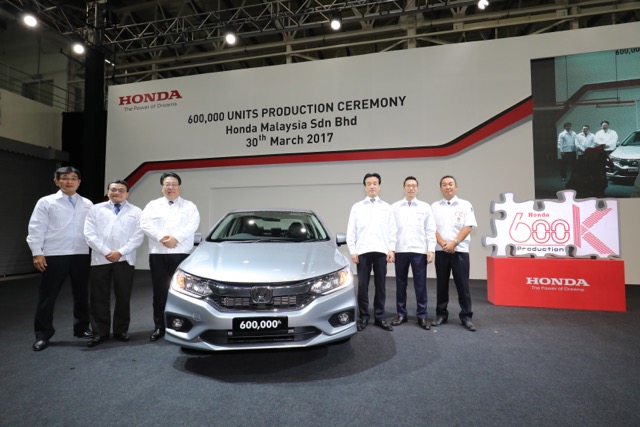 The 600,000th vehicle that rolled out of the No.2 Line at the Pegoh plant was a New City, a significant and cornerstone model to Honda Malaysia. The City is an important model, being the largest sales contributor courtesy of its outstanding reception and warm welcome by Malaysians that made it the B-segment leader for two years in a row.
For more information on Honda products, customers can visit any of the 88 authorised Honda dealers nationwide or call Honda's Toll Free number at 1-800-88-2020, or log on to www.honda.com.my.