Recently we have seen a few images of BMW Plug-in Hybrid Electric Vehicle (PHEV)s occupying the Mercedes-Benz charging stations in Bangsar Shopping Centre shared by our friends at EvoMalaysia and initially, it was a bit of a harmless tease at Mercedes-Benz Malaysia (MBM). Over time, more images appeared, some showing all bays being occupied by non-Mercedes-Benz PHEV models.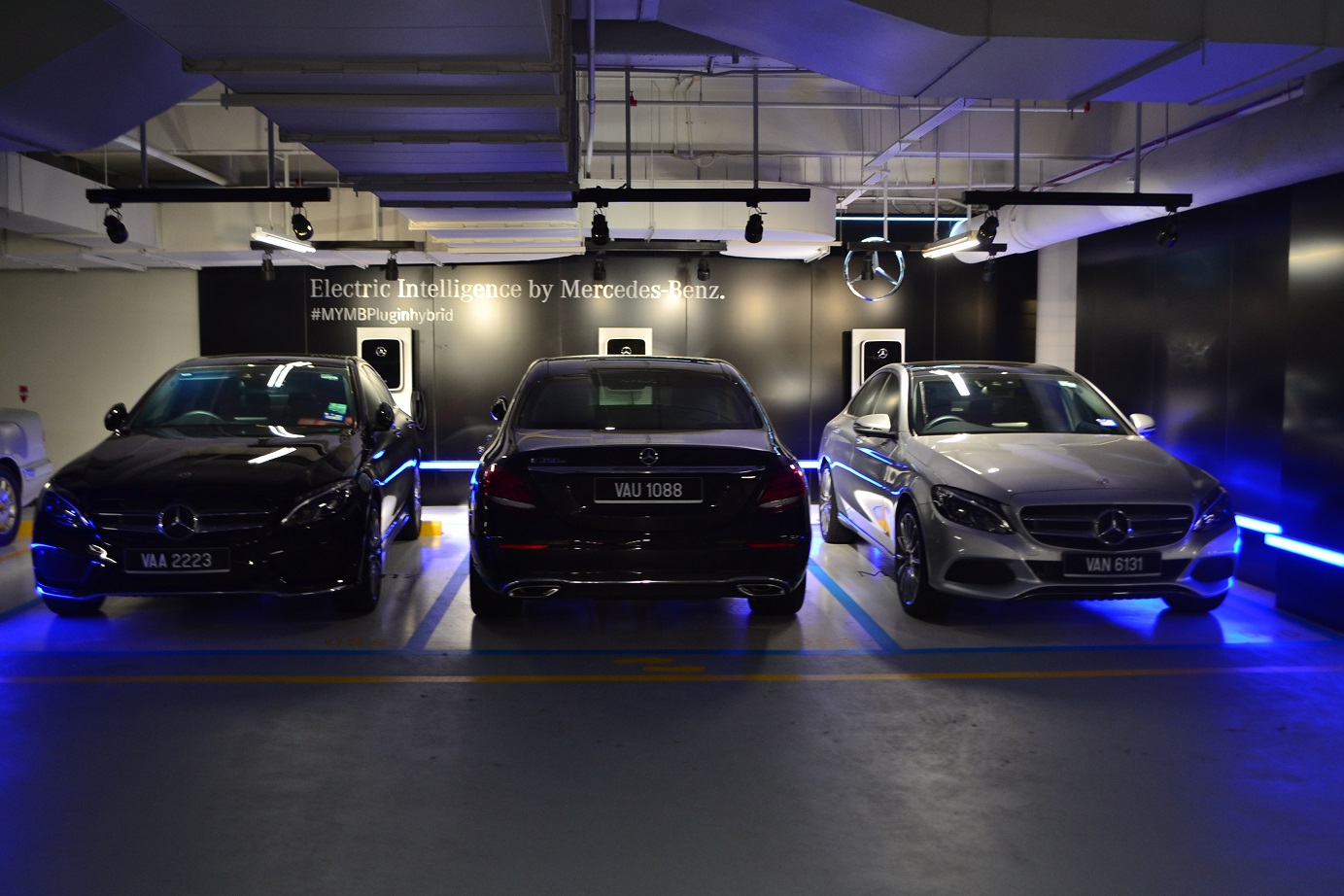 Let's look at some key points regarding these charging bays;-
they were set up last November at Bangsar Shopping Center (BSC), Kuala Lumpur
BSC is the first of a few more scheduled to be launched in the near future
location of the charging station in BSC is conveniently located near the main basement entrance to the mall
there are three charging stations in BSC
there is were signages that state the bays are exclusive for Mercedes-Benz PHEVs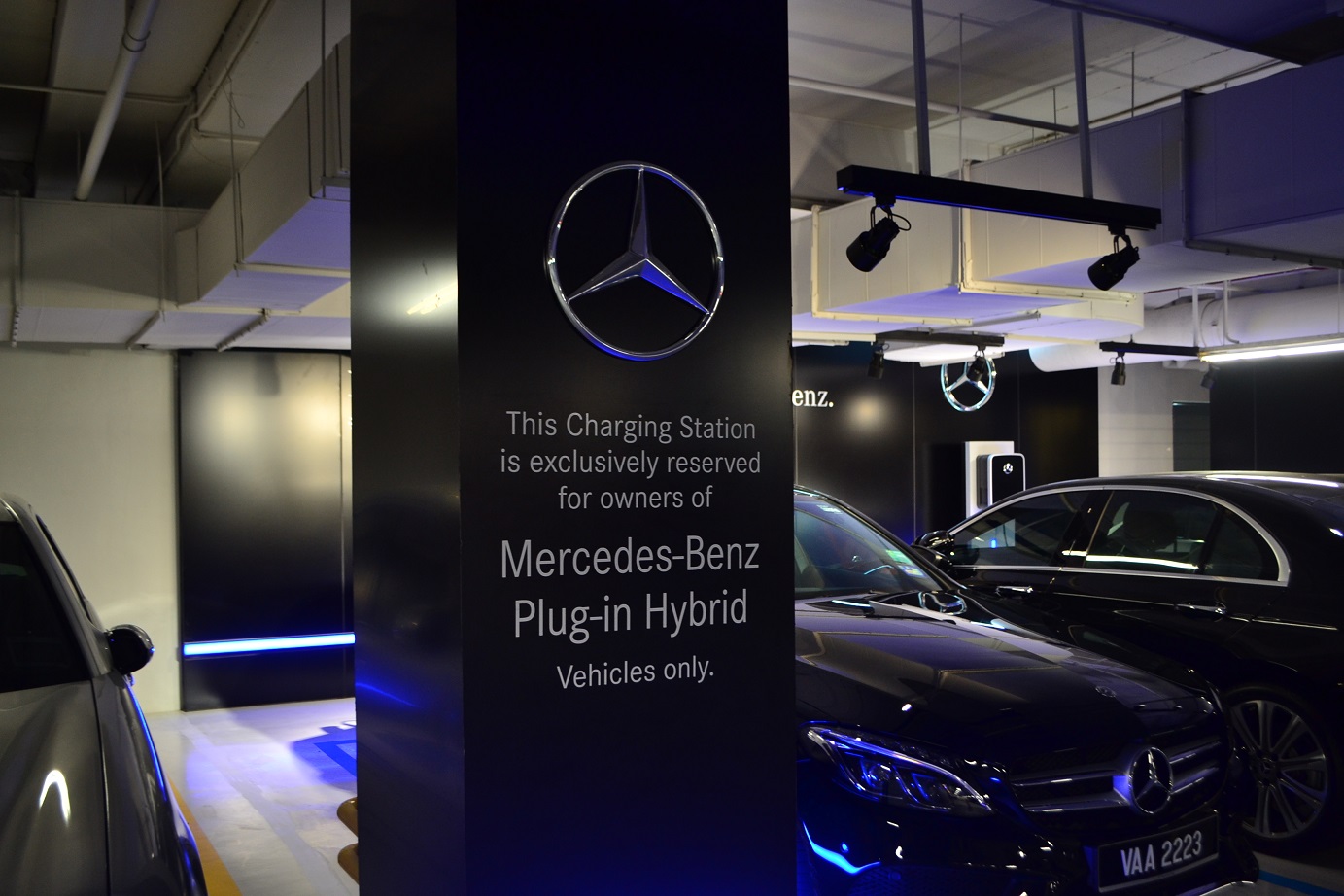 When it was launched in November 2017, the station clearly states "Exclusively reserved for owners of Mercedes Benz Plug In Hybrid". Those entitled to use the bay must be both
a) A Mercedes-Benz owner AND
b) a PHEV variant
At that point of time when this picture was taken, only two models from Mercedes-Benz qualify ; the C350e and the E350e. Not even an S-class is allowed to park there.
But if you go to BSC today, you'll see this;-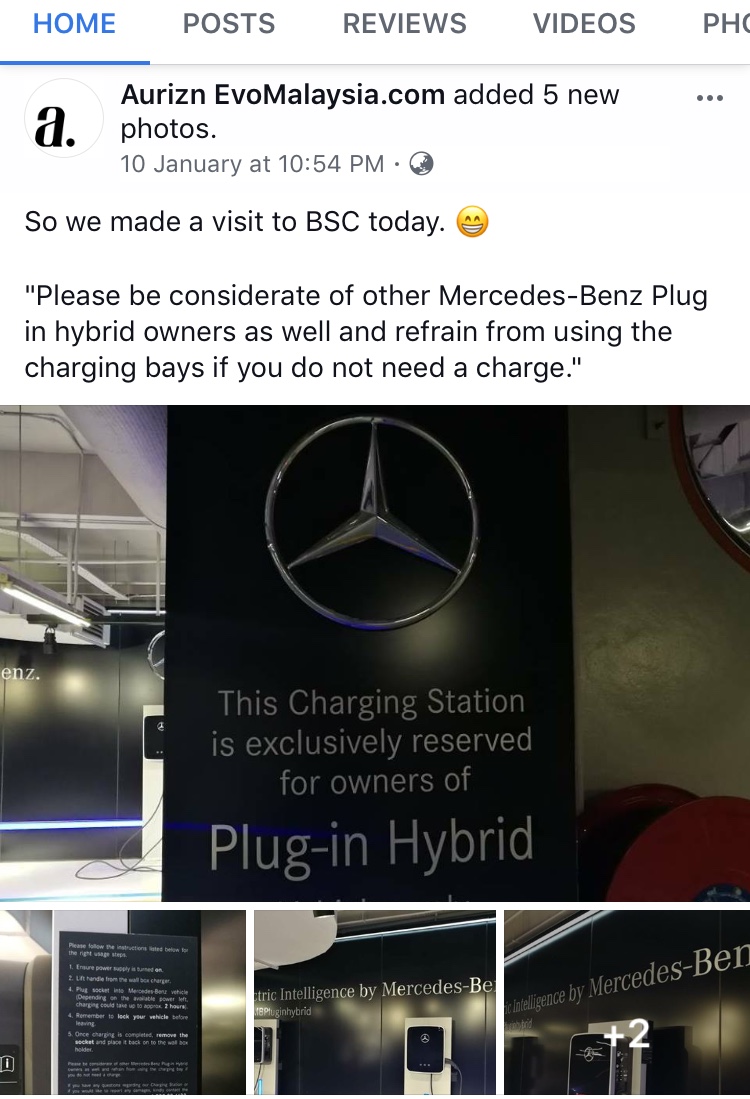 Notice the 'Mercedes-Benz' above the Plug-in Hybrid has been omitted, therefore giving way to allow ALL PHEV brands to use the station.
There was some confusion because Mercedes-Benz Malaysia did not clarify to the media that they have changed the policy so when members of the public start sending in pictures of other brands using the bay, the media made light of the situation.
In a recent reply to countersteer.my clarifying the matter regarding the usage of the charging stations which, this is what MBM's Vice President of Sales and Marketing, Mark Raine has to say:
"Mercedes-Benz, the inventor of the automobile, has been at the forefront of pioneering mobility solutions and shaping the automotive industry throughout an illustrious history of over 130 years. It goes without saying that we are proud of our heritage, achievements and the many innovations which underline our leadership claim, both globally and in Malaysia.
"Our flagship, the S 400 h, was the first hybrid luxury car produced in Malaysia and this unique portfolio has more recently grown with the entry of our technology leaders, the C 350 e and E 350 e plug-in hybrid vehicles.
"With our charging facilities at Bangsar Shopping Centre, Sunway Pyramid and Pavilion Kuala Lumpur, we affirm our support of the EEV initiatives of Malaysia and to further secure a seamless transition into the next era of urban mobility. As is well documented and widely known, our latest initiative in this respect are the Mercedes-Benz branded charging stations.
"We are delighted to offer this privilege to our valued customers who drive Mercedes-Benz plug-in hybrid vehicles, alongside presenting it as a warm welcome to new fans into the Mercedes-Benz family who are still driving vehicles of a different brand.
"With this in mind, we are entirely convinced that all users of our charging stations will exercise due consideration and etiquette to allow as many Mercedes-Benz fans as possible to benefit from these facilities."
So there you have it;
All PHEV users are permitted to use the station
All non-Mercedes-Benz PHEV user are new fans of Mercedes-Benz but still driving other brands
I think we're pretty clear now.
To be honest, when they announced this initiative, I thought it was a fantastic idea on Mercedes-Benz's part. With BMW having sold over 3,000 X5 xDrive40e, over 2,400 330e and over 450 740Le xDrive, it's no surprise that most charging stations I see in public areas are occupied by BMW vehicles. A dedicated charging bay by Mercedes-Benz for Mercedes-Benz owners would ensure their customers would be able to recharge their batteries whilst enjoying a convenient parking space in a popular mall.
This is very much in line with their brand promise below;-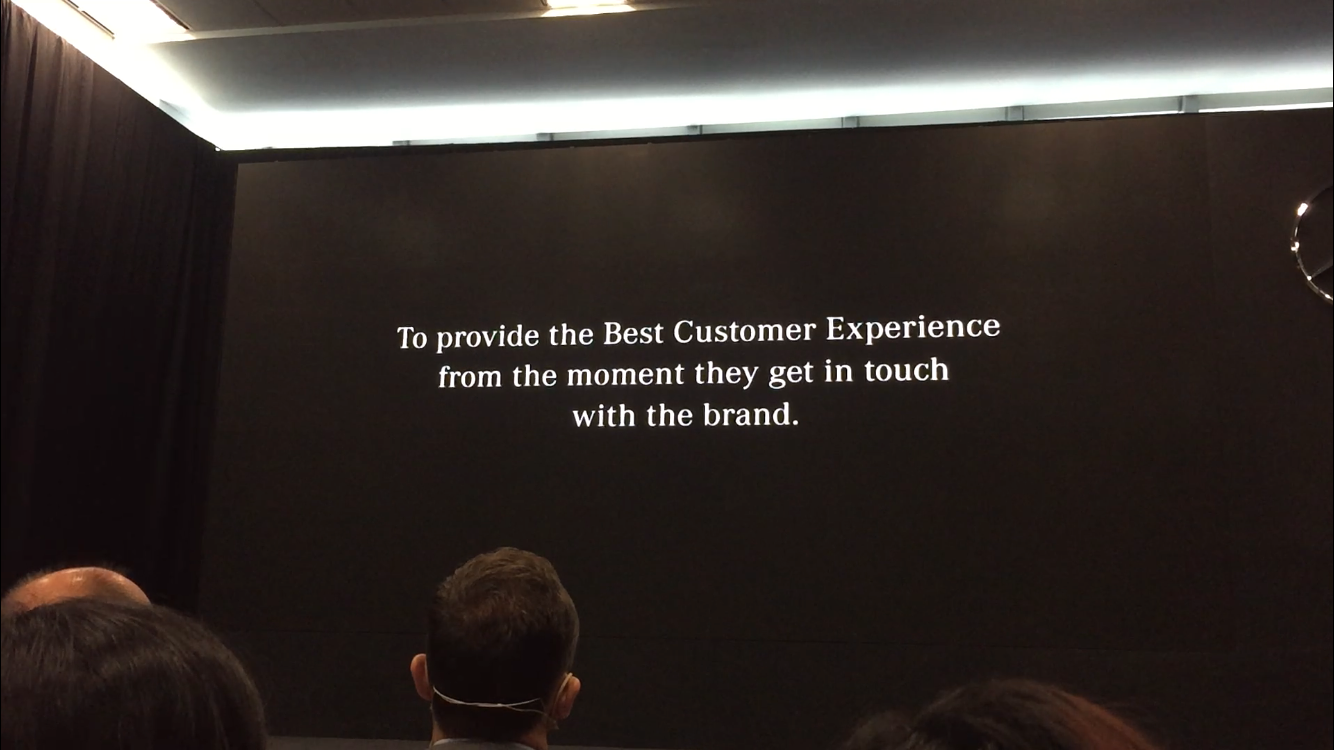 However, with the recent decision to qualify all PHEVs, Mercedes-Benz PHEV owners would likely be facing a situation like our friend here;-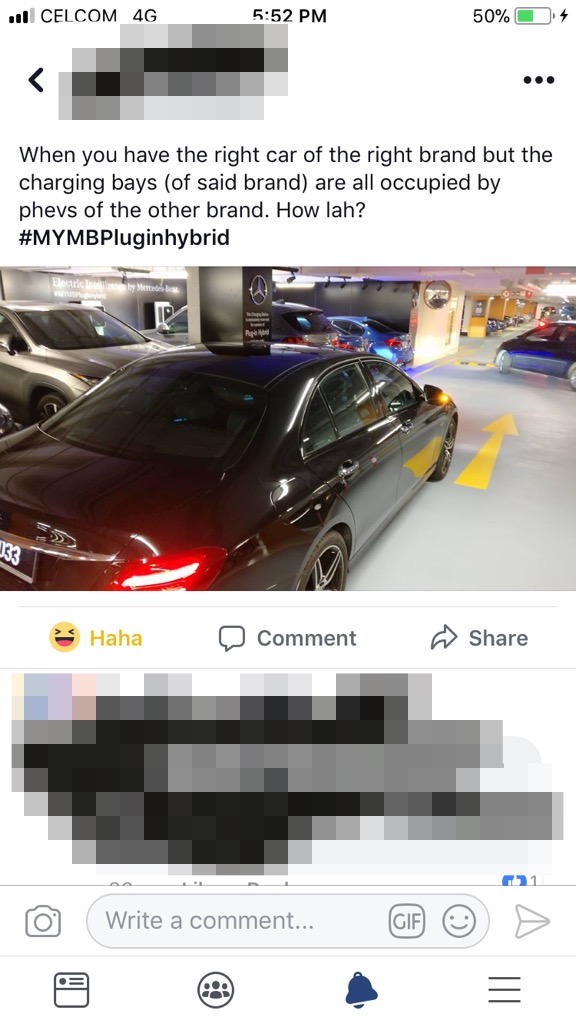 This oddly contradicts that promise despite what's being said because (I would guess) the number of BMW PHEV owners that frequent Bangsar Shopping Centre far out weighs Mercedes-Benz PHEVs, leaving those Mercedes-Benz owners no choice but to look for parking elsewhere and eschew charging their vehicles.
The generosity of sharing may contribute towards good PR but knowing how fastidious Mercedes-Benz Malaysia have been in their pursuit towards providing the Best or Nothing customer experience, this reversal of the terms of use to gain brand prestige is …. unusual to me. If it's corporate branding, a billboard would suffice but this is a charging station, therefore a facility that's open for it's customers to use.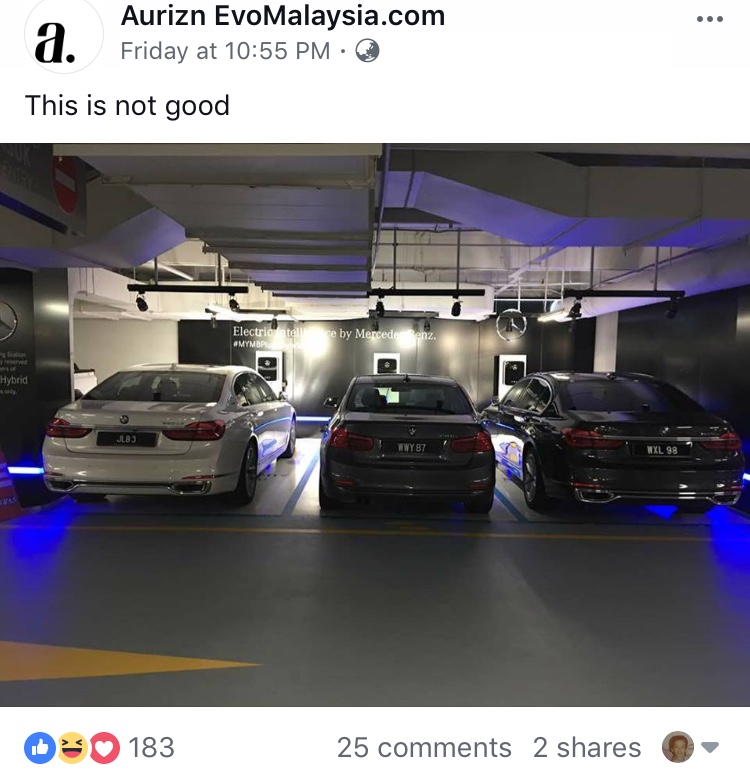 Except they can't now because there's too many other PHEV users.
I suspect there's more to this than what Mark has let on. Perhaps shoppers are complaining and BSC has decided that it would no longer allow it's guards to enforce the no-non-Mercedes-Benz-PHEV-policy.  Perhaps letting others use the stations is part of the terms & conditions between MBM and BSC (it's unlikely any mall would provide three highly sought after parking bays for the sake of just a billboard). Without the power to enforce, any terms and conditions of use will fail. Whatever the speculations may be, Mark has made an official statement and that's what we'll go with.
After all, the greater issue isn't about who's misusing who. It's this;-
The etiquette of using the chargers
When you go to a petrol station to refuel, you would move your vehicle as soon as you're done at the pumps (aside from making payment for the fuel).
This same thinking doesn't seem to apply on charging stations.
Look at the first picture of this article; the charging port of any Mercedes-Benz PHEV is located at the rear number. The middle black Mercedes-Benz, although it's a PHEV, is parked in such a way that it's obviously not using the charging station but merely taking advantage of the parking lot. In the analogy of a petrol station, it's someone who deliberately parks at a pump nearest to the entrance of the convenience store and goes in shopping without refueling.
Then there are vehicles that park all day at the bay despite their vehicles being fully charged long ago. The same as the fuel pump stops dispensing after it has automatically stopped once the tank is full but the owner decides to leave it there.
The problem isn't Mercedes-Benz or BMW or any PHEV automaker; it's the people that use them. As long as these people have the poor decorum in respecting the charging stations, the goodwill of brands such as MBM's would be seen as something to be taken advantage of rather than being grateful for. I've seen so many comments from netizens (some apparently from the owners themselves) who gleefully share in social media how happy they are in 'exploiting' this.
It's disgusting and it proves that money truly cannot buy class.