Let's begin by addressing the obvious; if this is a continental D-segment shootout, why isn't the Volkswagen Passat here? Two reasons; there has been no significant updates in the VW other than it's now a CKD and secondly, these two command a price level closer to an entry level BMW while the Passat is notably cheaper.
Crossing the RM200k mark is the Ford Mondeo which was launched earlier this year in May. Assembled in Spain, the new Mondeo (also known as Fusion in some markets) has the appearance that makes any average Joe look like James Bond when stepping in and out of it. And it's not all just aesthetics; under the hood, the Mondeo punches harder than the 508 GT … 36 PS more to be precise.
But don't count the Peugeot flagship out. It may lose out in terms of horses but from a torque point of view, it could haul weights that could put a Ford Ranger to shame. And if both cars were to take park in a 24-hour endurance race, the GT could do with less refuel pit stops since it can, in theory do 1,300km per full tank. The GT also has a price tag of more than RM200k once you factor in insurance.
Three years ago, Paul Tan did a brilliant shootout comparing both predecessors here. Let's see how the next generation fares against each other.
Design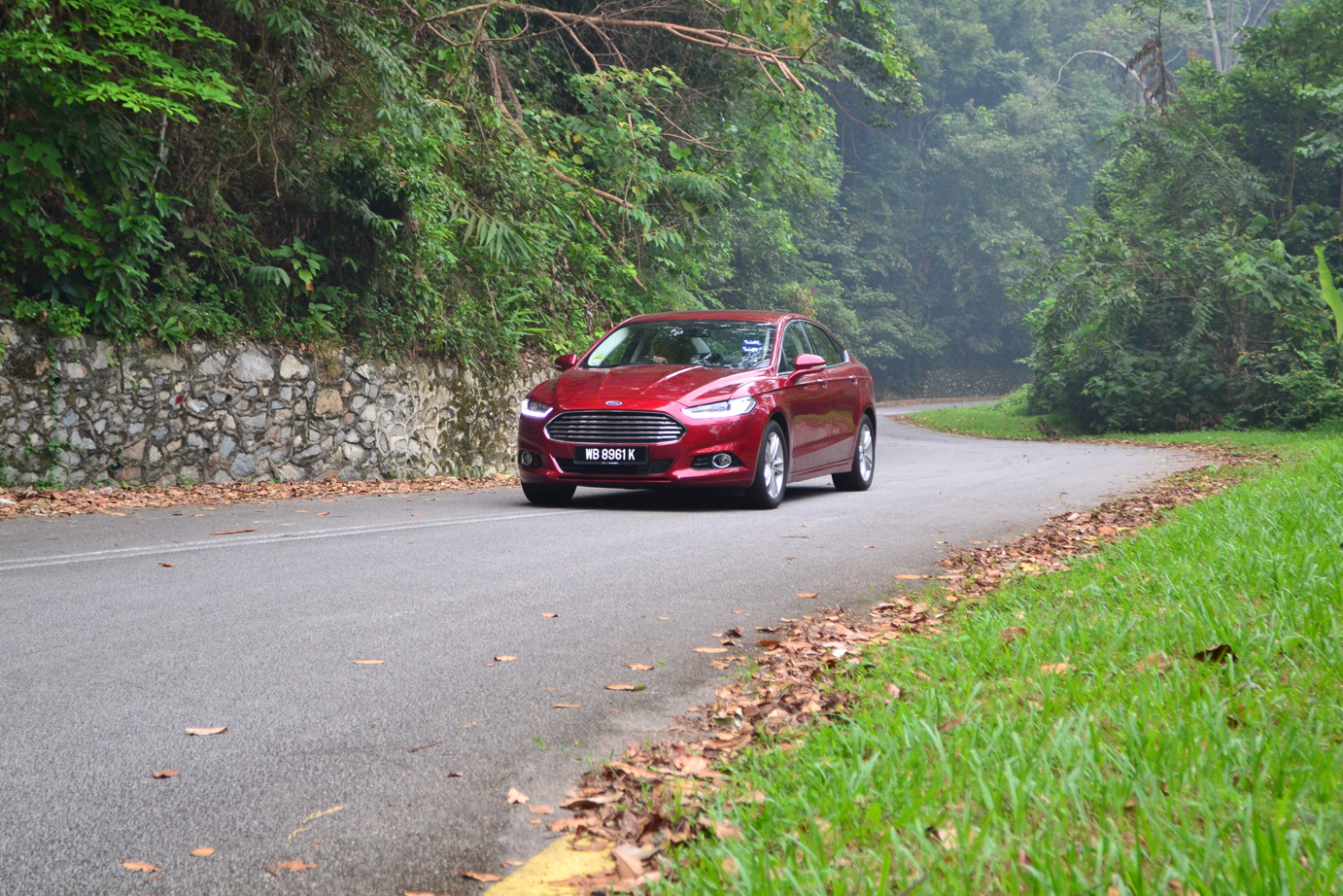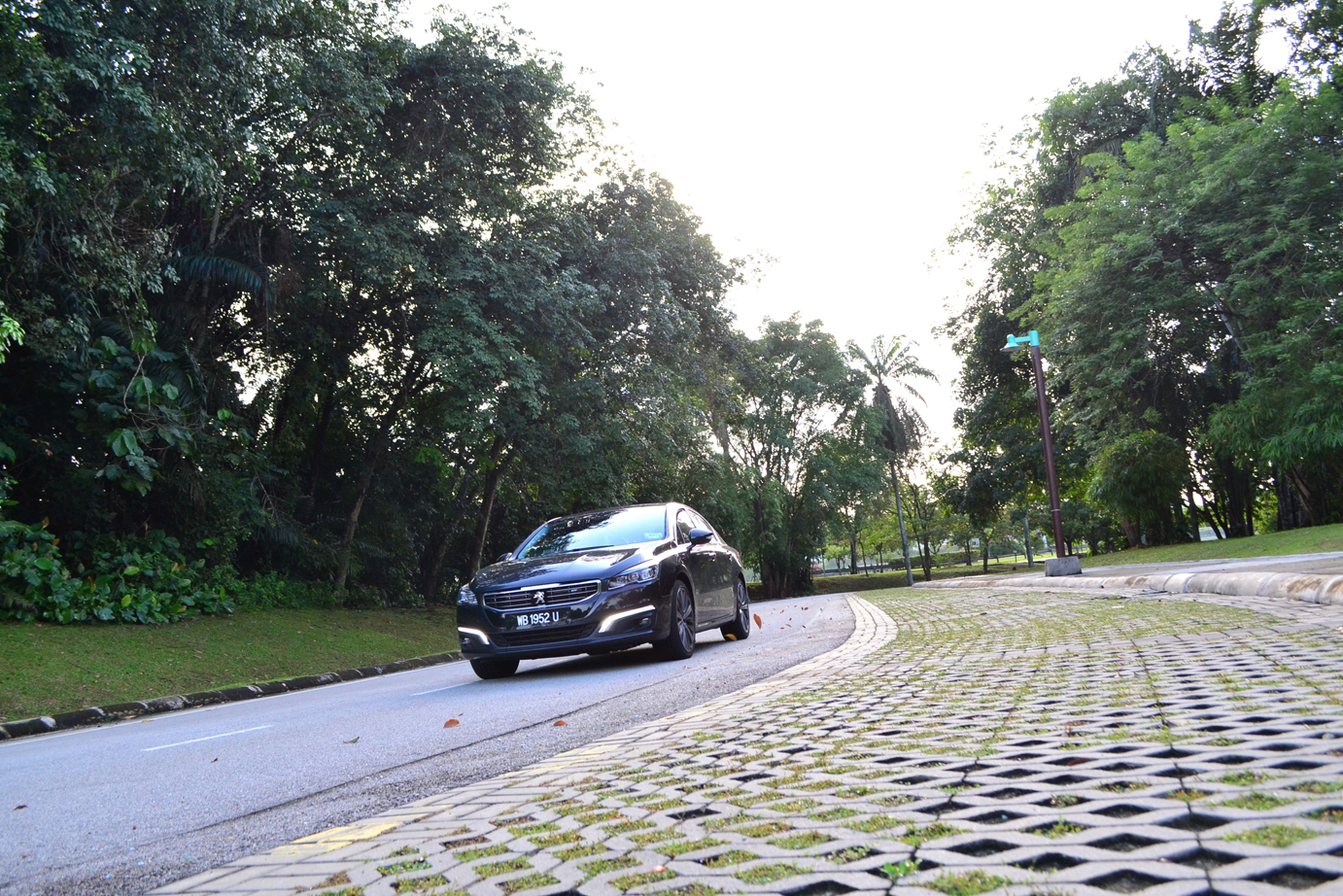 The Mondeo is absolutely stunning to behold, more so in this shade of red. It's been mistaken for a Jaguar, it's been said to resemble an Aston Martin. Whatever it is, this is one of those few cars that makes you look back more than once after you've parked it. Squinty looking headlamps amplifies the perceived size of the horizontally elongated hexagon grille, making the Mondeo looking like a mean, wind-chomping animal coming at you.
The new 508 is a facelift and instead of the old gatling-gun DRL configuration, the new front has the LED on the lower front bumper and the Peugeot Lion logo sunk into the grille. Where the predecessor looked civil, the new GT evolved to a more sophisticated creature.
Both vehicles feature state-of-the-art LED headlamps but the GT's look better with a slight purplish hue. However, as good as the GT's headlamp is, it cannot beat the matrix-like signal lamp of the Mondeo, individual LEDs lighting up from center towards the sides. The only other car I can think of that has this now is Audi and even then it's their higher end models that has it. Check it out HERE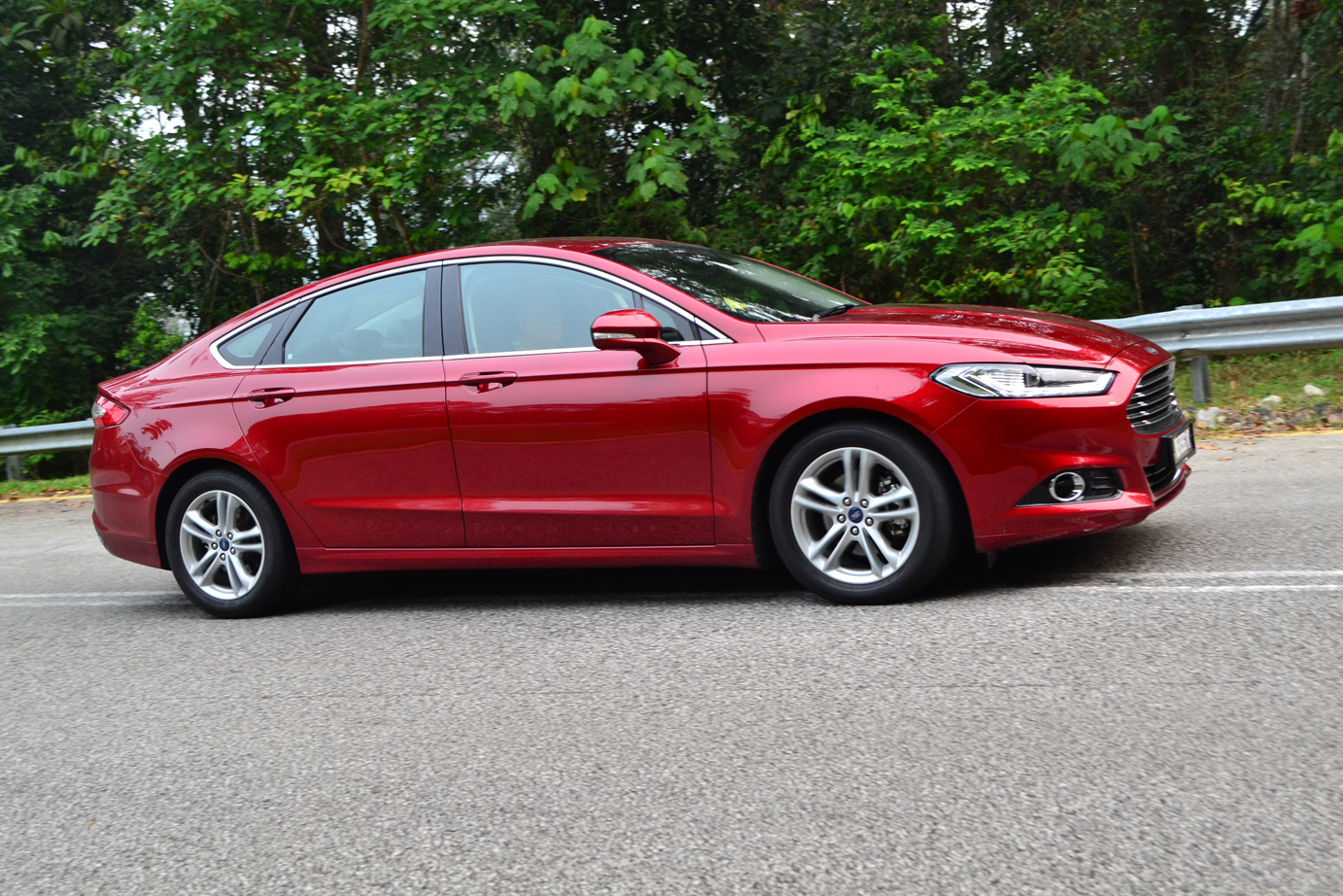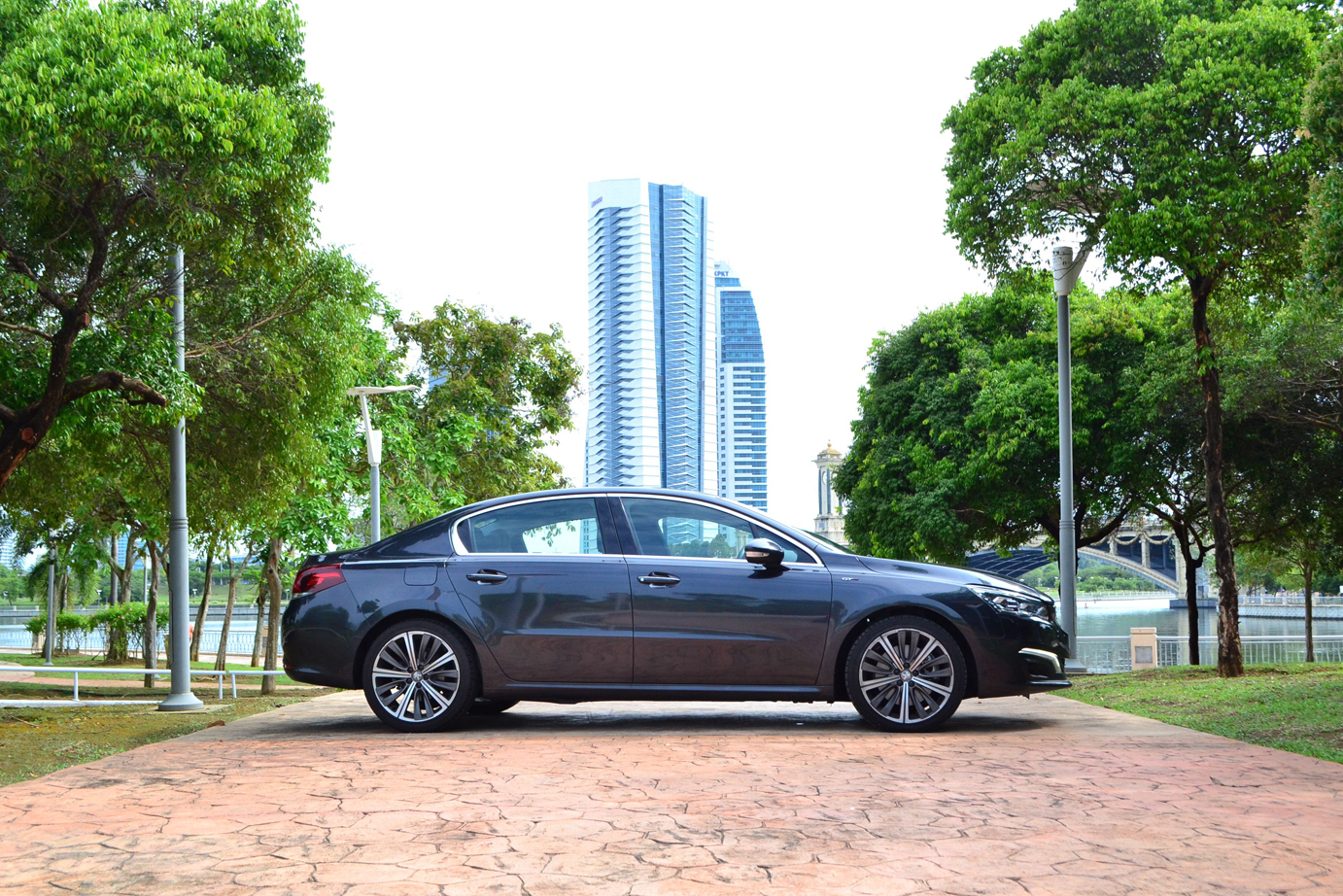 In terms of size, they're almost identical with the Mondeo measuring 4,871mm in length, 1,852mm in width and 1,486mm in height with a wheelbase of 2,850mm while the GT comes in at 4,830mm in length, 1,828mm in width and 1,456mm in height with a wheelbase of 2,817mm.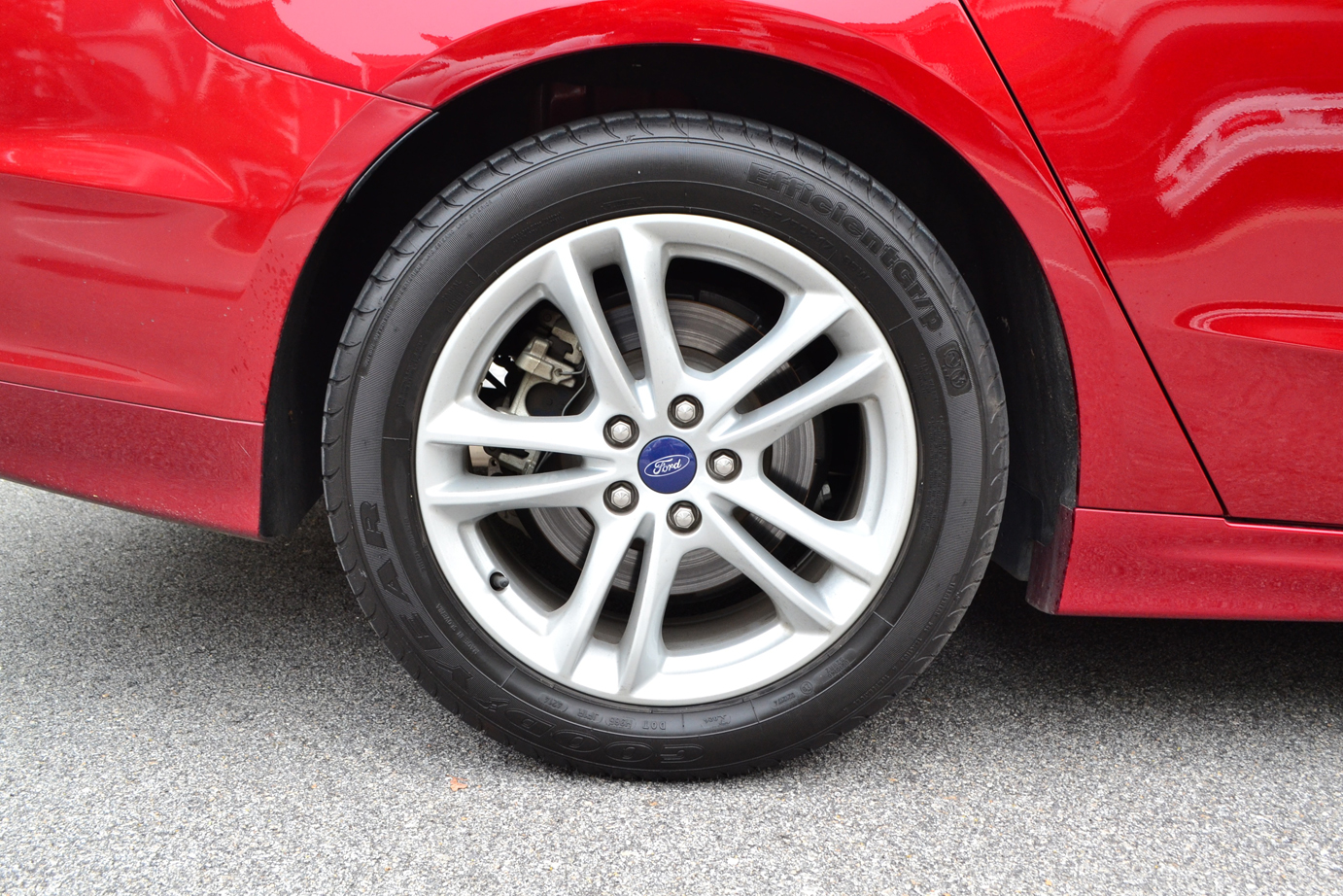 The Mondeo comes with 17″ alloy rims wrapped in 235/50 rubber whereas the GT offers huge 235/40 R19 wheels.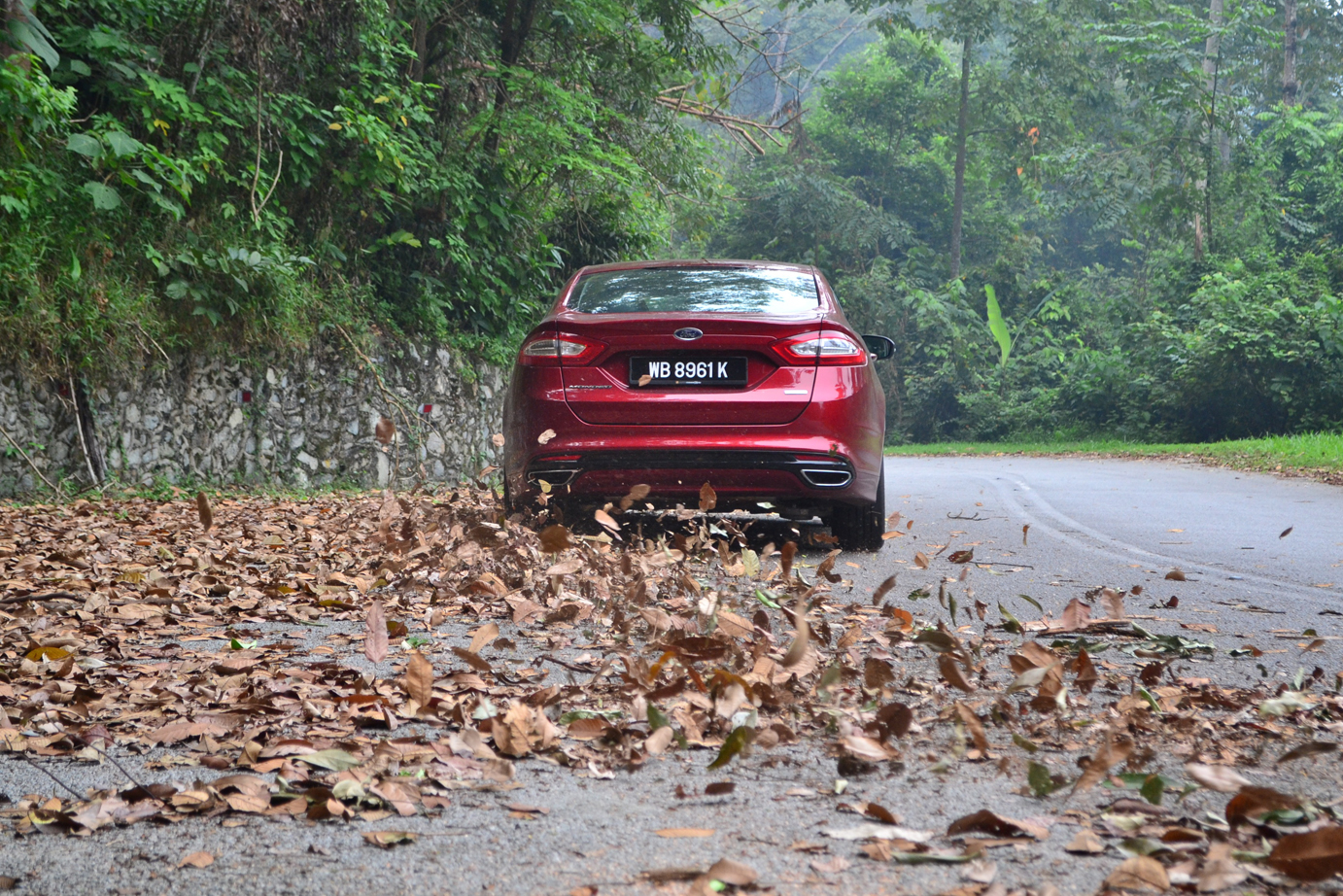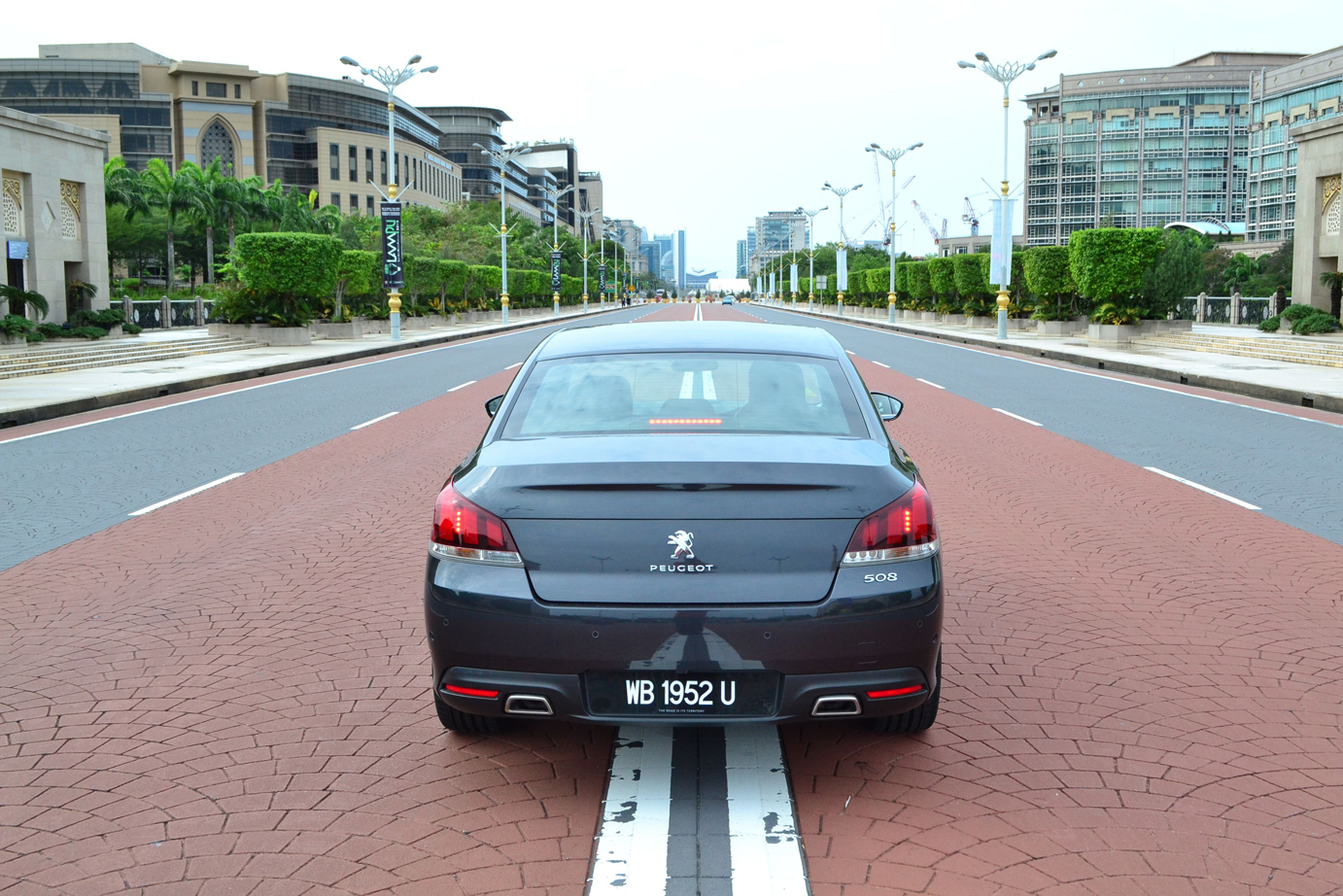 Both vehicles feature twin exhausts with the Mondeo having a thinner, wider rear tail lamps while the 508 featuring a more vertical one, making the rear look taller whereas the Mondeo appearing lowered from behind. The boot release for the Mondeo is found below the Ford logo while the 508 retains its unique trunk release in the center of the '0' at the "508" badge.
.
.
Performance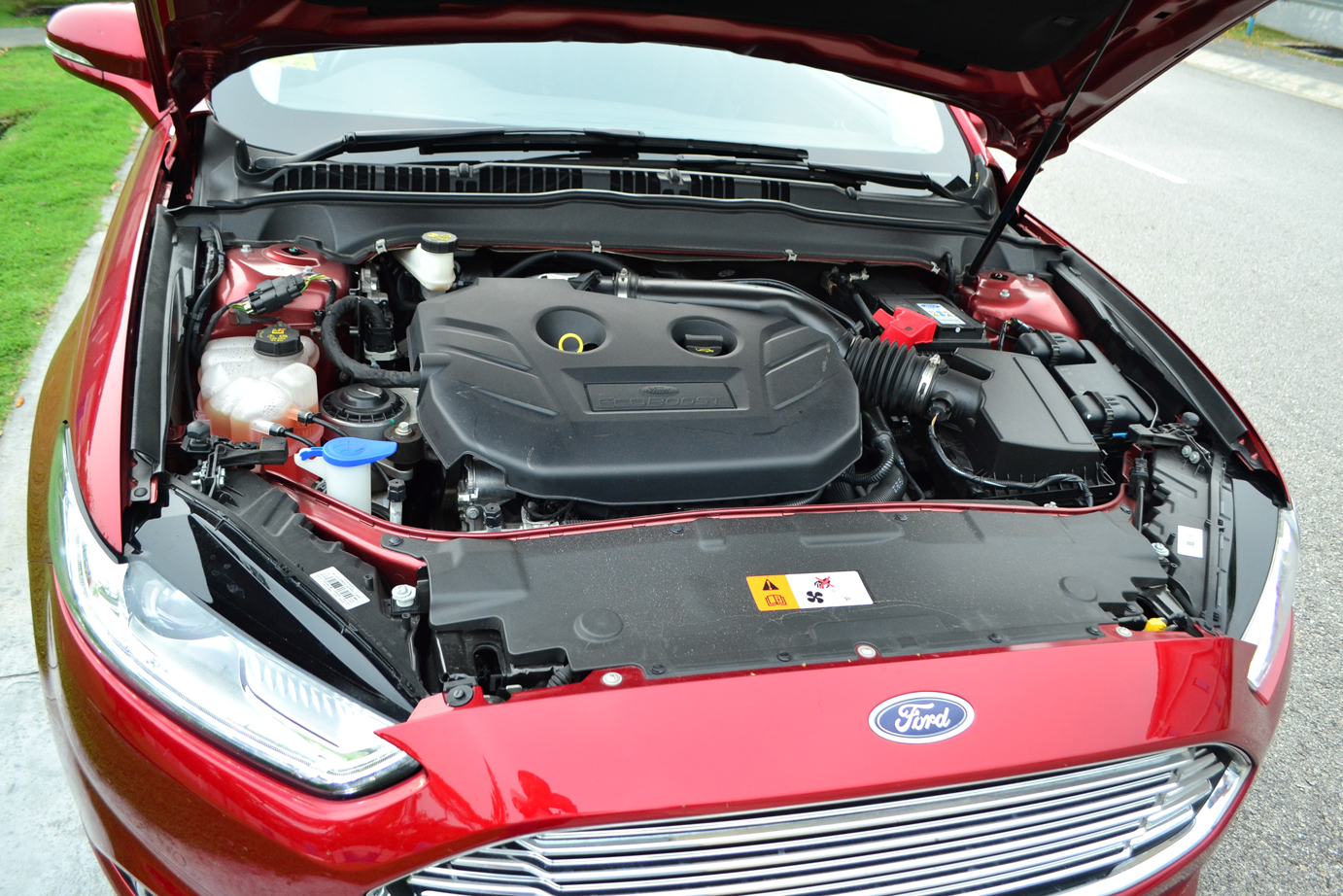 The Mondeo's 2.0litre Ecoboost turbocharged, direct injection with twin independent variable camshaft timing (Ti-VCT) produces 240PS @ 5,300rpm and 345Nm of torque from 2,300 – 4,900rpm and it yearns to be let loose. If you do give in, expect 0-1ookm/h to be achieved in about 7.8 seconds and with a top speed of 240km/h, you'd wish there were roads with no speed limits here.
The Mondeo has Smart Regenerative Charging, a system that generates electrical energy when braking which is then fed back into the vehicle battery. No, this isn't a hybrid system. Instead, Smart Regenerative Charging manages the alternator by engaging it only when the vehicle is coasting, braking or idling instead of all the time as in any other conventional vehicles. This results in prolonged lifespan of components, particularly relating to the electrical charging system.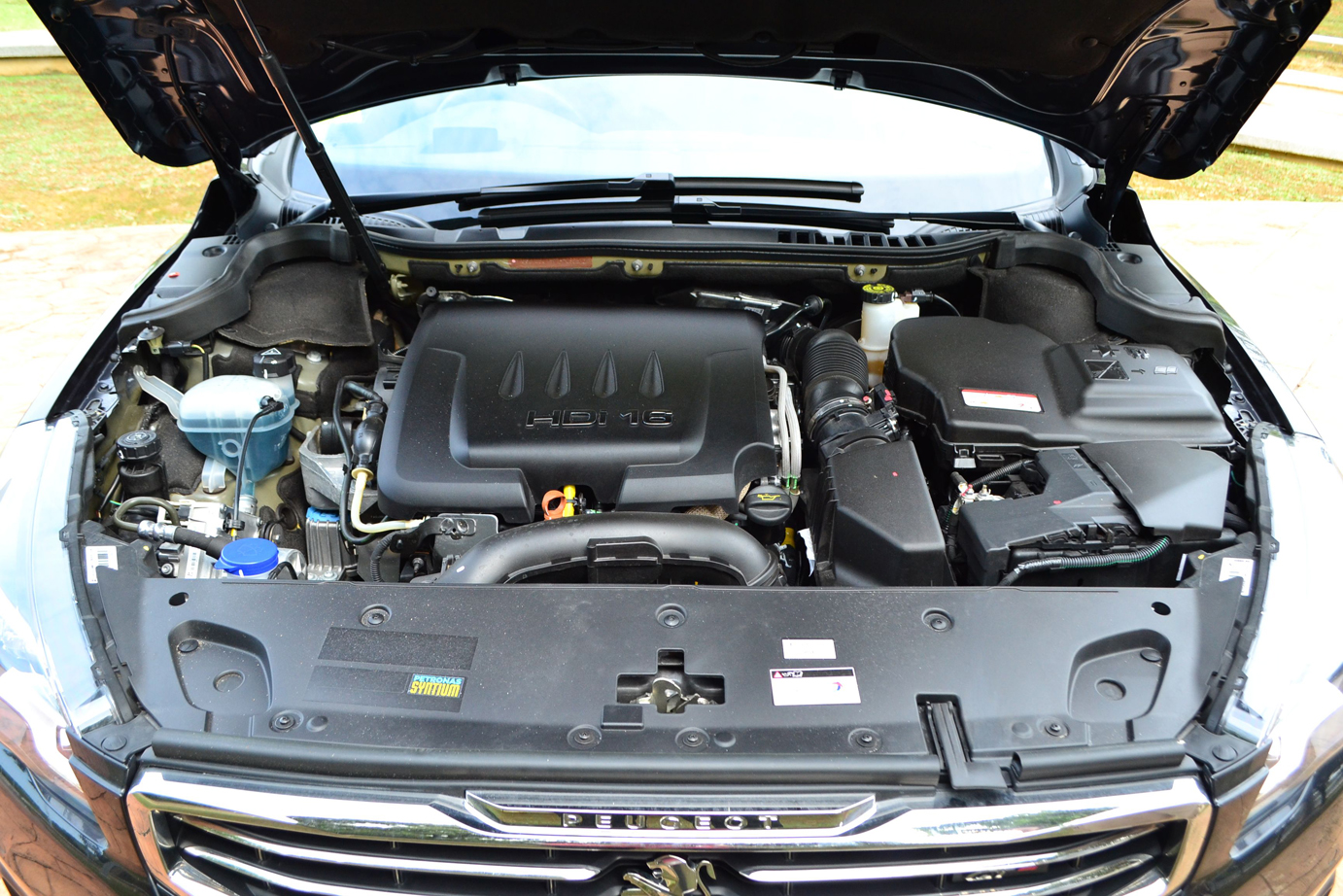 The Peugeot 508 GT's 2.2litre inline 4 cylinder, common rail injection, turbo diesel VVT engine meanwhile behaves very differently from the petrol-fed Ford. Floor it and you would easily rev it beyond its optimum power band of 3,500rpm for a maximum output of 206PS and 2,000rpm for maximum torque of 450Nm. The GT sprints from 0-100kn/h in 8.4 seconds with a top speed of 235km/h, slightly shy of the Mondeo's 240km/h cap but let's be honest, who's really counting the 5km/h difference if you're gunning down the highway above 230.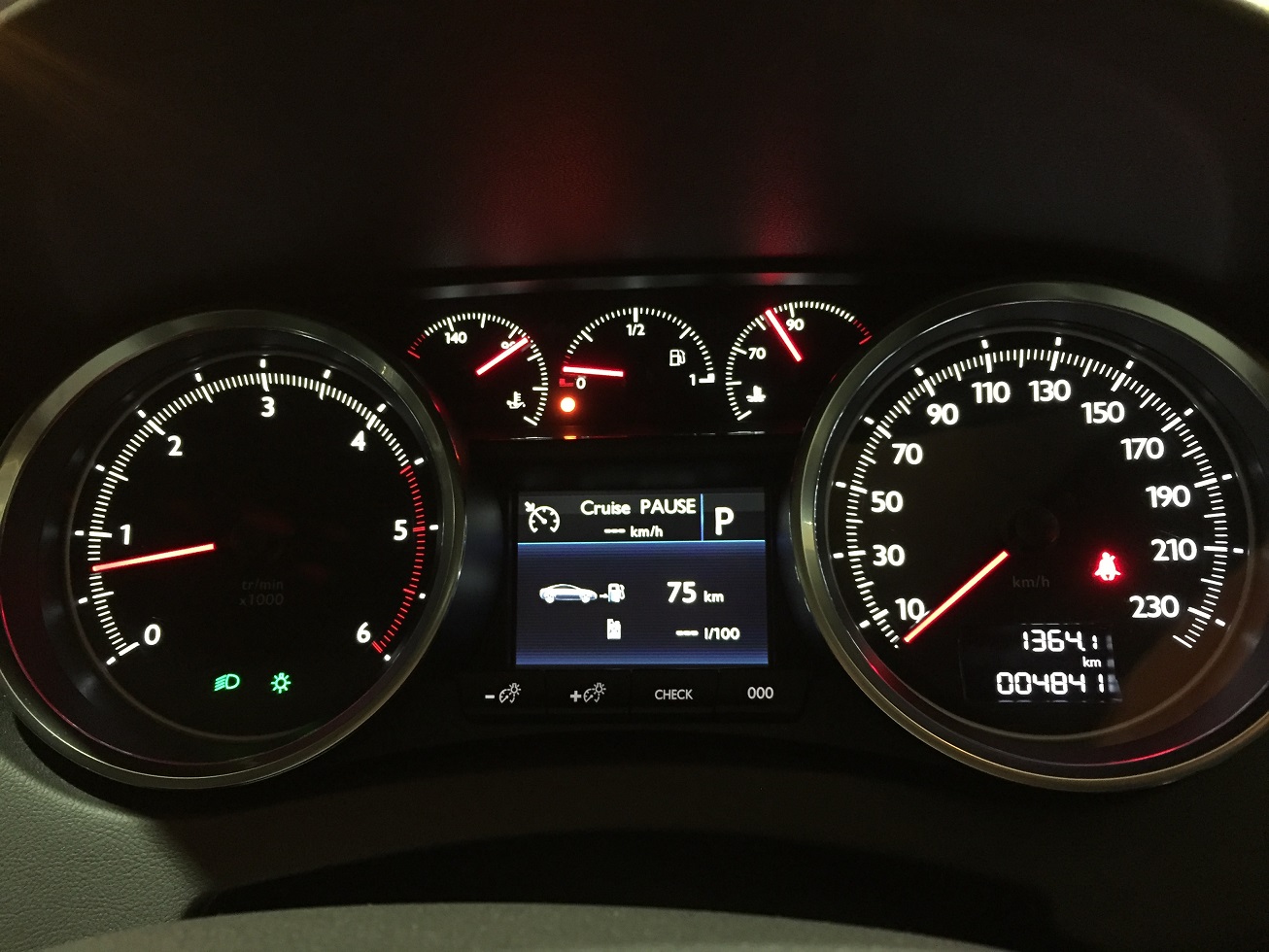 What's truly remarkable is the range of the GT – with one full tank of 72litres Euro 5M (when I pumped there were one quarter of Euro 2M remaining in the tank), I achieved 1,364.1km. I wouldn't trust the 75km distance-to-empty estimate since the figure changes quite drastically at the slightest increase in pedal pressure but I believe hitting 1,400km with this tank should not be a problem. Unfortunately, I didn't get to record the Mondeo's fuel consumption but without a doubt, the GT tops it here.
Note*: The GT has a larger fuel tank capacity of 72litres versus the Mondeo's 62.5litres
Note**: The range achieved was done with a constant 110km/h using cruise control, air conditioning on. 
In terms of power delivery, a slight lag can be felt in the Mondeo. Unlike most turbocharged vehicles that summons maximum torque at 2k rpm or lower, you can feel a slight push as the Mondeo's engine goes beyond the 2k rpm mark. It's very minor and only if you happen to be light-footed when picking up speed. Once you pass the 2.3k rpm threshold, be prepared for loads of fun – all the way to speeds well above twice the national highway speed limits.
The GT on the other hand would lose to the Mondeo in a drag race but can narrow the gap at higher speeds. Where the Mondeo impresses with instant power, the 508's torque is better appreciated in the form of relentless pull across all speed ranges. Urgently increasing your velocity by another 50km/h is no different if you start at 70 or 170km/h in the GT.
.
.
Ride and Handling
Replacing the dual clutch gearbox, the new Mondeo reverts to a traditional 6-speed Selectshift Auto torque converter. This change not only ensures a smoother drive at low speed traffic, it is also said to be more durable in the long run. If you're driving it in D-mode, it doesn't shift quickly when negotiating twisty B roads. Switching it to S-mode engages Manual override where by using the steering mounted paddle shifters, the gear of your choice is held for you (manual shifting in D-mode is temporary and the system would shift back to full auto). Even in full auto mode, S-mode holds the gears longer for you, allowing more horses to be brought to the fore and is more vigorous in hunting gears for you.
Keeping the Mondeo stable and passengers comfortable are McPherson strut front suspensions and multi suspension arm for the rear. The balance when tackling corners is remarkable, flowing through the bends as you feel the shift of the vehicle's weight, made more astute by a communicative helm that keeps you in touch with the front wheels at all times. It conveys the road conditions so well that sometimes I wonder if I had a flat tire when driving over imperfect roads.
If things get out of hand, you can always count on the Electronic Stability Control as a safety net. I took a corner too fast once and felt the ESC gently nudging the car back into line. It was not intrusive, nor did it felt overtly unnatural – it was as though Ford waved a magic wand and you'd back in control again.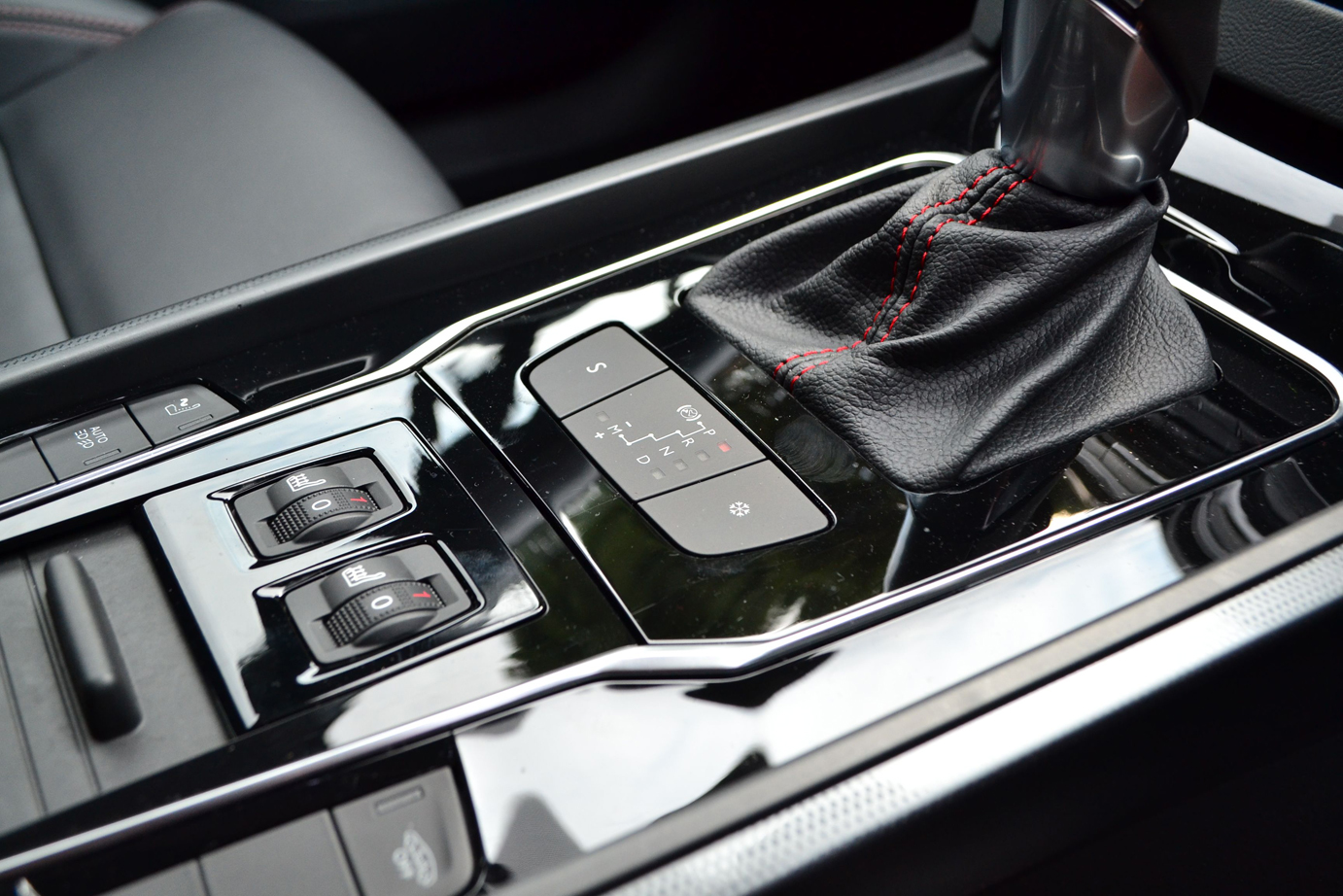 Compared to the GT however, the Peugeot's Electronic Stability Program is more aggressive. You could feel every single component of the ESP such as the ABS, EBD, Traction control work independently when attempting to correct your angle. Though both performed well in restoring balance, the Peugeot's ESP lacked the finesse displayed by the Mondeo.
However, those moments when the ESP kicks in is rare as the GT has far better grip and cornering prowess compared to the Mondeo, partly due to its larger 19″ wheels against the Ford's 17″. Taking the same corner at the same speed that could cause the tires of the Mondeo to squeal in protest, the GT completed its turn with barely a whimper from its wheels. What Paul Tan's team discovered in their earlier shootout seems to repeat itself here; that in a hill climb attack, the nimbler Mondeo is a more competent vehicle but when you cannot make use of power in a downhill run, the GT's surer grip would hustle the Mondeo easily. But I don't think it's just the wheels that gives it the edge here. Unlike the more traditional McPherson, GT utilizes double wishbone suspension system with drop link hub carrier and anti-roll bar for its front suspension while its rear sports multi-arm with helical springs and multi-valve dampers. This allows the wheels to be set wider while retaining some measure of comfort for passengers without too much body roll.
That said, the Mondeo rides less harsh compared to the GT, and this is likely attributed to the thinner profile tires shod by the GT.
It's best to engage the GT's Manual mode when using the 6-speed auto adaptive gearbox if you're going to give the Mondeo a good spank in the back. In Auto mode, the Aisin-sourced gearbox can be a little slow in engaging gears and being a diesel, the rev counter isn't very high and each time when the gearbox shifts up, you lose precious momentum. Like most Peugeots, spirited driving is best done with you in full control keeping the revs between 2,000 – 4,000rpm.
Despite running on 19″ wheels, the feedback from the GT's steering isn't as acute as the Mondeo. The electro-hydraulic power-assisted steering makes the car a lot easier to drive in the city and on it's own, it's not that shabby; It's just that the Mondeo does a better job here.
In terms of noise, the Mondeo runs more silently compared to the diesel-powered GT, both when idling and when on the move. It's only when you exceed 150km/h before wind noise become more obnoxious in the cabin. The GT's resilience against sound intrusion is compromised at a lower 120km/h and surprisingly it's not from it's larger wheels; most of the noise seem to come from the lower part of the B and C pillars. If driven within speed limits, the GT does an exceptional job at isolating its passengers from the outside.
Cabin Convenience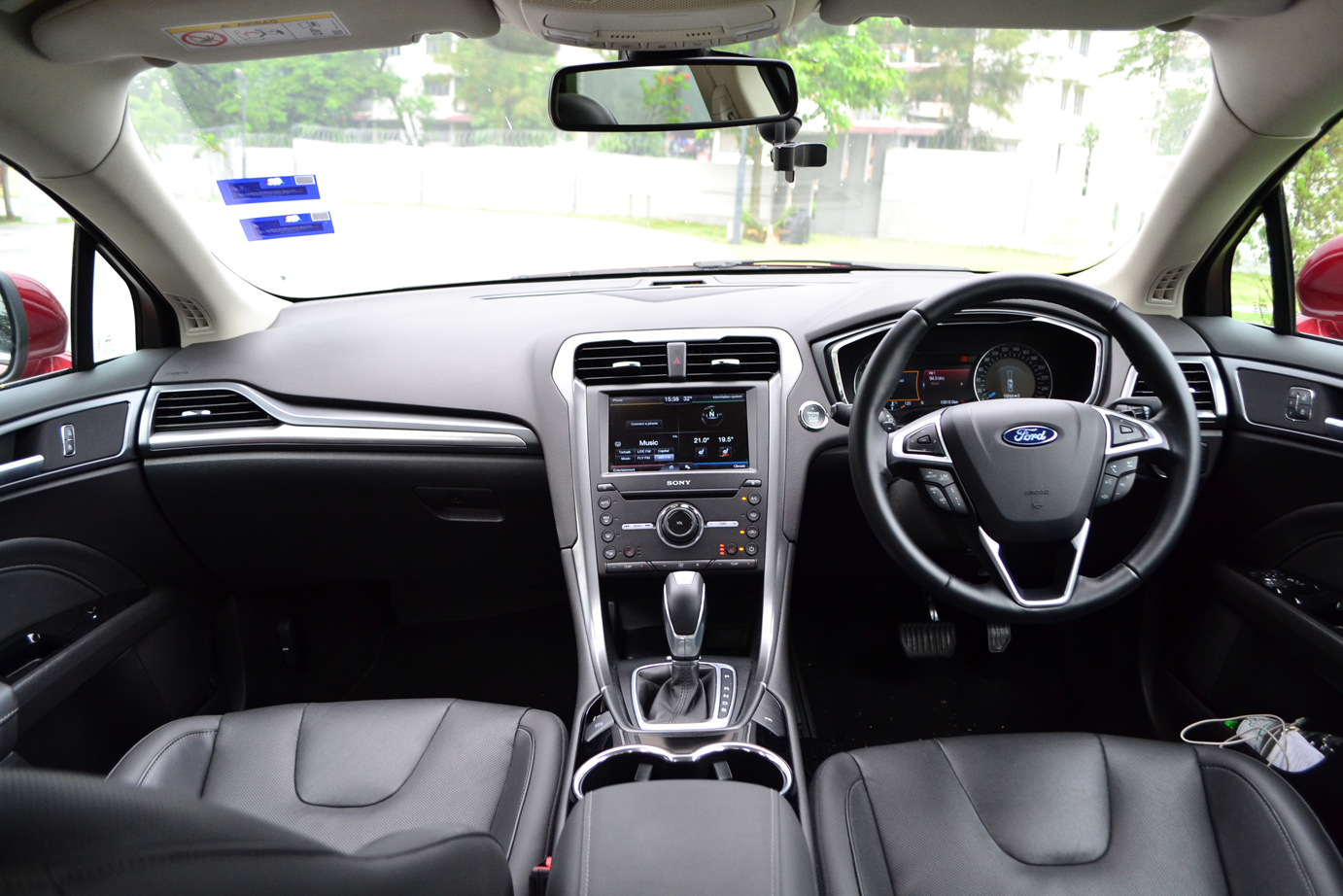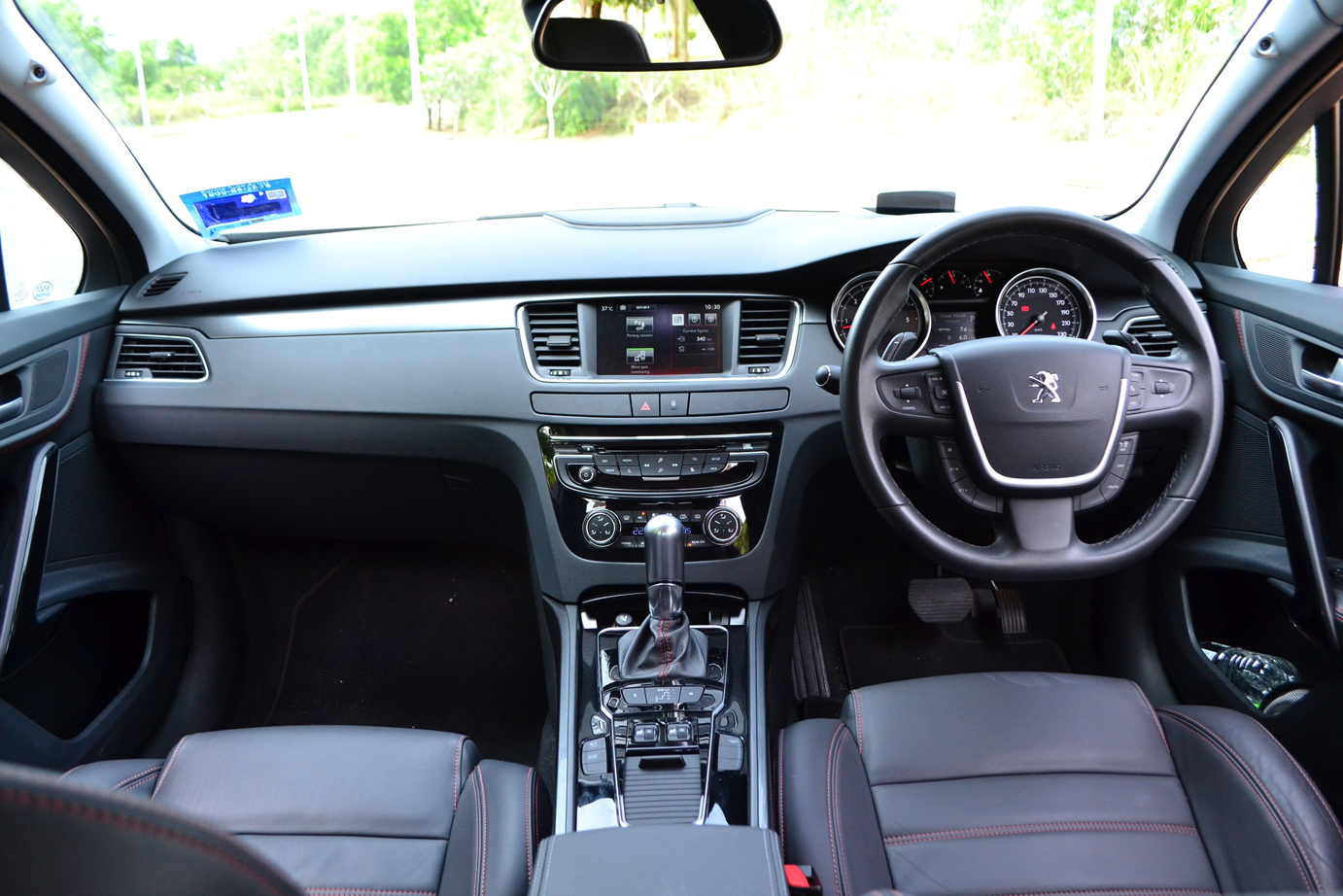 Both makes exhibit the finest fit and finish befitting their marques, with the Mondeo opting a minimalistic, clean mien while the GT displaying its usual French flair for buttons and dials. Those familiar with their predecessors can see that the Mondeo looks nothing like before whereas the GT is almost identical. The previous Mondeo had a headunit that stood out like a pimple on unblemished face but fortunately, the new one had an interior that's well thought-out. The old GT meanwhile had brown leather and a controller sitting in the middle behind the gearstick; the controls have since been incorporated to the buttons above the air conditioning controls.
.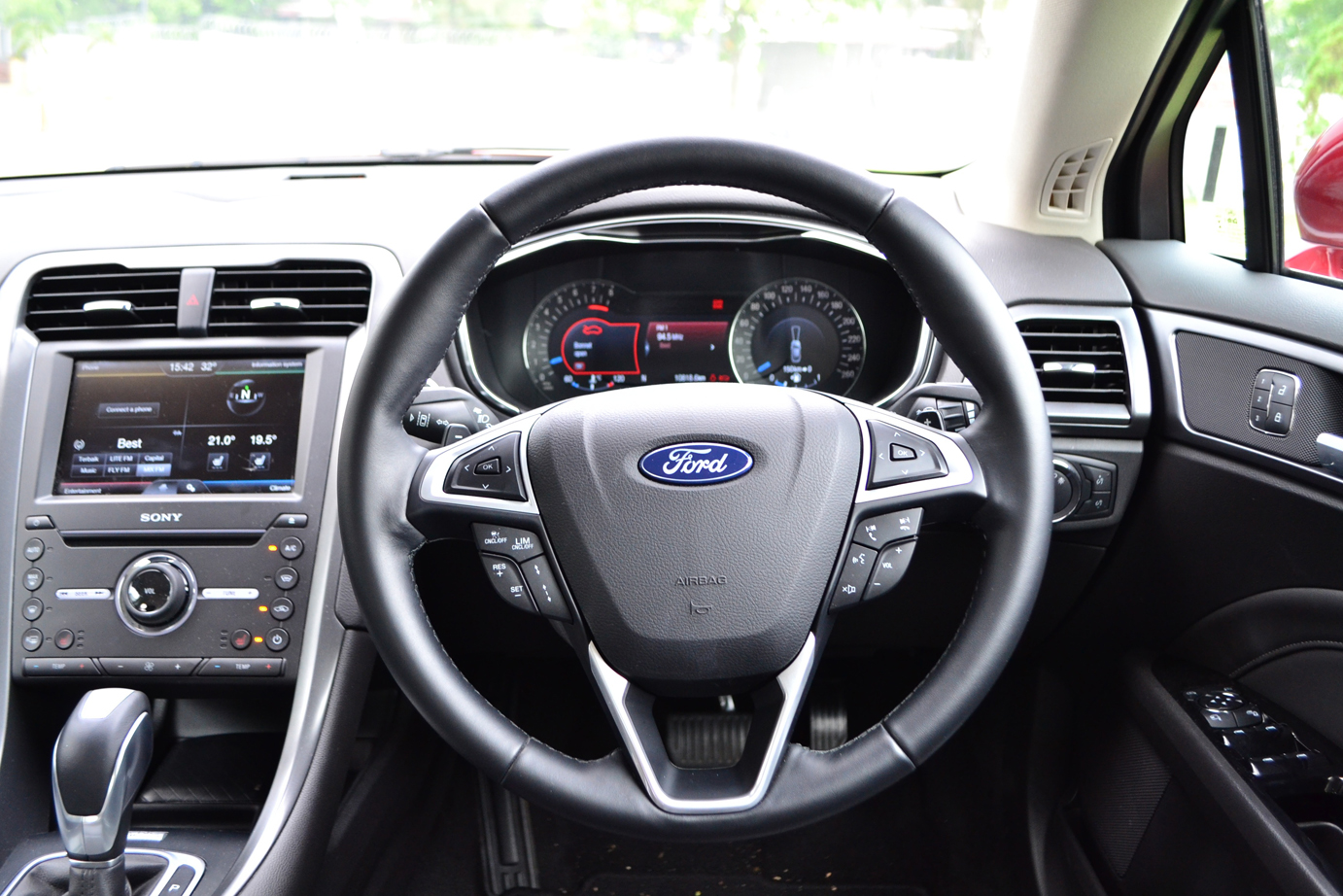 On to the steering wheel, we see audio, multi-function display, Bluetooth telephony as well as cruise control buttons on both makes. Touching on the cruise control, the Mondeo features adaptive cruise control while the GT has a standard one. This means the Mondeo automatically slows down the moment it detects another vehicle in front of it and autonomously speeds up the moment the vehicle moves out of the way. This leaves the driver doing only one thing – control the direction of the car. While this is a great technological feature, it is less practical here in Malaysia where you have road hoggers who thinks that just because there's a one car gap between you and them, they take it that you're perfectly fine with the slower speed and refuse to move to the left even when there isn't any traffic. The GT on the other hand would happily let you crash into the front vehicle if you failed to deactivate the cruise control and brake in time.
.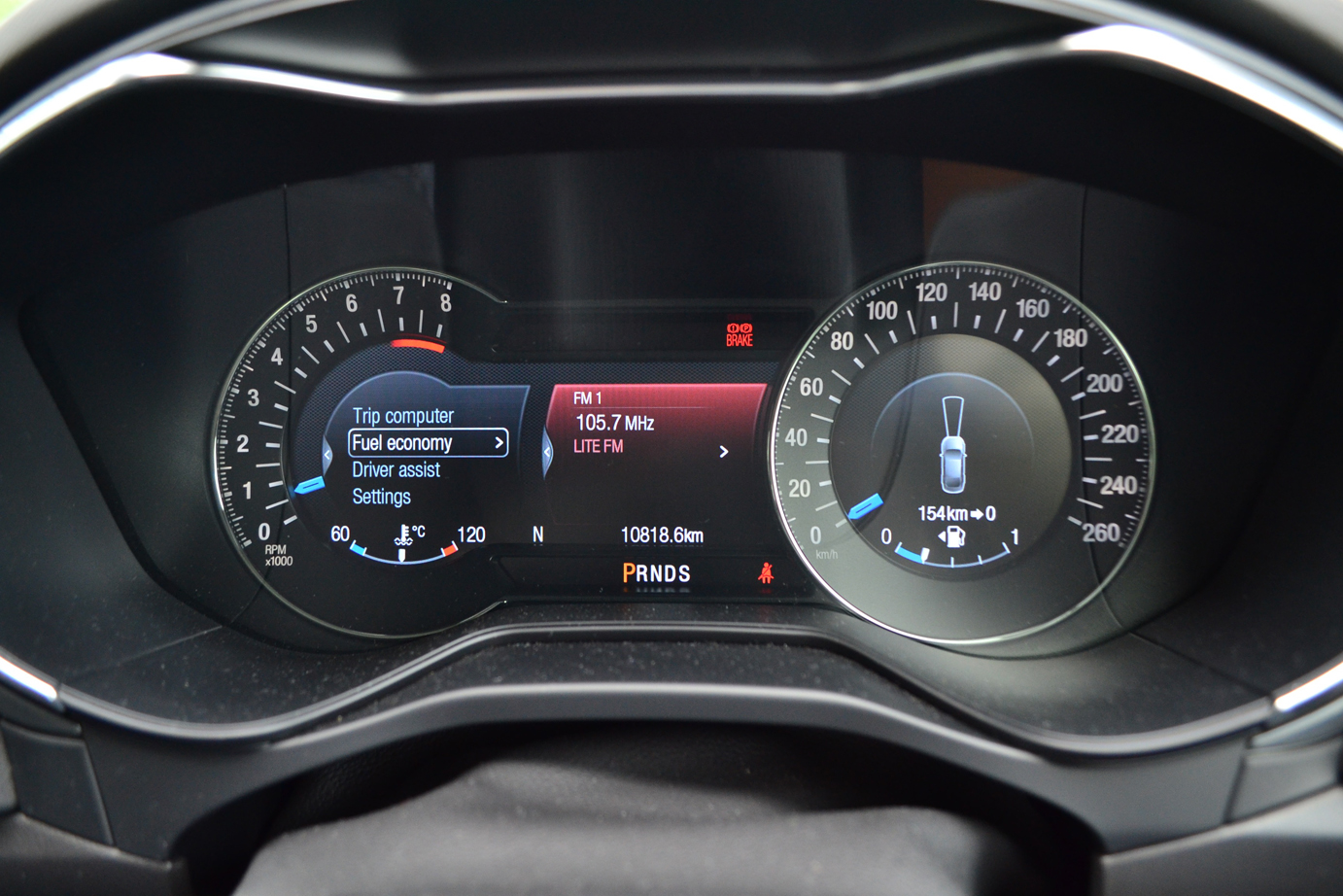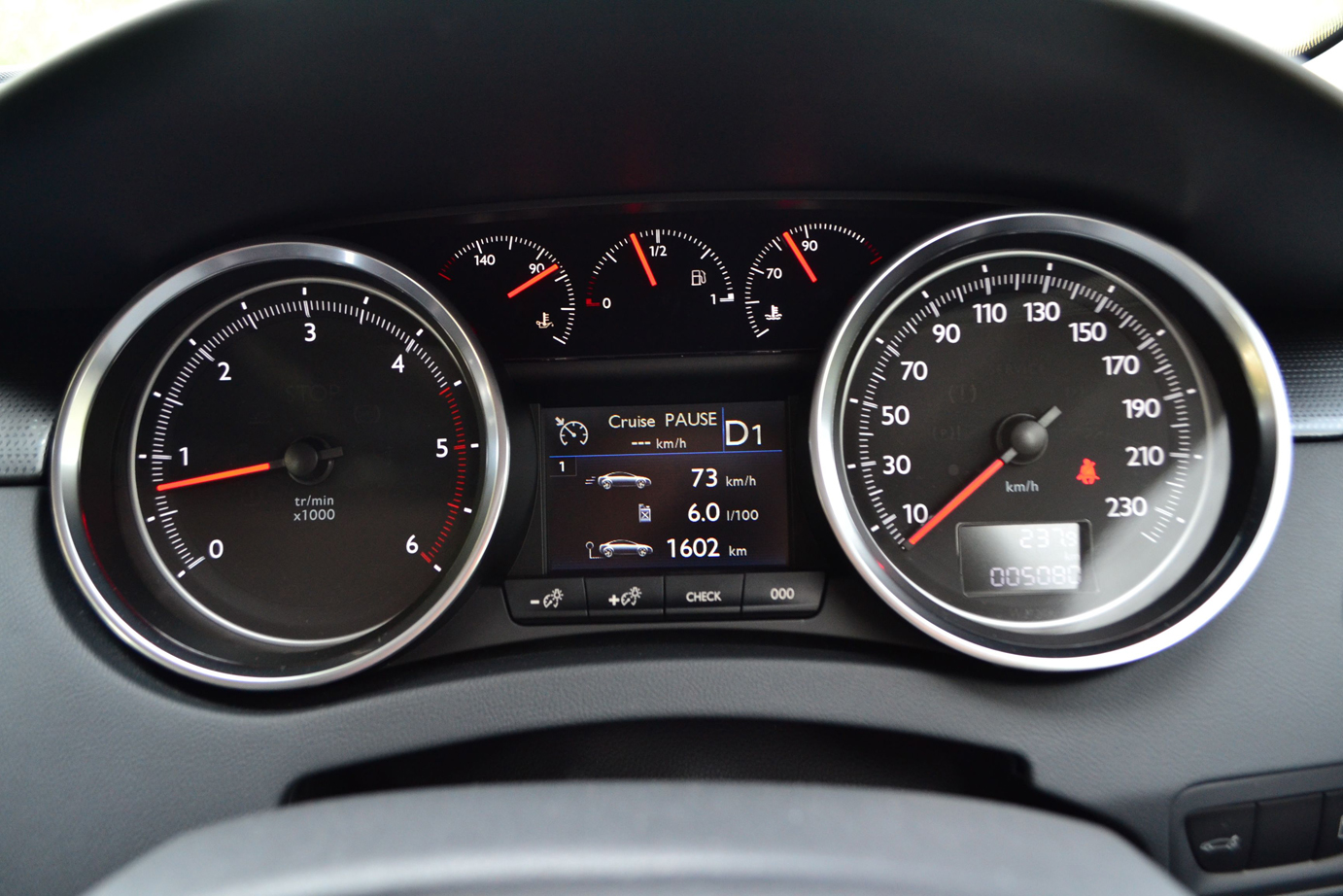 For meters, the GT has 5 analog meters telling you the speed, rpm, engine oil temperature, engine temperature and fuel level whereas the Mondeo uses digital pointers to tell you how fast and what rpm you're at. In the center of the speedo, the Mondeo display the radar which becomes active the moment you exceed 30km/h (the triangle will be filled grey instead black in the image). If it detects another car ahead, an image of another vehicle will appear in front of the image shown here. If you're too close, the radar turns from grey to red and proximity sensors go off with a prompt "Pre-collision assist" flashing on the left dial (more on this later).  As you toggle between functions, the Mondeo's features minor animation of the page flipping up/down whereas the GT just switches the display instantly. What the GT displays on her meters are the usual information; range, distance to empty, temperature. audio, location, etc.
As a whole, the readouts on both cars are easy to see and read but if you happen to be engaged in some serious spirited driving, it's best to keep your eyes on the roads instead of the meters. In this respect, the GT's Head-Up Display conveys speed info better as you only need to shift your eye balls a few inches down instead of turning your head away.
.
Both makes offer touchscreen displays with the Mondeo's being slightly larger at 8″ vs the GT's 7″. Interesting to note that Ford partners with Sony who is partnered with Microsoft to create the Ford Voice Commander and Sync 2.0. Peugeot has its own inhouse developer.
The Mondeo's Graphic User Interface shows 4 distinct windows (Phone, Information System, Climate and Entertainment) where you can access the various functions quickly and easily. The GT on the other hand relies on physical buttons found below the display to change functions. Those buttons aren't big and unless you're very familiar with the system, you'd need to take your eyes off the road to press them. Not exactly the safest thing to do but the GT has more features to play with. For one, it offers SatNav and the Mondeo doesn't. To some, it's not a big deal since we have Waze to get live traffic updates while the Peugeot's system isn't connected to any traffic update systems.
What's significant different is the audio systems; The Mondeo's sound reproduction is normal, plain and basic despite having 9 speakers. The GT on the other hand has a 10-speaker JBL sound system with a 500W subwoofer and Arkamys sound processing. Comparing music played in the Mondeo against the GT is like watching a movie in 144p vs 1080p full HD. Bass reproduction, staging and sound level on the GT is excellent (for a stock system). If you're a person who cannot live without your music,  you can't go wrong with the GT.
.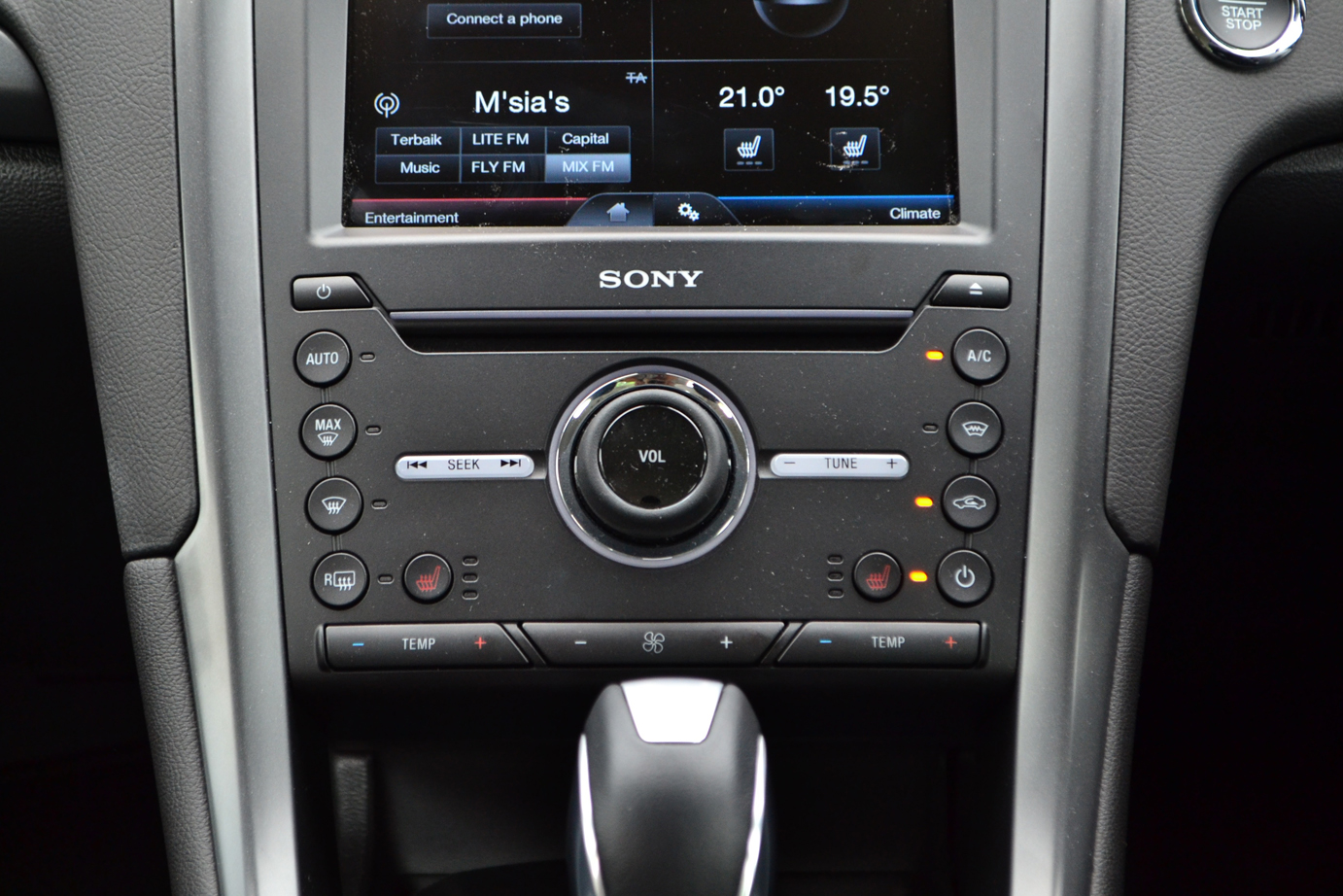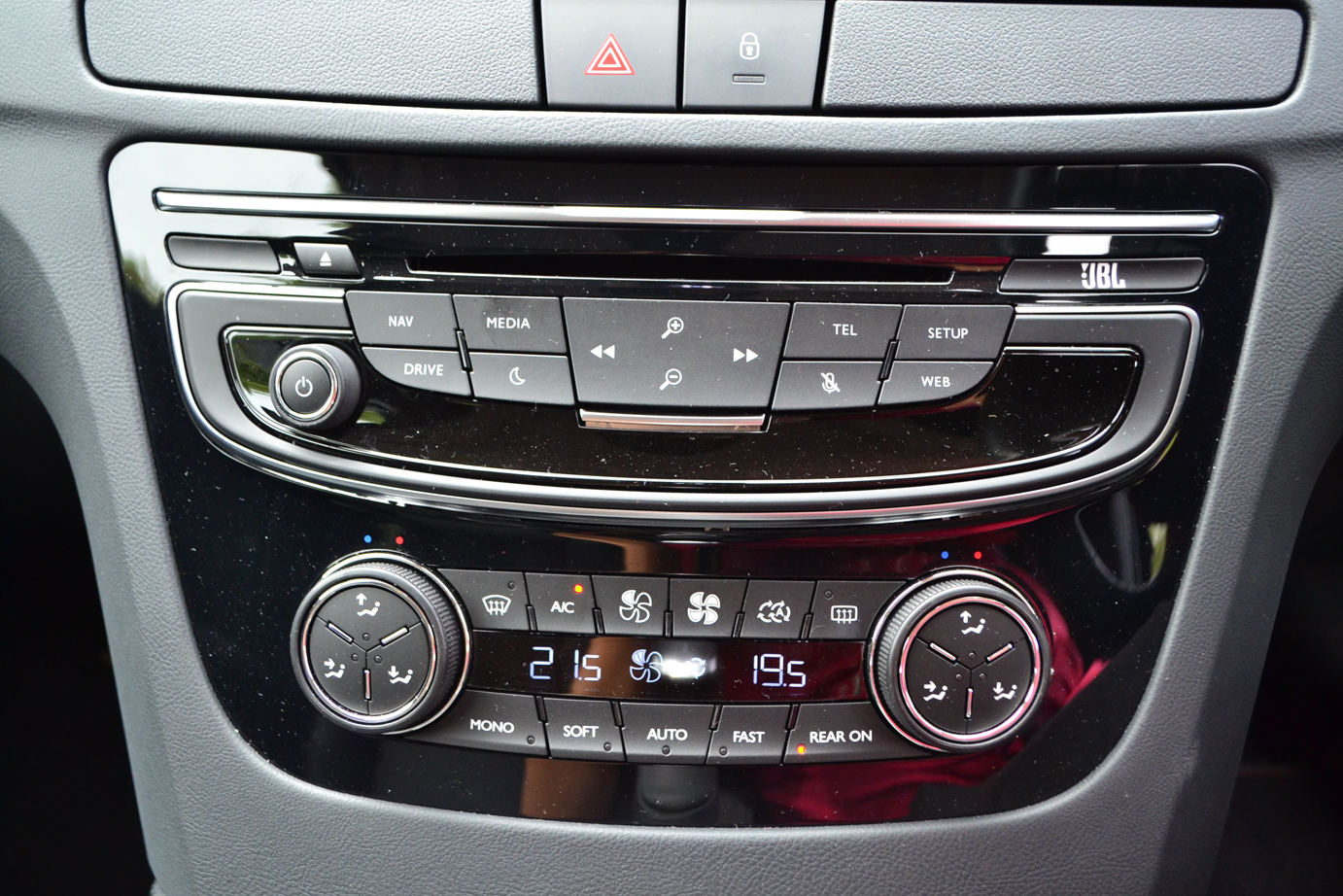 I get confused every once in a while trying to adjust the dual zone air conditioning temperature on the Mondeo because the touchscreen merely displays the set temperature and adjustments are made with the buttons far below the audio controls. The GT's may look complicated but once you've acclimatized to the climate control, it's easy to change at a fly. Throughput on both vehicles are similar but the GT has Quad Zone air conditioning, allowing temperature customization for the front two and rear two persons. This alone makes it feel like it's worth a lot more than its asking price.
.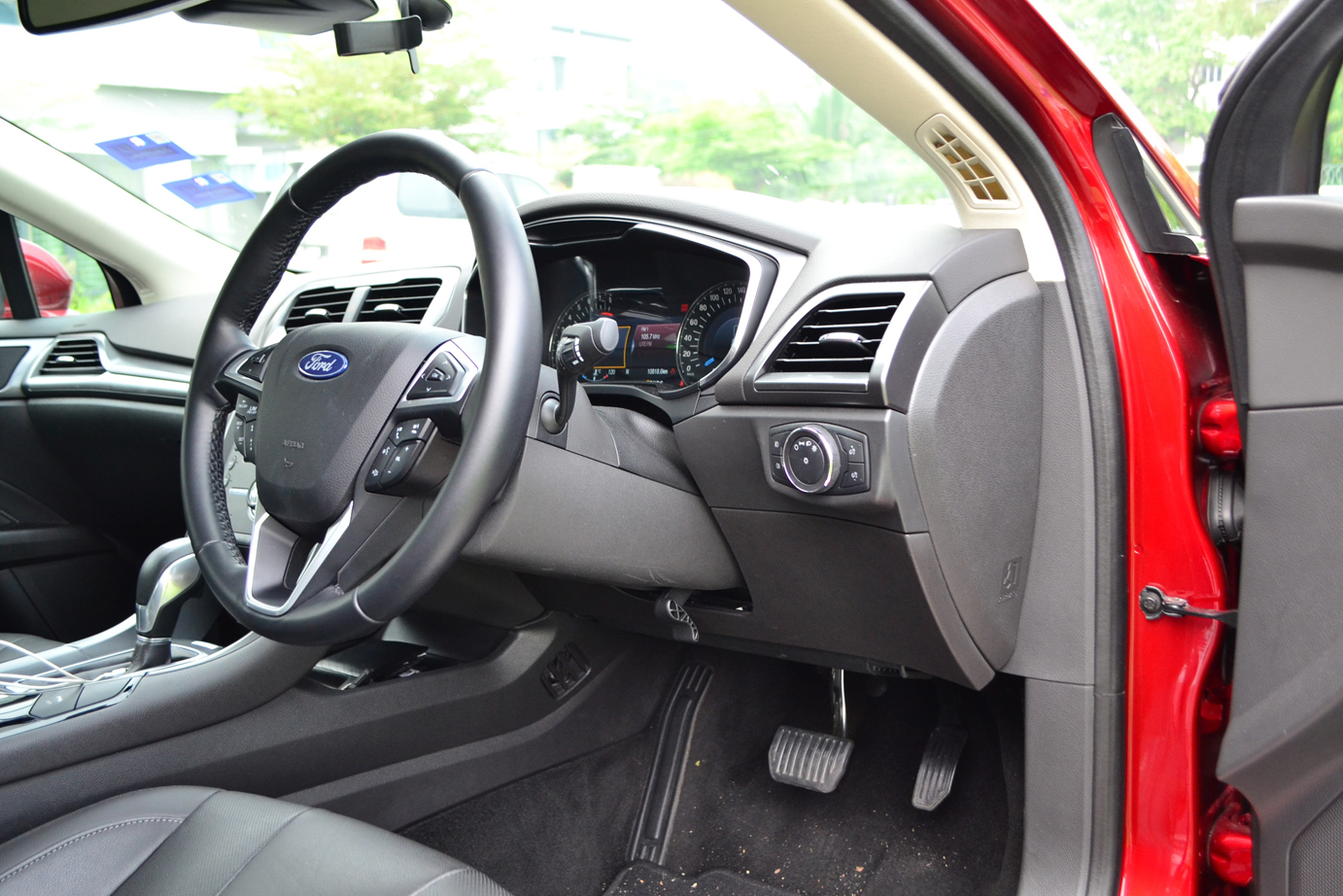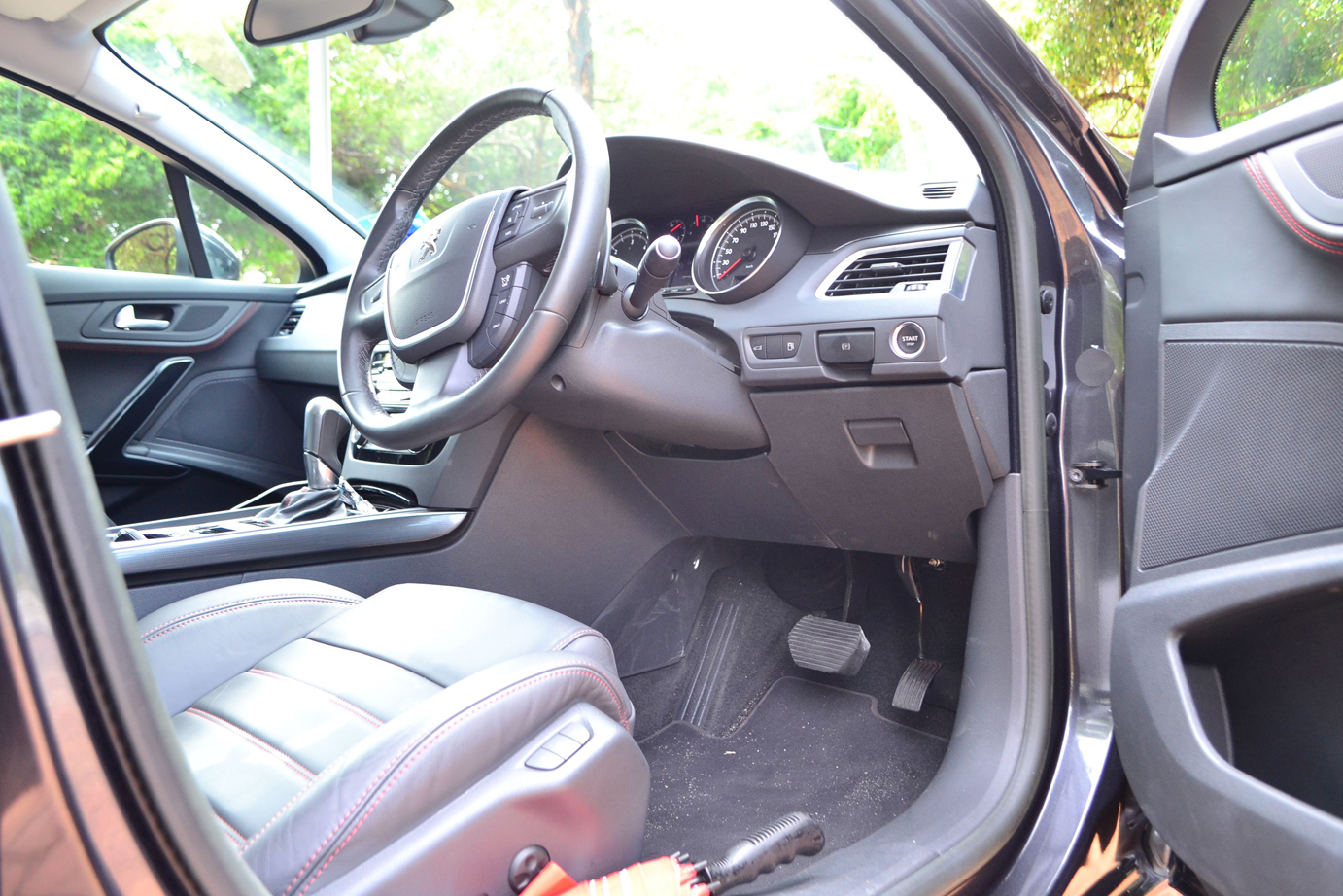 Traction controls are hidden in the MFD display of the Mondeo and you'd have to toggle through to find the setting to deactivate it if you wish to do so. The GT's ESP and HUD controls are found below the Start/Stop Button where what is normally the fuse box for asian made cars.
.
Cubicles-wise, the Mondeo has two large and deep cup holders and a very deep center console compartment. The GT is at a severe disadvantage here with a shallow center console and another compartment behind the seat heater that's only about 1 inch deep, useful for small receipts and access cards. Cup holders are plastic holders suspended in front of the center air conditioning vents which blocks the air when you put a bottle there. Both have piano black finishes in the center and as you can see, keeping it finger-print free and spotless can be a chore sometimes.
.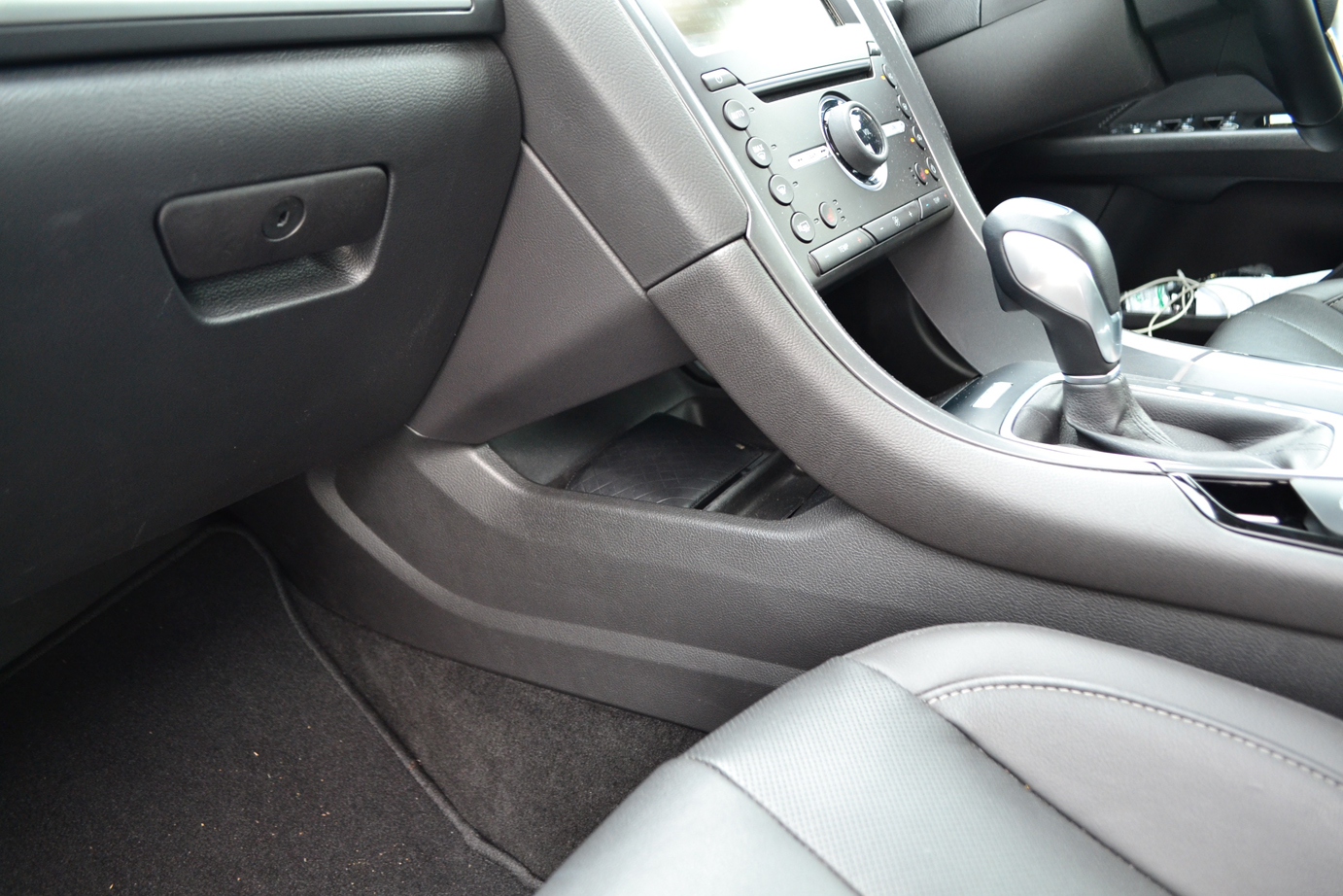 So if you happen to be like me who likes to remove my wallet from my bum, the Mondeo has another area in front of the gear stick that allows small items, such as wallets to be placed.
.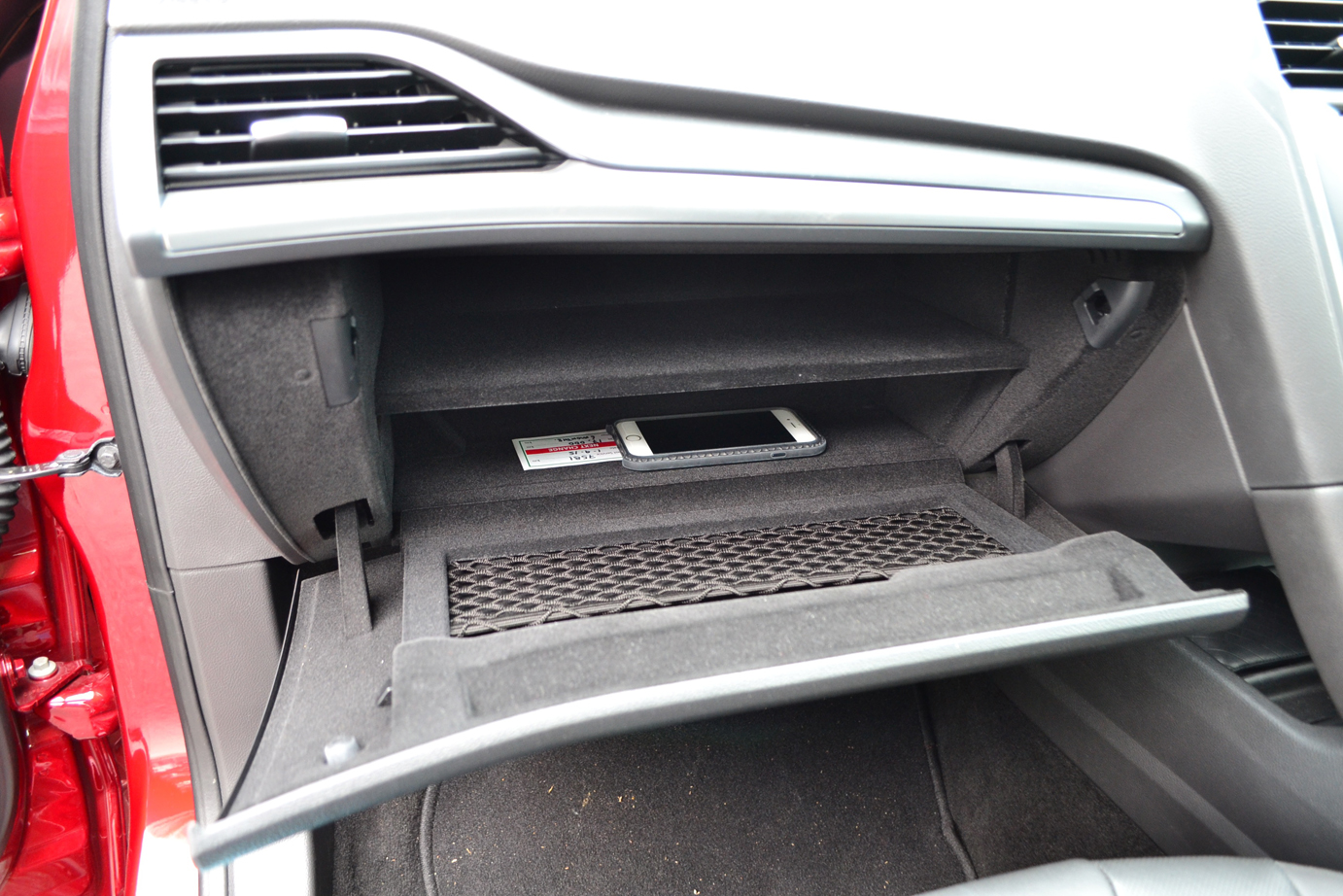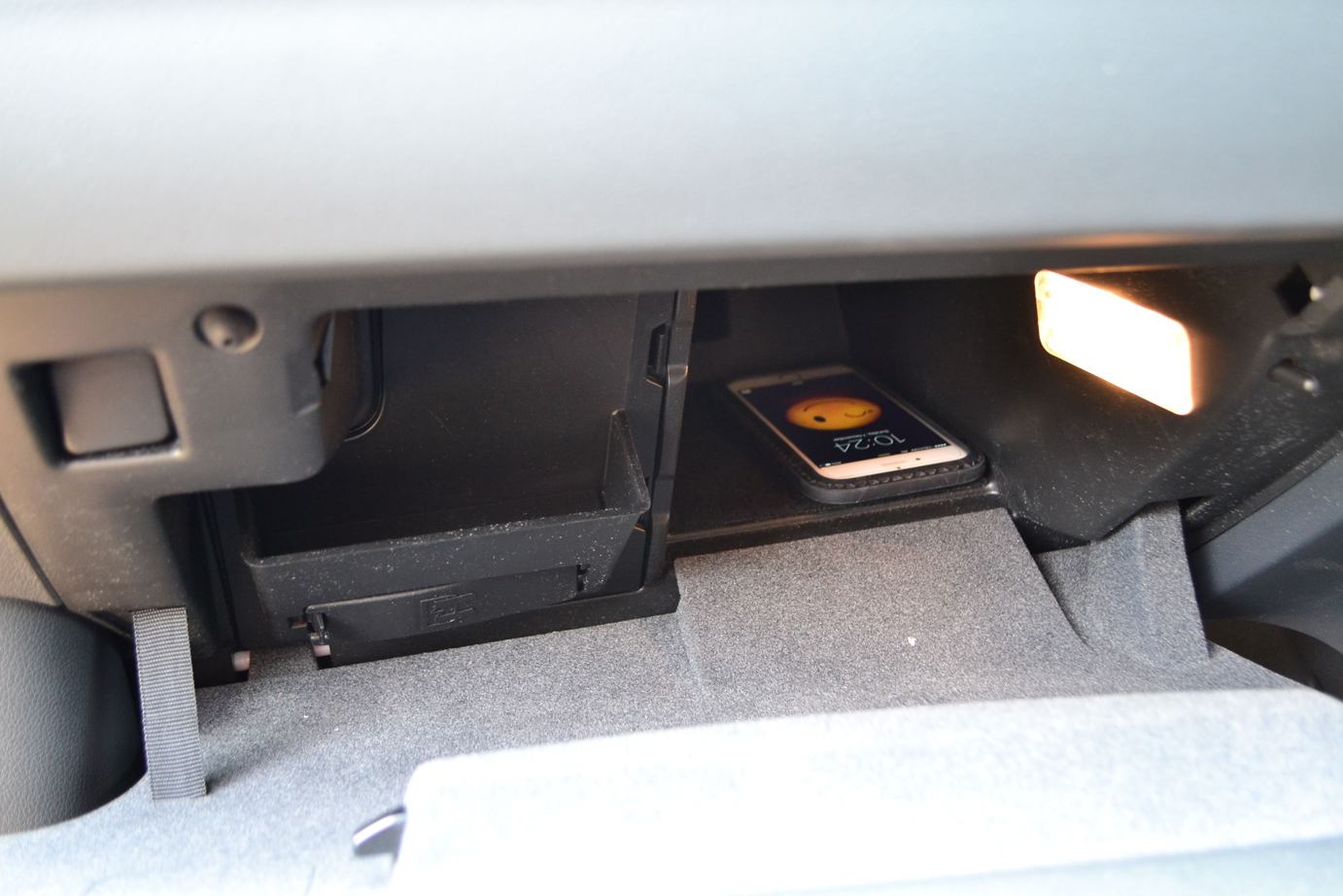 Mondeo has a two-tier glove compartment whereas the French's insistence on maintaining the fuse box on the left side minimizes space in the GT.
.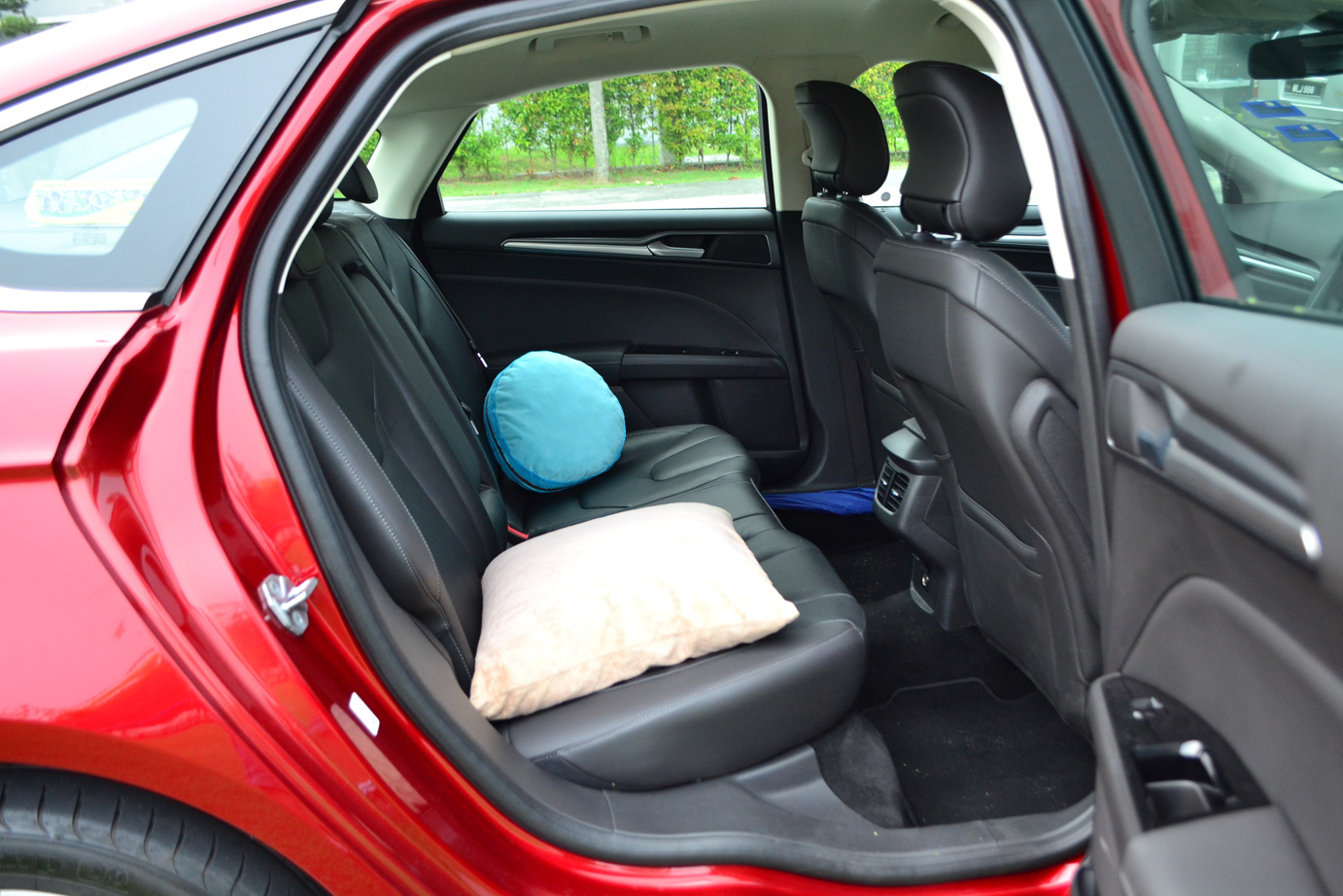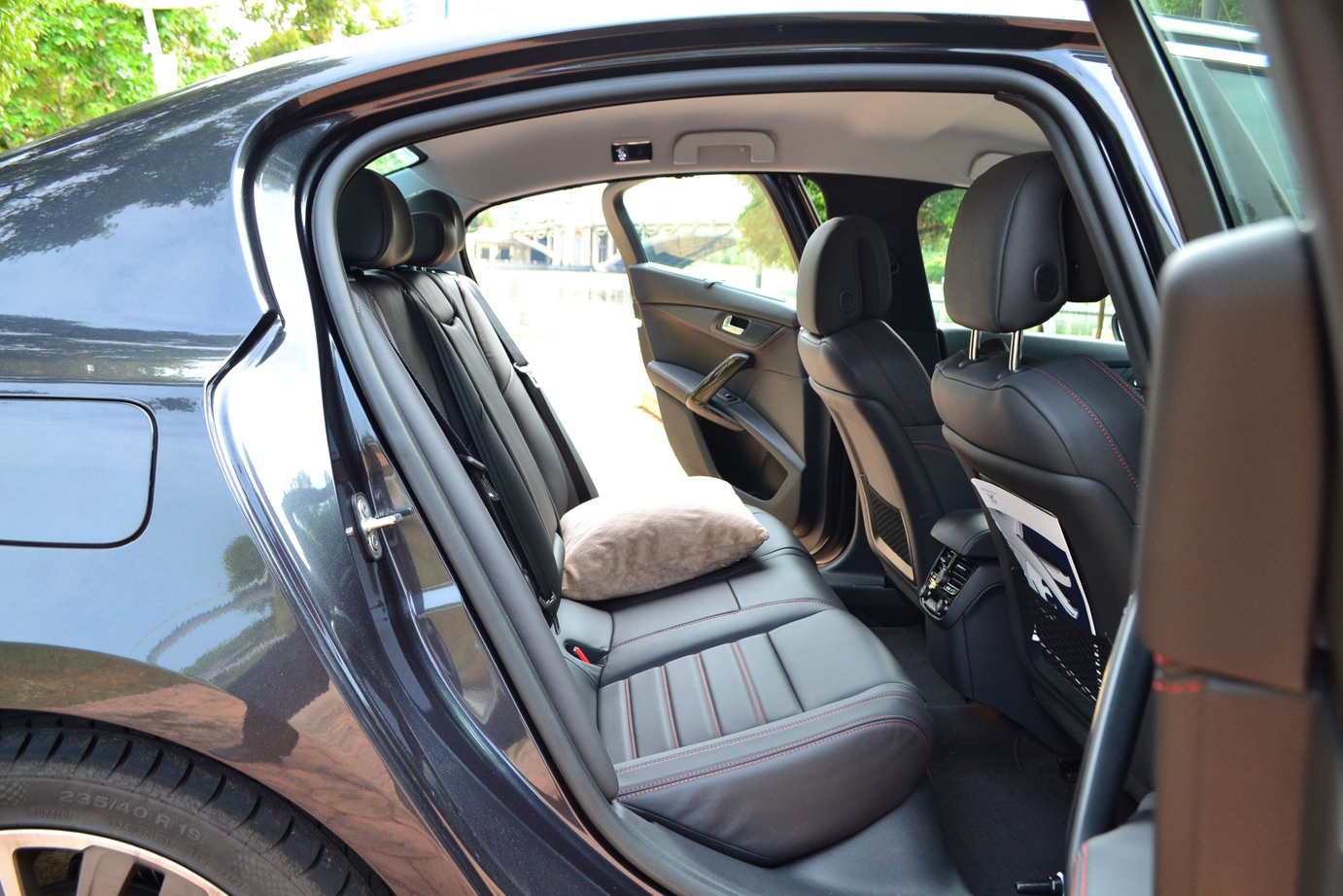 As it is with vehicles with wheelbases in excess of 2.8m, rear legroom is not an issue but taller passengers should watch out for a lower roof line in the GT when entering. As mentioned before, the GT allows two rear passengers to set individual temperatures, something the Mondeo doesn't have.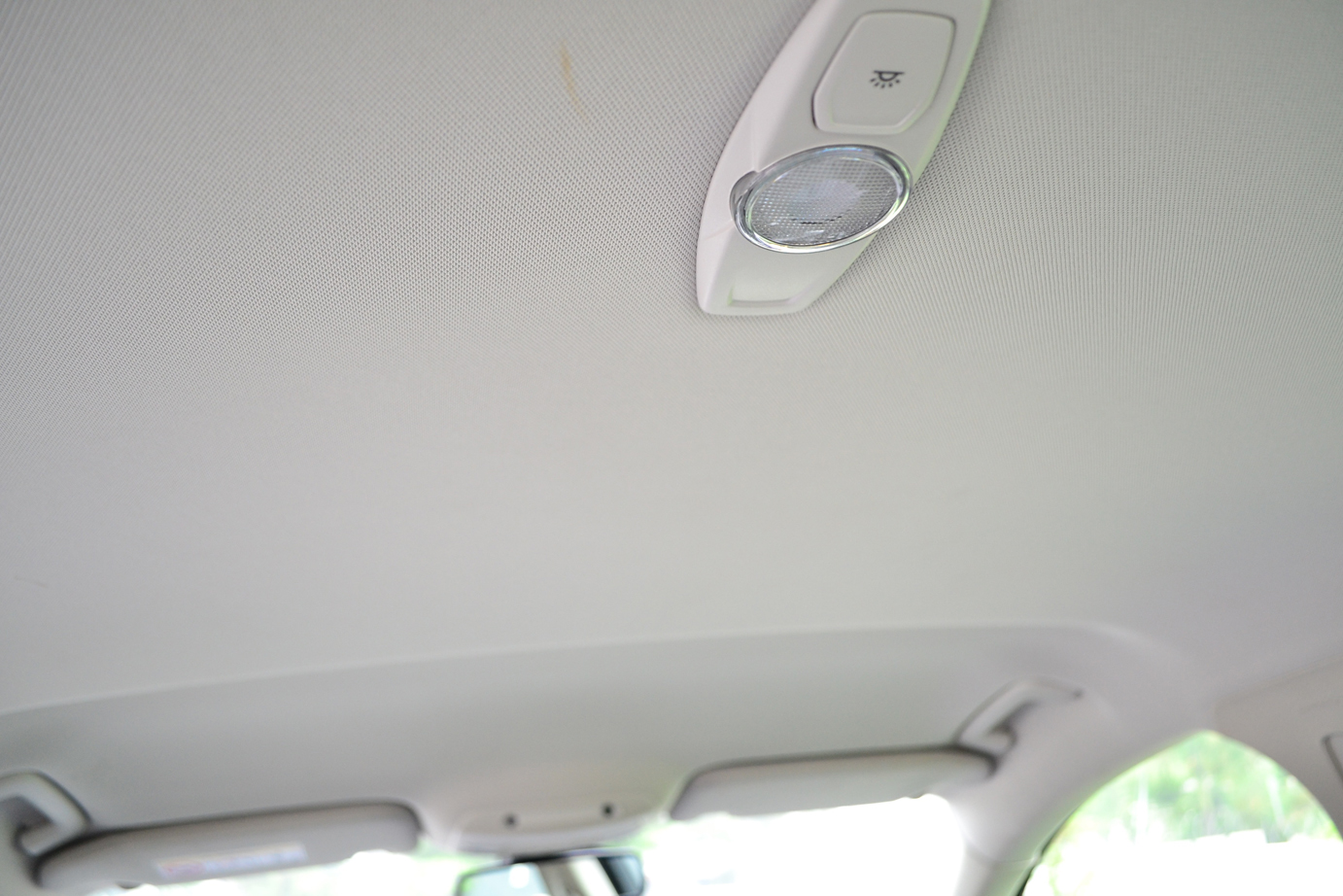 Furthermore, the GT has built in shades for the rear passenger windows and rear windscreen and individual LED reading lights. It is surprising to see the Mondeo only have one cabin roof light. In this, the GT is able to wow rear passengers better – if they can overlook the fact that the GT's rear seats can be a tad firm and the backrest a little straighter than the Mondeo. Good for postures but in a long distance drive, I would prefer the Mondeo's rear seats which are more comfortable and contours to our backs better.
.
No official numbers on boot capacity but as you can see in the pictures, the Mondeo has a shallower boot due to the full-sized tire housed below it. The GT, opting to go with a space saver allows more to be pack inside. If more space is desired, the 60:40 split folding seats can be lowered.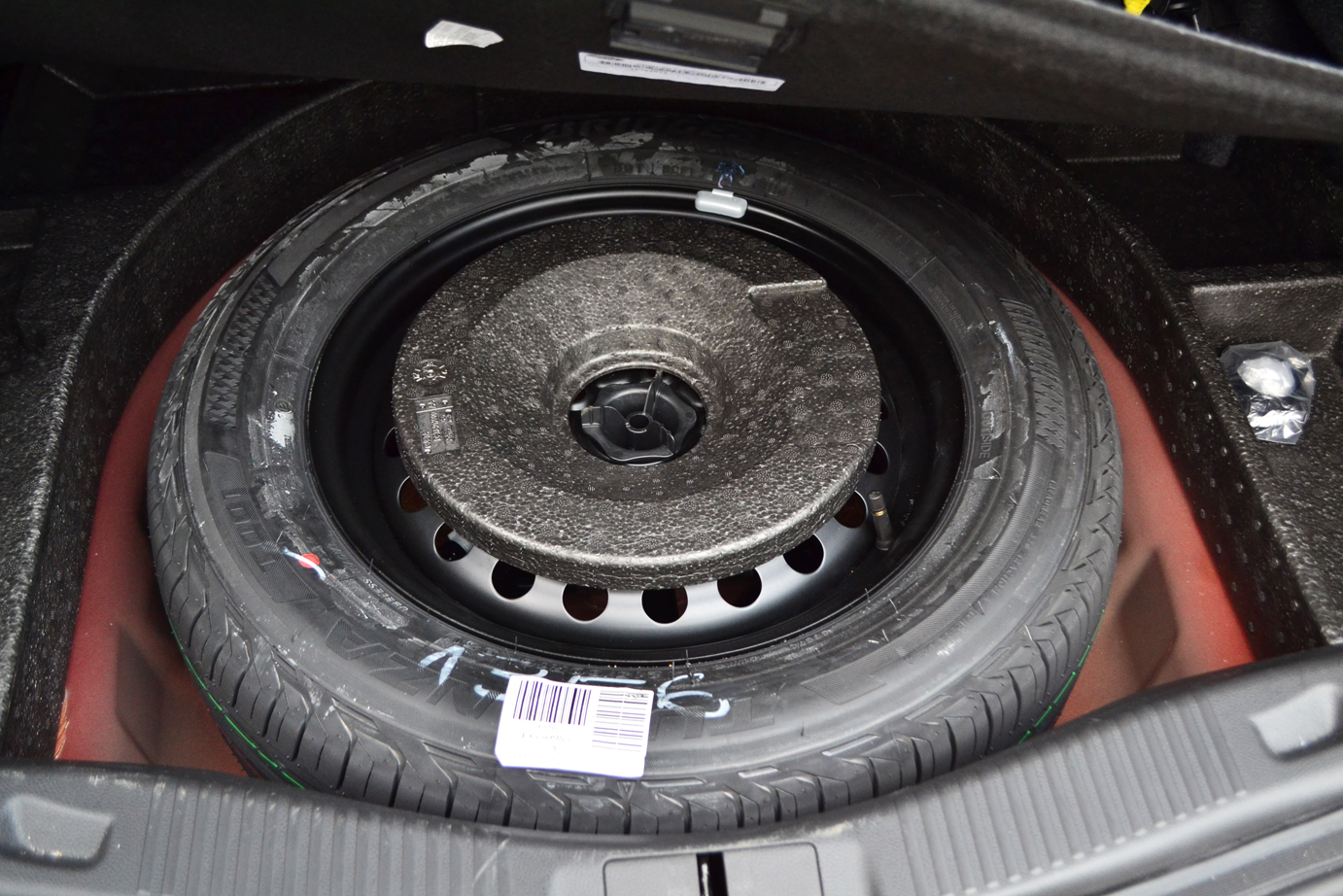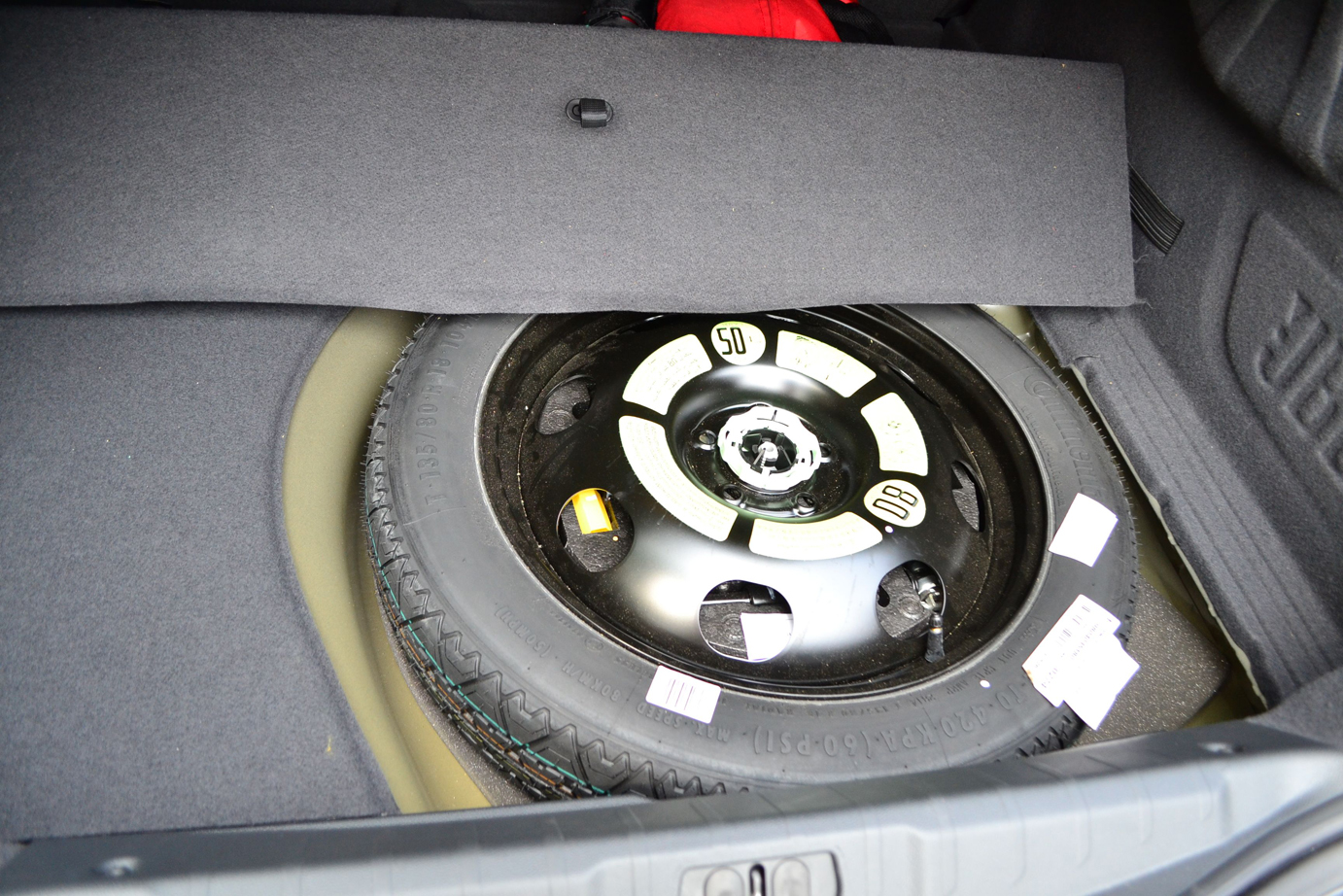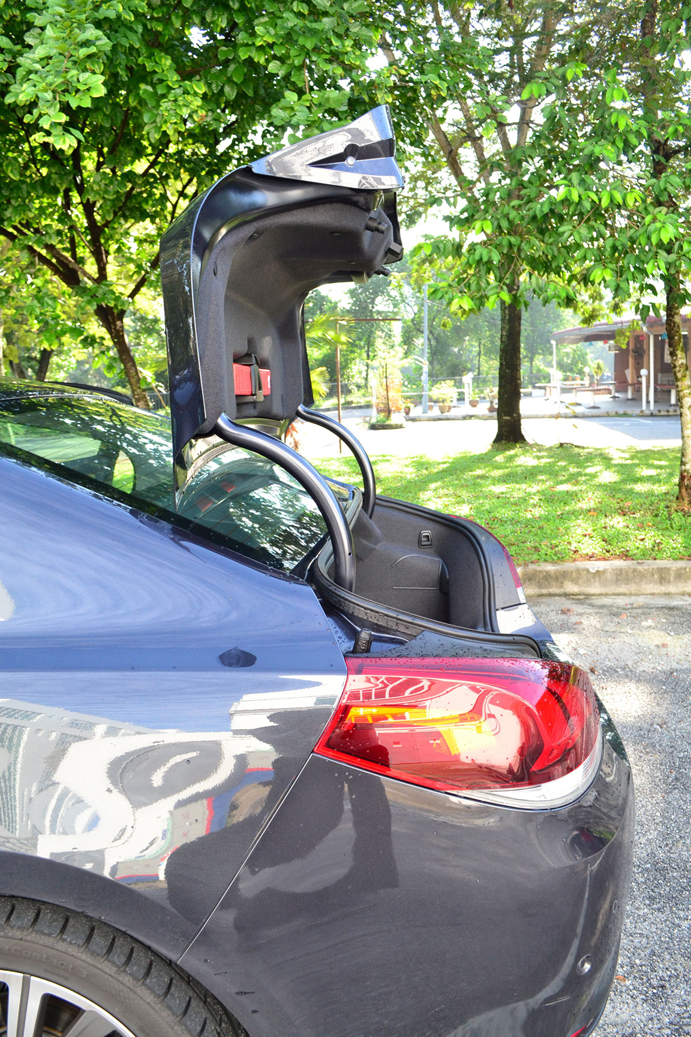 However, there is one issue I faced with the GT; the limit of the boot lid when fully raised causes water droplets to wet the contents of the boot. This is particularly frustrating when you thought it's safe to open after rain only to find residual water on the boot dripping in. The Mondeo doesn't open as wide but it is sufficient and doesn't have the unwanted side effect of the GT.
.
.
Safety
Being flagships, both cars comes loaded with safety features. Let's look at the key features of each.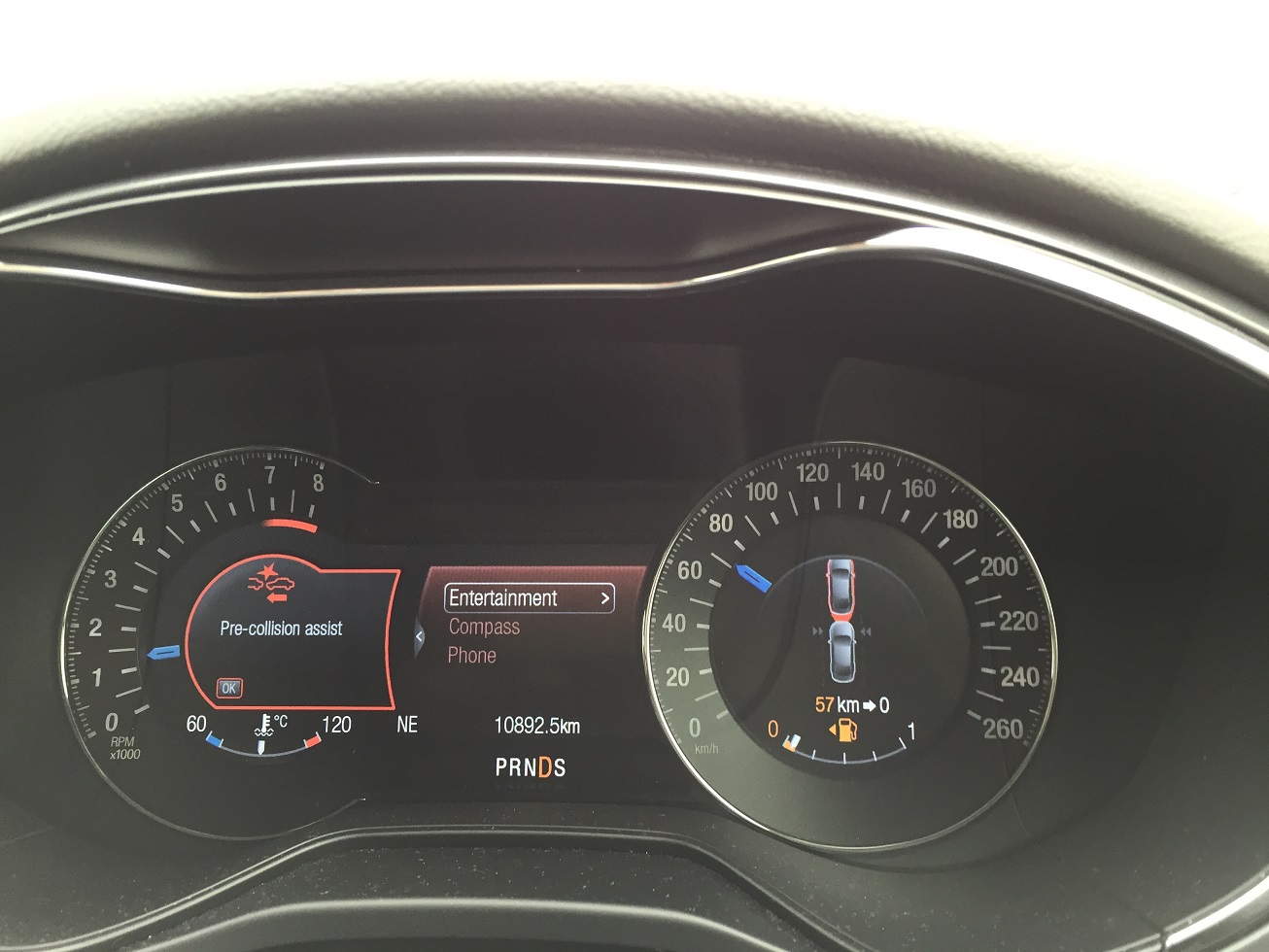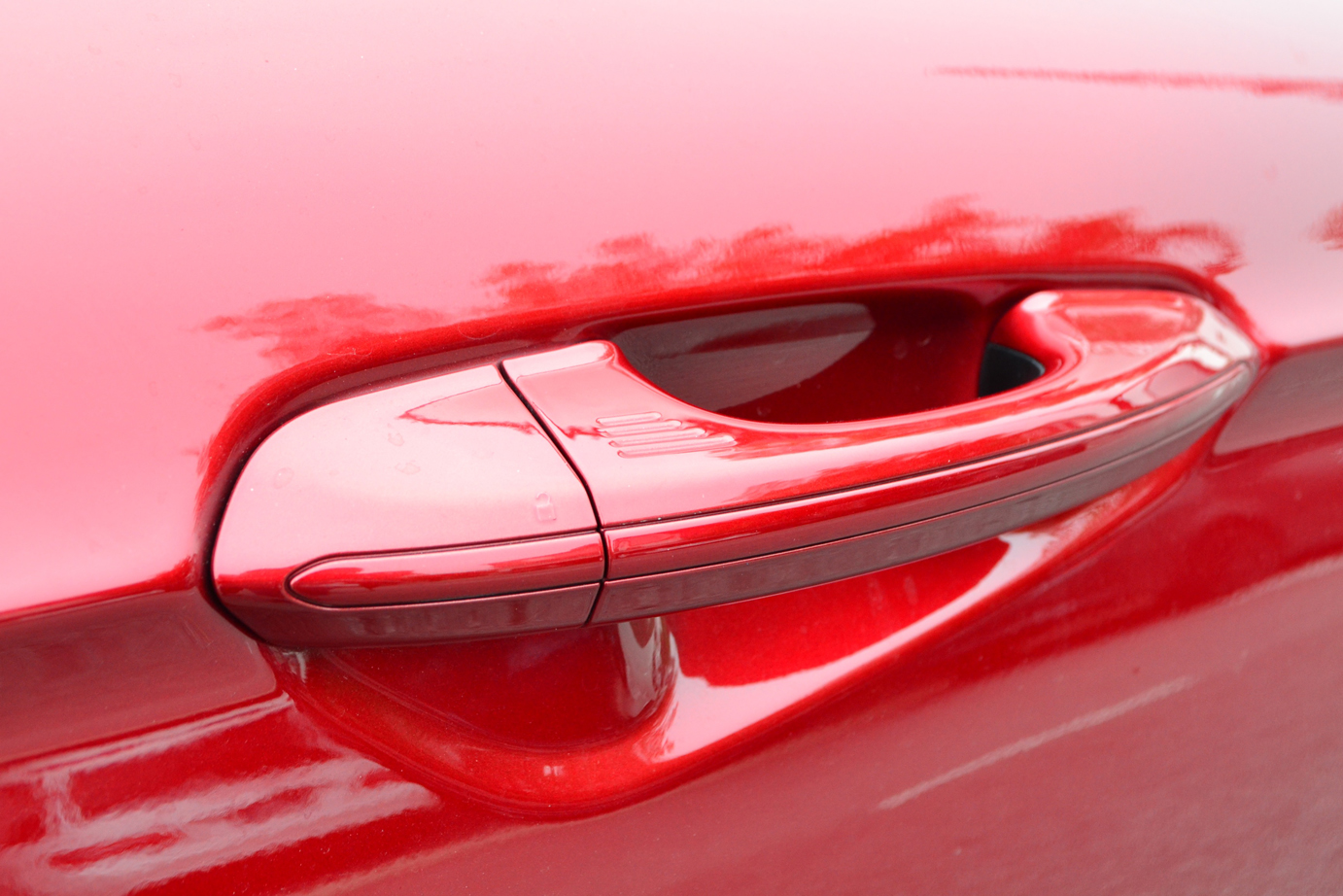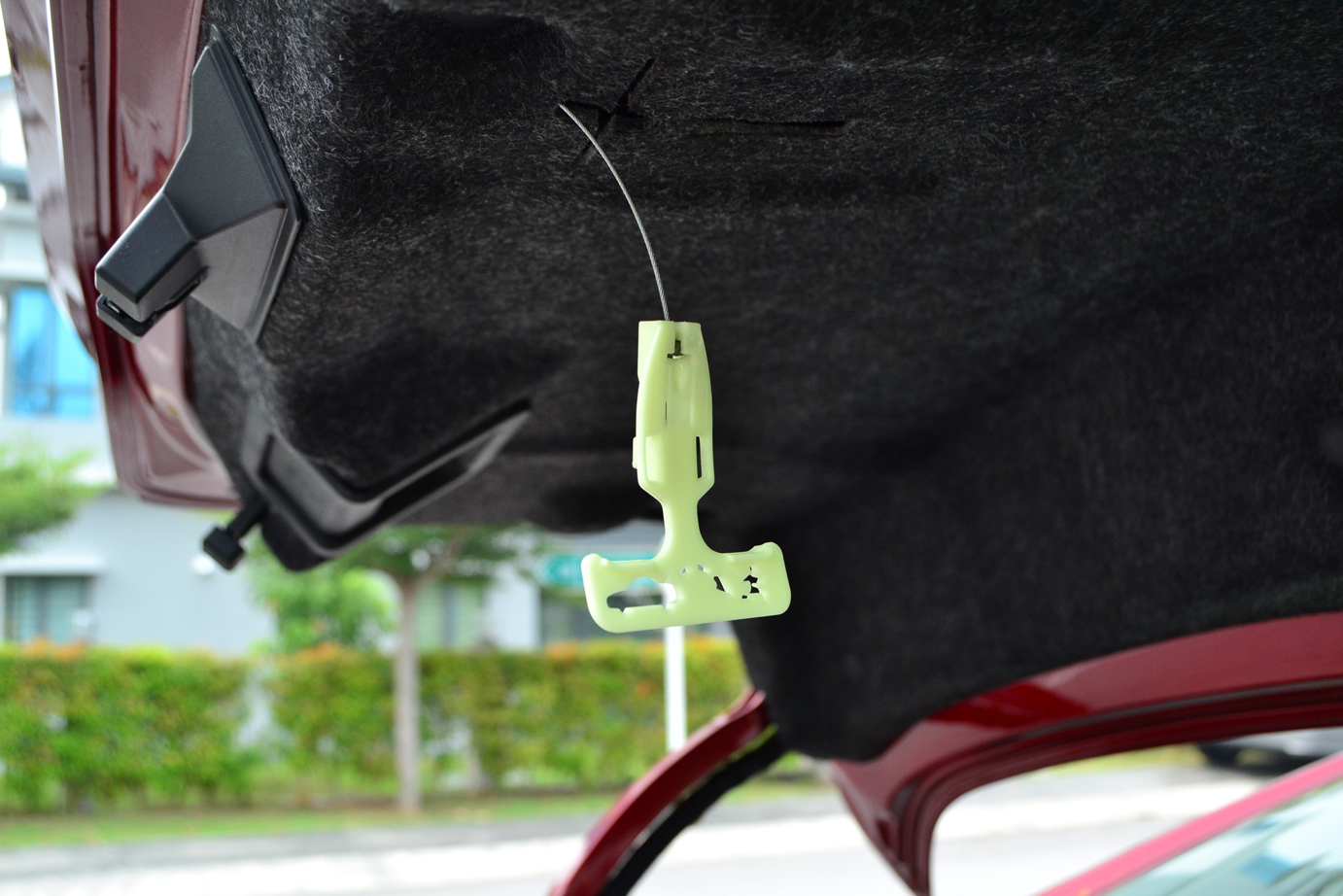 Starting from the top most picture in this section, you can see how the Pre-collision assist alerts you of imminent impact if the brakes aren't applied. The message flashes at you, radar area turns red, an audible beep loud enough to burst your ear drums and the LED head up proximity display flashes red – all happening simultaneously that would assuredly capture your attention unless you're so far drunk that you shouldn't be behind the wheel in the first place. The radar is sensitive enough to detect pedestrians and cyclists. I might have avoided a chicken once too; not sure.
Lane Assist, once turned on with a tap of a button at the wiper stalk summons two green lines once the vehicle detects road lines besides the car. If you veer off lane, the line crossed would first change to yellow then red and the steering wheel shakes to alert you.
I love the Keyless Entry detector. Most vehicles, including the GT has the detector at the sides of the door handle and while it's usually not an issue to lock the doors by tapping your fingers/thumb at it, the Mondeo's top-facing detector makes it more convenient. You can try this yourself; if you're working on a desk, try pushing your thumb against the edge vs tapping your fingers top down. The later feels easier.
If you ever find yourself in the boot for any reason, there is a safety trunk release (which glows in the dark) for you to get out.
One other key feature not shown here is MyKey, a system that programs driving parameters into the key. Warnings and limits such as seat belt reminders, speed limiter, music volume and other safe driving reminders can be set into each individual key. Think of your car being a nanny if you ever need to hand the keys over to your college-going kid.
.
Ford Mondeo's safety features include:-
Driver & front passenger airbag
Side airbags
Curtain airbags
Knee airbag (total 7 airbags)
Lane Keeping Aid
Ford MyKey
ESC
ABS
EBD
EBA
Hill Launch Assist
Capless fuel system
Rear 3-point seat belts
Follow-Me-Home lighting
Front and rear parking aid sensor
Engine immobiliser
Thatcam Category 1 alarm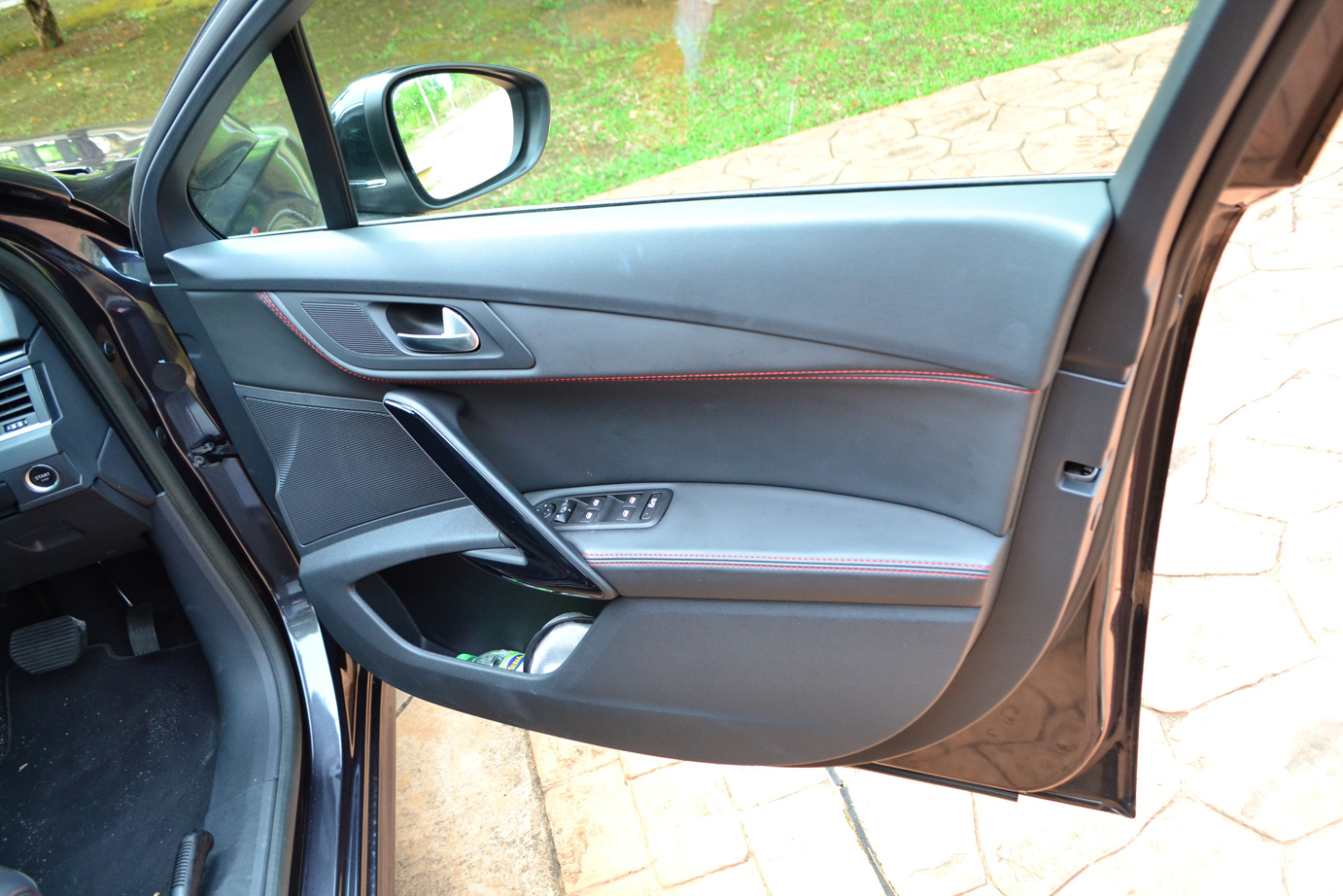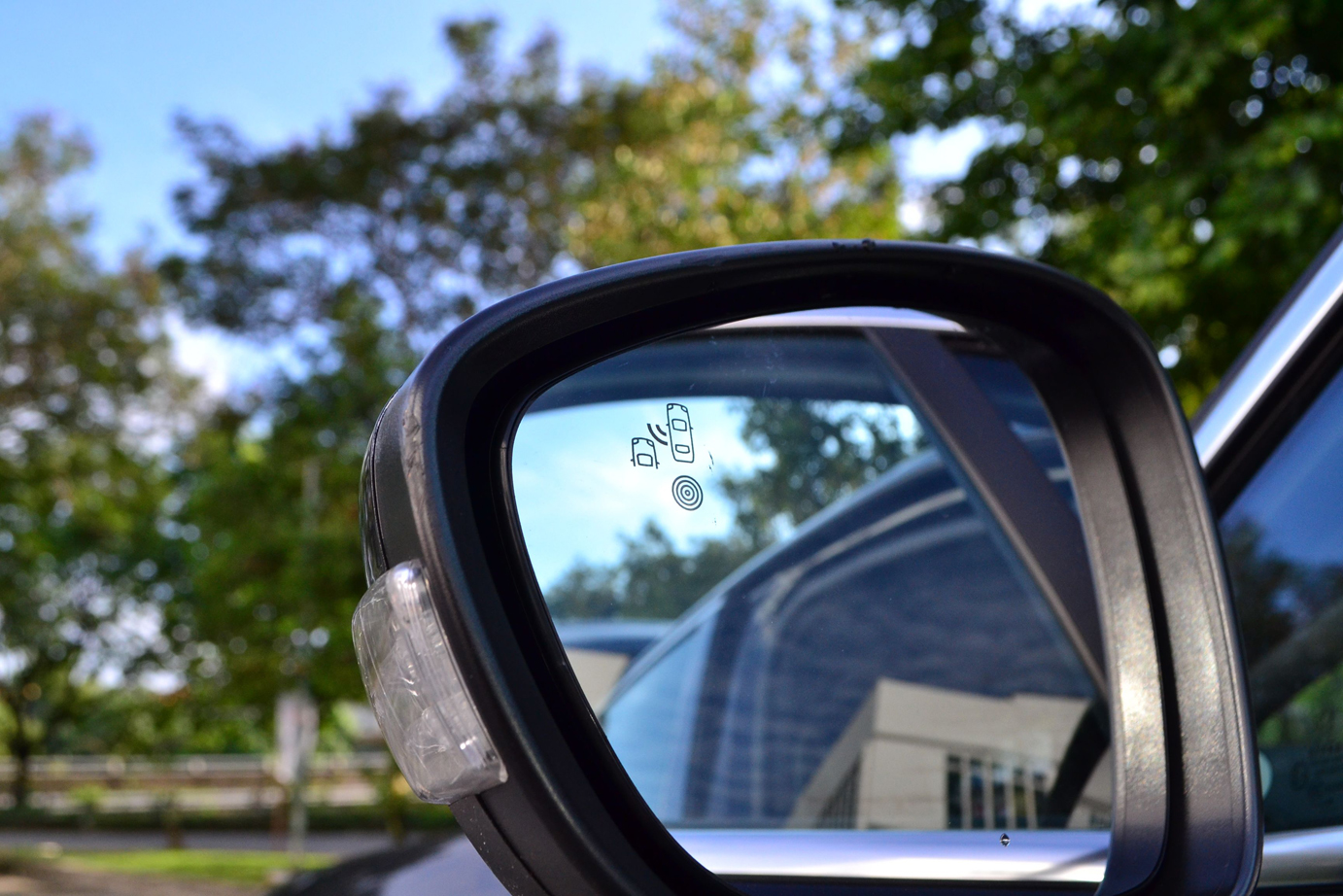 The GT meanwhile tops the Mondeo by having a child lock button on the driver's door. Once depressed, rear passengers cannot open the doors nor windows. This is a feature common on all Peugeot vehicles and one I particularly appreciate because I once had a boss who's very impatient in getting out of the car when we arrive at our destination. He would open the doors even before the car stopped rolling. So instead of inviting him to the front, I asked him to sit behind (as befitting a boss) and he was at my mercy to let him out. That was priceless.
The other feature the GT has is Blind Spot Information System; an LED light on the side mirrors that lights up when vehicles pass your sides. Very useful since motorcycles tend to change lanes without us seeing and by the time we do, it may be too late.
The 508 GT offers the following safety features:-
Driver's & Front passenger airbags
Driver's & front passenger side airbags
Two curtain airbags (total 6 airbags)
Keyless entry and push start
5-star Euro NCAP Safety Rating
Hill Start Assist
ESP
ABS
EBD
EBA
ASR
DSC
Electric child safety locks for rear doors
Rear 3-point seat belts
Two ISOFIX anchoring points
Follow-Me-Home lighting
Auto illumination of rear hazard lights
Perimetric and volumetric alarm
Peugeot rolling code transponder immobiliser security
Blind Spot Information System (BLISS)
Front and rear Peugeot Park Assist
Automatic Electric Parking Brake
Specifications
Ford Mondeo
Exterior
Power window – front driver & passenger 1 touch up/down
Powered, auto foldable side mirror with puddle lamp
Full LED front headlamps, adaptive and automatic
Front and rear fog lamps
LED Daytime Running Lights (DRL)
Reverse camera
Automatic wiper
Smart Regenerative Charging
Interior
Anti allergy interior
Keyless Ignition System
Bluetooth & Voice Commander
Dual Zone air conditioning
8″ center stack LCD touch screen
MP3, CD indash with Auxillary Port, USB, radio
Tilt and telescopic, leather wrapped steering wheel with audio, cruise control and paddle shifter
Leather wrapped gear knob
Leather seats
10-way powered driver seat with memory setting
10-way powered passenger seat
Electrochromatic rear view mirror
Ambient lighting
Adaptive Cruise Control
Peugeot 508 GT
Exterior
Full LED Headlamps Technology with Cornering Assist and Smart Beam
Front and rear fog lamps
Front and rear signature lighting
Powered, auto foldable side mirror with puddle lamp and BLISS
LED Daytime Running Lights (DRL)
Automatic wiper
19″ Lightweight alloy wheels
Integrated Reverse Camera
Interior
Keyless Ignition System
Paddle shifter
7″ HD Multifunction Touchscreen with Navigation, full digital connectivity with USB and Bluetooth, radio
Color Head-Up Display (HUD)
Premium JBL HiFi 10 speakers with 500W subwoofer
Arkamys 3D Sound Processing System
Exclusive Nappa GT Interior leather
8-way electric front seats and electric lumbar support
8-way powered passenger seat
Electrochromatic rear view mirror
Ambient lighting
Driver memory and Massage Function Seats
Quad Zone Climate Control
Tilt and telescopic, leather wrapped steering wheel with audio, cruise control and paddle shifter
Cruise Control
Ownership and Maintenance
The Peugeot 508 GT retails for RM201,888 OTR inclusive of insurance and comes with 5-years warranty and unlimited mileage. There are only two colors to choose from if you pick the GT; Pearl White and Haria Grey
Ford asks for RM203,771.20 OTR inclusive of insurance and you've got more colors to pick; frozen white, panther black, techtonic silver and as tested, ruby red. The Mondeo has a 3 years (or 100,000km whichever comes first) + 2 years warranty (or 100,000km whichever comes first) warranty. Ford tops Peugeot by offering 3-years or 60,000km free maintenance.
Which to pick, you ask? Both have their respective strength and weaknesses. To be honest, when I approached this test, my mind was fixed on the GT being the winner as it was before. But after thoroughly testing the Mondeo, the verdict isn't that obvious. If I were to list out point by point, based on my preference and observation, it would look something like this:-
Exterior design – Mondeo
Interior design – 508 GT
Performance – Mondeo
Cornering ability – 508 GT
Range – 508 GT
Ride Comfort – Mondeo
Cabin features – 508 GT
Sound system – 508 GT
Cabin Comfort – Mondeo
Safety – Mondeo
No matter how you look at it, it's a close fight between these two behemoths. I wish we could mix and match individual traits but if you were to ask me to pick, I'd go for the Mondeo. Ford has demonstrated its ability and willingness to quantum leap its exterior and interior design and listened to owners to abandon its dual clutch gearbox in favor of a more reliable and comfortable gearbox.
But to be fair, the Mondeo is an all-new model, fourth generation in its line whereas the 508 GT tested here is a facelift. It is therefore understandable that we see a huge difference in terms of technological and architectural design. Even so, the GT is still the standard to beat when it comes to range and cabin sophistication. We can only expect greater things from Peugeot in times to come.