People buy or subscribe to a product or service because of a specific need and one of the dumbest thing a seller can do is to define that need for the customer. Trust me, you don't know my problems better than me. For instance if I want an iPhone, you don't brush off my needs by running down on the phone and promoting an Android device as an alternative.
The same applies for vehicle purchases. If a potential buyer has a need for speed, the choices vary from luxury sports car makers such as Porsche and Ferrari to even the Suzuki Swift Sports. A Lotus Evora might be a lot of fun on track but that doesn't mean a a track oriented Toyota Vios can't bring a smile to your face in Sepang. A Subaru Impreza might be fast on a straight but a God-level Lagi Power Lagi Best Perodua MyVi has demonstrated how capable it is at keeping pace with it, on or off road!
The point is, a specific need need not be defined by specific segments and in my case when shopping for a replacement for the Octavia, I placed SPACE as my number one priority. Coming from a C-segment, almost everything that's the same segment (because C-segments have grown since 2006) and above complies the space requirement on way or another.
But to go further, I needed more than 5-seats and that pretty much rules out every single C/D segment, crossover and 5-seater SUVs in the market. That was how I ended up with the KIA Sorento.
Since March of this year however, there was one other alternative that offers more space than the Sorento. Sharing the same engine as the SUV, the KIA Grand Carnival trumps the Sorento with 8-seats instead of seven, has a much larger cargo hold, shares the same diesel engine and most important of all has a smaller price tag.
If you need to seat more than five, both the Grand Carnival and the Sorento are viable options so how do you choose between them?
I've highlighted a few features here that should help you decide which is a better fit to your needs;-
Vehicle Size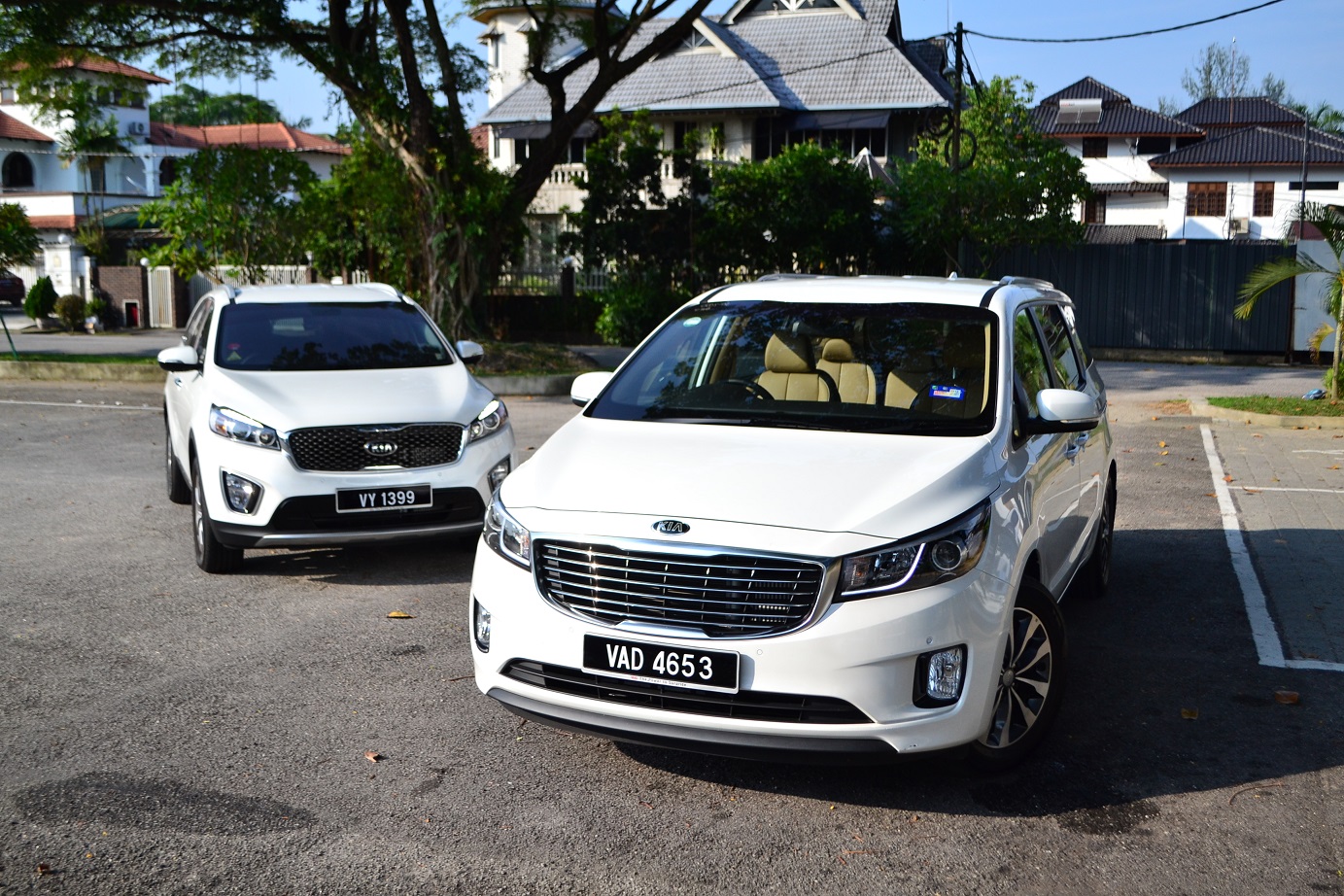 From a design perspective, both the Sorento and Carnival look good with a large grille in the center, flanked by sweeping headlamps that's accentuated by a lower skid plate below the front bumper.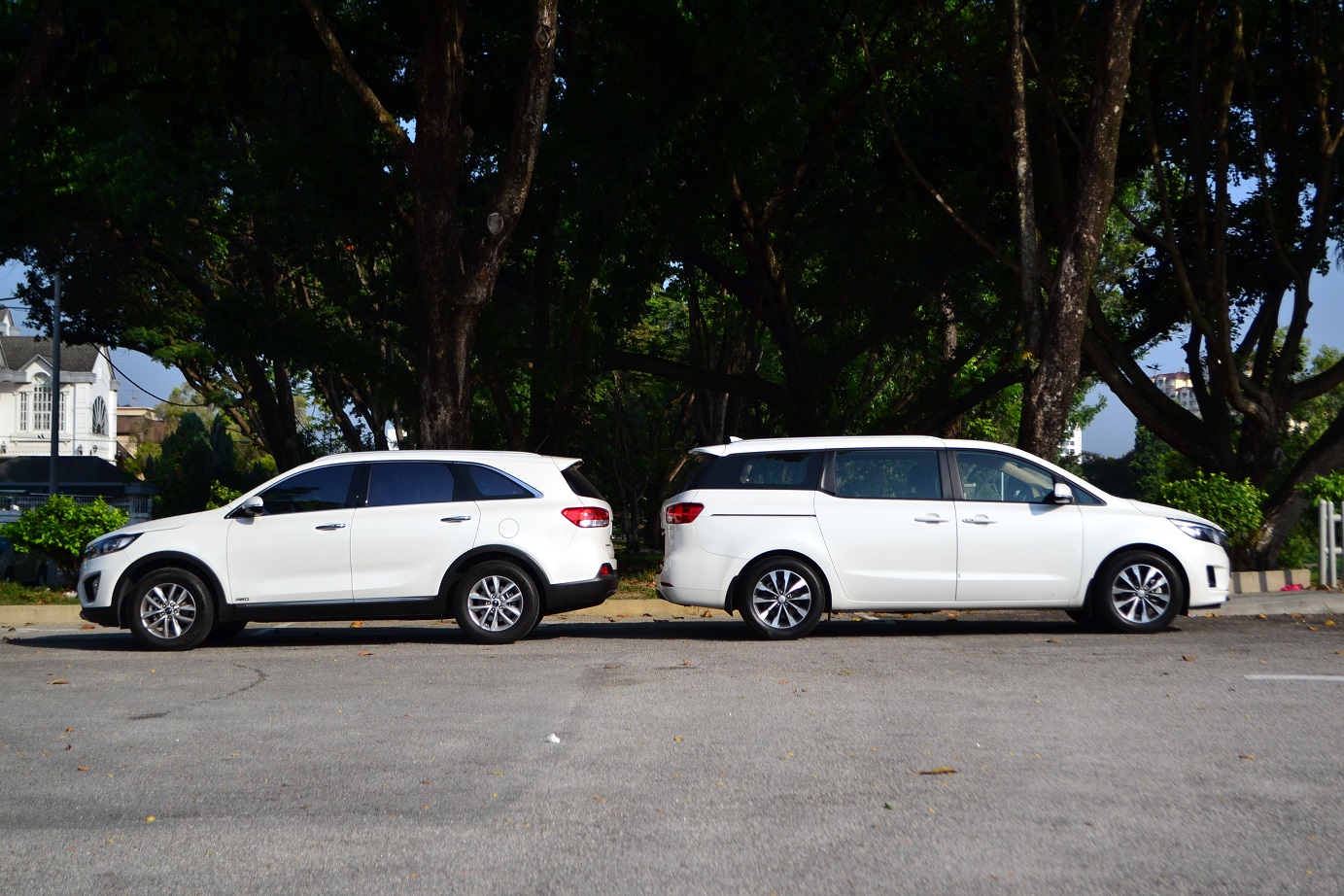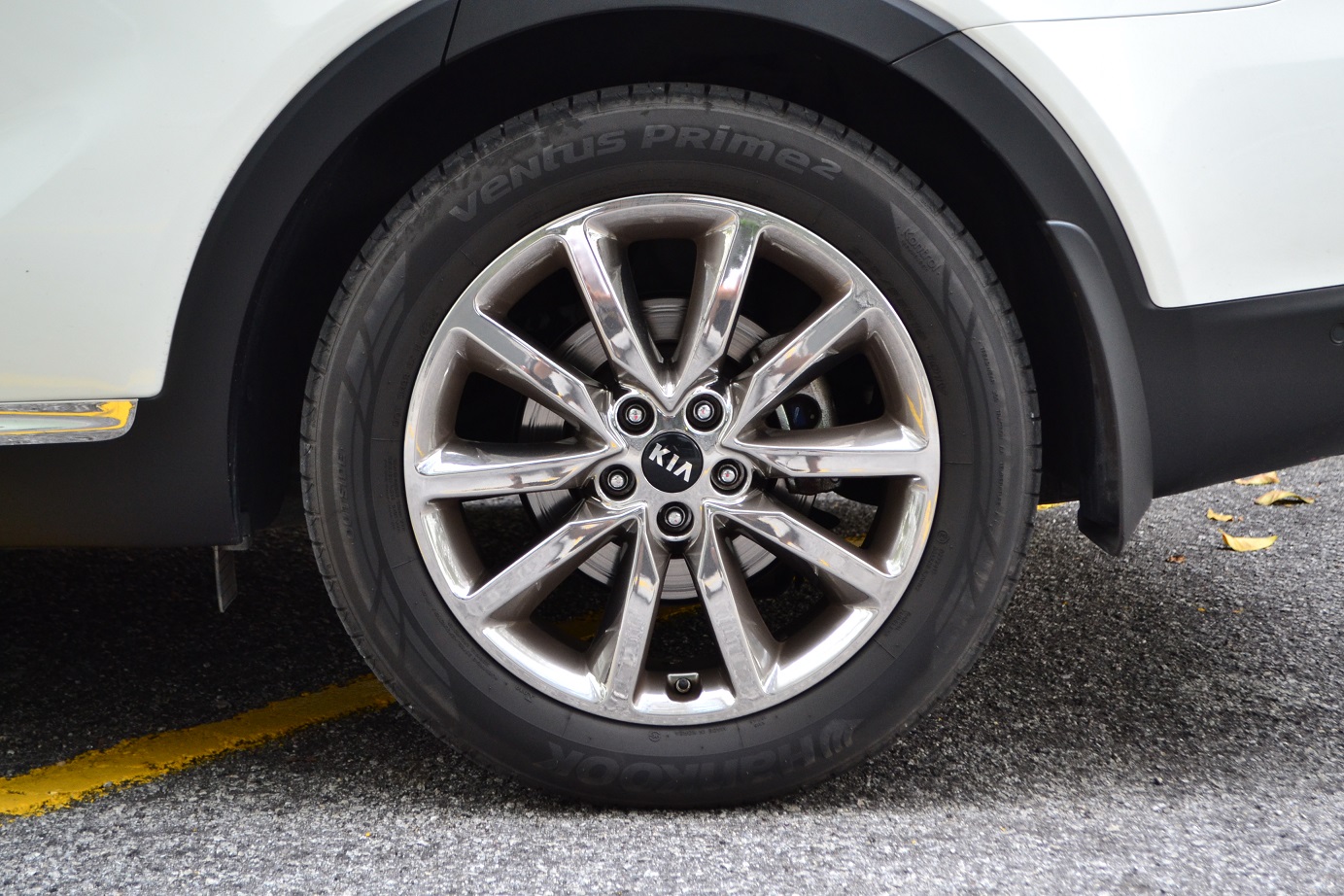 It's fairly obvious that the Carnival dwarfs the Sorento by a large margin. Measuring 4,780mm long, 1,890mm wide and 1,685mm in height, the Sorento is no match compared to the Carnival's 5,115mm lenght, 1,985mm width and 1,740mm height. Note that the white Sorento here is a LS; the Sorento HS features an 19″ reflective alloy wheels which is a size bigger than the Carnival's 18″ rims.
And here lies point number one; Who Drives the Vehicle?
If that person is used to driving a large vehicle (ie 4×4), mastering the dimensions of a Carnival when driving in tight urban roads and parking lots is no issue.
However, if that person drives C-segment as a daily driven car, hopping straight into Carnival might be a little too much. I figured that if a person can drive my Skoda which measures 4,572mm x 1,769mm x 1,462mm, the 20cm length and 12cm width difference should be too difficult to get used to.
In this respect, the smaller foot print of the Sorento works in its favor for those who's driving experience is limited to smaller sedans. If your other vehicle is an Alphard, just pick the Carnival.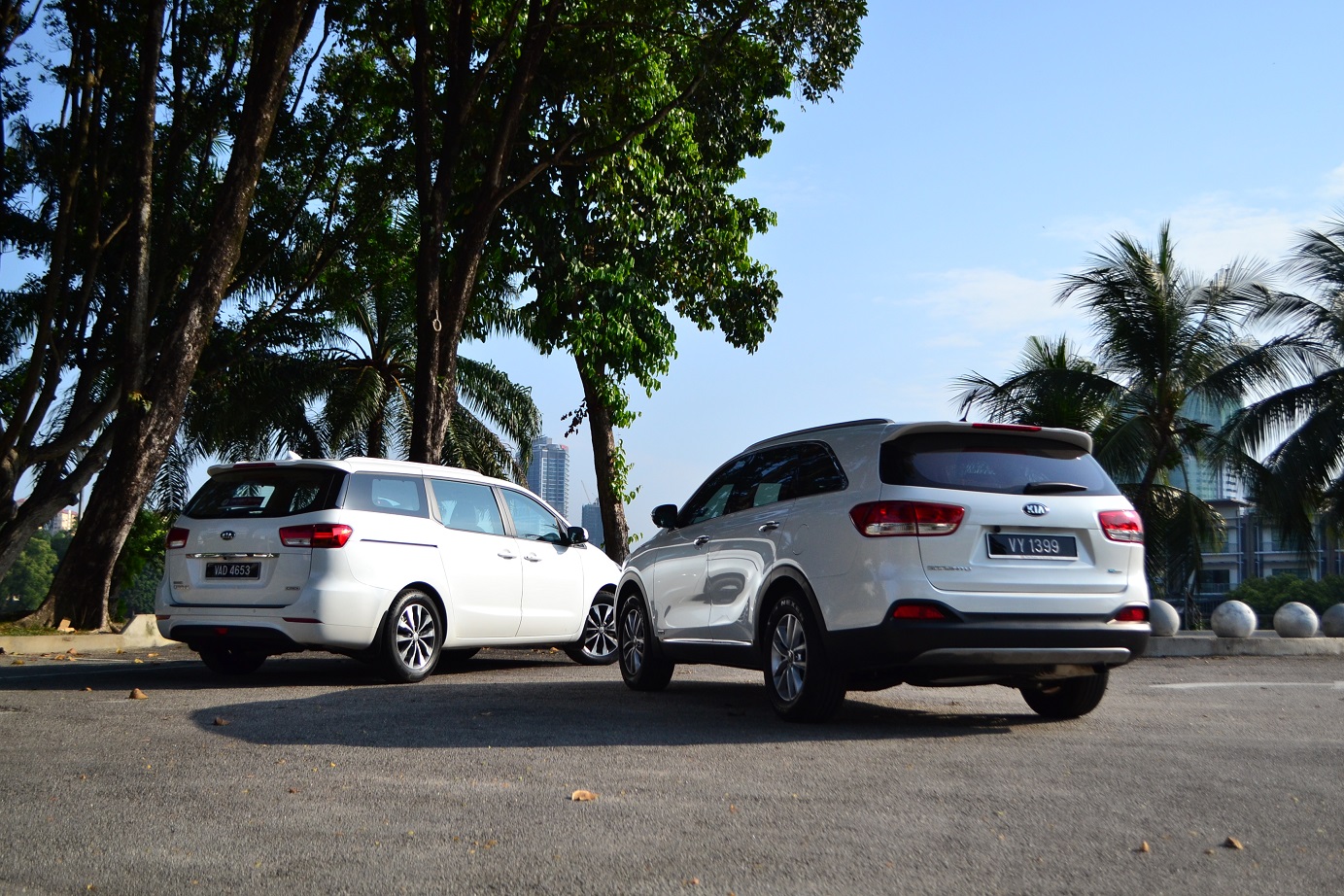 From a convenience point of view, the powered sliding doors of the MPV Carnival is much more preferred compared to the normal doors of the Sorento. The sliding doors can be opened via remote, pulling the handles or from within the car.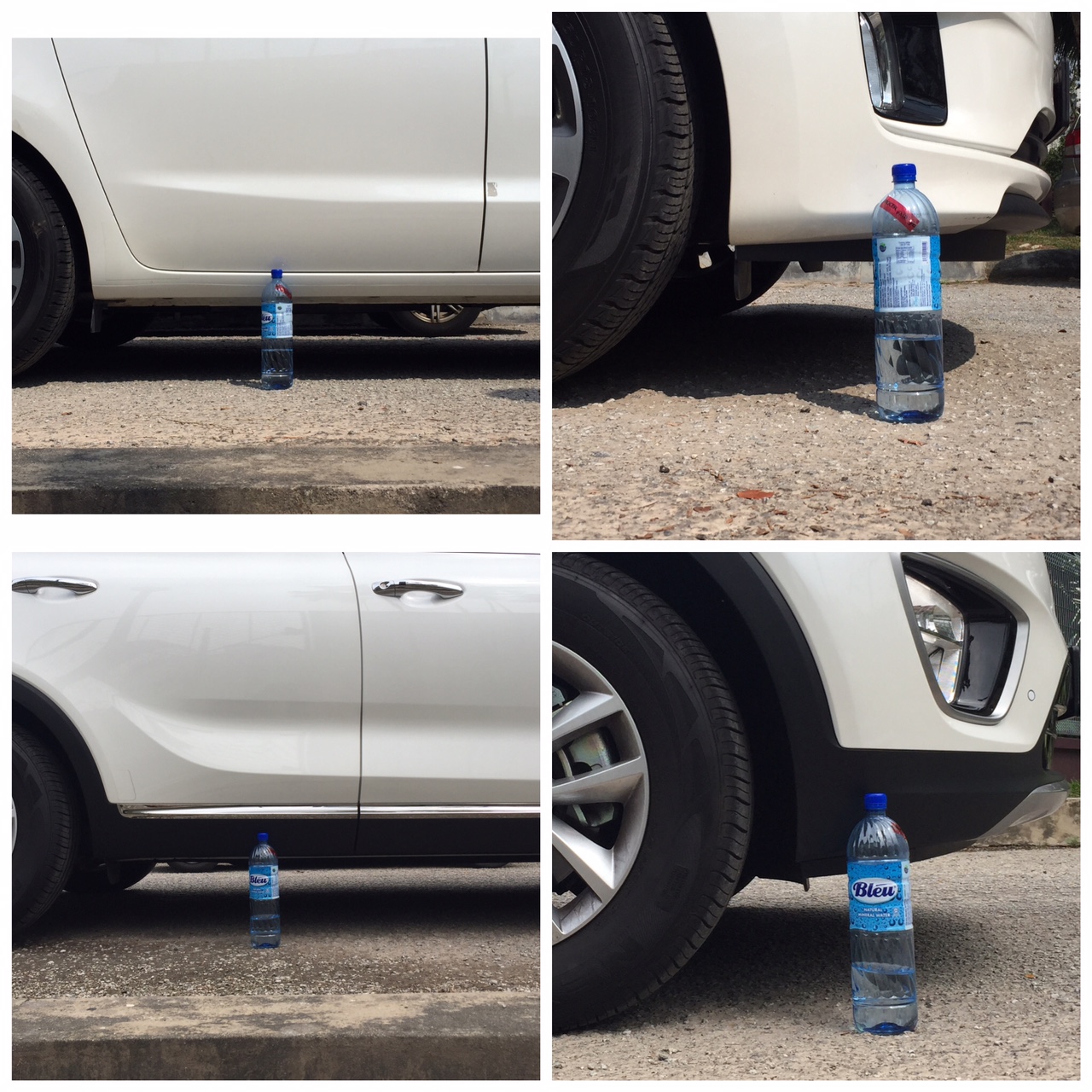 I didn't have a measuring tape so I used the next best thing; a 1.5litre water bottle to show you the ground clearance space in case you want to drive up a road curb. The main body of the Sorento (lower pics) has a higher clearance but the front bumper is lower so be a bit more careful when driving up steep slopes in the SUV, ya?
Performance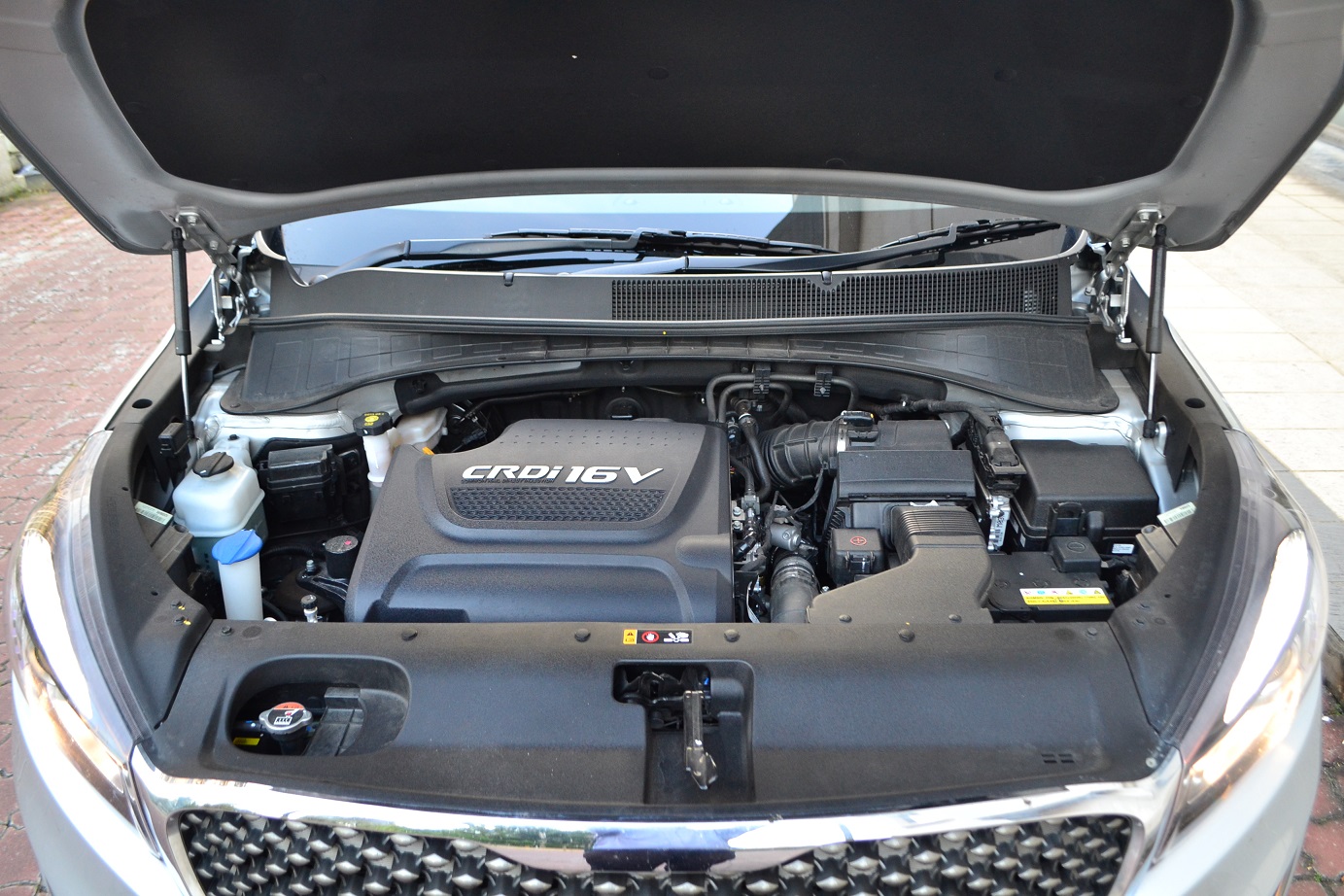 There's not denying the stupendous amount of torque found in a diesel engine to be addictive. Both the Sorento Diesel and Carnival is powered by the same 2.2litre Common Rail Diesel Injection turbocharged engine that's able to provide a maximum torque of 440Nm from 1,750rpm onwards.
They are however tuned slightly differently with the Carnival's mill making 193PS vs the Sorento's 200Ps @ 3,800rpm. On the go, the relatively lighter Sorento (lighter is still close to 2 tonnes) is able to pull ahead much more effortlessly compared to the Carnival. Being an SUV and MPV respectively, 0-100km/h figures are rather redundant but in case you're curious, the Sorento's stopwatch stops at 9.3seconds whereas the Carnival needs 13.5seconds to hit 100km/h from standstill.
I suspect the higher output on the Sorento is partly due to it's AWD drive train which puts power on all 4 wheels when active. Having 4 paws on the road allows more power to be channel down. But if it's acceleration you want, then the even-lighter Sportage Diesel would be up your alley since it's about 200kg lighter and has a 400Nm CRDI engine which is also driving an AWD set-up.
Ride and Handling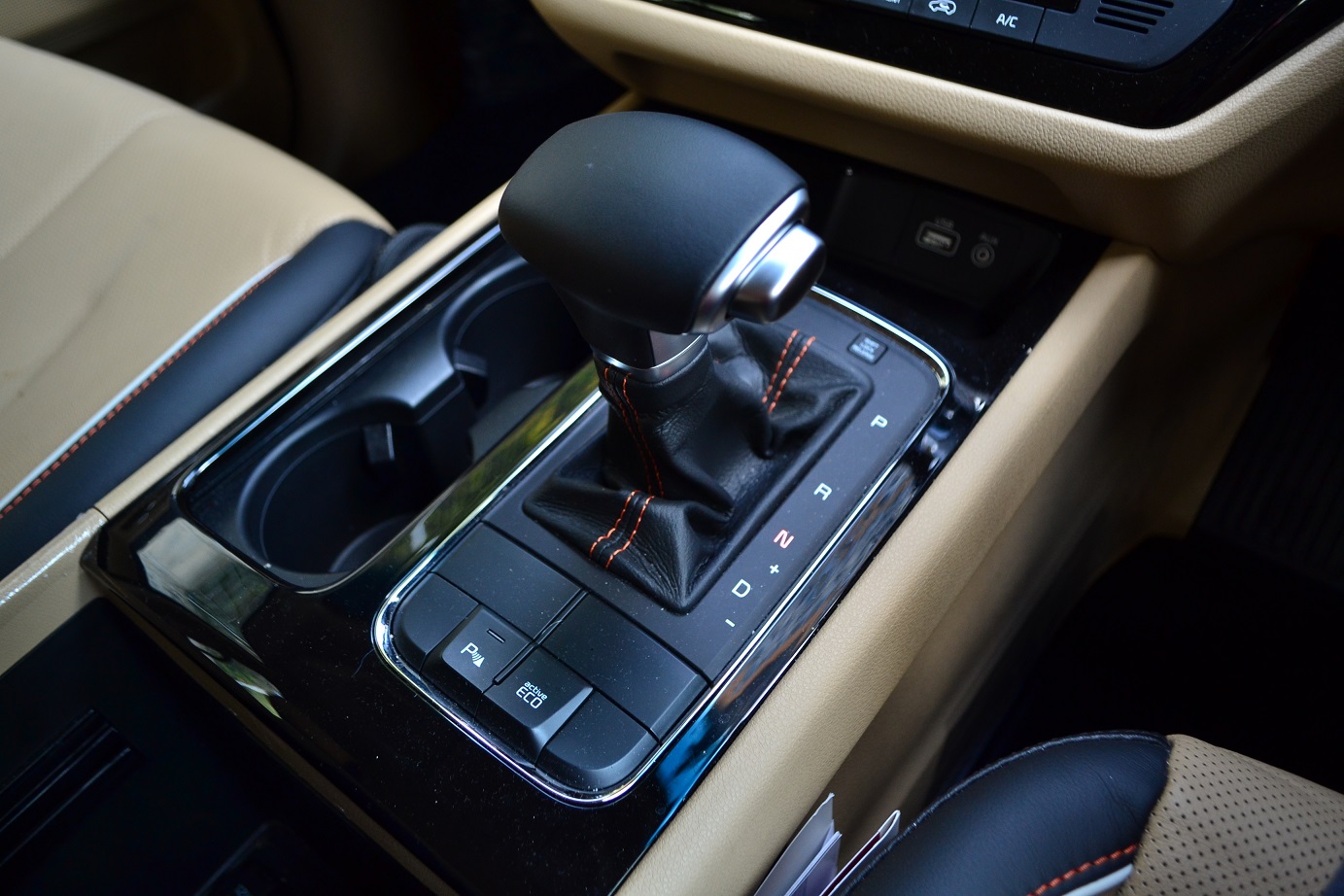 Now here's another defining factor in choosing between the Sorento and the Carnival.
The Carnival, being a bigger and longer vehicle reverberates when driving through uneven roads. It's suspension is comfort inclined (it's an MPV so obviously no sports suspension here) which has a bit of undulations. Never driven a boat before but I would imagine the Carnival would not be too different if the waves aren't as choppy.
You cannot expect to drive the MPV like a hot hatch but it's not too bad. On the straights with even roads, it's relatively stable and this makes it an excellent vehicle to cruise on the highways. Make no mistake that it is a tall car so there's only so much physics can be cheated. Corner too fast (especially on imperfect roads) you'll be in for a heart racing ride. Not a good thing to do to yourself or your family.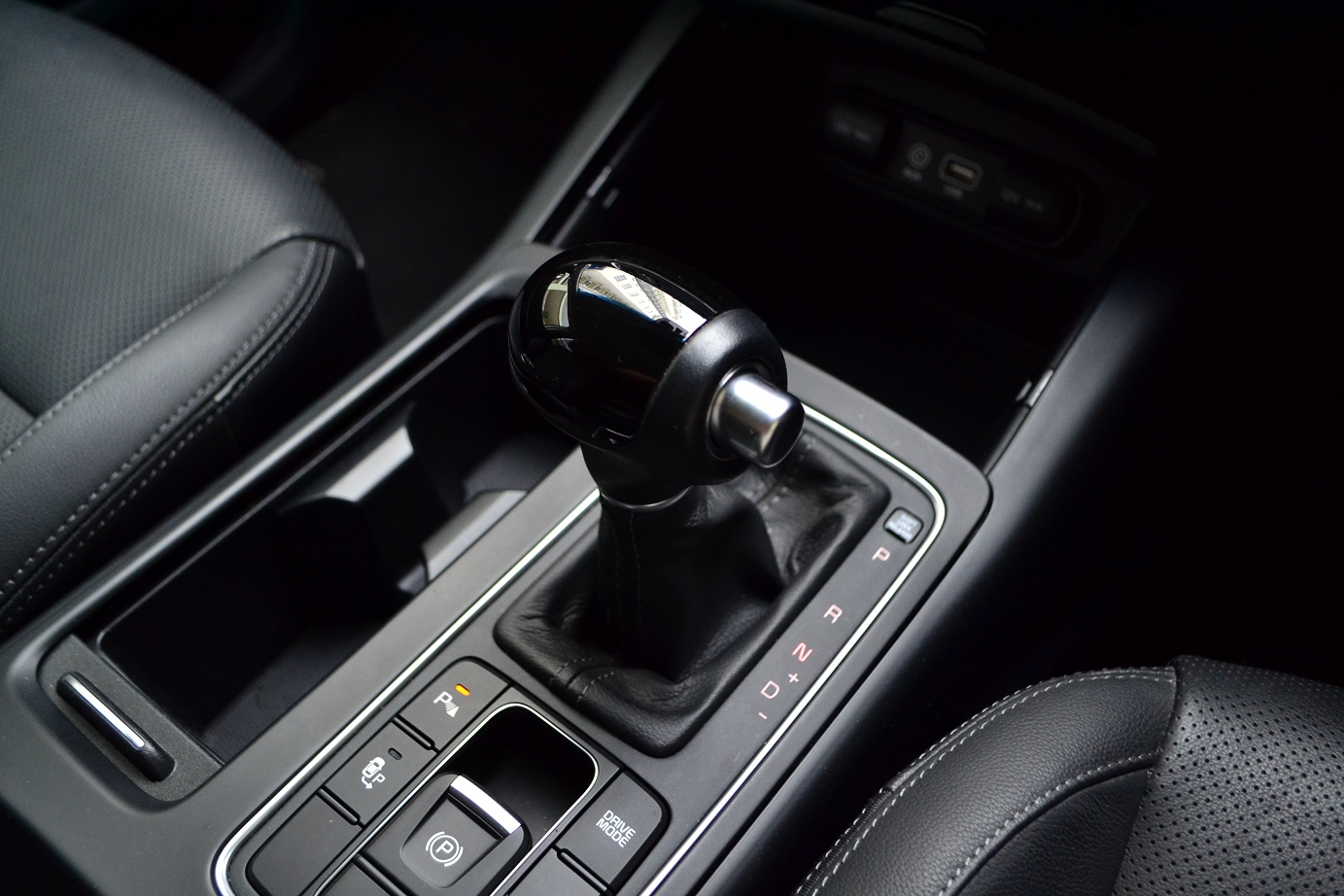 The Sorento on the other hand has a sturdier frame and I prefer I feel it soaks up road imperfections better with a slightly stiffer spring. This allows you to take bends at higher speeds with better confidence compared to the Carnival. Switching the Dynamax AWD on changes the driving dynamics a bit where during hard acceleration (ie from standstill), more torque gets channeled to the rear wheels and instead of being pulled, you get the sensation of being pushed. This feeling isn't immediately apparent and only when you've driven it a couple of rounds do you actually sense the propulsion is a little dissimilar.
Also, I would like to point out that people who feels there isn't much driving difference between a 2WD and AWD system is either;-
Have not driven AWD long enough to understand its characteristisc
Have not driven the AWD in challenging weather/road conditions or at a pace where the system's contribution becomes more apparent.
If the school, office, supermarket and occasional balik kampung is your thing, then the FWD Carnival works well enough.
In terms of Noise, Vibration and Harshness, the Sorento wins in all three aspects. The insulation is surprising so well put together that I find it trumps even continental D-segments and more often than not, you'd find yourself exceeding the speed limit due to the lack of wind and road noise that we'd expect at such a velocity. This is not to say the Carnival's insulation is bad. Far from it, in fact but it's just the Sorento is exceptional in this area.
There is also another consideration in my case; with the extra row of seats with mechanical bits that allows it to 'sink' to the floor and a removable middle seat on the second row (more on these later), I am concerned about creaks in the future. During my time with the Carnival, creaks and rattles weren't present but when I load the back with more cargo, it's understandable there will be more noise as the items knock against each other & the car when in motion.
The Sorento's conventional 2nd row with less moving bits is my preference.
Cabin Convenience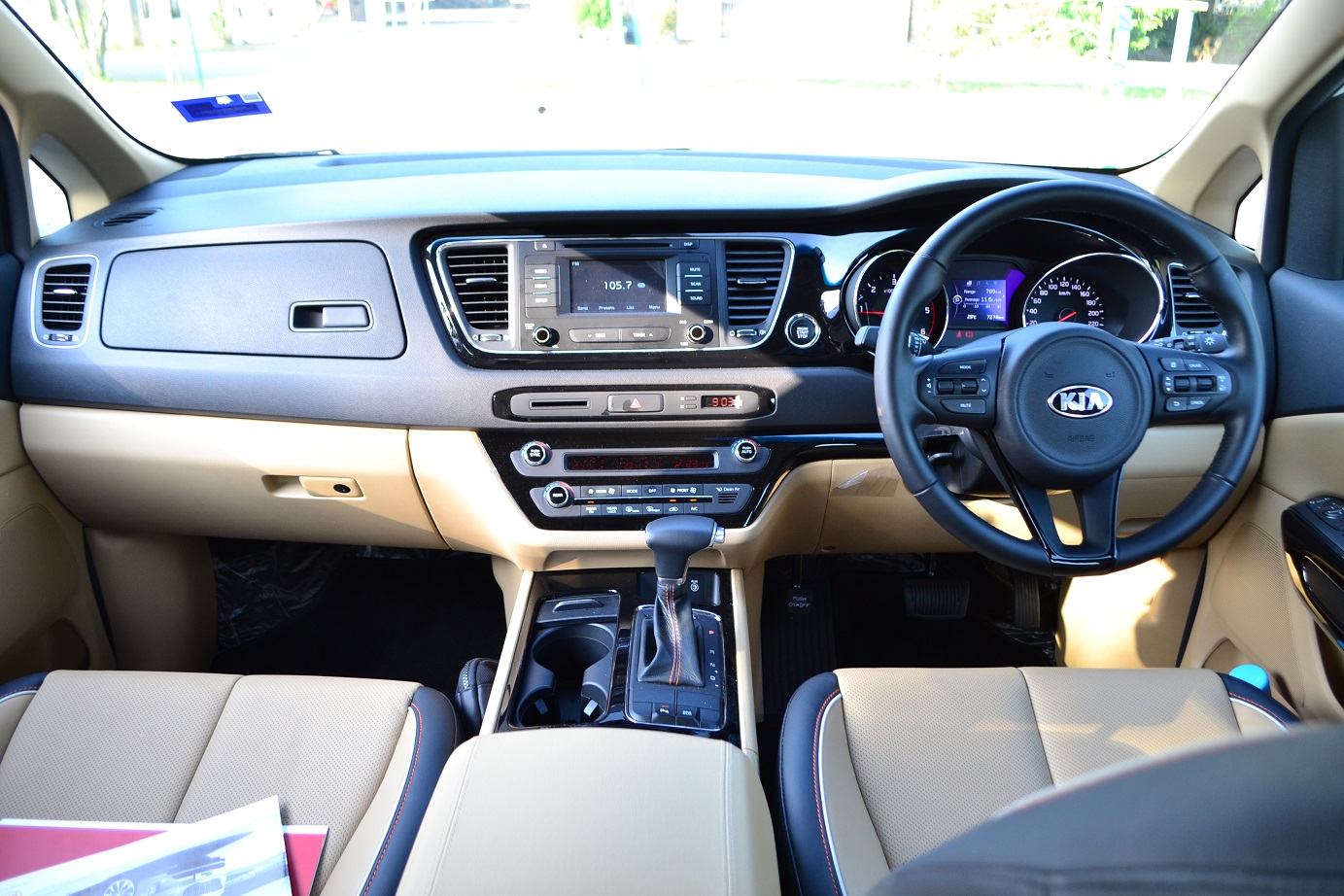 As if most KIA nowadays, the interior design has an European air to it and the finishing is great. The use of a beige and black interior in the Carnival makes an already large cabin appear a lot bigger – more so when compared to the dark interior of the Sorento. And it's not just all looks; If you're the type of person who uses sunshades in the car, you would find it difficult to reach the front passenger's window to stick it on from the driver's seat while remaining buckled.
Reaching over to the other end in the Sorento isn't much of a problem. In fact, it feels more car-like than seven-seater SUV with all buttons easily accessible unless you have small hands like Trump.
The steering wheels are almost identical except for the gap in one of the Carnival's three-spokes while the Sorento has a piece of plastic filling that gap. Also, there's no answer/disconnect phone button in the Carnival because surprisingly, there isn't Bluetooth. The Sorento has this button on its steering wheel.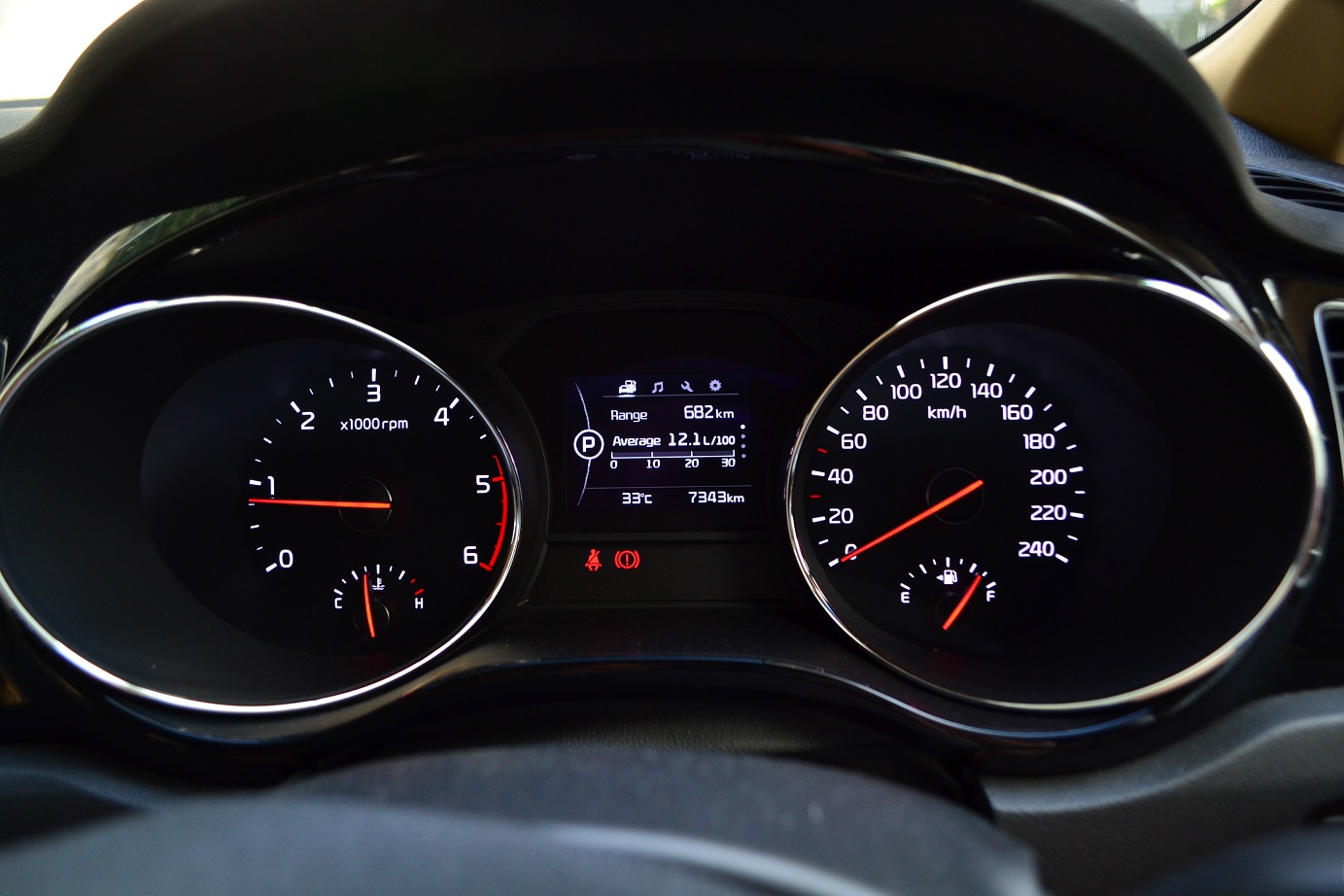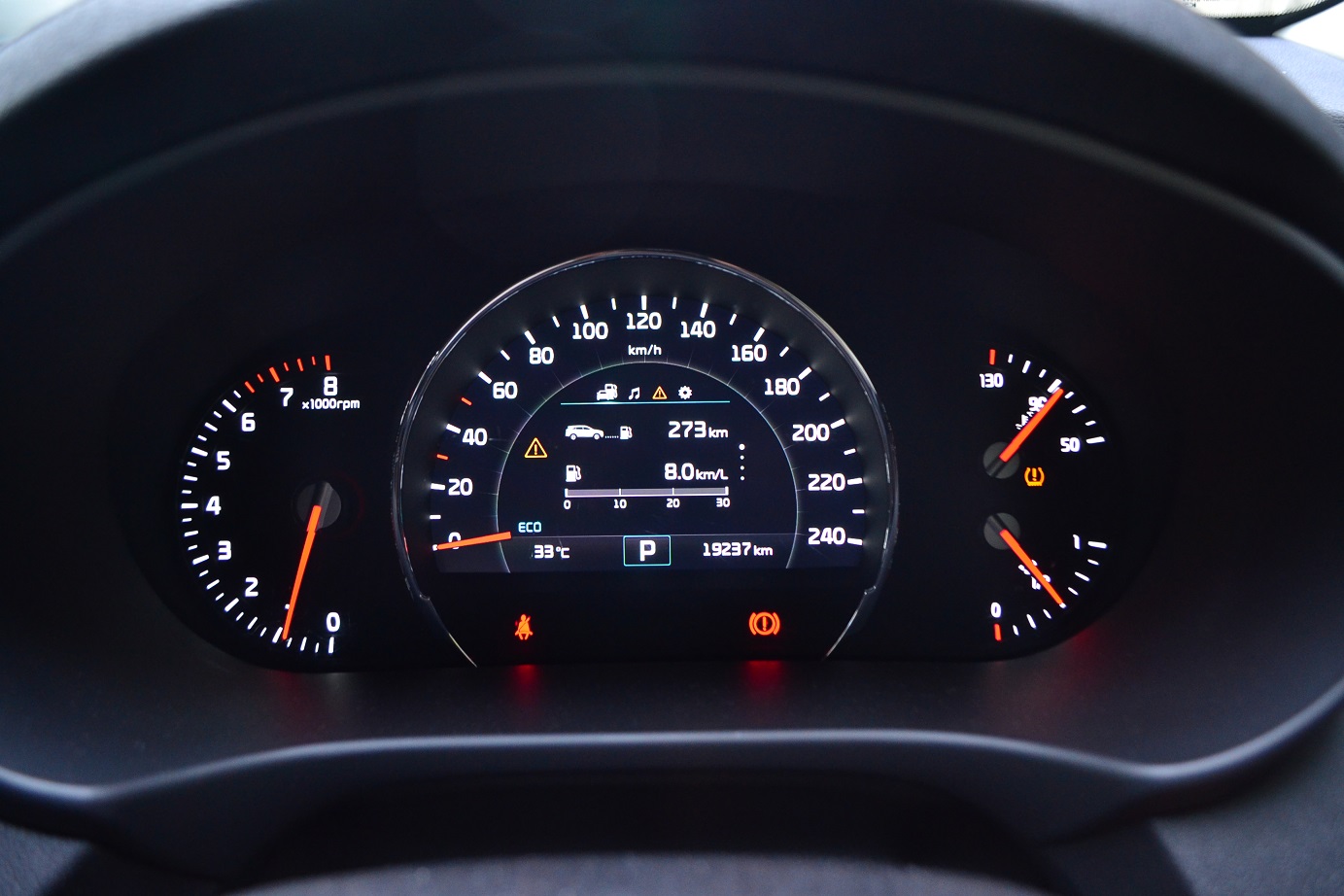 The meters on the Carnival are probably sourced from the same parts bin as the Sorento LS as it's completely identical. The Supervision cluster flanks a 4.2″ display that shows you trip meter, audio info, time to service as well as other driving display settings.
The HS Sorento on the other hand has a virtual color speedometer that looks a lot more high tech and the readouts are clearer than the Carnival's. Do note that this picture is the Petrol version as you can see the rpm meter goes up to 8,000. The diesel reaches only 6,000rpm.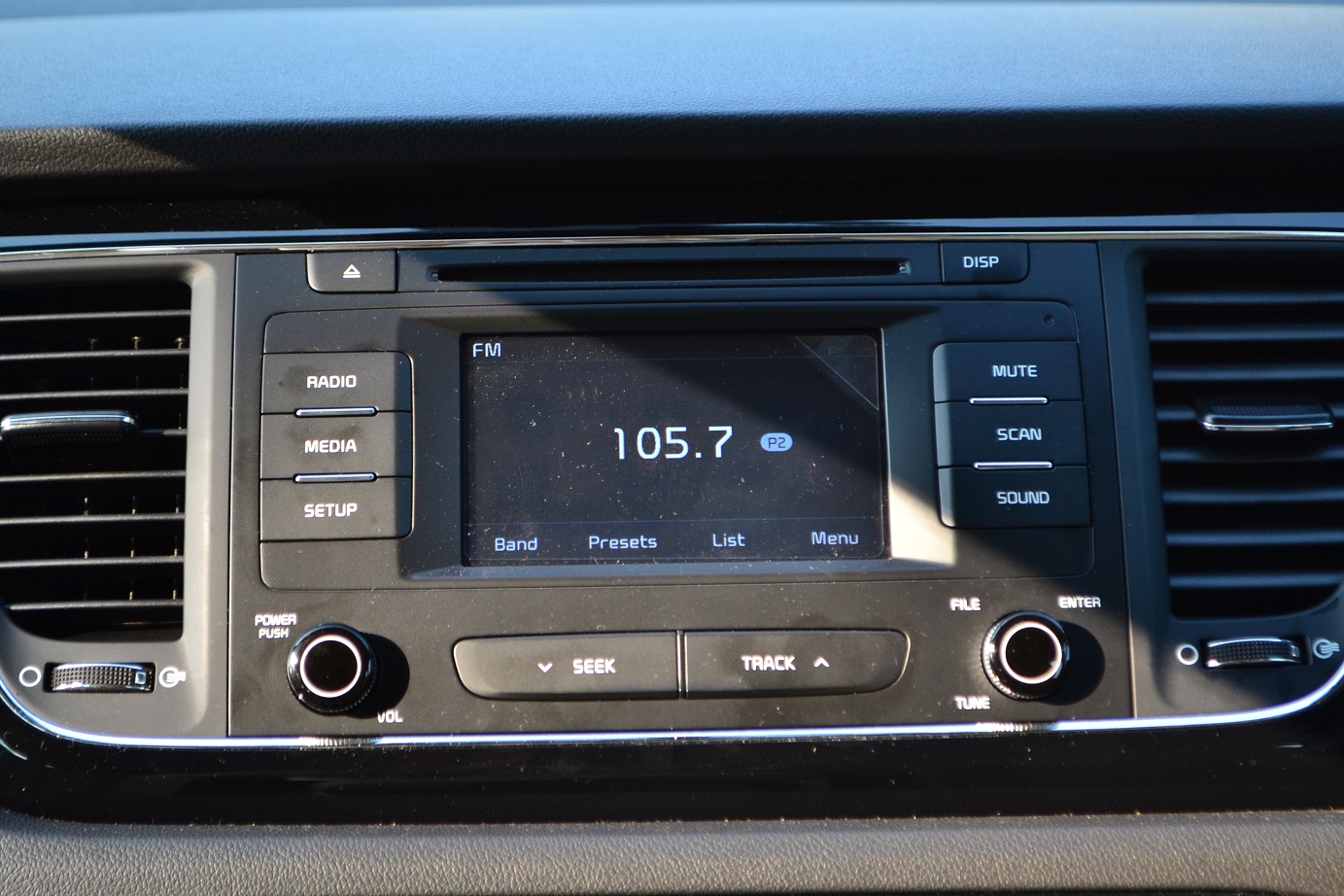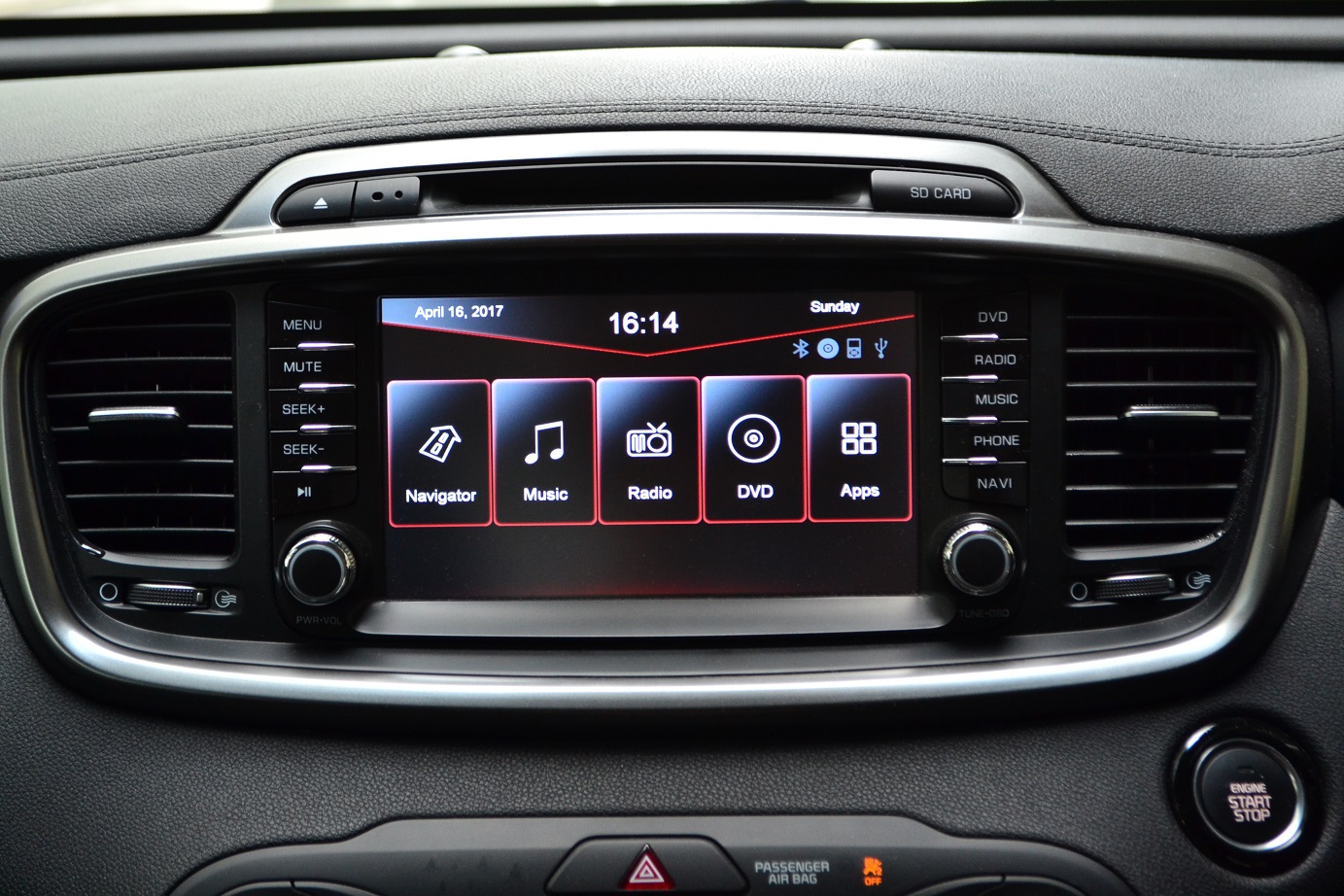 As far as touchscreen infotainment system goes, the Carnival's is pathetically small and basic. A 4.3″ TFT touchscreen doesn't really cut it for a cabin as big as this and the functions are rather basic. The system allows you to connect a USB disk and has AUX connectivity but, as mentioned earlier does not have Bluetooth connectivity.
The Sorento's headunit offers a lot more and comes with in-build navigation but it's not as user friendly (nor as real-time) as Waze so I generally leave it alone.
Both vehicles have a 6-speaker that has poor staging, imaging and bass reproduction.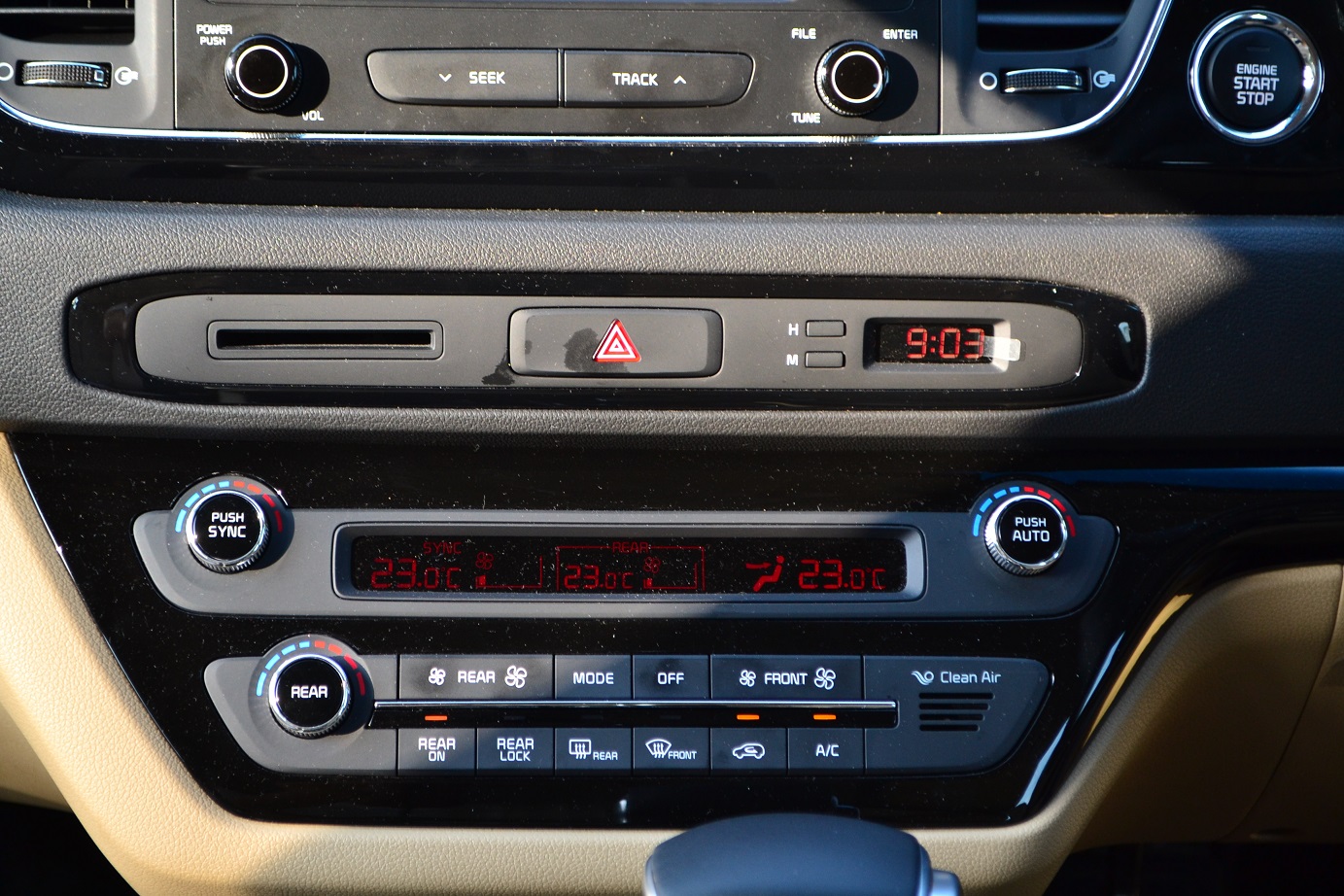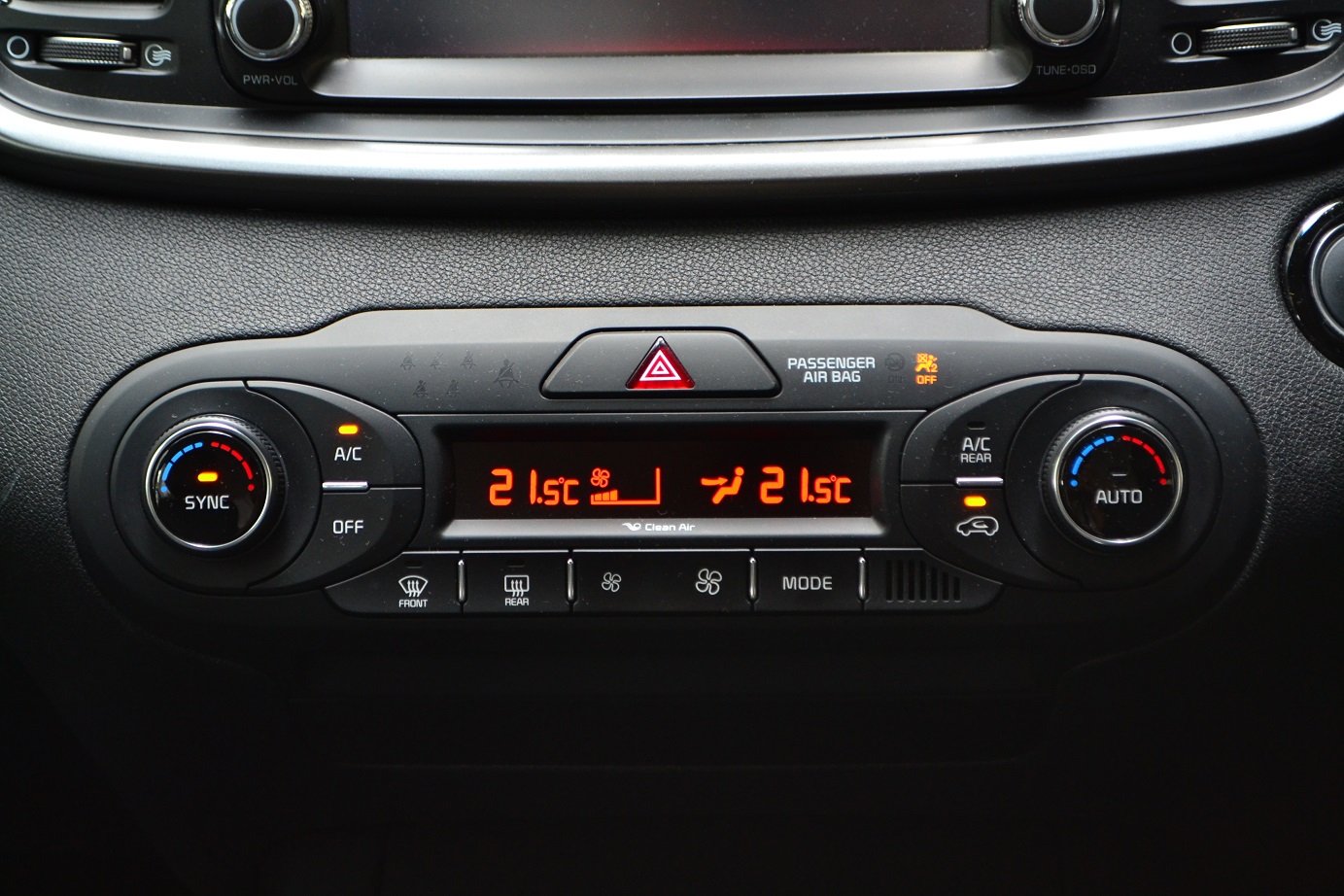 Parents would be happy to note that the automatic air conditioning system found in both vehicles come with Clean Air Ionizers that minimize airborne bacteria, making it safer for their children to be in. The Carnival's climate control also allows the driver (and front passenger) to switch on the rear blowers and to prevent pesky kids who cannot keep their fingers to themselves, you can lock the rear air conditioning setting.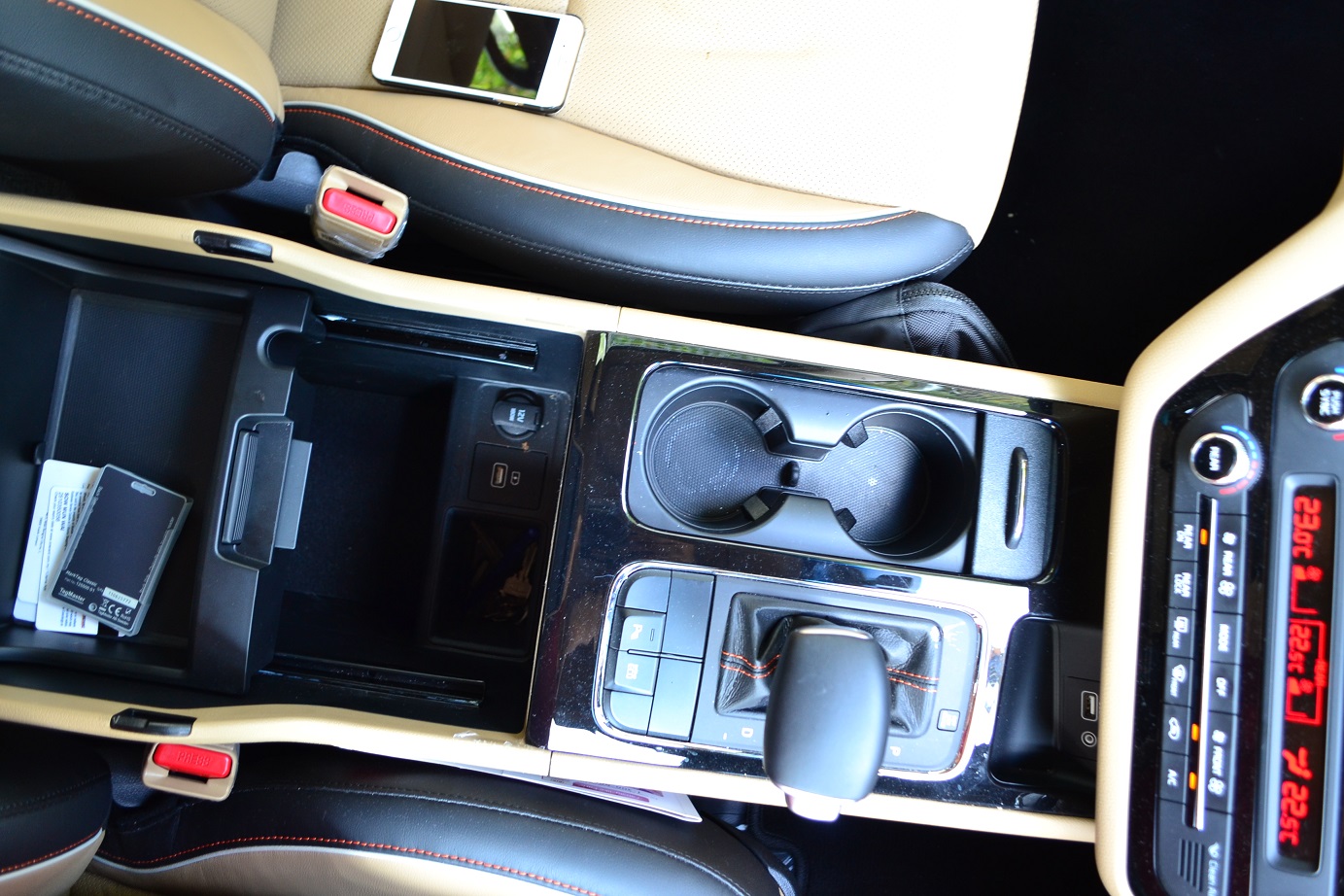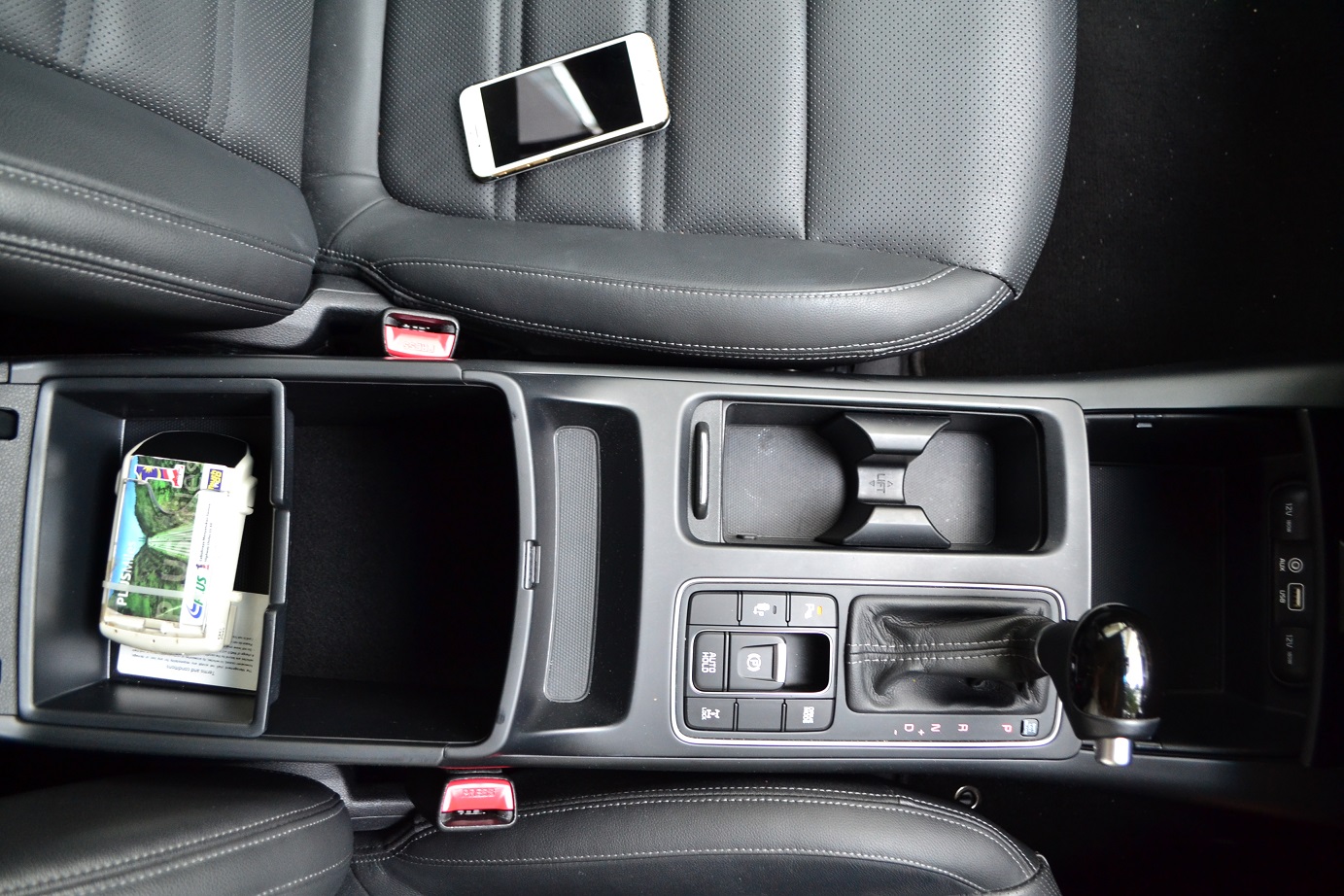 As far as center compartments go, you'll find two cup holders in between the driver and front passenger but the Sorento's center divider can be removed and placed 1cm forward or rearwards to make one holder slightly bigger than the other to accommodate larger bottles (a 1.5litre mineral water bottle cannot fit in both vehicle's holders but can be inserted to the side door bins)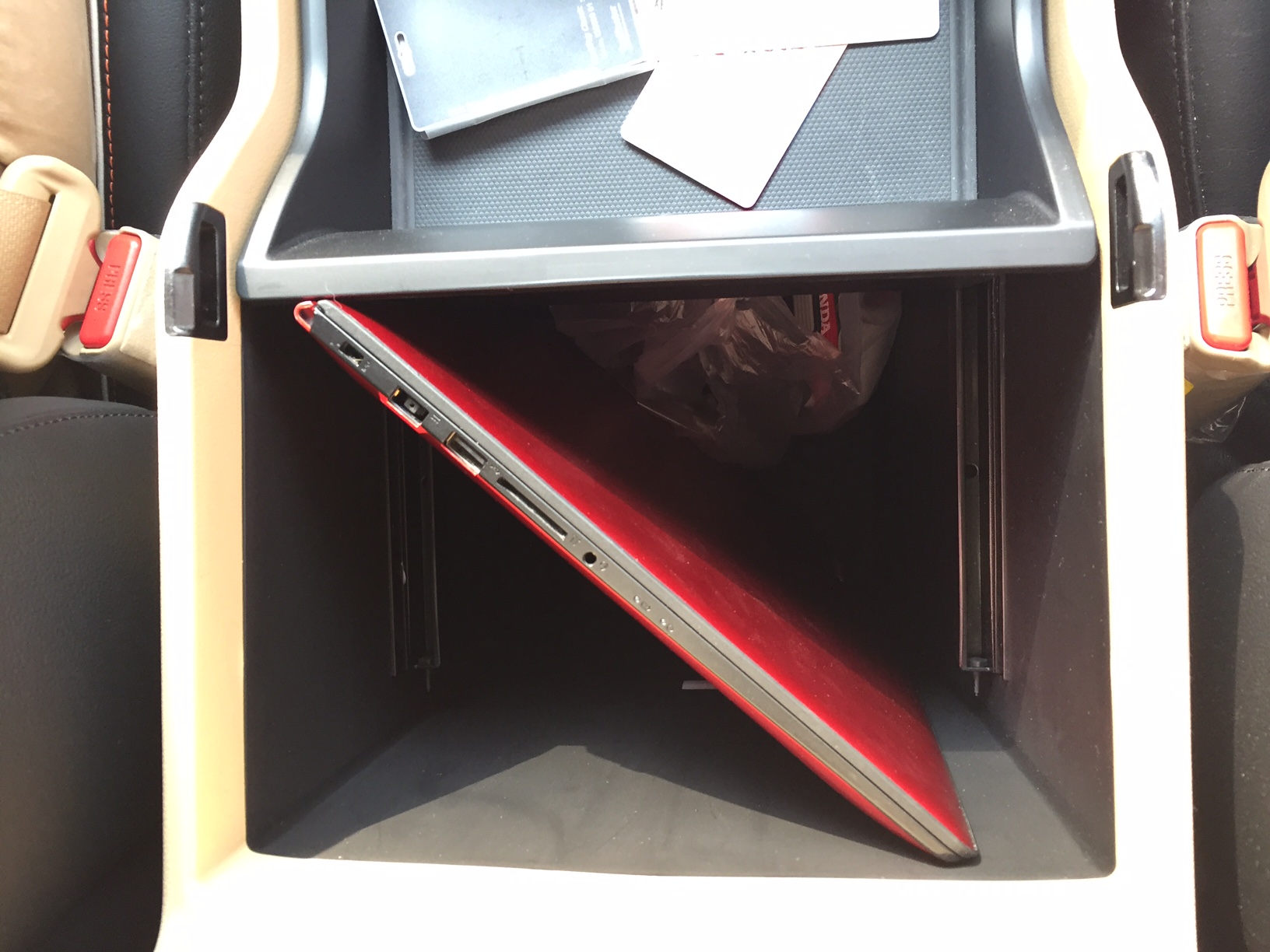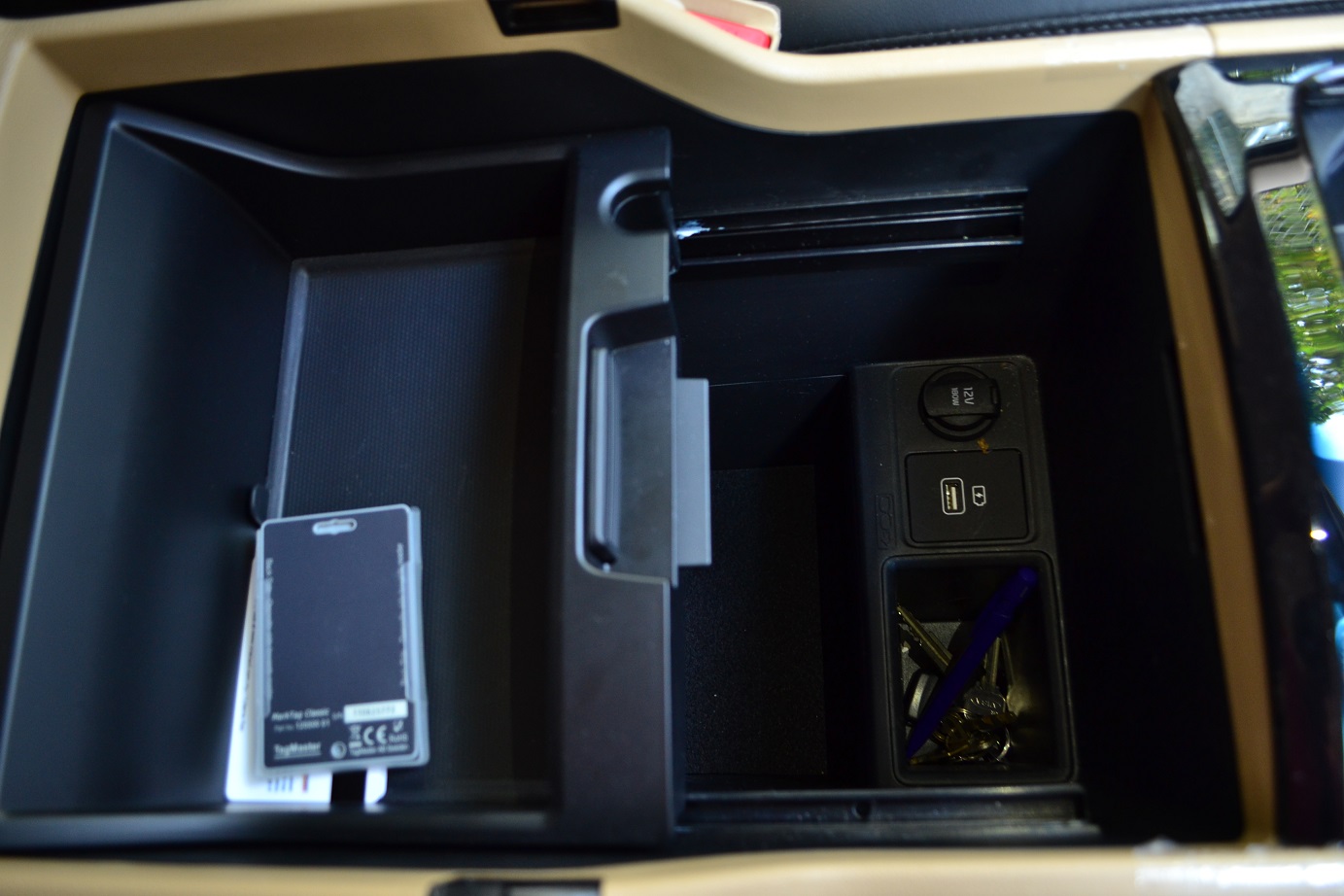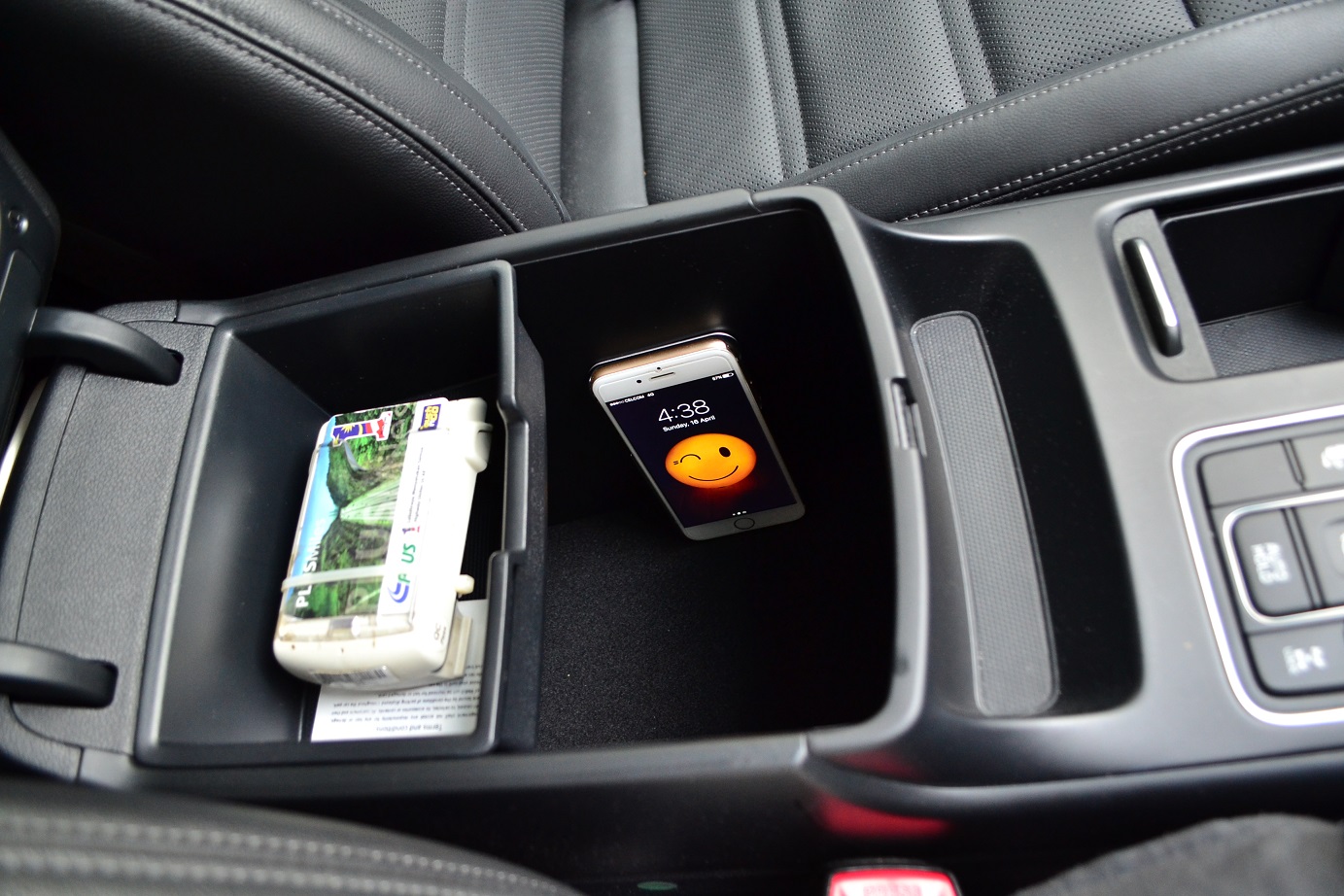 As for the center compartment, I've not seen a larger nor deeper cavity than the one found in the Carnival. It's big enough to even swallow a 14″ laptop! Inside the compartment, you'll find a USB charging port and another 12V socket with a small cavity beside the USB to separate smaller items like keys from your larger items. There is also a sliding shallow compartment that can move forward to block prying eyes from seeing what's within.
The Sorento's center compartment also has a base but it's fixed in a position. You may remove this base if you wish. As for the rest, it's deep enough to hold most of the regular stuff you'd throw in here but is nowhere near the Carnival's hole.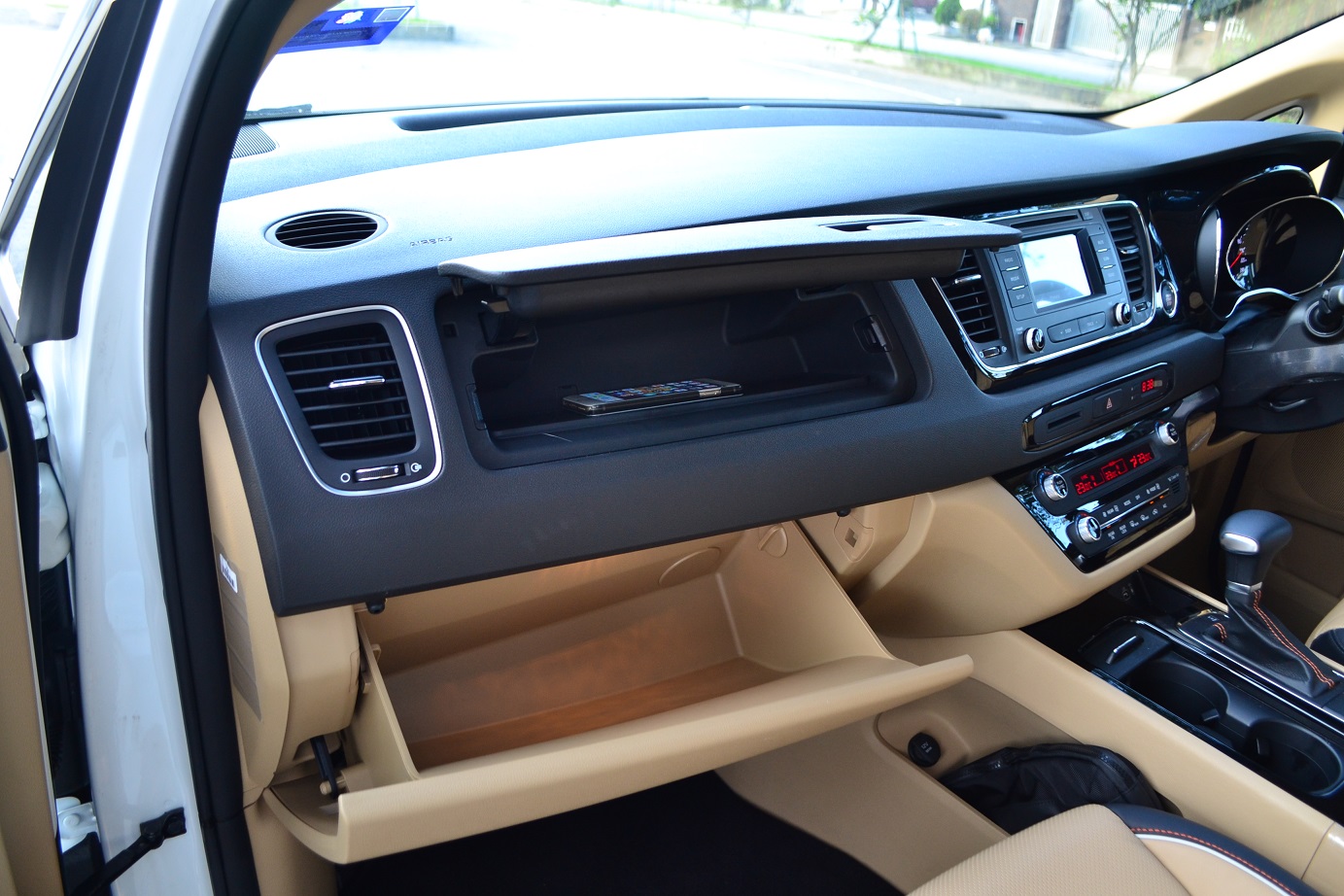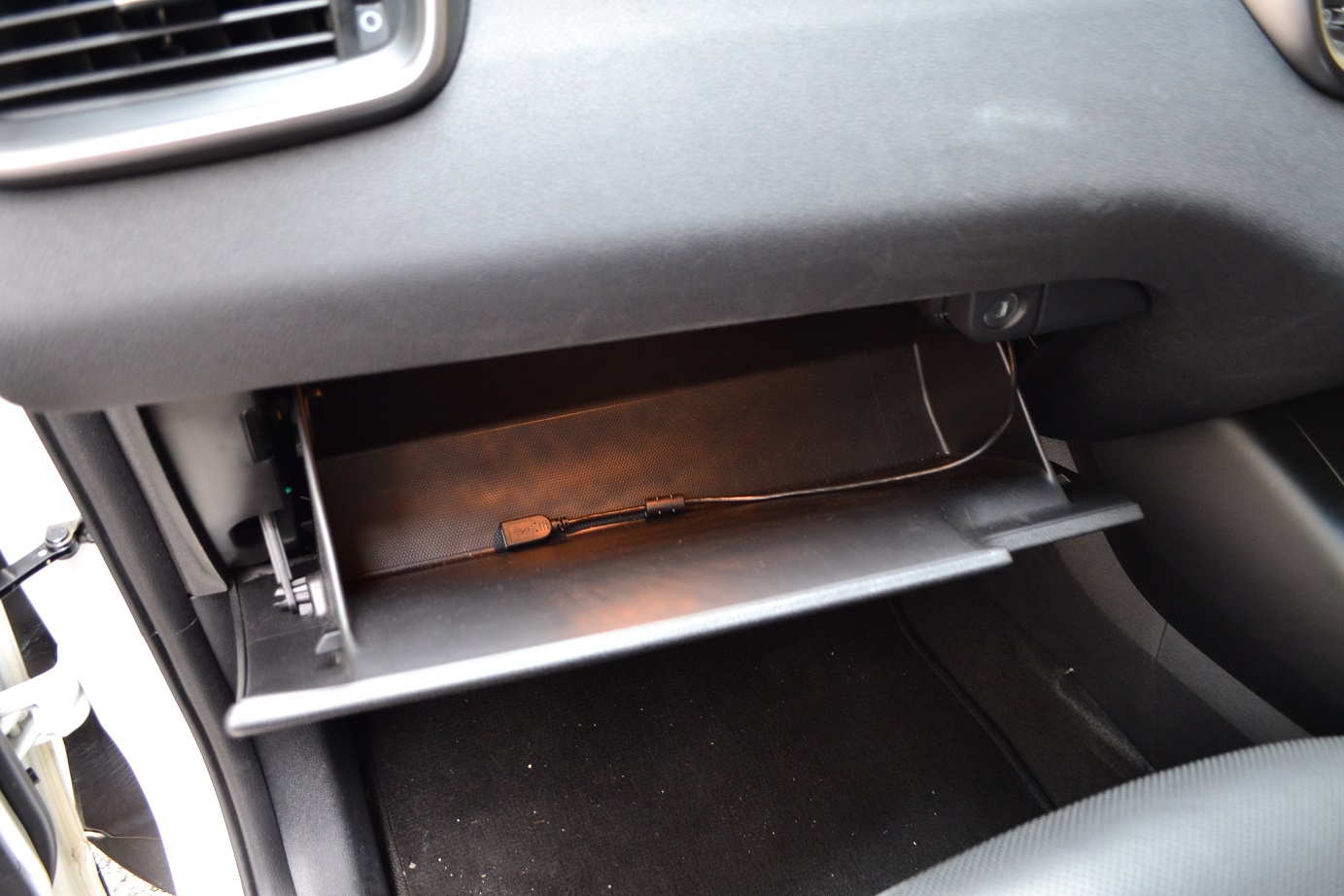 The Carnival again comes of as the clear winner when it comes to glove box compartment, offering not one but TWO compartments here. The Sorento only has one and within is the USB port.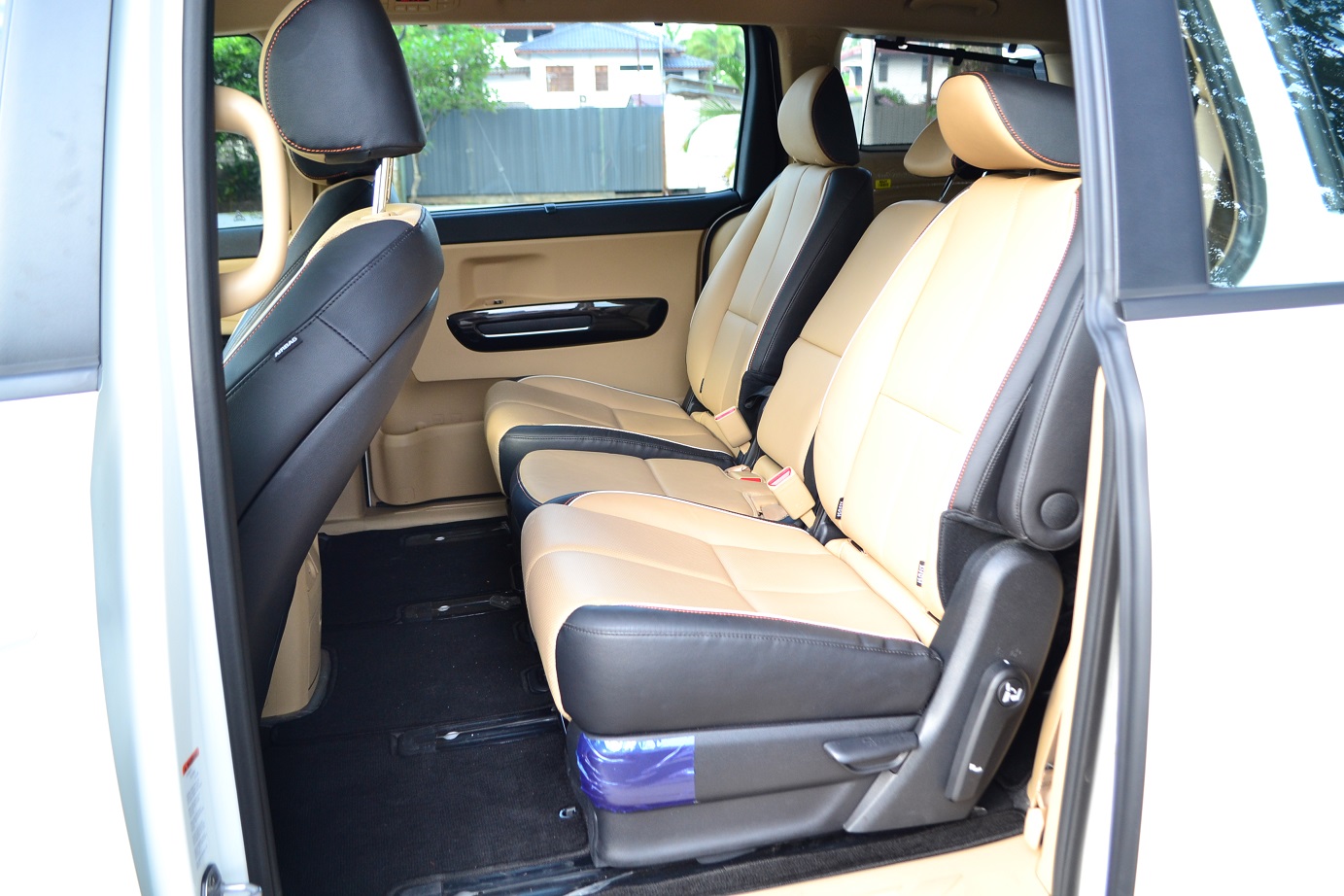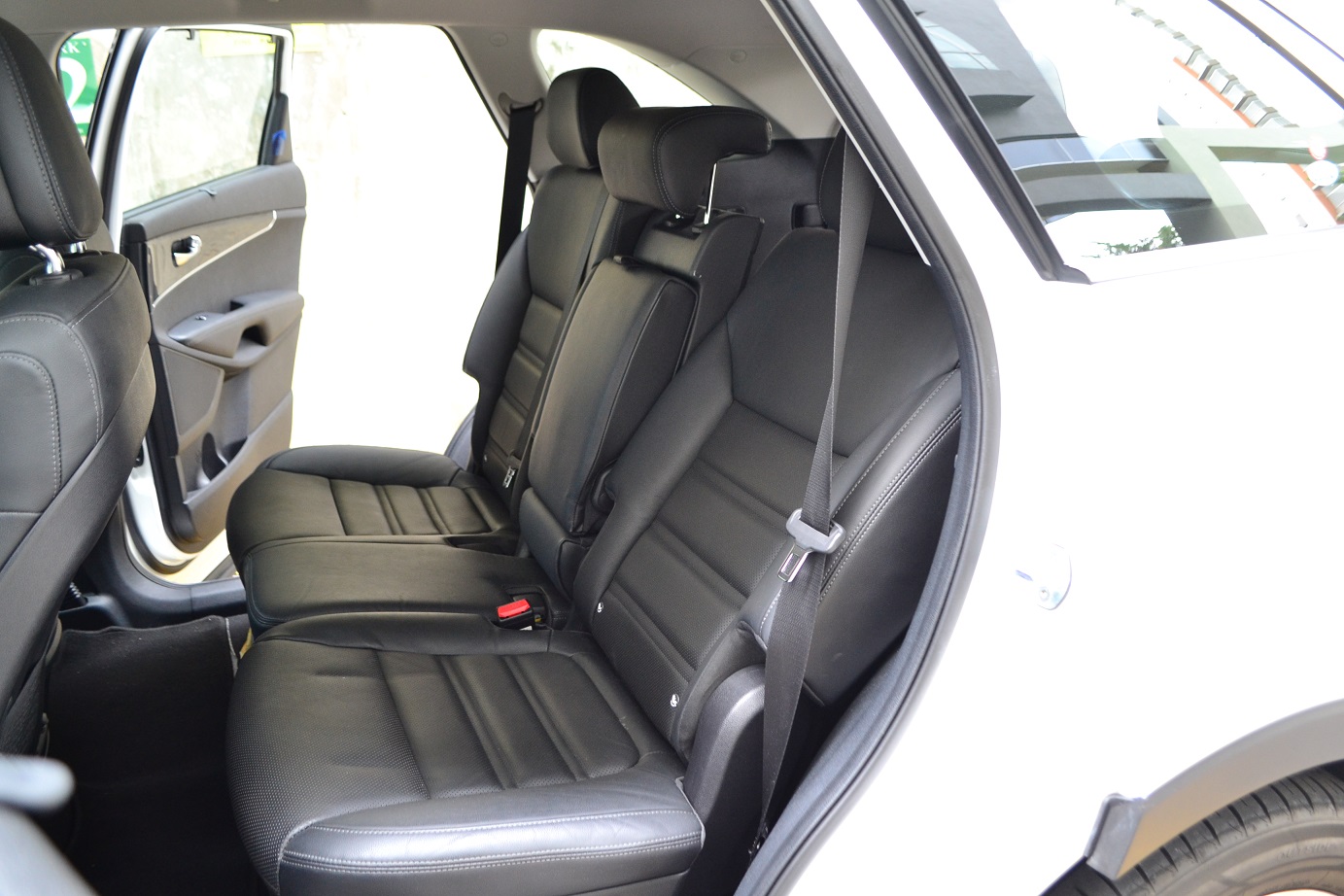 Moving to the 2nd row, the Carnival has 40:20:40 seats while the Sorento is 60:40. Both seats can be reclined slightly but the Carnival's middle seat can slide forward or be removed completely to create a walkway to the 3rd row making it more versatile. Both vehicles have a flat floor and 3 adults have no issues sitting abreast but the Carnival understandably offers better leg, head and between passenger room.
Both Carnival and Sorento have retractable sunshade blinds on the second row window but the Carnival is the only one with third row blinds.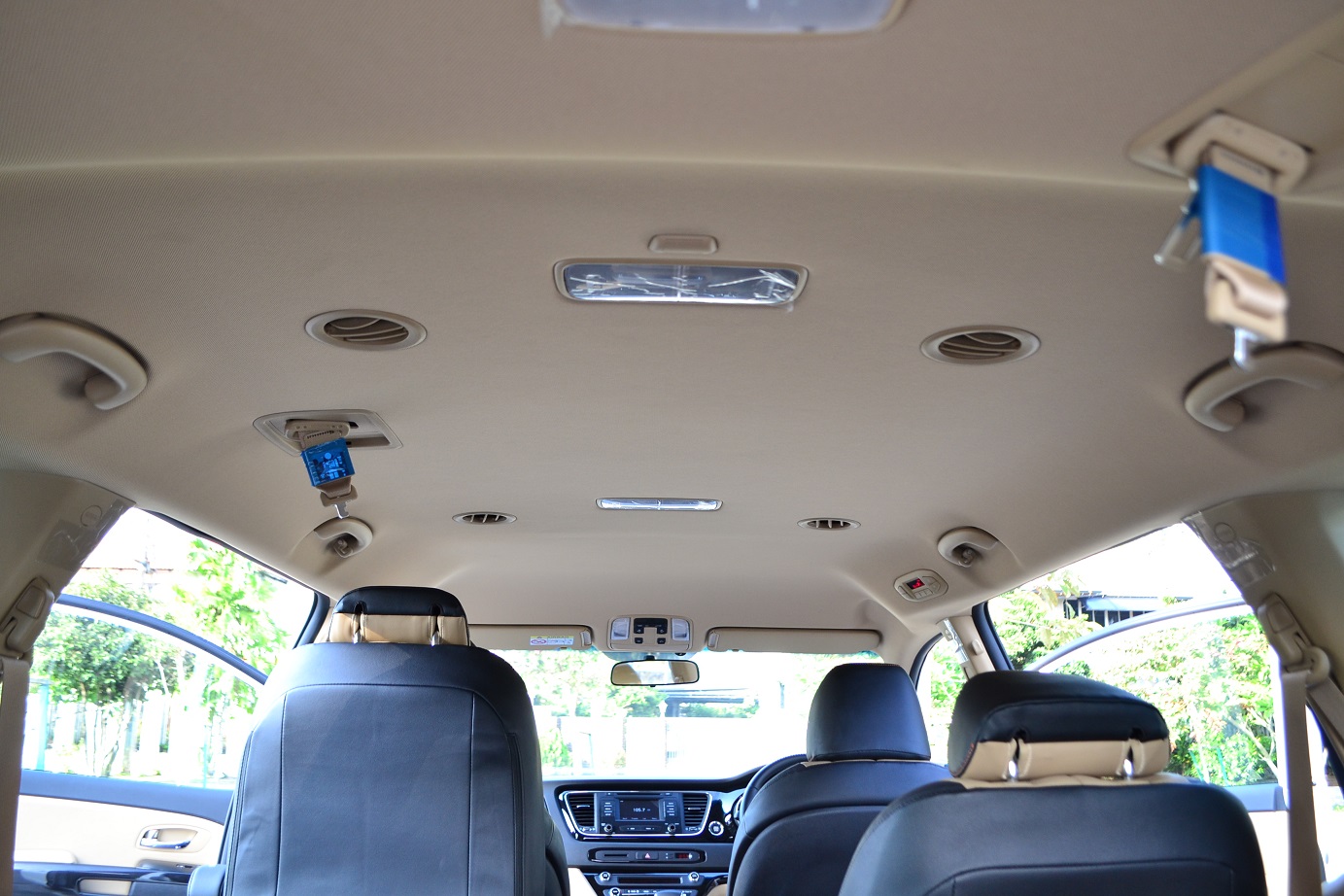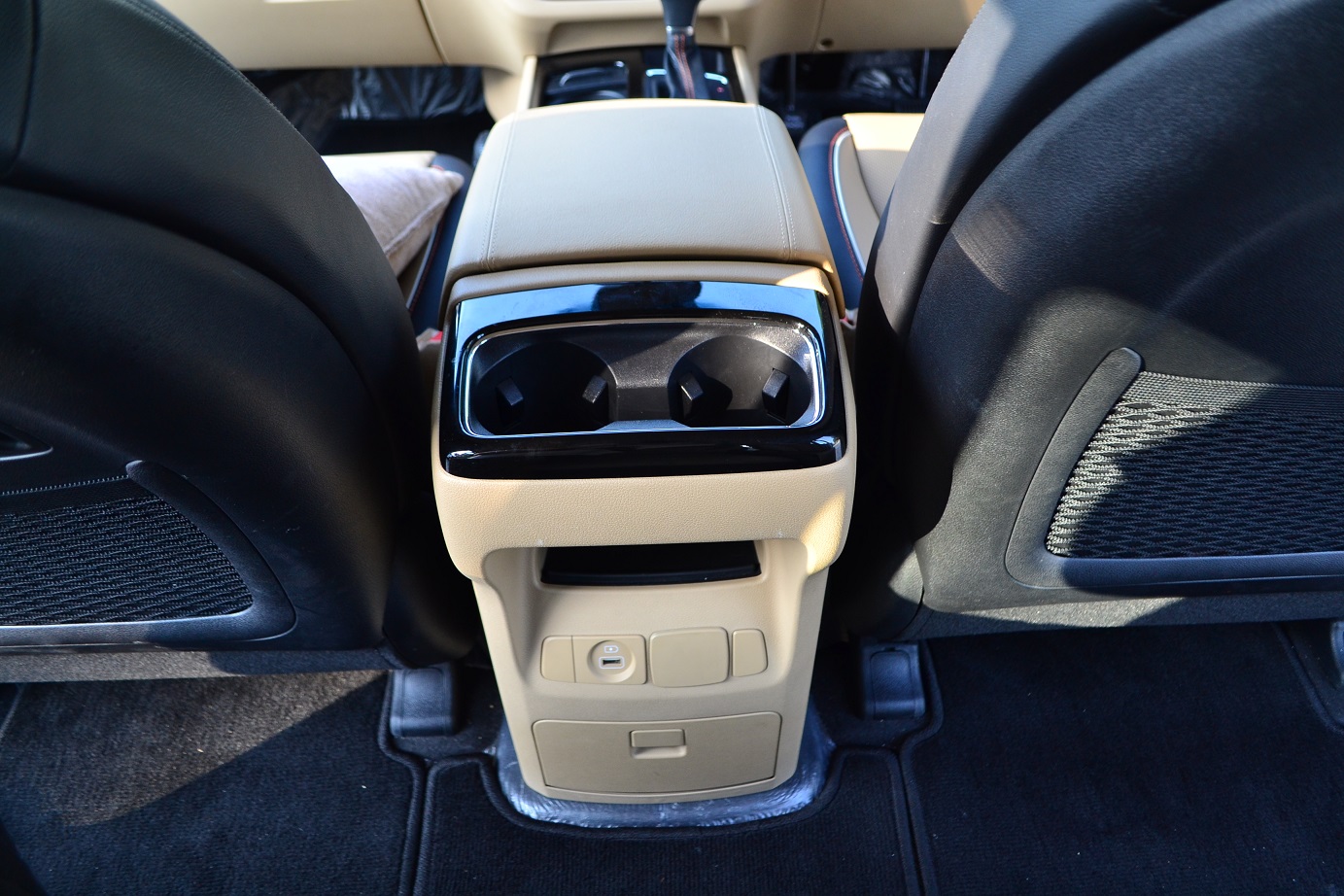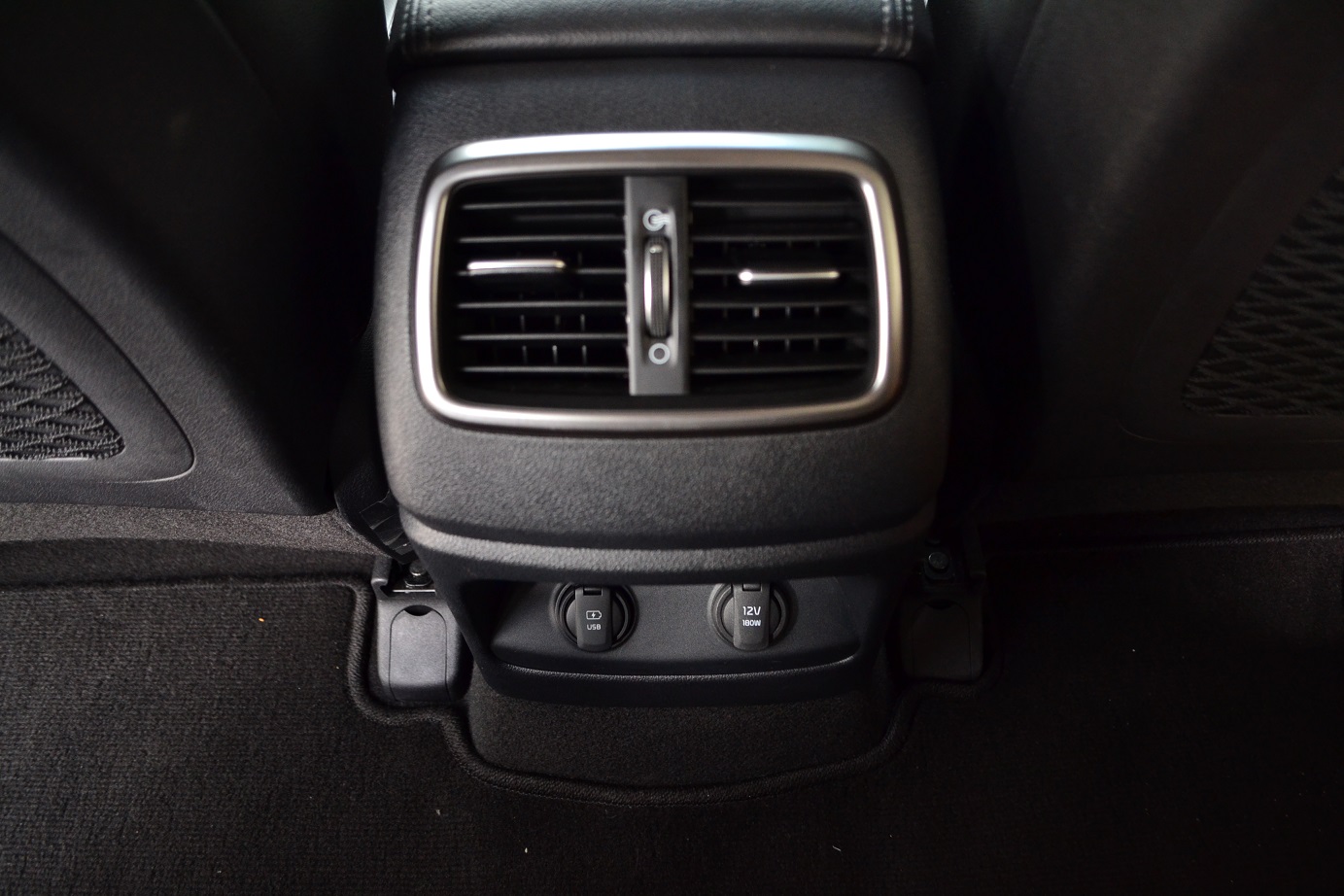 To chill rear passengers,  the Carnival has air vents mounted on the ceiling of the vehicle and my impression is that it's not much different from an aircraft cabin. The Sorento's second row air vent is behind the center console. You'll also find USB charging ports in both vehicle's center but the Sorento has an additional 12V port here.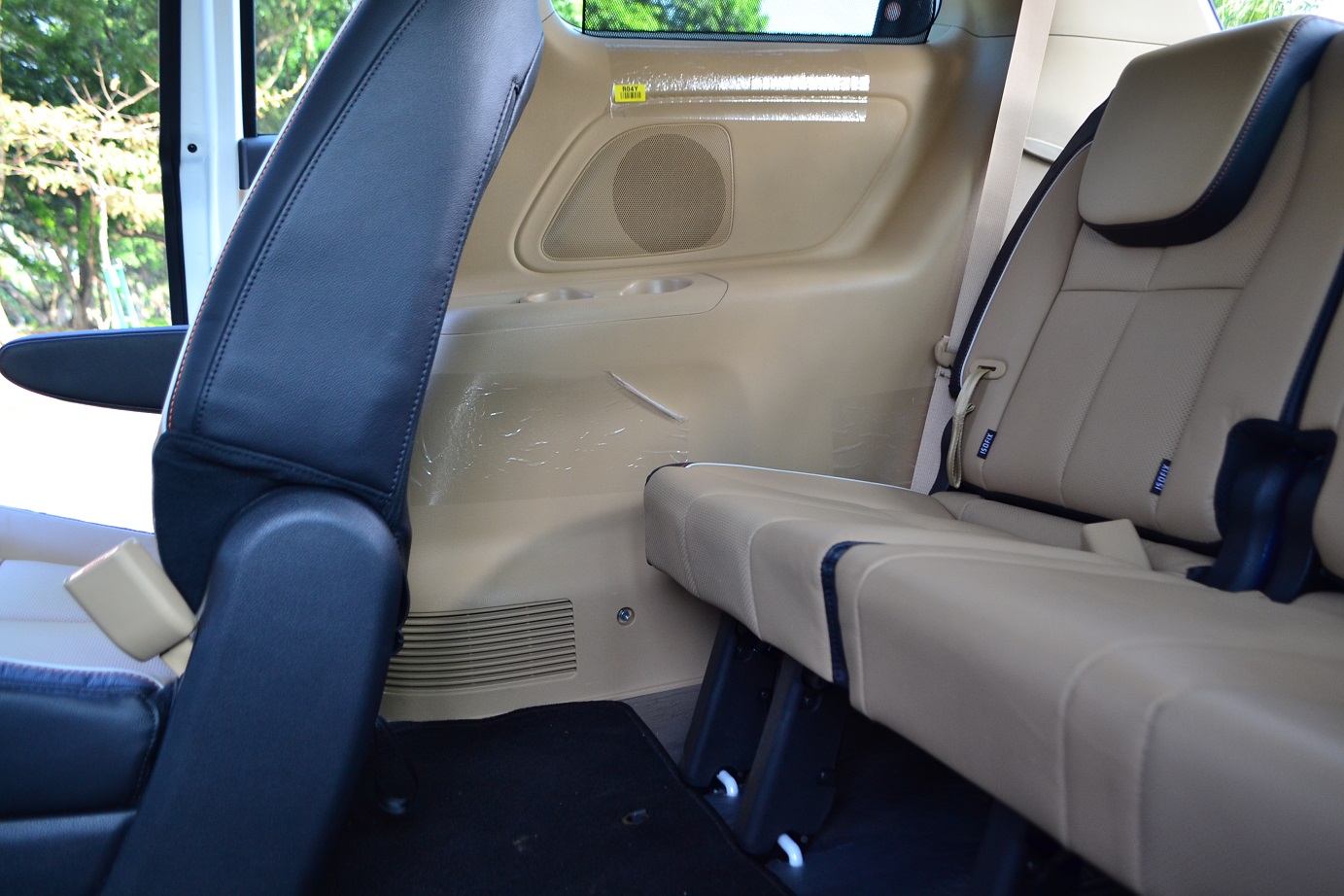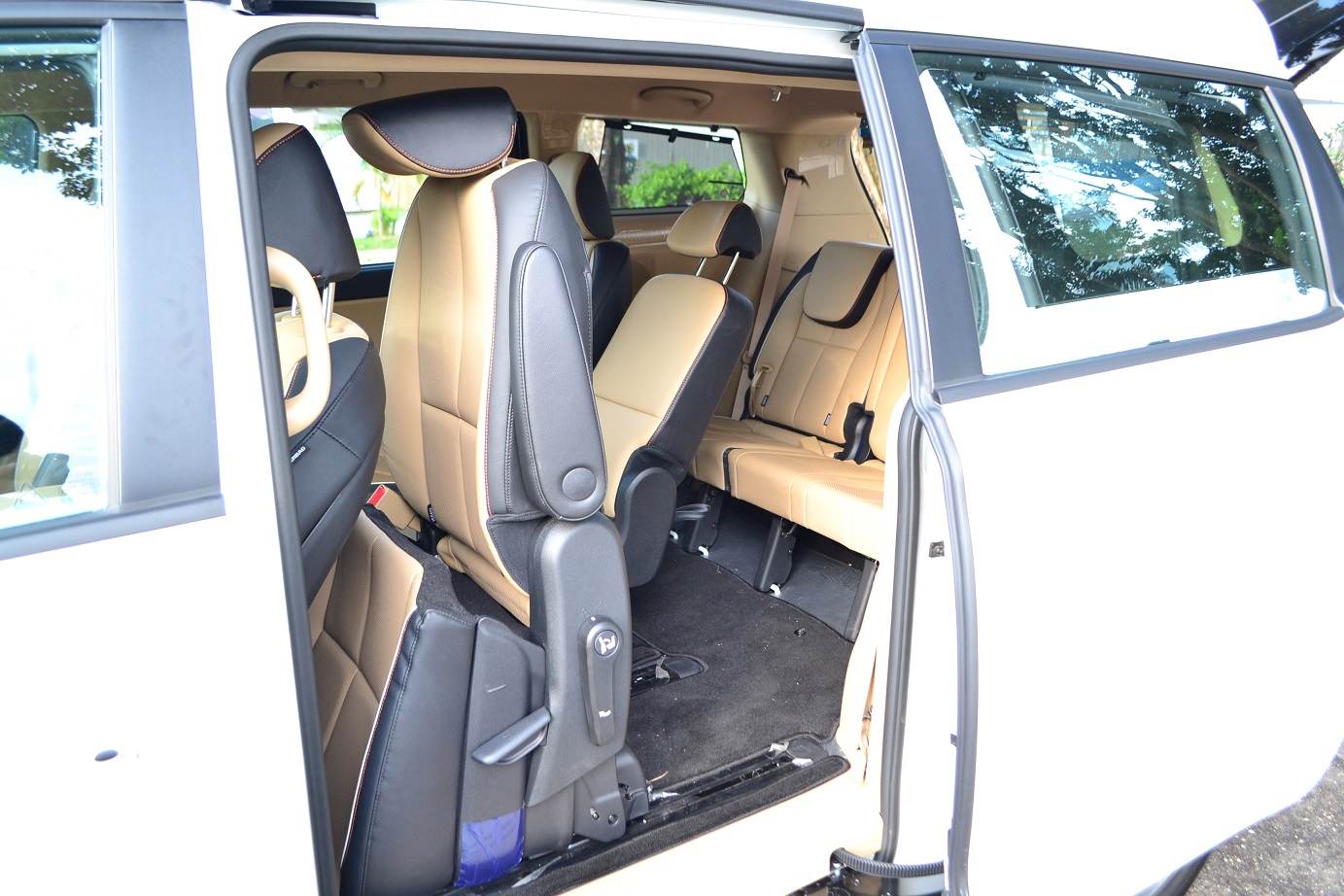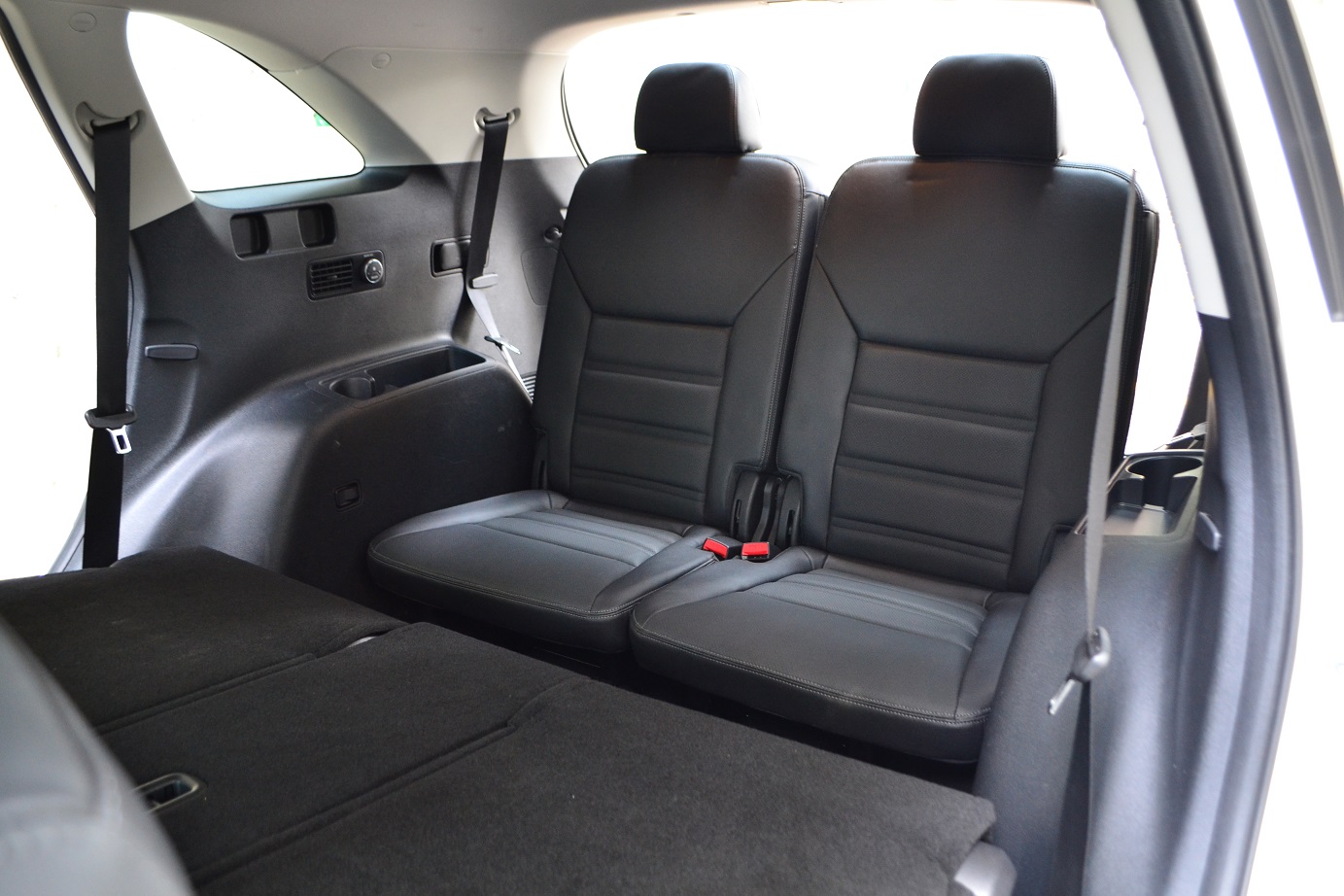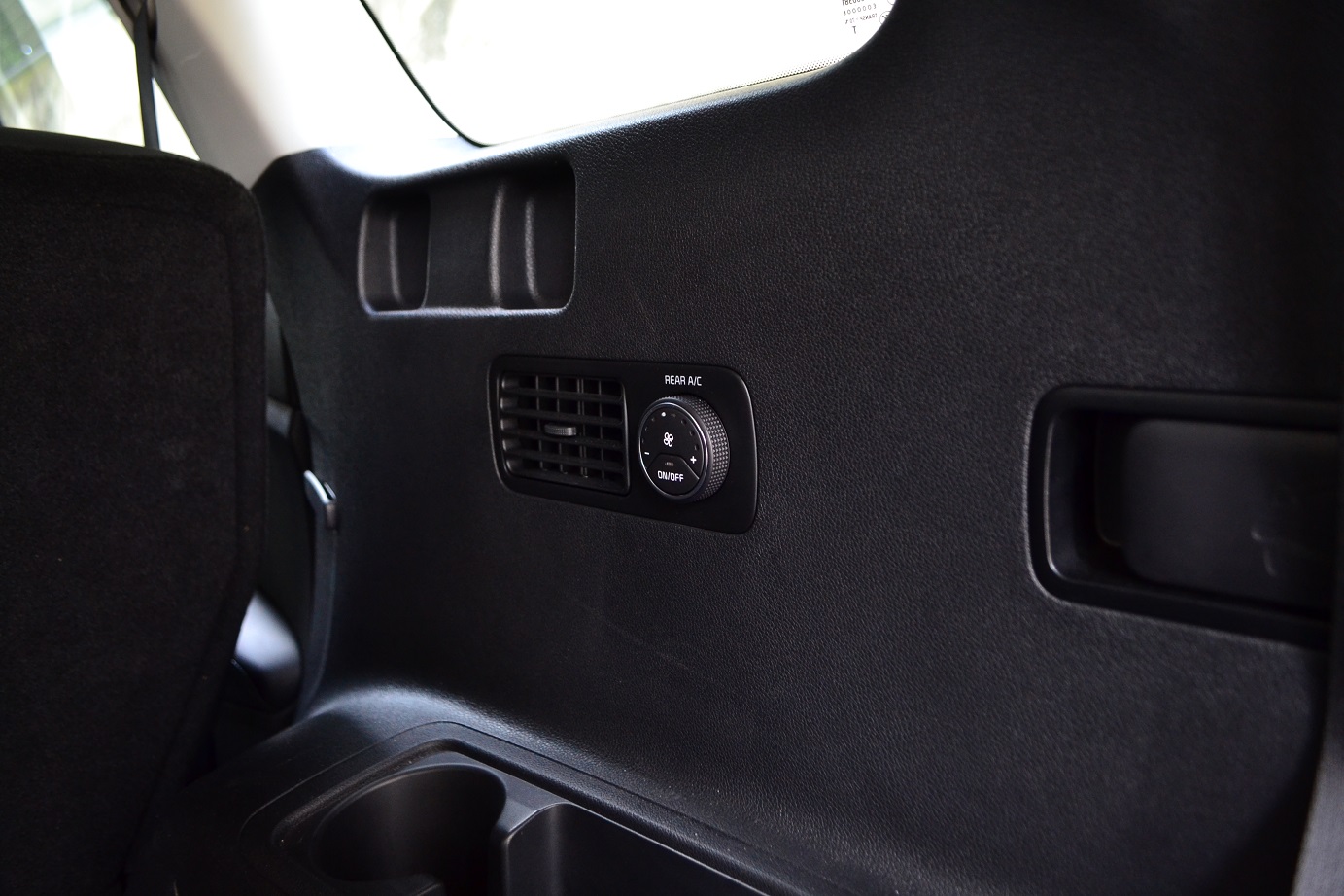 Moving to the third row, the Carnival offers better head and legroom with the Sorento's third row being more suited for short or young adults.
Ingress and egress from the 3rd row is also easier in the Carnival as the 2nd row seats can be moved forward to make a path. You would 'step in' instead of 'crawling in' for the Sorento since the SUV's rear seat only folds and slides slightly forwards.
Only the Sorento's 3rd row can allow its passengers adjust their fan speed here but the Carnival has air vents near the feet to promote better air circulation.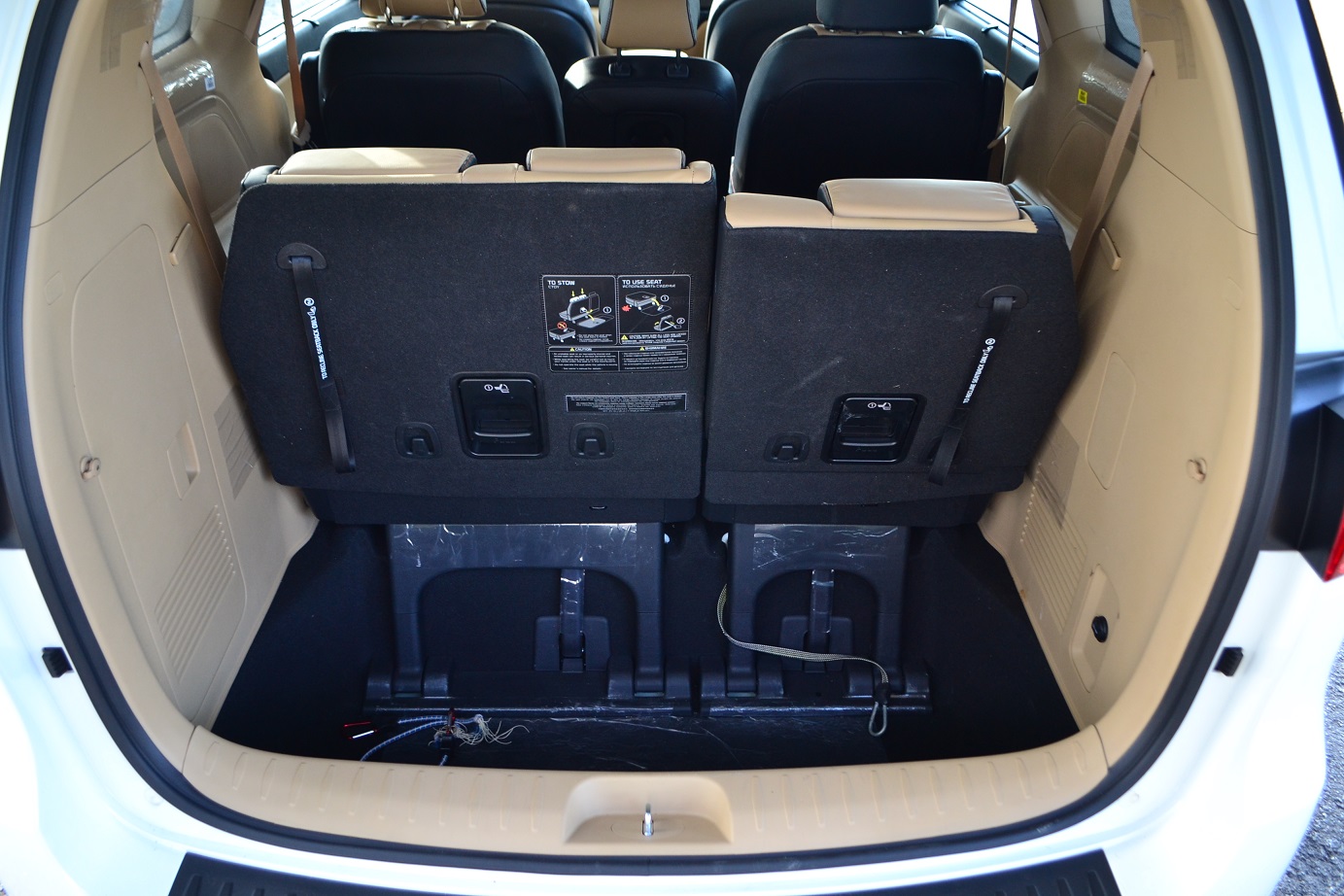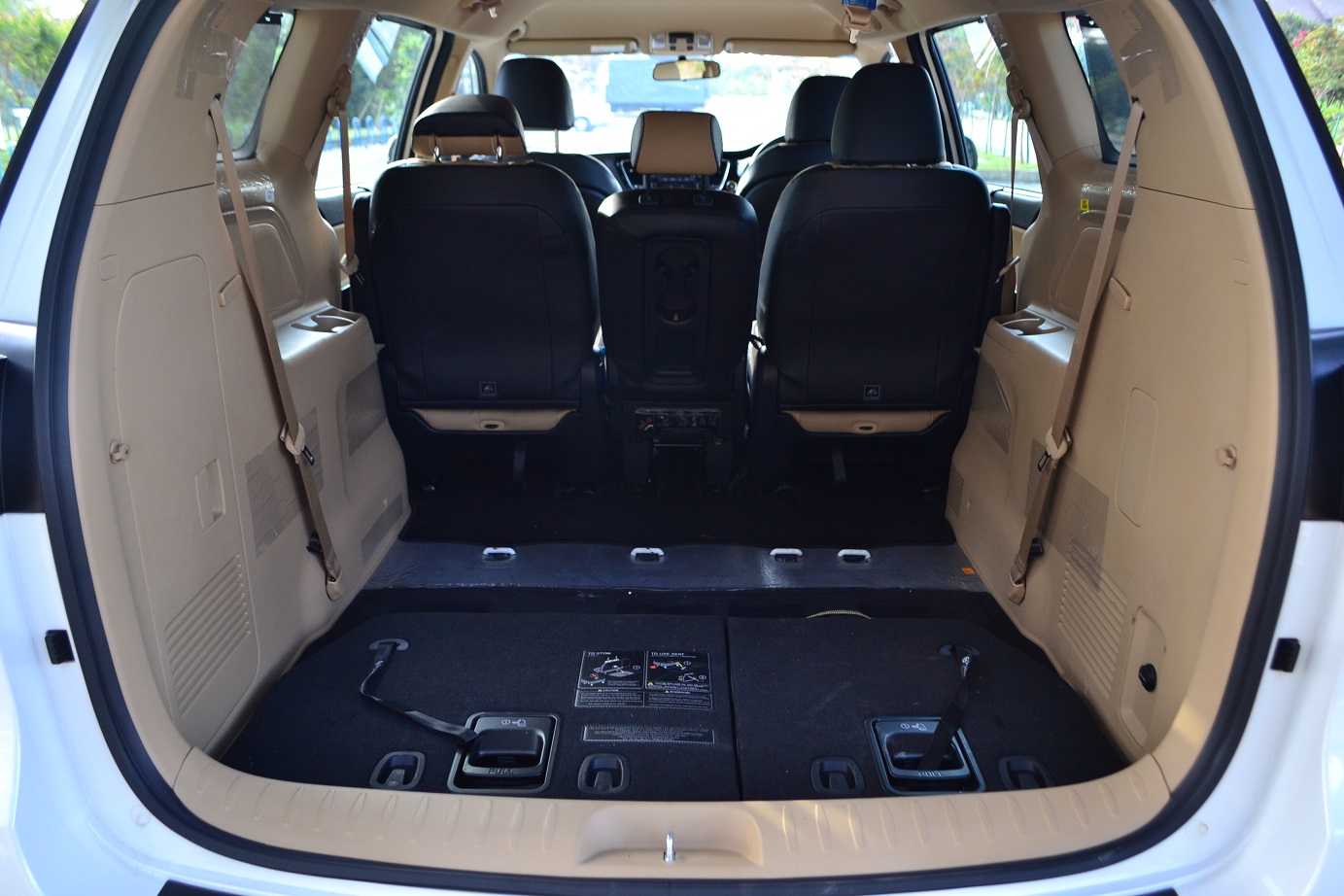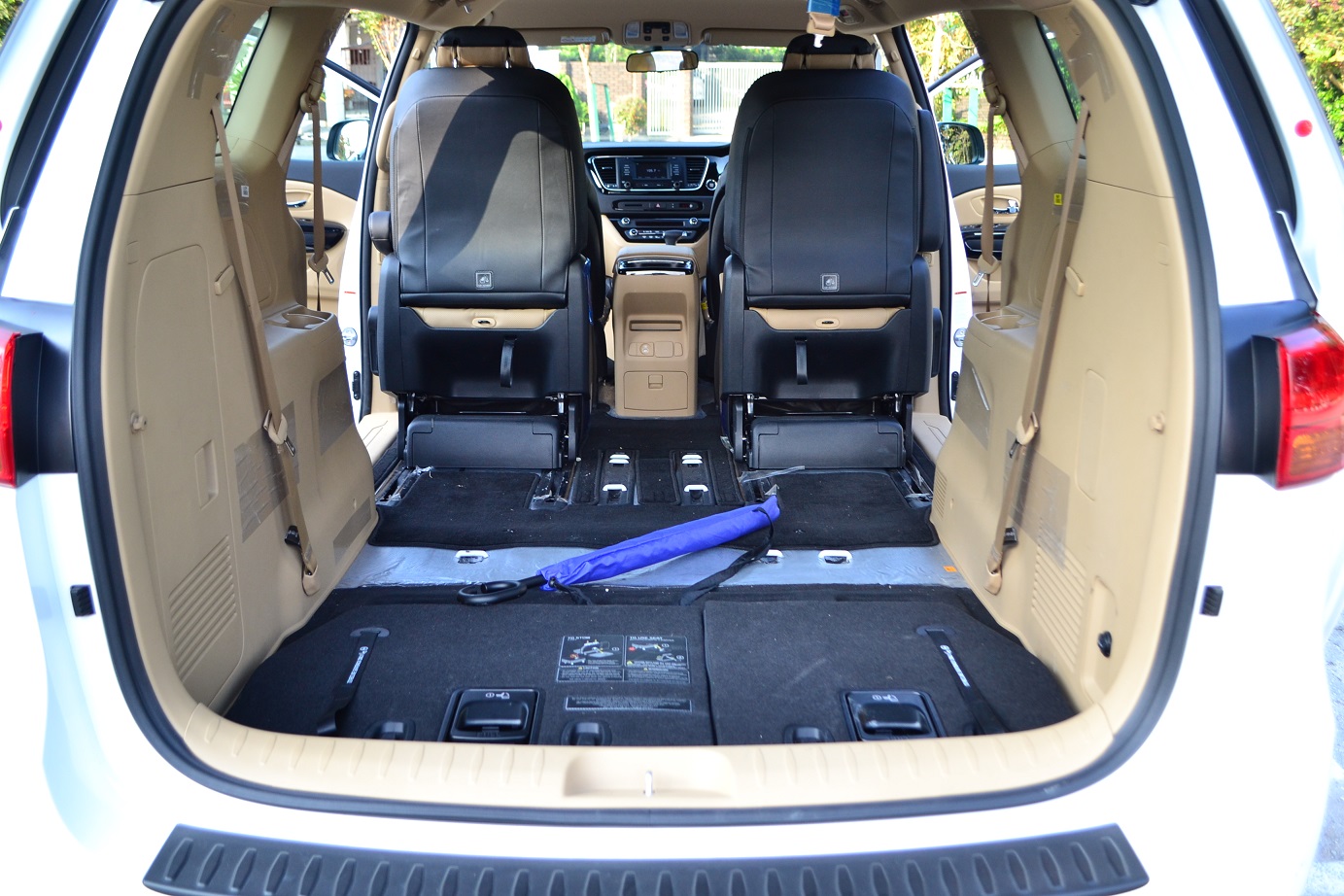 Few MPVs can swallow as much as the Grand Carnival. With boot size ranging from 359litres when the seats are up to a gargantuan 2,718litres when you convert it to a 2-seater with the 2nd row seats pushed forward, it trumps the Sorento's 320litres to 2,066litres.
Both the top spec model comes with Smart Tailgate, a feature where once the boot detects the key for 3 seconds uninterrupted, the powered tailgate would open automatically without needing to press anything. This is extremely useful especially when you're carrying a baby carrier in one hand and groceries in another.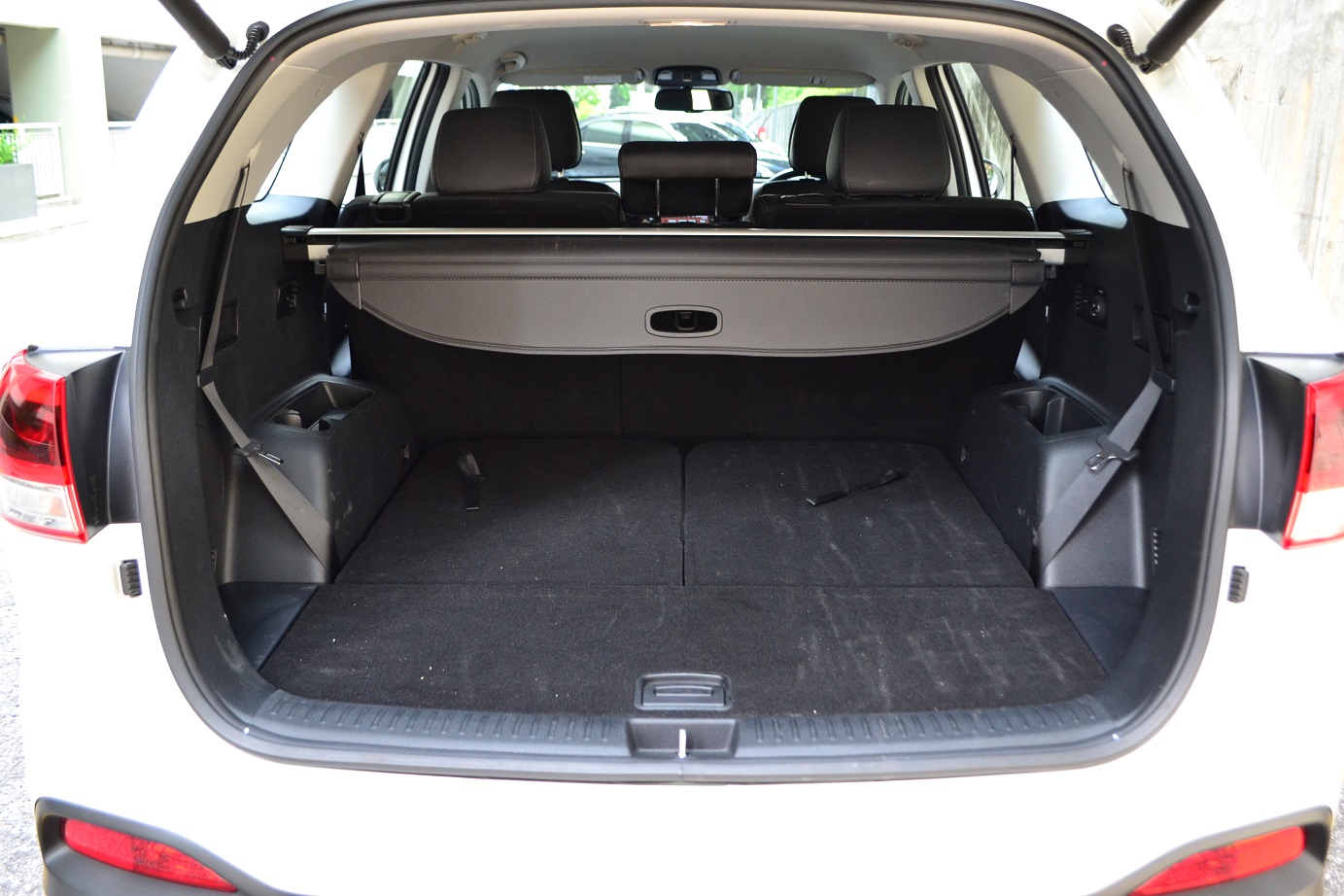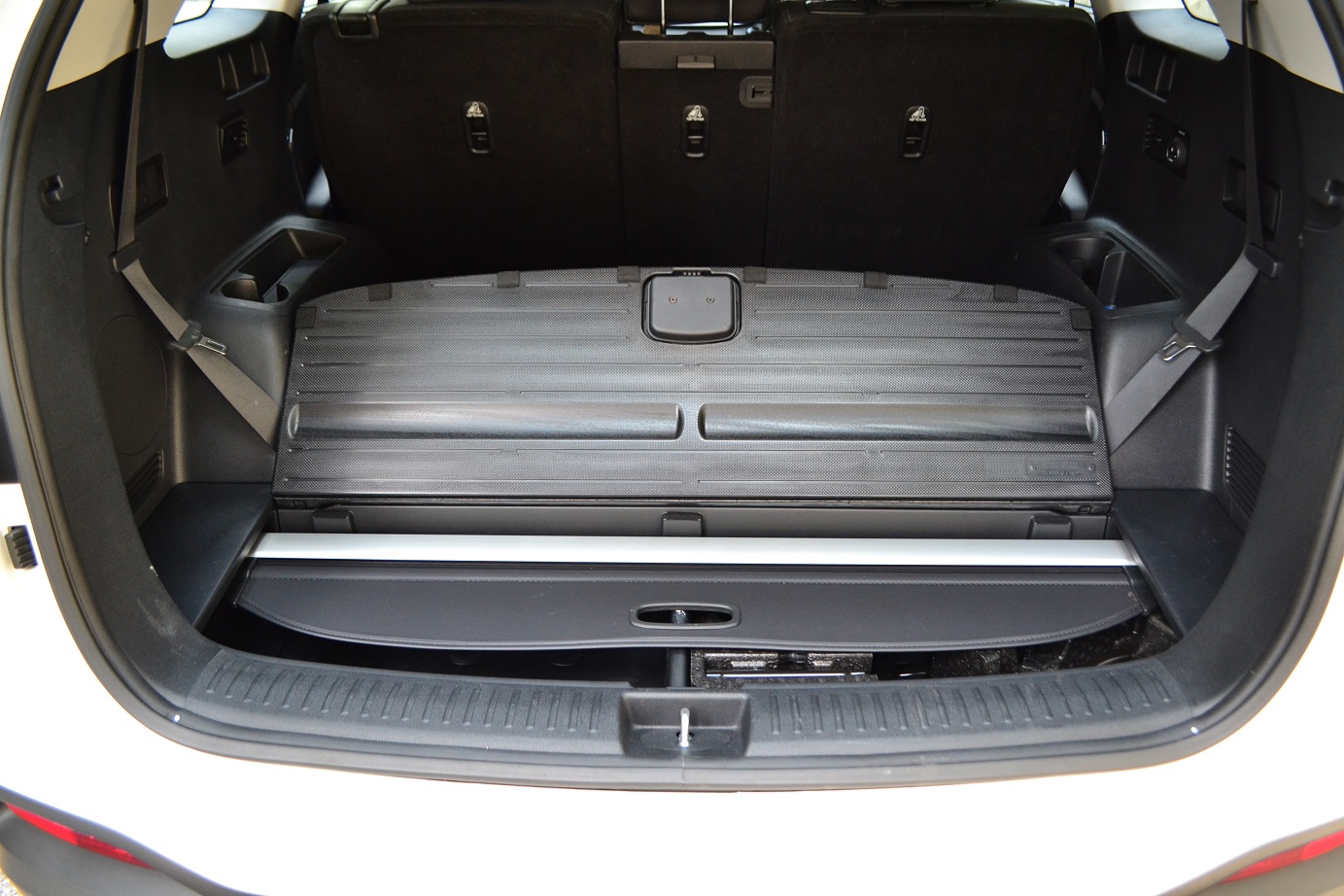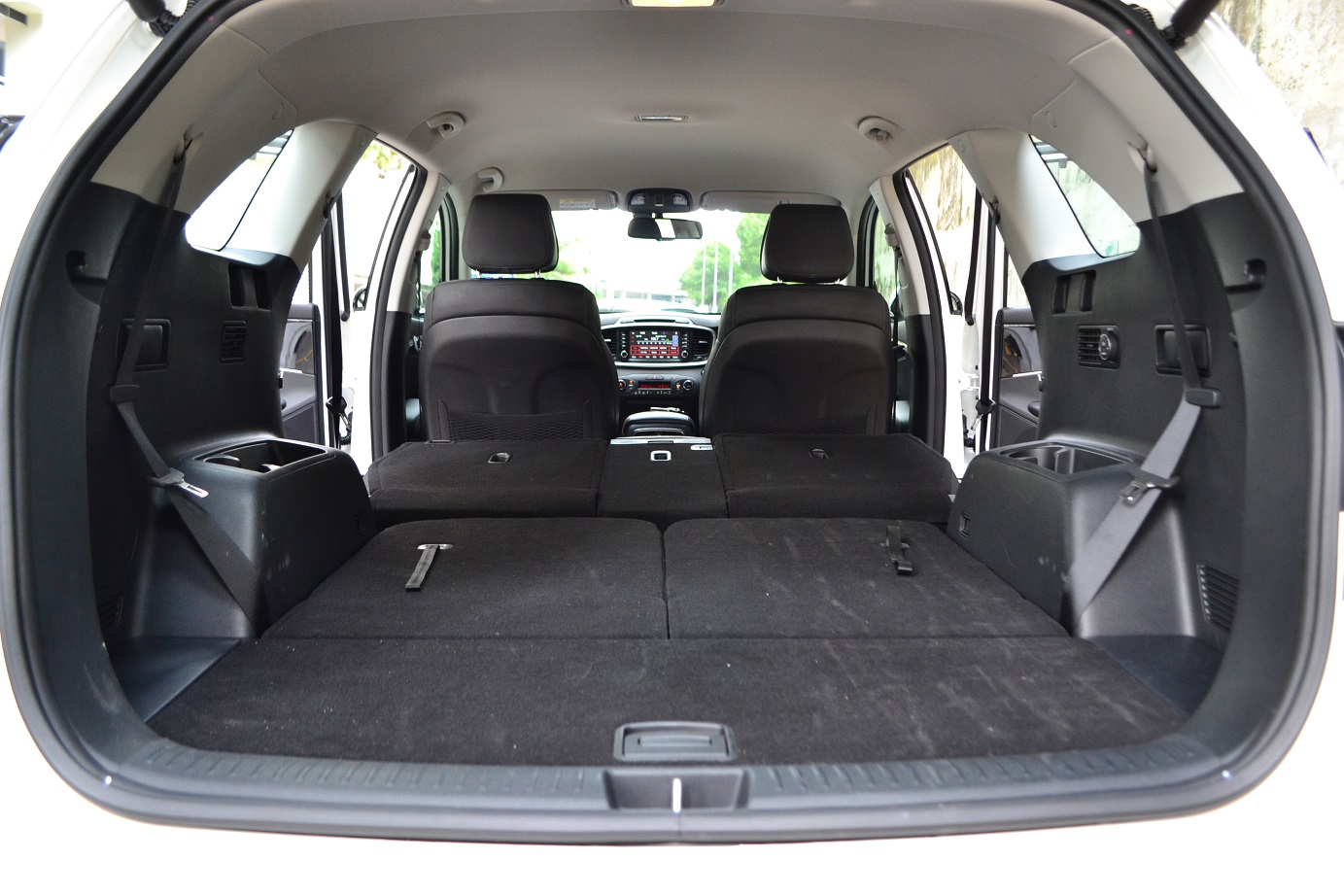 The thing that I don't like about the Carnival is that it doesn't have a tonneu cover as found in the Sorento. This cover would prevent anyone from outside to see what's inside my boot and extremely useful if you placed sensitive cargo such as a laptop bag within. Furthermore, the cover in the Sorento can be stowed away when not in use under the boot floor so that when you fold all rear seats, the cover doesn't get in the way when loading bigger items.
I'd like to add one more thing; many people say for an active lifestyle, get an SUV.
Why?
If 'active' is defined as regularly taking a bicycle to some remote location and bike for 100km, then both the Carnival and Sorento has sufficient cargo space to dump one or two bicycles in. And both does not have any plastic floor boards to prevent stains from dirty, muddy wheels so in terms of cargo, both works fine. In fact, I believe most would opt to install a bar to mount the bike outside in the interest of keeping the interior clean.
I've yet to meet in person anyone who drives his AWD urban SUV deep in the jungle to fish in some river.
Note: If you want to see more of the Carnival's interior, I've done a video about it and you can view it HERE
Safety
What I love about KIA is that unlike some manufacturers that skim on active and passive equipment depending on the variant (read; Price tag), all KIA models come with a full complement of safety features regardless if it's the lowest or the most expensive model. Seen here are both top variants of their lineup and they're both equipped with the following;-
6 airbags
Front and rear parking sensors
Reverse camera
ISOFIX
ABS
ESC
HAC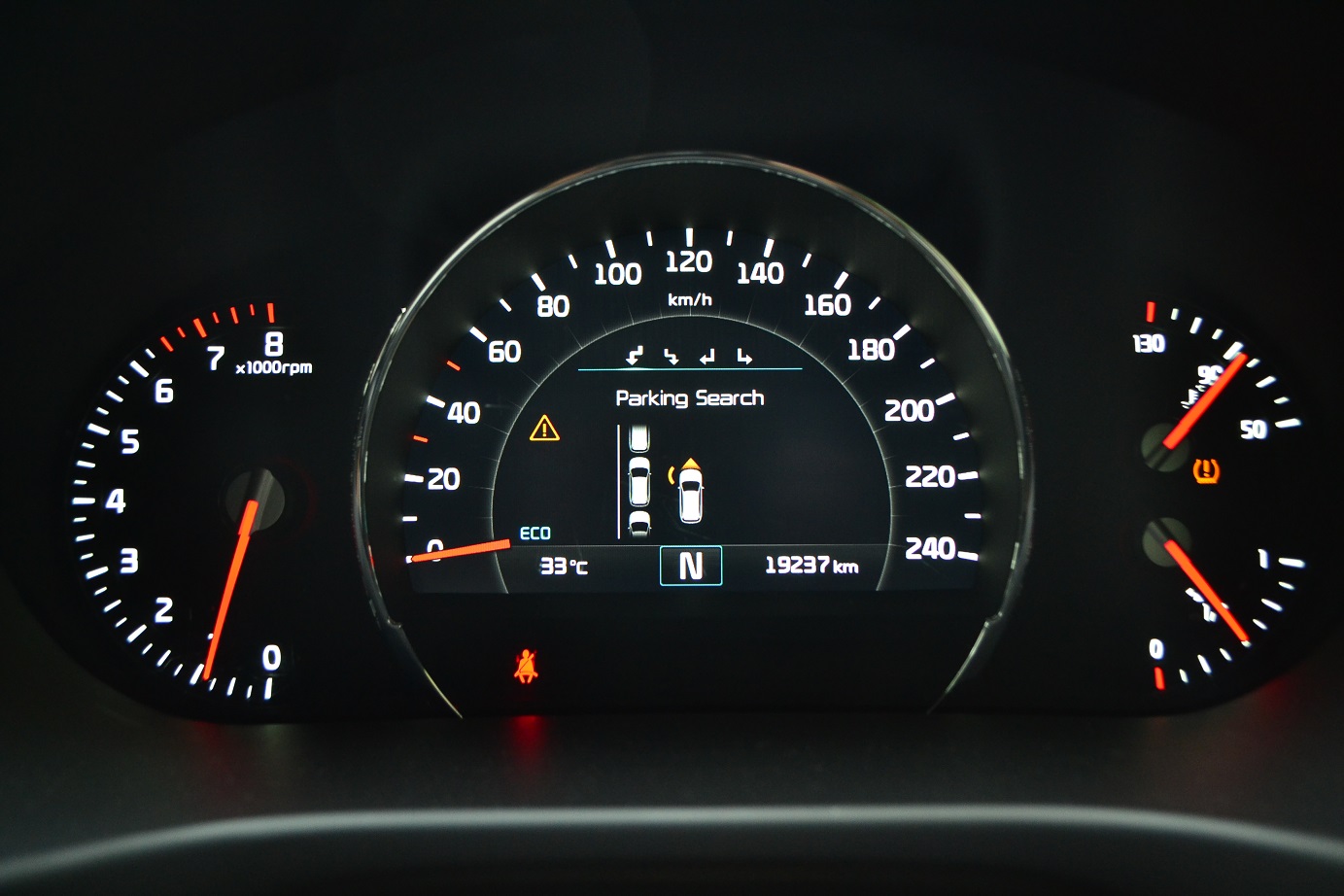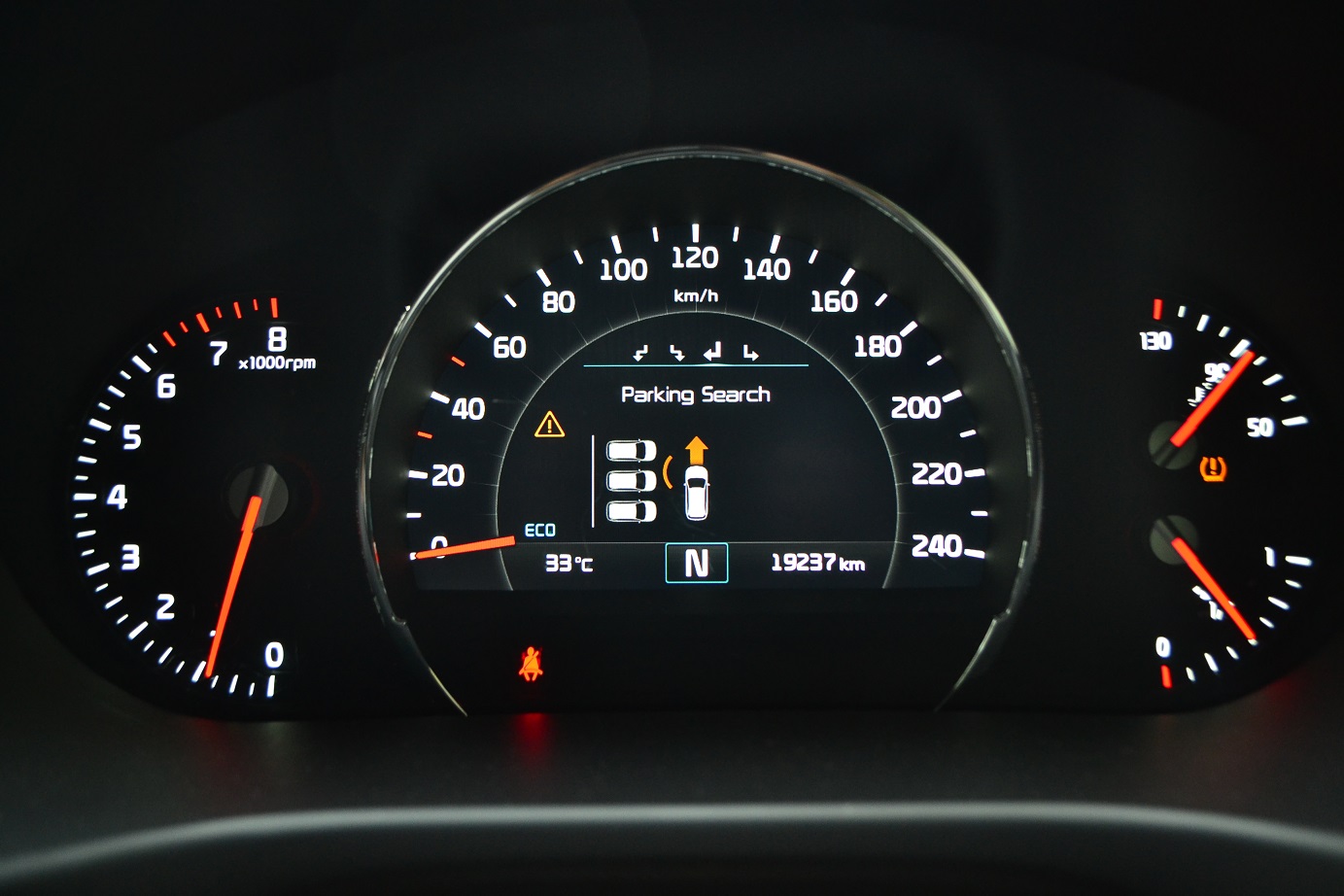 There is also one additional convenience found only in the Sorento; it's got Park Assist which turns the steering wheel autonomously when parking and it works in both parallel as well as side parking. Sadly this feature is not available in the Carnival where for such a big car, such assistance is very meaningful.
Ownership
The Grand Carnival 2.2D EX retails for RM185,888 OTR inclusive of insurance and GST whereas the Sorento 2.2D HS can be yours for RM191,888. As with all KIA models, they both come with a 5-years unlimited mileage warranty and qualify for Kia Value 5 (KV5) program which guarantees 50% residual value of the purchase price 5 years later when trading in for a new KIA model.
So which is the better people-mover?
I'll summarize all the points here;-
If you're used to driving a smaller vehicle and have limited experience handling a large car – Sorento
If you prioritize passenger convenience and comfort above all else – Carnival
If you drive fast or regularly find yourself in challenging driving conditions (ie heavy rain, mud, etc) – Sorento
If your household have 5 or more members – Carnival
Both vehicles have their merits and demerits so it really depends on your requirements. Between the Carnival and Sorento, I picked Sorento primarily because I felt it was the easiest for other members of my household to adapt to driving it since it's dimensions isn't too far from the regular sedans in the house.
But when said members sit in the Carnival, all of them prefer the space, comfort and convenience of the Carnival. But they're not in the driver's seat so they don't see how stressed it can be driving to a packed dead end and wondering if you should reverse all the way or attempt to make a 3-point turn hoping you don't bump into any other parked vehicles.
That said, it didn't take long for me to get used to the dimensions of the Carnival but that could be because I've gotten used to the Sorento. And in getting used to the Sorento, I appreciate the better acceleration, quieter cabin and better handling with less vibrations in the smaller body frame.
Now, if we were to compare with other competitors in the segment, I feel the Carnival's sinking seats and space revealed once the seats are raised to allow luggage being a huge plus point vs Alphards and Veilfires. While you can't deny that there's a certain badge appeal in the Toyota MPVs, they lose out in terms of practicality. Also, Toyota MPVs aren't as frugal as the Carnival since they use petrol engines that requires a bit more effort to pull vs the high torque diesel of the Carnival. The Hyundai Grand Starex is probably the closest competitor to the Carnival but while it has 11-seats, it won't have space for bags. It's design, like the new Veilfire is either a hit or a miss since the huge grille may not agree with everyone. Personally, I prefer the cleaner lines found in the Carnival's exterior.
The 7-seater SUV is limited to a few players. You've got the Sorento going against the ubiquitous but looking a bit old Hyundai Santa Fe and the Nissan X-trail which is more a 5+2 rather than full 7-seater. The Toyota Fortuner is also a contender but I dislike how the dashboard is placed too high and blocks my views, the 3rd row which doesn't fold away completely and the 2.7litre petrol is known to be thirsty while the 2.4l diesel has specifications lower than a Hilux! Other options such as the Mazda CX-9, Range Rover and Audi Q7 have price tags at the stratosphere level so there really isn't many choices here.
So it boils down to this; if you allow your family members to choose, they would assuredly pick the Carnival. If you want a more driver oriented vehicle, the Sorento would be a better option. Either way, both are excellent balik kampung rides that'll turn heads wherever they go.